If you get the recommended eight hours of sleep each night, that means that you spend 2,920 hours (or over 121 days!) in bed each year. That's a lot of time spent in bed, so it's not a far-fetched idea that your bedding is a worthwhile investment and what better way to upgrade your slumbering sessions than with a set of bed sheets made in the USA? Having high-quality bed sheets can make your shut-eye much more comfortable and restful.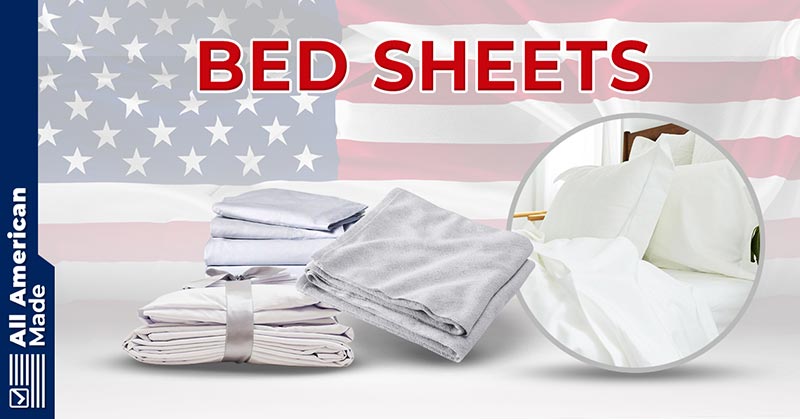 Whether you are in the market for a new set of bed sheets, a blanket to serve as a top sheet, or decorative details, there is a company making just what you need right here in America. With a long history of textile production, particularly in New England, consider a premium set of American-made bed sheets for your next purchase.
In this guide, we'll be getting cozy with the best bedding made in the USA, giving What We Like and Don't Like About These Sheets and reviews on each, and making it easy to compare and choose the right American sheets for you!
List of American-Made Bed Sheets
American Blanket Company Sheets (Great Value)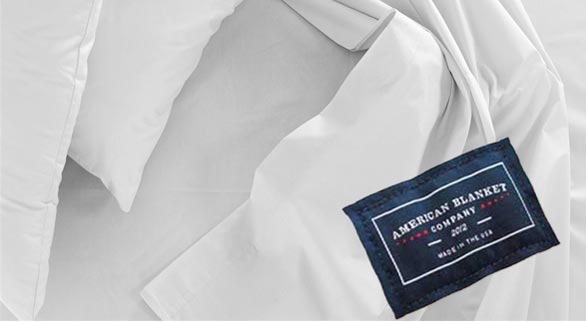 | | |
| --- | --- |
| Material | 100 percent cotton and fleece are available |
| Thread Count | 360 |
| Origin | Fall River, Massachusetts |
| Price Range | $55 to $70 |
Each and every American Blanket Company product is cut, sewn, packed, and shipped from their site in Fall River, Massachusetts. Their sheets are made of cotton grown in the United States, so each aspect of these luxurious sheets is sourced and made in America.
The company itself has a long history of working in the American textile industry. The founder, Rick Lotuff, grew up working in his father's mill. He ventured into blankets and weaving as an adult, eventually starting multiple companies. American Blanket Company is his latest venture, which he founded to focus on American textiles and with the goal to keep all aspects of their manufacturing in the United States.
Sheets are a relatively new addition to the American Blanket Company lineup, so their selection is not huge. They have a set of white cotton sheets that are high quality and made right here in the USA that I personally own and really like. As the most popular option for sheets, crisp white cotton is a good place for this company to start.
The American Blanket Company is better known for its fleece blankets, so if you are in the market for a whole bedding set, you can find it all from the American Blanket Company. I'm looking forward to seeing them continue to branch out into sheets and other cotton products to bring their commitment to American production to this new line.
Overall, we really like American Blanket Company sheets and if you are looking for a basic set of sheets made in the USA from American materials, these sheets are perfect for you. The quality is high, and you know exactly where every fiber came from and how it was made. I'd happily pay even more for these high-quality sheets. That said, the only potential downside we see to these sheets is the cotton is not organic, so if that's something you're looking for, then check out some other options on this list. We also wish they had more color options, but this limitation is understandable because sheets are a newer addition to their product lineup.
Red Land Cotton
| | |
| --- | --- |
| Material | Cotton |
| Thread Count | 140 |
| Origin | Alabama |
| Price Range | $90 |
Red Land Cotton makes a one-of-a-kind American product. They start with cotton grown on their family farm in Alabama, using sustainable farming techniques. The plants are rain-fed and grow in the red clay soil that gives the company its name. They go through a custom-built cotton gin on-site before being woven into the heirloom textiles that are made into sheets, towels, and even some clothing.
The company set out three generations ago to create bedding that can be passed down through generations, and that's what they've made. Most of their bedding leans toward the classic look, with white, natural, and ticking stripes dominating their aesthetic. Their sheets are thicker than most and create that crisp, cool look that many of us love. Don't let the low thread count fool you. These sheets are still very soft due to the yarn woven and used.
These sheets have two fitted sheet depth options, 14-inches and 16-inches. If you have a plush mattress or use a topper, getting the deeper fitted sheet will ensure that the corners stay put and don't ride up as you sleep. This is a big factor for me and one of the reasons that I recommend these sheets over many others, even though they are one of the pricier options available.
I love these sheets! They are expensive, but they are so worth it. If you want to lounge in the luxury of soft, American-grown cotton, this is the set for you. You can get a bundle to save some money, with one of my favorites being the "Move-In Bundle," which includes a basic sheet set and a basic towel set. Perfect for young adults moving out on their own.
American Blossom Linens (Great Value 100% Organic Sheets)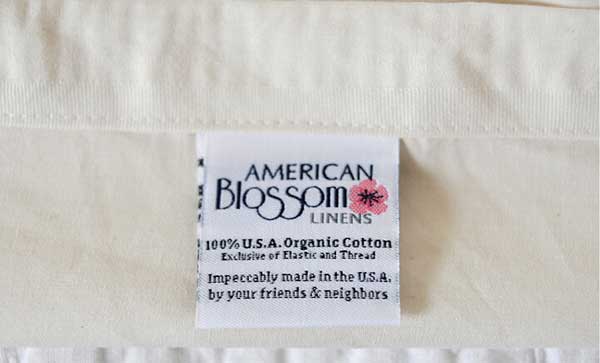 | | |
| --- | --- |
| Material | Organic Cotton |
| Thread Count | 180 |
| Origin | Georgia |
| Price Range | $230 to $310 |
American Blossom Linens does a great job sourcing and producing every aspect of their bedsheets in the United States. The interactive map on their website details exactly where each step is completed, as well as how many jobs are created and supported by doing things that way.
They start with cotton grown by the Texas Organic Growers Co-Op. The harvested cotton is ginned and sent to North and South Carolina to be spun and woven. Meanwhile, the elastic for the sheets is also being produced in North Carolina. The sheets are sewn, finished, and packaged in Georgia. The entire process supports 1,005 jobs across seven different facilities. We really like this company and they are one of the only companies that offer 100% organic cotton bed sheets where the cotton is also sourced from the USA.
These sheets are high quality with a high price tag to match. They are comparable to some of the slightly cheaper versions available but more of a premium option due to the fact that they are made with organic cotton. Their dye-free sheets are great and the perfect set for those with sensitivities or who just want a more natural look. They also have classic sheet sets available in white or natural, an off-white/tan color. They also make crib sheets out of their same luxurious cotton sheeting. They are pricey but oh so soft.
American Blossom Linens includes four pillowcases with each sheet set. This may not seem like a big deal, but if you have ever struggled to find pillowcases (or just like a lot of pillows on your bed), you will appreciate this little detail.
Overall, if you want high-quality organic bedding, American Blossom Linens should definitely be on your list. I really like their sheets and that they're committed to creating American jobs. They do come with a two-year money-back trial period (at the time of publication), which can help alleviate any concerns about being stuck with expensive sheets that don't work for you. It's really uncommon to find outstanding organic bed sheets made in the USA so we really like supporting this company. The only thing to not like is the price, but we feel that they are worth it.
Cozy Pure Organic Cotton Sheets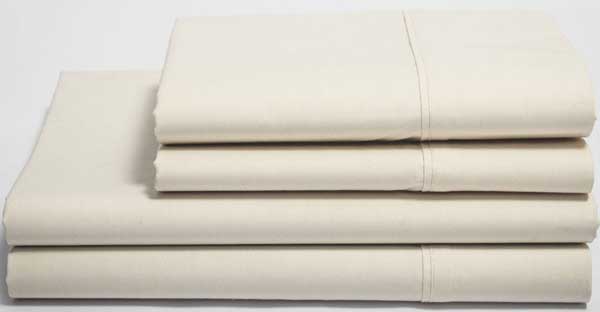 | | |
| --- | --- |
| Material | Organic Cotton |
| Thread Count | 300 |
| Origin | Virginia |
| Price Range | $130 to $200 |
Cozy Pure was started by Cheryl Hahn, who combined her background in the textile industry with her interest in sustainable, eco-friendly products. Keeping production in the USA was always part of her vision, and the company bases its operations in Norfolk, Virginia. They operate out of a 25,000-square-foot workshop space, where they cut fabric by hand and fill pillows by hand. Like American Blossom Linen's sheets, these are also made with organic cotton.
The Cozy Pure sheets have a high thread count, which promises softness and luxury. I like that they are organic, especially if you are looking for a crib sheet, which they do carry. They only offer one color, but it is a great price ($203 for a King set). When you consider that it's made of organic cotton, it's hard to find a better value out there.
If buying organic is a big factor for you, you'll love the price point of the Cozy Pure sheets. They don't have as many offerings in the sheets department as some other retailers, but they do have the basics in a nice-looking natural color. Cozy Pure also makes mattresses, blankets, pillows, and a variety of other textiles. If you are looking to revamp your entire bed, you can get everything from one place. These are easily some of the best organic best sheets made in the USA.
Bella Notte Linens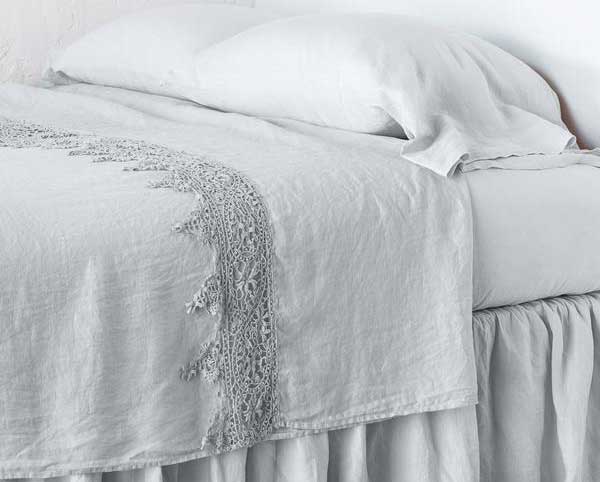 | | |
| --- | --- |
| Material | Silk, linen, Tencel |
| Thread Count | Varies |
| Origin | California |
| Price Range | $220 to $500 |
So the materials in Bella Notte linens may come from all over the world, but the craftsmanship, design, and artistry are all American. The company is based in San Francisco and takes great pride in producing only small-batch linens that are hand-crafted from start to finish. They mix their own dyes and cut and sew each set of sheets right there in the Bay area.
Holy Moly! These are some luxurious and meticulously styled sheets. They come in linen, silk, and Tencel. All of these fabrics provide a great environment to sleep in, with silk being the most expensive. I personally love the look and feel of linen sheets, and Bella Notte Linens has a wide variety of colors that are all batch-dyed and one-of-a-kind.
If you want luxury, this is it. Fortunately, all of their products are also machine-washable and meant to be lived and slept in. Unfortunately, a set of sheets may cost more than your actual mattress. Silk is great for those who want to minimize friction against their skin and hair while they sleep. Linen breathes well, so if you are a warm sleeper, it's the best choice for you.
Authenticity50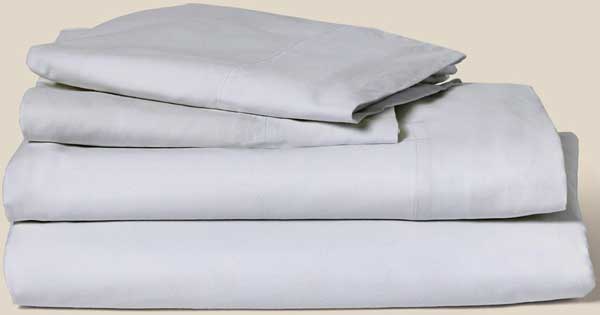 | | |
| --- | --- |
| Material | Cotton |
| Thread Count | 220 |
| Origin | Pennsylvania |
| Price Range | $100 |
The bedding from Authenticity50 relies on American growers and craftsmen from around the country. Their cotton is grown in California. The California-grown Supima cotton is known for being a long staple, which is pricey but also very, very soft. The cotton is then spun into yarn in Georgia at a facility that has been in business since 1996. The fabric is woven from that yarn at a nearby textile mill in Georgia.
Authenticity50 signature sheets are sewn by hand in Pennsylvania. Other items are made, usually by hand or using the most advanced techniques, around the country. Duvets are made in Michigan, blankets in Maine, and pillows in California. Authenticity50 is committed to keeping its production in the USA.
The overall selection from Authenticity50 is okay, with only two color options for sheets (white and gray). They do have every size option you may want, though.
One of my favorite aspects of these sheets is the 100-night trial period. You can sleep on them for a full 100 nights and still return them to get a full refund if you're not happy for any reason. It's not often that I find a guarantee like this for bed sheets, so it's hard to find a reason not to at least give them a try.
If you are worried about ordering sheets without getting the chance to actually see and feel them, you'll love the 100-night trial from Authenticity50. The sheets are well-made and the company is really transparent about its manufacturing process. But what really sets them apart is the ability to actually sleep on them before you commit to keeping them.
Faribault Woolen Mill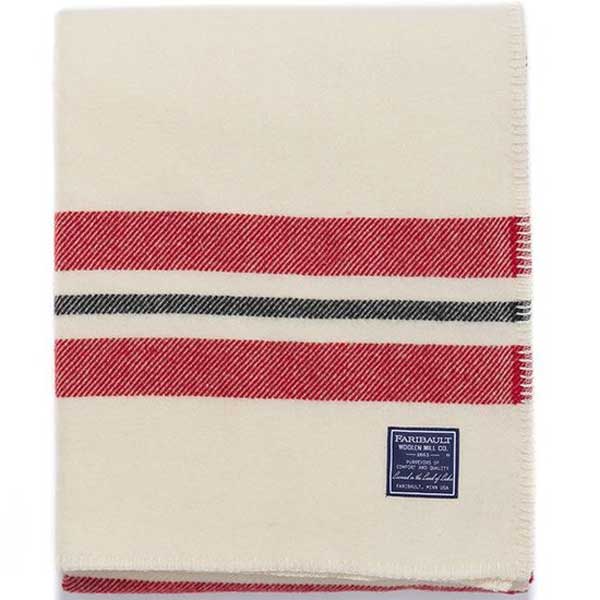 | | |
| --- | --- |
| Material | Wool |
| Thread Count | Varies |
| Origin | Minnesota |
| Price Range | $300 to $500 |
The actual mill in Faribault, Minnesota, where Faribault Woolen Mill products are produced, has been standing and in use since 1892. Craftsmen take the wool, dye it, card it, spin it, and weave it all on-site. Blankets and other products are then cut and sewn using the same tried-and-true techniques that Faribault Woolen Mill has been using since its founding in 1865. They do give tours of the mill each week if you are ever in the area and want to see American wool production in action.
Faribault Woolen Mill doesn't produce sheet sets, but their woolen blankets work really well as a top sheet in cold climates. I especially love the state flag blankets that they produce, which I think make a really special gift. This company is truly a staple in American textile production and owning one of their blankets is owning a piece of American history and culture.
If you love buffalo check, you will go crazy for Faribault Woolen Mill blankets. They perfectly embody that casual, cozy look for the modern adventurer. They also have plenty of neutral and subdued options, all of which are extremely high quality and well produced. The prices are up there, but still, we think they are a great value when you consider the craftsmanship and history that goes into each blanket from Faribault Woolen Mill.
Brahms Mount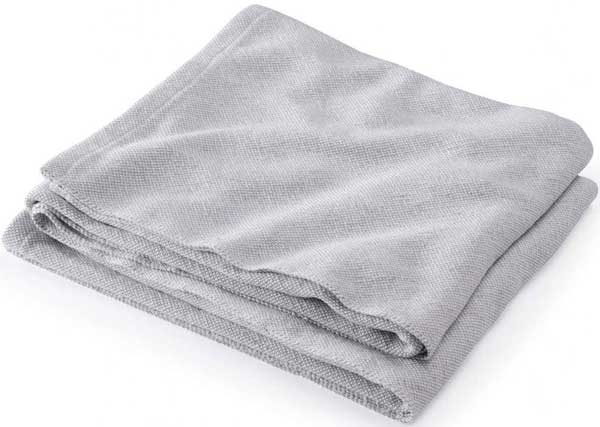 | | |
| --- | --- |
| Material | Cotton, Linen |
| Thread Count | Varies |
| Origin | Maine |
| Price Range | $300 to $400 |
Brahms Mount makes all of its textiles in Monmouth, Maine, using techniques and tools that have been part of the Maine textiles tradition since the 1800s. They use antique shuttle looms to actually weave the fabric, which goes into their cotton and linen bedding.
If you're looking for a piece of history (without the mustiness of actual antique linens), Brahms Mount is a good option. They don't have actual sheet sets, but most of their blankets can work as a top sheet or be layered over a traditional sheet. They have options in cotton, linen, and a cotton/linen blend that all look beautiful.
This is another pricey option, so it's best for those who are looking for an heirloom product that will last for years. They have a greater variety of color options in their cotton products, but all Brahms Mount blankets stay within the neutral and muted color palette.
Maine Heritage Weavers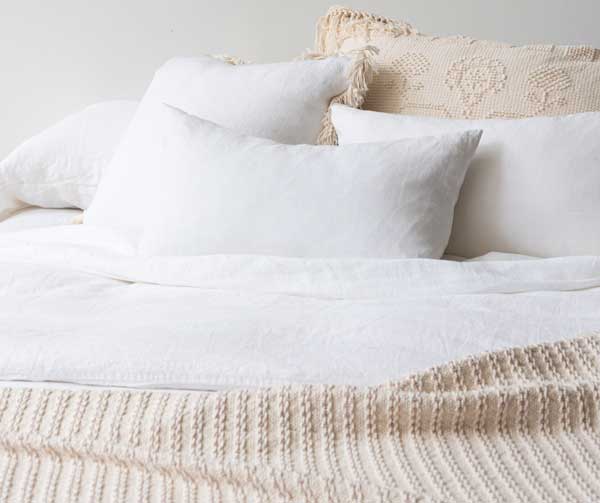 | | |
| --- | --- |
| Material | Cotton |
| Thread Count | Varies |
| Origin | Maine |
| Price Range | $200 to $300 |
Another textile company based in Monmouth, Maine, Heritage Weavers, was founded in 2002 by the former President of the Bates Manufacturing Company (who had produced heirloom-quality textiles in Maine since the Civil War). Many of their employees have a background with Bates, and even their equipment is from the mill where many of the most treasured American-made textiles of the last 100 years have loomed.
Maine Heritage Weavers bedspreads are beautiful and a true work of art. I love how they look and the high quality of the weaving itself. They aren't for every style, however, and don't have a lot of modern-looking options. They tend toward the more formal or classic style. However, the blankets and throws are the most casual of their pieces. The weave is particularly tight and uniform, making them great for chilly nights.
Maine Heritage Weavers textiles have an heirloom quality and look, perfect for classic decor. If you want your home to look full of family heirlooms and treasures (or if you want to buy something that will become a family heirloom), this is the bedspread that you want. If you want to create a custom bedspread or throw, Maine Heritage Weavers can do that, too.
Nest Bedding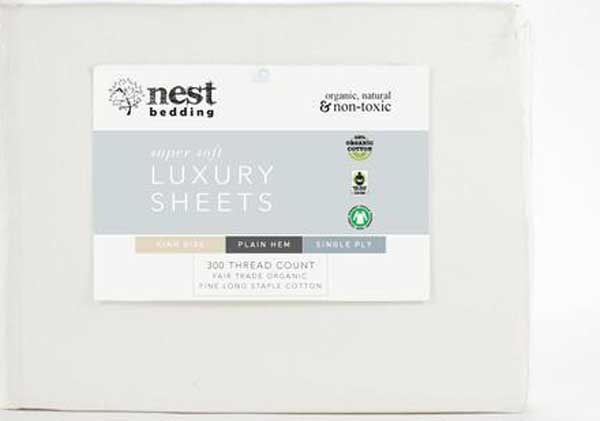 | | |
| --- | --- |
| Material | Cotton, Bamboo |
| Thread Count | 300 |
| Origin | California |
| Price Range | $30 to $200 |
Nest began as an American-made mattress manufacturer that shipped boxed mattresses directly to customers. They have since expanded into textiles and now have multiple showrooms in California, Washington, Arizona, New York, Texas, Illinois, and Minnesota, where customers can see their products in person before purchasing.
These are some of the most budget-friendly sheets on our list ($116 for a Queen set). They only have two color options, white and slate. But both look nice and are available in organic cotton or bamboo. They have a light gray pewter option in their Tencel fabric. I like these sheets overall, especially given their amazing price.
Nest is one of the few companies that offers bamboo sheets, making them the perfect choice for those interested in that particular fabric. Bamboo is durable while still being soft and is a solid eco-friendly choice. If you don't want to spend a ton of money on sheets, we recommend going with Nest. They're high-quality USA-made sheets that won't let you down.
Liz and Roo Fine Baby Bedding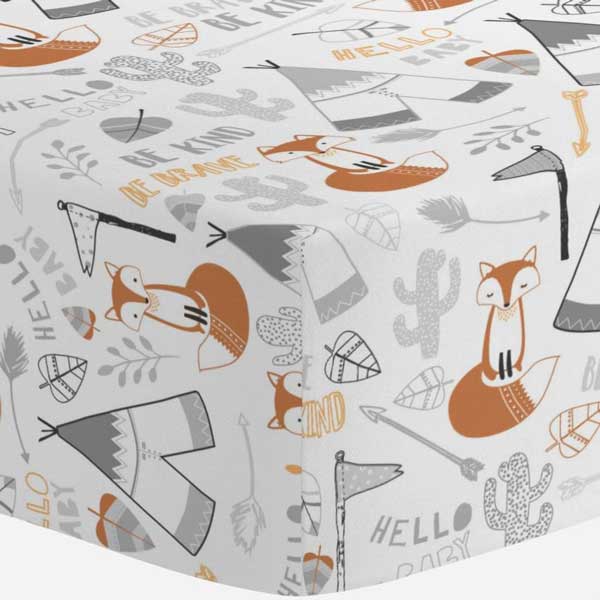 | | |
| --- | --- |
| Material | Cotton, linen |
| Thread Count | Varies |
| Origin | Kentucky |
| Price Range | $20 to $100 |
Liz and Roo's bedding is hand-sewn in Louisville, Kentucky. The company doesn't manufacture its own fabrics but works hard to source its material from within the United States whenever possible. Because each of their pieces is sewn one by one, the quality of Liz and Roo's bedding is fantastic.
The company definitely specializes in baby bedding, with everything from crib sheets to changing pad covers to help you coordinate your baby's space. Their designs are modern, and they have plenty to offer that is gender-neutral. There are cheaper crib sheets available on the market, but if you plan to use them for a while, I recommend investing in a high-quality crib sheet that will last.
Parents who are willing to spend money on a crib sheet that is well-made and will last through multiple children will love Liz and Roo. Each crib sheet is around $50, which is expensive, but they are super high quality. The designs are also on-trend, with watercolor florals and buffalo check offered in multiple different looks.
The Oriole Mill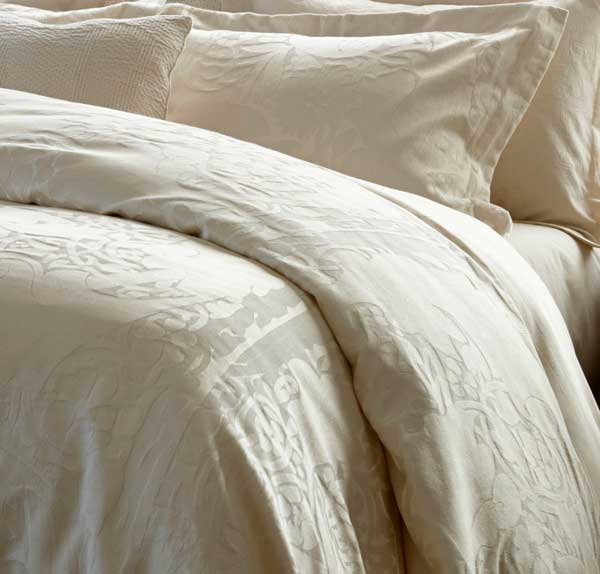 | | |
| --- | --- |
| Material | Cotton, wool |
| Thread Count | Varies |
| Origin | North Carolina |
| Price Range | $400 to $600 |
The Oriole Mill is as committed to high-quality design as they are to high-quality products, and it's obvious when you look at its manufacturing process. The mill includes a designated design studio space to encourage beautiful textiles. They have up to ten looms going at any given time in their Hendersonville, North Carolina space. They also make their own trims and details, which provide additional control over quality and design.
I love just about every set from The Oriole Mill for its unique and modern look. The company does a particularly great job of styling its bedding and provides plenty of inspiration on its fantastic blog. They have plenty to choose from coverlets, blankets, and throws, as well as pillows and accent bedding pieces.
If you want an impeccably styled bed, The Oriole Mill has the finishing touches that you need. Their bedding is quite expensive ($420 for a Queen blanket) but is high quality and high design. The styles are neutral and classic, however, so you'll be able to get your money's worth in every season and with a variety of different decor styles. If you need some inspiration, look to their collections to see what works well together.
Factors We Considered
While you may not be able to test out a new set of bed sheets for a full night, you can still make your choice based on some helpful factors. If you can find a set that comes with a money-back guarantee or trial period, you can be sure to love your purchase!
Why Choose American-Made Bed Sheets?
Mass-produced bed sheets made overseas by cheap labor and with inferior materials are available and often cheaper. But the difference in quality can be seen as soon as your head hits the pillow. It may be tempting to save a few bucks on your purchase, but you will soon be replacing those sub-par sheets.
If you want bed sheets that will be comfortable and last for a long time, look for some that are American-made and of high quality. By purchasing American-made items, you are also supporting the economy and workers in the United States.
Bed Sheet Materials
There are a variety of materials available for bedsheets today. Some are better for warm weather, while others are perfect for snuggling up in the colder months. A lot of the care and comfort will depend on the type of materials and fabrics used.
Cotton:
Cotton is by far the most popular and plentiful bed sheet material. It is often a cheaper option (although not always), comes in a variety of colors, and is good for hot or cold nights. You can also find organic cotton sheet sets, which can be more expensive (although not always). Many of the companies that source their materials from the United States and weave their own fabrics use cotton because it grows well in many parts of the USA.
Bamboo:
Not all textile manufacturers offer bamboo sheets, but they are starting to grow in popularity due to their eco-friendly footprint, soft texture, and cooling. Bamboo is great for those who want to make sure their purchasing power goes toward supporting companies that are sustainable. It's also great for sleepers who tend to get hot while they sleep or who live in warm climates.
Linen:
Linen is my personal favorite type of bed sheet. It's cool, soft, and doesn't look bad when rumpled. It can be a bit pricey but is not the most expensive option for bed sheets. Not as many companies offer linen sheets, but the ones that do often have very wonderful color options. Linen absorbs dye well, so linen sheets tend to come in very saturated tones. They are also popular with neutral options for their natural look.
Silk:
Silk is the most expensive fabric for bed sheets and is not as in demand as it once might have been. A few companies do make silk bed sheets, but they aren't as popular so there aren't a ton of choices. Silk is best for those who want something softer on their skin and hair.
Satin:
If a set of silk sheets isn't in your budget, satin is a good alternative at a lower price point. They still provide that smooth feel, which is good for your skin and hair. Sleeping on a satin pillowcase can greatly reduce the rumpled feeling that your face and hair have in the morning.
Tencel:
Tencel is the newest innovation in eco-friendly, sustainable materials. It is made out of the pulp of eucalyptus trees, which is spun into thread and woven. It is strong, soft, and good for the environment, which is why many consumers like it.
Special Features
You may see some of these special features as the best-loved aspect of a set of bed sheets. See if they are right for your sleeping situation.
High Thread Count:
Thread count refers to the number of threads in each square inch of fabric. A higher thread count means more threads, which typically means softer fabric. For companies that manufacture their own fabrics, it is easy to control the thread count. The type of fabrics and materials also makes a difference. Some cotton is softer than others, so a lower thread count may actually feel better. Other materials like silk and satin have a completely different feel, irrespective of thread count.
Pocket Closures:
If you are buying a sheet set, look for one that has pillowcases with pocket closures. These folds at the open end of the pillow keep the inserted pillow from shifting while you sleep. This may not be a big factor for some, but it can be a nice added detail for a good set of sheets.
How to Choose a New Set of Bed Sheets
When you are ready to make your purchase, ask yourself these questions to make sure that you find the perfect set of bed sheets.
What environment do you sleep in?
If you have ever slept in a really hot or really cold room, you know just how important the right sleep environment can be. Consider the fabric of your new sheet set and how warm or cool it is. Linen tends to be the best option for keeping cool (bamboo is also a good choice), while wool or heavy-weight cotton is the warmest.
What style do you like?
There are almost endless options when it comes to bedding style. From modern to natural, there is something for every taste and look. Linen is the most casual since it holds some natural wrinkles that give it that slept-in look. Silk and satin are smooth and present the most formal bed. Cotton can be somewhere in between, with heavier-weight sheets giving a more structured look and lightweight sheets more casual.
What is your budget?
You have to consider your budget when selecting a new set of sheets since some options can get quite pricey. The overall cost will vary based on the material and type of fabric used, any special production methods or dying techniques, and the quality of the sheets themselves. Cotton tends to be the cheapest option, while silk is the most expensive. Organic materials are also a bit more expensive, especially if they are certified organic.
Wrap Up:
Having comfortable sheets and a quality American-made pillow is a great way to improve your sleep. By buying from a company that keeps their manufacturing process right here in the United States, you can rest easy (pun intended) knowing a lot more about the material, fabric, and process that went into creating your sheets than if you had purchased a mass-produced item from overseas. American textile manufacturers take great pride in their high-quality linens, something you, the customer, will love.
Have you slept on any of these bedsheets? What did you think? Let me know about your restful winks in the comments!
Hi, my name is Kevin and I'm from Pittsburgh, Pennsylvania. Choosing products made in America is important to me because it supports local economies, creates jobs, helps the environment, and ensures ethical labor practices. I also find that American made products are usually of higher quality so although they're a little more expensive, you save money in the long run. Before starting this website I was in the USMC infantry and nowadays I work on this website as a hobby.