Whether you're dressing for a casual day out or you're packing out for a hike, getting the right socks on your feet can make or break your next move. Unfortunately, a lot of American textile manufacturing has left for cheaper labor, but when it comes to socks made in the USA, thankfully we have a lot of great options!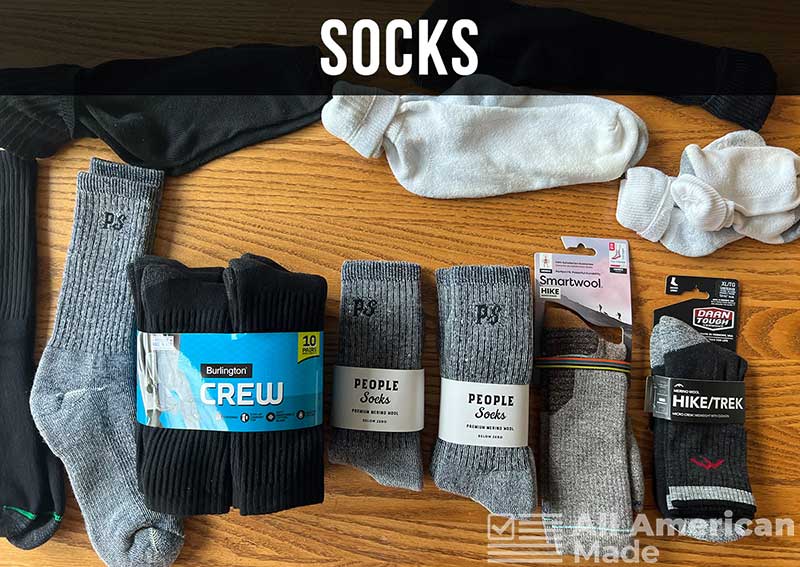 This list has a ton of options for both men and women. Just a heads up, this list is long because we included a ton of different sock styles, so whether you're looking for cotton socks, wool socks, or a blend, I'm confident you'll find something for you on this list.
List of American-Made Socks
Darn Tough Socks (Lifetime Guaranteed)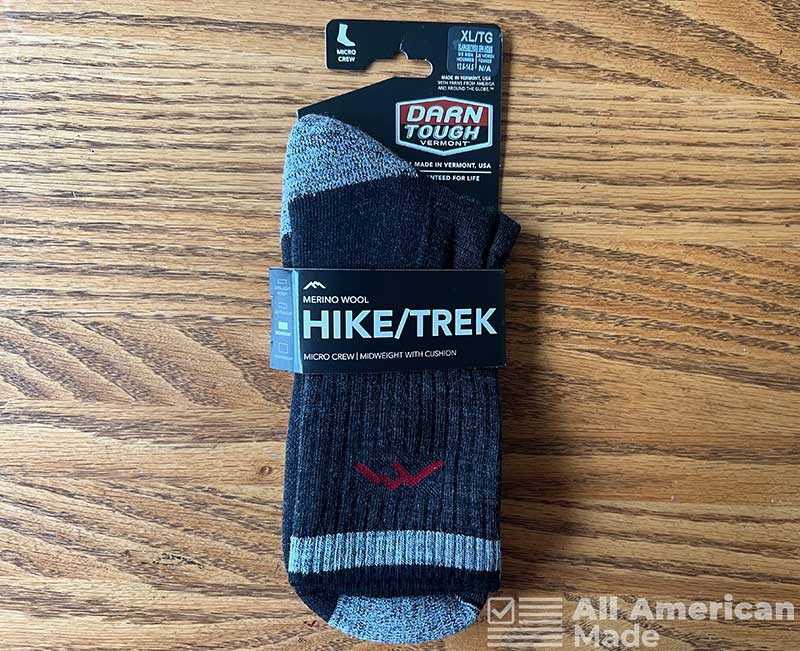 | | |
| --- | --- |
| Origin | Vermont, USA |
| Year Founded | 2004 |
|  Materials Used | Merino Wool, Nylon, Spandex Blend |
| Colors Available | Many |
Darn Tough's Origin and Manufacturing Locations
Since 2004, Darn Tough has been making some darn tough socks that many of us in the outdoor community know and love. They believe in their socks' toughness so much that even if you are able to wear them down or damage them, they're guaranteed for life. I always love a good product origin story, and with Darn Tough socks, the Americans who craft them are actual outdoors enthusiasts that live in an environment where a solid set of socks would make or break the day.
Something I thought was quite interesting is they have a bunch of different styles and designs across different cuts and socks meant for certain events. I find that this makes it easier to find a perfect sock for my intended use case.
Also, if you aren't sure what type of sock is right for you, check out the Darn Tough sock survey here, which will suggest socks for you based on your life and what you do! When I took the quiz, I was recommended the Backcast Crew Lightweights, which is a sock I had never owned from Darn Tough, and honestly, I didn't even know it existed, but I can tell you that my toes are sure glad I now know!
Darn Tough's Sock Selection and What We Like About Them
It's pretty dang obvious that darn tough socks are built by people that know what it's like to live in a less-than-comfortable environment and are both active outdoors and indoors. From Darn Tough, I've found socks for pretty much every use case possible, and the truth is, you could pretty much outfit your entire sock drawer with nothing but Darn Tough socks, and that means your entire sock arsenal is guaranteed for life, which may cost you a pretty penny upfront but then you'd have incredibly made American made socks for a lifetime., which is pretty nuts!
I love their merino wool lightweight socks. I typically don't mind sacrificing a bit of thermal protection so long as my socks are light, breathable, and comfortable, and these check all of those boxes. On the other hand, my best friend loves thick and toasty socks, so much so that he buys his footwear in a size up just so he can use the thickest socks, and we can both get what we want from Darn Tough!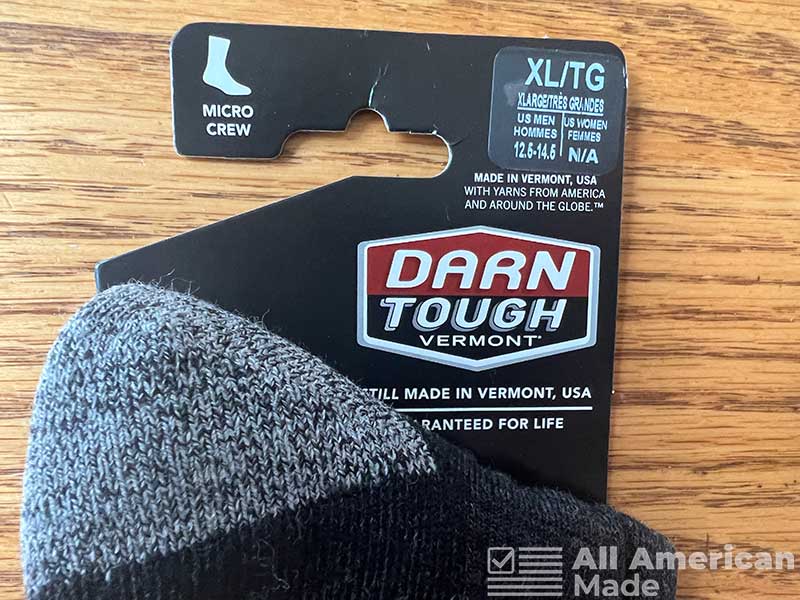 It's hard not to be able to recommend a Darn Tough sock to anyone and everyone. Where do they lack? Who haven't they designed a model for? You can find your plain white or black socks, or you can wild out and grab something funky and artsy. You can get any cut, at any size, in any thickness. You can get something to lounge around the house with, or you can get something to hike through the mountains with. Darn Tough socks are for everyone, and I highly recommend that all of you give them a look and take that sock quiz linked above!
People Socks (Affordable Merino Wool Socks)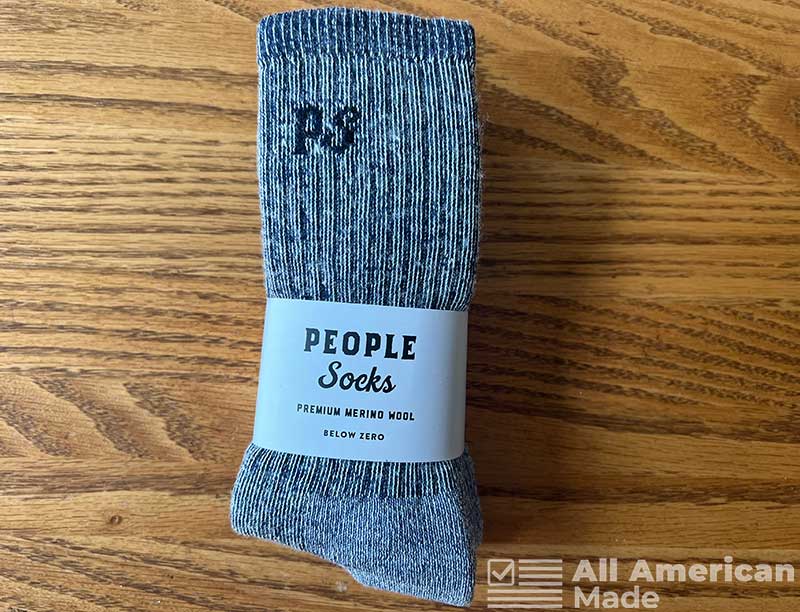 | | |
| --- | --- |
| Origin | Georgia and North Carolina, USA |
| Year Founded | 2012 |
| Materials Used | 71% Merino Wool, 21% Nylon, 7% Polyester, 1% Spandex (Varies by Model) |
| Colors Available | Charcoal, navy, green, black, and more |
People Socks Origin and Manufacturing Locations
People Socks started in 2012 with a mission to bring merino wool socks to everyone at an affordable price and in a sustainable manner. They offer some of the highest quality merino wool socks on the market, and they have a loyal following for good reasons. Their socks are made in Georgia and North Carolina, and they use merino wool from New Zealand because they find it to be better quality than any merino wool sourced from the USA, but all of their manufacturing and knitting is done in the USA.
The People's Promise is simple: They want you to be happy people. They do this to make sure you get your money's worth every time you buy from them. They even back their socks for 12 months, meaning if you get holes in them, they're covered. You can read more about The People's Promise here.
People Socks' Selection and What We Like About Them
People socks are made from premium wool, so you won't have to worry about them falling apart after a year like a lot of poorly constructed socks. I personally love the comfort and durability of merino wool on your feet without spending an arm and a leg. Your feet will be comfortable and odor-free all day with these American-made wool socks. A better price for premium Merino wool. These socks are designed for everyday wear. They are neither too thick nor too thin. In addition, the toe and heel are reinforced so they won't wear out on you as quickly as wool socks.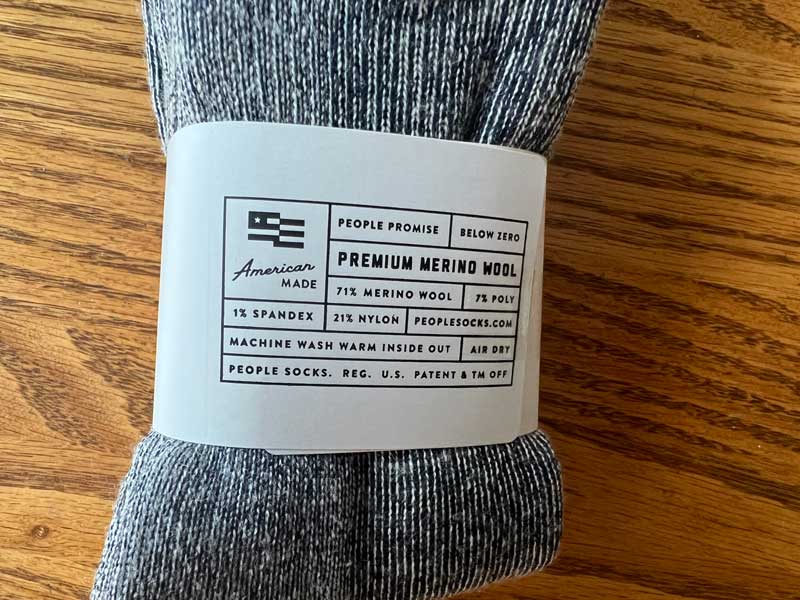 People Socks are great for just about anyone. Whether you're someone who wears boots and spends all day on your feet or someone who just wants a comfortable pair of socks to wear around the house, they have something for everyone.
Burlington Cotton-Blend Comfort Power Crew Socks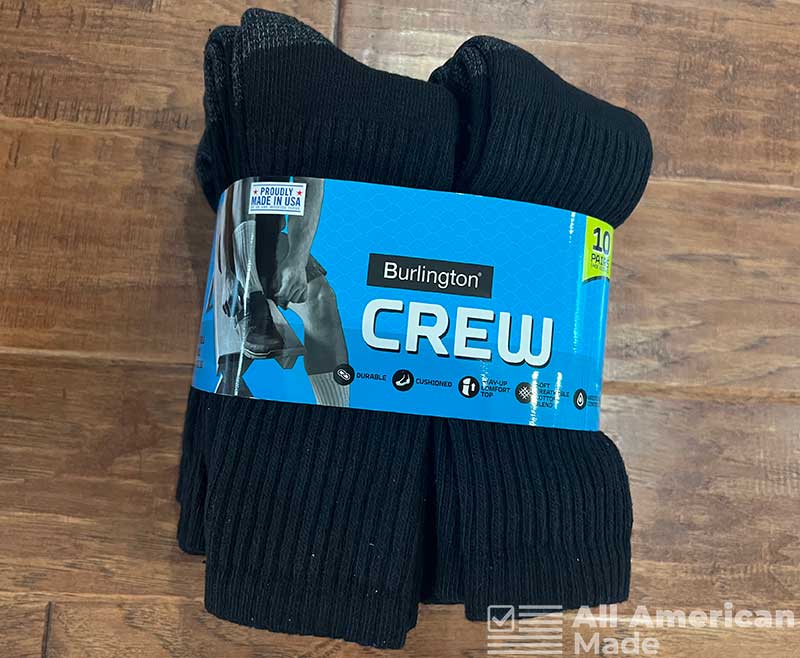 | | |
| --- | --- |
| Origin | Asheboro, Burlington, and Lumberton, North Carolina |
| Year Founded | 1972 |
| Materials Used | 70% Cotton, 18% Rayon, 10% Nylon, 1% Spandex, 1% Polyester |
| Colors Available | White or Black |
Burlington's Origin and Manufacturing Locations
Burlington Socks makes their products in both Asheboro, Burlington, and Lumberton, North Carolina. Staying true to their craftsmanship, they have been doing so for the last 30 years. All of their socks encompass a green seam near the toe, which to the company, indicates their ethos in quality.
Burlington's Sock Selection and What We Like About Them
At first glance, Burlington socks, aside from their green seam, would look like just a regular pair of white or black socks with nothing special about them, but the truth is, these socks have that little bit of "extra effort" in every place they can put it, making these exceptional socks to use.
The heels are reinforced and are super tough, even for athletes, the part that hugs your leg or ankle is super stretchy but also very tight, ensuring they stay up, and the cotton is thick enough to be durable and endure stress but still breathe nicely. While only 70% cotton, many searching for 100% cotton American-made socks would turn a blind eye, but the truth is, their material mashup actually reinforces what really feels like a premium cotton sock and makes sure it lasts a long time and resists damage.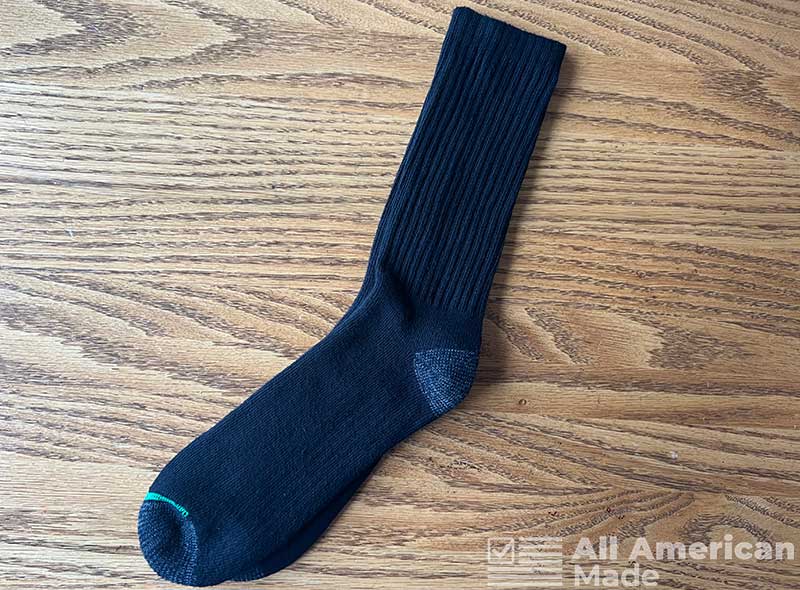 These really aren't that expensive, especially for socks made by talented Americans, so I wouldn't say they're on the premium end in terms of price, but they do feel and act as premium-level socks. They aren't the best socks to ever exist, but at this price point, they certainly do exceed the limitations of pretty much everything else on the market in the same price range, considering comfort, breathability, and reliability. Overall, if you're looking for cotton socks made in the USA, Burlington socks are a good option.
Smartwool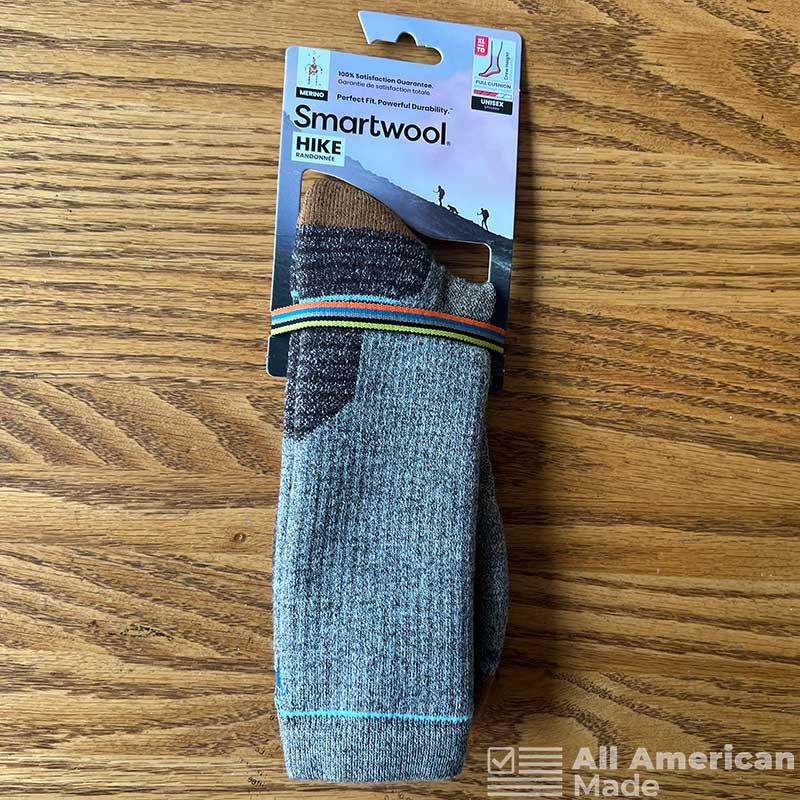 | | |
| --- | --- |
| Origin | Steamboat Springs, Colorado |
| Year Founded | 1994 |
| Materials Used | 100% Wool |
| Colors Available | Military Olive, Light Gray, Taup-camel Marl, Ash |
Smartwool's Origin and Manufacturing Locations
Starting in Steamboat Springs, Colorado, it all began with two professional New England ski instructors, Patty and Peter Duke, in 1994. At the time, they had to overcome prejudice against the industry since few people wanted to pay a lot for wool socks. They have now operated their business for 25 years.
The brand says that it has committed to switching to eco-conscious dyes for select colors like their Merino 150 and 250. In particular, watch the performance socks from Smartwool since they make all their performance socks in the USA.
Smartwool's Sock Selection and What We Like About Them
Smartwool offers a wide variety of socks, and right on their website, you can see all the different types of socks they offer based on what your intended use case is. So whether you want socks for biking, everyday use, hiking, walking, running, etc, they show you all of the socks that would be just right for the activities you do most. They have a lot of great options for men, women, and kids.  Smartwool socks are especially popular for those who are very active athletes or outdoor enthusiasts. While they keep these socks warm, you will rarely see them excessively padded. People who suffer from sweaty feet will appreciate the moisture regulation of the socks since they do a good job of controlling it.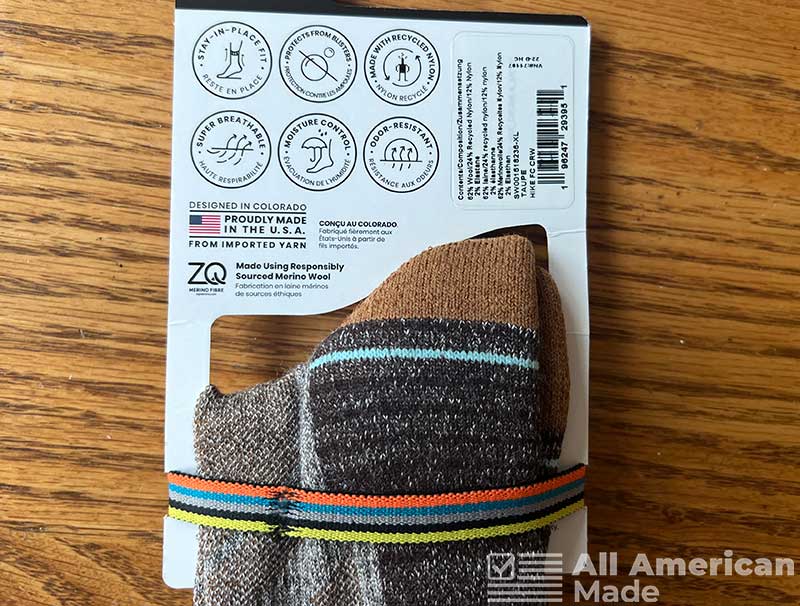 Another plus side is that these socks remain breathable. This can prevent the growth of bacteria and fungi, which may lead to a health condition known as athlete's foot. Breathable socks also reduce the risk of developing blisters and sores.
We would recommend this sock for athletes and larger individuals who may struggle with moisture regulation in their socks. Even individuals in the military have made use of Smartwool socks to stay comfortable when out running their exercises. You can keep it under control. Smartwool feels breathable and will feel more comfortable than many of the other choices on the market. They may cost more than other brands, but they exceed the others in cushioning, flex and resilience. As far as wool socks go, these are extremely comfortable, and we highly recommend their socks.
Sockwell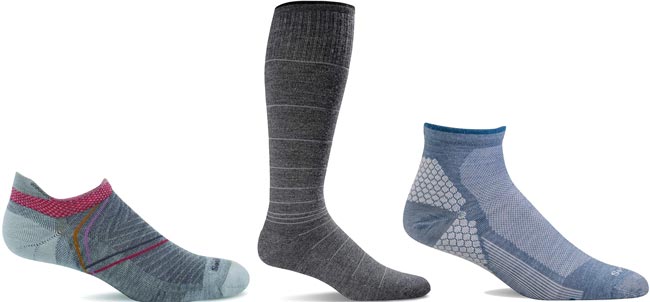 | | |
| --- | --- |
| Origin | Chattanooga, Tennessee |
| Year Founded | 2011 |
| Materials Used | 32% Merino wool, 32% Nylon, 31% Rayon, 5% Spandex (Varies by Model) |
| Colors Available | Solid Black, Black Stripe, Denim, Khaki, Navy, Charcoal |
Sockwell's Origin and Manufacturing Locations
Goodhew, LLC launched Sockwell in 2011. Meanwhile, Goodhew, LLC itself was started in 2008 in Chattanooga, Tennessee, by Jim Markley and Thomas Lee. If you ever have a question about their suppliers, you can check out the Sockwell Supplier List here. Jim Markley originally worked at Smartwool back in 1994, and both executives have deep knowledge of the sock industry.
Since the beginning, the brand has stayed 100 percent committed to manufacturing its socks in the United States. They, in fact, make all their socks in Chattanooga, Tennessee, but they have mills around the country, like in Tarboro, North Carolina, and Fort Payne, Alabama. Even the Merino wool that they source doesn't come from overseas, and they have it grown right here in the USA. They use state-of-the-art manufacturing techniques to make their socks.
Sockwell's Sock Selection and What We Like About Them
Quality is the first thing that stands out to Sockwell buyers since the cushioning feels great on the foot, and they aren't too heavy of a sock for those who stand on their feet for long hours. The brand could offer more attractive colors and patterns for the women's socks, but overall, Sockwell scores well on most tests. A lot of people buy Sockwell's compression socks for work.
They have a wide selection of socks, so whether you're looking for a sock with some compression or more of a loose fit, they really do have something for everyone.
These socks are very versatile, so whether you spend 12 hours per day on your feet working or just want a comfortable sock, these are an excellent choice. Many people wear these socks when they know that they will be running on their feet all day. They cost more than the average sock, but it relieves some of the pain from being on your feet.
You can truly tell that Sockwell socks are made from quality materials because of their softness and construction. These socks are also very popular among hikers.
Maggie's Organics Socks (99.8% Cotton Options Available)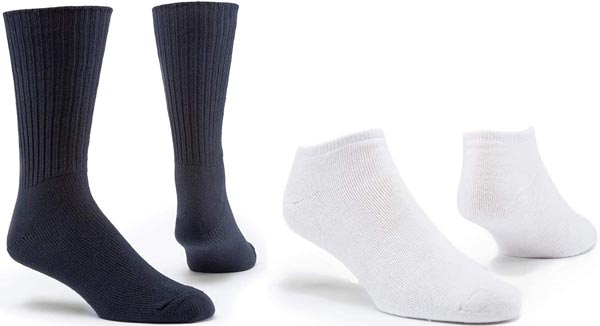 | | |
| --- | --- |
| Origin | North Carolina |
| Year Founded | 1992 |
| Materials Used | Cotton, spandex (Varies by Model) |
| Colors Available | Black, Natural |
Maggie's Organics Origin and Manufacturing Locations
Maggie's Organics socks are sourced from a 100-percent worker-owner cooperative in North Carolina. This is a family-owned and operated business. Before 2016, Maggie's organics worked with a cooperative of farmers through the NGO Jubilee House Community.
The brand has, in fact, existed since 1992, which makes them the oldest organic apparel company in the United States. We would like to highlight that while some of the cotton comes from North Carolina, they do produce some of it in Nicaragua and Costa Rica.
Wherever they make their products, they do it through worker cooperatives, which means that they put the worker and the local community as the core purpose of the business. We respect that business model because it tries to make a positive difference.
Maggie's Organics Sock Selection and What We Like About Them
Maggie's Organics socks have a loose fit, but they don't slide down and they feel comfortable on your feet. The softness of the socks will win you over, and the cotton was sourced from GOTS-certified organic farms. You would describe their socks as soft but stretchy. The seam goes across the toes at a strange angle, which does feel odd, but it overall feels comfortable.
We would call these socks a good pair of plain cotton socks. They don't have much outside of that, but it may appeal to those who want good American-made socks. They can be thick and bulky, so you may not want them for tight-fitting shoes since they can cause sweatiness.
We would recommend Maggie's Organics socks for the more budget-conscious customer since these are another lower-priced sock brand. They made these socks from pure organic cotton, and for someone who suffers from arthritis and may struggle to take off and put on socks, this pair of socks will come on and off easily. We would also recommend this choice for anyone who suffers from allergies since these socks use allergy-free organic cotton. Many people have an allergy to their clothing, and they don't even realize it. You can usually tell this by scaly skin, redness, and itchy areas.
Harvest & Mill Socks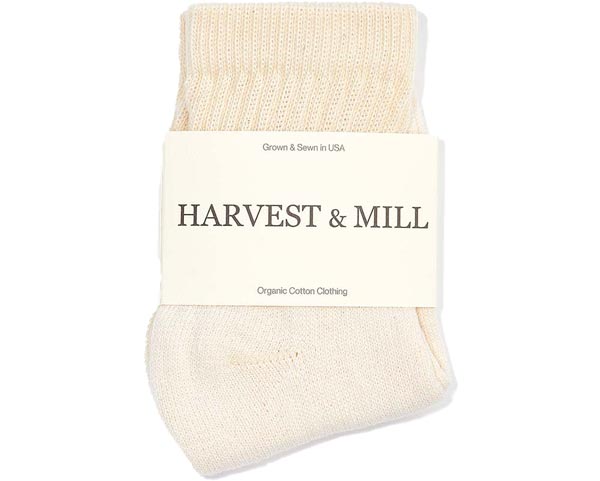 | | |
| --- | --- |
| Origin | San Francisco, California |
| Year Founded | 2012 |
| Materials Used | Natural cotton |
| Colors Available | Tan, brown, white |
Harvest & Mill's Origin and Manufacturing Locations
Starting in 2012, Harvest & Mill built its clothing upon the foundational principles of how clothing should be beautiful and made in the USA. They design and sew their socks right in the San Francisco Bay Area. They source their cotton from organic cotton farmers in the United States from American heritage mills.
They care about environmental and ethical principles. You can buy all of their products in the undyed and unbleached, clean fabric finish. If you buy their naturally dyed clothing, they source it from the farmers and dye artists of California and Indiana.
We like this brand because compared to other American-made brands, Harvest & Mill costs less for those who need a more budget-conscious choice for socks. The brand stands out as well because it uses natural dyes—no artificial dyes and no bleach.
Harvest & Mill's Sock Selection and What We Like About Them
For the lower cost of the socks, they still feel luxurious. They made the socks from soft and organically grown domestic cotton that offers warmth and breathability. The elastic band on the calf feels soft and gentle without biting into the skin.
Washing them shouldn't pose much trouble. Just toss them in the washer on a cool cycle, and the fabric and dyes will remain in good condition. You can buy their socks in the colors tan, brown or white. You can tell that they care about the environment because they source cotton from USDA and GOTS-certified organic cotton farms.
Not only that, but we like that Harvest & Mill seeks to rebuild the battered US supply chains. It's an overall great choice from a quality brand.
We recommend this choice to individuals who want a brand that costs less than the other American-made socks. Instead of having to pay $20 to $40, you can still support your nation for a much lower price. Their vision for a better America makes this a great brand, and their environmentally friendly approach through the use of natural dyes makes it a good choice for those who want to care for the environment. Someone with an allergy to textile dyes may want to try this one out to see if it doesn't bring some relief.
SaverPak Cotton Athletic Socks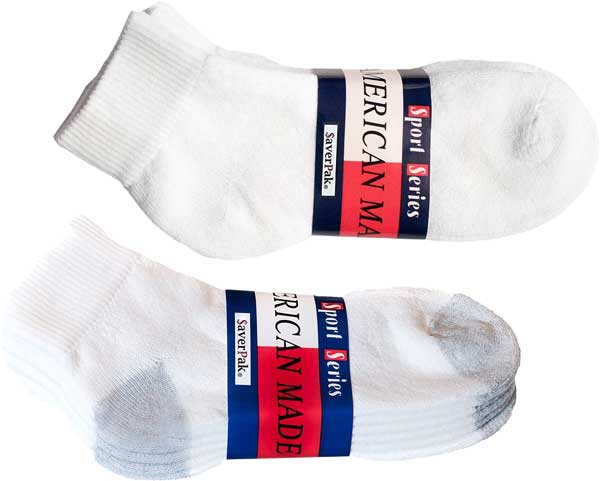 | | |
| --- | --- |
| Origin | Made in Multiple Locations in the USA |
| Year Founded | 2020 |
| Materials Used | 80% Cotton |
| Colors Available | White or Grey |
SaverPak's Origin and Manufacturing Locations
The manufacturing information of these is really tough to come by, and we are not completely sure exactly where they are manufactured.
SaverPak's Sock Selection and What We Like About Them
I personally don't have any experience with this brand, but I did see they are sold by a lot of major retailers in the US, such as Sears, Walmart, etc, so I figured I'd put them on the list for you to explore if you so choose. They claim they are 100 percent cotton socks on this listing page, but then later on the listing, it says they are 80 percent cotton with terry-lined cushioning. The company doesn't seem to have an official website, so I can't verify if they are 80 or 100 percent cotton. Overall, these are pretty decent socks that are relatively durable.
They seem like pretty basic jobs that get the job done at a reasonable price, and being that they're American-made is a beautiful thing!
Loose Fit Stays Up Casual Crew Socks (Great for Wide Feet)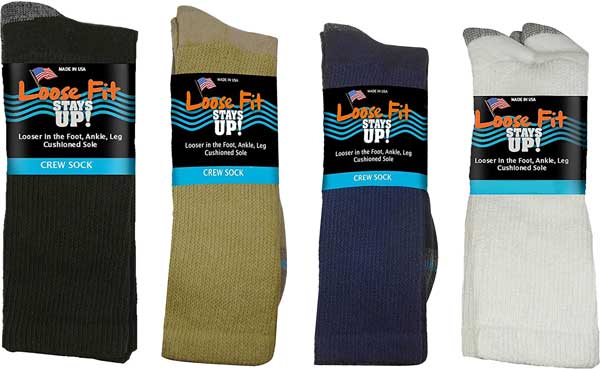 | | |
| --- | --- |
| Origin | Elk Grove Village, Illinois, USA |
| Year Founded | 1952 |
| Materials Used | 72% Cotton, 27% Nylon, and 1% Spandex |
| Colors Available | Tan, white, black, navy |
Loose Fit Stays Up's Origin and Manufacturing Locations
A family-owned company since 1996, Extra Wide Sock Company is a leader in the industry. It goes without saying that they are all about extra wide socks; that should tell you everything you need to know about them.
They manufacture all of their socks right here in the United States. It is its mission to support the American cotton growers and textile workers, and when it comes to specialty products like their socks, it believes that USA-made products are the best.
Also available from this company are:
Easy Fit Brand Dress Socks:
If you want a non-binding dress sock and you have a regular D width or a slightly wider E width, then these are the perfect socks for you. These dress socks are perfect for people with muscular or wider calves. Your feet and legs will appreciate them.
Medical & Bariatric Socks:
They make the widest and tallest medical and bariatric socks on the market. These shoes are designed for people with wide or swollen feet, ankles, and legs. They are Microban-infused to reduce bacteria. Ring-spun cotton is used to make the socks soft. Feel independent, covered, and comfortable wearing these socks.
Loose Fit Stays Up's Sock Selection and What We Like About Them
Grandparents of the founders were immigrants, tailors by trade, as was their father. They come from a long line of people with excellent measuring and fitting skills. Their dad was meticulous, compassionate, and kind. His desire to clothe big and tall people, to fit them properly, led him to open his first clothing store in 1952. His company is driven by quality, service, and fit. Their passion for it is contagious!
Loose Fit Stays Up socks were designed and developed, so you do not have to wear socks that are too tight or difficult to put on. Everyone deserves to be comfortable and fit well. Do you wish you could wear a sock that is looser and more comfortable? It's hard to find socks that fit loosely and stay up, but these do! Find out why people love them. If you try these socks, you won't want to wear anything else.
This casual cotton crew sock, Loose Fit Stays Up, fits regular feet as well as wide feet.
It's so easy to put these on and take them off; the design fits loosely and stays up. Designed for maximum comfort. If you have mobility problems and find it difficult to get socks on and off, or if you are chubby around the middle and have trouble bending, wear this.
They are easy to put on and stay up, are looser on the foot, ankle, and leg, and have a cushioned sole to increase comfort.
With the merino wool version, they will keep you warm in the winter and cool in the summer. These socks are designed to be comfortable, minimize odor and bacteria, and are perfect for walking, hiking, and spending time both indoors and outdoors.
Samsox Merino Wool (Athletic Socks)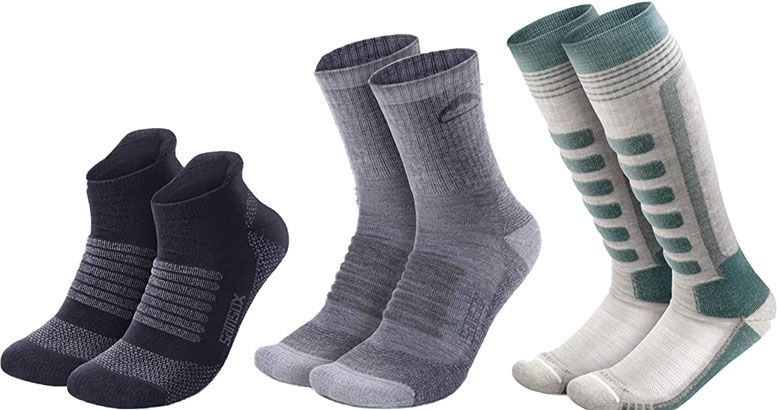 | | |
| --- | --- |
| Origin | California, USA |
| Materials Used | 65% Merino Wool, 34% Nylon, 1% Lycra Spandex |
| Colors Available | Black, grey, oatmeal |
Samsox's Origin and Manufacturing Locations
There is very little information on this brand, and they don't seem to have an official website of their own at the time of writing this. I have owned some of their socks that I found at Walmart, which I picked up as emergency socks while driving to a distant campground and realizing I had forgotten to pack socks. They were good, much better than what I'd expect from regular Walmart-grade socks and they're very competitively priced in the market, too. Are they the best socks ever made? No. Are they great socks at an economically friendly price? Absolutely.
Samsox socks are constructed from Merino Wool, Nylon, and Lycra Spandex, some of which are sourced in the United States and some of which are sourced from other countries. Despite having some imported materials, Samsox is made utilizing American talent.
Samsox's Sock Selection and What We Like About Them
Like I mentioned before, I actually grabbed two packs of these from Walmart because I was silly and entirely forgot to pack socks. I was already 5 hours away from home on the way to a week-long camping trip and so I really had no other option but to pick up the best socks I could find in the area, and with being in the middle of a flyover state, Walmart was my only choice.
It was a little chilly but nowhere near freezing. The Samsox survived the entire trip, which entailed some boating, fishing, and at least 10 miles of hiking and walking. At the end of the trip, they were smelly for sure but totally intact, and my feet hadn't taken much of a beating and had no blisters. I'm happy. Now that I'm far removed from an emergency sock-less situation, would they be my first choice? Well, I have a lot of socks from this list, and as you have probably already read, some of them are really amazing and are among my favorite articles of clothing, so no, the Samsox I have aren't necessarily my first choice, but they're pretty good at a low price.
These socks aren't the best socks ever made, but they are decent quality and a decent form factor for some quick and cheap running socks. I'd say that if you're new to running, like say you are trying out a running plan for the first time to hit those new year goals, and you're not sure that you'll stick with it, then buying socks like these for running makes a lot of sense. You can avoid a hefty upfront sock investment on some of the far more expensive running sock options while still having a great place to start and see if these kinds of socks are something you like and the activities that warrant them are something you'll keep on doing.
GRIP6 Merino Wool (Hiking & Athletic Socks)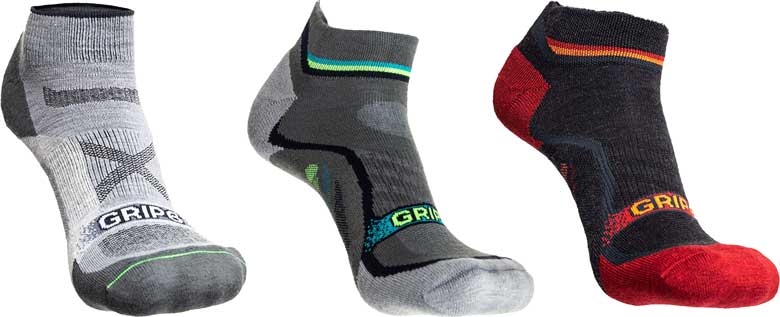 | | |
| --- | --- |
| Origin | Rhode Island, USA |
| Year Founded | 2015 |
| Materials Used | 36% Wool, 58% Nylon, 6% Elastic |
| Colors Available | Light grey, Grey, Black and red, grey and blue, and grey and orange |
GRIP6's Origin and Manufacturing Locations
Grip6's founding stories are those of a type of story that I always love and enjoy hearing about because they exemplify a founder who has a problem and has the will and drive to go out and solve that problem, not only for himself but for everyone else too! Business is all about solving problems, and at Grip6, the problem was that BJ Minsonm was sick of seeing low-quality products break and then end up in a landfill. Bj was disgusted with how many things he had thrown away throughout the years, especially because he had a rather large family, and one day, after tossing out a crappy belt, he decided he wasn't going to use products that couldn't last and would take matters into his own hands.
In 2011, BJ took on the challenge of creating better daily-use products and started with belts. He made tons of belts right there in his own garage, and after years of dedication and selling over 10,000 belts to the community that far exceeded the quality and lifespan of the options in that market, he was able to buy more textile-based equipment, and the rest is history.
Since starting in his own garage over a decade ago, BJ Minson has expanded the Grip6 lineup to include socks, and he believes he can apply his techniques to many other products, keeping manufacturing here in America. We always love a good garage startup story, and I applaud those with the work ethic and dedication to make it happen!
GRIP6's Sock Selection and What We Like About Them
Grip6 socks are constructed from a blend of 58% nylon, 36% wool, and 6% elastic. The wool utilized in these socks comes from the area around the Rocky Mountains and is derived from top-quality American merino wool. What I can tell you from my first impressions is that the socks don't seem to be especially thick, but they do offer some pretty decent levels of insulation. Nothing to trek through a blizzard with, but certainly enough to keep your toes comfy on a nippy night. With this said, this kind of material is also really good at being breathable, which is pretty important as I assume many people are going to use their socks for jogging, hiking, or just general outdoor use cases.
Something else you might notice is how stretchy these socks are, which makes it tough for them to add any kind of support or compression, but makes them especially durable and robust, especially when used for athletics. Socks that are really tight and fail to stretch often get torn up rather quickly for me if I use them for running and since I run every single day, having socks that have some elastic in them has become a very important staple in my sock drawer.
I honestly love using the Grip6 elastic ankle socks for my morning running and stretching routines. I have worn a couple of pairs down over the past few years, but honestly, I don't think any sock I've used for running has lasted anywhere nearly as long as these have, so if you have the money and you're looking to stock up your sock drawer for a daily running ritual, then these are probably going to be some of the best on the market in terms of American made running socks.
Are you interested in learning about the brands that make work boots in the US? Check this article out where we cover work boots that are all American-made.
Wells Lamont Wool Blend Crew Socks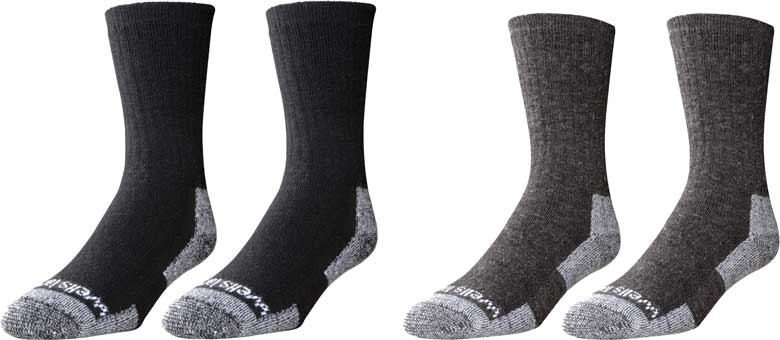 | | |
| --- | --- |
| Origin | Aberdeen, South Dakota, and Skokie, Illinois, USA |
| Year Founded | 1907 |
| Materials Used | 54% acrylic, 24% polyester, 18% wool, 2% nylon, 2% spandex |
| Colors Available | Black or grey |
Wells Lamont's Origin and Manufacturing Locations
The Wells Lamont glove company was founded in 1907 with five sewing machines, cotton fabric, and a desire to make high-quality gloves. The company has been striving to maintain its century-long legacy of quality, reliability, and innovation ever since.
While you're working hard, these Wool Crew Socks by Wells Lamont keep your feet cool and comfortable. To keep your feet dry, these socks are made from wool blended yarns. To allow your feet to breathe, the Airstrip venting along each side of the shoe creates a thin knit. Even up the leg portion of the sock, the terry construction provides additional cushioning without adding bulk. Built-in arch support keeps you comfortable even when standing for extended periods. Reinforced heels and toes increase socks' durability in wear-prone areas. Due to the spandex reinforcement in key areas, these socks stay up throughout the day.
Wells Lamont's Sock Selection and What We Like About Them
Wool crew socks from Wells Lamont are durable and provide all-day comfort in cold weather. Added arch support and cushioning materials ensure you stay on your feet all day. A reinforced heel and toe provide even greater durability in common wear areas. Using their patented airstrip vent design, the socks allow feet to breathe while the warm, wool-blend yarns wick away moisture and reduce odor, meaning no more sweaty, smelly feet.
These are perfect for outdoor winter activities such as skiing, snowboarding, hiking, or just in your day-to-day work boots. Foot odor can be reduced by using a wool blend yarn. The ideal choice for winter and construction work or for hikers and outdoor enthusiasts.
By wicking moisture away from your feet, Coolwick technology reduces sweating. Socks made of thick wool blends keep you warm in the winter. You will remain comfortable while walking for long periods of time with arch support and terry fabric padding.
Wildside Wool Alpaca Socks (Thick and Warm)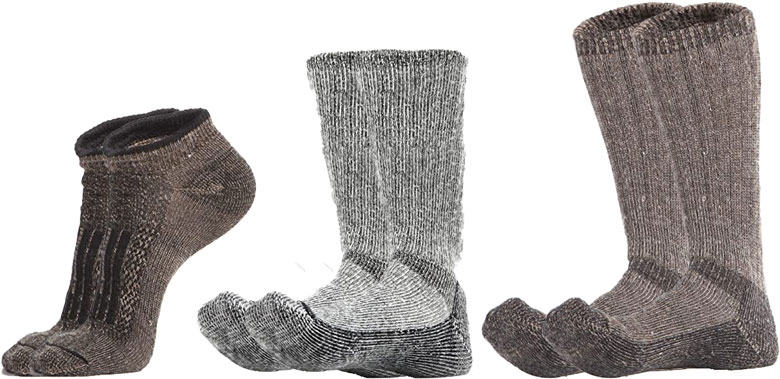 | | |
| --- | --- |
| Origin | Southern Idaho, USA |
| Year Founded | 1988 |
| Materials Used | 78% alpaca, 20% recycled nylon, 2% lycra |
| Colors Available | Light Grey, Grey, Brown |
Wildside's Origin and Manufacturing Locations
The Wildside hiking socks are seriously undervalued and are some of the lesser-known socks on this list. Although I haven't yet found a great deal of information on their origin story and the founders, I do know that the Alpaca wool used to construct these socks is all sourced from American family-owned farms in the Midwest and that, although they do use a few synthetic materials to add strength and elastic capabilities, the socks are almost completely made of natural fibers.
Wildside's Sock Selection and What We Like About Them
Oh man, these are so slept on! As soon as I got these delivered and got the packaging opened up, I couldn't wait to get these socks on, especially because it was a cold January afternoon. The images online of these don't really allow one to understand the fluffiness and softness of these socks, but once in your hand, you'll immediately notice that these are among the most comfortable and cozy American-made alpaca wool socks on the market.
There are some common complaints about them being too thick or too warm. I find this kind of silly as being thick and warm is literally the point of these socks. They were never meant to be lightweight runners or breathable athletic wear. These are socks that are going to warrant a little extra space in the boot, and they're going to be both visibly and physically thicker than probably anything else you have in the sock drawer, so just make sure you plan for this.
Thick Alpaca wool socks from Wildside are made to be super comfortable and super warm. They aren't the most technologically advanced sock you'll ever see and aren't the most lightweight and versatile sock you could ever buy, but what they are is just a soft and cuddly protective shield for your feet in moderately cold weather. They're fun to own. They wouldn't be my only socks in the sock drawer, but they're a nice pair to throw on for those gloomy chilly days when I just want something cozy and soft to wear around with.
Member's Mark American Socks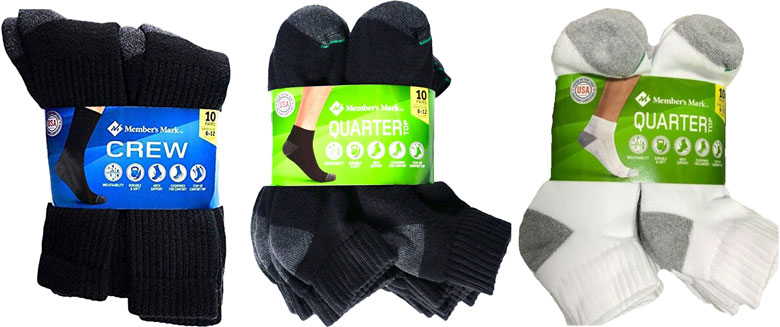 | | |
| --- | --- |
| Origin | USA |
| Materials Used | 75% Cotton, 4% Polyester, 2% Spandex, & 1% Polypropylene |
| Colors Available | Black |
Member's Mark Origin and Manufacturing Locations
Member's Mark is essentially a Sam's Club private label, and although they were originally only found at Sam's Club, there are a few places nowadays where Member's Mark socks can be purchased from. Sam's Club has a ton of products, but their Member's Mark lineups are products that are personally managed by Sam's Club and held to a much higher standard than anything else in their catalog. Essentially, Member's Mark products are the creme of the crop in terms of what Sam's Club offers, and although Sam's Club is kind of like a Costco, where you are expecting cheap, and economically friendly products, Member's Mark products are known to be of pretty good quality for the price.
Member's Mark Sock Selection and What We Like About Them
Are they the best socks you could ever own? No, they aren't, but are they among the best in terms of price and economical friendliness? The argument could be made, depending on what you need. In my experience, these are extremely generic and "get the job done" kinds of socks. They aren't especially special in any one category, but if I were to lose one on a trip, would I be upset about it? If my dog were to chew one up, would it be a financial disaster? If I had to lend out a pair never to be seen again, would it ruin a friendship?
Of course not, because that's really what these socks are for, in my opinion. I have much better, nicer socks that are, of course, much more expensive and difficult to replace, but I also keep several pairs of daily drivers like these for instances like those aforementioned. They're low cost, consistent, and they get the job done, that's what they're for, and that's what they do.
For those on a budget or those who don't care about the fancy and high-class attributes of more expensive socks, these are perfect for you. They're better than imported Walmart brands but not nearly as bank-busting as some of the handmade and handwoven natural fiber options on this list.
Minus33 Merino Wool Socks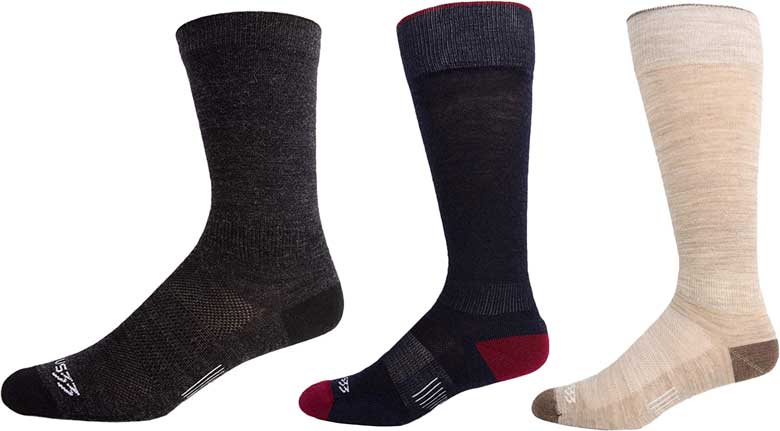 | | |
| --- | --- |
| Origin | New Hampshire, USA |
| Year Founded | 2001 |
| Materials Used | 61% Merino Wool, 23% Nylon, 15% Stretch Nylon, 1% Spandex |
| Colors Available | Black, oatmeal, patriot, olive, and coffee |
Minus33's Origin and Manufacturing Locations
Minus33 is an exceptionally well-loved brand in the hiking and outdoors category. Being founded in 2002, the brand itself doesn't carry that old-school American heritage that many of the other sock brands crafted from long-standing American textile companies would have, but they do have the experience and the attention to detail that those businesses embody. L. W. Packard & Co certainly is one of those long-standing American textile icons, and it's from that company that the engineers and designers that would create the Minus33 brand were trained and educated. The Minus33 brand may only be a couple of decades old, but its founders have the backing of a family-owned textile business that has been around since 1916.
With a history deeply rooted in the wool industry and a passion for the outdoors, it was only natural for Minus33 to emerge as a merino wool clothing brand. Initially, Minus33 was a snowmobile brand that quickly expanded to include hiking, skiing, and hunting due to its versatility.
They are still headquartered in Ashland, New Hampshire, on the grounds of L.W. Packard's historic textile mill. Ashley is located in the geographic center of New Hampshire, close to the White Mountains, nestled in the heart of the Lakes Region, and a short drive away from Boston.
Despite having some of the world's harshest weather, New Hampshire also has some of the most beautiful weather, which has served as an excellent testing ground for their apparel and clothing. During the year, they experience it all – gorgeous fall foliage, white, snowy winters, as well as colorful springs and summers. Plain and simple, they're New Englanders. They have hiked, camped, skied, and done everything in between since they were kids. They continue to thrive no matter what the weather is like, and they test all their products in all kinds of weather.
Knitted on the grounds of Ashland's historic woolen mill, these socks are comprised of 61% Merino Wool, 23% Nylon, 15% Stretch Nylon, and 1% Spandex, with a seamless toe for a smooth, comfortable fit.
Minus33's Sock Selection and What We Like and Don't Like About Them
For high durability and exceptional breathability, the mountain heritage collection is constructed to maximize merino wool against the skin with nylon on the outside in the highest wear zones. One of the most important aspects of good hiking or running socks is to wick away moisture to ensure protection from blistering, slipping, and bunching. The high Merino wool content allows these socks to quickly wick moisture away from the skin and dry quickly.
They have a lot of styles and designs to choose from, which is nice because I've grabbed up a few different kinds, and I like to use them across various activities. They aren't shy from using unnatural materials to reinforce their socks, which is great because to me, performance is more important than how natural the sock is, and that's not to say they don't have a hefty amount of Merino wool installed, because they certainly do. Overall, these are excellent, well-rounded outdoor socks that I think anybody could be happy with!
These are an excellent choice for those of you looking for heavy outdoor use socks. They're built to withstand a lot of abuse and a lot of miles through harsh and unsteady climates. There are many outdoor hiking options on this list, and honestly, it's tough for me to choose just one, so make sure you take a look at their offerings and go for which brand resonates with you the most! As far as socks made in the USA go, these are easily one of my top recommendations.
Swiftwick (Budget Athletic Socks)
| | |
| --- | --- |
| Origin | Franklin, Tennesee, USA |
| Year Founded | 2008 |
| Materials Used | Olefin fiber |
| Colors Available | 16 colors |
Swiftwick's Origin and Manufacturing Locations
What happens when an extreme sports enthusiast gets sick and tired of not having socks that can keep his feet dry and comfortable as he bikes through the mountains? He gets off the bike, only for long enough to start a company, of course, and creates his own socks! Swiftwick is another company with a story we love to hear, one where someone is frustrated with what's available, and so they take matters into their own hands, or in this case, matters into their own shoes, and they build something great.
Swiftwick got started in 2008 out of Franklin, Tennessee, with a focus on creating highly durable and rugged athletic socks that would hold up to intense mountain biking and keep your feet nice and dry with advanced moisture-wicking capabilities. Today, Swiftwick is a pretty well-known brand in the outdoor socks industry worldwide, and they've managed to keep prices relatively low considering the quality and durability they offer.
From no-shows to crew cuts, Swiftwick has a nice assortment of different cuts, styles, and designs that pretty much anyone should be able to find something suitable to their taste. The socks are made from Olefin fibers, which are super light with some of the best moisture-wicking capabilities. These socks, although decently durable, are not thick enough to ensure both responsiveness in outdoor activities like mountain biking and also to provide a ton of ventilation and breathability because the founder of Swiftwick hated getting blisters from socks that kept in all the moisture.
Some of the fabrics they use in the construction of some of the models of Swiftwick socks are imported.
Swiftwick's Sock Selection and What We Like and Don't Like About Them
Swiftwick socks aren't going to be for everyone. They're thin, offer very little insulation, and aren't exactly the softest or most comfortable sock you've ever worn. What they are, though, are some of the world's best moisture-wicking and ventilating socks out there, and so they're perfect for conducting heavy athletic outdoor use without the need for any kind of thermal insulation or thickness.
What I really like is that you can get different levels of cushioning and compression. Some of my favorites are the Flite XT because they are a happy middle ground between performance and comfort, as I typically use these for morning runs but also in the gym, and sometimes I wear them all day, while some of the other socks are a little better at ventilating than these, they aren't as comfortable to wear for all-day use as these, and I like that versatility.
If you're an active person, you'll love these socks. They provide great moisture-wicking compression and support and are fantastic for cycling, running, walking, hiking, you name it!
Farm to Feet (Rugged Outdoor Socks)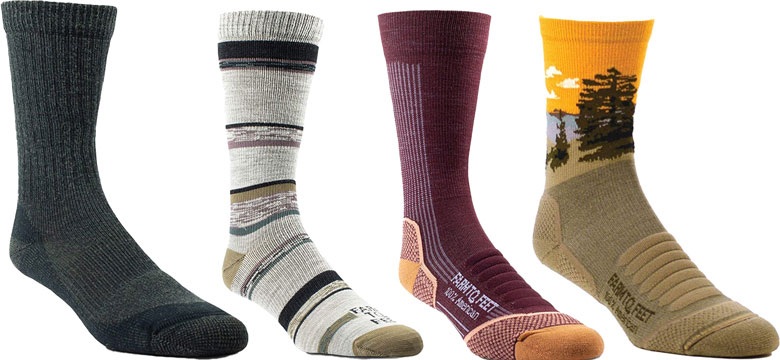 | | |
| --- | --- |
| Origin | South Carolina and North Carolina, USA |
| Year Founded | 1989 |
| Materials Used | Merino wool |
| Colors Available | Many beautiful colors and patterns |
Farm to Feet's Origin and Manufacturing Locations
Each Farm To Feet sock has its own personality. We love how soft the fabric feels. Every aspect of their manufacturing process is American. Production is carried out in South Carolina and North Carolina.
Farm to Feet's Sock Selection and What We Like and Don't Like About Them
Choose from hiking socks, sports socks, and everyday socks with specific cushioning for each type in sizes for men and women. Reinforced structures make sure that the socks fit perfectly.
Hiking and running are great activities for Farm to Feet socks, and they are amazing for camping too. In the summer, our feet do not get really sweaty, and in the winter, they keep us warm and cozy.
Fox Sox / Fox River (Premium Outdoor Socks)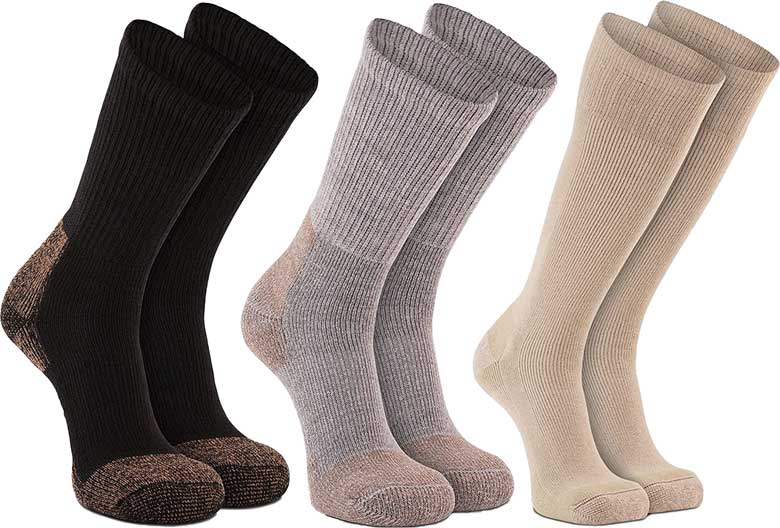 | | |
| --- | --- |
| Origin | Osage, Iowa, USA |
| Year Founded | 1900 |
| Materials Used | 70% Polypropylene, 28% Nylon, 2% Spandex |
| Colors Available | Brown, Black, Green, Sand |
Fox Sox's Origin and Manufacturing Locations
These are among the best military and outdoor use socks on the market. For good reason, FoxSox medium-weight socks are made to withstand whatever heavy abuse, harsh weather, and difficult terrain you may find yourself in. These socks generally have a lot more than your average socks padding, so they can cushion your feet from heavy shock, and the quick-dry fiber makes washing easy and blisters avoidable.
Your socks are permanently protected from odor thanks to their patented "Scentry" technology which essentially is embedded silver or copper fibers or a micro polymer silane technology that can reduce odor and increases the sock's ability to withstand abuse and wear and tear. Both natural and synthetic fibers and materials are used to craft incredibly durable and robust socks. By combining memory knit compression, contoured rib tops, and spandex compression zones, their URfit System provides for an excellent and top-tier personalized response fit.
Fox Sox's Sock Selection and What We Like About Them
These are among my all-time favorite socks, and it's not just because I was in the military and these are obviously marketed towards that, but it's because the value you get is incredible, and the robustness of these is something my sock arsenal needed an upgrade in for quite some time. Fox Sox are tough as nails, probably some of the toughest socks I've ever had. I remember one time wearing them in the Arizona desert as we are off-roading with some of my friend's Jeeps, and not only did the jeep get stuck, but the shoelaces on my shoe snapped from just being old and dried out. I walked around helping get the Jeep unstuck for about 30 minutes on the harsh Arizona desert floor, stepping on hard and dried-out vines to straight-up rocks and sand, and these socks not only survived but, after a good cleaning, looked good as new.
FoxSox socks are designed and crafted in America for those of us who need something a little extra on our feet, for those situations where you might find yourself beating the absolute life out of your socks. Sure, socks are meant to stay inside your shoe, but in my case, I've used them to walk around campsites as well as in the aforementioned situation in my review, and they never let me down. Sometimes I step on something pointy or sharp, and I think, "well, that'll leave a rip," and to my surprise, they never do! If you have a little extra to spend on quality socks that you know you'll be using in a manner most other socks wouldn't survive, these are the go-to options.
Solmate Socks (Artsy Socks)

| | |
| --- | --- |
| Origin | Vermont, USA |
| Year Founded | 2000 |
| Materials Used | 100 percent cotton blend yarns (recycled) |
| Colors Available | Multicolored |
Solmate Socks' Origin and Manufacturing Locations
Solsocks are sustainably sourced and good for the environment. Solmate reduces the amount of waste sent to landfills thanks to its pre-consumer, recycled cotton yarn. In addition, their processes reduce the amount of water, land, pesticides, and herbicides needed to grow cotton fibers.
Solmate Socks' Selection and What We Like and Don't Like About Them
They make adorable socks at Solmate Socks. They are soft, warm, and have a lot of personality. You can feel them hugging the most neglected parts of your body and reminding you of the important details that so often get overlooked.
With time, they will become part of you, just as you are part of them. As close as a rescue pet or an old friend. That's their promise. Solmate socks make you very happy. If you are lucky enough to come across a pair, you will both be very pleased for a very long time. Maybe even forever.
You guys are going to love these. These socks are purposely mismatched and come with an extra sock because of kids. Kids are notorious for losing socks. Let's face it, we're adults, and we still lose socks. What a genius idea, though.
Point6 (Ski Socks)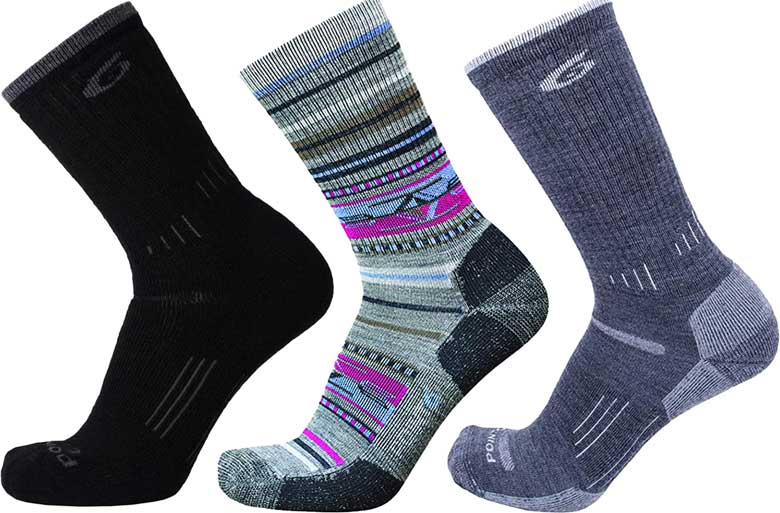 | | |
| --- | --- |
| Origin | Steamboat Springs, Colorado, USA |
| Year Founded | 2007 |
| Materials Used | Wool 58%, Nylon 39%, Elastic 3% |
| Colors Available | Various |
Point6's Origin and Manufacturing Locations
As a family-owned business, Point6 treats each employee and partner as an individual important to the company. The company is devoted to its employees before its profits.
Point6's Sock Selection and What We Like About Them
With these ski and snowboard socks from Point6, you'll experience unmatched comfort and performance. With the Medium OTC, you'll increase athletic output with all-around cushioning that surrounds your leg and foot. Those cold skiing days are made better with the medium cushion, which adds warmth and volume!
You'll stay drier longer with 37.5 Technology. Wool's natural abilities are enhanced by 37.5 active particles, which attract moisture in vapor form before it turns into a sweat droplet.
Medium cushion surrounds the entire foot & shin, 37.5 technology to remove moisture, and sport support technology keeps these socks in place so you can play, ski, or snowboard all day long. Also available in Light and Ultra Light versions for summer sports, hiking, and camping! Overall, these are excellent socks made in the USA.
Boldfoot (Creative Dress Socks)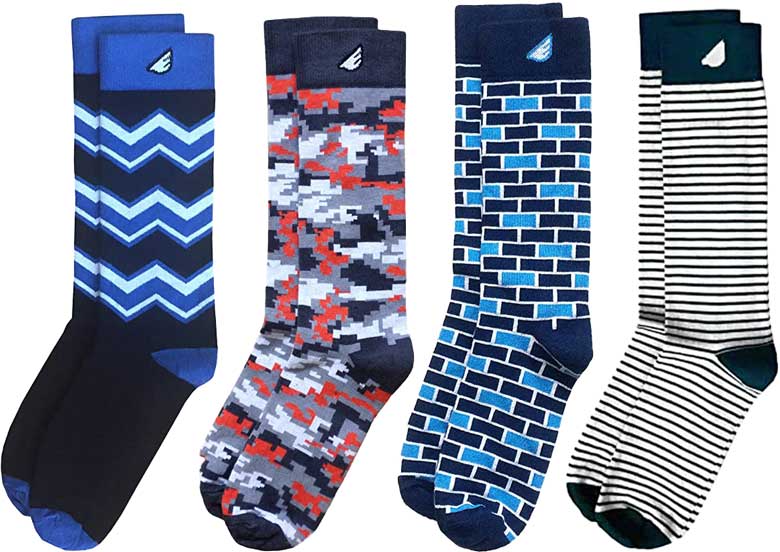 | | |
| --- | --- |
| Origin | North Carolina, USA |
| Materials Used | 75% Supima Cotton, 23% Nylon, 2% Spandex |
| Colors Available | Blue & Gold, Jailbird, Multicolored, Navy, Navy Orange & White, Ranger, Thin Stripes, Underdog #1 |
Boldfoot's Origin and Manufacturing Locations
Boldfoot Socks is on a mission to prove that "American made" really means something from the ground up. In addition to being made to last, their socks are also made in the U.S., from the yarn to the manufacturers they partner with.
Founder of Boldfoot Socks, Brad had the idea to design reversible socks when he was just nine years old. 20 years later, his passion for socks was rekindled, and he decided to finally bring his vision to life by launching Boldfoot.
"The socks may not be reversible (yet), but I'm excited to share this new brand with you and do some good in the process." – Brad
We donate to a variety of charities each year that assist US Military/Veterans and their families, all of which are rated five stars by Charity Navigator for their accountability and transparency. Some of them include Hope for the Warriors, Operation Support Our Troops – America, New England Center and Home for Veterans, and National Military Family Association.
Boldfoot's Sock Selection and What We Like About Them
Boldfoot Socks are made and sourced entirely in the USA. North Carolina is the only state where socks are dyed and sewed, re-engaging hard-working Americans.
Boldfoot also offers a replacement pair of socks for each pair purchased within three months if they rip, tear or develop holes.
Not only will you get great socks from Boldfoot, but you'll also do some patriotic good. 5% of profits are donated to assist U.S. military veterans with jobs, housing, health care, and more.
Boldfoot socks are unique in that they stay up on your calves like they're glued to them. Customers claim they never slip, even if they are standing all day. They're also very soft and comfortable, and we love the patterns and colors.
One client inquired about the size with the manufacturer before purchasing them. Brad, the owner, confirmed the size and offered a full refund if the man wasn't satisfied. Now that's service!
You can't go wrong by buying this product if you need new socks, like something different, don't like saggy socks, and like to support American companies and American Veterans.
Origin USA Built To Work Socks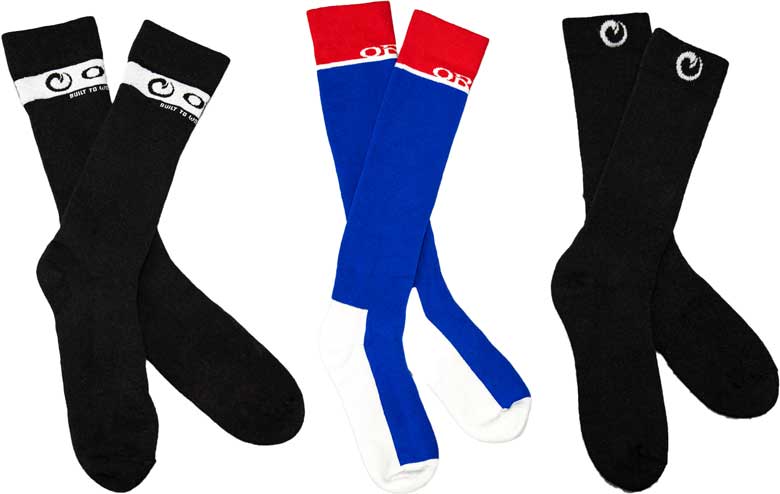 | | |
| --- | --- |
| Origin | Maine |
| Year Founded | 2011 |
| Materials Used | Polysynth Blend |
| Colors Available | Black, USA Color Scheme |
Origin USA's Origin and Manufacturing Locations
Origin USA was started in 2011 by true American patriots Pete Roberts and Jocko Willink. that I personally have been a fan of for quite some time, so yeah, my review will likely be biased, but hey, you can be a fan of someone and truly enjoy and advocate for their products, too. The mission of Origin USA and Jocko Industries is to reinvigorate and restore America's manufacturing capabilities that we used to excel in but have since lost touch with after commerce globalization.
Origin USA's Sock Selection and What We Like About Them
Origin USA is a company that is hard not to admire as it just feels very polished and very put together. Yes, there are many American companies that we've researched and done business with but it's hard not to notice how sometimes our older, more experienced businesses have a tough time adapting to modern commerce and business practice, most notably in the textiles industry. That is not the case with Origin USA, and I must say, the buying experience is just as smooth and satisfying as wearing their socks.
So, about the socks, yeah, they're good. They're like twenty bucks a pair, which isn't too expensive but not exactly anything close to being cheap; however, they utilize Origin USA's own Polysynth blend, which is among some of the best moisture-wicking technologies in a sock I've ever experienced. There are a lot of socks on the market that claim to have arch compression, as do these, but there are also a lot of socks that absolutely fail in arch compression, as these do not. I got my first pair when it was rather cold outside, and although they aren't designed for extreme cold weather protection, they can keep you warm on a chilly early spring night, but in the midst of summer, they're very breathable and not at all constricting.
These socks are specifically designed to be a lightweight and somewhat affordable work and athletic type of sock that won't break the bank and are going to be both durable and contain a host of friendly and quality attributes. If you're willing to spend twenty bucks a pair, and you know you'll be stuck wearing these for long days in suitable weather, then they're a good place to stock up on socks. If you're looking for the cheapest per pair of American-made socks, these are not it, and if you're looking for hardcore protection in extreme environments, there are more tailored solutions for that on this list.
Pacas Socks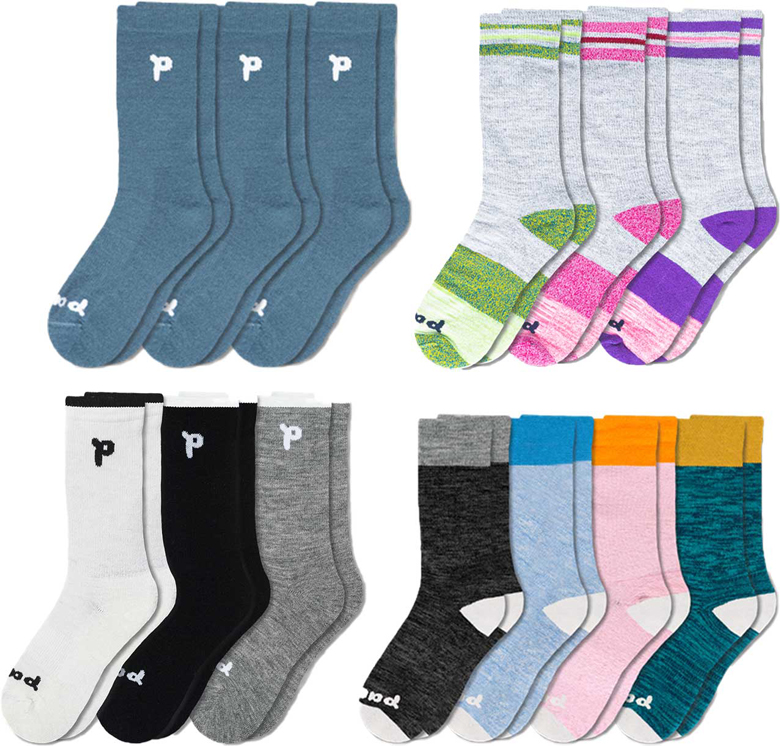 | | |
| --- | --- |
| Origin | Chicago, Illinois, USA |
| Year Founded | 2021 |
| Materials Used | Alpaca wool |
| Colors Available | various |
Pacas's Origin and Manufacturing Locations
What makes alpacas so majestic and well-meaning? While their wool is unlike any other natural fiber on the planet, they're more than just a comfortable coat. Here's what makes these soft-as-a-cloud creatures so special.
Alpacas graze on grass and plants that grow naturally in their habitat, just like other grazers. Their coats are so soft because alpacas only consume the tops of grass strands, which means their food source needs less replenishing than goats, sheep, or cows.
Alpaca fleece can also be as soft as cashmere. Cashmere likes to think of itself as the queen of the ball, but did you know alpaca is the superior knit? Cashmere and alpaca fibers have similar micron counts, which accounts for their softness!
Alpaca fleece traps heat in cold weather and keeps cool in hot weather. Alpaca fleece is suitable for all kinds of weather, so you can wear it all year long!
Pacas's Sock Selection and What We Like About Them
There are six pairs in total. Providing softness, breathability, and durability, Alpaca socks are a treat for your feet. In the winter, your feet will be warm and dry, while in the summer, they will be cool. You will be comfortable even during intense exercise with alpaca fiber, which is naturally moisture-wicking and odor-resistant. If you like to ski, hike, ride horseback, or just relax around the house, then our crew socks are perfect for you.
These socks are hypoallergenic and do not contain lanolin, which is a natural oil that causes allergies. They are thermoregulating because alpaca fiber has a hollow core, which insulates heat in the winter and helps keep it cool in the summer.
They are moisture-wicking and do not absorb any moisture, unlike wool. They are five times warmer than wool and unbelievably soft. Soft as cashmere, warmer than wool. Wear these socks with your sneakers, boots, or while lounging around the house!
RailRoad Socks (American Made Work Socks)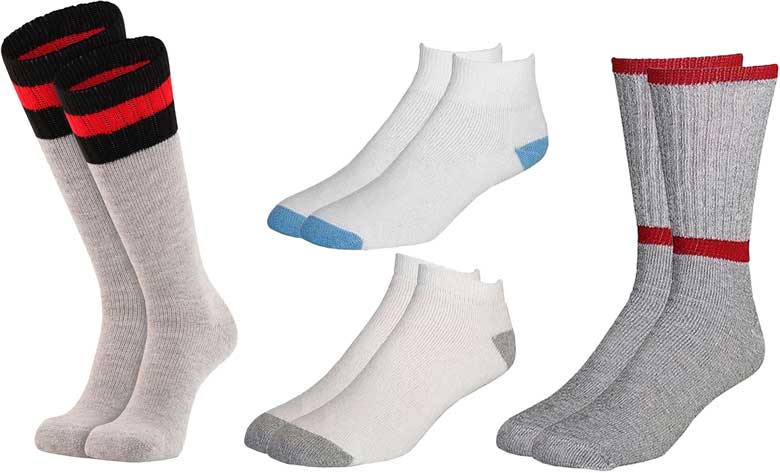 | | |
| --- | --- |
| Origin | Mohnton, Pennsylvania |
| Year Founded | 1901 |
| Materials Used | 85% Acrylic 15% |
| Colors Available | White, gray, and various accents |
RailRoad's Socks' Origin and Manufacturing Locations
The brand started somewhere around 1898 after the two brothers who had started one of the first hosiery mills in Pennsylvania split off to start their own mills and chase the American dream, although the official Railroad socks branding first appeared later, around 1901 or so, and was led by William G. Leininger. As one of the oldest American textile businesses that are still operating today, you can learn more about their interesting story on the Railroad work socks website here.
RailRoad's Socks Selection and What We Like About Them
It's true, buying socks made in America gets very expensive very quickly, and although you can find some serious quality out there, or some serious bargains, it's tough to find both in one package. Not a lot of us have heard about Railroad socks despite them having roots that go further back than almost any American textile brand operating today, which is pretty crazy, but I, too, hadn't really heard of them until I was doing research for this blog post.
So, what do you get with Railroad socks? Well, fashion and style are certainly not on the table, but when it comes to quality work socks at a very economical price, these are a solid choice. No, they aren't made for adventuring through harsh climates or taking your football game to the next level, but if you need something to stuff into a boot for a long day's worth of work that doesn't bust up the bank account, they'll get the job done just fine. Both men and women can get just about any type of cut you may need, and for the most part, you'll find your standard whites, blacks, grays, and a few of their signature colors like copper and worker orange.
Railroad work socks are of decent quality at a decent price. They aren't going to be the best socks in any one particular category, but they are a good place to try out a decent pair from a long trusted brand that, if you like them, you can easily stock up without spending an arm and a leg.
Swiftwick (Amputee/Adaptive Socks)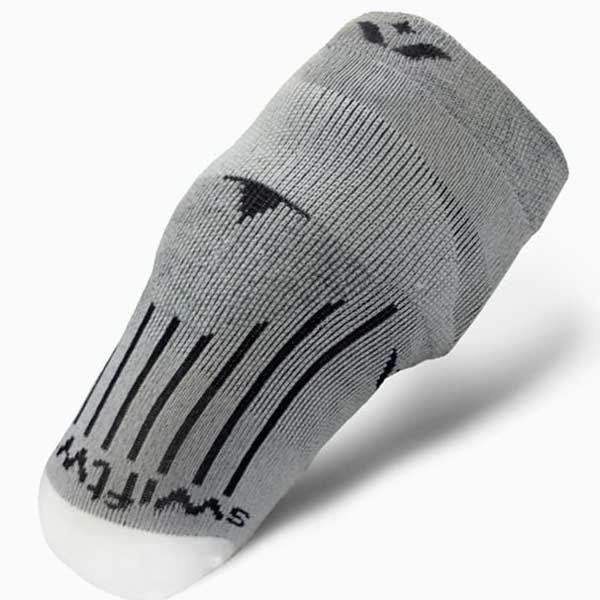 | | |
| --- | --- |
| Origin | Brentwood, Tennesee, USA |
| Year Founded | 2008 |
| Materials Used | 44% Recycled Nylon, 27% Olefin, 25% Nylon, 4% Flexival Elastomer |
| Colors Available | Grey with black |
Swiftwick's Origin and Manufacturing Locations
Their story began in 2008 when a mountain biker saw the need for high-performance socks with superior moisture-wicking properties and excellent fit. Their headquarters are in Franklin, Tennessee, and they develop performance socks for all types of adventures.
They believe that greatness can be achieved. They aim to enjoy life every step of the way, and every step of the way is a journey. Their daily lives are filled with moving their bodies, enjoying nature, making a difference in our communities, and using travel as a catalyst to dig deep within their souls.
They use the most sustainable methods available to them to make all of their products in the USA. They partner with organizations whose missions align with their own. One step at a time, they strive to inspire others to chase their adventures, too.
Swiftwick's Sock Selection and What We Like About Them
VALOR Above Knee Prosthetic Sock for Amputees is specifically designed for limbs with above-the-knee amputations. Built with moisture-wicking technology and Flexival Fiber to gently hug muscles and provide support throughout the day while keeping you dry and blister-free.
It is a revolutionary sock designed for lower leg amputees that wick away moisture and gently hugs the muscles to provide support and maximum dryness for all-day comfort and blister prevention. VALOR has your back now because you don't let anything stand in your way.
These socks for amputees feature moisture-wicking technology and high-performance fibers to keep you dry, comfortable, and blister-free. Supports muscles and keeps the sock in place by gently hugging your limb's contours. A variety of sizes and styles are available for Above Knee and Below Knee amputees.
Wear it against your skin to improve your performance and comfort.
Conclusion: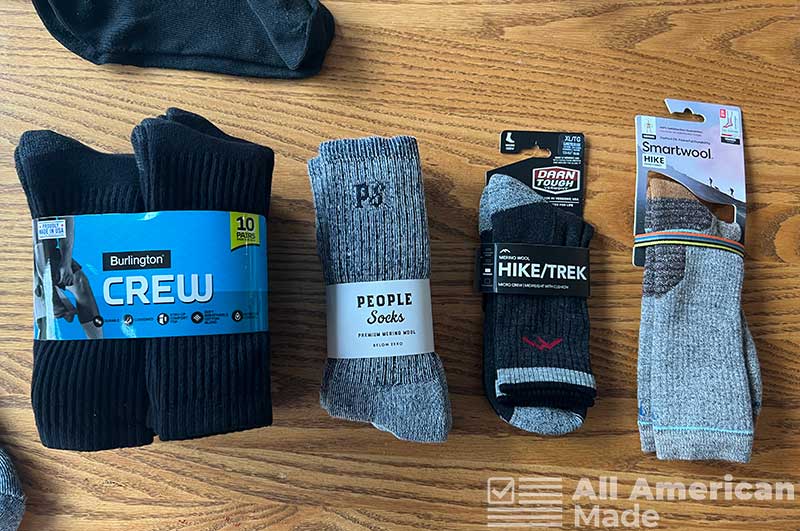 A simple and inexpensive way to support USA-made products is to buy socks., they'll keep your feet cozy and our economy booming! Each of these socks is made with high-quality materials and homegrown American talent. The socks on this list are designed and trusted to be comfy and long-lasting.
Hi, my name is Kevin and I'm from Pittsburgh, Pennsylvania. Choosing products made in America is important to me because it supports local economies, creates jobs, helps the environment, and ensures ethical labor practices. I also find that American made products are usually of higher quality so although they're a little more expensive, you save money in the long run. Before starting this website I was in the USMC infantry and nowadays I work on this website as a hobby.