Founded in 1955 in Richland, Pennsylvania, Double-H Boots has a rich heritage as an American western footwear company. In the past, they produced all their cowboy boots in the United States, but you may wonder where they produce their boots today.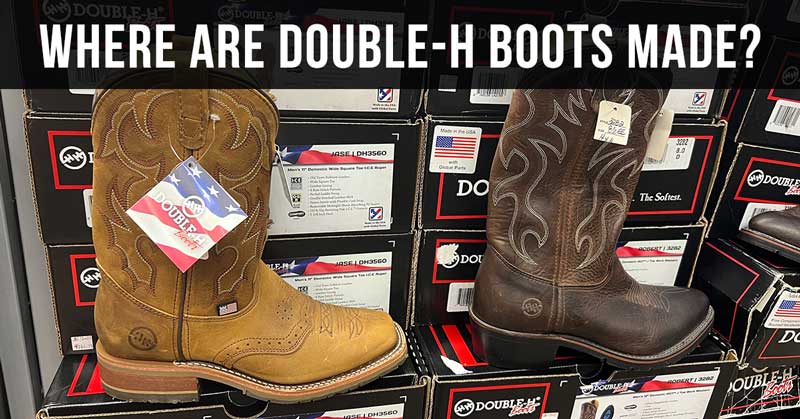 In the rest of this article, we'll explain exactly where Double-H Boots are made and share other important information that you should know about the company.
Most Double-H Boots are made in the United States; however, some are made in Mexico, Vietnam, and China. Their American-made boots are made at their facility in Martinsburg, Pennsylvania.
What Double-H Boots Are Made in the USA?
There are plenty of Double-H boots that are made in the USA. Their USA-made boot selection includes:
Men's DH1592 USA-Steel Toe Cowboy Boots
Gel Ice Cowboy Boots 1552 Brown
Women's Domestic Ultragel Ice Buckaroo Boots
Daniela DH5159
Arvada DH5316
Aberdeen DH4561
Augustus DH4638
Andre DH4633
If you want to find Double-H Boots made in the USA, we recommend referencing the domestic tab on the Double-H Boots website. You can see their USA-made Men's boots here and Women's boots here. You can also use the search feature and type in "USA". In total, we found over 25 potential American-made boots, which shows that this brand still does a fair amount of US manufacturing.
One important thing to note is that their boots made in America are made with globally sourced materials. While this isn't ideal, we understand many companies have had to switch to globally sourced to stay American-made and keep the costs lower.
You'll likely see a sticker on the boxes of their USA-made boots like the one you see below.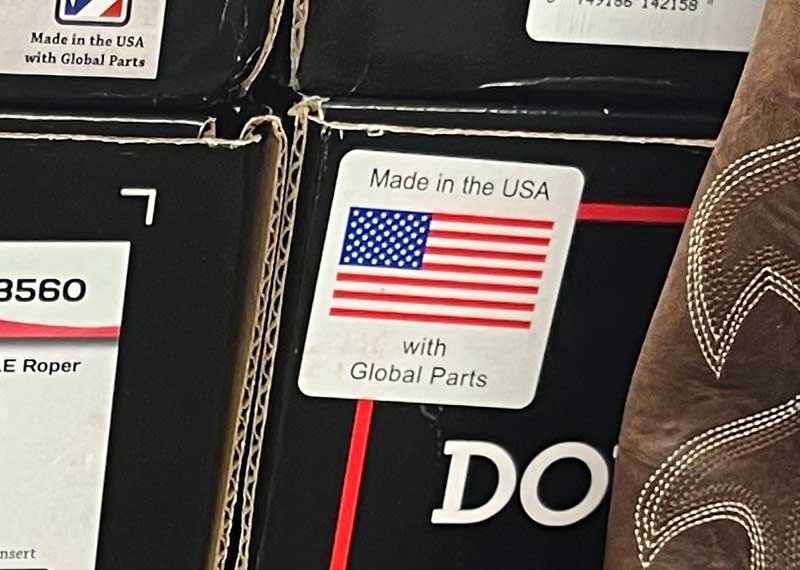 Unfortunately, it becomes more difficult for brands to compete if they don't source their materials globally since many American consumers would rather pay less for goods.
How to Tell Origin with Double-H Boots
The brand maintains an openness about the origin of its products, at least on its website. Look at the product descriptions, and it will usually say when American made. Check the boot shaft tag. When made in the USA, you will see an American flag on the tag.
The brand remains quite open about its US manufacturing, and if you want American-made boots from the brand, scroll down to the section that says, "Domestic," which shows you all of the Double-H boots made in the USA.
Where Does Double-H Boots Produce in the USA?
The original Double-H Boot factory sits in Reading, Pennsylvania. The western footwear brand began in Richland, Pennsylvania, but they chose Reading as the location of the first factory. This facility operated as a local company, but eventually, the H.H. Brown Shoe Company bought the facility, which explains how people came to know them as Double-H Boot Company.
Over the years, the brand has switched factory sites from Reading to Richland. Richland stands out in Double-H's history because they marked themselves out as the first cowboy boots built with safety toes.
From Richland, they moved to Womelsdorf in 1983 when the factory opened, but in June 2007, they shut down the facility in Womelsdorf to move to Martinsburg. From the 1990s to the 2000s, Womelsdorf produced most of the work and western styles. Their eventual move to Martinsburg left 135 American workers filing for unemployment, but even then, the factory in Martinsburg always had a bigger manufacturing imprint. They simply consolidated their manufacturing over to Martinsburg.
Since 2007, all of the Double-H Boot manufacturing in the United States comes from Martinsburg, Pennsylvania. Outside of the United States, Double-H Boot Company outsources a large portion of its manufacturing, and we will cover where soon.
Double-H Boots continues to deserve your support because they didn't eliminate their American manufacturing altogether. Even today, they still keep a US manufacturing presence.
Are Double-H Boots Made in China?
Double-H outsources some of its boot production to China, but China produces some of its casual and fashion lines, also. The brand outsources the work to third-party manufacturers under contract in China. Chinese manufacturing was prevalent from 2010 to 2020.
Many customers complained about poor quality Double-H boots coming from China, and they didn't recommend that country of origin. For example, one customer spoke on their Facebook page about how they were given Chinese Double-H Boots as a gift, and the quality was so poor that they lasted a week before the lining inside tore while putting them on—that is not okay. These are expensive boots even when they come from China, and they give no discount. You would be mistaken if you thought of China as the only country that they outsource to, however. They also send some of the work to Mexico, but Mexico earned a stellar reputation for the craftsmanship of its cowboy boots. China has not.
Many customers may express frustration at how the Chinese-made boots cost the same as the American-made models. They don't discount those made abroad despite paying less to make them. You pay the same price in many cases for the boots made in China.
Some of the boot models that they produce in China include:
Double-H Men's Wedge Boots
Men's Composite Toe Double-H Work Boots DH6134
Double-H Boots Men's Square Composite Toe Work Boots
Double-H Work Boots: D, 12, 1 PR
Obviously, anyone who wants American-made cowboy boots would avoid the above models. That's not to say that you couldn't buy a good pair of Double-H Boots made in China, but because they cost the same as those made in the USA, you have little incentive to support them. When we buy American-made products, it encourages companies to continue to make them in the United States because the profits increase.
Are Double-H Boots Made in Mexico?
Double-H makes some of its cowboy boots in Mexico, and to be fair, Mexico earned a reputation for quality craftsmanship with cowboy boots. Some of the Double-H boots made in Mexico include:
Sonora Brown Leather Women's Western Boots
Octavius DH7006
Men's DH 3610
Roper Combat Cowboy Lace Up
When you buy Double-H from the origin of either China or Mexico, many say that the other countries don't keep the same quality of materials as the USA. They may cut the cost of labor and lower the product price, but it reduces the material quality. Double-H Boots has a reputation for lasting a long time when you buy models from the USA.
However, Mexico offers us a better origin than buying cowboy boots from China since the knowledge and expertise in Mexico tend to be better than that of China. In fact, if you want to know where the cowboy boot manufacturing capital of the world is, it's located in Leon, Mexico.
For anyone interested in cowboy boots made in the USA, we put together this fantastic collection of cowboy boots made in the USA. Double-H gives you one example of some great American cowboy boots, but you have other boots that do just as well or even better. If you can't find anything that you like from Double-H Boots, don't give up.
Are Double-H Boots Good?
On the whole, Double-H Boot Company has a reputation for good quality boots, especially with its domestic cowboy boots. The boots, in general, have a reputation for quality and toughness. They don't overprice Double-H Boots. Many will tell you to buy for fit when you look for cowboy boots, and that rule remains true with Double-H Boots.
Not only are they durable, but Double-H feels comfortable for those who will use their cowboy boots as work boots. They made the boots for good functionality that people respect. Many love Double-H boots, but they also admit that they have had a few bad experiences with the brand.
Who Makes Double-H Boots?
On January 7, 1991, Berkshire Hathaway acquired Double-H Boots. Today, Double-H Boots operate as a subsidiary under Berkshire Hathaway. Warren Buffett, one of the most successful investors of all time, owns Berkshire Hathaway, which should tell you everything that you need to know about Double-H Boots. When Buffett bought the company, he added it to his portfolio along with the shoe company Dexter Shoe, which he bought in 1993.
Dexter Shoe was another great domestically made shoe company, and this article here highlights the challenges that American-made products have in competing with the overall market. Unfortunately, the high cost of labor has made it difficult for them to produce here.
We believe that in 2007 when Buffett bemoaned his mistake with Dexter Shoe, this was also the point with Double-H where we saw an increasing amount of outsourcing the work to China. However, Double-H Boots wasn't part of Berkshire Hathaway's mistake with Dexter Shoe. They are two separate subsidiaries, but we highlight this to show you how cheap imports have brought even strong companies to their knees.
Unlike some of the other corporations, we respect Warren Buffett because he kept manufacturing at these companies in the USA for as long as he could. Many publicly traded companies don't even hesitate to eliminate American manufacturing for a fast and easy buck. Double-H Boots employees in the USA report earning $24 per hour or $49,500 per year—a respectable wage.
Final Thoughts:
Double-H Boot Company, an American cowboy boot company with over 50 years of history, continues to produce boots in the United States in Martinsburg, Pennsylvania. They may not produce domestically on the same level as in the past, but they still keep jobs in America, and we find that worthy of support.
For over 50 years, Double-H Boot Company has innovated and provided quality craftsmanship in boots, and the boots were designed for today's breed of cowboy.
That does it for this article. If you have any further questions about where Double-H boots are made, let us know in the comments below.
Hi, my name is Kevin and I'm from Pittsburgh, Pennsylvania. Choosing products made in America is important to me because it supports local economies, creates jobs, helps the environment, and ensures ethical labor practices. I also find that American made products are usually of higher quality so although they're a little more expensive, you save money in the long run. Before starting this website I was in the USMC infantry and nowadays I work on this website as a hobby.