The first thing that comes to mind when you think of a great pair of American-made cowboy boots is the smell of leather. It takes you back to a time when life was simpler, and products were designed to last.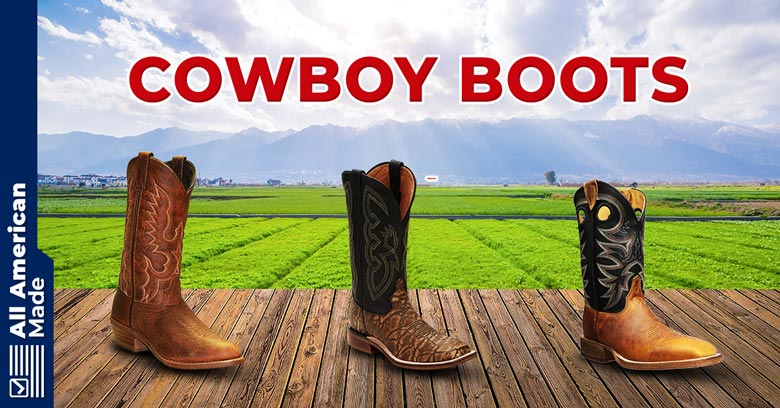 Thankfully there are still many great cowboy boots made in the USA, and the companies that make them have stayed true to the art of crafting their boots with top-quality materials they know will hold up to life on a ranch. Below, we'll take you through our favorite boots.
List of American-Made Cowboy Boots
Abilene Boots (Best Value)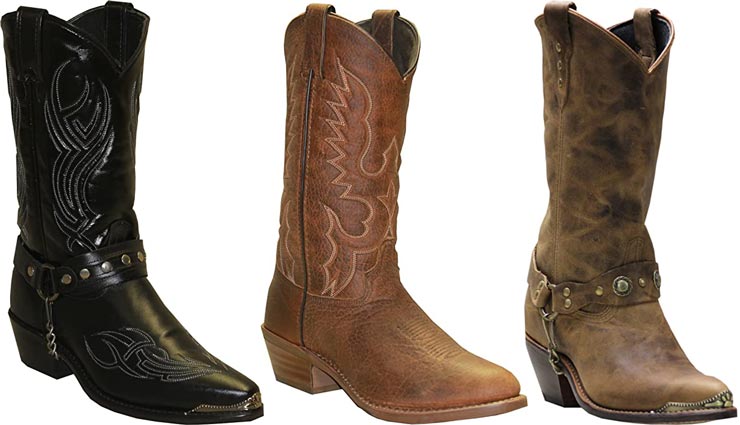 | | |
| --- | --- |
| Origin | Somerset, Pennsylvania |
| Year Founded | 1980 |
| Popular Models | Bison Leather Cowboy Boot, Model 6403 Boot, and many more! |
| Options for | Men and Women |
Company Origin and Manufacturing Locations:
Their company slogan of "Affordable Quality" started in 1980 and continues to lead the way for Abilene Boot Company today. Their boots are manufactured in Somerset, Pennsylvania, and the company now employs around 100 American workers.
Not only do they work to produce quality boots for hard-working Americans, but they also strive to give their employees a great environment to work in. Learning the trade is no easy task and it takes an exceptional worker to make a great product from scratch. Thankfully, Abilene has many employees who have been with the company for decades, allowing them to master their craft.
Their co-owner and COO Ross Auman continues the traditional styles of cowboy boots as well as collaborating with new designers and businesses to keep American manufacturing alive and moving forward.
Company Offerings and Our Thoughts:
I'm a big fan of Abilene boots, and over the years, I've found them to be both comfortable and durable. When I finally got my hands on my first pair, I thought they were a little too stiff for me, but over time they broke in, and I've actually found them to be some of the most comfortable boots I've owned.
I find the leather used to make Abilene boots to be extremely high quality for its price. The Bison Leather Boot from Abilene is one of my favorites, and it's really the epitome of classic cowboy style, but it's also mixed with new technologies to keep the modern rancher on their feet. They have a Dri-Lex lining that has been structured to allow moisture to escape, and the boot itself is designed to flex in temperatures as low as 40 degrees Fahrenheit.
You could wear this boot out all day and then wipe it down and clean it up to go out on the town. The Bison Leather will take a little bit more break-in period than some of the cowhide styles we have gone over, but once you get it shaped to your foot, you will be golden.
As you can tell, Abilene boots vary greatly in terms of style. It's a reminder that not all cowboy boots are worn out in the pasture, but they are also widely used to hit the dance floor on the weekend.
Who We Recommend Abilene Boots Boots For:
Many cowboys prefer function over appearance, and this boot really gives you both. It's nothing flashy or fancy, just genuine materials pieced together to work hard and last. They have a wide range of styles and for the price, they're simply hard to beat.
Justin Cowboy Boots (Made in USA Collection)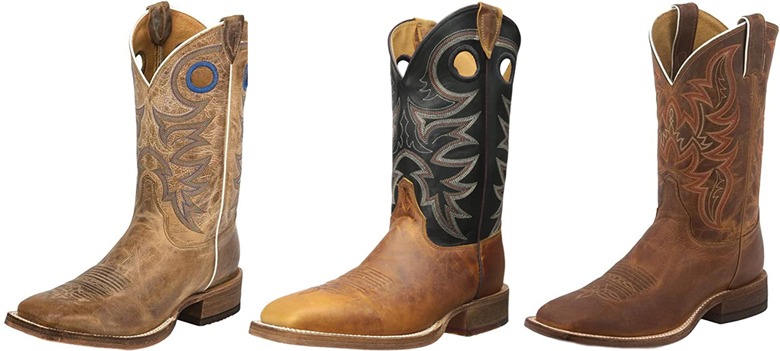 | | |
| --- | --- |
| Origin | El Paso, Texas |
| Year Founded | 1879 |
| Popular Models | All Models from the "Made in USA Collection" |
| Options for | Men and Women |
Company Origin and Manufacturing Locations:
Anyone outdoor enthusiast that's purchased a pair of cowboy boots before has probably heard of Justin Boot Company. The company was founded in 1879 by HJ Justin after a local businessman invested $35 to help him get the company started.
They now have a bootmaking facility in El Paso, Texas, with craftsmen with over 140 years of combined experience. They strive to create top-quality products that people have come to know the Justin name for. They have an entire "Made In USA" Collection that is filled with many different style options.
Company Offerings and Our Thoughts:
Justin Boots are known for being extremely comfortable, which the company attributes to their design and use of the J-Flex Comfort System, which includes a covered insole with cushioning and triple density insole board.
Do note that when looking at Justin Boots, you'll want to stay within the Justin Boots Made in USA Collection. The Bent Rail Riding Boots are my personal favorite. They're a great all-around working cowboy boot. They also have multiple colors to choose from to really let your personality shine through. The square toe and J-Flex comfort system combined with a nailed-on heel and double-stitched welt provide a lot of comfort and durability at the same time. You can find their Bent Raid Riding Boots with a 13-inch shaft here and with an 11-inch shaft here. Another boot that really stands out to me is the Remuda boot which also features the J-Flex comfort system.
The love and care that goes into Justin Boots really show, and from start to finish, it can take over 200 steps to make a single boot. While we do love Justin Boots, one thing we don't like is that some of their boots are imported. We'd love to see them manufacture all of their boots in the United States. That said, unlike some shady companies, Justin Boots is very transparent about exactly which of their boots are American Made. You can see all of their USA-made boot offerings for men on their website here and their USA-made boots for women on their website here.
Who We Recommend Justin Boots For:
To me, Justin Boots check all the boxes for what I look for in a pair of cowboy boots. They're comfortable, durable, made with quality materials, and so long as you're staying within the "Made in USA line," all of their cowboy boots are American-made. Not only are these a great price point for what you are getting but you are going to look good while wearing them.
Anderson Bean (Premium Handmade Boots)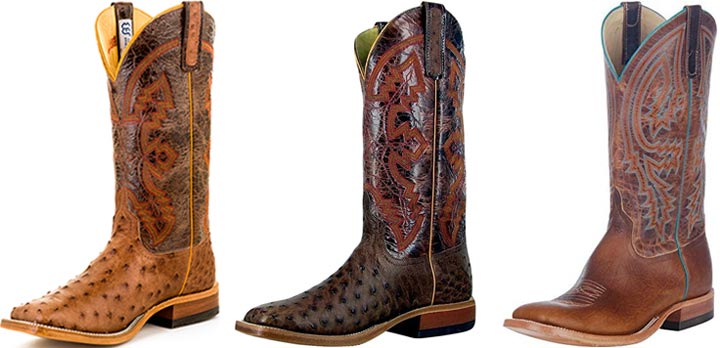 | | |
| --- | --- |
| Origin | Mercedes, Texas |
| Year Founded | 1989 |
| Popular Models | Model S1099, S3000, 321670, and more |
| Options for | Men, Women, Youth, Kids |
Company Origin and Manufacturing Locations:
Each pair of Anderson Bean boots is handmade in Mercedes, Texas, and has been since 1989. Founded by the owners of the Rios of Mercedes brand Anderson Bean was created to bring a quality style of American Made boot in a median price range.
They stay true to their roots by continuing the tradition of Texas bootmaking and have several employees who have been a part of their business for many years and sometimes even generations of families.
Anderson Bean focuses on the smallest of details, including the ones you can't see, which is why this brand has such a great reputation. Each stitch and piece of leather is put together by a skilled craftsman who loves what they do. Anderson Bean has tons of great options, and you can see them all on the official Anderson Bean website here.
Company Offerings and Our Thoughts:
What I really love about Anderson Bean is the different types of premium leather they use to make their boots. One of my favorite boots that they offer is their S1099 Full Quill Boot. Let's start with going over the focal point of this boot style and that is the ostrich quill leather. Knowing exactly when and where to pick and cut the leather only comes with the knowledge and experience that Anderson Bean can bring. Ostrich is the most comfortable and softest of all the exotic leather boot options. On top of that, it is also naturally resistant to the acids found in most barnyard soils keeping your boots ready to go for many years on the farm.
There is a lot more than meets the eye when it comes to Anderson Bean boots, and much of the craftsmanship goes unseen. For example, there is a steel shank in the arch to keep you supported even on the longest of days. They use a 3-strand nylon stitching to hold the boot together even if you're getting kicked off the craziest bull and the lemonwood pegs adjust to the changes in the weather so that your boot moves with you no matter what the conditions may be outside.
Who We Recommend Anderson Bean Boots For:
If you are looking for the greatest value for the money on a full quill ostrich pair of cowboy boots, this is the boot for you. Not only is it put together with hand-picked ostrich leather it is deeply rooted in Texas bootmaking tradition and has proven to be a style that can stand any test you put it through.
Keeping your boots wiped off and clean at the end of the day will prolong the life of your investment. You don't need anything fancy. Just a clean rag and some soap and water will do the trick.
If we had the time, we could probably fill out an entire article on just Anderson Bean brand boots as they are all made in their Texas factory, so if you don't find the ostrich to be quite your thing, there is definitely a style out there to suit you.
Double-H Cowboy Boots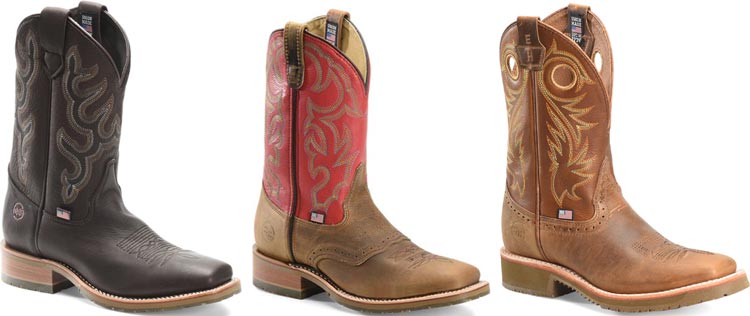 | | |
| --- | --- |
| Origin | Martinsburg, Pennsylvania |
| Year Founded | 1955 |
| Popular Models | All Models in the "Made in USA Collection" |
| Options for | Men and Women |
Company Origin and Manufacturing Locations:
Most Double-H Boots are made at their Martinsburg, Pennsylvania manufacturing facility. The company has a time-honored tradition of making a large portion of its boots in America since 1955.
Part of the H.H. Brown Family of Brands, they have access to many of today's best technologies and financial backing to produce high-quality products at affordable prices. They work to pair the knowledge of the past with the advances of today to produce the best features while not completely forgetting where they came from.
The Double-H Brand works to design styles that all of their customers can use, whether it be on the farm, in the field, or on the ranch anywhere in the United States. While we do love their boots that are made in the USA, be aware that some of their boots are not made domestically, but thankfully the company makes it very easy for us to tell which ones are made where.
Company Offerings and Our Thoughts:
The shanks in the Double H styles are designed to make them more durable while also lessening the fatigue your foot feels throughout the day. The detailing in the leather vamp and the shaft reflect the history of the company and its willingness to stay true to the basics.
One of my favorite boots offered by Double-H is their Roger model. This boot gives you the best of both worlds, you get the classic cowboy leather upper paired with Double H's I.C.E. (Oil and Slip Resistant) outsole to keep you on your feet and ready to react no matter what the environmental hazards may bring. I personally find their boots to be some of the most visually appealing on the market, and I do find them quite comfortable to wear.
Who We Recommend Double-H Boots For:
Double H is a good choice for those who want a boot that will look good and work even harder. They are designed to be tough and ready to wear when they first come out of the box.
The comfort these boots provide is appreciated, and even after wearing them all day, your feet will still feel much better than they would with low-quality boots. If you'd like to learn more about the Double-H company, you can check out their about us page here.
Popular Related Article: What Work Boots Are Made in the USA?
Caboots Cowboy Boots (Most Customizable)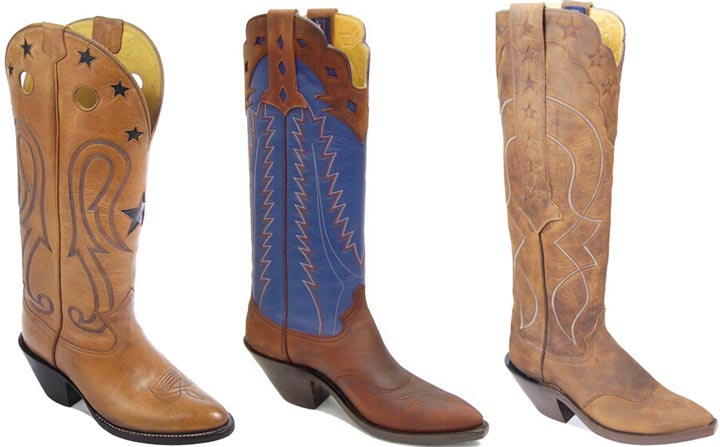 | | |
| --- | --- |
| Origin | El Paso, Texas |
| Year Founded | 1928 |
| Popular Models | Working cowboy boots (customized) |
| Options for | Men and Women |
Company Origin and Manufacturing Locations:
Caboots is one of the unique brands on this list because their boots are almost fully customizable, meaning you can get a pair of boots that fit like a glove. They are a 4th generation family-owned company that's been making standout American-made cowboy boots in Texas since 1928. What I mean by fully customizable is that you can pick the attributes of the boots, so everything from calf circumference to heel base material to heel base height to sole type can be picked. If you'd like to learn more about their story and their handmade Texas boots, check out the Caboots website about us page here.
Company Offerings and Our Thoughts:
I personally think Caboots boots are awesome. Everyone has differently shaped feet, so for some people finding a pair of boots that fits perfectly is almost impossible. With Caboots, you can now work with their company to get a pair of boots that literally fits like a glove. Their boots aren't cheap, but if you're someone who spends a lot of time on their feet, I can definitely see this being a great option.
Who We Recommend Caboots For:
These boots are perfect for those who can't seem to find a pair of boots that fits them just right. Many people don't even realize what a comfortable pair of cowboy boots feel like, so they might not even know that a customizable boot is a good option. If you're someone who can afford to spend a little extra time and money to get a perfect pair of handmade cowboy boots made in the USA, we think these boots are a great option.
Tony Lama Western Boots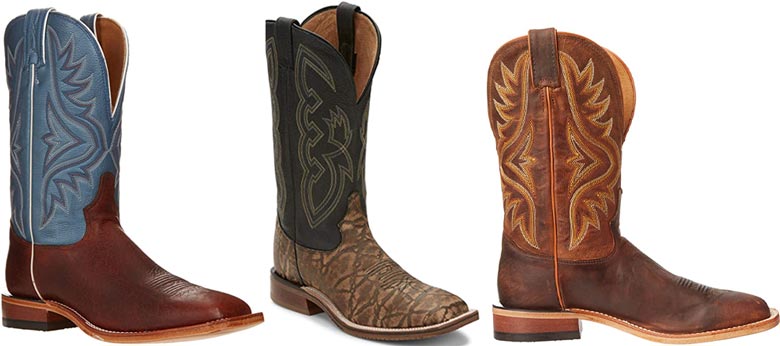 | | |
| --- | --- |
| Origin | El Paso, Texas |
| Year Founded | 1911 |
| Popular Models | Landgrab, 7956 Americana, Bison 7955 Western Boot, and more |
| Options for | Men and Women |
Company Origin and Manufacturing Locations:
El Paso, Texas, is known as the boot capital of the world, and a big reason for that is the innovations made by the Tony Lama company. Tony's story is very interesting. When he was 16, he lied about his age and joined the Cavalry in Fort Bliss, Texas. While there, he began working in the cobbler shop, repairing and designing boots for the soldiers on base.
He continued to perfect his skills and became so well-known for his craft that he branched out on his own and started Tony Lama Boots in 1911 in El Paso, Texas. He created not only great boots but also started his family and all 6 of his kids at one time have been a part of the company.
No matter how simple or flashy, each boot can take around 130 steps to make from start to finish. He believed in building quality products by hand, and the company still believes in that philosophy today. They are now owned by Justin Boot Industries, but generations of Lama family members are still involved in the company today. One thing to note is while most of their boots are made in the USA, I did find a few that weren't, so be sure to check that the listing page does say made in the USA. The company is very transparent about which boots are made where.
Company Offerings and Our Thoughts:
My favorite boot from Tony Lama is the Landgrab Western Boot, but the American-made options from this company are all top-notch boots. You can really see the attention to detail that is put into each style and how the history of the company continues to blend in with the current product line. Compared to other boots out there, Tony Lama differentiates itself is in overall value and quality. While their boots aren't cheap, they aren't nearly as expensive as many other handmade American boots, and I've found them to hold up very well even after taking a fair amount of abuse.
With a full-welt construction that gives the boot a great fit and the outside cowhide leather that is hand-picked and designed to offer the customer a great value without sacrificing appearance or durability, this style doesn't stop there when it comes to what you get when you buy a pair of Tony Lama cowboy boots.
Inside the boot, you will find a memory foam insole that has been upgraded with DRI-FREEZE technology to give your foot temperature control and moisture management technology that has been designed by the brand.
The best part is knowing that your boot has been hand-crafted by a skilled worker who has possibly been with the company for decades and may even be a second or third-generation family member to learn the trade.
Who We Recommend Tony Lama Boots For:
Any boot from Tony Lama that is made in the USA would be a great investment for anyone needing a quality cowboy boot at a reasonable price. It would work well for life out on the pasture or open range and could also be wiped down, shined up, and ready to wear to church on Sunday morning.
It is the price combined with the attention to detail that really sets the Tony Lama brand apart from many of its competitors, Their main advantage comes from having so many years of experience and knowledge in the industry. They offer features not seen in many cowboy boots, such as puncture-resisting midsoles (think nails and briars out in the pasture) as well as a yarn built with cooling technologies that keep your foot comfortable even in the temperature outside is not.
The high-quality leather gives you less break-in time and has them ready to wear when you open the box. You will want to keep in mind that boot sizing and tennis shoe sizing are often different, so be sure and read up on the sizing chart as well as some of the reviews when deciding what size to order. Overall, we love their boots; the only thing we don't like is that a few of their boot models are made in Mexico, but since most of their boots are made domestically and they hire a ton of American workers, we really like supporting them. If you do choose a pair of Tony Lama boots, just, please be careful, you are purchasing ones made in America. Also, maybe shoot them an email saying you'd like to see them making all of their boots made in the US again!
Lucchese Boots (Premium Boots)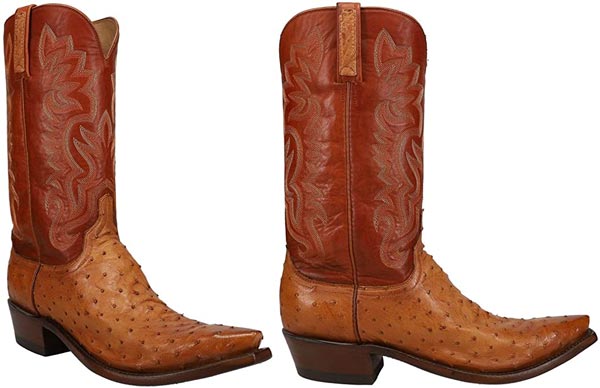 | | |
| --- | --- |
| Origin | El Paso, Texas |
| Year Founded | 1868 |
| Popular Models | Elgin, Luke, Cliff, Dante Ostrich Pointed Toe, and more |
| Options for | Men and Women |
Company Origin and Manufacturing Locations:
There is a reason the word luxury and Lucchese sound so much alike. The brand has a loyal following and thrives on its customers living their best lives in their boots made of only the finest of materials so that every time you boot on a pair of their boots, you feel like you are living in luxury.
Founded in 1868 by Salvatore Lucchese, the brand has graced the feet of celebrities including Bing Crosby and Gary Cooper, and has even landed in the White House on the feet of U.S. President Lyndon B. Johnson.
If you are a football fan, you have probably seen some of their most famous white leather styles on the feet of the Dallas Cowboys Cheerleaders, as they are the official bootmaker for the team.
While the flash and glamour are nice, the company still relies on its centuries-old traditions when it comes to piecing its boots together by hand because they believe that you will only find perfection when you hone in on the details.
Company Offerings and Our Thoughts:
First and foremost, Lucchese makes a lot of cowboy boots, but only some of them are made in the USA, so you have to be careful. That said, their boot collection that is made in America is about as luxurious as you can get. One boot that they offer called the Dante Ostrich is one of my personal favorites. Each pair is hand-stained and therefore unique from any other pair that will ever be on the market.
The full quill ostrich is another piece of the puzzle that makes these boots the ultimate luxury boot to have in your closet. Paired with a leather-covered cushioned insole, you will be feeling just as good on the inside as you look on the out.
While I do like the Lucchese brand, the only thing I wish is that they would move all of their manufacturing to the United States. While the company does love making boots in America and supporting American workers, they likely make some boots overseas to be able to compete in the lower-end market. That said, there is absolutely nothing low-end about their American-made western boots. With two color options to choose from in their Dante style, you can choose a light honey color or a darker chocolate option, either one is going to turn heads when you walk by.
Who We Recommend Lucchese Dante Boots For:
With ostrich leather being one of the softest exotic leathers on the market, these boots will be soft and comfortable from the moment you get them out of the box.
They are built tough for the outdoors but would also be a showstopper if you choose to wear them into the boardroom in downtown Manhattan. This would also be a great conversation starter to wear to a wedding or special occasion. We recommend this boot for someone who is looking for more of a stylish boot rather than a work-horse type of boot.
Olathe Boot Company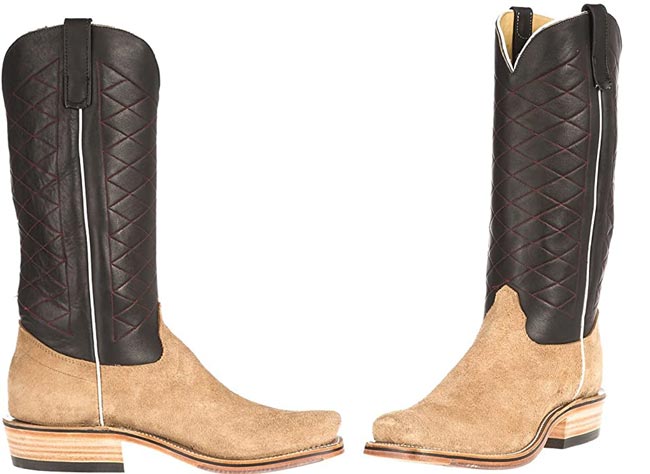 | | |
| --- | --- |
| Origin | Mercedes, Texas |
| Year Founded | 1875 |
| Popular Models | CB3, CB6, CB7, CB8, Ride Ready Collection, and more |
| Options for | Men, Kids |
Company Origin and Manufacturing Locations:
Founded by C.H. Hyer in 1875, the Olathe Boot Company has been ahead of its time from its early years. Mr. Hyer developed a measuring system that he could put out through the mail and have customers mail back their detailed specs in order to create custom-made boots even in times when direct contact with business and customers was not quick or convenient.
Their goal from the beginning, and still today, is to create boots for each customer to take on life's adventures with. They understand that boots need to be durable, comfortable, and a bit stylish all at the same time, as no two customers are going to use them for the exact same thing.
All of the Olathe Boot styles are handmade in Mercedes, Texas, and continue to build on the foundation that was set for them by creating products that are quietly elegant and time-tested that you can rely on.
Company Offerings and Our Thoughts:
I think the reason Olathe Boot Company boots are so good is that they're made by the same people who would use them. Their boots have a great style and offer great protection and comfort. All of the boot styles from Olathe Boot are made in Mercedes, Texas, so no matter which style you pick, you are going to get a solid American Made product.
With a focus on comfort, durability, and performance this is a cowboy boot that is ready to be taken out on the ranch and put to the test. The rougher leather on the vamp offers a unique style from some of the other styles we have gone over.
Who We Recommend Olathe Boots For:
Ranchers or cowboys who need a solid boot for a day out gathering up the herd could find these boots very useful. They have a heel that your spurs will sit comfortably on as you keep your horse locked in and your boots on point.
With a brand that has a storied history and proven quality products, this is a cowboy boot that you know you can trust. The price point is pretty average compared to other styles but the quality is top-notch.
Rios of Mercedes Cowboy Boots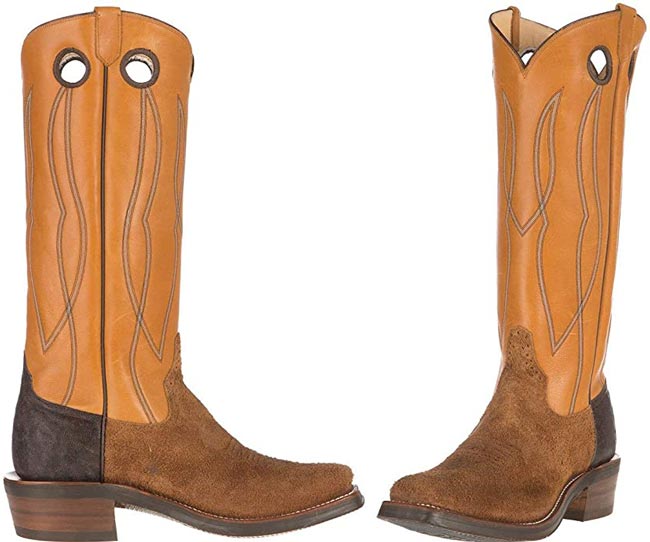 | | |
| --- | --- |
| Origin | Mercedes, Texas |
| Year Founded | 1853 |
| Popular Models | Ride Ready Boots, 103980, 323609, 103774, and many more |
| Options for | Men and Women |
Company Origin and Manufacturing Locations:
One common thread you'll notice between all the most reputable boot brands is that they've been perfecting their craft for a long time. Those brands that didn't do this have fallen off and are no longer relevant. Rios of Mercedes has been a part of the American story since 1853 and continues to be a huge player and industry leader in the cowboy boot industry.
Not only do they continue to go by their original slogan that they want your boot to be "The Fit of Your Life," but they have continually improved that fit and the product by taking in feedback from the customers and using it to always strive to give them exactly what they need.
The pride of the craftsmen is easy to see when the average rate of many of their employees is around 18 years with the company. That is a testament to not only the want to build quality products for people but a work environment that is more like a family than a job.
Company Offerings and Our Thoughts:
There are so many things I like about this company. Their boots have superb color combinations, and a unique sheen to the leather really set them apart. They only use premium hides for all of their styles, and it really makes them showstoppers.
Diving deeper into the boot is where you really see what makes this boot special. Every piece has been touched by a skilled craftsman, from the outside leather to the stitching to the pegs hammered into the sole. They are just really impressive pieces of art that you get to wear on your feet all day.
Who We Recommend Rios of Mercedes Cowboy Boots For:
If you spend a lot of time in the saddle on a horse, this would be a great boot to add to your collection. It has an honest spur rest built on the heel specifically for (and with feedback from those who know what you need) to keep your spurs in place all day.
This style from Rios of Mercedes gives you the look of a custom boot without the price or longer wait time of ordering a custom-made pair. With a small amount of daily upkeep, this boot will ride with you for the long haul.
I truly appreciated the quality, craftsmanship as well as customer service from the company. When the craftsman truly cares about the end product, it shows, and you get to reap the reward with a pair of these boots. If you're looking for western boots made in the USA, these are an awesome choice.
Popular Related Article: Where Are Ariat Boots Made?
Back at the Ranch El Rancho Cowboy Boot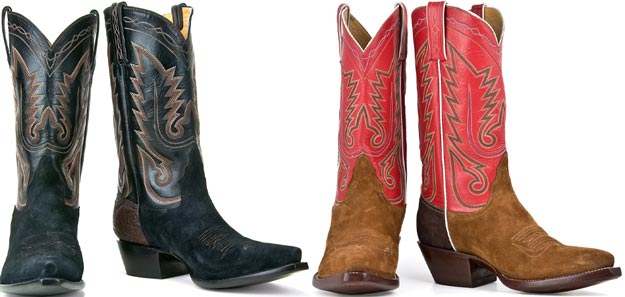 | | |
| --- | --- |
| Origin | El Paso, Texas |
| Year Founded | 1990 |
| Popular Models | El Rancho Boots, Custom Boots |
| Options for | Men and Women |
Company Origin and Manufacturing Locations:
With more than 30 years in the business of making the finest cowboy boots, Back at the Ranch offers a high-quality product with a high price tag to go along with it. They pride themselves on using only the finest leathers and love to throw in bold colors as well as push the design envelope on the American Icon that is the cowboy boot.
Founded in 1990 by Wendy Lane Henry, the brand continues to test boundaries and make exceptional quality cowboy boots.
They keep over 700 pairs of handmade cowboy boots in stock as well as make custom orders for their customers. Many of their staff have been handcrafting their products for so long that there are now multiple generations of the same family working alongside each other in their manufacturing facility in El Paso, Texas.
While these might be out of reach for the average American, Back at the Ranch has some high-end fans and customers in Reba McEntire, Brooks & Dunn, along with many other celebrities and high-end clients.
Company Offerings and Our Thoughts:
This style by Back at the Ranch is classic yet sophisticated in a way that you won't find anywhere else. The outside is both stain repellant and water-resistant while offering a solid boot to put to work. I liked that although they threw in some variations in the textures of the leathers that this is a style you could still literally where anywhere.
The stitching pattern in the upper really brings to attention the handcrafted details of the boot. Knowing that you have American workers who have been doing these for possibly decades really shines in this style.
Who We Recommend Back at the Ranch Western Boots For:
Back at the Ranch boots are worn by the "who's who" of America, and that comes with a bit of a heftier price tag than many of the boots we have gone over, however, if you are able to they would definitely be worth the splurge.
Knowing that you are wearing the same style as some of your country icons would be a pretty special feeling. You can also add some personal style specifications to a style if you really want to get that custom-made feeling. With all items being hand-stitched, there is a lot more room for creativity and unique details.
Many customers felt that the customer service they received was just as top-notch as the product. This is a lot easier to do when you truly believe in what you're creating instead of just being part of a company that doesn't know your name.
Macie Bean Cowboy Boots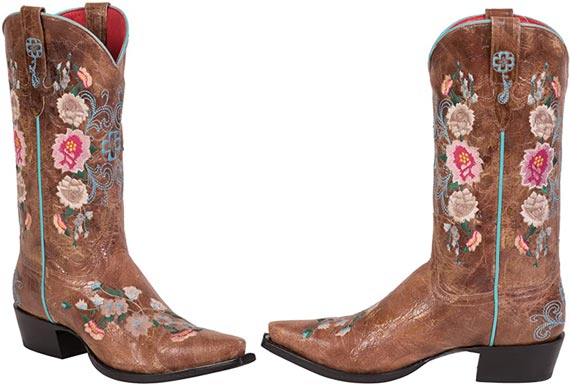 | | |
| --- | --- |
| Origin | Mercedes, Texas |
| Year Founded | N/A |
| Popular Models | The Small Deal, Rose Garden Cowgirl Boot, Really Good Time, and many more |
| Options for | Women |
Company Origin and Manufacturing Locations:
The Macie Bean boot line for women is a branch off of the Anderson Bean boot line that we went over earlier for the guys. They are also handcrafted in their facility in Mercedes, Texas, and are held to the same high standard as the other brands in the family.
If you want to see some of the Macie Bean styles in action, just go through Instagram and type in the hashtag #maciebeanboots, and you will be ready to get yourself a pair to try out. They are out on women's feet adventuring through rodeos, pastures, and even some city streets.
Company Offerings and Our Thoughts:
The detail in the stitching of the flowers across the vamp and the shaft is what first caught my eye and was part of what made me include this style in our list. There is something about the extra detailing and the history of the company that just makes you so proud of the American hands that pieced this boot together.
With a V Collar style and pull-on straps, these will be an easy-on and easy-off style for any cowgirl. They really are a one-of-a-kind boot that is bound to get you a multitude of compliments no matter where you choose to wear them.
While they are gorgeous to look at, they are also built to work. Pieced together with the channeled-welt construction and a steel shank for arch support, this boot is much more than just a pretty face.
Who We Recommend Macie Bean Boots For:
If you are wanting a cowboy boot with some flair and unique decor, this is the boot for you. There were many customers that had bought this style for a wedding or other special event and said they were an absolute showstopper.
I would definitely take a look at the fit guide, as many have stated the calf could be a bit tight, and you may want to factor that in when ordering. They are made with all leather and, with proper stretching, can definitely work for anyone. As far as cowboy boots made in the USA go, these are fairly priced, and we definitely recommend them.
Black Jack Boots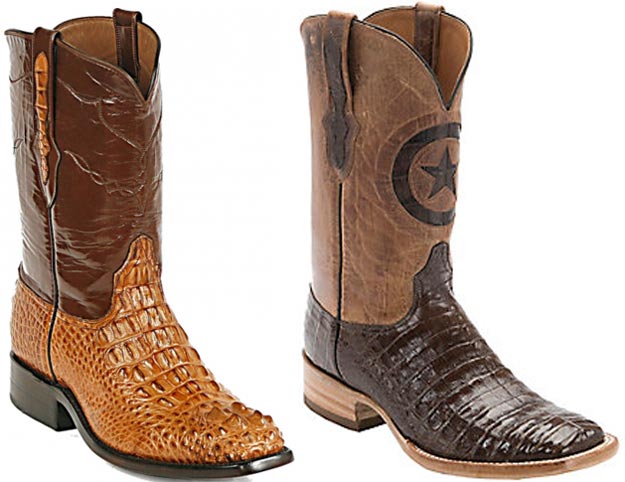 | | |
| --- | --- |
| Origin | El Paso, Texas |
| Year Founded | 1996 |
| Popular Models | Stingray, Alligator Hornback, and many more! |
| Options for | Men and Women |
Company Origin and Manufacturing Locations:
Founded in 1996 by Jerry Guerra, who continues to reside over the company today, Black Jack offers you the opportunity to hand-select each and every part of your custom-made cowboy boot. In their 100+ step process of boot creation, they give you the freedom to call all of the shots.
With over 200 years of combined experience among their in-house bootmakers, you can rest assured that your investment is in good hands. They not only use the best materials and time-honored traditions to create their western boots but have also created a family-like environment for their employees deep in the heart of Texas.
At the end of the day, they are only satisfied with their work if the customer is satisfied with their product. You are their top priority.
Company Offerings and Our Thoughts:
If you're able to lay the money down for a custom-made boot, this would be a great brand to choose to help you make your dream come true. They offer so many different exotic leathers, from ostrich to stingray to crocodile and then some.
Not only do you get to pick the materials, but they let you customize it down to the stitching on the vamp, cut on the toe, and size and style of the heel. They have been doing this for so long that their website really offers a great layout of pictures and guides to help you visualize your product coming to life.
Who We Recommend Black Jack Boots For:
Purchasing a pair of custom-made boots isn't for everyone, but Black Jack definitely makes it tempting. The cowboy boot style might look simple from an outside perspective, but being able to call the shots on all of the details and know that there isn't another person out there wearing the boot that you are wearing is kind of a unique selling point.
The variety of leathers is really not comparable to any other brands I have seen. They have really done their research and know what will hold up as well as what will look good for many years to come.
Wrap Up:
We hope you found this list to be helpful, and we will continue to search for great boots to add to our list. If you know of any great American cowboy boot brands, let us know in the comments below.
Cowboy Boots are definitely a product that has deep roots in American culture and continues to be a huge part of who we are today. Knowing there are so many companies out there that are keeping the production of these styles here in the United States is a great reminder of how strong this country can be.
The time, energy, heart, and soul that goes into each and every pair is a true labor of love and, as you can read in many of the company overviews, continues to be passed down from one generation to the next. It is something you can be truly proud of each and every time you put on your pair of American-made cowboy boots.
We hope this article helped you. We also just put together an in-depth article on American-made shoes if you're interested. Anyway, let us know if you have any questions below.
Hi, my name is Kevin and I'm from Pittsburgh, Pennsylvania. Choosing products made in America is important to me because it supports local economies, creates jobs, helps the environment, and ensures ethical labor practices. I also find that American made products are usually of higher quality so although they're a little more expensive, you save money in the long run. Before starting this website I was in the USMC infantry and nowadays I work on this website as a hobby.