Goodyear Tires, the classic all-American company, has grown into a multinational tire manufacturing company since starting in 1898 in Akron, Ohio. In this article, we'll cover facts about the location of where Goodyear tires are made as well as the manufacturing practices of the largest tire manufacturing company in the world.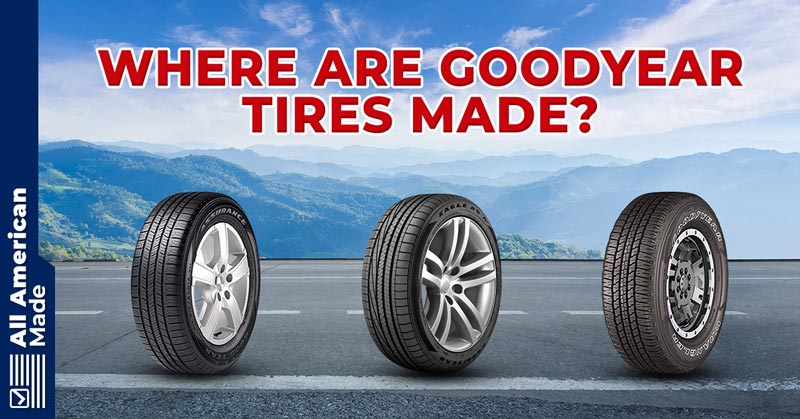 Goodyear makes its tires in 48 manufacturing facilities located in 21 countries around the world; seven of those plants are located in the United States. Some of the countries where Goodyear manufactures tires include China, Venezuela, Mexico, France, England, Thailand, Taiwan, and others.
If you'd like to learn more about Goodyear's manufacturing practices and how to find out which of their tires are made in the USA, keep reading as we further explore this topic.
Are Goodyear Tires Made in the USA? Which Models?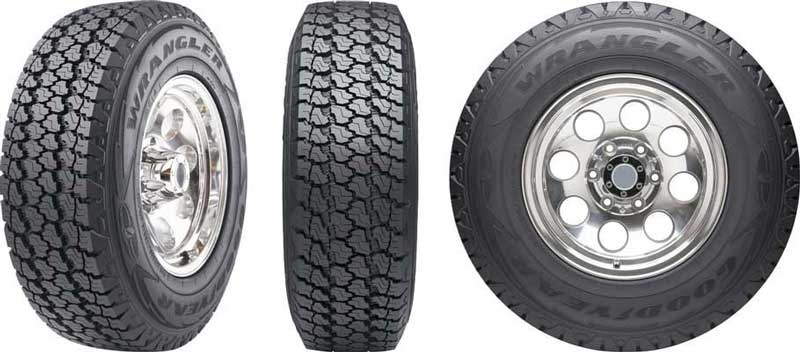 We would call Goodyear the best American-made tire brand, especially since they bought Cooper tire. The only other major tire brand that comes even close to remaining American-made is Hoosier. However, Hoosier only makes racing tires, while Goodyear makes tires for the passenger vehicle and truck market.
Many people think of Goodyear as the premier tire company. Even when they competed against Cooper Tire, most people saw Goodyear as the better brand, whereas Cooper was more the affordable tire.
After acquiring Cooper Tire, Goodyear has increased its American manufacturing imprint with them, becoming an even more American-made brand. The workers at Cooper don't have to worry that they would lose their jobs since this company appears to want to stay a brand that was made in the USA.
Curious about the manufacturing process of a Goodyear tire? See the video below for more cool details about it! Also, you can check out all of our favorite American-made tires here.
How to Find Goodyear Tires Made in the USA
By understanding the DOT Code of the manufacturer, you can learn where the company produced the tire. To legally sell a tire in the United States, all tire manufacturers must show where they produced the tire. The code says what facility they made the tire at.
You will see either two letters or a letter and a number as part of the DOT Code. Let's have a look at the DOT Codes used to indicate facilities in the USA:
| | |
| --- | --- |
| DOT Code | Location |
| MB | Akron, Ohio |
| DA | Tonawanda, New York |
| M6 | Lawton, Oklahoma |
| MC | Danville, Virginia |
| MJ | Topeka, Kansas |
| PJ | Fayetteville, North Carolina |
| MD | Gadsden, Alabama |
Check the sidewall of the tire to locate the DOT Code. Along with Goodyear's tire manufacturing presence in the USA, they also have centers there that specialize in research and development hiring more workers.
Goodyear stands out because it remains one of the only American-made tire manufacturing companies left with American roots. In the past, you had Cooper Tire as well. However, Goodyear acquired the brand in 2021 for $2.8 billion, making them the sole major American tire brand. The one exception to this is Hoosier, which is a racing tire brand, but they don't produce street-legal tires for the consumer market.
Now that we have covered how to pinpoint a tire made in the USA let's look at Goodyear's manufacturing operations in the US and abroad.
What Tires Does Goodyear Make in the USA?
Some of the tires produced at the Goodyear factories in the United States include:
Motorcycle tires
Truck tires
Car tires
Aircraft tires
OTR tires
Commercial tires
Consumer tires
While the company manufactures tires around the world at 48 facilities in 21 countries, the technologies, materials, and chemicals come from the United States. That means that even if you bought a tire in Germany, China, or Brazil, you would still have an element of American-made.
Goodyear Tires Made in Akron
The building in Akron, Ohio, is an 860,000-square-foot facility. From 1871 until the 1980s, the unmistakable smell in Akron was that of heated rubber from the many tire factories. Not only was Goodyear founded in Akron, but many other major tire companies like BFGoodrich, General Tire, and Cooper Tire were founded in Akron. Most of the city's development centered on manufacturing tires for cars and trucks.
Goodyear stands alone as the last major tire company in Akron. They had an estimated 3,000 employees here at their headquarters in 2020.
Goodyear Manufacturing in Lawton
In 2021, Goodyear established plans to expand its operations in Lawton, Oklahoma. The expansion plans will cost $50 million, and it will benefit the plant's production capabilities. This manufacturing plant has 3,000 employees as of 2021. Since the 1970s, Goodyear has invested more than $1 billion into this US facility. It ranks as the largest manufacturing facility in Oklahoma.
Goodyear Tires Made in Topeka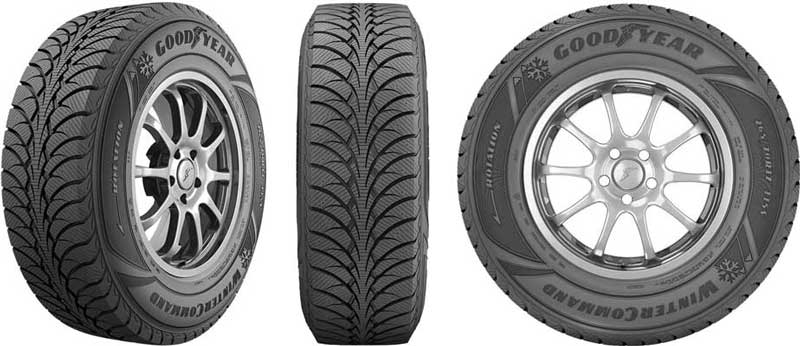 Goodyear has made its tires in Topeka, Kansas, for over 75 years. An estimated 1,500 American workers were employed in 2020. At one point in history, Topeka made every tire that Goodyear produced. They made everything, including bicycle tires, airplane tires, and car tires. After WWII ended in 1945, the US government sold this manufacturing plant to Goodyear.
Since the time that it sold, this manufacturing plant has served as one of the largest employers in the Sunflower State. The workers at this plant make a variety of tires like semi-trucks, military vehicles, off-road vehicles, and buses. This plant, in Topeka, Kansas, ranks as the second-largest tire manufacturing facility in the world. It covers 3 million square feet. That translates to roughly 69 acres.
At one point in its history, it looked like Goodyear might close this American tire facility, but after 2008, investment in this plant exploded. Goodyear put over $600 million into the facility. The company maintains that they want to make the most of its operations in North America.
Goodyear in Fayetteville
As of 2020, the manufacturing plant in Fayetteville, North Carolina, had around 2,500 employees. In 2019, Goodyear chose to upgrade its facility. Goodyear planned to invest $180 million. The goal behind this is to make improvements to the site that will increase production. Since the plant was constructed over 50 years ago, it has many new technologies that it could take advantage of to remain competitive.
This is a passenger and light truck tire manufacturing plant. Goodyear ranks as one of Cumberland County's largest private employers.
Goodyear's Early Manufacturing Abroad
Many times, we think of companies as going abroad within the last 20 to 50 years to cut costs on labor. Goodyear, however, went abroad far earlier than that, and in fact, the first foreign factory was built in Ontario, Canada, in 1910. International operations have existed since the beginning. The plant established in 1910 operates today, producing passenger car tires, and they have a second facility in Alberta that produces consumer tires.
Even when it came to China, Goodyear never shied around manufacturing there. In 1994, Goodyear became one of the first tire companies to enter the Chinese market.
Is Goodyear Made in China?
In recent years, Goodyear has begun to invest more in China. For example, the company invested $485 million into a state-of-the-art factory in Pulandian, Dalian, China. The expansion finished in 2020, and they expected the tire production to increase up to five million tires. We could attribute some of this interest in China to serving the local markets. The premium large-rim-diameter consumer tires will account for an estimated 60 percent of its sales in China.
The brand first began manufacturing in Pulandian in 2012. Unfortunately, many people think, and maybe correctly, that Chinese tires don't meet the performance standards of the everyday American. The one thing to remember is that you often get what you pay for.
We don't want to understate its manufacturing presence in China because Goodyear does have a sizeable manufacturing presence there.
Are Goodyear Tires Made in Mexico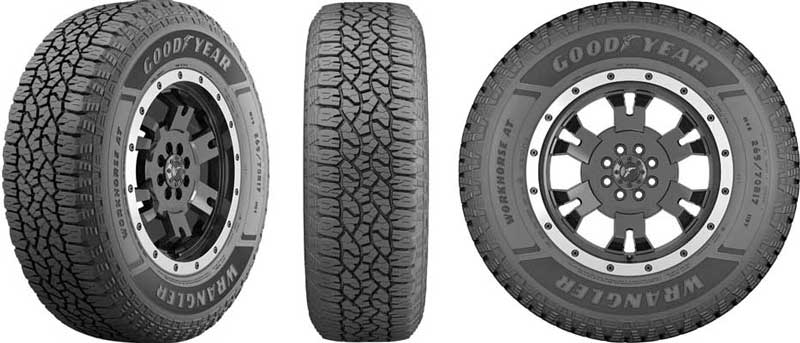 Like many other manufacturing companies, Goodyear has taken an increasing interest in manufacturing in Mexico in recent years. Their plants in Mexico serve the purpose of making tires for the Mexican and South American markets. Occasionally, some of the tires make it to the US market. Goodyear operates a plant in San Luis Potosi.
The factory at San Luis Potosi employs an estimated 1,000 workers. The tire plant here produces car and light truck tires. Anyone who doesn't want to support foreign tires should check the DOT code to ensure that they made them in the USA. Doing this will keep companies from sending work abroad because it incentivizes them to hire American workers.
This plant cost them $500 million to build. Before they built the Goodyear plant in Mexico, the company already had five other manufacturing plants in Latin America, Peru, Colombia, Chile, Venezuela, and Brazil. Currently, the plant in Mexico produces an estimated six million tires each year.
Goodyear Manufacturing in Peru
Another example of manufacturing abroad early on was Goodyear's tire manufacturing plant in Peru opened on July 23, 1943. Some of the things that they make here include tubes, tires, and other rubber products. While they make it here, they export 31 percent of the production to Colombia, Chile, and Ecuador.
Great Subsidiaries of Goodyear
We would like to take the time to point out how Goodyear operates several excellent subsidiaries that make tires in the USA. The most recent acquisition of Cooper Tires shows you one, but they have many American subsidiaries that were under Cooper, including:
Mickey Thompson
Dick Cepek
Starfire Tires
Mastercraft Tires
Roadmaster
On a worldwide scale, Goodyear employs over 72,000 workers. While not all of those workers are in the United States, Goodyear is a multi-national company that sells tires to countries around the world. That makes sense for why they might manufacture in some of those countries. It cuts down on costs, making for a healthier business. Granted, some of the tires that they make in those countries do make their way to the United States, but you can avoid them by checking the DOT Code.
Tires have an advantage that many of the other product categories don't have in that they can't hide the DOT Code like they could a "Made in X" label. If you know what the DOT Code is, it becomes next to impossible to be misled by it. The country of origin and factory it came from becomes apparent. They can't legally change this information or hide it.
Other American Made Tire Brands
If you need racing tires, consider Hoosier. This is the largest racing tire in the world, and they're 100 percent American-made. They only have a single manufacturing facility in Plymouth, Indiana. Otherwise, we would recommend tires that have a manufacturing presence in the United States, even for foreign companies.
If you're looking to get a good insight into the American-made tire brands out there, we got you! Here's an article that extensively covers our recommendations for the tires made in the USA.
The most important thing is being American-made, not solely an American company. Plenty of American companies outsourced manufacturing jobs to other countries. One example of an American-made foreign company is Michelin. The tire company, French in origin, has quite the manufacturing presence in South Carolina, where they have become one of the largest employers in the state. In total, they have nine manufacturing facilities there.
Another great American-made but foreign company is Yokohama. They have 2,100 workers in the United States, and they have manufacturing plants at locations like West Point, Mississippi, and Salem, Virginia. In West Point, they make truck tires for the local American markets. Founded in Japan in 1917, Yokohama tires can be bought so that it supports American workers. Always check the DOT Code ahead of time.
Just because they do some production in the United States doesn't mean that all of it comes from the United States. If we had to compare Yokohama to Michelin, we would say that Michelin is the company that makes more tires in the USA.
Wrapping It Up
Goodyear offers you a great American company that does some of the manufacturing in the USA. With all tire companies, we would recommend checking the DOT Code because of the straightforward information that you get from it. Especially with this information readily available, you can make sure that your hard-earned money supports hard-working Americans.
Being the number one tire brand in North America, Goodyear ranks among the best in the world in performance and winter tires. They also have some of the best passenger and light truck tires on the market today. Browse Goodyear's website for more specifications on the types of tires they offer. If you have any further questions about where Goodyear tires are made or if there is any information you'd like to share, let us know in the comments.
Hi, my name is Kevin and I'm from Pittsburgh, Pennsylvania. Choosing products made in America is important to me because it supports local economies, creates jobs, helps the environment, and ensures ethical labor practices. I also find that American made products are usually of higher quality so although they're a little more expensive, you save money in the long run. Before starting this website I was in the USMC infantry and nowadays I work on this website as a hobby.