An American furniture manufacturer, La-Z-Boy employs over 11,000 people worldwide. The company opened its doors in 1927 and has a long and successful history. They base their headquarters in Monroe, Michigan. With that in mind, you may wonder where they make La-Z-Boy recliners.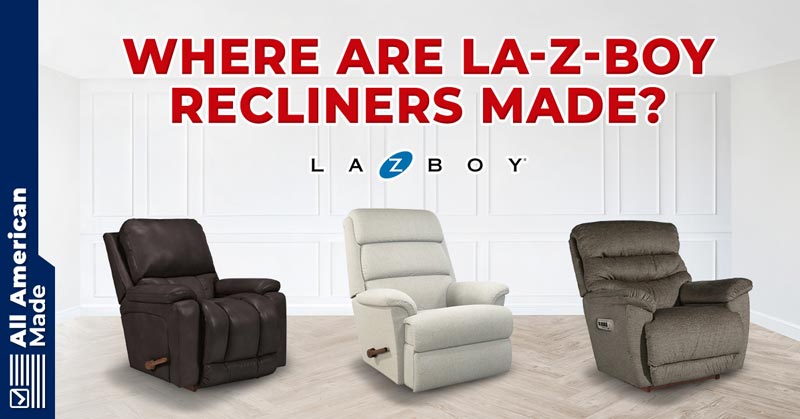 La-Z-Boy makes its recliners in several countries, including China, Thailand, Mexico, and the United States. Much of the production within the United States happens in Dayton, Tennessee.
If you'd like to learn more about La-Z-Boy and its manufacturing operations and how to determine which recliners are made in the USA, keep reading, and we will cover all of that!
La-Z-Boy's Manufacturing in the United States Explained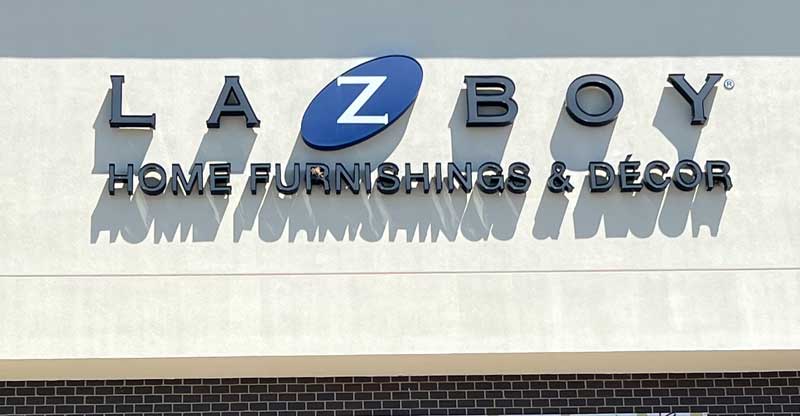 Much of the manufacturing within the United States happens at La-Z-Boy's manufacturing plant in Dayton, Tennessee, where they employ an estimated 1,930 workers. La-Z-Boy has said that they continue to manufacture in the United States because how they can provide recliners and other products much quicker to their American consumers.
With that said, La-Z-Boy operates three regional manufacturing plants within the United States, which include:
Dayton, Tennessee
Siloam Springs, Arkansas
Neosho, Missouri
It's important to note that La-Z-Boy previously operated five regional assembly plants, but they permanently closed two of their manufacturing facilities in the United States.
In the past, La-Z-Boy was manufactured in Newton, Mississippi, and Redlands, California. First, La-Z-Boy shuttered its 200,000-square-foot facility in Redlands, California, in October 2019. This cut approximately 350 jobs and accounted for around 10 percent of the brand's upholstery manufacturing.
They moved operations over to Newton, Mississippi. Unfortunately, this move to Mississippi lasted a year before they chopped the manufacturing jobs in Newton as well in 2020. The company said that they planned to lay off an estimated 10 percent of their workforce, and 850 employees lost their jobs as a result.
The manufacturing plant in Newton first opened in 1960 and had an estimated 300 workers where they would make La-Z-Boy recliners, classics, and sofas. They said that they would lower the size of their manufacturing imprint to keep up with the demands in the market. Overall, they still make a lot of recliners in the United States, and if you'd like to learn more about their American heritage check out their website here.
La-Z-Boy's Presence in Tennessee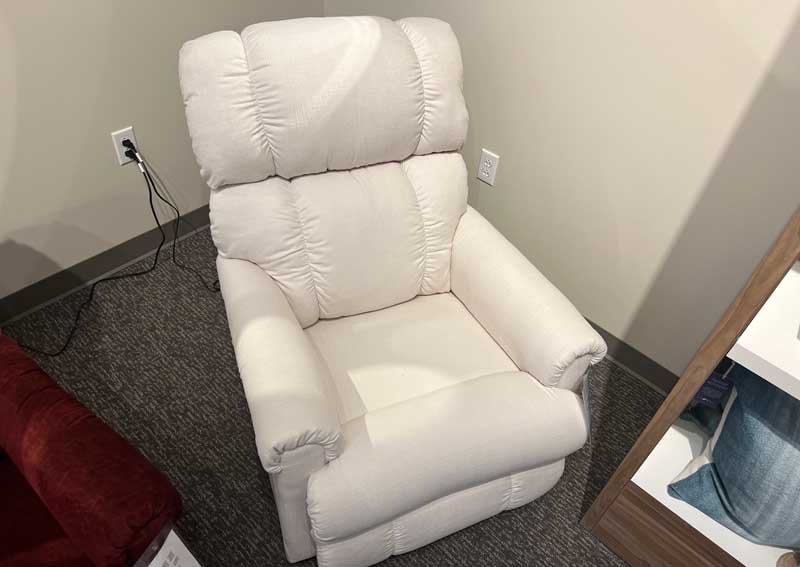 As we said before, much of the manufacturing in the United States happens at their 1.2-million-square-foot facility in Dayton, Tennessee. Throughout 2021, La-Z-Boy invested $38 million in capital to improve its machinery and equipment. The upgrades came to Dayton, which they now completed, and some of the investment went to Mexico to increase its production.
At all of their manufacturing plants within the United States, the CEO, Kurt Darrow, said that they planned increases in overtime and weekend production. This serves as one of the largest employers in the Dayton community.
They first opened their manufacturing plant in Dayton in 1973, and they make recliners, chairs, sofas, and sectionals here. Check out this video about the manufacturing process of La-Z-Boy.
La-Z-Boy's Presence in Siloam Springs, Arkansas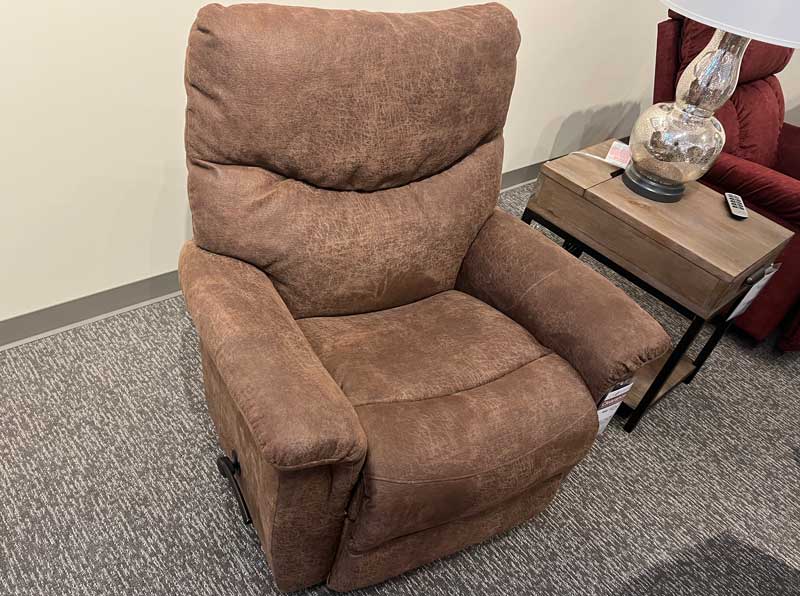 During the layoffs of over 850 employees in 2020, Siloam Springs, Arkansas, suffered none of the layoffs, and in fact, they looked to add 125 manufacturing jobs by creating a second shift. The other manufacturing facilities within the USA also increased jobs to a degree. Siloam Springs manufactures high-leg recliners, motion sofas, and classics at its facility.
We also find it great to note that all three of the manufacturing plants listed, Dayton, Siloam Springs, and Neosho, set records for safety in 2017.
La-Z-Boy's Manufacturing Plant in Neosho
In 2021, La-Z-Boy announced plans to invest $30 million into its plant over two years. The investment will expand productivity and improve the facility with state-of-the-art equipment. La-Z-Boy will also build an additional 60,000-square-foot warehouse to house its parts distribution. This manufacturing facility opened its doors in 1970, and the 550,000 square-foot facility employs around 900 workers.
At this manufacturing plant, they make the motion recliner furniture, and they make the metal components to support all the manufacturing operations. The manufacturing plant at Neosho sits roughly 75 miles from Springfield.
Is La-Z-Boy Made in Mexico?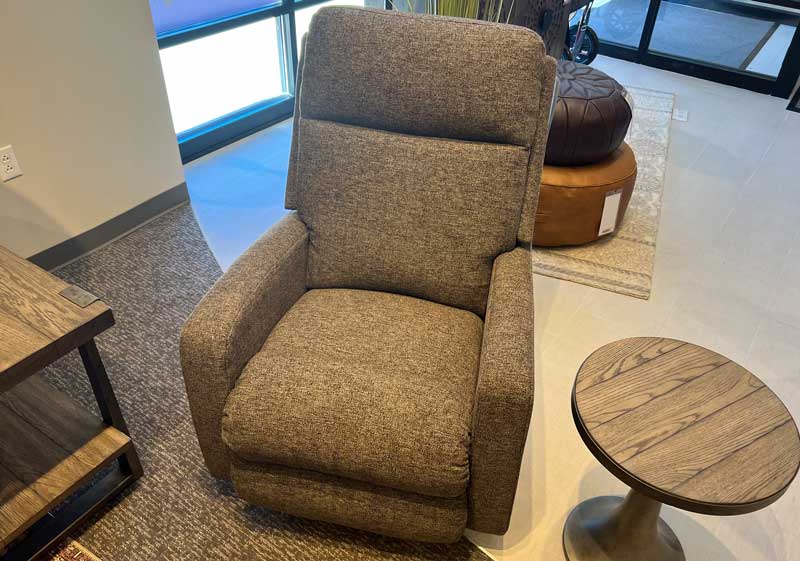 We have seen an increasing willingness from the brand to invest in its manufacturing operations in Mexico and expand in Mexico. La-Z-Boy operates a plant in the border city of San Luis Colorado, Mexico. The opening will bring 500 manufacturing jobs to the Sonora region.
La-Z-Boy's choice to manufacture in Mexico may have to do with its proximity to the USA while costing much less to manufacture. This long-term investment may show us one of many more to come in the future as more of the manufacturing jobs potentially move elsewhere to diversify the furniture brand's manufacturing imprint.
In an age of globalization, few things ever get made 100 percent in a single country. For example, while they may make the recliners in Mexico, they receive the fabric from a mill that typically comes from Asia. Whenever you hear, "Made in the USA," the reality is often that they only assembled the furniture there.
Many of the fabrics, subcomponents, and kits will often come from global sources. Like many of its competitors, La-Z-Boy remains competitive on this for a reason, and they offer over 900 fabric and leather choices in different grades.
The facility in San Luis Colorado, Mexico, is largely a cut-and-sew facility. They have continued to expand their manufacturing imprint in Mexico, and they have another smaller cut-and-sew center in Paras, Mexico. Along with some of the manufacturing operations going to Siloam Springs, some of the manufacturing operations that they cut in Newton went to Mexico as well.
La-Z-Boy and Manufacturing in China
La-Z-Boy issued a statement that said that they produce their recliners in China under the Kuka Homes license. The brand also has a considerable presence in China where they operate over 1,600 stores. To further put this into perspective, we would like to look at where Kuka Homes manufactures in China.
The five key production provinces include:
Zhejiang
Xiasha
Hebei
Hubei
Jiangdong
Along with that, we would like to point out another interesting fact about Kuka Homes. They have said that they increased production through manufacturing in Vietnam and Mexico, and they made this move to diversify their portfolio as well. This could indicate that some of the La-Z-Boy recliners may have come from Vietnam as well, or they may come from there in the future.
Some of the La-Z-Boy recliners sold to China may even come from Thailand and the USA. From what we have heard, La-Z-Boy does manufacture some of its recliners in China, but they don't produce as much there as you might think for the USA. A lot of it was made for the local Chinese markets, and they have hundreds of stores that they plan to build there.
That doesn't mean that some of the recliners didn't come from China, but La-Z-Boy does a decent job at supporting America.
La-Z-Boy Made in Thailand
The manufacturing operations in Thailand from La-Z-Boy serve as a joint venture among Thailand, La-Z-Boy USA, and New Zealand. They started the facility in 1998 with an annual production of 1,200 recliners with 30 people.
Over the years, La-Z-Boy's manufacturing operations have expanded to three key buildings. You can locate the larger facility in Chon Buri province, which they constructed in 2004. Chon Buri sits 31 miles from Bangkok. This factory produces 156,000 recliners annually, and they export them to the United States, Asia, Europe, the Middle East, and Australia/New Zealand.
At this facility, they also sell to the local market, which accounts for 10 percent of the annual capacity. The manufacturing plant produces six styles of recliners, and all styles produced here consist of leather.
Are La-Z-Boy Recliners American Made?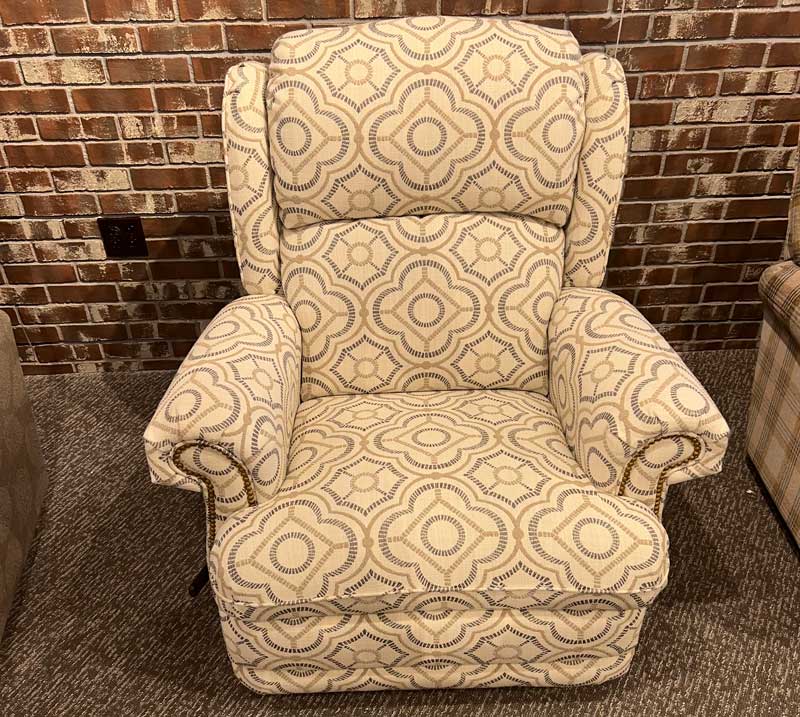 Provided you watch what you buy, you can find a La-Z-Boy recliner made in the USA. We would advise caution, however, because the company does have manufacturing operations in other countries. Check to see that they made the product in the USA before buying. Many of the recliners made in the USA will come from its main manufacturing facility in Dayton, Tennessee.
The one thing to understand about La-Z-Boy is that none of the products were entirely American-made. While they do assemble the products there, they make them with globally sourced products.
It's also worth noting that in 2008 when many of the other furniture brands sent their manufacturing jobs overseas, La-Z-Boy remained an American-made company. They continued to keep a large part of the manufacturing in the United States. That is a laudable effort considering how many of the other big furniture companies didn't make the same sacrifice.
There has been a trend of sending the jobs increasingly elsewhere, but we do still see how the brand continues to invest in its three main manufacturing plants within the United States.
This doesn't mean that you don't have other great American-made furniture brands that deserve a mention. We will cover them in the following sections.
Furniture Brands Made in the USA
While we did find La-Z-Boy a great American-made brand, that doesn't take away from the fact that they still manufacture some of their recliners elsewhere. Some of the other great American-made furniture brands that deserve a mention include:
| | |
| --- | --- |
| American Made Furniture Brands | Location |
| Floyd | Detroit, Michigan |
| Stickley in Manlius | New York |
| Vermont Woods Studio | Vermont |
| Eastvold Furniture | Minnesota |
| The Joinery | Oregon |
Floyd

A Detroit furniture startup, Floyd makes its products from American birch and cold-rolled steel. The real wood used in the furniture ensures that they built it to last. They manufacture their products with their partners in the Great Lakes Region. Some of the things that the brand has a reputation for include minimalist designs, and modern and mid-century furniture. You can put them together easily and take them apart as well.
Stickley
The current factory for Stickley sits in Manlius, New York. Stickley values craftsmanship, legacy, and quality. With all of its collections, you see some of the highest quality furniture on the market—a great representation of American-made. The construction of its products guarantees a longer lifespan. Their products include a five-year limited warranty against defects. This brand sells premium-made furniture on the higher end.
Vermont Woods Studio

A 100-percent American-made brand, we feel any company that keeps its manufacturing operations entirely in the United States deserves a mention. Established in 2005, Vermont Woods Studio sells a range of furniture styles that include craftsman, modern, contemporary, shaker and mission. The furniture made at Vermont Woods Studio is handcrafted, and it was made from solid maple and Vermont cherry.
Eastvold Furniture

Based out of Minnesota, the brand dedicates itself to designing and constructing modern furniture. This shows you one of the smaller American-made companies that produce some stylish furniture. They also have a reputation for dependable customer service. The company builds its pieces in a small rural shop in Northfield, Minnesota, a city with a population of 20,347 people.
You can learn more about Eastvold Furniture here. It has an interesting history as an American-made company.
The Joinery

Handcrafted furniture, the Joinery makes its products in Portland, Oregon, where they put together premium-quality furniture. They also have a few partnerships with other furniture makers in the region. Everything that they build here has the same level of care that makes America proud. One of the great things about furniture from the Joinery comes from the contrasting woods.
Wrap Up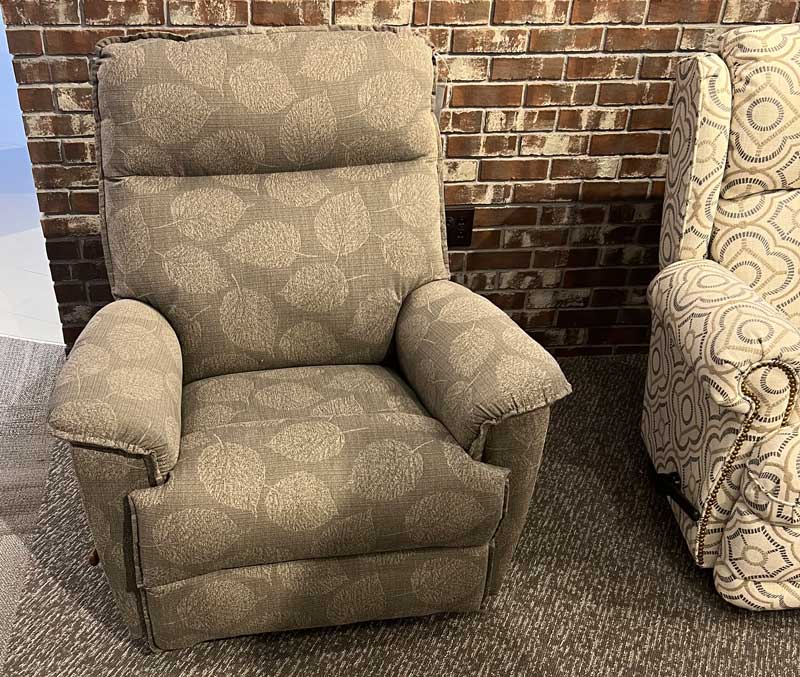 Many of the La-Z-Boy recliners are made in the USA. You do have to watch to see that you buy truly American-made, but the brand continues to make its products here. As the world's favorite recliner company, it should give Americans peace of mind in knowing that their money goes to supporting American manufacturing.
La-Z-Boy ranks as the largest independent manufacturer of upholstered furniture in the USA. Meanwhile, they rank third as the largest on a worldwide scale behind IKEA and Ashley HomeStore. La–Z-Boy handmakes its products. You can learn more about the history of this fascinating American company here.
Hi, my name is Kevin and I'm from Pittsburgh, Pennsylvania. Choosing products made in America is important to me because it supports local economies, creates jobs, helps the environment, and ensures ethical labor practices. I also find that American made products are usually of higher quality so although they're a little more expensive, you save money in the long run. Before starting this website I was in the USMC infantry and nowadays I work on this website as a hobby.