Ridgid offers a large tool selection of tools, and many consider them a couple of notches above Ryobi, Kobalt, Skil, and Craftsman. Many customers put good faith in the brand, but although they were founded in America, many people wonder where their tools are currently made.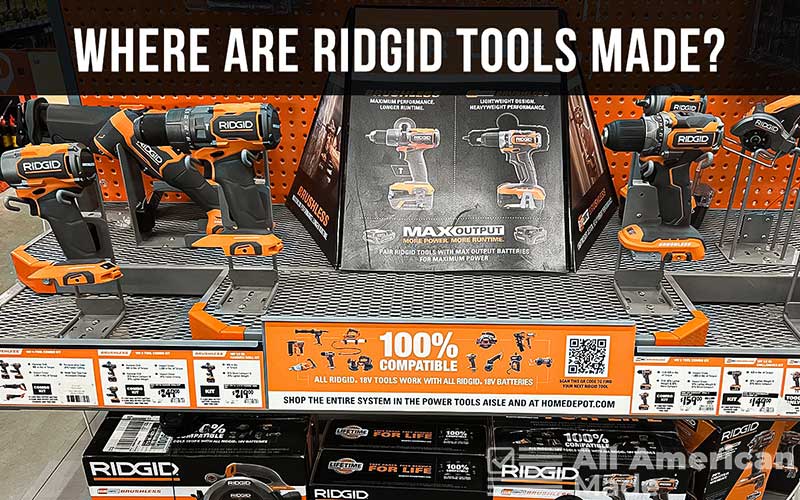 In the rest of this article, we'll share exactly where Ridgid tools are made and share other important information about the brand.
Ridgid tools are made in several countries, including China, Vietnam, Indonesia, and Switzerland. Much of their manufacturing has gone abroad, but they still produce some tools in the USA, including some pressing jaws and pipe wrenches.
Which Ridgid Tools Are Made in the USA?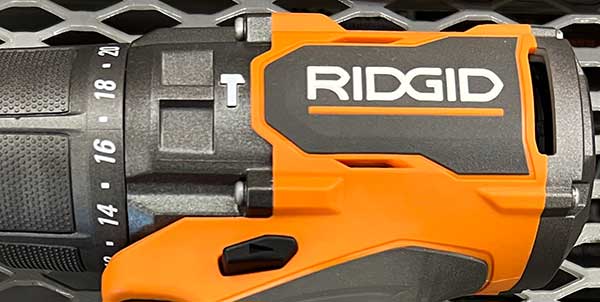 Ridgid Tools first opened its doors for business in 1923. They had their first manufacturing plant in North Ridgeville, Ohio. They relocated the plant in 1943 to Elyria, Ohio, and today, the products that they make in the United States come from Elyria, Ohio.
Some products that Rigid makes in the United States include:
Ridgid 31095 model aluminum straight pipe wrench
ACTUATOR, C1 26163
1 HP Dual Suction Sump Pump
1/2 HP Stainless Steel Dual Suction Sump Pump
1/3 HP Stainless Steel Dual Suction Sump Pump
1/2 HP 120-Volt Sewage Pump
3/4 HP Cast Iron Shallow Well Jet Pump
1/2 HP Cast Iron Shallow Well Jet Pump
1 HP Smart Suction Sump Pump
12 Gallon HP NXT Shop Vacuum
RIDGID 14 in. Heavy-Duty Straight Pipe Wrench
Admittedly, we found their production output in the United States a bit lacking. Most of their products come from China. What they do make in the USA, they assembled in the United States. For example, Ridgid Tools assembled the 1 HP Stainless Steel Smart Dual Suction in the United States, but they didn't produce all of it there.
Unfortunately, that assembly instead of full production pops up again and again with their products. As far as we can tell, they don't truly make anything fully in the USA. You can learn more about Ridgid's factory in Elyria here. This was published recently, which suggests that they still produce in the United States. If you're interested, we also have a full article on American tool brands here you can check out.
Ridgid's Factory in Elyria, Ohio
To get a better understanding of Ridgid's manufacturing imprint in the United States, let's take a look at their factory. Ridgid Tool operates eight manufacturing plants worldwide with one of them being in the United States. This 715,000-square-foot facility has between 201 to 500 employees working at their factory. That shows that they do still manufacture in the United States even if at a lower level.
In total, they hire an estimated 1,500 employees, which is a fair amount of workers that they put into the United States even if they only do the assembly in the USA. This tool company has less brand recognition than some of the bigger ones like Milwaukee Tool, Craftsman, or Ryobi, but they have won themselves a loyal fan base of tool enthusiasts.
A lot of Americans won't agree with this company because they simply assemble the Ridgid Tool label in the United States. It still creates jobs for the USA, but the bulk of the work goes to countries with cheaper labor. In some cases, we have seen assembled in the USA abused to where they only look made in the USA based on the label. For example, they will put a shoe sole in the shoe at an American factory, and based on the customs laws, they can still list it as made in the USA.
Elyria is the headquarters of Ridgid as well as them having a factory there. When it comes to the opportunities at this company, many talked about it as being a great company to work for with many opportunities for advancement. This is why we support American-made companies.
We do this because it brings more high-paying opportunities to the American people. Some people have argued that when a company sends its work overseas, the workers left behind simply find better opportunities. While that may prove true in some cases, you have plenty of evidence to suggest the contrary.
Are Ridgid Tools Made in China?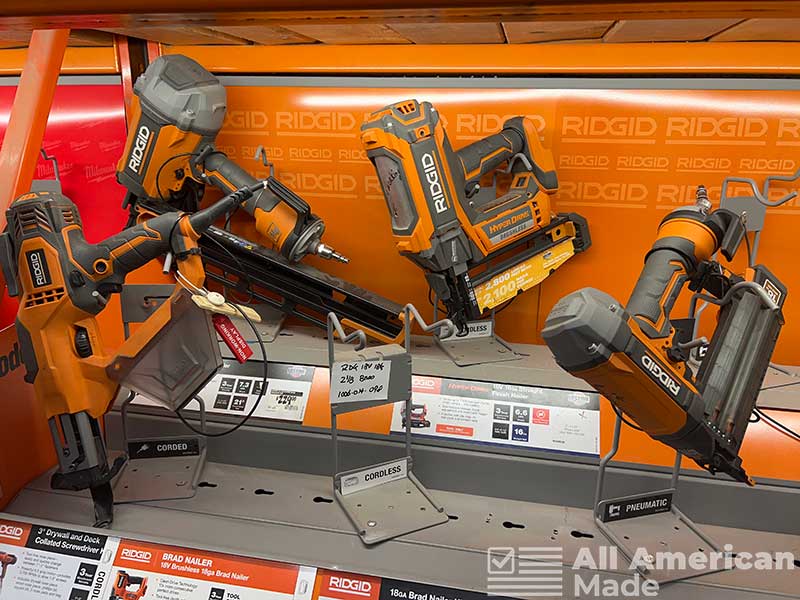 Back in 2003, Ridgid Tools had a manufacturing agreement with One World Technologies, which is a subsidiary of Techtronic Industries. For those who don't know, Techtronic Industries holds all the major tool brands like Ryobi, Craftsman, and Milwaukee Tool.
Even today, Techtronic Industries licenses Ridgid Tools, but they don't own the brand itself. Instead, they can only develop and produce them. We would avoid anything from Ridgid licensed under Techtronic since it will most likely be made in China. This brand is well known for making most of its products in China.
Most of them will be tools made for the professional industry, but the best way that you can tell is that Ridgid Tools licensed under TTI will have an orange color to them. Ridgid's cordless power tools, for example, are made by Techtronic Industries. You can tell the tools are made under the true Ridgid brand because they made them red. It's a simple trick that can help you to distinguish between the two brands.
Despite this agreement, Emerson, the parent company of Ridgid filed a pre-emptive lawsuit against TTI. They filed the lawsuit to establish that some of their tools didn't infringe upon the patents that TTI holds for Milwaukee Tool. They did this over the Milwaukee Tool brand and its batteries for possible infringement on three of its patents.
They made Ridgid in China, but despite the boost to their profits, we haven't seen the cost of their tools drop much.
Because TTI produces some of its products, we can assume that some of the Ridgid tools come from its giant factory in Hong Kong.
I actually decided to go to some home improvement stores near my house that offer Ridgid tools to see where they were made. Below, I'll share show photos of the labels on many of the tools I inspected that show where they are made.
The first power drill I checked was made in China, as you can see in the photo below.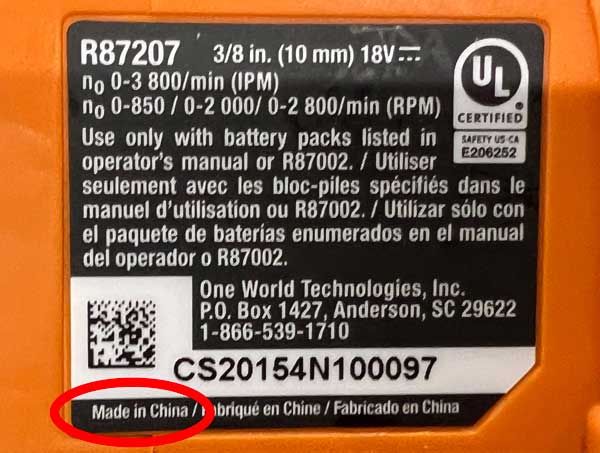 The second power tool I checked was also made in China.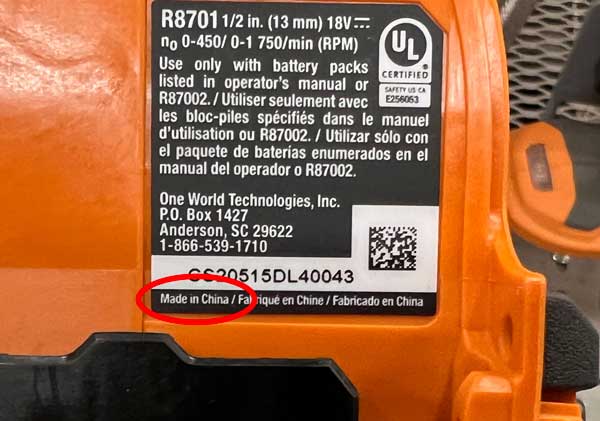 The third tool I checked was also made in China.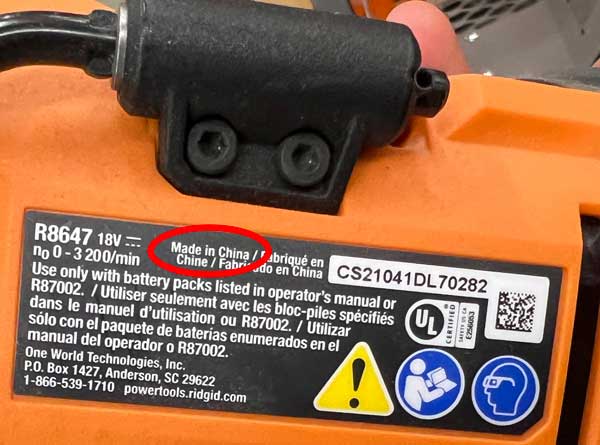 To my surprise, after checking about 30 more Ridgid tools, literally, all of them that were being offered were made in China.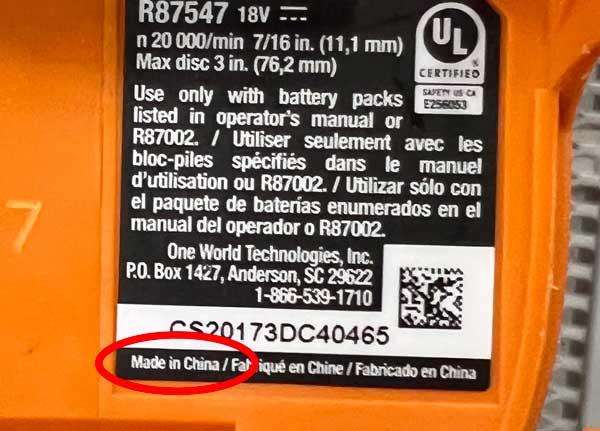 That's not to say that all Ridgid tools are made in China, but it was surprising that nearly all of them being offered in stores near my home were made there.
Who Owns Ridgid Tools?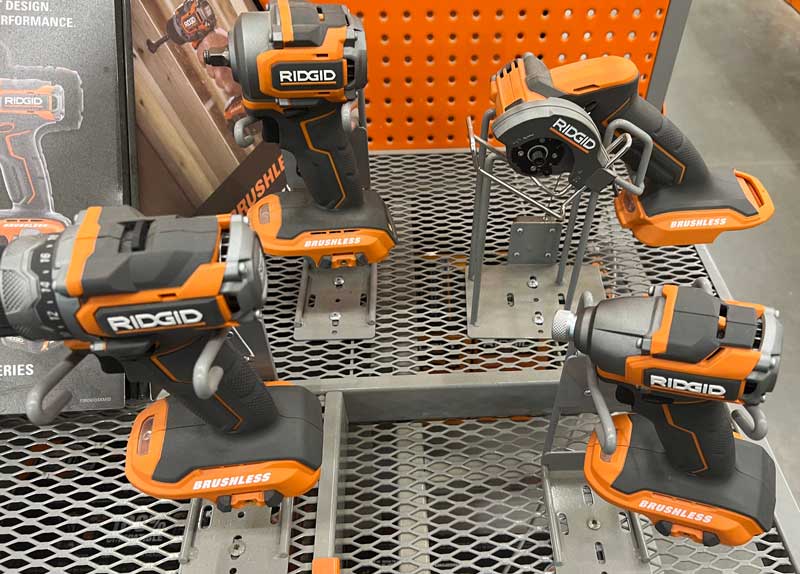 While Techtronic Industries holds the rights under licensing to produce and develop Ridgid Tools, they have no ownership stake in the company. Instead, Emerson Electric owns Ridgid Tools, which they bought in 1966. That means that Emerson Electric has held the rights to this company for over 50 years. Ridgid has operated as a subsidiary under them.
Emerson can't, however, say that they can lay sole claim to the profits since some of the profits go to Techtronic Industries.
Some of the other companies that Emerson Electric owns include Klauke and Greenlee. These are the only two other subsidiaries that we know of that they own. Today, Emerson Electric operates as a Fortune 500 company that publicly trades on the stock market. Since the parent company is publicly owned, we shouldn't feel too surprised that they don't make all their products in the United States.
Not in all cases, but many of the publicly traded companies will send the work overseas since it maximizes the profit for investors. Once a company goes public, you can often expect that they will cut American manufacturing at the first sign of a lack of profits since it can bolster its bottom line to make investors happier. Failure to impress investors will eventually lead to a lack of capital, which can cause the company to flop.
Ridgid's Manufacturing in Switzerland
Many of the tools from Ridgid will come from China, but you can buy a few products from them made in Switzerland. The government subsidizes manufacturing in Switzerland, which explains why Bosch has manufacturing there as well.
Some of the tools that Ridgid makes in Switzerland include:
RP 241 Press Tool RP 241 Press Tool
RP 351 Press Tool
Ridgid 57373 RP 241 Press Tool Kit
We found that Ridgid makes a fair amount of its tools in Switzerland. We still think that much of the production comes from China.
Ridgid's Manufacturing in Vietnam
Whenever you see a "VN" at the end of the model number, you can assume that Ridgid produced that tool in Vietnam. An example of this includes the P261VN and the P263VN. The P238VN is another example of a Ridgid model that they produced in Vietnam. As the cost of manufacturing has steadily risen in China due to trade tariffs and greater prosperity, Vietnam has become another source of manufacturing.
Many companies switched their manufacturing over from China to Vietnam. Up until 2019, many of the products came from China, but it was during the US-China trade war that we saw more companies take their manufacturing over to Vietnam.
This category of Ridgid Tools and its origin has steadily risen since 2019, and we will likely continue to see that as China appears to rise in prosperity. Once that happens, they will look for jobs with greater skill requirements than simple manufacturing.
Is Ridgid Owned by Home Depot?
Home Depot doesn't own Ridgid Tools despite them selling the tools almost exclusively through Home Depot. This is one of the flagship brands of Home Depot next to Ryobi Tools. However, while they market the Ryobi Tools to the casual everyday tool user with less serious needs, they market Ridgid Tools to more professionals. For that reason, they will often cost a little more than other tool brands.
Are Ridgid and Ryobi the Same Company?
Previously, we mentioned how Ridgid and Ryobi are the flagship tool brands at Home Depot. Despite the two being sold at Home Depot, Techtronic Industries owns Ryobi and Emerson Electric owns Ridgid. We do see an interesting thing where TTI holds the licensing rights to Ridgid with some products. That means that they may both be made under the same brand at times, but Ridgid is not technically owned by TTI. They only have licensing rights.
Also Read: Where Are Craftsman Tools Made?
Final Thoughts:
Some of the products that Ridgid Tools makes include tools for pipe fitting, HVAC, electrical, and plumbing industries. That may explain why fewer people know them as well because the tools were highly specialized for a certain market. While many people who have used their products were impressed with them, we wouldn't consider them the best choice for individuals who want American-made tools.
You can buy the specific models made in the USA, but most of their models were only assembled in the United States.
Hi, my name is Kevin and I'm from Pittsburgh, Pennsylvania. Choosing products made in America is important to me because it supports local economies, creates jobs, helps the environment, and ensures ethical labor practices. I also find that American made products are usually of higher quality so although they're a little more expensive, you save money in the long run. Before starting this website I was in the USMC infantry and nowadays I work on this website as a hobby.