Known for durability and longevity, Timberland boots have become a beloved product because they often last four to six years. In some cases, they may last longer than that, depending on how you take care of them. Boots like this make sense for outdoor hiking or work boots. Considering the quality of these boots, you may wonder where they make Timberland boots. Many people wonder if Timberland boots are made in the USA.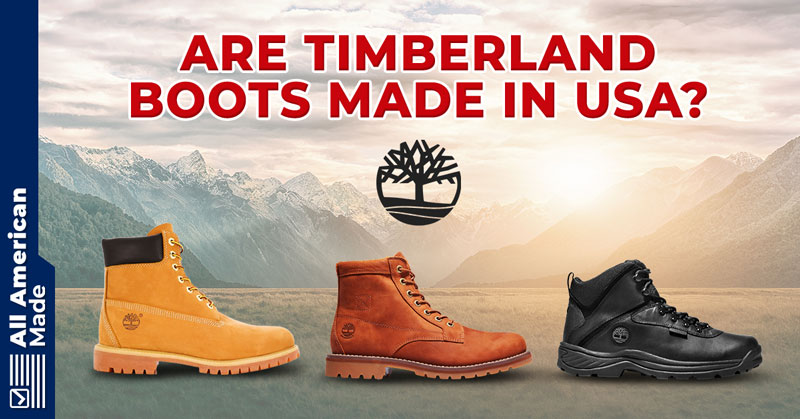 If you'd like to learn more about Timberland boots and their manufacturing practices, keep reading because we will cover this information in depth.
Some Timberland boots are made in the United States, but largely speaking, most Timberland products are produced in Asia. Specifically in China, India, Vietnam, Mexico, the Philippines, and Bangladesh.
To be sure whether or not a specific model is made in the United States, check the product details section on the Timberland website. You can also easily tell where the particular boots you're interested in are made by looking at the tag inside of the boot. I actually decided to go to a retailer near me that carries Timberland boots to see where they were made.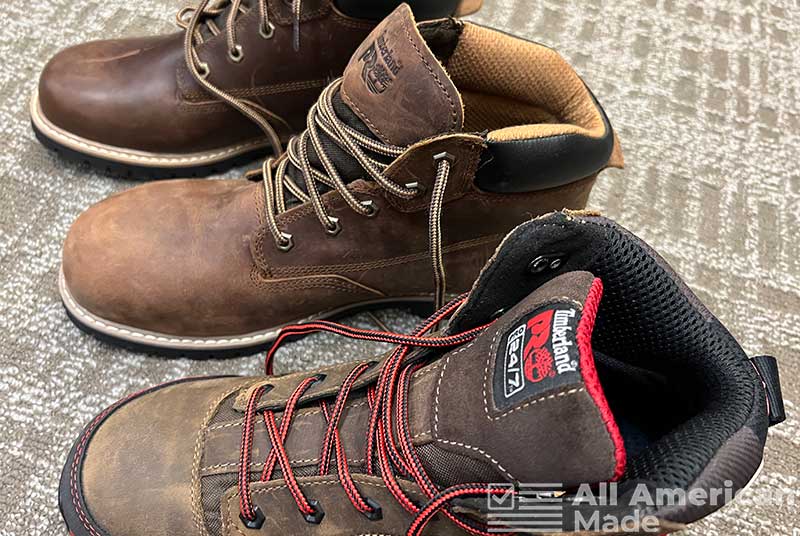 The first pair of boots I checked out were made in Bangladesh.
The second pair of Timberland boots I checked were made in Vietnam.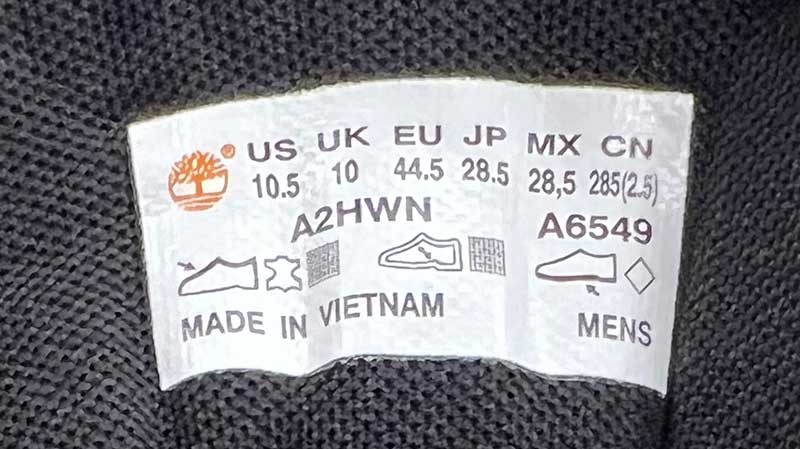 The third pair of boots I checked were manufactured in Cambodia.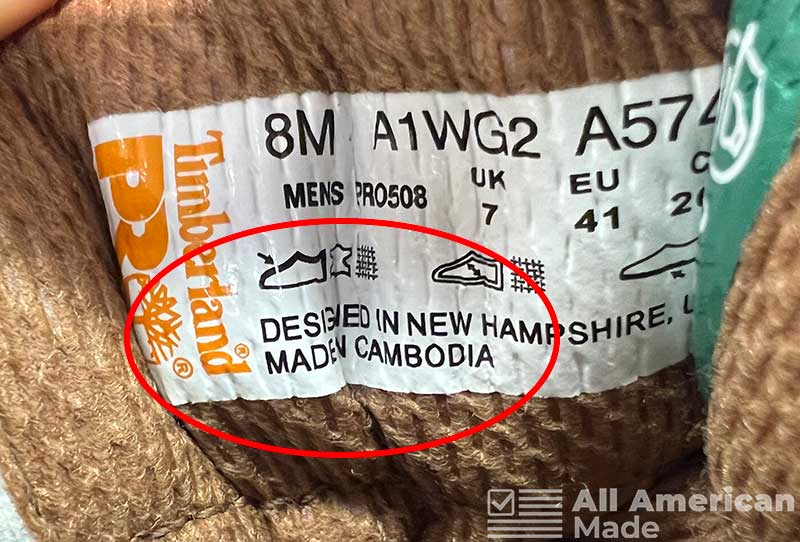 The fourth pair of Timberland boots were made in Mexico.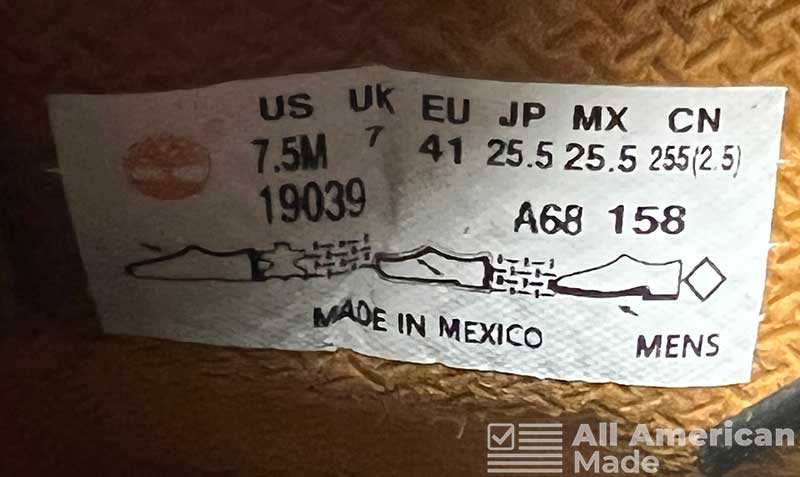 The fifth pair I checked were made in the Philippines.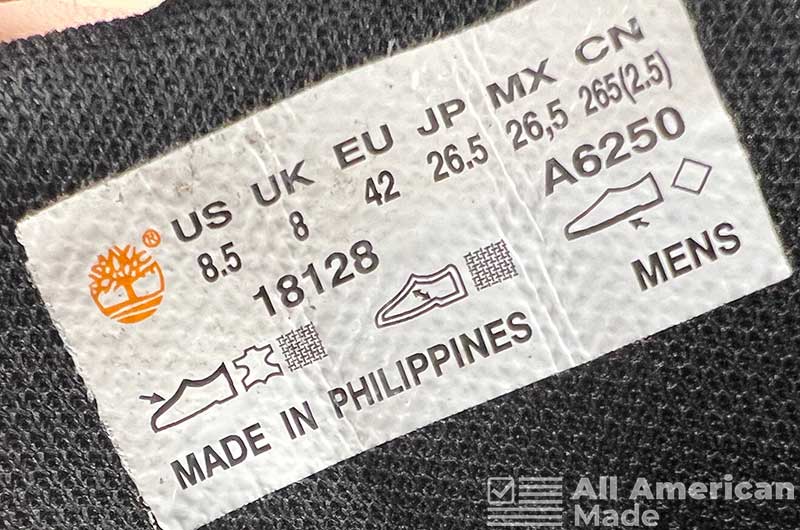 After checking about 15 pairs of boots in total, I was surprised by just how many different countries the boots were made in. I guess it shouldn't have been so surprising, though, because it matched what I was told by Timberland customer service when I asked them where their boots are made.
Timberland's Manufacturing Footprint in the United States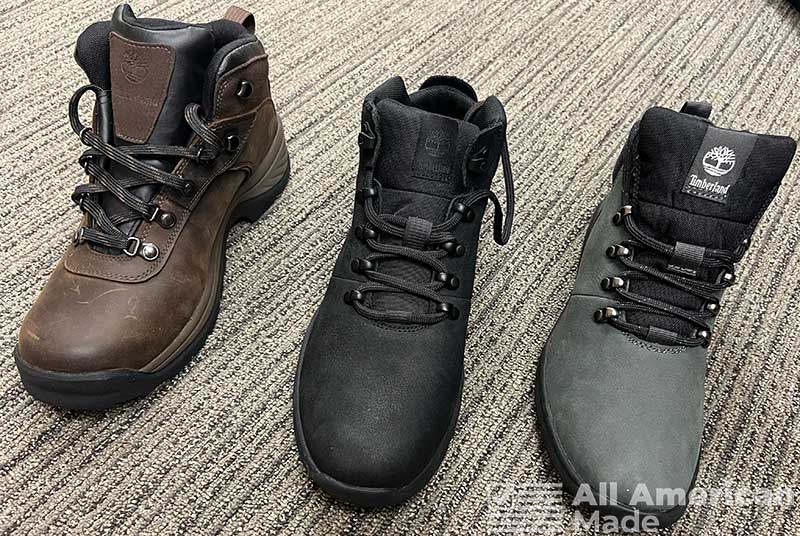 First, let's cover the footwear brand's manufacturing footprint in the United States. Timberland boots began in Boston, Massachusetts, in 1952 by Nathan Swartz. The brand acts transparently about what they made where, and you can see this information clearly on their website. Scroll down to the products detail section to learn more about where they make each product.
Some of the most popular Timberland products made in the USA include:
Timberland PRO Winter Beanie
8-inch Bergundy Horween
Timberland Logandale
Timberland PRO Essential Watch Cap
Men's American Craft Moc-Toe Boots
Timberland American Craft Boot Collection
Timberland Garrison Trail Sandals
By and large, Timberland chooses to make its products abroad. We would say that only two percent of the Timberland boots are made in the USA.
Timberland has 11 factories in the United States, but they operate far more factories in other countries. To put it into perspective, the company has over 300 factories operating around the world. Also, they may have a low manufacturing presence in the USA, but they consistently ranked as one of the top 20 companies to work for, according to CNN Money.
The Locations Where Timberland Has Factories
| | |
| --- | --- |
| Country | Number of Factories |
| Vietnam | 56 |
| UK | 1 |
| USA | 11 |
| Turkey | 16 |
| Tunisia | 4 |
| Thailand | 2 |
| Taiwan | 16 |
| Romania | 1 |
| Portugal | 3 |
| Philippines | 5 |
| Pakistan | 2 |
| Nicaragua | 8 |
| Moldova | 1 |
| Mexico | 7 |
| Mauritius | 3 |
| South Korea | 5 |
| Japan | 1 |
| Italy | 4 |
| Indonesia | 1 |
| India | 53 |
| Honduras | 2 |
| Guatemala | 13 |
| Germany | 1 |
| El Salvador | 3 |
| Dominican Republic | 5 |
| Cambodia | 6 |
| Brazil | 7 |
| Bangladesh | 36 |
| Argentina | 13 |
| China | 135 |
By and large, Timberland favors China with 135 factories. Vietnam has 56 factories, and India has 53 factories, but this is less than half of what China has. Each of these countries attracts manufacturing jobs with cheap labor.
Generally speaking, Timberland appears to have a good global spread for manufacturing operations. However, you wouldn't call them a great American-made brand.
Important Facts About Timberland Boots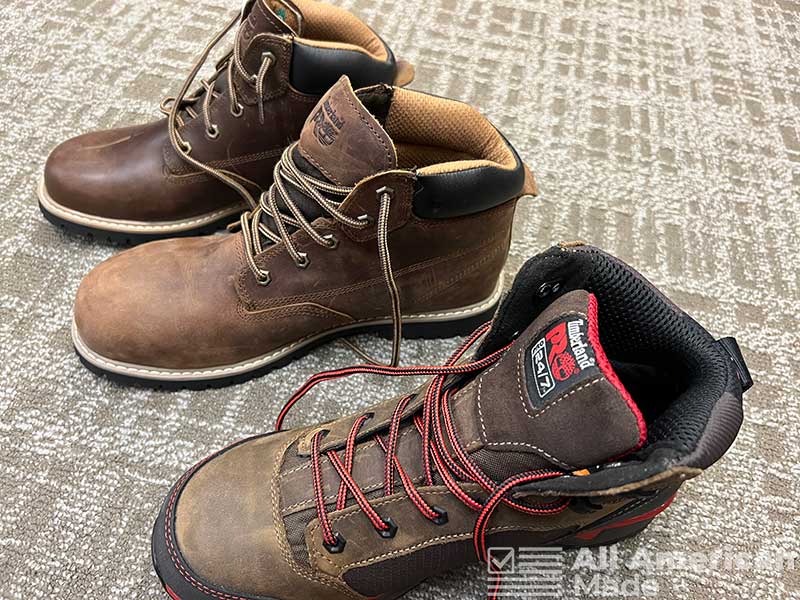 It all began in 1952 when Nathan Swartz bought 50 percent of Abington Shoe Company. Within three years of the initial purchase, Nathan Swartz acquired the remaining shares for $20,000. After buying out his business partner, he invited his sons into the business, and for the next decade, they made handmade footwear.
Eventually, Abington Shoe Company moved to Newmarket, New Hampshire. The region boasts majestic mountain ranges, dense forests, lakes, and rivers.
Newmarket, New Hampshire, became the birthplace of the Timberland brand—let's look at why. The area experiences weather of every kind: blizzards, harsh winters, unpredictable rainstorms, and grueling summer heat. Timberland tried to resolve that problem. In 1973, the Timberland brand entered the scene as rugged and well-crafted boots made for the most difficult backcountry treks.
The boots gained popularity with tradesmen and hikers who required the protection of the boots. While the boots started as a product line in 1973, their raging popularity caused Abington Shoe Company to rename their brand Timberland in 1978.
We didn't see the manufacturing go elsewhere until 1980, when Timberland first started overseas manufacturing. They began manufacturing in Italy. This choice of manufacturing may have had to do with the popularity of the boots in the country. Giuseppe Veronesi, an Italian goods distributor, first visited the brand's New Hampshire location in 1979 and ordered 3,000 pairs of boots.
Veronesi then began to sell the boots throughout his boutique stores around Italy. As the Italian craze kicked off, the boots became popular in the USA as well.
Timberland Goes Public: How It Impacted Manufacturing
Let's have a look at another milestone that may have impacted the Timberland brand. In 1984, the company was pumped full of success when a larger company began to take notice—VF Corporation.
At first, they had a buyout offer of $60 million. The two brothers held opposing views on whether to sell. One was 60 years old and near the age of retirement wanting to settle down. The other didn't want to sell. Before they could reach an agreement on the sale, VF Corporation withdrew its offer.
That may have been a good thing since the brand achieved worldwide sales of $68 million in 1985. Soon the brand had another suitor, which was Morgan Stanley & Company. Again, the bid was set for a low $60 million, and the brothers came to opposing viewpoints a second time.
Eventually, the brother Herman sold his shares for $30 million to Merrill Lynch and retired, but Sidney trudged forward. Less than a year after Merrill Lynch bought from Herman, he sold his shares publicly for $14 a share, and the company became a publicly owned business.
Closing of USA Factories
In 1995, eight years after going public, Timberland shut down many of its USA factories and began to largely seek its manufacturing from elsewhere. This turning point was when we saw a shift in the USA manufacturing for this company. While they had already sought to outsource some of the work to Italy and China, this became the point where the brand truly sought manufacturing overseas.
Incidentally, as soon as they outsourced their work, this became the first time where the Timberland brand reported a loss. In 1989, Timberland's exports accounted for 30 percent of its $156 million in sales. Timberland also withdrew manufacturing from China for a time due to political reasons.
VF Corporation Acquires Timberland: How It Will Impact Manufacturing
Fast Forward to 2020, VF Corporation bought Timberland for $2.1 billion. Considering how they could've paid much less back in the 1980s, this shows how the brand missed an opportunity. We would also like to look at how VF Corporation buying this brand may have impacted its manufacturing.
Considering how 73 percent of VF Corporation's manufacturing comes from independent contractors, we may not see a big shift in where they manufacture Timberland. The other thing is that VF Corporation manufactures heavily in Asia, and Timberland was already manufactured there before being bought.
We don't think Timberland will suddenly bring its manufacturing jobs back to the USA after the acquisition. Its history of being made in the USA has always been fairly weak in comparison to some of the other American companies.
You can learn more about how hip hop made Timberland into a billion-dollar company.
Should You Buy Timberland Boots?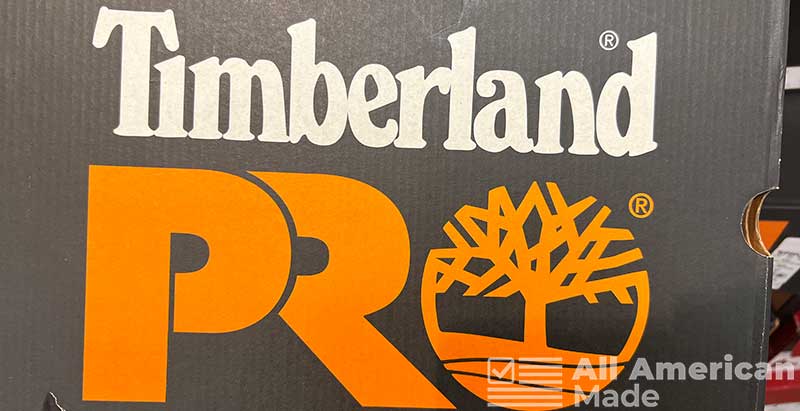 We can't recommend buying them on the principle of being American-made because Timberland doesn't do much for manufacturing in the USA. If you look at where the brand has most of its manufacturing facilities, China makes up 32 percent of the manufacturing from its total 420 factories. They heavily favor China in comparison to the other countries, but most of the products made from Timberland come from countries with cheap labor.
If you like the Timberland brand, you do have American-made boots that you can buy, but we wouldn't call this an American-made company on the whole. Only two percent of its manufacturing facilities are located within the USA.
With that said, finding American-made boots in today's world can prove trickier than ever before. In 1990, an estimated 80 percent of the shoe manufacturing jobs were taken overseas. Today, estimates show how between 95 and 98 percent of the shoes in America come from Vietnam, China, and India.
We think that you can probably find better American-made boots than Timberland, but due to the prohibitive cost of some American-made products, we understand why some people might choose products made overseas.
On some level, we do respect Timberland because of how they remain transparent about the origin of their boots. They don't try to fool their customers. You can figure out the American-made boots more easily if you want them. We listed some above.
In total, Timberland has over 10,000 employees in the USA. They are also an environmentally friendly company, and they plan to plant 50 million trees by 2025. VF Corporation even stopped using Brazilian leather in protest of their treatment of the Amazon rainforests.
Are Timberland Boots Made in China?
This may be subject to change in the future, but China largely produces the Timberland brand, with 32 percent of its boots being made in China. We have seen a shift in shoemaking, which has now led to Vietnam becoming the global shoemaking hub. This country is Timberland's second-largest manufacturing country, with them making up 13 percent of the manufacturing operations at Timberland.
China has begun to manufacture some of the more high-quality electronics, and they have moved away from things like shoemaking to increase the wages for their workers. One decade ago, China was the leading footwear producer, but Vietnam holds that title today. They have also become highly competitive with China and have taken some of the shoe manufacturing jobs from them.
What Are Some American-Made Boot Brands?
Having looked at a company that doesn't produce much in the USA, you may wonder about some better American-made alternatives to Timberland. You have several good choices, and they deserve your support for trying to keep manufacturing jobs in the USA.
Some of the American-made brands include:
Red Wing
Frye
Nick's Handmade Boots
Helm Boots
L.L. Bean
Wolverine
Truman Boot Co.
Thursday Boot Company
If you're in search of a quality American-made work boot, check out this guide showing our favorite work boots made in the USA here.
How Much Does the Cost of an American-Made Boot Differ from Boots Made Overseas?
American-made, unfortunately, often comes with a higher price tag, but it supports the American economy. Let's put Timberland boots up alongside the cost of other boots to see how an American-made boot compares to a Timberland boot.
Timberland boots will usually run you anywhere from $90 to $220. Wolverine boots, in comparison, will cost anywhere from $80 to $150. We did see one of their women's boots costing $280, but we're giving you an average price.
In other words, you can find some American-made boots for less than what Timberland charges for their Chinese-made products. That doesn't bode well for the company, and the one argument against them has been that Timberland boots are overpriced. However, it does offer us a wonderful opportunity to choose American-made over foreign-made. Buy Wolverine and support America.
Wolverine is one of your more budget-friendly American-made boot brands. At the same time, they can withstand some of the harshest settings in the work environment, and they feel comfortable wearing them.
Let's take another American-made boot brand and compare. Thursday Boot Company boots will cost you around $150 on the lower end and cost $200 on the higher end.
The one thing that we have noticed about American-made brands in some categories is that they often seem to have zero presence on Amazon in comparison to some of their foreign-made competitors. We were pleased to see that Wolverine had a good presence on Amazon.
Check out a glimpse into the creation of the original Timberland Yellow boot with the quick video clip below.
Conclusion
It's unfortunate that most of the Timberland products are largely not made in America, and Timberland may even sound like an American-made company, but unfortunately, that simply isn't the case. Less than two percent of its boots come from manufacturing facilities in the USA. You can also find boots priced similarly to the Timberland brand, which makes it all the more attractive to go with the American-made brand.
Getting yourself a pair of solid boots is a must, but having something more relaxed for when a pair of boots isn't necessary is also pretty important! Timberland does make some parts of some of their sandals in the US, for example, like the Garrison Trail pictured above. If you're interested in a list of American-made sandals, you can check out our guide here!
Hi, my name is Kevin and I'm from Pittsburgh, Pennsylvania. Choosing products made in America is important to me because it supports local economies, creates jobs, helps the environment, and ensures ethical labor practices. I also find that American made products are usually of higher quality so although they're a little more expensive, you save money in the long run. Before starting this website I was in the USMC infantry and nowadays I work on this website as a hobby.