An American kitchen appliance company, the Cuisinart brand grew synonymous with the food processor since they were the first to introduce it during a food show in Chicago in 1973. Cuisinart experienced limited success in the early days, but today, they have become a multi-million dollar company.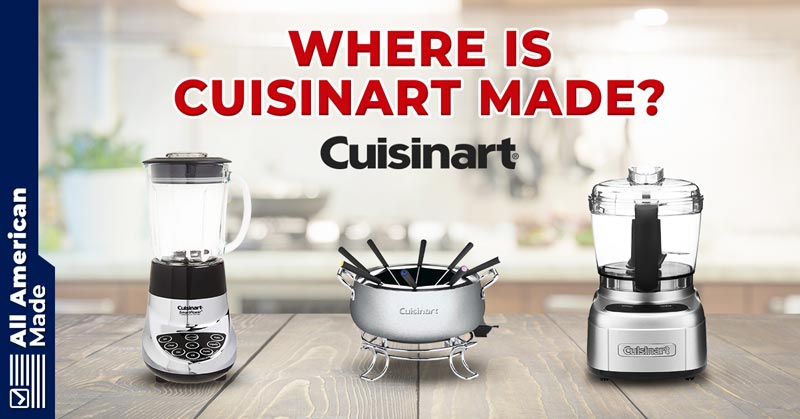 With all this in mind, you may wonder where Cuisinart manufactures its products.
Most Cuisinart products are made in China, but the Cuisinart French Classic Line comes from France. None of their home appliances or cookware is made in the USA.
If you'd like to learn more about the Cuisinart brand and where they make their products, keep reading because we will take an in-depth look at this company and its manufacturing strategy.
Is Any Cuisinart Cookware Made in the USA?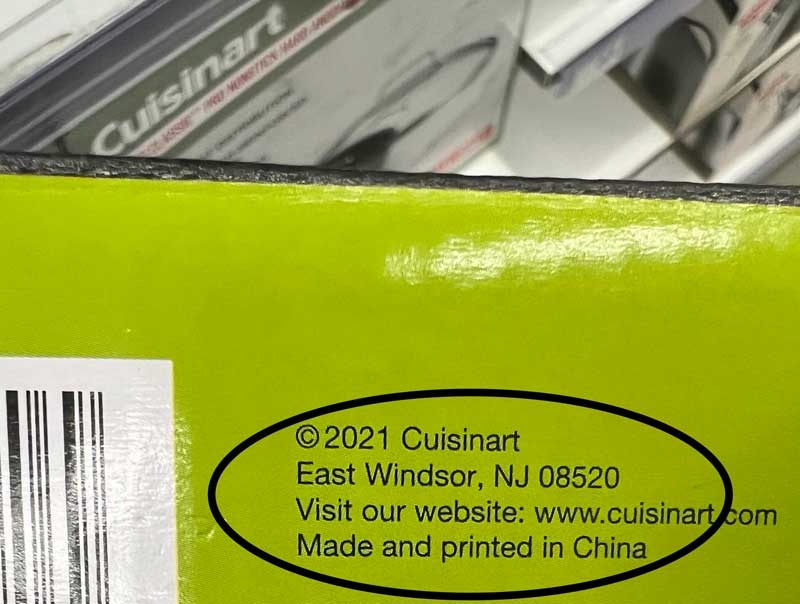 No, Cuisinart cookware is largely made in China. If you head into stores around your home, you'll likely notice the made and printed in China label on all the packaging of Cuisinart cookware.
Also Read: What Cookware is Made in the USA?
Who Manufactures Cuisinart?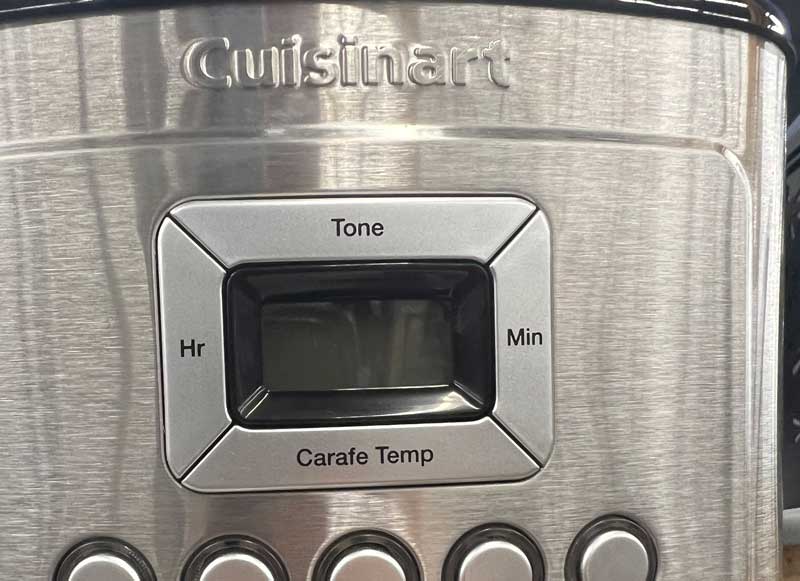 They now manufacture Cuisinart under American Securities LLC. Previously, they manufactured it under Conair, but in the spring of 2021, American Securities LLC acquired Conair, which means that the business now manufactures Cuisinart and several other iconic brands under the Conair name, such as Waring Commercial, Babyliss, and Scunci.
American Securities LLC says that it looks at the long-term best interests of the brands that it has under it. Unlike Conair Corporation, American Securities LLC is more of an investment firm. They dedicate their time and energy to helping the companies they work with achieve their goals. This private company is owned by Michael G. Fisch.
Where Do They Make Cuisinart in China?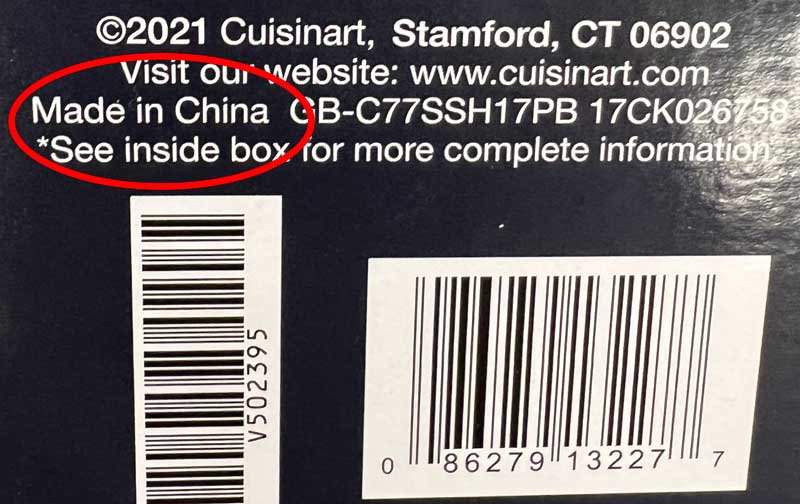 Cuisinart was owned by Conair Corporation for decades, and the company has been manufacturing in Shanghai, China. Conair started manufacturing some of its other products there in 2007. We can assume that most of the Cuisinart products come from this region. At the start of 2014, Conair began manufacturing Cuisinart in Minhang District in Shanghai. This is mostly a factory and residential area. The company moved into a new building in 2014, but they remain in the Minhang District.
The manufacturing sits on the ground floor, while the office buildings sit above the manufacturing facility.
Along with Cuisinart, Conair Corporation owns several other iconic brands like:
Babyliss
Scunci
Waring Commercial
Conair
Since 1987, Conair has had an active role in the Asia-Pacific region. It first began business in China in 2001. Before 2014, many Cuisinart products said "Made in Japan" on the bottom. After 2014, however, most of them were made in China.
If you're interested in learning more about why everything always seems to be made in China, you can learn more about why China has become the world's factory. Many companies have made the switch either to China or other countries because they have found it harder to compete when they stay made in America. This shows you one of the reasons that we need to support our American manufacturing jobs.
Is Cookware Made in China Lower Quality?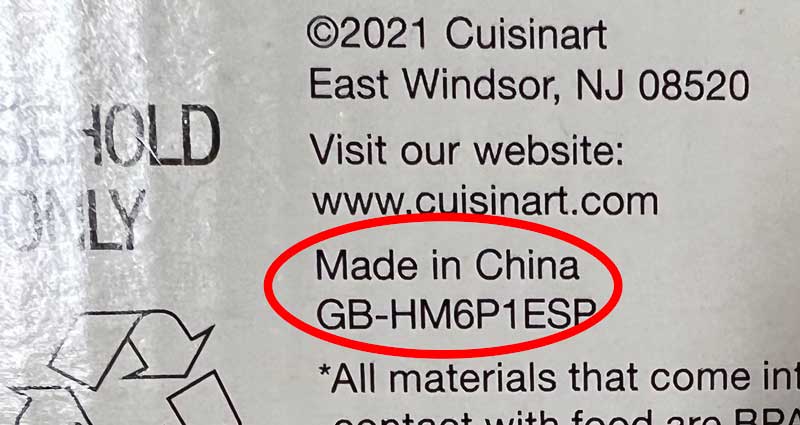 We wouldn't always say this is true because of how some companies in China do a great job. However, some factories in China churn out cheap and poor-quality products that won't last long. Whenever buying products from China, we would always recommend that you do your research ahead of time to see the quality produced.
Cuisinart is generally said to be of decent quality despite being produced in China. Especially for someone new to cooking, it offers a cheaper entry point. With that said, we still think it better to buy American made and that's why we offer American alternatives down below.
Cuisinart: The One American-Made Product
Largely speaking, everything from Cuisinart was made in China. You can simply apply that rule to almost everything they made, and you would be correct with your guess. We would, however, like to point out the one refreshing exception, which is Cuisinart grills. Some Cuisinart barbecues are manufactured in Newton, Massachusetts, exclusively from The Fulham Group.
The American manufacturer has exclusive rights to manufacture the barbecues and barbecue accessories from Cuisinart, which means that it doesn't happen anywhere but in America. If you want an American-made product from Cuisinart, buy their barbecues. Their barbecues are known for durability and ease of cleaning.
Should You Buy Cuisinart if You're Looking to Buy American Goods?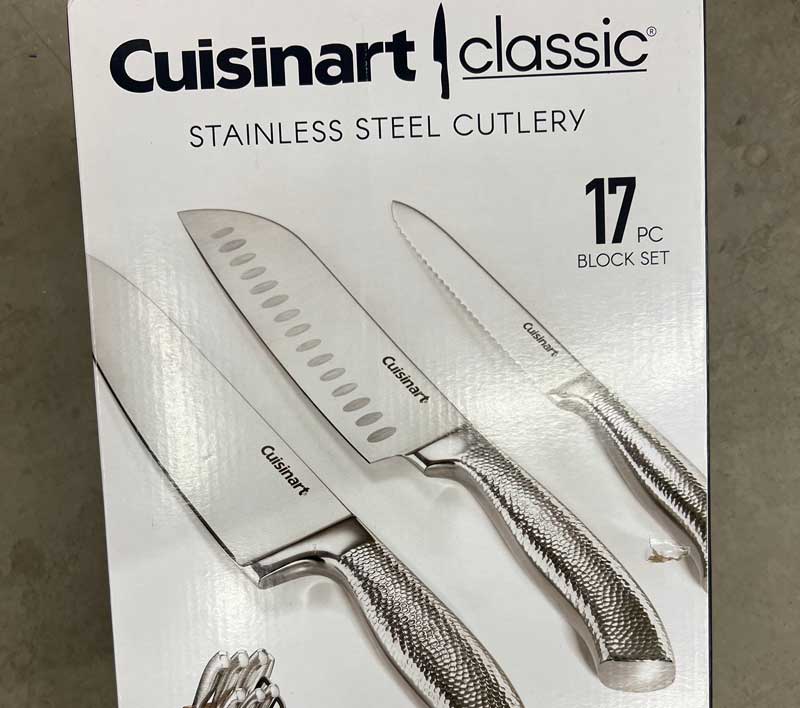 We can't recommend the Cuisinart brand because they never manufactured their products in the United States. While being an American company and started by an American, they have almost zero history of providing Americans with manufacturing jobs. You can't even say that they used to have big factories in the United States.
Cuisinart also tries to cover up the origin of its products. They don't clearly state the origin on their pages, which misleads many people. When a company openly says that they were manufactured elsewhere, it's one thing, but using dishonesty around the origin to profit is an unethical business practice.
You must stay vigilant if you want to buy American-made. One of the latest tricks that companies have begun to use is to say, "Made in PRC," which means Made in the People's Republic of China.
Companies that make their products in the U.S. will proudly put it in their description because it becomes a selling point, as you see with Cuisinart's sister brand Waring Commercial.
What Cuisinart Products are Made in France?
The Cuisinart French Classic Stainless Steel Cookware Collection all comes made from France. They have produced it there for over 35 years, and Cuisinart has no plans to change that. Choosing the stainless steel tri-ply constructed pans with elegant handles, these pans look pretty good. The brand economically priced the pans as well.
We spoke about where they make the brand in China, but what about the Cuisinart French Classic line? They first began to make the Cuisinart French Classic in France over 35 years ago, and they have continued with this practice ever since. With that in mind, you may wonder where they make the Cuisinart brand in France.
Cuisinart partnered with Robot Coupe to manufacture its products from the Burgundy region of France. Burgundy is located in the east-central part of France, a region famous for its wine production.
We can't say what happened after, but before this time, Cuisinart had its products made in France by Robot Coupe. Cuisinart filed a lawsuit against this company when it began to produce the products under its own label and stopped distributing them as Cuisinart products. The lawsuit alleged that Robot Coupe was trying to convince the public that Cuisinart had changed its name. Cuisinart later emerged victorious from the lawsuit.
With these things in mind, we might assume that Cuisinart continued its production in the Burgundy region of France under a different manufacturer. Wherever they make it now, Cuisinart maintains that they continue to make the Cuisinart French Classic line in France.
Where Will They Make Cuisinart Under American Securities LLC?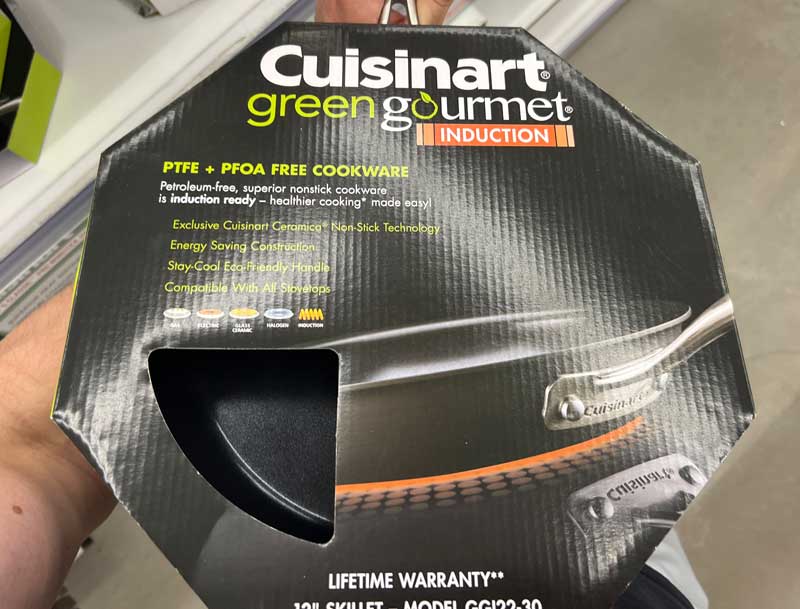 Whenever a brand gets acquired by a new company, you may wonder where it will produce it next. Some companies keep the same production facilities as before to keep the costs lower and avoid making new manufacturing plants.
We've seen this before when the Italian automaker Fiat acquired Chrysler. Instead of moving the production to Italy—which would've cost money unnecessarily—they chose to keep the production and headquarters in the USA. American Securities LLC already has an office in Shanghai, which makes us believe that they will continue to make the Cuisinart brand in China.
You can learn more about American Securities LLC acquiring the brand here.
Overall, we think this news will be good for Cuisinart, and not too much will change for the brand under its new owners. However, it's unlikely that they will suddenly switch the production of Cuisinart over to the United States.
What American Brands Are Alternatives to Cuisinart?
While Cuisinart may not make anything in the United States, you do have one alternative that popped up under the Conair Corporation—Waring Commercial. A sister company of Cuisinart, this American brand includes a few models made in America. In fact, Waring Commercial has a distinctly American history that goes back to 1937.
Even the packaging of Waring Commercial was made in the United States. Waring Commercial has a couple of blenders and toasters that they make in the U.S. Especially with toasters, you will find that quite a feat because many companies have chosen to outsource the manufacturing to other countries.
Keep in mind, even the products from Waring Commercial will include some foreign components, but you get more American-made by far than what you would with Cuisinart. None of the Cuisinart products are made in America, and it's unlikely that they will ever make that switch to US-based manufacturing. We would also advise a reasonable level of caution, even with Waring Commercial to ensure that they made it in the United States.
Food processors have increasingly become made overseas, and you no longer have many choices available for made in the US. The brands available include Jacob Bromwell and Waring Commercial. Jacob Bromwell continues to make its food processors at its facilities in Indiana and Vermont. Waring Commercial, on the other hand, makes its products in McConnellsburg, Pennsylvania.
You don't have many choices when it comes to American-made products in this category. Unfortunately, many of the home appliance brands for this have chosen to make their products elsewhere, which doesn't leave you with much flexibility.
Some of the best cookware made in the U.S. includes Viking, Nordic Ware, and USA Pan. Viking manufactures its cookware in Greenville, Mississippi, and they employ over 1,000 Americans at their four manufacturing facilities. If you want an American-made brand, Viking is your answer.
Nordic Ware is another good choice with over 75 years of history in the United States. They proudly manufacture most of their products in Minneapolis, Minnesota, where they employ 350 workers.
USA Pan produces its cookware in Pittsburgh, Pennsylvania. This brand is younger than the other two, and it entered the scene in 2009. The company has between 51 and 200 employees at its manufacturing facility in Pittsburgh, Pennsylvania.
Conclusion:
Cuisinart, on the whole, would make for a bad brand if you want to buy American-made products because 97 percent of the products were made in China. With that said, the brand does have a reputation for quality products, and many people buy Cuisinart because the brand holds up under scrutiny as a kitchen appliance brand. You have to make the call yourself.
Still, we think Waring Commercial or other American-made brands put out the same quality while supporting our nation, which is a benefit that you won't get with Cuisinart.
Hi, my name is Kevin and I'm from Pittsburgh, Pennsylvania. Choosing products made in America is important to me because it supports local economies, creates jobs, helps the environment, and ensures ethical labor practices. I also find that American made products are usually of higher quality so although they're a little more expensive, you save money in the long run. Before starting this website I was in the USMC infantry and nowadays I work on this website as a hobby.