Lululemon, or Lululemon Athletics, is a brand that creates and sells athletic clothing, accessories, as well as lifestyle apparel. The company has become famous for its yoga pants and leggings, and you be hard-pressed not to see someone wearing a pair in any yoga studio or on the street. Apart from its products' recognizable design and fit and feel, Lululemon is also known for its premium prices, with its yoga pants easily costing $100 and upwards.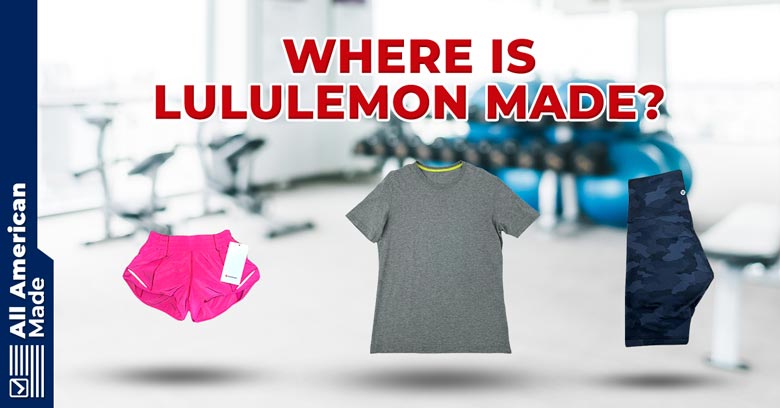 This sort of premium price begs the question of where Lululemon clothing is made, as well as whether they are an ethical company. More importantly, American shoppers are interested in knowing where Lululemon is made and if it's manufactured anywhere in the United States. We'll answer all of that below!
Lululemon apparel is made all over the world. According to their website, they source their products and fabrics from 26 countries, including the United States. That said, most of their clothing is made in Asia, where the cost of manufacturing is low.
You can learn more about their supply chain on their website here, where they talk more about where they source their products.
Below, can check out the full list of Lululemon supplies, vendors, and subcontractors. We got the information you'll see below from this PDF that shows Lululemon's suppliers.
Lululemon Suppliers List
Here is their suppliers' list as of December 2021.
| | | |
| --- | --- | --- |
| Country | Number of Factories | Product Type |
| Vietnam | 26 | Apparel, Accessories |
| China | 17 | Apparel, Accessories |
| Sri Lanka | 11 | Apparel |
| Cambodia | 9 | Apparel, Accessories |
| Indonesia | 5 | Apparel, Accessories |
| Peru | 4 | Apparel |
| Philippines | 3 | Apparel, Accessories |
| Taiwan | 2 | Accessories |
| USA | 2 | Apparel, Accessories |
| Turkey | 2 | Apparel, Accessories |
| Bangladesh | 2 | Apparel |
| Haiti | 1 | Apparel |
| Colombia | 1 | Accessories |
Lululemon Finished Goods Supplier Subcontractor List as of December 2021
| | | |
| --- | --- | --- |
| Country | Number of Factories | Process Type |
| Vietnam | 6 | Printing, Washing |
| Sri Lanka | 3 | Printing, Washing |
| Peru | 3 | Printing, Laundry |
| China | 2 | Printing, Laundry |
| Philippines | 1 | Printing |
| Taiwan | 1 | Pleating |
Lululemon Raw Material Supplier List
| | |
| --- | --- |
| Country | Number of Factories |
| Taiwan | 9 |
| China | 5 |
| South Korea | 1 |
| Japan | 1 |
| Indonesia | 1 |
| Vietnam | 1 |
Is Lululemon an American Brand?

No, even though some of the Lululemon apparel and accessories are made in two US factories located in California. Lululemon is actually a Canadian brand of athletic and technical wear and apparel. We weren't able to find any information on the manufacturing of Lululemon products in Canada. However, their headquarters are still located in Vancouver and employ over 2,000 people. Their Vancouver office is often mentioned for its healthy work environment, as well as numerous health and wellness benefits.
In addition to two US factories producing their clothing, Lululemon, alas, has a corporate office based in Washington, USA, in addition to offices in China, Australia, Luxembourg, and the UK. Worldwide, Lululemon has a total of 16,000 workers helping keep the brand's vision alive. So, if you are looking to buy a Lululemon product that was manufactured specifically in the United States of America, the only way to do it would be to visit one of their physical stores and check out the label on the product.
Who Owns Lululemon?
A lot of popular brands that sell athleisure wear are usually owned by larger corporations, such as Nike, but this isn't the case with Lululemon. Lululemon doesn't have a parent company and is a publicly-traded business. In other words, it is owned by shareholders but not a specific parent company or conglomerate. Despite working with suppliers and vendors from so many countries, it's surprising that Lululemon doesn't actually own any of the factories.
The company itself was founded by Chop Wilson in 1998 in Vancouver, Canada, with the idea of manufacturing and selling high-quality, comfortable athletic gear that caters to the premium segment of the market, such as high-end yoga studios in Vancouver. What set Lululemon apart was the use of special material that allowed for maxim performance without neglecting the design and comfort of its products. The company opened its first store in 2000.
Why Are Lululemon Products so Expensive?
Well, to be honest, their products are really hip and trendy, and judging by Lululemon's sales figures, everyone wants to have them no matter the price. Also, there is also something to be said about the details into which Lululemon goes to provide a high-quality product. Their products look better than most anything else out there, so they are instantly recognizable. Another factor that drives the price up is all the innovative patented fabrics that Lululemon has created in order to make its apparel stand out from the rest. Simply put, they charge more because they know they have a superior product on their hands, but also because they can.
But, are Lululemon really worth the money? It's impossible to give an objective answer to that since so many people keep buying their athletic wear, so it must be worth all the hype. Whether their competitors can offer something similar at a lower price is an entirely different matter altogether. One thing is for sure: if you are looking to get some new workout clothes or yoga pants and stick to a low budget at the same time, you will need to look at other brands which are more budget-friendly.
Is Lululemon an Ethical Company?
This can depend on what you think is ethical, so it's all a matter of personal perspective. However, today's shoppers are really savvy and often tend to look beyond the price or even the quality of the product. As a result, some customers think it's important for a company to stick to certain ethical practices as far as human rights and environmental impact is concerned. So, is Lululemon an ethical company? By all accounts, it seems that it is.
However, it's not all ideal since there have been claims that the conditions in Asian factories where Lululemon products are made are subpar, with workers overworked and poorly paid. Also, there have been some unfortunate public statements made by Chip Wilson himself, as well as the company not being able to prove the claimed health benefits that their products supposedly offered. Some of its products were recalled back in 2013 because they were poorly manufactured.
Although the company has stated that it plans to source all of its cotton from sustainable resources in the next few years and that it uses cotton sources from Peru and the USA, these two countries don't appear to be on the list of their partners that supply the company with raw materials. We can assume that Lululemon sources its cotton from China, Taiwan, South Korea, Japan, Indonesia, and Vietnam.
On the hand, though, Lululemon is a company with a B-Corp certificate, which is not easy to earn. B-Corp is awarded to companies that have achieved particular standards when it comes to environmental friendliness, as well as by sticking to recommended animal welfare practices. Large companies such as Lululemon are almost never squeaky clean, so in terms of ethics, Lululemon ranks among the more ethical worldwide businesses. We also think their products are top-notch quality, and the founder seems to be a great guy.
Popular Related Article: What Jeans Are Made in the USA?
What Are Lululemons Products Made From?
Lululemon is probably best known for the use of its signature, patented fabrics for the design of its products and as many as nine textile innovations. When it comes to design, fabrics, and production methods, Lululemons has as many as 45 patents in Canada and 48 patents registered in the US. Here is a quick rundown of their most famous fabrics:
Luon: The most well-known fabric made by Lululemon. Luon is made out of a combination of nylon and spandex woven in a special way that allows for stretching in all four directions. It provides a feel similar to cotton but has better moisture-wicking properties. Basically, it's as comfy as cotton but is better at keeping the body dry during intense workouts. The Luon fabric is made by Eclat Textile Co, which is based in New Taipei City, Taiwan. Lulumemon has trademarked the fabric and has an exclusive deal with Eclat.
Luxtreme: This fabric, just Luon, features similar four-way stretch and moisture-wicking properties, but in addition to that, it is also very slick and feels almost like a second skin. Lululemon uses this material to make leggings and yoga pants, especially because it supports and provides optimal coverage.
Everlux: Is designed to keep the body as cool as possible during the toughest workout and hottest rooms. Everlux is very quick to dry, with a soft exterior, and stretches very easily. The fabric is opaque, which makes it suitable for leggings, but Lululemon also used it to make long sleeve crew neck T-shirts, as well as tank tops.
Nulu: Another popular fabric that is also stretchy in all four directions, is able to dry fast, and is very lightweight. On top of that, it still offers maximum coverage while enabling maximum performance, making it an obvious choice for Lululemon tank tops and yoga pants
Nulux: This fabric is known for being extremely smooth and lightweight, yet at the same time, never see-through, which makes it the natural choice for Lululemon tights and shorts.
How Did Lululemon Get its Name?
According to the company's founder, Chip Wilson, he came up with the name while trying to come up with something unique, as well as something that had three Ls in the name, so he could get "three times the money." The result of his brainstorming is what is now known as Lululemon. Ultimately, the name doesn't even matter once it becomes a global brand that is associated with high-quality premium athletic wear.
Finding Lululemon Products
As of the beginning of this year, you can find Lululemon products in over 500 of their stores around the world since it's a global brand. If you prefer to get your athletic wear and yoga pants at physical brick-and-mortar stores, then it won't be too long before you come across the Lululemon products you are looking for. Every well-stocked sports shop should have them too. One interesting thing about Lululemon is that it doesn't sell its products at department stores. Why is that?
Well, as a company, Lululemon has a great degree of control not just over the brand's manufacturing and vendors but also over its distribution. Enabling customers to buy Lululemon wear outside of department stores allows for a better influence over the brand's marketing, pricing, and discounts. For those who prefer to do all of their shopping online, Lululemon has them covered, since it's equally present there as it is in real life.
Lululemon apparel and accessories can be bought online directly through Lululemon's online shop. And for those customers who are used to making all of their purchases on Amazon, the largest online store allows shoppers to buy Lululemons directly from the site. In addition to that, Amazon also sells Lululemon gift cards, which make for a great gift, especially for a person whose size you are not sure of. Still, about 65% of the revenue for Lululemon comes from sales in its physical stores, while its website accounted for 25% of the revenue.
Related Article: What Shoes Are Made in the USA?
Are There Any American-Made Alternatives to Lululemon?
Yes, there are plenty of great American-made alternatives to Lululemon, which are comparable in terms of quality and style, and which are noticeably cheaper as well. We have multiple articles on our website related to American-made clothing so just use the search bar to look around!
Conclusion
In summary, Lululemon is not an American company. However, some of its products are made in two US-based factories. Also, the Lululemon brand has a corporate office that is located in Washington. We hope you have found this article helpful. If you have any further questions regarding where Lululemon is made, let us know in the comments below. Also, let us know if you feel there is any information that we should add to this article.
Hi, my name is Kevin and I'm from Pittsburgh, Pennsylvania. Choosing products made in America is important to me because it supports local economies, creates jobs, helps the environment, and ensures ethical labor practices. I also find that American made products are usually of higher quality so although they're a little more expensive, you save money in the long run. Before starting this website I was in the USMC infantry and nowadays I work on this website as a hobby.