Finding shoes made in the USA can be difficult nowadays because most mainstream brands manufacture their shoes overseas to cut costs and increase profits. Thankfully, there are still plenty of great American shoe brands that take pride in making their products right here in the United States, and in the rest of this article, we'll be highlighting shoes made by these companies.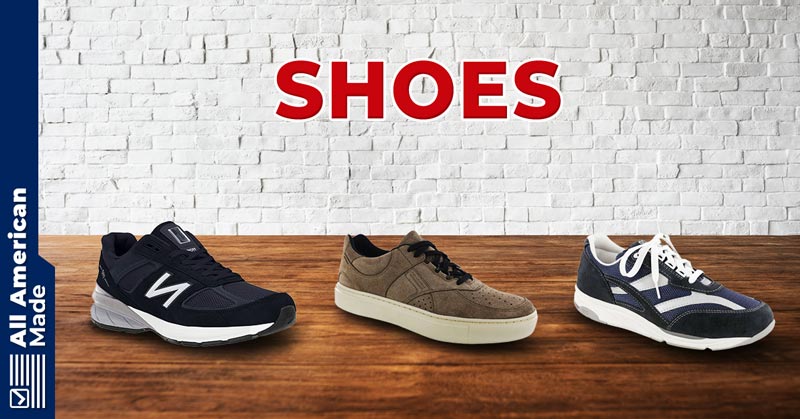 All of the shoes on this list shine in different areas, so it's difficult to say if one is necessarily better than the other. That said, whether you're looking for a casual walking shoe, a fashionable sneaker, a running shoe, something to wear to work, or anything in between, I'm confident you'll find something you'll love on this list.
List of American-Made Shoes
New Balance Sneakers (Most Versatile)

| | |
| --- | --- |
| Year Founded | 1906 |
| Popular Styles for Men | Made in USA 990 V5 |
| Popular Styles for Women | Made in USA 990 V5 |
| Location Produced | Massachusetts and Maine, USA |
New Balance's Origin and Manufacturing Locations
In today's profit-focused, cost-cutting world, it's impressive how a mainstream shoe brand like New Balance has been able to maintain a chunk of manufacturing here in the United States. The company was founded by William J Riley, who became enamored with the way chickens in his yard walked around on their three-clawed feet in a perfect balance. With an aim to mimic that ease of balance, Riley created shoes with three support points and flexible insoles for arch comfort.
In 1972, New Balance got a new owner, Jim Davis, who took the brand to global heights. Today, New Balance is one of the only mainstream athletic shoe brands that still make a significant amount of shoes in the USA. While manufacturing here is challenging in terms of sourcing American made supplies, it also works in their favor when it comes to getting a shoe from the drawing board to a customer's home in record time.
What We Like and Don't Like About New Balance Shoes
With their uncompromising comfort and quality, New Balance sneakers have earned a loyal following among sneaker enthusiasts. The brand positions its premium American-made sneakers under "N.B. made." These sneakers are either made in the USA or the UK. The ones that are made at one of their five factories in Massachusetts and Maine are labeled with "Made in the USA" and can be found on the official New Balance Website here.
The 990v5 is one of their most popular styles under the "Made in the USA" collection. The sneakers sport New Balance's time-tested, high-performance silhouette with a soft upper made from a combination of pigskin suede and breathable mesh.
If I had to pick one feature that simply blew me over, it'd have to be their signature ENCAP midsoles. These midsoles are made with lightweight EVA foam and a robust polyurethane ring for all-day comfort and support to the feet. A high-quality dual-intensity padded foam collar is a superb design feature for cushioning the heel and ankles. The outsoles have been built using blown rubber, making them robust for all-day, everyday use. I find New Balance shoes to be incredibly comfortable for running, walking, and anything in between. After wearing New Balance shoes for years I have been very impressed by their durability as well. The only thing I don't like is they don't have too many styles.
Who New Balance Shoes Ideal For
Available for both men and women in many colors, the 990v5 are the kind of shoes that have a generation-wide appeal. I've seen them on everyone from athletes to supermodels! It's the timeless design and chunky soles that make them ideal for morning or grocery runs as well as runways. New Balance has also just released a vegan version of these shoes for those who mind the pigskin suede. New Balance shoes are great for casual running, walking, and everything in between. Overall, New Balance is one of my top recommendations when it comes to American-made shoes due to their versatility and overall quality.
San Antonio Shoemakers Sneakers (Great Value)

| | |
| --- | --- |
| Year Founded | 1976 |
| Popular Styles for Men | Journey Mesh Up Sneaker, Guardian Non-Slip Leather Shoe |
| Popular Styles for Women | Free Time Walking Shoes |
| Location Produced | Texas, USA |
SAS' Origin and Manufacturing Locations
San Antonio Shoemakers (SAS) is one of a handful of brands that are committed to surviving and thriving while manufacturing in the US. Started by two former co-workers, Terry Armstrong and Lew Hayden, SAS was born out of their passion for creating high-quality, authentic leather shoes.
From a small workshop with 13 shoemakers to two factories in Texas and a retail footprint of over 100 stores worldwide, SAS has come a long way. The vast majority of SAS shoes are made at either of their plants in the US. In fact, I recently contacted SAS, and a customer service representative informed me that "All of the styles we have on our website are made in the USA. We have a factory here in San Antonio, Texas, and one located in Del Rio, Texas!"
What We Like and Don't Like About SAS Sneakers
When it first started in 1976, SAS only made leather shoes. Over time, their product line has grown to include sneakers, pumps, flats, sandals, boots, and walking shoes. Their best-selling and top-rated shoes for women is the iconic Free Time Walking Shoe, while for men, it's the Journey Mesh Lace-Up Sneaker and Guardian Non-Slip Leather Shoe.
Each of its handmade leather shoes is fitted with painstakingly researched proprietary features. They are made with soft, breathable, moisture-resistant leather and a hexagon-shaped grippy outsole. X-TRA Grip Sole has been extensively tested on various wet and oily surfaces, passing flying colors.
SAS shoes have an anti-bacterial Cool Step footbed. Its friction-free top cover shields the underfoot from heat and doesn't let it get sweaty, while the bottom layer keeps the foot cushioned. The patented TRIPAD technology is pure bliss, supporting the foot at three different pressure points for next-level comfort.
I find SAS shoes to be incredibly well made, and compared to shoes made overseas, they are much better quality. They offer a lot of shoes that are perfect for working out and being active. I only wish they had more options in terms of running-specific shoes.
Who SAS Shoes Are Ideal For
SAS shoes are famed for their overall comfort, stability as well as arch and heel support. The shoes are designed in such a way that anyone and everyone, including people suffering from Plantar Fasciitis and flat-foot, would fall in love with them.
If you're seeking a perfectly-fitted pair of shoes like Cinderella and her glass slippers, look no further than SAS. I love that these shoes are available in over 116 sizes for men and 88 for women. So, whatever may your foot size be, you'll find it here. Their typical over $100 a pair price tag may pinch your pocket but are worth every dime.
COMMUNITYmade Sneakers

| | |
| --- | --- |
| Year Founded | 2017 |
| Popular Styles for Men | Westsider, Traction, Molino |
| Popular Styles for Women | Westsider |
| Location Produced | Los Angeles, USA |
COMMUNITYmade's Origin and Manufacturing Locations
Equipped with a wealth of experience working with the biggest brands in the footwear industry, Sean and Shannon Scott decided it was time to start something of their own. Their vision was to offer high-quality, responsibly-made shoes using sustainable and ethical practices.
It's never been just about the profits for the Scotts. They wanted to give back to the community by creating local jobs and reviving manufacturing in the once-popular shoe hub of Los Angeles. In addition to their trend-setting, thoughtfully crafted shoes, the fact that a chunky portion of what you buy goes to a charity of your choice speaks volumes about this brand's giving and caring values.
What We Like and Don't Like About COMMUNITYmade Sneakers
Each shoe at COMMUNITYmade is made with the best of materials by highly experienced artisans to give you comfort, durability, and value. While the brand's most popular model is the Westsider, it also makes excellent pairs of golf, traction, slip-on, slides, and slippers for both men and women. But that's not all! If you ever want something made specifically for you with functionality and style that blends with your personality, just ask! The team at COMMUNITYmade would be happy to custom craft your dream shoes for you.
To give you an idea of all that goes into a pair of COMMUNITYmade shoes, let's talk about their all-time best-sellers, the Westsider series. These shoes are made with top-of-the-shelf Mastrotto Italian leather, known for their smooth as butter feel and uber-luxurious appeal.
If you look closely at the upper, you'll find a single piece uniquely crafted to wrap comfortably around your foot. The rubber outsoles are durable and do their job cushioning your feet from bumps and shocks. I also found the Ortholite anti-bacterial insole a great addition to keep the feet padded, stable, and moisture-free while treading.
Who COMMUNITYmade Shoes Are Ideal For
I loved the brand's pick of colors for the Westsiders. All options- Black, Fog, White, Sky, and Foam are chic, classy, and easy on the eyes. These shoes are beautiful and incredibly comfy casual wear shoes. However, if you're looking for something more athletic and grippy, explore their Traction shoes and Mateos. And for some old-world charm and a taste of LA's renowned footwear art, don't forget to check out COMMUNITYmade's Molinos.
Sperry Made-in-Maine Line (Great Non-Slip Shoes)

| | |
| --- | --- |
| Year Founded | 1935 |
| Popular Styles | Gold Cup Authentic Original Boat Shoe |
| Location Produced | Maine, USA |
Sperry's Origin and Manufacturing Locations
This guide would be incomplete without talking about one of the American shoe industry's finest creations – the boat shoe. The story goes that an explorer, Paul A. Sperry while sailing on the Long Island Sound, slipped from his boat and fell right into the water. While he could pull himself back up, it wasn't exactly easy.
Shaken by the boat accident, Sperry decided to create non-slip shoes made specifically for boat rides. He was fascinated by his dog's ability to effortlessly run down an icy slope. Not the one to waste time, Sperry replicated the traction-enhancing hooves noticed on the paws of his Cocker Spaniel on a rubber sole by making thin cuts on it through siping.
Over eight decades have passed since Sperry's greatest invention, the Sperry Top-Sider boat shoe. Besides the original boat shoe, the brand now makes boots, sandals, loafers, and sneakers. While some of Sperry's manufacturing happens overseas, many of their shoes, including the iconic boat shoes, are handcrafted in Maine. And they all come with a hand-sewn white, red, and blue to show they've been made in the USA.
What We Like and Don't Like About the Sperry Made-in-Maine Line
The easiest way to find all the shoes built in Maine is by heading to the Men's section on their website and clicking on " Handcrafted in Maine" under collections. As of now, all of Sperry's American-made shoes are under the men's category, but I hope they release such models for women and kids as well.
Sperry's best-selling Made-in-Maine shoes are the famous Men's Gold Cup Authentic Original Boat Shoes. These are crafted in the timeless boat shoe design using the finest leather tanned and sourced from the reputed Chicago's Horween Leather Company. This premium grade leather is hand punctured and hand-sewn to make the shoes breathable and durable. For outsoles, Sperry relies on the hyper-functional and time-tested Vibram technology. We really like the stability that Sperry shoes provide as well.
Sperry's Gold Cup boat shoe comes with plush leather linings that hug your feet, providing long-lasting comfort. And I particularly love how each of these shoes has a broken-in character right from the start.
Who Sperry Shoes Are Ideal For
Be it cutting, stitching, or finishing, every step of the process is carried out diligently, honoring the American shoemaking tradition. The result is a stunning pair of boat shoes that not only look charming but are incredibly comfortable to wear and grippy on wet surfaces. At $375, these shoes are certainly more expensive than Sperry's imported boat shoes, but the premium you pay here is for authentic New England craftsmanship and contributes to the livelihood of American workers.
SOM Performance Sport Sneakers (Barefoot Inspired)

| | |
| --- | --- |
| Year Founded | 2012 |
| Popular Styles for Men | Nutrail Cross Sport, Norwood Classic |
| Popular Styles for Women | Nutrail Cross Sport, Norwood Classic |
| Location Produced | Montrose, Colorado, USA |
SOM Performance's Origin and Manufacturing Locations
Sense of Motion (SOM) is a more recent entrant in the footwear-making business that has grown by leaps and bounds since its launch in 2012. Founder Olivier Marchal, an avid runner, constantly suffered from bouts of back pain. He eventually realized the pain stemmed from the running shoes he wore.
Marchal wanted something minimalist to support long-distance runs. To his surprise, most of what was available in the market were substandard and imported. Marchal then decided to channel his love for running, minimalist design, and American craftsmanship and create something groundbreaking.
SOM's state-of-the-art factory is located in Colorado and employs skilled artisans that produce world-class sneakers all the way from raw material to finished products. What's even more remarkable is that they do this with next to zero use of imported components- A feat that I bet not many American footwear brands can claim.
What We Like and Don't Like About SOM Performance Sport Sneakers
SOM sneakers boast a painstakingly researched design that mimics the barefoot-like experience. They are dependable, no-nonsense shoes that stick to the job description. The natural foot-shaped toe box is a clever invention that had me sold. It offers the right balance of snug and roomy comfort to make your stride effortless and safe.
A barefoot design means using soft, flexible, lightweight materials packaged in a sturdy construction. SOM delivers that and much more! The sole supports natural foot movement without compromising on stability. Another feature to keep your feet happy is the Zero Drop. The flat heel-to-toe elevation is a thoughtful inclusion to keep your feet healthy and movements as nature intended. The uppers found in SOM shoes are typically quick-drying, breathable, moisture-repellant, and designed for running even on the wettest of trials.
Nutrail Cross Sport in the sporty category and Norwood Classic in casual are some of SOM's top-selling shoes that you should check out.
Who SOM Shoes Are Ideal For
SOM shoes are breathable, waterproof, and incredibly comfortable inventions made by a runner for runners. They are designed for various terrains and can take on some serious roughing out. These will quickly become your go-to USA-made shoes for any occasion, be it running, hiking, gym, or a walk in the park.
Carson Footwear (Great Running Shoes)

| | |
| --- | --- |
| Year Founded | 2015 |
| Popular Styles for Men | Iguana Racer, Warrior |
| Popular Styles for Women | Iguana Racer, Crazy Daisies |
| Location Produced | Milwaukie, Oregon, USA |
Carson's Origin and Manufacturing Locations
Many of those who've started their own footwear brand did it due to the lack of quality, American-made shoes in the market. Underwhelmed by the imported, poorly designed, uncomfortable running shoe options in the market, Founder Everett Carson took matters into his own hands.
An avid runner himself, Carson knew precisely what he sought to make his runs more comfortable. He started producing lightweight, neutral running shoes with the help of skilled workers at a factory in Milwaukie, Oregon, USA.
What We Like and Don't Like About Carson Footwear
Minimally designed Carson running shoes feature a roomy toe box to accommodate the natural movement of your foot and toes. The upper is lightweight and stretchy, while the 10mm PU Tread sole is flexible, abrasion-resistant, and absorbs shocks well. A 5mm sock liner is included to keep feet cushioned and comfortable even during long-distance running. True to their minimalist design, these shoes come with a zero heel-to-toe drop which aids in more efficient, fatigue-free, natural movement of feet.
Who Carson Shoes Are Ideal For
Carson footwear sure is minimalist in design but not in style! Fresh Flower, Tartan Racers, Stars and Stripes, Iguana Racer, Zombie Racer, Warrior, and plenty of such awesome layouts. Anyone looking for lightweight comfort to accompany them on their daily runs should give these shoes a go!
Hear Founder Everett Carson tell you all about what inspired the Warrior running shoes in the video below.
SoftStar Shoes (Minimalist Running Shoes)

| | |
| --- | --- |
| Year Founded | 1985 |
| Popular Styles for Men | RunAmoc |
| Popular Styles for Women | Merry Jane |
| Location Produced | Philomath, Oregon, USA |
SoftStar Shoes' Origin and Manufacturing Locations
Have you ever wondered why your foot and backaches subside or vanish as soon as you fling your shoes off and start walking around barefoot? The demand for shoes that do not obstruct natural foot motion is what makes minimalist designs so popular among runners these days.
Like SOM footwear, SoftStar Shoes focus on producing flexible, lightweight, and minimal in a range of eye-catching layouts handcrafted by artisans at their Oregon workshop. For the last 30 years, SoftStar has been perfecting its feet-friendly designs together with its talented artisans, who are lovingly called "Shoemaking Elves." Employee happiness is as crucial to the brand as its customers' satisfaction. SoftStar also actively works towards minimizing its carbon footprint by using eco-friendly, sustainable practices.
What We Like and Don't Like About SoftStar Shoes
SoftStar's ever-expanding catalog for men and women includes minimal running shoes, rogues, chukkas, sandals, ballet flats, moccasins, and slippers. They also make ultra-comfy everyday wear and school shoes for kids of all ages, from toddlers to teenagers. All SoftStar shoes share a common blueprint: thin, light, and natural stretch.
Wearing these shoes feel exactly like walking barefoot with just enough protection to guard your feet from the elements. Instead of the highly cushioned heel, these shoes are built with a zero heel-to-toe drop to allow a mid-foot or fore-foot strike like we do when we walk without shoes. The wide toe box lets you move around your toes freely and organically. In fact, the brand's Runamoc Primal Shoes have the largest toe space you would have ever come across!
SoftStar makes all its shoes with a thin and stretchy sole minus the toe springs. What this does is give you a grounded, closer-to-the-earth feel. With these shoes, instead of the footwear dictating your stride, it'll be your foot and its natural mechanics calling the shots when you run and walk.
Who Shoes Are Ideal For
These shoes are perfect for barefoot enthusiasts who want to stay connected to the earth and walk on it with a soft, natural stride. For more demanding terrains and hikes, explore Adult PRIMAL RunAmoc with Vibram soles. While for casual, everyday use, check out Adult Hawthorne Chukka, Primal Sawyer, and Ballerine Flats. In kids, Baby Roo Suede Leather Moccasins, Merry Jane, and Rambler are some of their most popular styles.
Allen Edmonds Handcrafted Sneakers

| | |
| --- | --- |
| Year Founded | 1922 |
| Popular Styles for Men | Park Avenue Shoes, Strandmok Cap-Toe Oxfords, Randolph Penny Loafers |
| Popular Styles for Women | NA |
| Location Produced | Port Washington, Wisconsin, USA |
Allen Edmonds' Origin and Manufacturing Locations
It all began in 1922 when Elbert W Allen started making shoes with responsive cork insoles- a groundbreaking innovation when most footwear around that time had uncomfortable metal nails and shanks in them. Allen's lightweight, flexible shoes won a loyal fan base, including the US Army and Navy during WWII, corporate honchos, and many U.S. Presidents. And it's no surprise that anyone and everyone who has worn shoes and boots by Allen Edmond only had great things to say about their quality and wearability.
Today, Allen Edmonds commands a global presence, retailing across Europe, the Middle East as well as China. And the most fantastic part is that most of their shoes, including those sold in China, are crafted with pride at their Port Washington manufacturing facility in the USA. When shopping for Allen Edmonds shoes, be sure to check the listing page to ensure the model you're looking at is made in the USA because not all of them are.
What We Like and Don't Like About Allen Edmonds Footwear
In addition to their contemporary designs and ever-expanding portfolio, including sneakers, casual shoes, and boots, Allen Edmond's original dress shoes like Park Avenue and the Strand oxfords are still treasured by today's generation for their timeless appeal.
In 1982, the iconic Park Avenue oxfords took the world by storm. They were hailed for their versatile lace-up balmoral design and durable 360-degree bench welted build. The shoes sport a dashing upper made from top-grade European calfskin leather and are fitted with flexible CustomCork insoles that the brand is so famous for.
Another top-seller, Strandmok oxfords, are a fresh take on the brand's signature Strang oxford brogue. They are edgier with contrast stitching on the full-grain, saddle leather uppers, and other eye-catching detailing. They're also loaded with must-haves like leather-lined interiors, bench-welt construction, and responsive insoles. The rubber soles are great additions for comfort and stability while walking on various surfaces.
Who Allen Edmonds Shoes Are Ideal For
At Allen Edmonds, the luxury of choosing from nine different widths will ensure that you get a shoe that fits. Their product portfolio is packed with all kinds of shoes ranging from casual to formal wear.
The Randolph slip-on loafers, with their laidback design, have more casual appeal and can be used by professionals during off-office hours. On the other hand, Park Avenue shoes look dapper enough to be a great pick for work. One of my personal favorites is the Strand oxfords, whose versatile design complements both office and casual wear. Most of Allen Edmonds' bestsellers retail in the range of $295-$425. For the value and the fact that you can recraft them, they sure are quite the steal!
Quoddy Custom Shoes (Great Custom Made Shoes)

| | |
| --- | --- |
| Year Founded | 1947 |
| Popular Styles for Men | Blucher, Canoe Shoe |
| Popular Styles for Women | Women's True Penny Loafer |
| Location Produced | Lewiston, Maine, USA |
Quoddy's Origin and Manufacturing Locations
Before the onslaught of competition forced American footwear brands to look overseas, the cities of Lewiston and Auburn in Maine used to be major hubs of American shoe manufacturing. Inexpensive labor and imported parts battered the industry, wiping out many homegrown brands. Renowned moccasin maker Quoddy, which once employed 1000 workers and had over 30 retail stores, was badly hit by competition. It was revived by Kevin and Kirsten Shoreys in 1997.
While it may be an uphill challenge to restore Quoddy to its former glory, its new owners are confident that their well-thought-out strategy and direct-to-customer approach will help them expand rapidly. From their 3000 square feet in Lisbon Street, Lewiston, Quoddy's craftsmen make about 13000 pairs of shoes a year which include moccasins, chukkas, boat shoes, mules, sandals, and boots.
What We Like and Don't Like About Quoddy Custom Shoes
Quoddy may be one of the last remaining shoemakers that makes his shoes using techniques that are centuries old, dating back to the Native Passamaquoddy tribe. While made-to-order is the heart of the brand, they also offer a great range of in-stock footwear that can be shipped to you at a moment's notice.
Striking a perfect balance between casual and dressy are Women's True Pennyloafers, one of Quoddy's hot-selling styles. These trendy premium leather moccasins are designed for comfort and are built to last. The leather sole and heel are stitched to make them flexible and grippy. The traction and balance quotient only gets better by razor-siped soles. A natural cork layer in the heel works well in cushioning the foot and absorbing shocks, while leather lining takes comfort up a notch.
When it comes to Men's category, Quoddy's star sellers are the classic Bluchers. Their full moccasin design wraps around your foot, bringing you heaps of comfort. These shoes come with rawhide laces that go through lacquered eyelets. As for soles, you can either go for tried and tested Classic Camp sole or all-weather friendly Vibram Rugged sole, a razor-siped boat sole for enhanced grip and flexibility.
Who Quoddy Shoes Are Ideal For
While you can buy one of their shoes off the rack through their in-stock collection, I recommend going for one of their made-to-order. In this case, Quoddy lets you pick everything, including upper leather, saddle leather, sole type, color, thread, lining, hardware, lace, and things like that. Quoddy's handmade-in-Maine tag and unmatched quality command a pretty penny, but their long lifespan and the flexibility to recraft and resole them whenever you like make them worthy of your investment.
Thorogood American Heritage Footwear

| | |
| --- | --- |
| Year Founded | 1892 |
| Popular Styles for Men | American Heritage Moc Toe Boots |
| Popular Styles for Women | Soft Streets Series- Women's Oxfords |
| Location Produced | Wisconsin, USA |
Thorogood's Origin and Manufacturing Locations
For over 130 years, Weinbrenner Shoe Co. has been winning American hearts with its iconic Thorogood footwear. It was founder Albert Weinbrenner's dream to craft comfortable, sturdy boots for the hardworking American. From his Milwaukee cobblery, Weinbrenner sold footwear customized as per the needs of different jobs and trades.
Over time, the brand's catalog grew from "Job-fitted" footwear to include occupational safety boots. They were also a major supplier of U.S. Army boots during World War II. Today, Thorogood footwear boasts close to 125 styles of American Heritage footwear, and over 65% of their shoes are still made by skilled union workers at their factories in Wisconsin.
What We Like and Don't Like About Thorogood Footwear
Thorogood's American-made boots come in two versions, 100% made in the USA using American components or made in the USA with American and globally sourced components. You can find which is which by checking out Country of Origin under product specifications on the brand page or clicking on their amazon store link given above.
Barring a few shoe series like Infinity F.D., V-Series, and Crosstrex, everything else the brand makes is in the US. Their Military Footwear also includes boots that are Berry compliant or 100% American made with materials sourced from the U.S.
The American Heritage 6" Moc Toe work boots for men are hands down their bestselling creation. These ankle-length boots feature Goodyear welted construction known for enhancing the durability and water-resistance factor of a boot. The oil-tanned full-grain leather exterior is an excellent choice of material for boosting breathability.
Electric-shock-resistant flat rubber outsoles give a good grip and stability on all sorts of surfaces. These shoes are amply cushioned up with a single-density polyurethane wedge midsole and Poron padded insole for long-lasting comfort and support.
Who Thorogood Shoes Are Ideal For
Thanks to the iconic "Job-Fitted" design, American Heritage moc toe boots are perfect for roughing it out in outdoorsy jobs like construction, farmer, and mechanic. Electric-shock-resistant soles also make them boots of choice for electricians.
These rugged-looking work boots come in 6" and 8" shaft heights in a variety of stylish layouts, including tobacco, Black, Trail Crazyhorse, and Black Walnut. Note that while this particular variant has non-safety moc toe construction, these shoes are also available in toe protection and waterproof versions.
Although focused more on men's footwear, Thorogood's Berry-compliant Soft Streets Series Oxfords are a popular pick for women. Considering their price and durability, these are easily some of my favorite shoes made in the USA.
Sloggers Waterproof Shoes (Great for Wet and Rainy Weather)

| | |
| --- | --- |
| Year Founded | 1948 |
| Popular Styles for Men | Men's Rain & Garden Shoes |
| Popular Styles for Women | Women's Waterproof Rain & Garden Shoes |
| Location Produced | Gardena, California, USA |
Sloggers' Origin and Manufacturing Locations
Drizzle Boot, an innovative transparent overshoe protector, kickstarted Principle Plastics' shoemaking journey. After being spotted on Doris Day in the movie "Storm Warning," the Drizzle boots became a national sensation and remained popular for decades. However, it wasn't until 1997 that the company made their first Sloggers, colorful plastic clogs, that became the footwear of choice for gardeners and outdoorsy folks.
Many of the brand's models have been a direct result of keeping up with customers' demands and changing tastes. Besides listening to customers, Sloggers is deeply committed to supporting American workers. It is not an easy road, but the company is doing everything in its power to carry on the tradition of proudly making every Slogger at their factory in California, USA.
What We Like and Don't Like About Sloggers Shoes
Simply put, Sloggers Rain & Garden shoes look as good as they feel. They're available in a wide range of colorful prints for women, 32 to be precise, and in Leather Black, Leather Brown, and Camo for men. Their waterproof design wicks away any moisture that comes your way, and the signature "All-Day Comfort" insoles do precisely what their name says. The deep-lug tread works well in giving you a better grip while saving you from nasty slips and falls.
The fact that the shoe exterior is made from 100% recyclable material had me sold. Here's a shoe that's good for you AND the environment. To clean this shoe after your outdoor adventures, simply wash it or wipe it off. As for the insole, you can remove it, soak and set it out to dry.
Who Sloggers Shoes Are Ideal For
As the name suggests, Sloggers are built for slogging it out in dirt, mud, and rain. Besides being flexible, supportive, and outdoor-friendly, Sloggers are also eco-friendly. What really pleased me about this company is its recycling program.
This project was launched in 2014 and aimed to reuse and recycle shoes with the help of the customers. The brand requests its users to send back their boots once they are of no use to them. After which, they grind up your old Sloggers and use them to make a new one. What's more, you get a $5 coupon plus free shipping to take part in this good deed.
Red Wing Shoes

| | |
| --- | --- |
| Year Founded | 1905 |
| Popular Styles for Men | Iron Ranger 8085, Iron Ranger 8111, Iron Ranger 8084 |
| Popular Styles for Women | Classic Moc 3328, Classic Moc 3375 |
| Location Produced | Red Wing, Minnesota, USA |
Red Wing's Origin and Manufacturing Locations
This century-old brand has a well-earned reputation for making some of the best shoes and boots on the market. Red Wing's shoemaking roots run deep, with over four generations perfecting this craft since 1905. The Women's Gloria boot, introduced in 1926, made its way into people's hearts with its 15.5-inch tall frame and impeccably built for outdoor activities like camping, hiking, and touring.
Another iconic creation by Red Wing came in the form of the rugged 877 Moc Toe boots, which have been worn by millions of American men since its launch in 1952. With one such remarkable invention after another, Red Wing rose to great heights, becoming an American staple for its leather work boots.
What We Like and Don't Like About Red Wing Shoes
Although best-known for its leather boots, Red Wing's product line also includes oxfords, chukkas, hiking boots as well as lifestyle footwear. The company operates six manufacturing locations, of which three are located in the U.S in Red Wing, Minnesota, Potosi, Missouri, and Danville, Kentucky. Their American Heritage line of footwear is crafted in the U.S. following the traditional, authentic, and original Red Wing way of making footwear.
Believe it or not, it takes over 230 steps to build every pair of Red Wing Heritage shoes by hand. It begins with tanning the leather to make it either oil-tanned, smooth finished, Nubuck, or vegetable-tanned at their in-house facilities.
Only the finest parts of the tanned leather are cut and then carefully sewn using vintage Puritan sewing machines for the upper. To bring the shoe to life, Red Wing uses one of its several foot-shaped lasts designed to give its users a comfortable fit in a style of their preference.
The final steps involve making the shoe in either welted or stitched-down construction and attaching the outsole to the midsole. Red Wing Heritage shoes typically come in either a durable Goodyear welt or a flexible stitched-down construction.
Who Red Wing Shoes Are Ideal For
In the American Heritage collection, the most popular styles belong to the Iron Ranger series. The Iron Ranger, originally built for iron miners, are an excellent pair for anyone looking to buy a long-lasting pair of handcrafted leather boots. Their rough and tough build with a Vibram outsole keeps the foot secure, while the signature cap-toe gives ample space to move your toes freely around.
For both men and women, Classic Moc Toe boots are another sought-after style for durable yet soft leather build and flexible design to give comfort to those who spend long hours on their feet at a farm or a factory. Overall, while Red Wing is mostly known for making great boots, its shoes made in the USA are also of top quality.
Popular Related Article: Great Boots Made in the USA
Esquivel Footwear Handcrafted in California (Most Stylish Pick)

| | |
| --- | --- |
| Year Founded | 2001 |
| Popular Styles for Men | Classic Weekender, Brown Hand Distressed Hobo |
| Popular Styles for Women | Grace Leather Mules, Blush Pink Dakota |
| Location Produced | Orange County, California, USA |
Esquivel Footwear's Origin and Manufacturing Locations
Esquivel was founded by California-based designer and shoe craftsman George Esquivel in 2001. He started by making shoes for Orange County music artists out of his home garage. Soon the who's who of the entertainment and sports world came knocking. The brand is now a huge hit among Hollywood heavyweights and sports icons for its sophisticated, exquisitely crafted range of footwear. For Esquivel, each pair is a piece of art and handcrafted with care, following techniques that have been honed over two decades.
What We Like and Don't Like About Esquivel Footwear
To buy a pair of Esquivel footwear, you can either place an order online on their website or head to one of their many stockists. Their product range includes both made-to-order and ready-to-ship collections. Among their in-stock collection for women, Grace Leather Mules with hand-distressed Italian gold leather are pretty popular.
The Blush Pink Dakota Hand Painted Accents are another pair that caught my eye. Its powder pink suede exterior is adorned by hand-painted accents and bolstered by a stacked leather heel with stitched leather sole.
Esquivel X is the brand's fabulous line of sneakers that boast aesthetics inspired by George Esquivel's travels to Paris, Italy, and Mexico City. Esquivel X's best-selling Men's Classic Weekender is made with soft leather with a removable insole and high-performance athletic rubber outsole. The only thing I don't like about these shoes is the price, but that's not really even a fair complaint because these shoes are not made for your average joe. These are premium shoes, and one thing that I really feel sets them apart is their handmade quality.
Who Esquivel Shoes Are Ideal For
Let me just say Esquivel has the most stunning range of shoes I've ever laid my eyes on! A perfect blend of high fashion and function made with top-quality material. Each pair is cut, sewn, lasted, and massaged by hand by trained artisans at ateliers in Southern California and Los Angeles. Granted, not everyone will be able to afford these shoes, but those who can make the investment should explore Equivel's gorgeous American-made collection.
Oka-B American Made Women's Footwear (Great Ergonomics)

| | |
| --- | --- |
| Year Founded | 2004 |
| Popular Styles for Men | Grayson Slide Sandal |
| Popular Styles for Women | Sandy, Ella, Millie, Theresa |
| Location Produced | Buford, Georgia, USA |
Oka-B's Origin and Manufacturing Locations
Launched in 2004, Oka-B is a women-led company known for its eco-friendly, ultra-comfy, ergonomically sound ballet flats, flip-flops, and sandals. If you're wondering whether it has any connection to another brand on this list- Okabashi, then you're right. The two brands belong to the same parent company and are manufactured at the same factory in Buford, Georgia.
For their footwear, Oka-B sticks to a vegan, bio-based material made especially for them in the USA. Like Okabashi, Oka-B believes in reusing material and minimizing waste. They engage in a closed-loop recycling program, encouraging customers to return their discarded Oka-B shoes instead of throwing them away. The returned shoes are recycled and used to make new Oka-Bs.
Our Thoughts on Oka-B Footwear
To me, these shoes came across as the dressier, more stylish versions of Okabashis. Their footwear designs are rooted in reflexology and ergonomics. They feature relaxing massage beads and exceptional arch support. Anti-slip construction makes them trusty and easy to walk on wet, slick surfaces.
The material that goes into making this shoe is an amazing invention. We don't know much about it but what we do know is that it's 45% soy grown and sourced from around here. Also, on average, OKA-B shoes are made up of 15%-25% recycled material. This creative blend of eco-friendly materials gives you a pair of colorful shoes that don't fade, are waterproof and are incredibly low maintenance.
Who Oka-B Footwear is Ideal For
If you're looking for comfortable, vibrant, easy-to-clean shoes for women, look no further than Oka-B. It's also a brand with a soul that cares as much for you as it does for the environment. OKA-B offers a wide range of layouts from beachy to floral to sparkly to minimalist. Whether you're home or headed to a spa, resort, or beach, Oka-B's fabulous collection of ballet flats, sandals, and flip-flops are designed to make your day a breezy one. If you're interested, you can also check out some of our other favorite sandals made in the USA here.
Honorable Mentions
Opie Way
Opie Way was started by the husband-wife duo of Amanda and Justin James to be a part of the movement to bring the lost art of shoemaking back to the USA. The brand specializes in quality sneakers, with most raw materials sourced from within 200 miles of their North Carolina manufacturing plant.
Their best-selling Men's Riverside Hi-tops are a sneaker-boot hybrid made with vegetable-tanned Horween Dublin leather and fitted with ultra-comfy Poron insoles. For women, James Court Sneaker, made with ivory tumbled leather, and the sturdy Italian rubber sole is worth checking out.
Sven Clogs
Minnesota-based Sven has been producing a wide array of handcrafted clogs for men, women, and kids with pride in the USA. It was founded in 1974 by an expert cobbler Sven Carlsson who had previously worked at centuries-old renowned Swedish clog maker Sandgrens.
Carlsson brought the Swedish art here and paired it with American craftsmanship to make some of the coolest and most attractive clogs in the market. Now owned by Maria Rivers, Sven continues to win the world over with their handcrafted American-made closed-back clogs, heeled clogs, summer sandals, and vibrantly colored Children's clogs.
Reebok Work Shoes
I am thrilled to include Reebok here, which manufactures most of its shoes overseas. In its efforts to bring back jobs to America, Reebok came out with a "Made in USA" line in 2016. The range includes fabulous work shoes and well-made boots for men and women. The most popular ones are Men's Military Soft Toe boots and Postal Soft Toe work shoes for men and women.
Zuzii Handmade Shoes
Founders and sisters Alex and Ryan started Zuzii out of a garage in 2009. Making great-looking shoes handmade in America with premium Italian materials is a priority for the brand. Since its launch, Zuzii has been growing steadily and now does all of its shoemaking out of a small factory in Los Angeles.
Zuzii's catalog has something for everyone. For minimalist savvy, Zuzii offers Oxfords and Cross Sandals. Check out Leather slip-on clogs, Shearlings midi slides, and Wooly Sneakers for something a bit fancier and statement-making.
Footwear by Footskins
Fine craftsmanship, quality, and functionality make up the essence of this Minnesota-based footwear brand. Located in the scenic Bluff Country of southeastern Minnesota's Mississippi River Valley, Footskin specializes in footwear made with genuine deerskin and cowhide leather, all sourced and handcrafted in the USA. You can check out the Footwear by Footskins website here.
Okabashi Footwear
Okabashi, Japanese for wellness, is a Georgia-based family-owned enterprise known for its uber-comfortable, minimalistic flip-flops and sandals. Set up in 1984 in the town of Buford in Georgia, Okabashi's first few designs incorporated the concept of reflexology. This technique of Reflexology is built on the theory that parts of the feet are connected with specific body organs, and applying pressure to the reflex points heals and brings relief to the corresponding body part.
Wrap Up
We hope you enjoyed learning about these great American shoe brands and their popular styles that are manufactured in the USA. Our guide has a few old and established names like Allen Edmonds, Lucchese, Red Wing Co, and some more recent brands like Esquivel and Oka-B, all united by the common goal of supporting American workers by creating jobs and opportunities here. We've also noticed that some brands that shifted their manufacturing abroad are coming back with Made-in-USA collections. We take this as a sign of good times ahead! If you're interested, we also have a great page on socks made in the USA that you can check out here. You're going to need so fresh socks to go with those new kicks, so why not pick some up that are made in the United States?
If there are any great USA-made shoes that you love and are not on this list, leave us a comment below. We're always looking for great new products to share with our readers, so we really love reading your recommendations.
Hi, my name is Kevin and I'm from Pittsburgh, Pennsylvania. Choosing products made in America is important to me because it supports local economies, creates jobs, helps the environment, and ensures ethical labor practices. I also find that American made products are usually of higher quality so although they're a little more expensive, you save money in the long run. Before starting this website I was in the USMC infantry and nowadays I work on this website as a hobby.