Home and kitchen appliances play a big role in making our lives so much easier, so it's important to choose them carefully. And when it comes to quality, durability, and performance, American-made appliances stand out from the rest!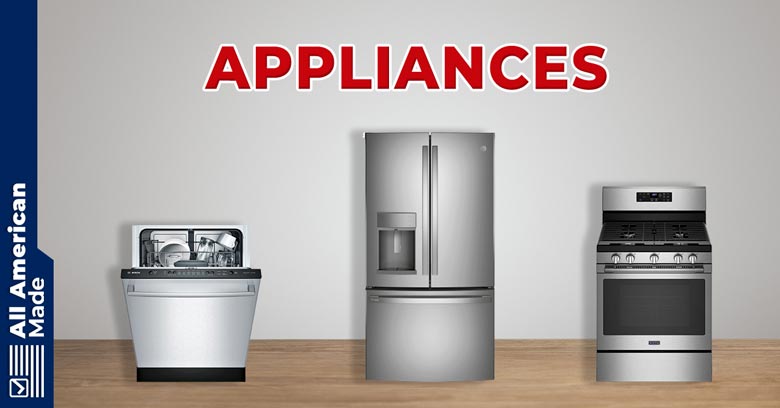 From dishwashers, refrigerators, washing machines, and much more, this guide will share both established and smaller USA brands that manufacture right here on American soil.
Keep in mind that many brands only make a portion of their appliances in the USA, so we'll do our best to point out where to find their American-made options. Also, keep in mind that this list isn't necessarily in order from best to worst because each brand has unique offerings.
List of Appliances Made in the USA
GE Appliances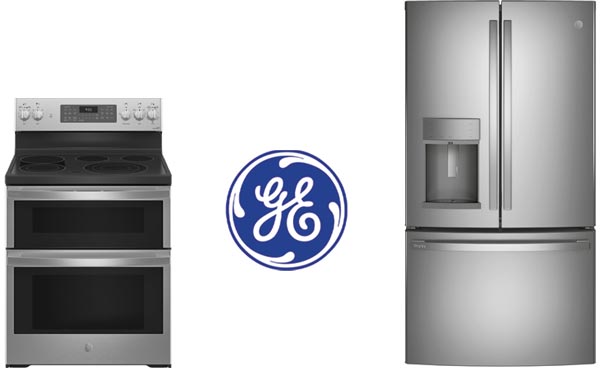 | | |
| --- | --- |
| Year Founded | 1907 |
| American Made Offerings | Refrigerators, Dishwashers, Washers, Wall Ovens, Cooking Ranges |
| Popular Models | GE 30" Built-In Single Wall Oven, GE PYE22KYNFS French-Door Refrigerator, GE GTW685BSLWS Washer |
| Origin | Louisville, Kentucky; Decatur, Alabama; Lafayette, Georgia; Selmer, Tennessee; Camden, South Carolina |
GE's Origin and Manufacturing Locations
As a company that employs thousands of hard-working Americans and contributes billions of dollars to our economy, GE deserves all the love it gets. Headquartered in Louisville, Kentucky, GE Appliances (GEA) continues to be every bit as American as it was when it first began its journey over a century ago.
The company did attract a fair bit of criticism for becoming a part of Haier, a foreign multinational appliance company. But let's look at it this way – It did what it had to do to survive while continuing to retain and grow its contribution to the domestic economy.
Even today, GE makes a whopping 250 types of appliances in the USA out of its nine state-of-the-art manufacturing facilities here. And though it directly employs 13,600 people, GEA's overall operations have rippled over to create 62,000 additional jobs.
GE's Appliance Selection and Offerings
If you live in the USA, chances are you've owned a GE appliance in your home at some point in time or have one of them at this very moment. The brand has been a pioneer in appliances, having launched several groundbreaking devices to make American homes smarter and more efficient.
The first product launched way back in 1907 was an end-to-end line of heating and cooking gadgets. GEA's next big reveal was the iconic "Monitor Top" refrigerator that triggered the launch of many firsts, including a direct-drive dishwasher, room AC, front-load dishwasher, self-cleaning oven, and many more.
While GEA and its umbrella of brands make every possible type of appliance, its "Made in America" portfolio is more limited and includes refrigerators, washers, dishwashers, wall ovens, and cooking ranges. In 2018, GE launched Café, an upscale customizable appliance brand. Most of Café's luxe catalog is produced in three GEA plants in Kentucky and Georgia.
Finding GE's American-made products is pretty easy. They've been compiled under one page on the brand link above. To double-check, look under the "Claims and Certifications" for the "Made in America" label, and you're good to go!
LG Appliances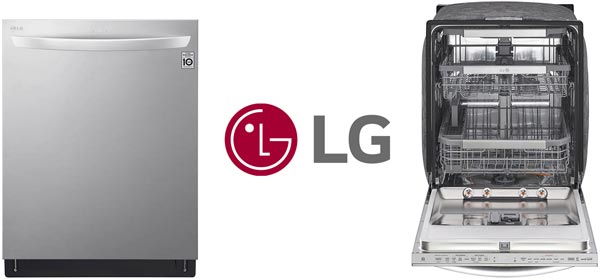 | | |
| --- | --- |
| Year Founded | 1958 |
| American Made Offerings | Washing Machines |
| Best Sellers | WT7300CV Top Load with TurboWash3D, WM4500HBA Front Load with TurboWash3D, and Built-In Intelligence |
| Origin | Clarksville, Tennessee |
LG's Origin and Manufacturing Locations
Who hasn't heard of LG? Founded in 1958, this South-Korean brand has grown to be one of the largest appliance brands in the world. It is, in fact, the largest brand now, ahead of Whirlpool Corp., if recent reports are to be believed.
Until recently, LG appliances were mainly manufactured in either China or South Korea. That changed with the setting up of a huge laundry plant in Clarksville, Tennessee. Launched in 2019, this state-of-art facility was a much-needed step toward the revival of American manufacturing.
LG's Appliance Selection and Offerings
LG's washers are high-performance and user-centric, with plenty of bells and whistles to make your laundry an incredibly breezy affair. In fact, in reliability, the brand is ranked no.2, only next to Speed Queen in the latest Consumer Reports.
Their top-loaders come equipped with features like 4-way washing action, jet sprays, and a patented TurboWash3Dfor a thorough and faster clean. LG Front load washers, though pricier, are packed with intelligent modes and can get bigger loads of clothes done in a jiffy. The good news is that many of these are now made in the USA.
Spread across an area of 829,000 sq feet, this factory has been touted as the most advanced facility in the world. Within a year of launch, the Clarksville, Tennessee plant had already produced its one-millionth washer. For now, the facility only makes top and front-loaders, but expansion plans to include other appliance lines are already in the works.
Bosch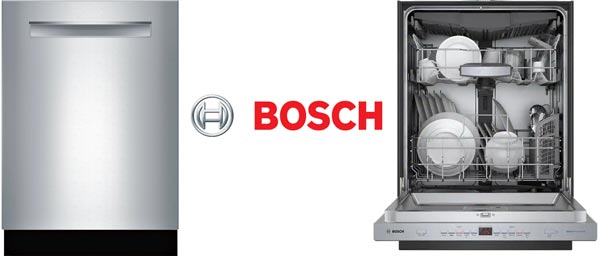 | | |
| --- | --- |
| Year Founded | 1888 |
| American Made Offerings | Dishwashers, Washers, Dryers, Cooking Appliances |
| Popular Models | SHPM88Z75N 24" Dishwasher, SHPM65Z55N 24" Dishwasher |
| Origin | New Bern, North Carolina; LaFollette, Tennessee |
Bosch's Origin and Manufacturing Locations
It's somewhat of a pleasant surprise to find a foreign company that produces in the USA. Because, well, it's almost always the other way around!
Bosch may be a German company but takes a lot of pride in manufacturing many of its home appliances in the USA.
For the US market, Bosch's products are put together in New Bern, North Carolina, and LaFollette, Tennessee, by a group of over 2,000 hard-working and talented people. In fact, Bosch's plant in North Carolina is the largest dishwasher-making unit. At 245,000 sq feet, this facility produces dishwashers for Bosch and its subsidiary Thermador and has built over 9 million units since the start of its operations in 1997.
Bosch's Appliance Selection and Offerings
Although everything they make is stellar-quality and high-performance, American-made dishwashers are the jewels in Bosch's crown. These easy-to-use dishwashers are available in series: 100, 300, 500, 800, and 800 Premium. All models boast a Pure Dry system that not just cleans and dries the dishes but also sanitizes them.
Bosch's best dishwashers belong to the top-of-the-line 800 series. In my opinion, the most bang-for-the-buck dishwasher is the spacious SHPM88Z75N 24" Stainless Steel model. A quiet beast, this 800 series model has CrystalDry tech that makes drying plastics seem like a breezy affair.
A premium home appliance brand through and through, Bosch is hailed for its reliability, efficiency, and user-friendliness. According to studies, Bosch is one of America's most trusted kitchen appliance brands Bosch dishwashers scored highest in brand trust for its refrigerators, dishwashers, microwave, and cooktop for four years in a row. A potent combination of German technology and American manufacturing, indeed!
Frigidaire

| | |
| --- | --- |
| Year Founded | 1916 |
| American Made Offerings | Refrigerator, Freezer, Dishwasher, Cooktops |
| Popular Models | FPRU19F8RF Frigidaire Professional Single-Door |
| Origin | Kinston, North Carolina; Anderson, South Carolina; Springfield, Tennessee |
Frigidaire's Origin and Manufacturing Locations
When it started way back in 1916, Frigidaire was known as the Guardian Frigerator Company before it was bought by General Motors and rechristened in 1918.
Inventing the first self-contained fridge was not enough. In its mission to add convenience to the everyday life of its customers, Frigidaire launched a series of future-ready appliances starting with the first home refrigerator, first chest-style freezer, first room AC unit, and many more.
Frigidaire makes its range of major kitchen appliances, washers & dryers, ACs, and humidifiers in the USA and overseas. They have plants in North Carolina, South Carolina, and Tennessee from where they manufacture select refrigerators, freezers, dishwashers, and cooktops (both gas and electric).
Frigidaire's Appliance Selection and Offerings
Focus on innovation and quality has kept the brand on an impressive growth chart throughout its history. And this continued even after becoming a subsidiary of Swedish appliance giant Electrolux in the 1980s.
One of its top-ranked and most popular American-made appliances is the FPRU19F8RF Frigidaire Professional Single-Door Refrigerator-Freezer combo. It's made with smudge-proof stainless steel and comes with the proprietary SpaceWise organization system to keep things accessible and well-organized. You also get a 72" trim kit to put the two units together to turn them into one large unit.
Finding an American-made Frigidaire appliance can get tricky as they don't have a separate section for it. The best way is to look under "General Specifications" for a particular model. If it's made here, Frigidaire mentions a "Yes" against "Made in the USA."
Kenmore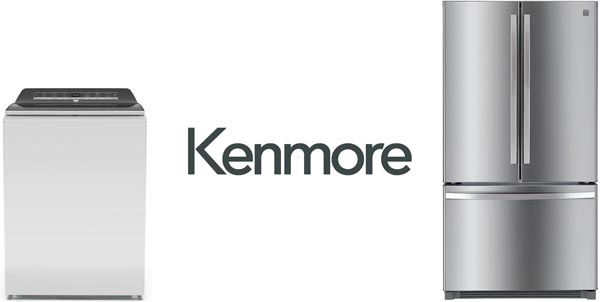 | | |
| --- | --- |
| Year Founded | 1913 |
| American Made Offerings | Refrigerators, Washers, Dryers, Dishwashers, Cooking Ranges |
| Popular Models | 21112 Top Load with Triple Action Agitator, 73025 French Door Refrigerator |
| Origin | Chicago, Illinois, USA |
Kenmore's Origin and Manufacturing Locations
Having been around for over a century, Kenmore has firmly established itself as a brand of repute when it comes to appliances. Since its first product was a drop feed sewing machine, the brand has become a full-fledged company that makes just about everything appliance you'd need to refrigerate, cook, laundry, or clean.
Kenmore's Appliance Selection and Offerings
Mainly retailed through Sears, Kenmore's products are either produced domestically or overseas. It so happens that some of Kenmore's appliances are made by other well-known manufacturers like Whirlpool, Frigidaire, Electrolux, Cleva North America, and GE at their respective facilities across the US.
There are plenty of USA-made appliances offered by Kenmore, but finding them is not always easy because of different manufacturing companies. Some highly rated American-made Kenmore appliances that you could add to your home are the French Door smudge-proof stainless steel refrigerator, the 27" Top-Load Washer with Triple Agitator, and the 30" Freestanding Electric Range.
Viking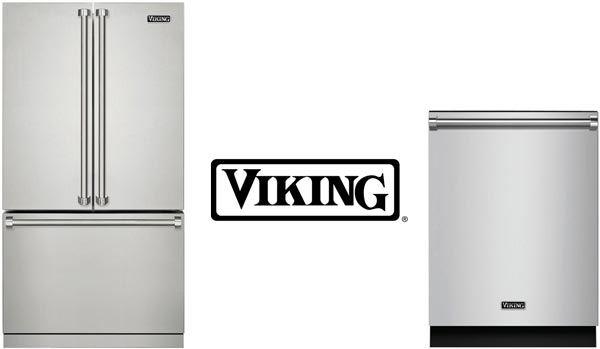 | | |
| --- | --- |
| Year Founded | 1987 |
| American Made Offerings | Freestanding ranges, Cooktops, Ovens, Microwaves, Warming Drawers, Ventilation Hoods, Refrigeration, Dishwasher |
| Popular Models | 5 Series 24-Inch Dishwasher, 3 Series 36 Inch Counter Depth French Door Refrigerator, 5 Series 36 Inch Gas Freestanding Range, 5 Series 48 Inch Built-In Counter Depth Side by Side Refrigerator |
| Origin | Greenwood, Mississippi, USA |
Viking's Origin and Manufacturing Locations
As the Roman scholar, Piny the Elder once said: "Home is where the heart is." And if you've ever bought something from this brand, you'll know just how proud Viking is of producing at home in the USA when so many others have opted to manufacture abroad. It's no wonder then that Viking has won accolades, awards, and features in many "best of" lists where quality kitchen appliances are concerned.
Viking's product range is the result of innovation and performance-led designs that are brought to life at its massive manufacturing mill in Greenwood, Mississippi, USA.
Viking's Appliance Selection and Offerings
For the last 40 years, Viking has become famous for its professional-grade kitchen appliances. You get a generous selection of devices for all your cooking, ventilation, refrigeration, and cleanup needs, indoor or outdoor. Since launch, Viking has introduced the 7 Series, 5 Series, 3 Series, Tuscany, Outdoors, Virtuoso, and Delta Hues.
A 7-Series built-in refrigerator comes loaded with impressive specs, including BlueZone Fresh Preservation air cleaning tech, a fully articulating hinge for a seamless fit, spill-proof shelves, and an array of smart controls.
Besides world-class refrigerators, everything thing you'll possibly need to make your kitchen smart, efficient, and a visually-pleasing space, you'll find it here.
Maytag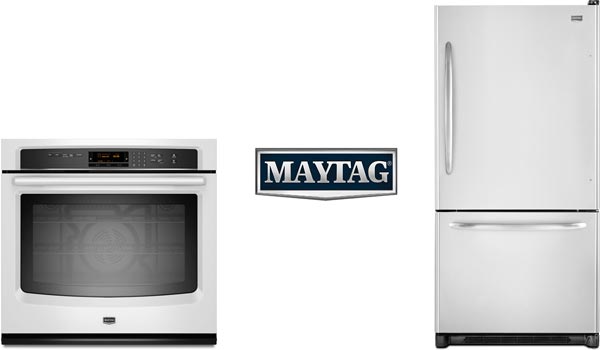 | | |
| --- | --- |
| Year Founded | 1893 |
| American Made Offerings | Washer, Dryers (assembled), Cooking Range |
| Popular Models | MVW6230HW Smart Top Load Washer, MHW6630HC Front Load Washer with Extra Power, MER8800FZ 30-inch Wide Cooking Range |
| Origin | Clyde and Marion, Ohio, USA |
Maytag's Origin and Manufacturing Locations
Founded by Fredrick Louis Maytag and three others, Maytag began as a farm equipment manufacturer in 1893. In 1907, they expanded their range to include residential washers, which turned out to be quite the game-changer. It took Maytag all of two decades to sell and produce over a million washing machines!
After washers came dryers, ranges, refrigerators, and built-in dishwashers. By the 1980s, Maytag was one of the biggest names in the appliance industry, producing a wide array of major appliances.
A little over a decade ago, Maytag was acquired by appliance giant Whirlpool, with whom it shares its deep American roots. This has helped Maytag stay put on its path to positively impacting local communities. We have a full article on Maytag's manufacturing processes here if you're interested.
Maytag's Appliance Selection and Offerings
A reliable washer is one of those workhorse appliances that a modern home simply cannot do without! If you're hunting for a durable and high-performance USA-made range of laundry appliances, let Maytag washers be one of the first ones you explore.
My favorite Maytag washer is the MVW6230HW Smart Top Load Washer which comes with an extra power button to increase stain-fighting action. Want a quick wash cycle, a long soak, or some heavy-duty cleaning with more water? This washer gives you all that and more!
Among front loaders, the MHW6630HC Washer with Extra Power for tough stains is worth checking out. For those like me who often forget clothes in the washer, this one has a fresh hold option with an internal fan to keep clothes smelling fresh for up to 16 hrs after the wash cycle. While Maytag's line of dryers is only assembled here, its hugely popular washers are designed, engineered, and assembled with pride at Clyde, Ohio, USA.
Maytag also offers fantastic electric and gas cooking ranges, all of which have been designed and manufactured in the US. The top-seller is MER8800FZ 30-inch wide Range- A Stainless steel model with True Convection, Power Preheat, and Precision Cooking System, available in electric and gas options.
Staber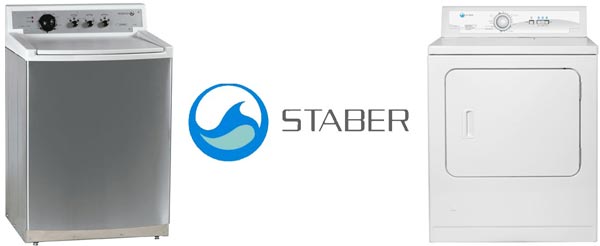 | | |
| --- | --- |
| Year Founded | 1976 |
| American Made Options | Drying Cabinets, Washers |
| Best Sellers | HXW2305 Washer, DCR-1000 Drying Cabinet |
| Origin | Groveport, Ohio, USA |
Staber's Origin and Manufacturing Locations
What do Shell, McDonald's, FedEx, Nasa, have in common? They all trust Staber's cutting-edge washers and drying cabinets. Founded by James and Bill Staber in 1976, the brand began as a producer of transmissions of washing machines. By 1993, the father-son duo had designed water and energy-efficient washers and started full-scale production out of a plant in Groveport, Ohio.
True, there are many brands that make quality washing machines. However, Staber not only manufactures its appliances in the USA but makes them with only American-made parts, which are then assembled by hand at their 55,00 sq foot Ohio factory. And that's something that truly sets them apart from the rest.
Staber's Appliance Selection and Offerings
Today, Staber offers a wide range of laundry solutions for both residential and commercial use. But before we get to their home washing machines, let's spend a minute on their innovative drying cabinets that have been serving countless hospitals, labs, industries, fire departments, and homes. Staber's iconic Drying Cabinets, with their many shelves, can handle a much higher volume than conventional dryers. Instead of the rough tumbling and beating, the warm air in these cabinets dries the clothes naturally and delicately.
Staber also manufactures top-load horizontal-axis washers and is the only brand in the US to do so. These clever machines offer the best of both worlds- the appearance and user-friendliness of a top loader with the spinning action of a front-load machine. Plus, its design allows you to use the entire inner tub to load way more clothing than a traditional agitator model. All in all, an energy-efficient, cost-effective washer made entirely in the USA. Check out the video below to see this unique washer in action.
Dacor Appliances (Premium Kitchen Appliances)
| | |
| --- | --- |
| Year Founded | 1965 |
| American Made Offerings | Cooktops, Wall Ovens, Refrigerators, Dishwashers, Cooking ranges, Ventilation Hoods, Microwaves. |
| Popular Models | DOP48M96 48-inch Dual-Fuel Steam Range with Griddle, DOB30M977S 30-inch Single Wall Oven, DHD30M967W 30-inch Wall Hood with Connectivity, DRZ2498024 inch Column Freezer Panel-Read |
| Origin | City of Industry, California, USA |
Dacor's Origin and Manufacturing Locations
Dacor doesn't just manufacture appliances. They craft them! Every device from their vault is a functional and durable work of art. But Dacor wasn't always into manufacturing. When it began in 1948, founder Stan Joseph only focused on marketing and selling electric refrigerators from their store.
A while later, after being joined by his brother Anthony, the duo started manufacturing kitchen ventilation systems. The brand DACOR was only incorporated in 1965. The Josephs ventured into all major kitchen appliances, including modular cooktops, built-in self-cleaning ovens, wall ovens, refrigerators, dishwashers, and cooking ranges.
Dacor's Appliance Selection and Offerings
I love an all-American made brand like this one because I don't have to worry about where the product is coming from. In Dacor's case, each of their ultra-premium kitchen appliances is built at a sophisticated and advanced 325,000-square-foot manufacturing facility in the City of Industry, California.
Dacor ain't just a pretty face! These stunning appliances are packed with user-friendly features. The designs vary from sleek and chic contemporary to versatile transitional to distinctive professional layouts. You can choose them in silver stainless steel or graphite stainless steel or have them panel-tailored to be in sync with your kitchen's overall style.
If you're looking for inspiration to make your kitchen beautiful, functional, and intuitive, AND budget isn't that much of a constraint, then Dacor's the brand for you. They easily make some of the best American-made appliances out there!
KitchenAid (Great Stand Mixers)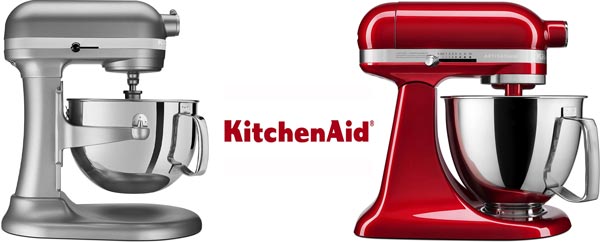 | | |
| --- | --- |
| Year Founded | 1919 |
| American Made Offerings | Stand Mixers, Dishwashers, Wall Ovens, Cooking Ranges |
| Popular Models | KP26M1ER 6Qt. Professional 600 Series Bowl-Lift Stand Mixer, KSM3316XCA Artisan Mini Plus 3.5-Qt. Tilt-Head Stand Mixer |
| Origin | Greenville and Findlay, Ohio; Cleveland, Tennessee |
KitchenAid's Origin and Manufacturing Locations
Loved by home cooks and professional chefs, including the famous Julia Child, KitchenAid's performance-packed mixers are a must-have kitchen appliance in every home. But before we get to what makes them such a crowd favorite, let's talk about KitchenAid's history.
KitchenAid's first product was a stand mixer, its best-selling line of appliances to date. These Stand mixers are dependable kitchen assistants that can mix, fold, and beat batter and dough effortlessly. Interestingly, KitchenAid started as Hobart Manufacturing Co but changed the name when one of their customers called it " the best kitchen aid" she's ever had.
KitchenAid's Appliance Selection and Offerings
Although KitchenAid was taken over by Whirlpool, it still manufactures its fabulous line of countertop stand mixers in Greenville, Ohio. These mixers come in either Bowl-lift or Head-tilt configurations. One of Kitchen Aid's top-selling is model 6 Qt. Professional 600 Series Bowl-Lift Stand Mixer.
Available in a vibrant array of colors, this solidly-built metal mixer comes with 10-speed settings that make mixing large quantities and heavy, dense ingredients a breezy affair. It typically retails at $550, making it a tad expensive, but every bit worth it for the amount of time it'll grace your countertop.
Other than all its stand mixers, KitchenAid produces select dishwashers, wall ovens, and cooking ranges in the USA at Whirlpool's manufacturing facilities in Findlay, Ohio, and Cleveland, Tennessee. You can learn more about KitchenAid's manufacturing processes here. As far as kitchen appliances made in the USA go, KitchenAid is one of our top recommendations.
Vitamix (Great Blenders)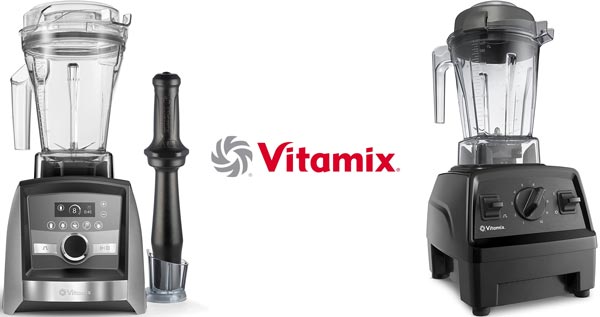 | | |
| --- | --- |
| Year Founded | 1921 |
| American Made Offerings | Blenders |
| Popular Models | A310, A3500 |
| Origin | Cleveland, Ohio, USA |
Vitamix's Origin and Manufacturing Locations
Way back in the 1920s, a man called William Grover Barnard thought people were not eating enough fruits, veggies, nuts, and seeds. To help people increase their whole foods intake, Barnard invented a device that could blend it all up into a tasty, nutritious meal or drink.
Throughout its journey, Vitamix has actively worked towards educating people to discard fad diets and adopt a healthy plant-based lifestyle. Over time, these blenders have become smarter, more durable, and more powerful.
From a no-frill stainless steel blender to a herculean gadget with multiple speeds and high-precision blending, Vitamix blenders have come a long way. They are highly sought after and a permanent fixture in American homes as well as commercial kitchens.
And though the designs and technology have evolved, these blenders are still produced the same way as they always were, with love, diligence, and care in Cleveland, Ohio, USA.
Vitamix's Appliance Selection and Offerings
If you search the Vitamix website, you can easily find out which of the blenders are American-made, and most of them are! All you need to do is click on the "Specifications" tab to see where they are manufactured.
If I had to pick one model to show you the blending prowess of a Vitamix, it'd have to be the A3500. A family-sized container with five powerful settings and features allows you to make smoothies, soups, baby foods, dips, spreads, and frozen delights with exceptional ease.
The high-performance motor can detect and adapt program settings and blending speeds to the different-sized containers you place on top of it. On top of that, its self-cleaning feature makes for hassle-free maintenance.
The A3500 is one of their higher-end models. If you're looking for a more budget-friendly blender, try the ever-popular A310 from the Legacy Series.
BlueStar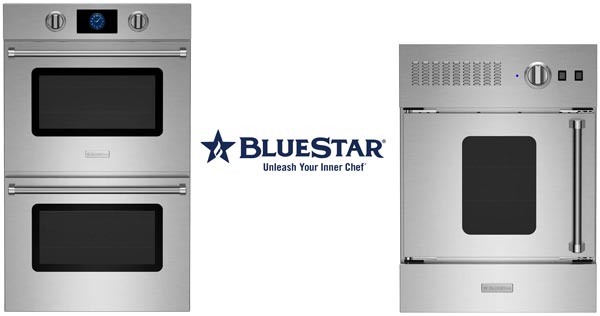 | | |
| --- | --- |
| Year Founded | 1880 |
| American Made Offerings | Cooking Ranges, Cooktops, Wall Ovens, Refrigerators, Dishwashers, Ventilation Hoods |
| Popular Models | RCS366BV2 Culinary Series Open Burner Range, BSEWO30SDV3 30″ Electric Wall Oven with French Doors |
| Origin | Reading, Pennsylvania, USA |
BlueStar's Origin and Manufacturing Locations
As one of the oldest brands on this list, BlueStar has built an unrivaled reputation in crafting the finest kitchen appliances that money can buy! Since 1880, the brand has made world-class devices that make cooking a pure joy!
With over 1000 colors and finishing options available, every BlueStar product can be fully customized to suit your aesthetic sensibilities and cooking needs. Here's my take on why these high-performance, American-made appliances are hailed by home cooks and chefs alike.
BlueStar's Appliance Selection and Offerings
For the last 140 years, BlueStar's highly functional and impressively-made kitchen appliances have become a culinary inspiration to many in the country. Their product range includes cooking ranges, cooktops, wall ovens, refrigerators, dishwashers, and hoods. Each of these is a result of time-honed craftsmanship, top-grade materials, and a state-of-the-art manufacturing plant in Reading, Pennsylvania.
What I loved most about this brand was the flexibility to tailor kitchen appliances to suit your style. Take their 60" RNB Series Gas Range, for example. You get endless options to customize it to your exact requirements- burner configurations, back guards, integrated cooktops, door designs, and a mind-blowing range of color options, textures, and metal trims.
BlueStar products might cost a pretty penny but deliver their money's worth in durability, function, and style!
Speed Queen Washers and Dryers

| | |
| --- | --- |
| Year Founded | 1908 |
| American Made Offerings | Washers, Dryers |
| Popular Models | TR7, FF7, DR7 |
| Origin | Ripon, Wisconsin, USA |
Speed Queen's Origin and Manufacturing Locations
Speed Queen may not have an exhaustive range of appliances as some of the other brands on this list, but it is pretty good at what it does- manufacture top-quality laundry machines. Based out of Ripon, Wisconsin, Speed Queen's high-caliber line of washers and dryers have been the workhorses of homes, laundromats, and hotels for the last 114 years.
At the time of launch, which was way back in 1908, Speed Queen was known as Barlow & Seelig Manufacturing. By 1922, the company revolutionized washing and drying with their nickel-copper tubs, later replaced with more efficient and long-lasting stainless steel.
The brand has come far on the back of innovation, world-class engineering, and most importantly, American manufacturing, and it continues to do so even today.
Speed Queen's Appliance Selection and Offerings
It takes 3000 plus employees, functional designs, the highest quality materials, and rigorous testing to create a laundry solution that'll easily last for over 10,400 wash cycles. Not just that, each of these is backed by 3-7 year warranties that cover everything from parts to service.
Speed Queen washers have been designed for everyday use and come equipped with every cleaning solution you need. You could pick Perfect Wash's long, gentle and effective washing for your expensive fabrics or Classic Clean's quick clean for your more regular clothes, or Pet Plus cycles to get rid of hair shed by your fuzzy friends.
Like its washers, Speed Queen dryers are worlds apart from other imported alternatives you'll find in the market. The DR7 model is perhaps the only electric dryer made in the USA. Whether you want to sanitize your clothes or a quick wrinkle-free refresh or a steam drying cycle to have them come out looking brand new, the DR7 offers all that and much more! Overall, if you're looking for appliances made in the USA, we think Speed Queen is a great option.
Sub Zero & Cove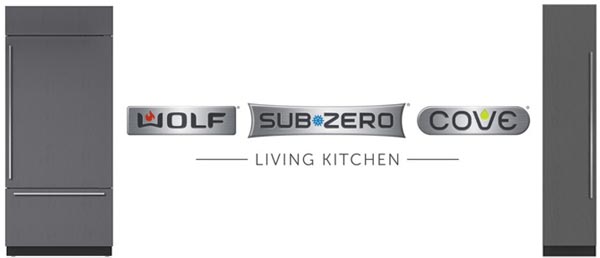 | | |
| --- | --- |
| Year Founded | 1945 |
| American Made Offerings | Full-Size Refrigerators, Wine Storage, Undercounter Refrigerators, Outdoor Refrigerators, Dishwashers |
| Popular Models | BI-36U/O Classic Over and Under Refrigerator/Freezer, DEC1850FI 18" Designer Column Freezer with Icemaker, DW2450 24" Dishwasher |
| Origin | Wisconsin and Arizona, USA |
Sub Zero & Cove's Origin and Manufacturing Locations
Westye Bakke was a resourceful genius who built a freestanding freezer with nothing else but some scrap metal in his basement. His obsession with refrigeration began in the 1930s to store insulin for his son suffering from diabetes.
Through imagination and experimentation, Bakke and his sub-zero company made headway in the world of refrigeration. And though the US has seen many brands of repute making freezers and refrigerators, Sub-Zero has always stood out for its commitment to quality and faith in American manufacturing.
Sub Zero & Cove's Appliance Selection and Offerings
If you're willing to shell out a little extra for high-end aesthetics and flawless American-made refrigeration systems, this is the brand for you. Sub-Zero offers a vast assortment of fully customizable refrigeration appliances to suit your decor and cabinetry. Whether you're looking for conventional full-size, french-doors, side-by-side, over-and-under, under-counter, or outdoor refrigeration, you'll find them here.
In full-size, Sub-Zero offers three series- Classic, Designer, and Pro, that can be further customized in various styles, dimensions, and finishes. An average Sub-Zero refrigerator is a state-of-art appliance loaded with brand proprietary features like separate cooling systems for refrigerator and freezer and NASA's air-purification tech. All of this adds to odorless food preservation for longer than ever before.
Sometime in 2018, Sub-Zero launched a line of reliable dishwashers in its efforts to become a one-stop brand for all your kitchen appliance needs. Known as "Cove," these good-looking dishwashers are durable, efficient, and backed with technology to ensure all your dishes come out looking clean and spanking new.
Bunn (Great for Coffee Lovers)
| | |
| --- | --- |
| Year Founded | 1957 |
| American Made Offerings | Coffee Makers |
| Popular Models | CSB2B Speed Brew, CSB3T High Altitude Speed Brew |
| Origin | Massachusetts and Maine, USA |
Bunn's Origin and Manufacturing Locations
Want an American-made machine to take care of your daily coffee fix? Then say hello to Bunn! Founded in 1957, Bunn has established itself as a reliable brand for beverage appliances in the US and worldwide.
At Bunn, cutting-edge products and success go hand in hand with philanthropy and eco-friendly initiatives. The company supports several organizations and their efforts to improve people's lives in tea and coffee-producing countries. To date, Bunn employees have poured in 125,000 hours of volunteer work as a part of the Community Outreach program.
Bunn's Appliance Selection and Offerings
Since 1957, a vast majority of Bunn products have been designed and assembled in the USA at their labs and manufacturing facilities in Springfield, Illinois, which also happens to be the corporate headquarters. If you're ever confused about whether a particular model is made here or not, check out the "Country of Origin" under the "Features" section on the brand website.
The CSB2B Speed Brew coffee maker brews you an ultra-delish cup of coffee in less than half the time that an average machine would take, including high-end ones. Like many of its residential coffee machines, this is designed and assembled here and comes with a clever spray-style head for an intense and flavorful brewing.
Bunn also makes a great range of coffee makers for mountain folks. The CSB3T High Altitude Speed Brew is just the thing you need for a great cup of coffee if stationed anywhere above 4,000. It's designed keeping in mind the lower boiling point in such places.
You also get a long 40-inch cord to plug it into the nearest power socket no matter how far. Plus, the drip-free insulated stainless steel keeps your coffee piping hot for hours after brew.
Aircare (Great Humidifiers)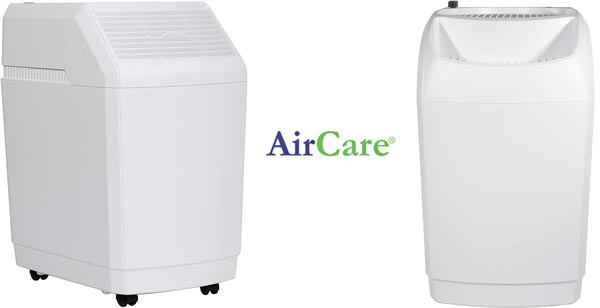 | | |
| --- | --- |
| Year Founded | 1939 |
| American Made Offerings | Humidifier |
| Popular Models | 831000 Space Saver, MA0800 Mini-Console, H12300HB Alliance |
| Origin | Little Rock, Arkansas, USA |
Aircare's Origin and Manufacturing Locations
A trusty name for humidifiers for more than 70 years, Aircare has set the bar high and continues to woo us with its best-in-class products. The folks at Aircare relentlessly develop and test to make every new model a worthy upgrade over the last one.
It's easy to see why making great quality humidifiers matters so much to these guys once you find out the name of Aircare's parent company- Essick Air. Founded in 1939, Essick Air makes just about everything that has to do with air- humidifiers, coolers, hygrometers, and air conditioners.
The launch of Aircare had a lot to do with Essick Air's desire to allocate a chunk of its operations towards making dependable and functional humidifiers. The brand is based out of Little Rock, Arkansas, USA. And all the magic, from concept to completion, takes place there.
Aircare's Appliance Selection and Offerings
Aircare humidifiers are easily the best-looking ones on the market. The use of evaporative technology instead of ultrasonic one makes Air Care units more effective in generating natural humidity. The top-selling model, the Space Saver, is an evaporative model with a longer than usual run time of up to 70 hours.
Three fans and four casters ensure the humidity is carried across the space. Adjustable humidistat, water refill indicator, and auto-shutoff are some of the other features, besides easy on the pockets price tag, making this humidifier such a steal!
Those looking for something more head-turning and feature-packed might want to explore Aircare's Alliance's sleek and striking wood-grain series.
Blendtec Blenders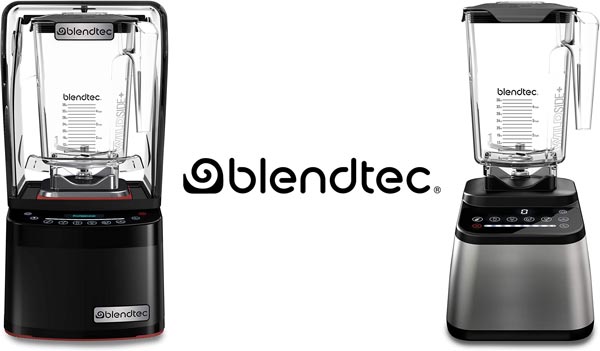 | | |
| --- | --- |
| Year Founded | 1975 |
| American Made Offerings | Blenders |
| Popular Models | Professional 800, Total Classic Original, Original Designer |
| Origin | Utah, USA |
Blendtec's Origin and Manufacturing Locations
Creating innovative appliances to promote a healthy lifestyle while staying true to their American heritage is a significant part of the Blendtec equation. Blendtec's journey began in the 1970s when Tom Dickson saw a gifted blender conk out. His engineer-savvy mind started buzzing with ideas and ways to make a highly durable blender that just won't break.
He did succeed, of course! Dickson's way of testing the strength of his blender was by pushing rake handles into it. Only after destroying close to 7000 rake handles was Dickson confident of his creation- a robust device with a cold-forged steel blade for superior blending performance, day after day and year after year.
Blendtec's Appliance Selection and Offerings
Instead of competing with other small appliance brands with a varied product portfolio Blendtec only focuses on making blenders. And they are exceptionally good at it! Today, Vitamix, Waring (which we'll talk about in a bit), and Blendtec are the only brands that make blenders in the USA.
Innovation is in Blendtec's DNA, and it shows. Their blenders are a trinity of sturdy construction, practical design, and solid materials. The brand offers three designs in its residential catalog- Classic, Designer, and Pro.
Classic is the more affordable of the two. These blenders stick to the basics and do it well. They come with six pre-settings and ten speeds. The Designer line of blenders has more bells and whistles. They are sleek and packed with user-friendly features.
Finally, for restaurant-quality blending, go for Blendtec's Professional series. These blenders are powerful, practically noiseless, with speed levels, and backed by a more extended warranty than the other two lines.
Blendtec has an interesting way of showcasing their blending wizardry through the "Will it Blend" video series, where they blend everything from car keys to smartphones to toys! Check it out below.
MetroVac Vacuum Cleaners
| | |
| --- | --- |
| Year Founded | 1939 |
| American Made Offerings | Vacuum Cleaners, Blowers, Inflator/Deflator Pump |
| Popular Models | VM6SB500 Hand Vac, Vac N Blo Wall Mount Vac, AirForce Commander Pet Dryer, Vac N Go Hand Vac |
| Origin | Oakland, New Jersey, USA |
MetroVac's Origin and Manufacturing Locations
If Blendtec is crazy about blenders, then this brand is obsessed with vacuum cleaners and blowers. Metro Vac was started in 1939 by the husband-wife team of Israel and Pearl Stern with a $50 capital that came from pawning a prized family possession. The company began going up the ladder, first by retailing vacuum cleaners and later manufacturing them.
In 1974, Sterns launched the ubiquitous DataVac Computer Cleaners. With expansion came the need for a bigger production plant. They moved operations from a 32,000 sq ft factory in New York to a 60,000 sq ft plant in Oakland, New Jersey, USA. Since 2013, the facility in New Jersey has been their home, and just about everything they do happens there.
MetroVac's Appliance Selection and Offerings
MetroVac's tagline "Deliberately Made Better in the USA" speaks volumes about the brand's commitment to local manufacturing and its faith in American quality. Think of this brand as a one-stop shop for all vacuuming needs, whether a car, home, electronics, factories, offices, bike, or pets. They also manufacture inflating/deflating pumps for personal or commercial use.
Among home cleaners, Metro Vac's VM6SB500 is an all-steel, accessibly-priced hand vac with essential attachment for a fast and efficient clean. It may be small but way more powerful than any other make or model its size. Its compact size and handheld design make it versatile and ideal for homes, cars, boats, small office spaces, and more.
For heavy-duty cleaning of larger areas, check out their wall-mounted Vac N Blo. And if you own a pet, picking Metro Vac's AirForce Commander, Dryer will make your pet grooming tasks unbelievably easy.
Waring (Great Small Appliances)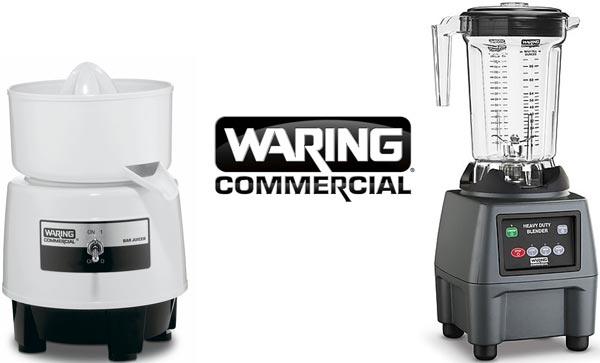 | | |
| --- | --- |
| Year Founded | 1937 |
| American Made Offerings | Blenders, Juicers, Food Processors |
| Popular Models | MX1000XTX Blender, BJ120C Citrus Juicer, FP2200 Food Processor |
| Origin | McConnellsburg, Pennsylvania, USA |
Waring's Origin and Manufacturing Locations
The pursuit of a reliable modern-day blender may have kicked off the launch of brands like Vitamix and Blendtec, but Waring got there first! In 1936, well-known inventor Fred Osius approached Fred Waring, a celebrity, to back his new creation.
Awe-struck, Waring funded and eventually became involved in designing the "Miracle Mixer." By 1938 this exciting new kitchen equipment became popular as the Waring Blender. And the rest, as they say, is history.
Waring's Appliance Selection and Offerings
Waring classifies its USA-made full-sized blenders into three categories- Heavy-duty, Medium-duty, and Light-duty blenders. It also offers Immersion Blenders though they are made overseas.
The MX1000XTX High Power Blender wins my vote for pureeing the thickest of ingredients with great ease. This Heavy-duty blender can take on any challenge you throw at it- soup, smoothies, sauces, or frozen treats. At $400-$430, the price is steep but matches the quality and performance you're getting. In juicers, the BJ120C is a fantastic pick to juice up any citrus fruit, from oranges to grapefruit.
Blenders may have been Waring's shot to fame. However, today they are a leading global brand for several kitchen appliances, including microwave ovens, food processors, waffle makers, grills, griddles, and cooking ranges.
Waring's extensive lineup of blenders, select juicers, and food processors are made at an ultra-modern facility in McConnellsburg, Pennsylvania. Waring's American-manufactured products are labeled "Made in the USA" on the brand website.
Excalibur (Great Food Dehydrators)

| | |
| --- | --- |
| Year Founded | 1973 |
| American Made Offerings | Food Dehydrators |
| Popular Models | 3900B 9-Tray, 2400 4-Tray, 3548CDB |
| Origin | Sacramento, California, USA |
Excalibur's Origin and Manufacturing Locations
While dehydrators might not seem like an absolute necessity in the age of refrigeration, many of us still like to keep one around. A dehydrator acts by drying up all the moisture content from the fruits, vegetables, and herbs. The flavor stays intact and gets even richer.
If you don't have one of these already and are looking to buy one, why not give Excalibur's 100% made-in-the-USA food dehydrators a shot? Read on to know what they're all about.
Excalibur's Appliance Selection and Offerings
Excalibur offers a vast range of dehydrators for both commercial and home use. You can choose from 4-tray to 10-tray variants in either stainless steel or plastic material. These useful appliances remove moisture without letting go of the flavor. While the entry-level models like the 3548CDB 5-tray Plastic with Clear Door come with 48 hr timer, the top-of-the-line, like 10-tray RES10, have timers that can go on for as long as 99 hrs.
The RES10 is a clever little appliance that offers two independent drying zones that can be set to two different time and temperature settings. I've used my dehydrator to dry herbs, slices of meat, and fruit to add to recipes or turn them into snacks that are any day healthier and tastier than what you get at a store.
If you keep finding yourself with a bunch of ingredients or herbs that you want to preserve for later use, why not invest in a good-quality dehydrator? As a company specializing in only dehydrators since the beginning, you can't go wrong when you pick one of theirs.
Wrapping Up
Whether you're scouting for a refrigerator, dishwasher, cooktop, washer, dryer, or tiny kitchen helpers like blender and coffee machines, choosing a home appliance is never easy.
You might find yourself tempted by imported models and all their bells and whistles at unbelievably low prices. It's good to steer clear of such options because appliance manufacturing in the USA is still surviving and thriving. And the brands above are testimony to that fact!
If there are any good appliance brands you trust that didn't make this list, drop us a comment below, and we'll strongly consider adding them!
Hi, my name is Kevin and I'm from Pittsburgh, Pennsylvania. Choosing products made in America is important to me because it supports local economies, creates jobs, helps the environment, and ensures ethical labor practices. I also find that American made products are usually of higher quality so although they're a little more expensive, you save money in the long run. Before starting this website I was in the USMC infantry and nowadays I work on this website as a hobby.