KitchenAid was founded as an American company, but now that it's operating as a subsidiary under Whirlpool Corporation, you may wonder where they make KitchenAid appliances. For someone who wants American-made appliances, would KitchenAid deliver on that?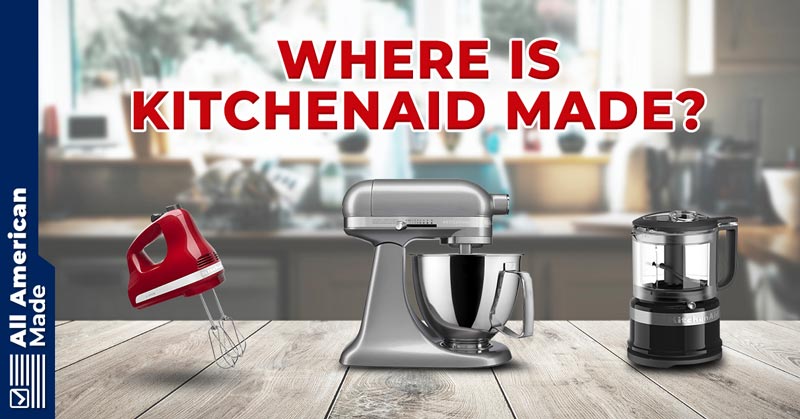 KitchenAid appliances are primarily made in the United States, but KitchenAid also manufactures products in other countries including China, Mexico, Canada, and Italy. Almost all KitchenAid dishwashers, mixers, ranges, and refrigerators are made in the USA.
If you'd like to learn more about KitchenAid and where their most popular appliances are made, keep reading because we will cover this information in depth.
Where Are KitchenAid Mixers Made?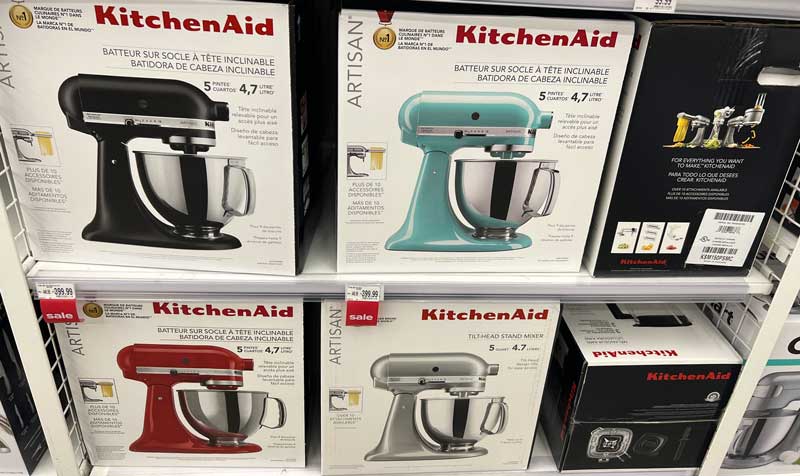 All KitchenAid mixers are made in the United States. They are made at the Greenville KitchenAid factory, two hours north of Cincinnati, Ohio. The brand makes everything there including the motor for the stand mixer, and a team of workers assembles the stand mixers by hand.
To be clear, the mixers are certainly not fully made in the USA, and some of the components are sourced globally, but the final assembly does take place in the USA. If you look on the box of most KitchenAid mixers, you'll see a marking like this.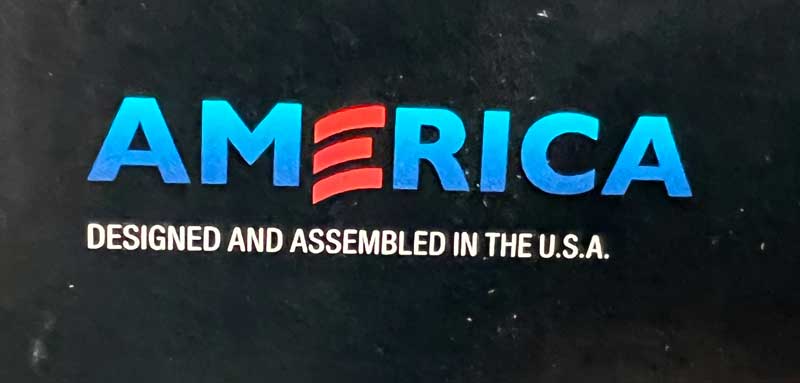 You might also see the marking on the sticker, as you can see in the image below.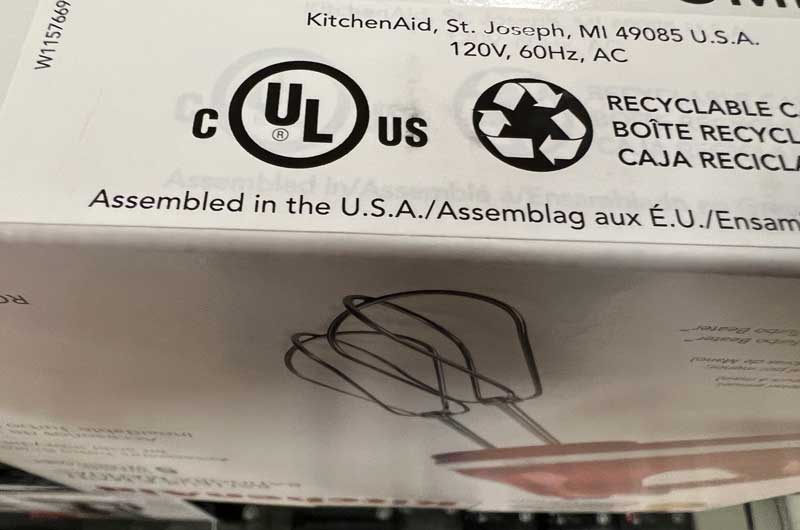 For anyone interested, they offer factory tours of the facility. At one time, it took four days for them to produce one stand mixer, but today, the factory can produce hundreds of them in a single day. Whatever mixer you buy from the brand was most likely made in Greenville, Ohio.
KitchenAid permanently shut down its Greenville, Ohio, retail store in late July 2020. The KitchenAid Experience on 423 South Broadway has operated for over two decades, where customers could see some of the latest products from the Greenville factory. You could even take free cooking classes there.
It's important to note that the factory in Greenville has operated for nearly 74 years and continues to employ over 1,200 workers. We mention the closing of the retail store because of its proximity to the manufacturing facility, its beloved history, and how it showcased many of the products from there. We hope that the manufacturing facility will continue to operate without a problem.
For those of you interested in a visual of their production line, if you have the time check out this super interesting video about how they manufacture the iconic KitchenAid stand mixer.
Popular Related Article: What Blenders Are Made in the USA?
Where Are KitchenAid Ranges Made?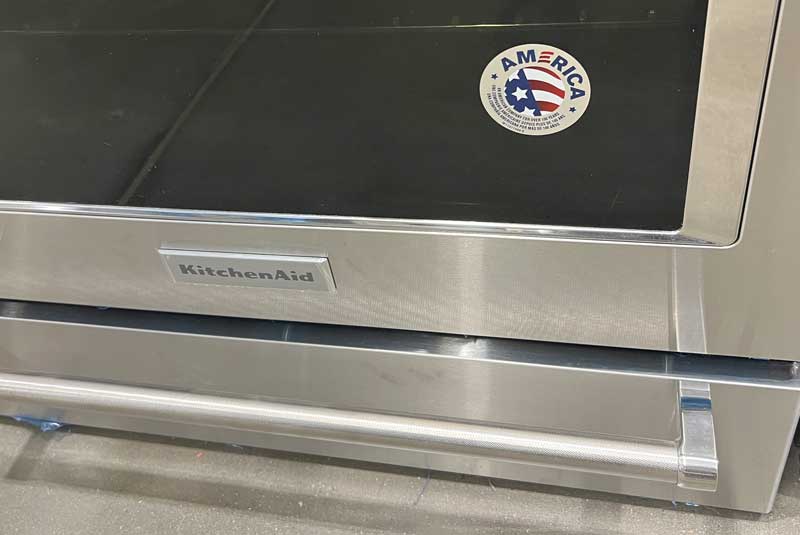 KitchenAid makes many of its cooking ranges in Cleveland, Tennessee. This facility has the motto, "The little plant that could," even though they hire an estimated 1,500-2,000 employees here. They produce for multiple brands at this facility. In fact, they built this manufacturing plant only a few miles from the former plant.
The manufacturing here under the Whirlpool name began after the acquisition of Maytag. Originally, this was a Maytag facility, but they eliminated "Plant One" and put up a new facility under the Whirlpool name where they made the KitchenAid ranges, among other brands like Maytag. You can learn more about these facilities with the video below:
On May 28, 2021, KitchenAid's parent company announced that it would invest $15 million to further strengthen its existing capabilities at a manufacturing plant in Tulsa, Oklahoma. Whirlpool will also receive $1 million from the state of Oklahoma under the Business Expansion Investment Program to continue to bring high-quality jobs to the region.
Along with producing KitchenAid in Oklahoma, the factory produces Amana, Jenn-Air, Maytag, and Whirlpool. Some of the products made at the plant here include freestanding and slide-in ranges. With the new investment, Whirlpool expects to create an additional 150 jobs.
This expansion builds on a project that took place in 2018. Currently, this manufacturing facility employs over 2,000 workers. Across the United States, KitchenAid's parent company employs over 21,000 people, with 15,000 of the workers being manufacturing employees. The expansion will help to create more jobs in the Tulsa region.
Did you know that Oklahoma ranks as one of the best states for business? This is due to the good business environment and the low costs, which may explain why they produce KitchenAid here.
Where Are KitchenAid Dishwashers Made?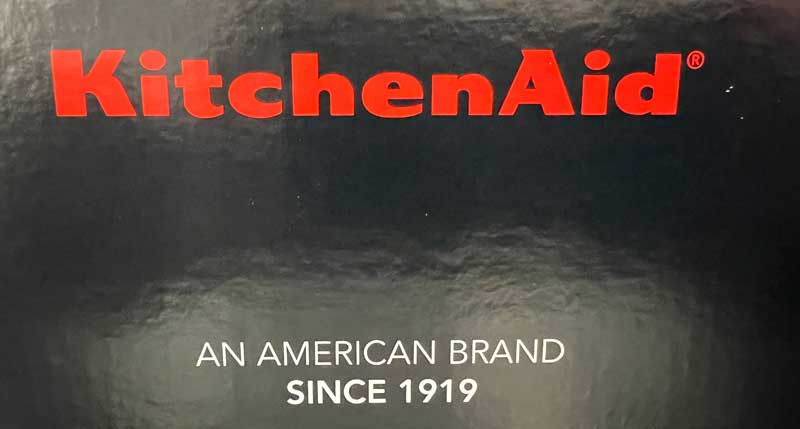 Most KitchenAid dishwashers are made in Findlay, Ohio, at a manufacturing facility where KitchenAid employs 2600 American workers. At this plant, they produce many of the popular Whirlpool brands like KitchenAid, Jenn-air, Amana, Maytag, and Whirlpool. In particular, they produce the Kitchenaid dishwashers here at Findlay.
If you wanted an American-made dishwasher, we would call KitchenAid one of your best choices because of how all of its dishwashers come from Findlay on its domestic products sold in the USA. Not only is this an American-made dishwasher, but it comes from the largest dishwasher factory in the world.
The only thing to keep in mind is how the motors for this product were manufactured in China. This manufacturing facility exclusively produces dishwashers. Before 1990, they produced built-in cooking products as well, but to improve efficiency, they relocated that production from Findlay to Oxford.
Popular Related Article: Appliances Made in the USA (Our Favorite Brands)
Where Are KitchenAid Refrigerators Made?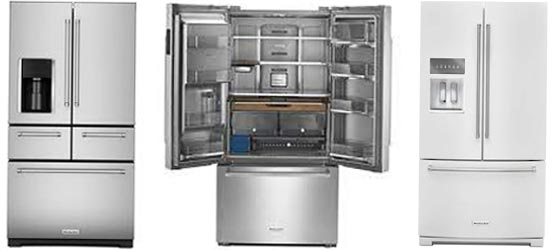 The standard American KitchenAid refrigerators all come from Amana, Iowa. At this manufacturing plant, they produce Amana, Maytag, Jenn-Air, and KitchenAid. They employ an estimated 3,000 employees here and first founded this factory in 1934.
Some of the products made in Amana, Iowa, include:
Bottom-freezer refrigerators
International refrigerators
Built-in refrigerators
The production here hasn't always been refrigerators. In the past, they produced dehumidifiers, air conditioners, freezers, and microwaves. This factory has a history originating as an Amana factory, but when the Whirlpool Corporation acquired Maytag in 2006, Amana was one of the subsidiaries under Maytag, which the rival brand had bought in 2001. Now that Whirlpool owns it, they became a Whirlpool factory that produces KitchenAid appliances, among others.
Is KitchenAid Made in the USA?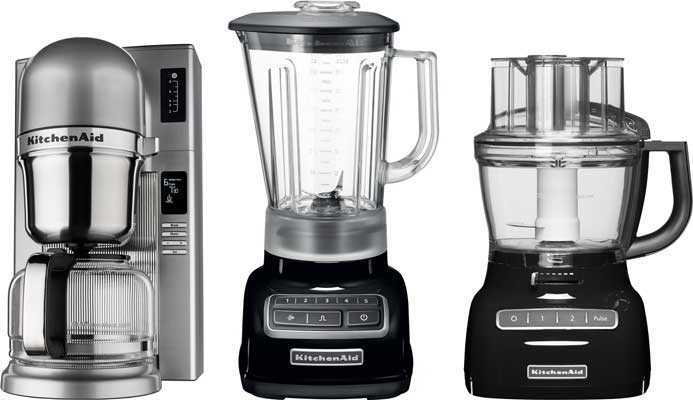 We would say that yes, by and large, KitchenAid makes most of its products that they sell within the United States. That doesn't mean that they don't produce elsewhere because the Whirlpool brand has a good spread overall with its manufacturing facilities in over ten countries.
KitchenAid's parent company likes to sell its products domestically, which means that they often produce and sell within the country. However, the parent company has a presence in over 170 countries around the world.
What we like about KitchenAid and its parent company is that they provide a lot of manufacturing jobs to the United States. We would say that an estimated 80 percent of the home appliances sold in the USA from the parent company are produced within the United States. On a worldwide scale, 27 percent of Whirlpool products are made in the United States.
On the whole, we would say that you can't go wrong with KitchenAid appliances because of how many are manufactured here. Now, you do have some products that you need to be careful with under this brand, which we will cover in the next section.
Are Any KitchenAid Products Made in China?
Yes, some KitchenAid products are made in China. There are an estimated 40 products that KitchenAid chooses to make in China. Some of the product categories that we would advise caution on include:
Gas grills
Toasters
Food processors
Coffee makers
Microwaves
Hand blenders
We found many of the products in these categories were made in China. If you don't want to buy products made in China, we would advise looking for another brand when it comes to these products because some of them at least won't be American-made.
However, we wouldn't be too hard on the brand for making its gas grills in China because of the high cost of manufacturing them in the USA. Many grilling companies have chosen to manufacture overseas to lower the costs for the consumer.
KitchenAid Products Made in Mexico
While China made 40 products in its country, Mexico made 50 KitchenAid products. Some of the products that they make there include:
French door refrigerators
Side-by-side refrigerators
Beverage centers
Range hoods
Wine cellars
Undercounter refrigerators
Retractable downdraft systems
While they might make 50 products in Mexico, we would like to put this into perspective by looking at how many products they make in the USA, they make an estimated 173 products in the USA. That shows a heavy favor of manufacturing here with less worry that you might buy a foreign-made product.
Nothing says that you can't buy a foreign-made product from Mexico or China, but we detail this information in the hopes that you can be a smart consumer and know where your products were made.
KitchenAid Products Made in Italy and Canada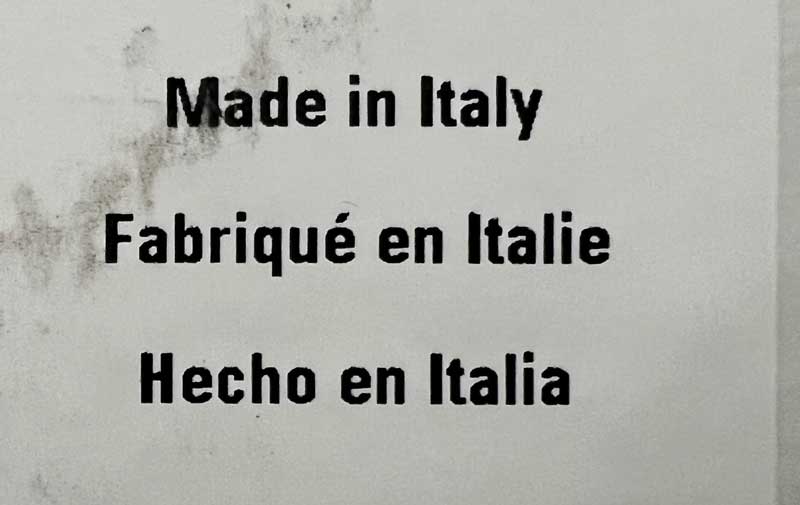 Along with them making their products in China and Mexico, they make KitchenAid products in Italy as well, and we found that they had ten products made there. Italy mainly produces cooktop stoves and induction stoves for the KitchenAid brand. We also saw a pasta roller cutter and set; where better to make pasta than in the country that made it famous?
Along with its manufacturing operations in Italy, KitchenAid is also produced in Quebec and Ontario. We couldn't pinpoint exactly what they made here, however, or where in Canada they manufactured the KitchenAid brand.
Facts About KitchenAid and Its Manufacturing Operations
Before we talk about KitchenAid and its manufacturing operations today, we would first like to have a look at its history to help you understand the big picture. KitchenAid began in 1919 as the Hobart Manufacturing Company in Springfield, Ohio.
This marked their first manufacturing location, where they produced the 10-quart C-10 model. KitchenAid gave the prototypes to the wives of the workers, and they received raving reviews along the lines of, "I don't care what you call it, but I know it's the best kitchen aid I've ever had!" As far as anyone knows, this is how the name of the brand was born. You can learn more about how the KitchenAid mixer became an icon with the video below:
During the late 1930s, this factory would sell out its KitchenAid stand mixers every Christmas as they had become wildly popular. Throughout World War II, they closed down the factory in Springfield, Ohio, but they started production again in 1946. This time, however, the factory moved from Springfield, Ohio, to Greenville, Ohio, where they hoped to increase their capacity.
Over the years, the company slowly began to manufacture other products like dishwashers, cooking ranges, and refrigerators.
In 1985, Whirlpool Corporation acquired KitchenAid for $170 million or possibly more because they never disclosed the actual price. This influenced its manufacturing operations. Luckily, Whirlpool is an American-owned and American-made company, and they continue to make many of the KitchenAid products in the United States to this day.
Up until now, the KitchenAid mixers are made in Greenville, Ohio, and have been produced there for over 75 years. This shows you KitchenAid's longest-standing factory.
Little has changed about its manufacturing processes after Whirlpool acquired them. However, we've seen KitchenAid acting as more of a subsidiary under a larger brand name. Some of its products are being made at Whirlpool factories within the United States.
Additional American Made Appliance Brands
KitchenAid and many of the Whirlpool appliances have a United States origin, but you do have other great American brands that you might consider. Some examples of those brands include GE, Frigidaire, Electrolux, Viking, Waring, and Sub-Zero.
You also have many great American subsidiaries under the Whirlpool name like:
Maytag
Amana
Vitamix
Jenn-Air
We will continue to sing praises of the Whirlpool brand because they do such a great job at staying American-made. They may not make everything in the USA, but they largely produce their products there.
Wrap Up
We applaud this subsidiary and its parent company because up until the present, we have seen them willing to invest in manufacturing for the USA. As recently as May 2021, they were expanding their manufacturing facilities on American soil. One of the things that we find important is that not only is the manufacturing in the United States, but they continue to expand their manufacturing imprint there. That shows you one of the reasons that we like this brand.
You can also see how KitchenAid's parent company celebrates its American plant force here. This shows you a company that not only produces in the United States, but treats it with respect and celebration. Some of the other brands may make their products in the USA, but you often feel like they treat it as more of a costly burden to be borne than a true advantage. We like the companies that get excited about American manufacturing.
On the whole, we would say that KitchenAid appliances were largely made in America. They manufacture in nine states and belong to a parent company that has shown a willingness to keep manufacturing jobs here. You do have a few appliances made outside of the USA, but we wouldn't nitpick them for this because staying made in America can prove difficult, especially with certain products in the appliances sector, and many other brands don't do as well of a job employing American talent as KitchenAid.
If you're outfitting a new kitchen like I recently have, and you're really trying to support American companies, then check out our guide on American made cookware or our guide on American-made frying pans! If you have any further questions about where KitchenAid appliances are made, let us know in the comments below.
Hi, my name is Kevin and I'm from Pittsburgh, Pennsylvania. Choosing products made in America is important to me because it supports local economies, creates jobs, helps the environment, and ensures ethical labor practices. I also find that American made products are usually of higher quality so although they're a little more expensive, you save money in the long run. Before starting this website I was in the USMC infantry and nowadays I work on this website as a hobby.