Established in 1893 in Newton, Iowa, they were originally called the Maytag Washing Machine Company. Being in the industry for over a century, Maytag's reputation for stellar customer service, well-built machines, and outstanding warranties has set this brand apart as a major appliance brand in the industry. With that in mind, you may wonder where they make the brand and who your money goes to support.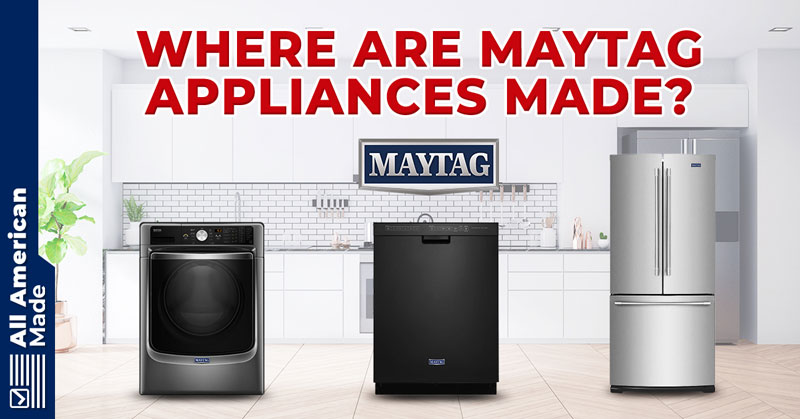 If you'd like to learn more about where Maytag appliances are made, keep reading because we will provide you with the necessary information to decide if you want to support the brand.
Over 80 percent of Maytag appliances are made in the USA. Their high-end refrigerators are made in Amana, Iowa, and the clothes washers are made in Clyde, Ohio. Its chest and upright freezers are manufactured in Ottawa, Ohio.
The American-made appliances from Maytag are listed as "Designed, engineered and assembled in the USA."
More About Maytag's Roots in America?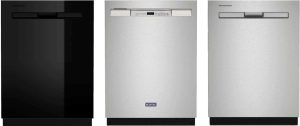 Maytag's parent company has chosen to largely remain an American-made company, and because of that, Maytag remains made in the USA as well. We have seen some of the work go elsewhere, but over 80 percent of Whirlpool products come from the United States.
The company didn't go global until 1987 when it tried to diversify its brand into a global market because the North American home appliance market was highly competitive.
This choice sent the Whirlpool brand to the top, which eventually helped it to acquire Maytag.
Is Maytag Made By Whirlpool?
In 2006, Maytag was acquired for $1.6 billion at the time. Who owns Maytag, then? One of their biggest competitors is Whirlpool Corporation. This acquisition became a highly successful one where both became more successful afterward, but the transition for Maytag was rough in the beginning.
We mention this because, as a subsidiary of Whirlpool, understanding the parent company can help you to better understand the subsidiary. Like Maytag, Whirlpool has a large presence in the United States, and Whirlpool employs an estimated 10 percent of its employees in the USA.
After the acquisition took place, Maytag no longer kept manufacturing facilities of its own. Before that, the brand kept 12 manufacturing facilities within the USA and two in Mexico. Today, Maytag makes all of its products through Whirlpool factories. For example, its Bravos and Maxima series of washers and dryers are made in Clyde, Ohio.
If you were questioning what the acquisition did to the manufacturing of dishwashers and what to know where Maytag dishwashers are made, Maytag now manufactures some of its dishwashers at the Whirlpool manufacturing plant in Findlay, Ohio.
What we saw after the acquisition was that many of the Maytag facilities were shut down altogether. In one case, Whirlpool closed a Maytag manufacturing facility in Tennessee that had over 3,000 employees. Whether they took this course of action path as part of a business plan to better fit with their new parent company or not can be debated either way because the two brands were tight competitors in the same market.
We can be grateful that Whirlpool Corporation acquired them because this article will show you how China tried to acquire them.
Is Maytag or Whirlpool Better?
The line between the two has gradually diminished. The definition of better, in this case, depends on the home appliance that meets your needs best. For example, Maytag washing machines tend to offer better value overall. However, we would like to give you a better way to distinguish them. Maytag tends to be more the higher-end products, which cost more, but they have a richer selection of features and feel like better quality.
On the other hand, Whirlpool home appliances will usually cost less than Maytag, and that makes them more popular with those on a budget. We wouldn't call either better, but we would say that one of them might be more appropriate for your economic situation.
How Many Americans Are Employed by Maytag in the USA?
In total, Whirlpool employs over 16,000 of its workers in USA manufacturing plants. Now, pay attention because this is where we will diverge that number into Maytag. At the manufacturing facilities where Maytag makes its appliances, Maytag gives jobs to an estimated 8,400 employees.
At some of these facilities, they don't make Maytag appliances by themselves, but they combine them with some of the other brands under the Whirlpool umbrella. For example, in Clyde, Ohio, the brand manufactures Amana, Whirlpool, and Maytag clothes washers. In Amana, Iowa, they manufacture Maytag, Whirlpool, JennAir, Amana, and KitchenAid.
When we say, "Made in the USA," we would like to point out that it often means, "Assembled in the USA." We believe this may be the case with Maytag since Lowe's website lists its Maytag appliances as "Designed, engineered and assembled in the USA."
When they say "assembled in the USA," this label means that they made the product with foreign components. Still, the principal assembly takes place in the United States. We do believe they are a brand worth supporting, and they definitely do make some of the best American-made appliances out there.
Selling the Maytag Factory in Amana
Whirlpool Corporation announced that they would sell their Amana manufacturing plant for $92.7 million. Luckily, this deal won't cause unemployment for the locals because of how Whirlpool will sign an agreement where they can lease the plant over the long term.
We saw this same action happen previously in Benton Harbor, Michigan, where Whirlpool leased another one of its facilities and signed a sale-leaseback agreement.
Why does Maytag's parent company do this? A sale-leaseback agreement lets the company free up capital without losing control over its facilities. Especially during the current world events and logistics constraints, we have seen many companies increasingly taking this action.
The action creates liquidity and financial growth. At the same time, they strengthen their capital reserves to use the extra cash to grow as a company.
American Made Maytag Appliances
If you wanted to buy an American-made appliance from Maytag, we would highly recommend its refrigerators. All the domestic Maytag refrigerators sold in the United States come from an American manufacturing facility.
Most of the Maytag refrigerators come from Ohio, but you do have the high-end French door selection that they make in Amana, Iowa.
Along with its refrigerators, Maytag makes most of its American-made dishwashers in Findlay, Ohio. You do need to watch to some extent, but they continue to produce most of them in the USA.
If you were wondering about where Maytag washers are made and want an American-made front-loading washer, we would recommend the Maytag Maxima washers. They produce all these washers in Clyde, Ohio.
Check out this video on how to install a Maytag dishwasher!
Is Maytag Made in China?
Hefei Royalstar Maytag Appliance Sales Co Ltd has its headquarters in Hefei, China, and they make the Maytag brand there. However, they make less in China than you might think, and Whirlpool only has two manufacturing plants in China. Maytag's parent company has a good spread for manufacturing in countries, and in fact, an estimated 27 percent of its manufacturing happens within the United States.
We don't know if they manufacture in China to serve the local market or to export to the USA. We think it might be a combination of the two. Still, in comparison to other companies, Maytag doesn't make a lot of its home appliances in China.
The company had a manufacturing facility in Shanghai, China, that they even closed down. Maytag's parent company only has two manufacturing plants in China.
Is Maytag Made in Mexico?
Maytag had a manufacturing facility in Reynosa, Mexico, but they closed it in 2008. Mexico's production includes four major brands from Whirlpool Corporation, including Maytag, KitchenAid, Acros, and Whirlpool.
They make washers, dryers, and components at their facility in Apodaca, Nuevo Leon. In Celaya, Guanajuato, they produce compact refrigerators, one stove, and semi-automatic dishwashers. The one in Celaya likely replaced the factory in Reynosa, Mexico. Finally, you have the plant in Ramos Arizpe, Coahuila, which produces duplex refrigerators.
Here's our analysis of this situation. At the least, some of the parts made in Apodaca, Nuevo Leon, likely make their way to the USA since Apodaca sits roughly two-and-a-half hours from Mcallen, Texas, and roughly two-and-a-half hours from Laredo, Texas. We believe this was a strategic choice by Whirlpool Corporation to get cheaper components to the American market.
The factory in Ramos Arizpe, Coahuila, in contrast, sits three-and-a-half hours from the U.S. border. We don't believe many of the products in Celaya go to the USA because of the greater distance.
Why didn't Maytag choose to build a factory right on the border with the USA where they could deliver products even faster? In fact, they had a factory on the border with the United States in Reynosa.
The choice to make products farther south of the border may have to do with less violence. Border towns suffer some of the worst violence in Mexico, and the local restaurant association believes the extortion rate to be at 60 to 70 percent. The factories appear to be largely untouched based on information from this article, but we don't believe that they remain completely unharmed.
At the same time, producing farther south allows the company to serve the domestic market in Mexico better as well.
Should You Buy the Maytag Brand?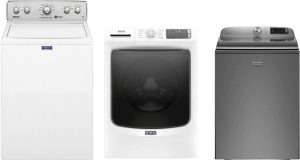 Maytag's parent company remains committed to manufacturing largely in the United States. For that reason, we see this not only as a great brand, but they remain a great American-made brand. They continue to invest cash in USA manufacturing, and as recently as May 27, 2021, they invested $15 million in the Tulsa, Oklahoma, manufacturing facility.
Whirlpool Corporation employs an estimated 21,000 workers in the United States, which shows their level of commitment. They wouldn't have to produce in the USA, but they continue to largely make their home appliances here, and for that reason, Maytag deserves your support.
Contrast this with LG and Samsung, two other giant home appliance brands, LG produces most of its products in South Korea, and Samsung is largely made in China and South Korea. Maytag does make some of its products from elsewhere, but it largely remains American-made.
How to Tell if Your Maytag was Foreign Made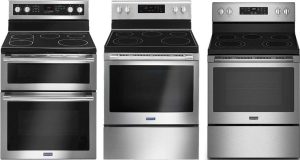 Pay special attention to the lower-priced home appliances since, more often than not, will be outsourced elsewhere. If it seems like a low price, check to see where they made it. You can also look for the label to see where they made your Maytag appliance.
The FTC guards the consumer market against misleading information that would say, "Made in the USA" when they make it elsewhere.
Some of the most common places where you can find the origin of the product include:
Imprinted near the barcode
On the price tag
Engraved on the price tag
On the whole, we would say that you don't need to worry about Maytag, but it may still make sense to check before buying.
What Appliances Are Made in the USA
We would like to point out other great American-made home appliance companies so that you have several options. Some of the other American-made home appliance companies include:
Sub-Zero (Madison, Wisconsin)
GE (Louisville, Kentucky)
Viking (Greenwood, Mississippi)
Wolf (Fitchburg, Wisconsin)
Dacor (City of Industry, California)
When you look at the best home appliance brands, Whirlpool Corporation stands out as the best, however, and they're American-made, which makes it even better. You can't go wrong with any of these brands because of how they make most or all of their appliances in the USA.
All of the appliance subsidiaries under Whirlpool Corporation make their appliances within the United States. With whatever appliance that you buy, we would advise that you research its origin ahead of time to make sure.
Conclusion:
Maytag home appliances continue to be made in the USA, which makes them worthy of your support. Today, you will find the Maytag brand being manufactured at Whirlpool facilities. Whirlpool manufactures Maytag, Amana, KitchenAid, and many other brands at its own facilities. You can learn more about companies owned by Whirlpool here. On a global level, Maytag's parent company remains well spread globally in manufacturing without seeming to favor a single country besides the United States.
Hi, my name is Kevin and I'm from Pittsburgh, Pennsylvania. Choosing products made in America is important to me because it supports local economies, creates jobs, helps the environment, and ensures ethical labor practices. I also find that American made products are usually of higher quality so although they're a little more expensive, you save money in the long run. Before starting this website I was in the USMC infantry and nowadays I work on this website as a hobby.