Your patio is a haven of fresh air and peace at home. You'll likely spend a lot of time there, so it deserves great American made patio furniture that will last a long time and look great!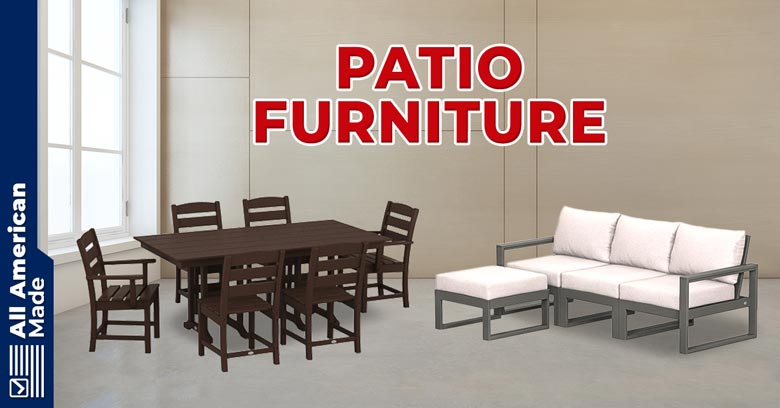 When it comes to patio furniture, we thankfully have a ton of great options to choose from. There are many kinds of patio furniture and a ton of styles to choose from, so we've been sure to include a wide selection of products at different price points. Simply scroll through this list of patio furniture made in the USA and pick out the perfect pieces or set for you!
List of Patio Furniture Made in the USA
Polywood (Most Popular)

| | |
| --- | --- |
| Origin | Syracuse, Indiana, USA |
| Year Founded | 1990 |
| Types of Furniture | Chaise Lounges, Benches, Porch Swings, Chairs, Dining Sets, Accent Table |
| Materials Used | High-Density Polyethylene Plastic (HDPE) |
Polywood's Origin and Manufacturing Locations
Polywood is one of the most popular companies in the world of outdoor furniture. What began in a garage in Syracuse, Indiana, is now one of America's leading brands offering every kind of patio furniture there is!
It's no surprise their commitment to American manufacturing has won them a loyal following. But that's not the only reason so many love this brand. Polywood's furniture is the stuff of dreams for eco-friendly individuals as well.
The HDPE they use is in large parts made from upcycled milk jugs that were otherwise destined to end up in landfills or oceans. In addition to a plant in Syracuse, Polywood has recently opened a new factory in North Carolina, which has made the brand confident of reaching its goal of creating 1450 jobs within the next year.
Polywood's Furniture Selection and Offerings
Polywood's patio furniture is an impressive blend of durability, affordability, functionality, and color! That's right! Their best-selling Adirondack chair's sixteen unique designs and color options will leave you spoilt for choice.
With a catalog teeming with porch swings, benches, accent tables, dining furniture, deep seating sets, rocking chairs, and a coffee table, Polywood is a one-stop destination for all your patio needs.
The top-grade HDPE made with milk jugs can withstand the harshest of weathers without cracking, chipping, rusting, or splintering. To make you even more confident in your purchase, the brand offers a 20-year warranty on every product they sell.
Highwood (Great Wood-Like Poly Furniture)

| | |
| --- | --- |
| Origin | Pennsylvania, USA |
| Year Founded | 2003 |
| Types of Furniture | Tables, Chairs, Swings, Dining Sets, Bar Sets, and Ottomans |
| Materials Used | Proprietary Marine Grade Polymer |
Highwood's Origin and Manufacturing Locations
On a trip to the UK, Jim Morton and John Quarmley came across a unique synthetic material that looked so much like wood that it could trick even the most discerning eye! Awestruck, they decided to bring it back to the US. In 2003, the duo began selling this innovative wood alternative to other furniture brands in the US but soon took to manufacturing themselves.
Today, their brand, Highwood, boasts a cool array of wood-like outdoor patio furniture from an ultra-modern, solar-powered facility in Morton and Quarmley's hometown in Pennsylvania, USA.
Highwood's Furniture Selection and Offerings
Whether it's sunny, rainy, snowy, or stormy, these reliable furniture pieces will rough it out in any weather, perfectly intact. The special marine-grade polymer combines the aesthetics of wood with the durability and weather resistance of high-density poly. There are, of course, many other brands that make furniture from HDPE, but the one that Highwood uses is a class apart. It has no rough edges, doesn't crease, or has a commonplace waxy texture.
Full-blown dining sets, patio swings, bar furniture, chairs, tables, and conversation sets- if there's any piece you need for your patio, you'll find it in Highwood's vault.
One of their top-seller is the Hamilton Reclining Adirondack Chair. It's charming like a solid wooden chair but outlasts it in durability. You won't have to worry about chipping, cracking, fading, or flaking with this one. Just sit back, relax, and enjoy the weather!
Suncoast Furniture (Comfortable and Ergonomic)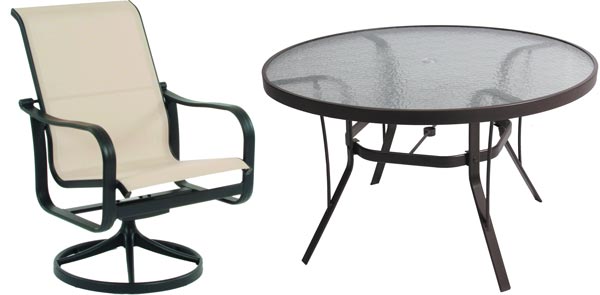 | | |
| --- | --- |
| Year Founded | 1982 |
| Types of Furniture | Chairs, Recliners, Barstools, Benches, Chaise Lounges, Gliders, Tables, Sofas, Sectionals, Swivel Chairs |
| Materials Used | Aluminum, Stainless-Steel, Cushion, Upholstery |
| Origin | Fort Myers, Florida, USA |
Suncoast Furniture's Origin and Manufacturing Locations
Looking for a catalog full of comfortable, long-lasting pieces to outfit your patio? Then head straight to Suncoast Furniture. Founded by Paul and Raj Varshney in 1982 with just a 1500 square foot rented facility, one part-time employee, and a few products, Suncoast has grown into a prominent name for the USA-made outdoor furnishings.
Today, the brand has more than 139,000 sq feet of manufacturing facilities, several offices, and a world-class finishing line. Led by the Varshneys, Suncoast employs over 100 talented craftsmen and office staff who pour their hearts and souls into making the finest quality patio furniture with a strong emphasis on comfort, durability, and user-friendly design.
Suncoast Furniture's Furniture Selection and Offerings
One of the first things I noticed about this furniture is the superior finish, which is no surprise considering the brand owns a state-of-the-art finishing line. Each frame goes through a proprietary Plantinum Bond process with thick, dual coats of polyester powder, giving it rust, peel, and chip-free quality, no matter the weather.
For materials, Suncoast relies on an aluminum swivel mechanism, fiberglass springs, and stainless-steel hardware, all bringing tons of durability to your outdoor space. Whether you opt for the cast, cushion, sling, basketweave, wicker, or strap spacing seating, each piece packs solid ergonomics for lumbar and shoulder support.
And once you've chosen something from their vault, you can personalize it in various colors, fabrics, and frames for a seamless aesthetic flow from your indoor space to your patio.
Lloyd Flanders (Great Wicker Furniture)

| | |
| --- | --- |
| Origin | Menominee, Michigan, USA |
| Year Founded | 1906 |
| Types of Furniture | Chat Tables, Bar Tables, Console Tables, Dining Tables, Benches, Rockers, Chairs, Sofas, Chaises, Sectionals, Swivel Chairs |
| Materials Used | Wicker, Woven Vinyl, Teak, Stainless Steel, Fabrics, Cushions |
Lloyd Flanders' Origin and Manufacturing Locations
One of the oldest brands on our list, Lloyd Flanders, has been around for a century, transforming outdoor spaces in America with its premium woven furniture. You can sample the heirloom quality of their furniture in many historical places across the US, including The Waldorf Astoria, the iconic carriages of Mackinac Island, and The Breakers Palm Beach, to name a few. Lloyd Flanders' pieces have also graced several movies and TV shows, including Tom Hanks' award-winning The Green Mile.
Lloyd Flanders' Furniture Selection and Offerings
When a brand has over a century of experience crafting the finest quality woven patio pieces, you know your money will be well spent on their products. The same holds true for Lloyd Flanders. For the last 116 years, this Michigan-based brand has mastered the art of creating breathtaking outdoor pieces from wicker, woven vinyl, teak, and stainless steel.
The brand's signature Lloyd Loom is high-performance natural-fiber wicker coated with polyester-resin Durium to make it even more long-lasting. For their vinyl collection, Lloyd uses only 100% virgin vinyl boosted with UV inhibitors to slow down fading.
While woven patio pieces are what the brand's widely recognized for, I couldn't take my eyes off their wood collection, made from FSC-certified, sustainably sourced Brazilian teak. This specie is strong, rich in oil content, and has a tight grain, ideal for outdoor use.
Whatever collection you choose from, all are available in a generous selection of textures, woven patterns, colors, styles, and fabrics to bring the patio of your dreams to life. Overall, we think Lloyd Flanders definitely makes some of the nicest-looking patio furniture made in the USA.
Related Article: List of American Made Furniture Brands (All Types)
Nags Head Hammocks (Great All-Weather Furniture)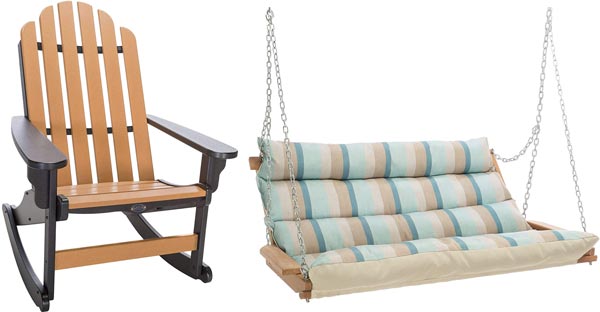 | | |
| --- | --- |
| Origin | Outer Banks, Nort Carolina, USA |
| Year Founded | 1974 |
| Types of Furniture | Swings, Stands, Rope Furniture, Durawood Furniture, Cumaru Furniture |
| Materials Used | DuraCord Rope, White Oak, Durawood, Galvanized Steel Hardware |
Nags Head Hammocks Origin and Manufacturing Locations
Nags Head Hammocks' heavy-duty selection of other patio furniture can withstand any weather, no matter how rough! And being based out of Outer Banks, they know just how unpredictable the weather fairy can get at times!
The brand has "Hammock" in the name, but they manufacture a lot more than just that. They did start out devoted to handcrafting everything hammock, including hammock swings and hammock-style chairs. Motivated by people's love for their high-end hand-weaved products, the brand expanded its range to solid, all-weather Durawood patio furniture.
Everything Nags Head Hammocks' sells, from drawing board to completion, is designed and made with love in coastal North Carolina, the same way as when it was first founded.
Nags Head Hammocks Furniture Selection and Offerings
For every product in their catalog, Nags Head Hammocks' uses only the best of materials and wood species, no skimping there! When combined with the expert craftsmanship of their skilled woodworkers and weavers, what you get are safe, robust, and versatile pieces of furniture to outfit your patio. The DuraCord rope works brilliantly for their Durawood Rope Furniture. It's soft yet tough as nails and doesn't bleed color, making it ideal for the outdoors.
Now let's talk about their incredibly outdoor-friendly, fuss-free, and storm-proof Durawood furniture range. This popular collection offers everything you'll need to furnish your patio, including Adirondacks, tables, seating combos, dining sets, bar sets, and much more.
This Durawood material, while resembling real wood in looks, beats it in longevity. It's easy to clean and doesn't chip, splinter, rot, or fade. And being made from eco-friendly, non-toxic recycled plastic, it's not just great for your patio but also for the planet.
Gazebo Joe's Furniture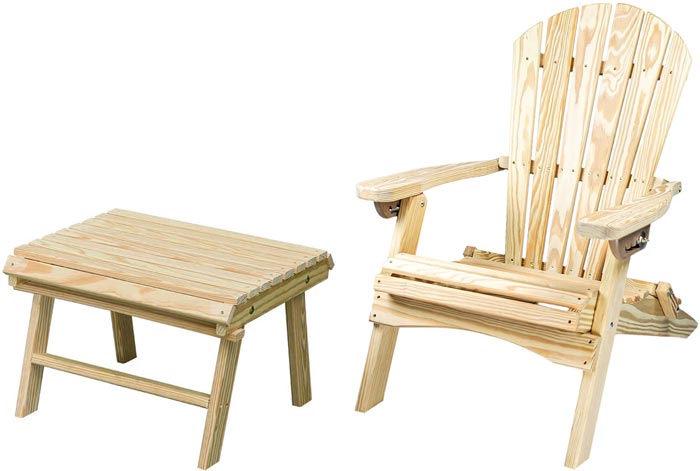 | | |
| --- | --- |
| Origin | Smithfield, Rhode Island, USA |
| Year Founded | 1984 |
| Types of Furniture | Adirondack Chairs, Dining Sets |
| Materials Used | Wood, Poly |
Gazebo Joe's Origin and Manufacturing Locations
Unlike some other brands on this list, Gazebo Joe's didn't start from a basement, garage, or small woodworking shop but – surprisingly – a quaint dairy farm. The Joe from Gazebo Joe's is none other than the founder Joe DeCotis whose time at a dairy farm involved repairing shed doors and fixing the barn and livestock gates.
Whenever DeCotis would have some time in hand, he'd use it to tinker with materials in the barn and use them to craft chairs. His talent for well-made chairs won him raving reviews and appreciation from customers, prompting DeCotis to set up a furniture brand devoted entirely to outdoor products.
Since 1984 all Gazebo Joe's furniture pieces have been made entirely in the USA, with love and pride.
Gazebo Joe's Furniture Selection and Offerings
As the name suggests, this brand's best known for its robustly constructed outdoor structures like Gazebos and Pergolas, but its patio seating selection isn't far behind. It was, after all, Joe DeCotis' iconic barn chairs that first caught the crowd's attention. Gazebo Joe's super comfy Adirondack collection has chairs handcrafted from wood and recycled poly material available in grown-ups, kids, and senior-friendly layouts.
The wooden ones are mainly crafted from sustainably sourced, kiln-dried Southern Yellow Pine with a smooth finish. They're not only true to the classic Adirondack design but also recline in multiple positions to give you oodles of support and comfort even during long hours of sitting.
The Poly Adirondacks are similar in design to the wooden ones and available in both folding as well as non-folding option. These are ultra-low maintenance, weather-proof, and can be yours in any pick out of their array of vibrant colors.
Suncast Furniture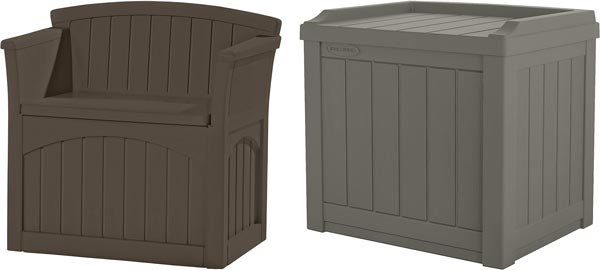 | | |
| --- | --- |
| Origin | Batavia, Illinois, USA |
| Year Founded | 1984 |
| Types of Furniture | Tables, Chairs, Love Seats, Storage |
| Materials Used | High-Quality Resin |
Suncast Furniture's Origin and Manufacturing Locations
Buying high-quality outdoor furniture can be an expensive affair. Lucky for us, there are brands like Suncast that offer affordability and utility without compromising on quality. From supporting the local economy as one of the largest employers in the Western Chicago region to producing sustainably, Suncast has made its mission to impact the community and the environment positively. Besides manufacturing responsibly, even the materials it uses are sourced from the USA, which sweetens the deal all the more!
Suncast Furniture's Furniture Selection and Offerings
Suncast is popular across e-commerce sites for a good reason. Getting to know about its track record in running solar-powered manufacturing plants, consistently reducing greenhouse emissions, and becoming a zero-waste company with an efficient reuse and recycling process, makes us love this brand more and more.
The brand's focus on getting the most out of a single piece of furniture is pretty clear from its brilliant design principles. Every item in the furniture portfolio, including tables, chairs, loveseats, and benches, come with built-in storage space to stash away your belongings mildew-free.
My favorites from the brand's collection are the multi-purpose storage chairs. With their sturdy multi-wall resin bodies, these chairs mimic classic wicker or wood grain pattern to deliver a picture-perfect, space-efficient patio.
Telescope Casual (Widest Selection)

| | |
| --- | --- |
| Origin | Granville, New York, USA |
| Year Founded | 1903 |
| Types of Furniture | Chair, Sectional, Chaise, Stool, Table, Ottoman, Loveseat, Sofa |
| Materials Used | Powder Coated Aluminum, Marine Grade Polymer, Wicker |
Telescope Casual's Origin and Manufacturing Locations
Telescope Casual has set the bar high and has continued to do so for over a century with its portfolio of exceptional quality and visually striking patio products. This family-owned brand began as a manufacturer of cots and campstools way back in 1903 in New York. After a couple of decades, the family moved the operations to the scenic Granville to gain access to woodlands, railroads, and skilled artisans. The move firmly put Telescope Casual on the path to becoming a leading producer of patio furnishings.
Today, the company has close to one million sq feet of plant capacity, 300 talented employees, and a strong international presence to boot. Read on to find my take on why you should buy from this brand.
Telescope Casual's Furniture Selection and Offerings
From chairs and stools with telescoping legs to sleek, contemporary pieces, Telescope Casual's designs have evolved. You only have to imagine a style, and chances are you'll find it in one of their vast collections.
Their products are categorized into sling, deep seating, aluminum, rustic, strap, beach & pool pieces. Each category has several collections within it, varying in style and features. The aluminum sling Gardenella stackable chaise lounges, bar sets, and dining sets are loved for their clean, slender lines and timeless looks.
To make your outdoor space a little more artsy and attention-grabbing, you should scroll through their Belle Isle collection. These charming pieces come in colorful Marine Grade Polymer as well as powder-coated aluminum frames with plush cushions covered with patio-perfect Sunbrella fabric.
Floyd Home (Impressive Durability and Style)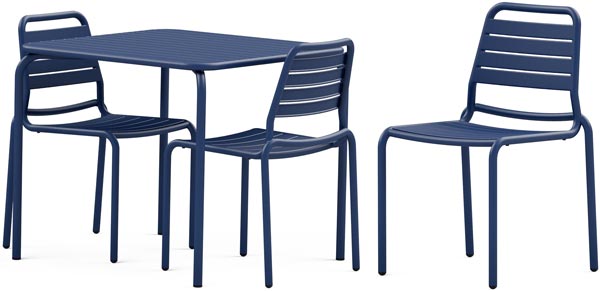 | | |
| --- | --- |
| Origin | Detroit, Michigan, USA |
| Year Founded | 2013 |
| Types of Furniture | Chairs, Tables, Benches, Ready-to-go Dining Sets |
| Materials Used | Powder Coated Aluminum |
Floyd Home's Origin and Manufacturing Locations
If you've read some of our other furniture guides, you'd know how obsessed we are with this brand! Floyd's design mantra of making sustainable, eco-friendly furniture that can adapt to your needs has quite frankly shaken up the furniture industry. And you only have to look at the phenomenal growth curve of this brand to see the impact they've made.
Floyd Home was started as a Kickstarter campaign by Kyle Hoff and Alex O'Dell with an aim to give people long-lasting, functional, and serviceable pieces they wouldn't want or feel the need to discard. Floyd's first product was a set of thick steel legs that allowed people to fashion their own tables out of any flat surface.
Besides its focus on sustainability, the brand also supports the American economy by keeping its manufacturing facilities here. Another great reason to buy from this brand!
Floyd Home's Furniture Selection and Offerings
Being a direct-to-consumer company, Floyd is able to keep its prices competitive and within reach of most. Besides their best-selling tables, sofas, storage solutions, and beds, Floyd also offers pieces for outdoor and patio use.
Top-grade, rust-resistant aluminum is the hero of their outdoor collection. It's lightweight, sturdy, and highly durable. Available in four lovely powder-coated matte shades, Floyd Outdoor Table is a multi-purpose piece that can add tons of functionality to your outdoor space. The slat top design looks good and prevents the table from pooling any rainwater. You can choose from two sizes and surround it with Floyd's eye-catching, all-weather patio chairs.
Their catalog also has outdoor benches, and ready-to-go dining sets complete with tables and chairs, perfect for enjoying a great meal under the sun!
Sister Bay Furniture Co (Most Earth-Friendly)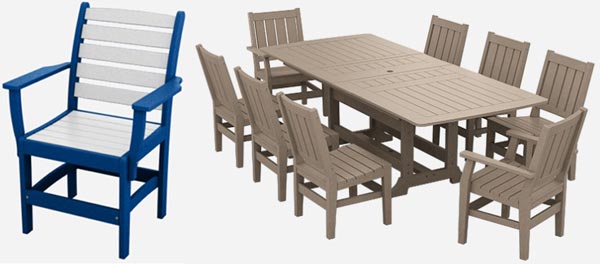 | | |
| --- | --- |
| Origin | Sussex, Wisconsin, USA |
| Year Founded | 1997 |
| Types of Furniture | Dining furniture, Bar Sets, Chaise Loungers, Deep Seating, Tables, Accents |
| Materials Used | Eco-friendly High-Density Polyethylene (HDPE), Stainless Steel Hardware, Aluminum |
Sister Bay Furniture's Origin and Manufacturing Locations
Not only is this brand's furniture a treat to the eyes, but it's also crafted from the finest grade recycled plastic lumber, making it a perfect pick for an eco-friendly patio. Sister Bay's named after a beautiful village tucked away in Door County in Wisconsin. The brand was founded with an aim to bring Sister Bay's relaxed vibe and resort-quality outdoor furniture to every home and patio. And they've been doing exactly that since 1997.
A thoughtful brand through and through, Sister Bay has prevented over 230 million milk jugs from piling on the landfills and waterways, and they're well on target to take this number up to one billion by 2030!
Sister Bay Furniture's Furniture Selection and Offerings
This brand's sixteen stunning collections, each with its unique selling point, can be found across homes and commercial spaces like hotels, restaurants, golf clubs, and offices.
Sister Bay's high-quality plastic is well-engineered with commercial-grade stainless-steel hardware and finished with UV-protective powder coating. In addition to scoring high on durability, these pieces also deliver all-day comfort with incredibly plush cushioning and upholstery.
With all its products made from nothing less than 95% recycled plastic, it won't be an exaggeration to call Sister Bay one of the most planet-friendly patio furniture brands. The credit goes to the innovative material, purest grade recycled lumber, that will save you the hassle of worrying about rusting, rotting, mildew, or fading. Nor would you ever need to bother about its upkeep or touching it up with coats of paint. Invest in it worry-free. You won't be disappointed with Sister Bay Co's excellent American-made patio furniture!
Breezesta (Great for Colorful Patio)

| | |
| --- | --- |
| Origin | Lancaster County, Pennsylvania, USA |
| Year Founded | 1999 |
| Types of Furniture | Chairs, Dining, Lounge, Fire Tables, Bar Furniture, Rockers, Swings, Benches |
| Materials Used | HDPE Poly Lumber |
Breezesta's Origin and Manufacturing Locations
It's heartening to see a growing number of brands that understand business and caring for the planet can go hand in hand. Breezesta is one of them.
Since 1999, Breezesta's philosophy has been pretty straightforward and revolves around creating sustainable, functional, all-weather patio pieces that'll last years and years.
Breezesta's Furniture Selection and Offerings
The dense and highly durable poly lumber that goes into building Breezesta's stylish furniture is made from recycled milk jugs and water bottles. By recycling this post-consumer plastic at its own plant, Breezesta regularly saves tons of waste from degrading slowly in landfills and oceans.
Breezesta's HDPE is more heavy-duty than that offered by most other brands. It looks uncannily woody without the wood's limitation in splintering, chipping, cracking, and rotting. It's made even stronger by using Sure-Lok joinery and mortise-and-tenon construction.
Whether you opt for their Chill Chat Chair, Coastal Adirondack, Palm Beach Sectional, Chill Sofa, or Fire & Ice Table, you'll be amazed at the array of styles and colors you can play around with. The brand offers twenty highly pigmented, eco-friendly shades across earthy and bold palettes- each color is made UV fade-resistant through innovative Sun Guard tech to give you outdoor furniture that's virtually maintenance-free.
Homecrest Outdoor Living (Affordable Luxury)
| | |
| --- | --- |
| Origin | Wadena, Minnesota, USA |
| Year Founded | 1953 |
| Types of Furniture | Fire Tables, Natural Top Tables, Recliners, Swivel Rocker, Balcony Chairs, Cirques, Gliders |
| Materials Used | Upholstery, Aluminum, Mesh, Steel |
Homecrest Outdoor Living's Origin and Manufacturing Locations
This brand's lineup of luxury patio furniture is accessibly priced and perfect for creating an outdoor space that inspires. Homecrest was started in 1953 with a single product, an ottoman but soon became famous for its selection of innovative and stylish furnishings, especially the swivel rocker, patented by the brand founder Mert Bottemiller.
Sometime in the late '90s, Americans' fascination with converting their backyards and porches into functional, intuitive spaces to dine and entertain peaked. Homecrest was one of the brands that rode this wave, expanding and prospering. As demand grew, so did competition Homecrest responded with sophisticated, trendy designs that tastefully blended indoors with outdoors.
Homecrest Outdoor Living's Furniture Selection and Offerings
This brand's choice of materials is all high-quality aluminum, steel, and cast frames to give you weather-resilient outdoor furniture that sticks around for ages. I was particularly thrilled about the endless options in frames, finishes, colors, and fabrics to customize the piece.
Never the one to shy from experimenting, Homecrest was also the first brand to use the popular Sunbrella fabric for their outdoor upholstery prompting others to follow suit.
Despite challenges and numerous competitor brands, Homecrest has always manufactured its furniture in Wadena, Minnesota, USA. From swivel balcony chairs, chaises, loveseats, and ottomans to fire tables and cirques, Homecrest's bustling catalog of 30 collections will have you browsing in awe!
Pawleys Island Hammocks (Great for Classic, No-Frills Pieces)

| | |
| --- | --- |
| Origin | Greenville, North Carolina; Pawleys Island, South Carolina, USA |
| Year Founded | 1889 |
| Types of Furniture | Adirondack Chairs, Rockers, Rope Furniture, Bar Sets, Dining Sets, Counter Height Furniture |
| Materials Used | Eco-friendly Durawood Poly Lumber, Stainless Steel Hardware, DuraCord |
Pawleys Island Hammocks Company Origin and Manufacturing Locations
Despite being 130 years old, this brand has stayed relevant by innovating and winning hearts with authentic American craftsmanship.
Pawleys Island's first product was a handcrafted cotton rope hammock built by a fatigued riverboat captain Joshua John Ward, simply for want of a good night's sleep. All this was way back and 1889, and since then, this brand has expanded its range of hammocks from classic rope to soft, durable DuraCord and added a whole new portfolio of Patio furniture.
Pawleys Island Hammocks Furniture Selection and Offerings
All their products, including the best-selling Essentials Adirondack Chair, are made entirely in the USA with time-tested techniques and high-quality materials. This popular Adirondack style chair is handcrafted using the famous Mortoise and Tenon Joints woodworking technique for enhanced durability. The ultra-dense Durawood body with rust-proof hardware is available in an impressive selection of solid and two-tone colors.
Pawleys' Patio furniture range of four Durawood collections may seem limited compared to some of the other brands on this list, but certainly worth checking out. Why do I say that? For starters, their gorgeous designs are inspired by Lowcountry outdoor spaces and are incredibly easy to maintain. Simply put, these pieces, while no-frills in design, are resilient enough to take on unpredictable coastal weather.
Related Article: What Desks Are Made in the USA?
Dutchcrafters (Great Wooden Furniture Collection)

| | |
| --- | --- |
| Origin | Amish country in Ohio, Pennsylvania, and Indiana, USA |
| Year Founded | 2003 |
| Types of Furniture | Lounge Furniture, Dining Sets, Bar Sets, Kids Furniture, Pet Furniture |
| Materials Used | Eco-friendly Poly; Cypress, Cedar, Hickory, and Pinewood |
Dutchcrafters' Origin and Manufacturing Locations
In a world chock full of mass-produced, imported furniture, authentic Amish-made pieces are a breath of fresh air. Exceptionally well built, with time-honored woodworking skills, these are some of the most long-lasting furniture pieces in a home.
In the past, Amish quality furniture was not easily accessible. Thankfully that has changed with brands like Dutchcrafters. Since 2003, this online retail company has made it easier than ever before for us to sample the famed Amish woodworking skills and buy furniture that can be passed down from one generation to another.
Dutchcrafters' Furniture Selection and Offerings
The Dutchcrafters' website, packed with furnishings for every room, is now the largest one-stop shop for Amish-made furniture. And that includes a vast selection of outdoor furniture for the pool, patio, and porch. Adirondacks, tables, gliders, settees, swings, barstools, kids' furniture, the catalog is virtually endless.
While wood is their obvious forte, Dutchcrafter's Amish woodworkers also make a great line of poly furniture. This lumber is made with eco-friendly plastic from milk jugs and detergent bottles. It's fuss-free to clean and requires practically no maintenance.
While I adore their earth-friendly, vibrantly colored poly furniture, Dutcrafters' is a haven for solid wood pieces. They're careful about the wood species they choose, relying on Cedar, Cypress, Hickory, and Pine, pest-repellant wood that can withstand elements. Even if you're leaning towards poly lumber, check out the wooden catalog; it's beautiful, strong, and wallet-friendly.
Wrapping Up
In our round-up of the very best names in the world of American-made patio furniture, we're sure there's a freestanding table, chair, or patio set that exactly matches your taste!
For people who want their outdoor furnishings to look like natural wood but with better durability, we've got brands like Polywood, Highwood, and Nags Head Hammocks. But those who want their outdoors to be an extension of their all-wood indoors, Dutchcrafters wood patio collection, and Lloyd Flander's teak and woven patio collection are worth checking out.
And if you still haven't made up your mind and are looking for a bit of inspiration, how about exploring Floyd Home's versatile collection or perhaps Telescope Casual's high-end pieces that look as if they came straight out of a designer's studio? Whatever brand you choose, we hope you get a picture-perfect patio!
Also, let us know if there are any great brands that we should add to our list! We are constantly trying to improve our guides, and we love community help.
Hi, my name is Kevin and I'm from Pittsburgh, Pennsylvania. Choosing products made in America is important to me because it supports local economies, creates jobs, helps the environment, and ensures ethical labor practices. I also find that American made products are usually of higher quality so although they're a little more expensive, you save money in the long run. Before starting this website I was in the USMC infantry and nowadays I work on this website as a hobby.