The bicycle is arguably one of the most impactful inventions in history. Countless Americans ride bikes on their daily commute, for exercise, in competitive sports, or simply for the fun of it. Modern bikes are designed for road use, gravel biking, and mountain biking, with some hybrid options being suitable for a mixture of the three.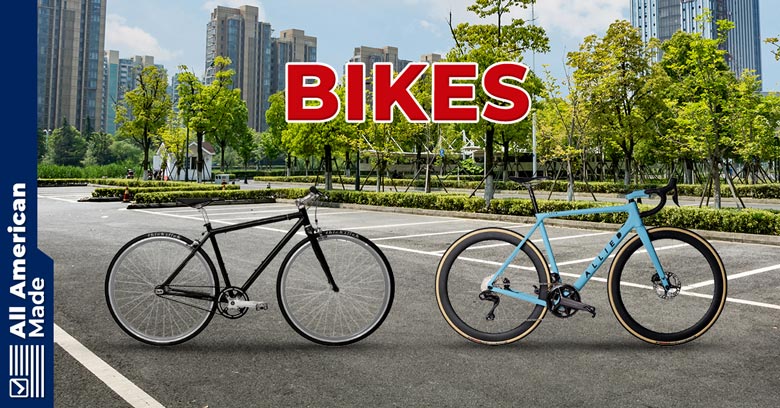 In recent decades, many USA bike companies have unfortunately outsourced their manufacturing overseas, particularly to Asia, to save on the cost of materials and labor. Nevertheless, a large number of exceptional American-made bicycles are still available.
In the rest of this article, we'll be sharing our bikes made in the USA. Whether you're looking for a mountain bike, road bike, electric bike, or gravel bike, there's something for everyone on this list. Keep in mind this list isn't necessarily in order of best to worst, as each bike shines in different areas and has different standout features.
List of Bikes Made in the USA
Allied Cycle Works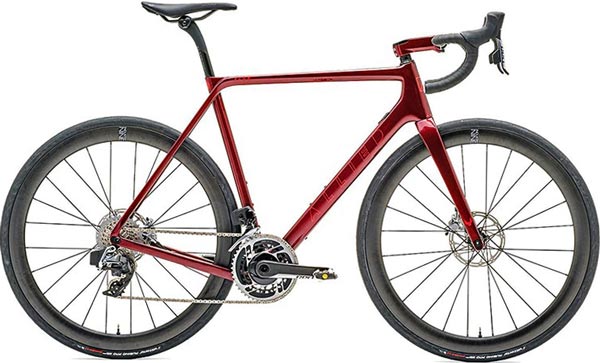 | | |
| --- | --- |
| Origin | Arkansas |
| Year Founded | 2016 |
| Types of Bikes Offered | Road Bikes, Gravel Bikes |
| Common Materials Used | Carbon Fiber |
Allied Cycle Works' Origin and Manufacturing Locations
Despite having a short history, Allied Cycle Works has quickly built a reputation as one of the best road and gravel bike manufacturers in the world. The story began in 2016 when founder Brendan Quirk and his associates were presented with a unique opportunity. Highly respected Canadian bike manufacturer Guru Cycles had recently ceased production, and therefore, all of its equipment and infrastructure became available.
The Allied team purchased the assets and transported all of Guru's infrastructure and tools to Arkansas. This allowed them to master their craft using high-quality equipment, and gradually they replaced it with tools that better suited their bike-making aspirations. In the years that followed, Allied moved away from metal bikes and began to focus mainly on producing road and gravel bikes made from carbon fiber.
On its quest to make the finest carbon fiber bikes in the USA, Allied has had to overcome many hurdles. Staying American-made when many of their competitors are using cheaper, foreign resources and workforces mean that Allied has to ensure their bikes outclass those produced by many rival manufacturers. However, keeping everything from their design process to the physical builds of their bikes in-house at their Arkansas headquarters allows them to control every aspect of the process – and this is evident in the excellent quality of their creations.
Allied Cycle Works' Bike Selection and Offerings
Allied Cycle Works produce three ranges of bikes – Echo, Able, and Alfa Disk. Although many Allied bikes are high-end, they also produce options for those who don't have a huge budget to spend. Regardless of the model, one thing that all Allied bikes have in common is that they are built for speed, control, and comfort.
The Echo series includes road bikes that also have gravel-riding capabilities. These bikes boast have maximum tire clearance of 40mm and have an innovative Echo Stem, which keeps the cables out of sight. They're ideal for someone who needs to ride on the roads during the week but also likes to hit the trails on the weekend.
The Able range is another brilliant offering from Allied Cycle Works. Compared to the aforementioned Echo series, these bikes are better suited to dirt and gravel tracks. However, they can also be used on the road due to their impressive lightweight design. The Red AXS is, in my opinion, the best choice from the Able series. It has a raised chainstay which improves the bike's responsiveness, and several other useful features.
If you're serious about road biking, the Alfa Disc range is a great choice. These exceptional bikes are designed to ensure that every ounce of effort you put into pedaling is turned into speed, with a focus on comfort and efficiency so that you can enjoy long bike rides without burning out.
In the video below, you'll find a detailed and helpful review of one of the most popular Allied bikes, the Echo. This review demonstrates the quality of Allied Cycle Work's designs.
Detroit Bikes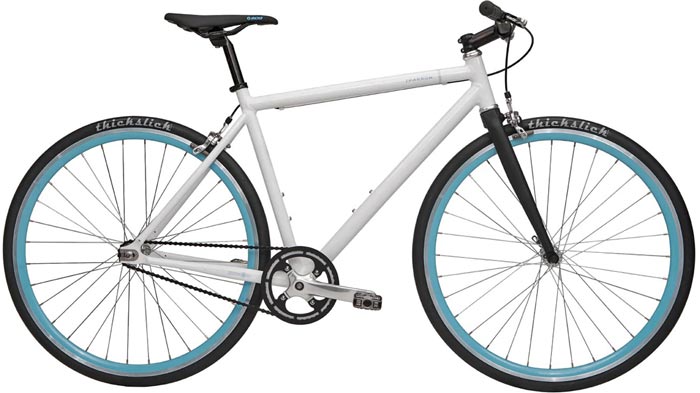 | | |
| --- | --- |
| Origin | Michigan |
| Year Founded | 2011 |
| Types of Bikes Offered | Road Bikes |
| Common Materials Used | Chromoly |
Detroit Bikes' Company Origin and Manufacturing Locations
In 2011, budding entrepreneur and cycling fanatic Zak Pashak noticed that the bike market was largely saturated with sub-par, foreign-made options. As a result, he made the ambitious decision to take matters into his own hands and attempt to create a practical, well-built bike that used high-quality components and was constructed in the USA. He relocated to Detroit, a city world-renowned for its industry and manufacturing, and opened his factory.
In the decade that followed, Detroit Bikes has enjoyed a lot of success. They are the sole bike manufacturer located in Detroit and now produce bikes on a huge scale. Despite the popularity of its bikes, the company has maintained its dedication to producing its bikes on American soil. With that being said, they do offer one series, named Sparrow, which is not completely made in the US, unlike every other bike the company produces.
To illustrate the impressive growth that Detroit Bikes has achieved since Mr. Pashak had his idea in 2011, they can produce up to 150 bikes every day at the 50,000 sq. ft factory, and they can also assemble up to 400 bikes per day, which is some achievement!
Detroit Bikes' Selection and Offerings
Detroit Bikes offer three USA-made road bike series. Each series is made from Chromoly, an alloy steel material with medium carbon content. Bikes are available in a range of color schemes and designs, and all of the frames come with a lifetime warranty.
The first American-made bicycle series offered by Detroit Bikes is the A-Type. Designed for the everyday commute, these robust road bikes come with a highly comfortable saddle, 8-speed derailleurs, and additional features like the aluminum rack or alloy kickstand. The B-Type series is essentially a more affordable version of the A-Type and includes previous models that are no longer in production.
The most impressive of Detroit Bikes' creations, in my opinion, is the Cortello range. Made in their Detroit factory, these bikes combine pace with comfort and are built for longevity. With hydraulic disc brakes, durable Schwable Road Cruiser tires, and a KMC chain, the Cortello bikes are ideal for paths, gravel tracks, and roads.
Here's a video that shows the Detroit Bikes Cortello in action and breaks down the quality of the components used to create it.
Moots Bicycles
| | |
| --- | --- |
| Origin | Colorado |
| Year Founded | 1981 |
| Types of Bikes Offered | Road Bikes, Gravel Bikes, Mountain Mikes |
| Common Materials Used | Titanium |
Moots' Company Origin and Manufacturing Locations
With over 40 years of experience in the industry, Moots Cycles is one of the best-known American bike manufacturers. Founded in 1981 by Mr. Kent Eriksen, the company initially specialized in mountain bikes, which were a relatively new phenomenon in the '80s.
1991 was a significant year for Moots when the manufacturer decided to focus equally on road bikes and mountain bikes which were made from titanium. This move increased their popularity amongst American cyclists and mountain bikers, with their lightweight, smooth-riding bikes winning many accolades.
Even after four decades in business, Moots has remained in the state of Colorado, where it was originally founded. The company's frames have always been hand-built in the US, which gives them a unique feel and quality that can't be replicated by other manufacturers. Founder Kent Eriksen would go on to be inducted into the Mountain Bike Hall of Fame for his work with Moots.
Moots' Bike Selection and Offerings
Moots make a variety of excellent road, gravel, and mountain bikes. If you're looking for a road bike that has the robustness to handle poor surfaces, the Vamoots range is arguable their best offering. These bikes have a slightly higher volume tire than your average road bike, making them better adept at handling roads that aren't in perfect condition.
The company's gravel bike range is equally as impressive. It contains three bikes – the Routt ESC, Routt 45, and Routt YBB, which is my personal favorite. Equipped with micro-suspension, this bike is perfect for gravel biking or venturing onto more challenging paths. It can accommodate a maximum tire size of 50mm and boasts smooth traction when riding uphill.
Finally, you'll find some of the finest American-made mountain bikes in Moots' selection. If you're looking for a powerful hardtail, the Womble is a great choice. Alternatively, the Forager is ideal for challenging winter rides, with its extra-thick tires and solid build.
To get an idea of the quality of Moots' bikes, you can watch this video. It focuses on the company's popular road bike, the Vamoots RSL, providing a detailed breakdown of its capabilities and features.
Parlee Cycles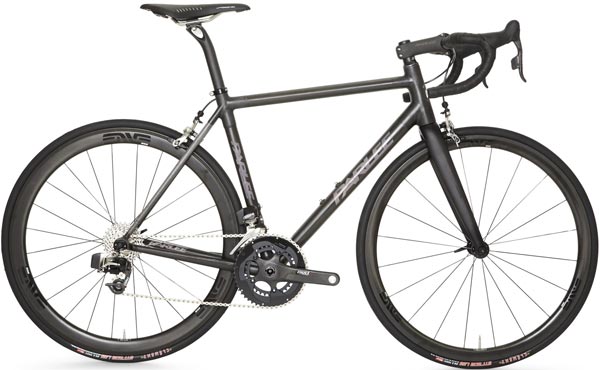 | | |
| --- | --- |
| Origin | Massachusetts |
| Year Founded | 2000 |
| Types of Bikes Offered | Road Bikes, Gravel Bikes |
| Common Materials Used | Carbon Fiber |
Parlee's Origin and Manufacturing Locations
Parlee Cycles was founded at the turn of the millennium by Bob Parlee. With many years of experience working with composite materials building boats for a living, Mr. Parlee saw potential in this method and wanted to translate it into the manufacturing of bikes.
In the early 2000s, the carbon fiber craze hadn't yet begun, and this now popular material was yet to be established in the bike industry. Parlee was amongst the first USA-made bike brands to use carbon fiber as the predominant material for its bike frames, and it didn't take long for the American cycling community to take notice of the company's exceptional designs. Since its formation, Parlee Cycles has made its bikes in Beverly, Massachusetts, and Bob Parlee remains the owner of the company.
Parlee's Bike Selection and Offerings
Parlee Cycles manufactures a selection of gravel bikes, performance road bikes with and without disc brakes, triathlon bikes, and custom builds. Road bikes, such as the Z1, Z2, and Z3 models, are stunning in terms of appearance and performance. Made from high-quality carbon fiber, these bikes are available in a variety of sizes to suit all needs.
If you're looking for a roadworthy gravel bike that can handle a variety of surfaces, the Chebacco XD series is worth considering. First introduced in 2015, this gravel bike range has extensive tire clearance and flat-mount disc breaks, and the frames are made exclusively from carbon fiber. The LE version is the premium model that Parlee Cycles produces and is for people who consider off-road cycling to be more than just a hobby.
It would be unfair not to mention Parlee's fantastic triathlon bike, the TTiR. Designed for maximum speed and control when racing, this bike is an incredible creation for athletes and competitors.
The video below provides an in-depth review of one of Parlee's most popular gravel bikes, the Chebacco XD. It discusses the quality of the carbon fiber frame, how easy the bike is to ride, and whether it is worth the cost.
Zinn Bicycles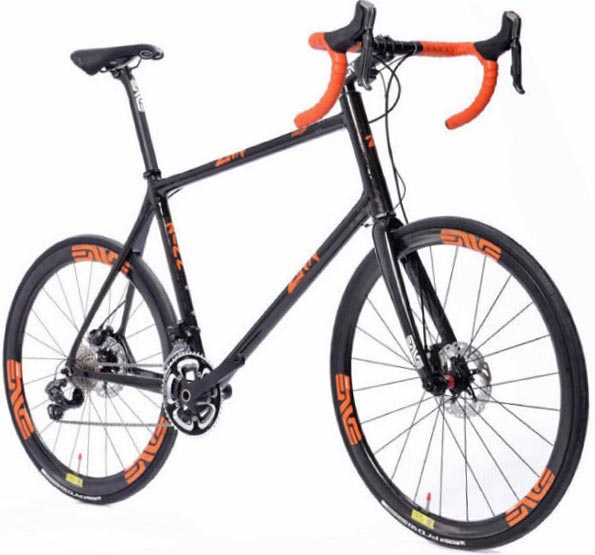 | | |
| --- | --- |
| Origin | Colorado |
| Year Founded | 1982 |
| Types of Bikes Offered | Custom Road Bikes |
| Common Materials Used | Titanium |
Zinn's Origin and Manufacturing Locations
Zinn Cycles has over 25 years of experience in the bike manufacturing world. Formed by renowned bicycle designer and author Leonard Zinn in 1982, the brand has retained its customer-first ethos in the decades that have followed its inception.
Lennard Zinn had the idea to design his bikes while he was still Studying at Colorado College in Colorado Springs. He applied to travel to Europe and be an understudy to an experienced bike maker, but unfortunately, wasn't accepted. This caused him to take matters into his own hands – he designed a lugged road frame for his wife in the physics shop at college and started to realize he could take his passion for bikes further. Thus, Zinn Cycles was born.
Zinn's Bike Selection and Offerings
Zinn Cycles mainly focuses on producing custom bikes for cyclists who know exactly what they want. This may be a specific size of bike, certain modifications to make it more comfortable for the rider, or some other form of customization that is desired. The Zinn team handcrafts all of its bikes at the Colorado workshop, where it has been based for decades.
In addition to custom designs, Zinn Cycles also produces several non-custom models. These include various mountain bikes, road bikes, and gravel bikes. Most of Zinn's non-custom bikes are designed specifically for taller riders who struggle to get a large enough bike from other manufacturers. The KHS series is an example of this and features some impressive mountain bikes with broad dimensions.
All of the bikes made by Zinn, whether they be custom designs or non-custom options, have titanium frames. They offer lightweight options, robust options, and hybrid bikes to suit all requirements. If you need a specific type or size of bike, Zinn Cycles is one of the most reputable American-made custom designers in the industry.
Mosaic Cycles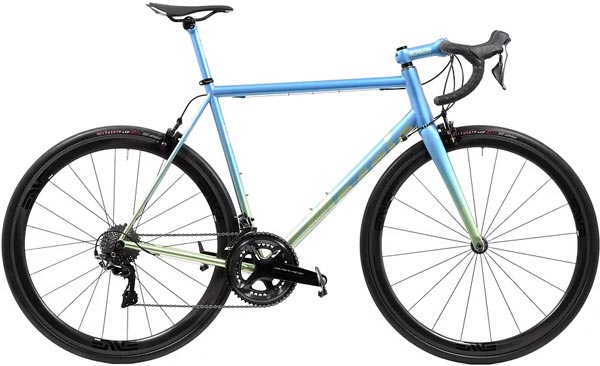 | | |
| --- | --- |
| Origin | Colorado |
| Year Founded | 2009 |
| Types of Bikes Offered | Road Bikes, Gravel Bikes |
| Common Materials Used | Titanium |
Mosaic's Origin and Manufacturing Locations
In 2009, Mosaic Cycles was founded by Aaron Bar, who already had a decent amount of experience building frames out of titanium. Despite his young age, Mr. Barcheck wasted no time in designing his first bikes under the Mosaic name. These early models caught the attention of cyclists and those in the cycling industry due to their impressive designs and build quality.
2016 marked a significant year for Mosaic, as they purchased the iconic powder coating store, Spectrum Pain and Powderworks. This gave the company's bikes a unique, distinguished appearance, with further expanding its fanbase amongst road and gravel cyclists.
Mosaic's Bike Selection and Offerings
Mosaic Cycles uses titanium and steel for all of its bike frames. The company also utilizes oversized butted tubing, which allows them to create frames that are on par with high-end carbon fiber in terms of durability.
The three most popular bike series' that Mosaic manufactures are the RT, GT, and XT. Firstly, the RT is a classic road bike made from thin gauge straight tubes, which makes it easy to maneuver without compromising on the solidity that titanium provides. These bikes have flat mount disc breaks, and all of the cables are routed internally through the frame.
The GT range, which includes the popular GT-1, is somewhat of a middle ground between a gravel bike and a conventional road bike. It can handle bumpy paths and rocky roads, but it performs best on a nice flat road surface. Then there's the unique XT-1, which was inspired by Colorado's Cyclocross tradition. Robust and comfortable, this bike is designed for efficiency, and its flat-mount disc breaks are suitable for any condition.
In this video, you can see the Mosaic GT-2 in action. This bike blends the qualities of gravel and road bikes effortlessly.
Holland Cycles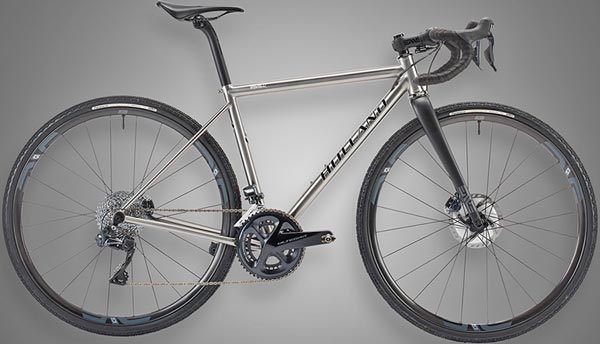 | | |
| --- | --- |
| Origin | California |
| Year Founded | 1986 |
| Types of Bikes Offered | Road Bikes |
| Common Materials Used | Titanium, Carbon Fiber |
Holland Cycles Origin and Manufacturing Locations
Originating in San Diego, California, in 1986, Holland Cycles is the brainchild of Bill Holland. After spending eight years running a successful cycling shop, he decided to experiment with building his own frames, and this led to local, then eventually State-wide success. By 1989, Holland had five frame builders workers and three painters on its team, which was impressive only three years after forming.
In the 1990s, Holland's team continued to expand as the company experienced widespread success producing road bikes for everyday Americans. Eventually, one of the company's workers, Jason Lilly, would leave and go on to invent the now incredibly popular Lilylube!
In 2004, Bill Holland began to use carbon fiber along with cutout titanium tubes to make Holland's frames even more lightweight. This constant search for innovation has continued throughout Holland's history, and in 2014 they upgraded from the original factory to a new 1800 sq. ft showroom in San Diego.
Holland Cycles Bike Selection and Offerings
Holland's bike range is split into three categories – the Carbon HC, Jet, and Titanium bicycles. All of these bikes are manufactured at the brand's factory in California, and they each offer something different for cyclists.
The Carbon HC's frame is hand constructed entirely from carbon fiber. It's a rapid road bike with the legendary build quality that Holland has delivered for so many years, and they customize the size, dimensions, and features to suit your preferences.
If you're interested in a travel bike that folds away and can easily be transported on planes, trains, or buses, the Holland Jet is one of the best options made on American soil. Finally, Holland also produces a stunning titanium-framed bike that is guaranteed to last for a long time. This bike is ideal for those who like to put the miles in on two wheels.
This video illustrates the process of creating Holland bicycles and the attention to detail that goes into it.
Co-Motion Cycles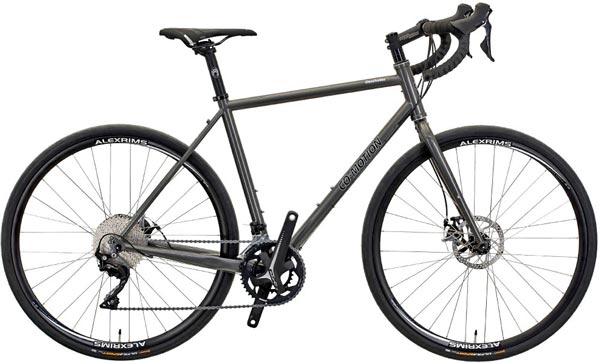 | | |
| --- | --- |
| Origin | Oregon |
| Year Founded | 1988 |
| Types of Bikes Offered | Road Bikes, Racing Bikes, Tandem Bikes |
| Common Materials Used | Steel, Aluminum |
Co-Motion Cycles Origin and Manufacturing Locations
Co-Motion Cycles has come a long way from its humble beginnings. In 1983, Dwan Shepard built his very first bike frame under the guidance of expert Gary Hale. This led to Hale giving an apprenticeship to Shepard, and four years later, he would take over his mentor's shop and equipment with his friend, Butch Boucher.
Co-Motion then breaks onto the scene when Boucher won the USA's first-ever tandem race on one of his company's bikes, and the story gets printed in Winning Bicycle Racing magazine. Throughout the 1990s, Co-Motion releases several successful bikes, including the Co-Pilot line. Eventually, the brand moved its manufacturing to a new 13,000-square-foot building in Oregon and has gone on to enjoy continued success ever since, both in the USA, where the bikes are made and across the world.
Co-Motion Cycles Bike Selection and Offerings
Co-Motion is equally well known for its tandem bikes as they are their conventional single bikes. They're undoubtedly the most accomplished USA-based tandem bike manufacturer, with models like the Macchiato and Supremo being highly popular.
If you don't require a tandem bike, Co-Motions racing bikes are well worth exploring. The Espresso is my personal favorite, with its steel tubing frame, internal wiring, and carbon fork.
The video below provides an overview of four Co-Motion touring bikes, exploring their main qualities in detail.
Litespeed Bicycles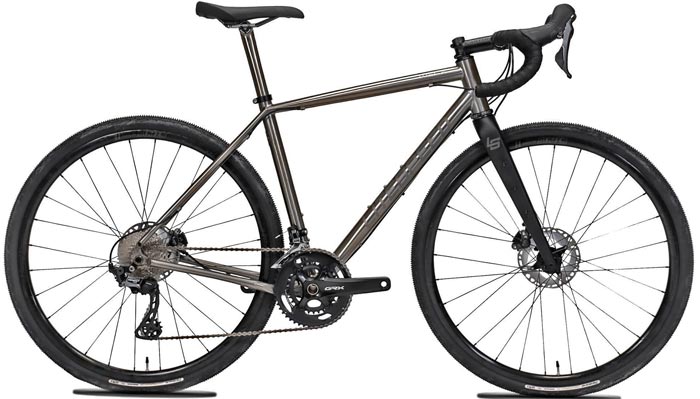 | | |
| --- | --- |
| Origin | Tennessee |
| Year Founded | 1986 |
| Types of Bikes Offered | Road Bikes, Racing Bikes, Mountain Bikes |
| Common Materials Used | Titanium, Carbon Fiber |
Litespeed's Origin and Manufacturing Locations
Litespeed is a highly regarded American bike manufacturer based in Ooltewah, Tennessee. Over three decades ago, Litespeed Bicycles made its reputation by responding to the demands of cyclists who were looking for a lightweight yet robust road bike.
An interesting fact about Litespeed is that they are so well respected in the industry that the company was asked to aid NASA in the development of titanium parts for the Mars Rover and Spacecraft. Litespeed's bikes have been popularized by riders at the Tour De France in 2002, the Olympics in 2008, and at many other professional events over the years.
Litespeed's Bike Selection and Offerings
First and foremost, we find it refreshing that a manufacturer as successful as Litespeed has continued to produce its bikes in the United States, resisting the temptation to follow in the footsteps of many other popular bike brands that have moved overseas. The Litespeed bike range is split into four categories; Titanium Road Bikes, Gravel Bikes, Mountain Bikes, and City Bikes. As the names suggest, each series is designed for different terrains, and all of the frames are constructed from titanium.
The Titanium Road Bikes are incredibly fast and responsive and suitable for competitive racers or everyday riders. The Chohala City bike is also noteworthy, as it is perfect for strolls through towns and cities. The standout gravel bike produced by Litespeed is the Watia, which boasts extensive tire clearance and exceptional versatility. Overall, Litespeed easily makes some of our favorite bikes made in the USA.
You can see this incredible bike in action in the video below.
Turner Bikes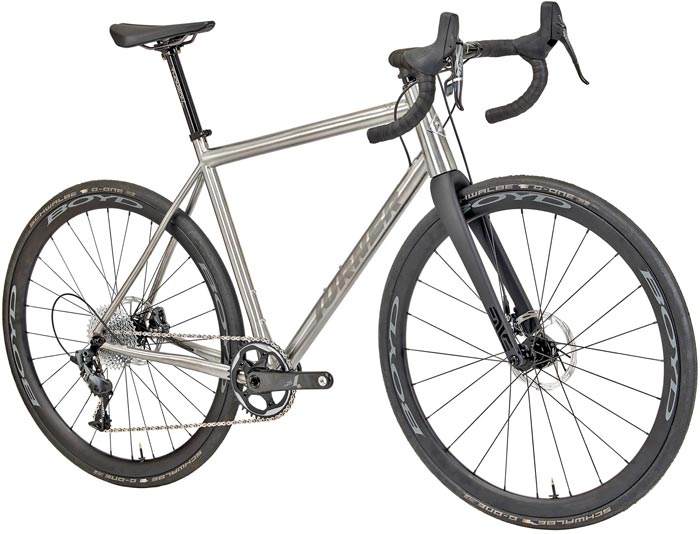 | | |
| --- | --- |
| Origin | California |
| Year Founded | 1993 |
| Types of Bikes Offered | Mountain Bikes, Gravel Bikes |
| Common Materials Used | Titanium |
Turner's Origin and Manufacturing Locations
In 1993, Turner Suspension Bicycles was formed by David Turner in California. A long-term bike enthusiast, Turner felt inspired to design and use his frames, and this led to the first release of 150 V-1 '95 Burners. After a short while, Burners had become so highly sought after that the original bike company that released the original Burner couldn't keep up with the demand, and therefore they had to move to a new manufacturing location in Arizona.
Turner's unique mountain bike frame has gone on to be released in many different variations, and the company has enjoyed long-standing success in the suspension bike industry. While the Burner may now be a thing of the past, Turner Bikes continue to be popular to this day.
Turner's Bike Selection and Offerings
Turner's ethos is "quality without compromise", and that is a statement the brand has stuck to over the years. With all of its bikes still made in California, Turner produces some of the finest American-made mountain bikes on the market.
Starting with the mountain bikes, Turner's Nitrous TI is as solid as they come but also surprisingly nimble. It encompasses all of the company's expertise from their days designing the now discontinued Burner and has a custom-shaped titanium tube set.
The Cyclos TI is a fantastic gravel bike, further illustrating David Turner's design skills. You can find a comprehensive review of this bike in the video below.
Alchemy Bicycles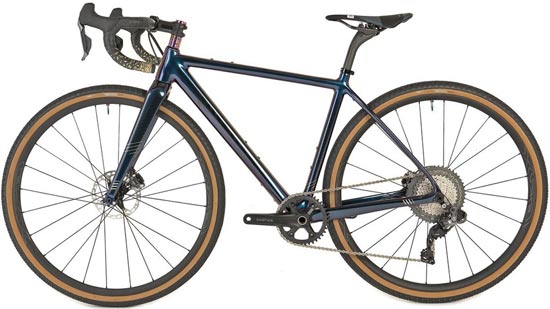 | | |
| --- | --- |
| Origin | Colorado |
| Year Founded | 2008 |
| Types of Bikes Offered | Mountain Bikes, Gravel Bikes, Road Bikes, eBikes |
| Common Materials Used | Stainless Steel, Titanium, Carbon Fiber |
Alchemy Bikes' Origin and Manufacturing Locations
Alchemy Bikes was founded in Colorado in 2008. The brand quickly grew into one of the most promising USA-based gravel, road, and mountain bike designers in the country. In a short time, Alchemy has built an impressive selection of bikes, with options to suit all requirements and budgets.
Alchemy Bikes' Selection and Offerings
Alchemy's all-road bikes come in two varieties. The first is the Atlas Carbon, and the second is the Atlas Titanium. As the names suggest, these road bikes are essentially identical, barring the fact that one has a carbon fiber frame and the other has a titanium frame. These bikes provide everything that is required for road riding, and they look beautiful too.
The Arktos series is Alchemy's leading mountain bike range. These bikes are built to handle any terrain, with lots of space for large tires, versatile suspension, and incredibly solid build quality. If you're looking for a high-end gravel bike, Alchemy's titanium and carbon fiber offerings are some of the highest quality American-made options available.
The video below shows the Arktos mountain bike in action and allows you to see the quality of the various components.
Lynskey Performance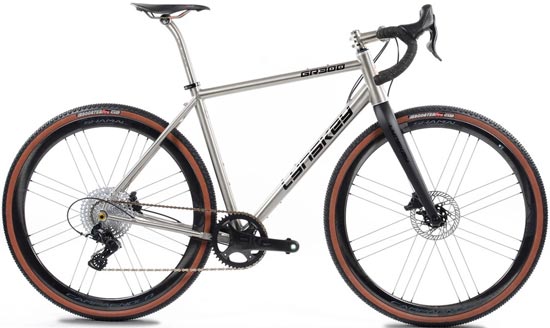 | | |
| --- | --- |
| Origin | Tennessee |
| Year Founded | 2006 |
| Types of Bikes Offered | Road Bikes, Gravel Bikes |
| Common Materials Used | Titanium, Carbon Fiber |
Lynskey's Origin and Manufacturing Locations
Lynskey is made up of four brothers, who united to form the company shortly after their father's passing. The brothers had previously experienced working with metal in the 1960s through their family business which worked with huge clients such as Kaiser Aluminum and Coca-Cola Bottling. After one of the brothers, David, redesigned his bike frame when taking part in a triathlon, his creation got lots of attention from his friends.
This eventually led to the idea of going back to working with metal, but this time focusing on bike frames. Each brother took up a role within the company, and in 2005, they got to work creating their first bikes. In the following years, Lynskey Performance has built a reputation as a top USA-based manufacturer for gravel, road, and mountain bikes.
Lynskey's Bike Selection and Offerings
There are bikes to suit all budgets and preferences in Lynskey's diverse range. The company's gravel bikes range from affordable to high-end and are available either with internal or external cable routing. These bikes are made from titanium and have carbon fiber forks.
However, in my opinion, the most impressive selection of bikes in Lynskey's catalog are the road bikes. Designed for ultimate speed, comfort, and stability, these bikes have incredibly robust frames and are available in a variety of different frame styles to suit the specifics of your cycling.
Factors We Considered
The American-made bicycle is as strong as ever, as is evident from the many high-quality options featured in our list. Whether you're an experienced cyclist with lots of knowledge on the subject or you don't know a great deal about bikes, choosing the right manufacturer and model can be tricky.
When the team here at All American Made was identifying the best bikes to include in this guide, we considered a variety of factors. These aspects may help you to decide which type of bike is best suited to your needs.
Bike Types and Features:
Depending on the style of bike you're looking for, you'll find a variety of different features. There are several different types of bikes produced in the United States, including road bikes, gravel bikes, mountain bikes, e-Bikes, and more. Each variety has different components and is designed for a specific purpose.
Road Bikes:
We'll start with the features that are commonly included on road bikes. Road bikes, or racing bikes as they are also often called, have narrow tires which are usually somewhere between 23-28mm in thickness. This allows them to travel at high speed on flat ground but also means that they are not well equipped to handle rough or bumpy surfaces.
Road bikes also have drop handlebars, which facilitate several different hand positions. This makes them versatile, as they can be used conventionally when riding on a busy road, or you can shift your weight forward when traveling at speed in quieter locations. The frames that are used on road bikes must be solid, robust, and rigid to encourage maximum power transfer. Also, they include wide ranges of gear ratios so that you are in full control of the bike's speed.
Gravel Bikes:
Gravel bikes are also sometimes called hybrid bikes because they combine the qualities of road and mountain bikes. With that being said, their design is more similar to that of a road bike, with the added capability of handling a wider range of surfaces.
These bikes have narrow tires that are slightly thicker than those found on road bikes and with more grip. Additionally, they have traditional flat handlebars, which reduce the pressure and strain on your shoulders and wrists when riding on gravel paths. These qualities and features make gravel bikes equally suitable for riding through the city as they are for riding on trails.
Mountain Bikes:
Mountain bikes are primarily built for off-road cycling. They have thick tires with plenty of grip for navigating all kinds of terrain. Suspension is a key aspect of these bikes, as it reduces the impact on the rider's body when they go over a bumpy surface, such as a rock or tree root.
The handlebars on mountain bikes are flat, and they have incredibly durable and solidly built frames that can absorb impact. They are also much heavier than road bikes or gravel bikes due to the addition of suspension and bulky frames. The brakes included on mountain bikes are usually of the disc variety, as these allow you to stop when the conditions are wet or muddy.
Materials:
The two most commonly used frame materials by American bike manufacturers are titanium and carbon fiber. Stainless steel is also sometimes used, but not as often as the two previously mentioned materials.
Firstly, titanium is undeniably more durable than carbon fiber when used for bike frames. However, carbon fiber is often slightly more lightweight and can improve the agility of the bike. It's common for manufacturers to use titanium for the main frame of the bike while using carbon fiber for the fork, as this can improve the weight distribution.
Origin:
When choosing the bike companies that are featured in this list, we ensured that they are committed to manufacturing their products in the United States. It's sad to see so many brands that previously built bikes in America have now turned to cheaper, foreign production, but the manufacturers we've selected prove that it's possible to be successful while staying true to their roots.
Final Thoughts:
This guide was written to help you find an American-made bike to suit your preferences. We tried to include bikes of all styles and prices so that there are options for everyone. We know that choosing a new bike can be difficult, so feel free to leave any questions in the comment section below, and we'll get back to you with an answer!
Hi, my name is Kevin and I'm from Pittsburgh, Pennsylvania. Choosing products made in America is important to me because it supports local economies, creates jobs, helps the environment, and ensures ethical labor practices. I also find that American made products are usually of higher quality so although they're a little more expensive, you save money in the long run. Before starting this website I was in the USMC infantry and nowadays I work on this website as a hobby.