Looking sharp and remaining patriotic can be a tough challenge to tackle since most American textile brands have been moved overseas, but thankfully there are still some options. In the rest of this article, we'll be sharing our favorite American-made dress shirts.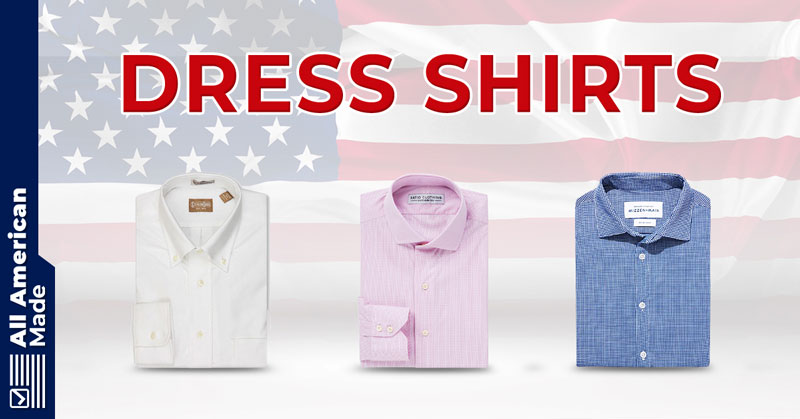 This is will provide many different styles of dress shirts, and they vary greatly in price. That said, many of the brands on this list manufacture many styles, so if you find a brand you like, check out some of the other shirts they make as well.
List of Polos and Dress Shirts Made in the USA
All American Clothing Co Dress Shirts and Polos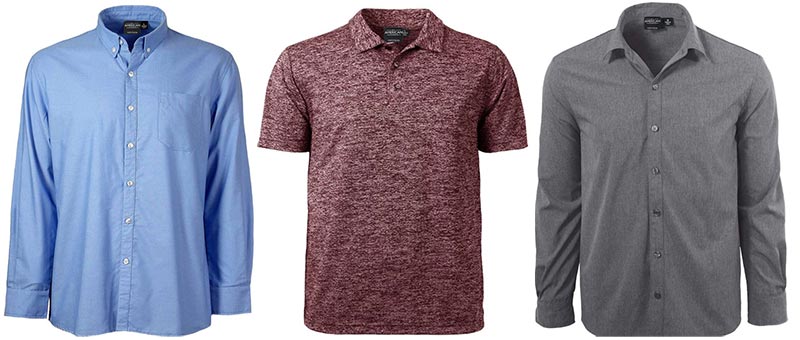 | | |
| --- | --- |
| Estimated Price | $50 to $100 |
| Material | 60/40 Cotton Poly Blend (Oxford shirt) |
| Place of Origin | Ohio |
About the Company:
All American Clothing Co was founded by Lawson Nickol, who in 2002 was working as a sales manager for a US jeans manufacturer. He says that while out shopping, he noticed the company's label on a pair of jeans, thinking it was good for the company's growth. However, when checking the label further, he found they were made in Mexico.
This incident prompted him to resign his position and start All American Clothing Company with his son BJ and committed to manufacturing clothes that were only made in the United States.
After Lawson's passing in 2019, a generation of young entrepreneurs passionate about providing Americans with jobs took over the company, with members of Lawson's family remaining involved in daily operations. If you're looking for quality dress shirts made in the USA, I definitely recommend this brand. Where I feel they shine most is the overall value compared to other shirts.
What We Like and Don't Like About All American Clothing Co Dress Shirts:
All American Clothing Co makes a number of great dress shirts and polos. My personal favorite is the Oxford dress shirt, but they have a lot of great options. The Oxford is a classic, no-frills dress shirt that's available in a variety of colors.
The 60/40 cotton-poly blend is comfortable and soft, resists wrinkles, and launders well, although we found it didn't hold its shape as well as some of the other shirts on our list after repeated washings. However, a quick pass with an iron on low heat is enough to get it back into shape quickly.
The shirt has classic stitching and a sharp-looking collar.
The company produces shirts in sizes ranging from small to 4XL, so fitting shouldn't be a problem; however, don't expect the same fit you'd get from a custom shirt. Still, for a classic Oxford you can wear in the office or for a casual dinner, this one should do nicely.
I also really like their polos and short sleeve dress shirts. They have a wide variety of options, and they're some of the nicest shirts I've ever owned.
Who We Recommend These Shirts For:
All American Clothing Company dress shirts and polos are perfect for those who a classic look at a fair price. They aren't super high-end shirts but are still higher quality than most dress shirts that you'd find at big-box retailers. I recommend just checking out their website and seeing if they have any shirts that catch your eye!
The video below gives you a little overview of All American Clothing and its history.
Gitman Bros Button Down Oxford Dress Shirt


Check Price on Amazon
| | |
| --- | --- |
| Estimated Price | $185 |
| Material | 100% Cotton |
| Place of Origin | Pennsylvania |
About the Company:
Gitman Bros goes back to the 1930s when Max Gitman moved his family to Ashland to start the Ashland Shirt & Pajama Company.
Then, in 1950, Alfie and Shelly Gitman, twin sons of Max, joined the business where the company made private label shirts for haberdashers throughout the US until a group of loyal followers who loved their shirts persuaded them to begin making shirts under their own label.
Today, Gitman is one of the few remaining companies dedicated to making their clothes entirely in the United States. Their dress shirts are great looking and so long as you're willing to pay a little extra for American-made quality, I know you'll love them.
What We Like and Don't Like About Gitman Bros Dress Shirts:
There are few companies that can match the style and quality of Cambridge Oxford shirts. These classy dress shirts look sharp and are suitable for most occasions.
Right out of the box, you can tell this is a high-quality product. The 100% cotton is soft and comfortable but still looks crisp and stylish, making this a versatile shirt you'll be able to wear to the office or with a pair of jeans and a sports jacket.
While some oxford cloth shirts are lightweight, this shirt is a bit more substantial, so it's something to take into account if you're planning to wear it out during the summer or when you know it's going to be hot.
Tucked or untucked, this shirt looks fantastic, with the length well balanced for the average-sized person of around 5'8".
The shirt features a button-down collar and a single breast pocket. The stitching is tight, as are the buttons, and we expect no issues with this shirt because of Gitman's high quality of manufacturing and attention to detail.
Caring for this shirt is like caring for any other 100% cotton shirt, which means using cold water on the delicate cycle if you can't hand wash it.
Who We Recommend These Shirts For:
These are perfect shirts for the man who wants the highest quality comfort and style and doesn't mind paying for it.
Mizzen & Main Spinnaker Slim-Fit Button Down Dress Shirt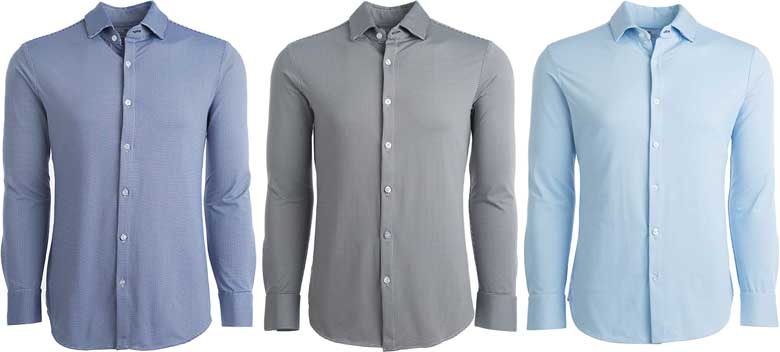 | | |
| --- | --- |
| Estimated Price | $80 |
| Material | Polyester, lycra, nylon |
| Place of Origin | New York, San Francisco |
About the Company:
Founded in 2012 by Kevin Lavelle, who graduated from Southern Methodist University. He said the inspiration for the company came when he was working in Washington, D.C. as an intern after seeing sweat stains on a congressional staffer. It was then he came up with the idea to manufacture and market moisture-wicking dress shirts that mimicked what you would find in athletic shirts.
After experimenting with different fabrics, he officially launched the company in 2012.
The company's shirts proved popular and received endorsements from athletes like Phil Mickelson and JJ Watt. The company prides itself on donating portions of its products to charities and programs for veterans. One thing to be aware of is that in 2019 they moved much of their manufacturing overseas, but you can still find many of their American-made dress shirts for sale.
What We Like and Don't Like About Mizzen & Main Dress Shirts:
If you're looking for an athletic, trim-fit dress shirt that will keep you cool and dry, this is the one for you. This shirt is from the company's performance line and is designed for comfort first and style second.
This shirt is cut so it fits close to your body and features two darts on the back to create a tapered look. We liked the four-way stretch composition provided by the polyester, nylon, and lycra construction because although it fits snugly, it still gives enough for comfortable movement.
Because of the slim cut and snug fit, this shirt is best for men with average height and build, with 5'11", 170 pounds being the ideal.
The big selling point and the genesis of the company are how the shirt quickly removes perspiration to keep you dry, which is why these are favored by athletes like Phil Mickelson.
We found that during a stress-filled day, the shirt remained cool and comfortable and felt just as cool and dry at the end as it did when we first put it on.
As with other dress shirts on our list, this one markets itself as needing minimal care, which means no ironing and no dry cleaning. We found the shirt looked pretty good out of the wash, but if you want to make it a little crisper, you can hit it with the iron on a low setting.
Although this is marketed as a dress shirt, we found the fit to be a little too casual for the office, although you can slip on a tie and wear it with jeans and a sports jacket and look great.
Who We Recommend These Shirts For:
This is the ideal shirt for the active man who wants comfort and style without having to worry about perspiration ruining his look.
Ratio Clothing Classic Pinpoint Dress Shirt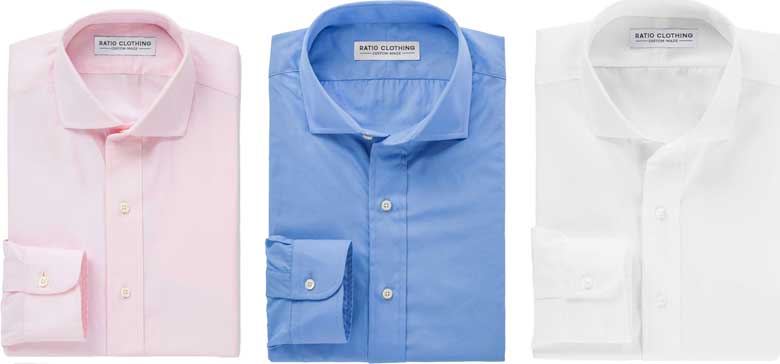 Shop Ratio Clothing
| | |
| --- | --- |
| Estimated Price | $120 |
| Material | Two-ply 100% cotton |
| Place of Origin | Colorado |
About the Company:
Ratio Clothing was started in 2010 by Eric Powell, who became frustrated at not being able to find a well-fitting shirt from mall brands and other manufacturers and the sky-high prices they charge.
With a technology background and an interest in clothing, Powell began learning about shirtmaking while working for the company Deloitte.
While working full time, Powell started putting his idea together piece by piece, from sourcing fabrics to building a website and finding manufacturing. Once everything was in place, he left his job to pursue Ratio Clothing full-time as an online-only venture.
Today, the company ships shirts around the world and have been featured in Esquire.
What We Like and Don't Like About Ratio Clothing Dress Shirts:
Not everyone can pick a shirt off the rack and get a perfect fit, which is where Ratio Clothing comes in. The company's success comes from making custom shirts at affordable prices here in the United States.
As mentioned, these shirts are custom-made, and the company gives you all the options you could want on their website to ensure you get a perfect fit and look.
Before ordering the shirt, you're asked to make a size blueprint where you enter your sizing information. Once that's done, you have the option of collar design, cuff and sleeve design, pocket design, buttons, etc for a truly unique look you won't get from a store.
Out of the package, our shirt felt a little stiff but softened up nicely after a few washes. With that out of the way, the two-ply cotton felt comfortable against the skin.
One thing to be aware of is this shirt may be a little too transparent for some people's taste. Those with hairy chests or tattoos may want to consider wearing an undershirt.
One problem many people have with cotton is how it looks at the end of the day, but we didn't notice excessive wrinkling during our tests.
If there's any downside to ordering from Ratio Clothing is the time from placing your order to receiving your shirt, which is about two weeks. Keep in mind this is a custom shirt, so if you need something for an event in a day or two, you're better off with another option.
Another thing we love about this shirt and Ratio Clothing is that if you go through the sizing process, they guarantee the fit.
The bottom line is this is a stylish dress shirt that pairs well with a suit or office attire but may not be the right choice for casual wear.
Who We Recommend These Shirts For:
The video below is an interview with the founder of Ratio Clothing, Eric Powell.
This shirt and others from the company are ideal for people who have trouble getting fitted with other brands.
Agave Denim Supima Polo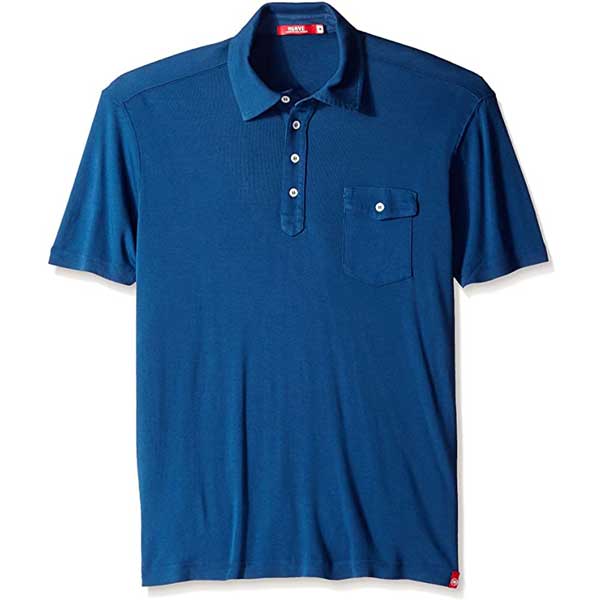 | | |
| --- | --- |
| Estimated Price | $90 |
| Material | 50% Cotton 50% Modal |
| Place of Origin | Los Angeles |
About the Company:
Agave was born in coastal California, which explains the company's love of casual styles mixed with luxury fabrics. Although the company doesn't source all of its materials in the United States, they're committed to US manufacturing.
What We Like and Don't Like About Agave Denim Dress Shirts:
When you're looking for something casual but still refined, we recommend the Agave Supima Polo. As of this writing, the Supima Polo comes in three colors, white, navy, and black.
What we loved about this polo is the quality of the construction, having been hand-sewn in Los Angeles.
The blend of 50% cotton and 50% modal is both soft, easy to care for, and looks crisp, perfect if you're looking for a more refined appearance than what you typically get from a traditional polo.
Another thing we liked is the collar, which lays flat and doesn't bunch up or wrinkle as you find with many shirts from retail outlets. The cut falls just below the belt line, making it a good choice for wearing tucked or untucked.
Another problem many men find with other polo shirts is the sleeve length. Typically, short sleeves should fall mid-bicep, but with many mass-produced shirts, what you end up with is a sleeve that falls above the elbow, which looks sloppy.
The Supima Polo we tested was cut perfectly in the sleeves, giving you a clean, neat appearance.
Who We Recommend These Shirts For:
The Supima Polo is perfect for someone who wants a clean, neat polo that provides more luxury than what you can find at the mall. If you're looking for polos made in the USA, this is a great option.
J Wingfield Men's Graph Check Button Down Dress Shirt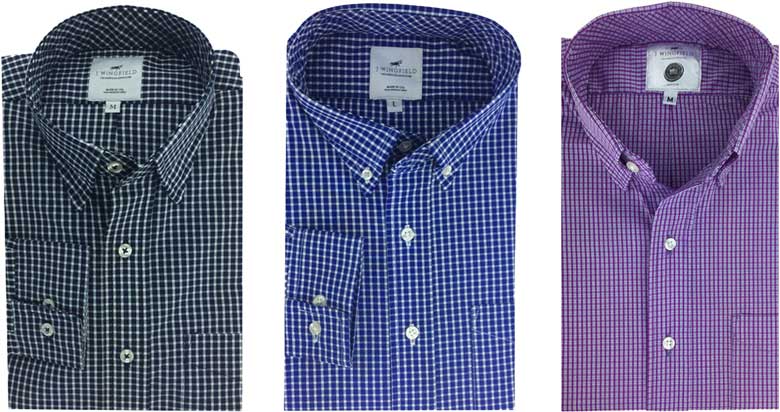 | | |
| --- | --- |
| Estimated Price | $160 |
| Material | US Supima cotton |
| Place of Origin | Texas |
About the Company:
The J Wingfield Company was started by Angus McKinnon, who was born in rural Georgia to Scottish immigrant farmers. Angus got his first job from his uncle, J Wingfield, who was then an executive of the Eagle & Phenix Cotton Mill.
After working a few years for his uncle, Angus got hired at the Swift Textile Company and rose through the ranks to manager.
He went on to earn a spot in marketing for Swift in New York, but after deciding corporate life wasn't for him, he forged out on his own to start his own company.
In the 1960s, Angus' twin sons joined the company, which went on to acquire assets from the Cannon Mills Group in 1984.
With the third generation at the helm, the company started designing, weaving, and marketing yarn-dyed fabrics for shirts and eventually used their techniques to manufacture their own durable shirts with manufacturing partners in Texas.
What We Like and Don't Like About J Wingfield Dress Shirts:
The Graph Check button-down shirt provides superior comfort and breathability thanks to the 100% American-made fabric. We found this shirt felt light and airy against the skin. Its soft construction means you won't have to worry about it feeling stiff or itchy.
The Graph Check button-down features a tailored fit that's geared toward those with slimmer builds with its classic styling, and the shorter hem means you can wear this tucked or untucked.
The company uses dyed yarn, giving the buyer plenty of color options, and even after repeated washing, the color held fast and showed no signs of fading.
Like other high-quality shirts on our list, this one features attention to detail you won't find with many other shirts on the market. The stitching is tight, and we didn't find any loose threads as you might find on lesser-quality garments. The buttons feel like they will withstand years of use without unraveling.
The bottom line is this is a high-quality classic shirt that wears well with khakis, jeans, or dress pants.
Who We Recommend These Shirts For:
This shirt is best for men who want a high-quality and well-crafted shirt that's versatile and pairs well with work as well as play. These are some of my personal favorite dress shirts made in the USA.
Brooks Brothers Regent Sport Shirt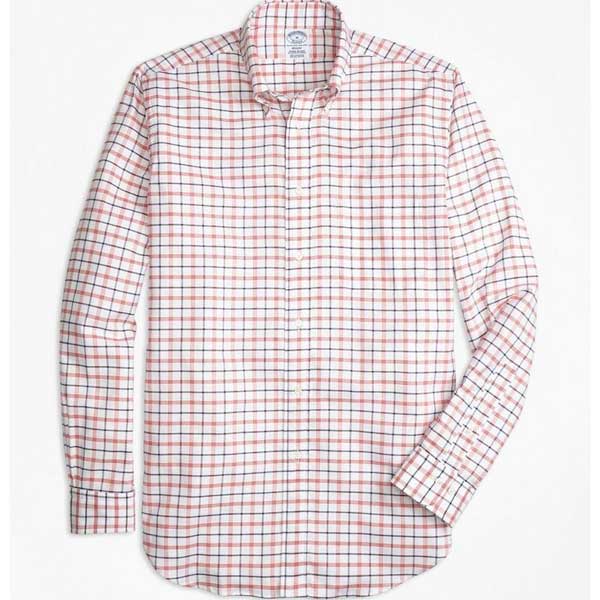 | | |
| --- | --- |
| Estimated Price | $80 |
| Material | Cotton blend |
| Place of Origin | North Carolina |
About the Company:
The Brooks Brothers company is one of the most widely known American clothing manufacturers, having been in business for over 200 years. The company opened its first store in New York in 1818.
In 1988, the company was sold to Mark and Spencer, who sold the company to the Retail Brand Alliance, a company run by Italian businessman Claudio del Vecchio.
Besides operations in the United States, Brooks Brothers have expanded to countries throughout the world, including China, France, Japan, and the United Kingdom. If you want to see all of the dress shirts made by Brooks Brothers, check out the official Brooks Brothers website here. Just be aware that not all of their shirts are made in the USA, so you're going to have to check the listing page or double-check with the company about each model specifically to ensure that it is, in fact, American-made.
What We Like and Don't Like About Brooks Brothers Dress Shirts:
I personally own this exact shirt, and I've been impressed by the cotton quality and the fit. The cotton has a soft, natural feel, unlike other non-iron shirts, which feel stiff due to their wrinkle-free treatment.
It fits snugly without pinching or being too tight around the waist. The cotton fell smoothly around the arms and was comfortable wearing all day. The length of the shirt feels adequate for the average-sized person and shouldn't fall too long if you choose to wear it untucked.
If you're like me, then you like your dress shirts to look crisp and sharp, and while this is a no-iron shirt, the best way to get that polished look is by hitting it up with a steam iron before you go out.
Another thing that's impressive is the construction. The stitching appears durable and should last for years. The buttons also were tight and showed no signs of unraveling.
Just a heads up, these are, in fact, made in the USA using fine American talent; however, most of the fabrics used to make the shirt are imported, which is a fairly popular practice in the remaining American textile industry.
Who We Recommend These Shirts For:
We recommend this for someone who wants a trim-fit, comfortable business casual shirt that doesn't require a lot of care to look great.
Homegrown Cotton Men's Cotton Blue Ridge Polo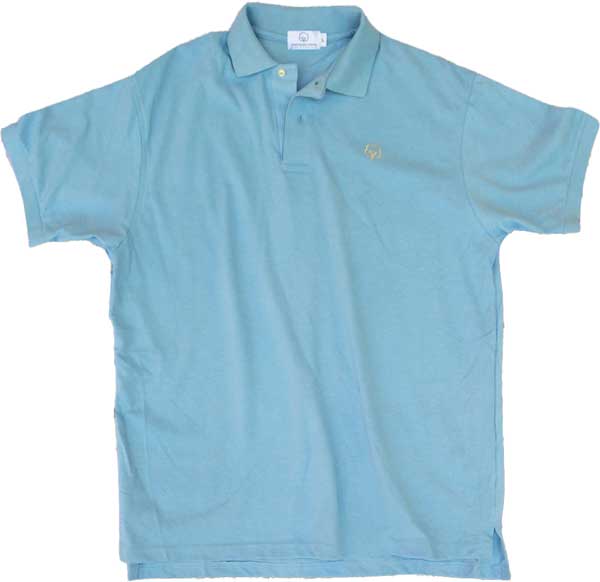 | | |
| --- | --- |
| Estimated Price | $70 |
| Material | 60/40 Cotton Poly Blend |
| Place of Origin | South Carolina |
About the Company:
Homegrown Cotton was founded by McIntosh Farms in Williamsburg County, South Carolina. Cotton is grown at the farm and ginned by Coker Gin in Salters, South Carolina, with lint coming from Hill Spinning in Thomasville, North Carolina.
The shirts are embroidered, cut, and sewn at Craig Industries in Lamar, South Carolina. The company prides itself on using all-natural, environmentally friendly dyes and locally sourced cotton.
What We Like and Don't Like About These Dress Shirts:
The classic polo has been a staple of men's fashion for decades, and for the price, we don't think you'll find a better polo shirt on the market, especially if you're sticking with American-made products.
This polo is made from 100% locally grown cotton in South Carolina and features the company's logo over the right chest and exquisite stitching detail.
While many people shy away from 100% cotton because of the care, you don't have to worry; this polo is pre-shrunk and entirely machine washable.
We found this shirt to fit true to size, and most people with average body types shouldn't have a problem getting fitted. We also liked the cut and tailoring, which is just loose enough to allow freedom of movement without looking like you're swimming in the shirt.
The stitching is tight and straight, and the buttons feel solidly set.
Another thing that impressed us is the fact that you can trace the shirt back to the farm where the cotton was grown, with each step in the process being in the United States, which is nearly impossible to say about any of the garments in your closet.
Who We Recommend These Shirts For:
This polo is ideal for men who want a no-frills, classic shirt that's comfortable at a fair price. They also have a lot of other great American-made polos, so check out their website for more information.
Anton Alexander Apex Men's Designer Dress Shirt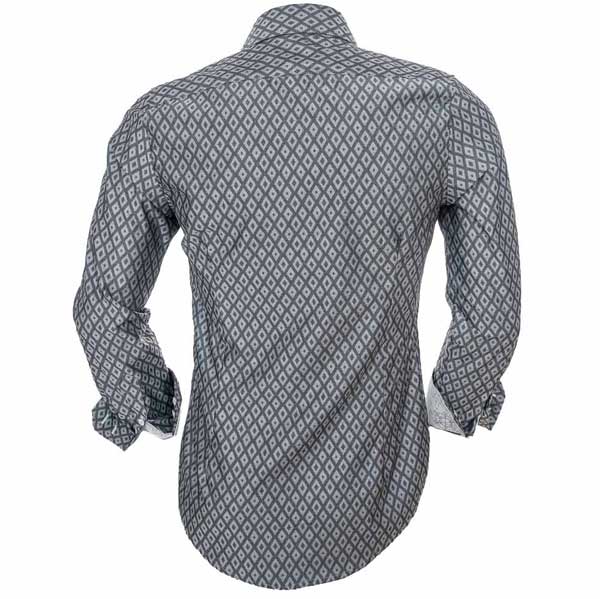 Shop Anton Alexander
| | |
| --- | --- |
| Estimated Price | $135 |
| Material | 100% Super Fine Cotton |
| Place of Origin | Sacramento |
About the Company:
Anton Alexander was started by Anton Babich, who began making ties under a different label. Back then, all of his products were made overseas, taking advantage of cheap labor and easier access to fabrics.
Anton eventually went to work for a company requiring him to dress in business attire and admitted he found the options available to be "boring."
His vision was to make dress clothes that were classy but with a twist and set about creating men's wear combining bold colors, vibrant characteristics, and attention to detail you won't find with mass-market garments.
What We Like and Don't Like About These Dress Shirts:
If you're looking for a dress shirt that's a little more playful, then the Apex dress shirt is for you.
What sets this shirt apart from the others on our list is the bright splashes of paisley color used in construction, particularly on the interior cuffs and inside the collar, giving you a shirt that's both stylish and playful at once.
The company says when using color in their designs, they opt for the brightest colors available, which is perfect for men who want to make a statement.
We loved the attention to detail found in this shirt, like the contrast stitching over the contrast fabrics and buttonholes and the brass chrome ring double button design and double stitched purl buttonholes.
The woven double-layer interfacing collar is stiff and maintains its shape after repeated washings, so you can count on it looking crisp and pointed every time you put it on.
The Apex comes in both a slim and modern fit, both of which are cut with enough room in the shoulders and chest and tapering towards the waist.
Who We Recommend These Shirts For:
The Apex Men's dress shirt is for those who want a stylish and playful look and appreciates fine attention to detail.
Eventually, Anton decided to move his manufacturing to the United States and sell directly to the customer instead of through retailers and dealing with massive markups.
Blade and Blue Winslow Brushed Cotton Shirt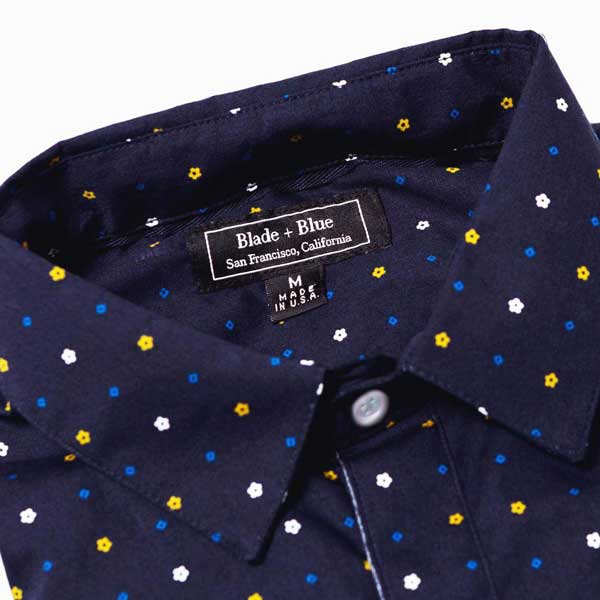 | | |
| --- | --- |
| Estimated Price | $115 |
| Material | Brushed Cotton |
| Place of Origin | San Francisco |
About the Company:
Bade and Blue began nearly 20 years ago in the San Francisco Bay area when founder Peter Papas realized his dream of providing high-quality, limited-run clothing manufactured in the United States.
The company prides itself on sourcing the finest fabrics from around the world and producing products in small quantities to maintain quality.
What We Like and Don't Like About These Dress Shirts:
Right off the bat, we were impressed by the softness of the brushed Japanese fabric construction of this shirt. The hand-sewn stitching is tight and showed no signs of loose ends, especially around the buttons.
Unlike some of the other dress shirts on our list, the Winslow is heavier, which will be welcomed by people in cooler climates.
Fabric and stitching aside, these don't matter if the shirt doesn't offer a flattering fit. The Winslow isn't a 'skinny' shirt and gives you enough room, so you don't feel like a stuffed sausage wearing it, but doesn't bunch up or feel like you're swimming in it either.
The Winslow features a custom design providing plenty of room for comfort in the chest and shoulder area while being slightly nipped at the waist for a tapered appearance.
We also appreciated the collar design, which is crisp and shaped perfectly, avoiding the floppy look you find with shirts of lesser quality.
Another detail we liked was the herringbone tape tucked inside the sleeve cuffs, which gives a polished look when the sleeves are rolled up.
We found caring for this shirt to be straightforward: wash in the gentle cycle and tumble dry on a low setting to keep it looking fresh and neat.
Who We Recommend These Shirts For:
The Winslow is best for men who desire the fit and craftsmanship you get with hand-sewn, limited-run garments and want a dressy shirt that pairs well with everything.
Factors We Considered:
Reviewing shirts is tricky because everyone has different tastes, senses of style, and fitting needs. What looks and feels good on you won't work for someone else, and in that respect, reviews can be highly subjective.
During our review, we paid attention to the quality of the material and the workmanship.
If you've purchased enough mass-produced shirts, you know that quality is all over the place.
We paid particular attention to the stitching because we've found this is one area that breaks down quicker than others. It's not uncommon to buy a new shirt only to have a button fall off a week later.
All of the shirts we reviewed appeared to have high-quality stitching that should hold up over time.
We also looked at how easy the shirts are to care for. We tried to include shirts that you can throw in the washer and dryer without fear of wrinkling, as well as shirts that require a little TLC to bring out their best.
Lastly, because of the state of garment manufacturing in the United States, it's challenging to find companies where every aspect is 100% US-based. However, while some companies source materials from overseas, we wanted to stick with those that assemble their products in the US at a bare minimum.
Hi, my name is Kevin and I'm from Pittsburgh, Pennsylvania. Choosing products made in America is important to me because it supports local economies, creates jobs, helps the environment, and ensures ethical labor practices. I also find that American made products are usually of higher quality so although they're a little more expensive, you save money in the long run. Before starting this website I was in the USMC infantry and nowadays I work on this website as a hobby.