There is no cookware that I've found to be as versatile as a Dutch oven! They often last a very long time, so it's a good idea to choose a well-designed Dutch oven made in the USA that you know will be a pleasure to cook with.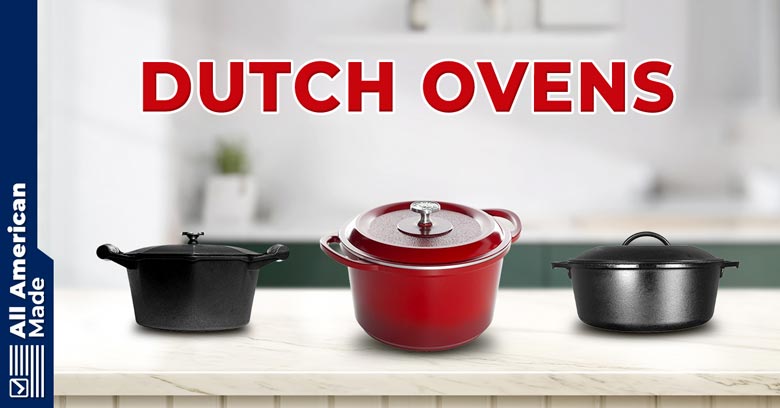 The good news is we've done all the groundwork for you and compiled a list of only the highest quality American-made Dutch ovens. All you need to do is choose the one that works perfectly for your needs.
List of American-Made Dutch Ovens
Lodge Dutch Ovens

| | |
| --- | --- |
| Year Founded | 1896 |
| Dutch Oven Variants Available | Double Dutch Oven, Camp Dutch Oven, Chef Collection Double Dutch Oven, Dutch Oven with Bail |
| Materials Used | Seasoned Cast Iron |
| Origin | South Pittsburg, Tennessee, USA |
Company Origin and Manufacturing Locations:
For a sprawling selection of authentic cast iron dutch ovens, look no further than Lodge USA. After nearly 120 years in the business, Lodge has become one of the most popular names for its well-made and virtually indestructible cast iron cookware.
Wondering where they make their kitchen arsenal? The USA, of course! Where else would you get quality and craftsmanship such as this? Lodge has two foundries in South Pittsburg, Tennessee, that make most of their cookware, except some enameled pieces made overseas.
While researching and reviewing products, I often notice that companies with happy and satisfied employees are among the most successful in what they do. Lodge is an excellent example of that. Besides superior quality, their compassion towards those who work for them is admirable.
Just as important is Lodge's commitment to lower impact on the environment, which they do by reducing energy consumption, producing zero hazardous waste, planting trees, recycling materials, and reusing foundry sand.
Dutch Oven Selection:
Not many places would you find the kind of variety that rivals this brand's array of solid, heirloom-quality dutch ovens. For Dutch ovens, cast iron is the most commonly used material. It is tough, versatile, easy to use, and holds heat well for a flavorful meal. Lodge makes enameled and raw seasoned dutch ovens. But since their enameled range is made overseas, we'll stick only to their American-made, seasoned dutch oven range.
Lodge's pre-seasoned dutch oven with loop handles is their best-selling model. Available in capacities of 1, 2, 5, and 7 quarts, this dutch oven boasts impressive heat retention for more uniform cooking. The natural seasoning of vegetable oil and easy-release finish is perfect for greaseless searing, sautéing, braising, and baking with next to zero chances of food sticking.
The thing I loved most about this Double dutch oven is that it comes with a self-basting lid that can be repurposed and used as a skillet. However, for something more outdoorsy for your campfire cooking, the Camp dutch oven with an easy carry bail is worth checking out. It also has legs to support a slow cook over coals.
Finex Cast Iron Dutch Ovens

| | |
| --- | --- |
| Year Founded | 2012 |
| Dutch Oven Variants Available | 5 Qt. Dutch Oven |
| Materials Used | Heavy Gauge Cast Iron, Wound 300 Stainless Steel |
| Origin | Portland, Oregon, USA |
Company Origin and Manufacturing Locations:
This next brand has a small team of talented designers, artisans, and chefs, working together to produce cookware in sync with the modern lifestyle. In addition to durable and easy-to-use skillets, grill pans, and griddles, Finex also makes some of the finest dutch ovens.
That cooking shouldn't feel like a task but something truly enjoyable is the brand's design mantra. And it comes as no surprise that their material of choice is the slow and flavorful cooking workhorse- Cast iron.
Made with pride in Portland, Oregon, Finex's dutch ovens have gained quite the fan following for versatility and looks. Let's find out a bit more about what makes them click!
Dutch Oven Selection:
Finex's classic dutch oven is for soulful cooks. A heavy-gauge cast iron body with a stone polished cooking surface helps retain heat, resulting in even cooking without any hot spots. An angled, octagonal-shaped bottom and lid are clever features for easy pouring and serving, especially freshly baked bread and cakes.
Such performance-driven designs can only come up when engineers, artisans, and potential users (cooks) brainstorm together- which, in the case of Finex, is absolutely true! The spring handles are made from wound 300 stainless steel rod stuck in a lustrous finish. They cool down quickly and are comfortable to grip.
Finex produces only one variant, a standard 5-quart capacity, complete with all bells and whistles you'd need to prepare a tasty and healthy meal. Whether you're braising, frying, baking, or cooking a campfire meal over coals, this naturally seasoned non-stick cast ironware will never disappoint. True, the price might not fight everyone's budget, but for a frequently used cookware that'll last you decades, it's a pretty good deal, don't you think?
Nordic Ware

| | |
| --- | --- |
| Year Founded | 1946 |
| Dutch Oven Variants Available | 6.5 QT Enameled Cast Aluminum Dutch Oven |
| Materials Used | Cast Aluminum |
| Origin | Minneapolis, Minnesota, USA |
Company Origin and Manufacturing Locations:
If you like baking, chances are you already have one of Nordic Ware's iconic Bundt pans in your kitchen. Founded in Minneapolis in 1946, this brand is a crowd favorite for its premium bakeware, cookware, kitchen tools, and accessories. Their bustling vault is also home to a fantastic cast aluminum dutch oven, but more on that in a bit.
Nordic Ware was started by Dorothy and Dave Dalquist out of the basement of their house with a measly capital of $500. The first few items were designed around ethnic Scandinavian cookware. Things picked up only after the brand champion, the original Bundt pan, was launched in the early '50s. Grown by leaps and bounds, Nordic Ware now employs over 300 employees and manufactures hundreds of products at their 250,000 square feet Minneapolis campus.
Dutch Oven Selection:
Nordic Ware might be one of the few that makes its dutch oven with cast aluminum instead of the usual cast iron or stainless steel. This adventurous choice of material keeps the cookware incredibly lightweight and portable compared to a cast iron one.
Cast aluminum is also known to heat up in a jiffy and cook evenly but not so much where retaining heat is concerned. Chipping and rusting won't be a problem here either. It sports a cranberry red enamel that, besides making it visually pleasing, also adds to its durability.
When you remove the self-basting lid, you'll find a textured non-stick cooking surface- perfect for browning and searing. The 6.5 QT capacity is just right to cook a hearty meal for the entire family. Except for the induction cooktop, this dutch oven is compatible with various heat sources, including a gas stove, glass top, and oven-friendly up to 500°F. Finally, it comes with detailed care instructions manual to help you with tips and tricks to make it last for decades. Overall, Nordic Ware offers some of my favorite USA-made Dutch ovens, and I highly recommend their products.
Borough Furnace Enameled Cast Iron Duch Oven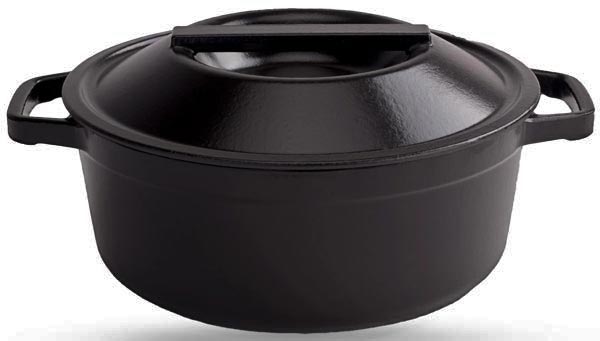 | | |
| --- | --- |
| Year Founded | 2011 |
| Dutch Oven Variants Available | 5.5 QT Enameled, 5.5 QT Seasoned Dutch Oven |
| Materials Used | Cast Iron, Semi-Gloss Porcelain Enamel |
| Origin | Finger Lakes, New York, USA |
Company Origin and Manufacturing Locations:
As the only cookware brand that offers enameled cast iron dutch ovens made in the USA, Borough Furnace had to be a part of this list! Founded not too long ago, in 2011, this family-owned company started by manufacturing a limited range of skillets.
Over time, encouraged by people's response to their cookware, Co-founders John Truex and Liz Seru expanded their catalog to include expertly crafted dutch ovens and bakeware. Whether you opt for their enameled cast iron dutch oven or the pre-seasoned one, every piece is designed, cast, engineered, and crafted from start to finish in the USA.
Dutch Oven Selection:
Borough Furnaces' dutch oven might look old-fashioned but is designed to suit the requirements of a modern kitchen. At 5.5 quarts, their enameled cast iron piece is a suitable size for a family. Meanwhile, the combination of cast iron build and semi-gloss porcelain enamel retains heat well and distributes uniformly, allowing food to cook in its own juices.
The reason why many prefer enameled coating is for its rust-resistance, easy-to-clean and non-stick qualities. The brand's enamel is entirely produced in the U.S. and food-safe with no Lead, Cadmium, PFOA & or PFAS.
If enameled cast ironware isn't your cup of tea, I recommend you check out their old-school seasoned dutch oven. After all, meals are healthy and packed with flavor if cooked on a nicely seasoned surface.
Compatible with various cooktops and induction, this piece is coated with Kosher-certified organic flaxseed oil. The overall design is pretty similar to the enameled alternative, including the heavy-duty cast iron body, a one-piece self-basting lid with nubs for moisture retention, and big looped handles on the side to carry it around effortlessly.
Smithey Ironware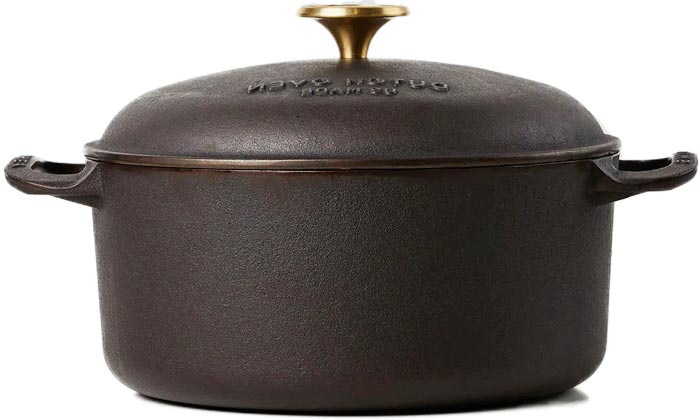 | | |
| --- | --- |
| Year Founded | 2015 |
| Dutch Oven Variants Available | 3.5 and 5.5 QT Dutch Oven |
| Materials Used | Cast Iron |
| Origin | Charleston, South Carolina, USA |
Company Origin and Manufacturing Locations:
Besides Lodge and Finex, Smithey is another brand that has mastered the art of functional and durable cast iron cookware. The brand took shape from Founder Issac Morton's love for vintage 19-century ironware that he would often restore to gift to his friends and family.
At his backyard woodshed, Morton studied these pieces, perfecting his craft. He realized there was a demand for vintage-style iron cookware, but no one was making them anymore. Smithey was founded to deliver traditional cast iron cookware with a contemporary twist.
Dutch Oven Selection:
Every timeless piece by Smithey is made with care and attention to detail at a workshop in Charleston, South Carolina. Their heirloom quality dutch ovens come in two sizes- 3.5 QT, ideal for cooking for 2-4 people, and a family-sized 5.5 QT. Identical in all other aspects, Smithey's cast iron dutch oven's warm and inviting looks are reminiscent of the bygone era but crafted for modern utility.
Smithey does its own polishing, smoothening, and seasoning for impeccable quality. This dutch oven's well-polished interior means you'll never have to worry about scraping stuck food off the surface or cracking and chipping. The overall construction is designed to capture heat and disperse it efficiently, making it ideal for braising, slow cooking, frying, and roasting.
When not hard at work cooking a delicious meal for you, this vintage-style dutch oven makes for a fascinating conversation piece. It is undoubtedly one of the more expensive dutch ovens out there. Though, I think of it more as a long-term investment that'll return the favor by giving you healthy and tasty meals, day after day!
Popular Related Article: High-Quality Cookware Made in the USA (Source List)
Field Company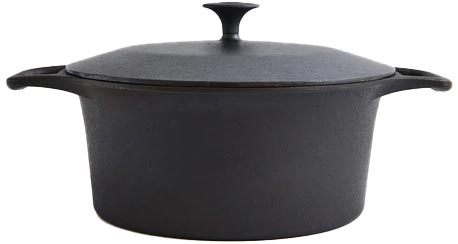 | | |
| --- | --- |
| Year Founded | 2017 |
| Dutch Oven Variants Available | 4.5 QT Cast Iron Dutch Oven |
| Materials Used | Cast Iron |
| Origin | Indiana, Illinois, and Wisconsin, USA |
Company Origin and Manufacturing Locations:
Remember the sturdy cast iron workhorse from your grandma's kitchen? There's no doubt that quality is hard to find these days. To address precisely this, two brothers, Stephen and Chris Muscarella, traveled far and wide with an aim to produce vintage cast iron cookware just as the one they had inherited from their grandmother.
Their tireless research and collaborations with experts in the field paid off when the duo finally cracked the proper technique to pour iron by hand. That's when they decided to kickstart their own venture- the Field Company in 2017. Despite being a newcomer in the cast ironware business, this brand has built up an enviable reputation for crafting the finest quality cast iron heirlooms the money can buy.
Dutch Oven Selection:
When you blend centuries-old handiwork with today's technology, what you get are modern heirlooms that can withstand the test of time. Each piece produced by the Field Company at their manufacturing facilities in Indiana, Illinois, and Wisconsin, is timeless in style but designed for contemporary use.
The brand understands no one wants to lug around heavy cookware anymore. Take, for example, their dutch oven- at 6.5 pounds and 4.5 quarts capacity, it is the perfect size to cook up a storm yet ultra-portable. Tough-as-nails thanks to a cast iron build, this dutch oven boasts high heat retention and a snug self-basting lid that keeps food moist, juicy, and nutritious.
Like most other cast iron dutch ovens, this also comes naturally seasoned with two coats of grapeseed oil. To enhance the non-stick feature of this piece, keep using it as often as possible. It only gets better with each use. Moving it from the stovetop to the oven or table is just as easy- just grip the large, comfy handles and go! Loved by both home cooks and seasoned chefs, this will be your go-to vessel for everyday braising, frying, roasting, sautéing, and baking.
All-Clad
| | |
| --- | --- |
| Year Founded | 1971 |
| Dutch Oven Variants Available | D7, D3, D5 Dutch Ovens, Electric Dutch Oven |
| Materials Used | Stainless Steel, Cast Iron |
| Origin | Canonsburg, Pennsylvania, USA |
Company Origin and Manufacturing Locations:
High-end yet ubiquitous All-Clad was launched in 1971 by John Ulam to offer home cooks and professionals with premium quality kitchen arsenal. As a home cook par excellence, Ulam felt the absence of long-lasting, well-built cookware- a feeling that was echoed by many. Equipped with in-depth knowledge of metallurgy, Ulam decided to get into the manufacturing game himself. He developed something unique by bonding layers of stainless steel and aluminum to arrive at a material that cooked food evenly.
Today, All-Clad produces a vast selection of stainless steel, ceramic, copper, and hard-anodized pots and pans made in Canonsburg, Pennsylvania. All-Clad's dutch ovens are made with stainless steel and are perfect for those looking for lightweight alternatives to cast iron ones.
Dutch Oven Selection:
This upscale brand's dutch ovens come in three variants – D3, D5, and D7. If you're familiar with All-Clad's terminology, you'll know the number in the model name is how many layers of materials are bonded to make it. For example, D7 is a seven-ply construction of stainless steel and conductive aluminum for exceptionally even heating.
Stainless steel is known to retain heat well, and this one has four layers of it, so you can only imagine how uniformly and efficiently your food would get cooked. What's more, this long-lasting piece will never fall prey to warping. All in all, if you're looking for a Dutch oven made in the USA, All-Clad has a great reputation, and we do recommend their products.
Nest Homeware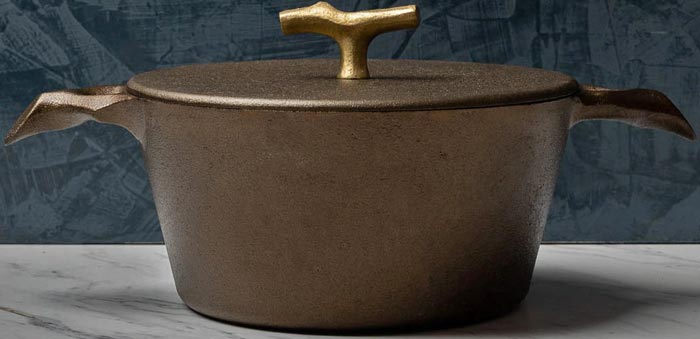 | | |
| --- | --- |
| Year Founded | 2013 |
| Dutch Oven Variants Available | 3.5 QT Cast Iron Dutch Oven |
| Materials Used | Cast Iron |
| Origin | Providence, Rhode Island, USA |
Company Origin and Manufacturing Locations:
Innovative, user-friendly designs are the key to Nest Homeware's beautiful and versatile cookware collection. Fueled by Matt Cavallaro's love for cast iron and Rue Sakayama's design skills, the brand's been going places since its launch in 2013.
Quality and craftsmanship are the cornerstones of any good brand. Nest Homeware understands this and why they trust only American manufacturing for casting, machining, and down to hand-seasoning.
When you buy something from Nest Homeware, you get a highly durable American-made dutch oven while supporting homegrown talent and the local economy. A win-win!
Dutch Oven Selection:
Want a dutch oven that not only aces both looks and utility department but can also be passed down to your kids? Then, my friend, Nest Homeware is the brand for you! With a 3.5 QT capacity and robust cast iron construction, this dutch oven is a worthy addition to your cooking gear.
Machined-smooth and double-seasoned interiors give this piece nothing less than superhero non-stick capabilities. And just in case you're wondering why this cast ironware looks more bronze than black? It's the brand's signature flaxseed oil seasoning that gets better and darker over time.
Aesthetically pleasing and ergonomically designed handles and a brass knob on the lid are other standout features. These long handles, resembling a Cherry tree branch, are comfy to hold, stay cool, and balance the weight of this 9-pound dutch oven perfectly well.
At the time of our review, Nest Homeware was only producing one model. If they happen to add more to their collection, we'll be sure to update you!
Heritage Steel
| | |
| --- | --- |
| Year Founded | 1984 |
| Dutch Oven Variants Available | 8 QT Stock Pot (can be used interchangeably as a dutch oven) |
| Materials Used | Titanium-strengthened 5-ply Stainless Steel |
| Origin | Clarksville, Tennessee, USA |
Company Origin and Manufacturing Locations:
From its factory in Clarksville, Tennessee, this family-owned company has been producing highly functional, cleverly designed, long-lasting stainless steel cookware since the 1980s. The attention to detail with which each piece is crafted is astounding.
A typical pot, pan, or dutch oven is made by bonding five layers of the highest quality stainless steel. After which, it goes through multiple steps like shaping, cleaning, grinding, polishing, and finishing. Each piece is then inspected by hand before packaging.
Caring for customers and employees ranks right at the top of their list of priorities. It's no wonder that most of their employees have been associated with the brand for decades.
Dutch Oven Selection:
Okay, so this one is slightly different from what we've talked about so far. Not a dutch oven in the conventional sense, Heritage Steel's 8 Quart Stock Pot with a tight-fitting lid can easily double up as one.
It's big, oven-safe for up to 800°F, and retains heat and moisture for a flavor-rich meal. Built with no less than the finest quality titanium strengthened 5-ply stainless steel, this pot shares many features with a dutch oven.
A stainless steel body also makes it easy to clean, and it is dishwasher safe or can be washed by hand. It's compatible with all cooktops, including induction; this versatile pot/dutch oven can be used for braising, baking, and cooking family-sized quantities of stocks, soups, and stews.
Solidteknics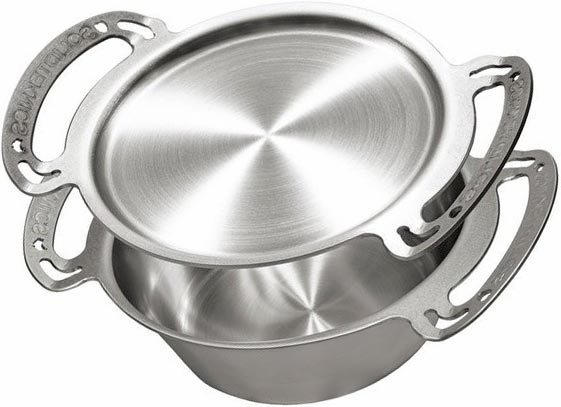 | | |
| --- | --- |
| Year Founded | 2014 |
| Dutch Oven Variants Available | 3 Q.T. Stainless Steel Dutch Oven |
| Materials Used | 100% Ferritic Stainless Steel |
| Origin | Chicago, Illinois, USA |
Company Origin and Manufacturing Locations:
It's not often you come across a brand that's headquartered overseas but does a large chunk of its manufacturing in the USA. Australia-based Solidteknics is one such brand that chose to manufacture here out of their love and appreciation for American craftsmanship.
Solidteknics was founded by engineers and passionate cook Mark Henry who wanted to create cookware that's non-toxic, smartly engineered, and built to last generations. A cast iron enthusiast like some others on this list, Henry acknowledges that people's interest in the health benefits of cooking with cast iron is peaking. It is durable, naturally non-stick (when seasoned), and cooks a meal in the most nutritious way vs. Teflon.
Solidteknics also makes high-end one-piece stainless steel cookware. The dutch oven I shall be reviewing is from this very range.
Dutch Oven Selection:
Having this solid non-nickel ferritic stainless steel kitchen helper around will make your meals packed with flavor and nutrition. What's more, it is zero-fuss cookware, maintenance-wise, thanks to its rivetless and one-piece frame. Besides being easy to clean, the absence of nuts and bolts also makes the cookware last longer. Why else would Solidteknics offer a Multi-century warranty!
This innovatively designed dutch oven's highly heat-conductive stainless steel construction makes it ready for any heat source, from induction to BBQs to the oven. All except the microwave. If the price looks a bit overwhelming, forget it for a minute, and think of it as a long-term investment in super dependable cookware that'll last a long time.
Miriam's Earthen Cookware (Non-toxic & Eco-friendly)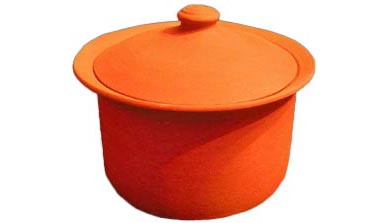 | | |
| --- | --- |
| Year Founded | 2011 |
| Dutch Oven Variants Available | 4 QT Clay Dutch Oven |
| Materials Used | 100% All Natural Clay (Non-Toxic) |
| Origin | Dedham, Massachusetts, USA |
Company Origin and Manufacturing Locations:
Though not a common choice of material for dutch ovens, clay is hard to beat when it comes to healthy and safe cooking. And the only place you'll get American-made clay dutch ovens is Miriam's Earthen Cookware (MEC).
Right from childhood, Miriam Kattumuri's respect for nature inspired her to lead an environmentally friendly lifestyle. Her passion led her to create a line of pure clay cookware that's healthy, clean, and free of chemicals or additives.
Making cookware from 100% additive-free pure clay is not easy to begin with. But not for Miriam. She pushed design limits to deliver the impossible. The most impressive part is that all her planet-friendly products are handmade from scratch with raw material sourced from within the U.S. It, honestly, cannot get more American-made than MEC's cookware!
Dutch Oven Selection:
The MEC clay is lab tested for purity and free of toxic chemicals like Lead and Cadmium. From harvesting and prepping the clay down to firing it, everything is done by Miriam and her team of skilled artisans in Dedham, Massachusetts. Every pot takes about 25-30 days to be fully ready.
The MEC dutch oven is a 4 QT large lidded clay pot built with thick walls to trap heat and extract maximum flavor out of the dish. Unlike traditional self-basting lids, the MEC lid doesn't come with nubs and vents. So instead of escaping, the steam condenses naturally, amping up the nutrition quotient of the food in the process.
This 100% non-toxic, non-additive natural clay is as versatile as it gets. Use it as a yogurt maker, slow cooker, bakeware, rice cooker, or classic dutch oven. Overall, we really like this American-made Dutch oven, and for the price you're getting it at, it sure is a bang for the buck!
Nutricraft

| | |
| --- | --- |
| Year Founded | 2018 |
| Dutch Oven Variants Available | 4 QT, 6 QT. With High Dome Lid, 8 QT. With Flat Cover, 12 QT. |
| Materials Used | 316Ti Titanium Stainless Steel |
| Origin | USA |
Company Origin and Manufacturing Locations:
For years, Judith and Richard Viado and their kids struggled with health issues ranging from high blood pressure to digestive problems. Helpless, they started meeting health professionals and researching online, eventually zeroing down on a possible culprit- cheaply made, toxic cookware that leaches metal and chemicals into the food.
As soon as they discarded their low-grade vessels and utensils in favor of 316Ti Titanium Stainless Steel, their health improved remarkably. Realizing high-quality, chemicals, metal-free cookware is hard to find, the Viado couple launched Nutricraft- a trusted brand producing healthy, non-toxic, top-quality cookware at pocket-friendly prices.
Dutch Oven Selection:
In my hunt for quality American-made dutch ovens, I came across not one but two reputable cookware brands that are Australian-owned and operated but manufactured in the U.S. Which is great since it's usually the other way around! Nutricraft is a family-owned enterprise that gets all of its manufacturing done in the USA.
Like all their products, Nutricraft dutch ovens are made from multi-clad 316Ti Titanium Stainless Steel. Extremely corrosion-resistant, non-reactive, hypoallergenic cookware makes it one of the safest and highest-performing materials. The dutch oven is available in a whole range of sizes- 4qt., 6qt., 8qt., and a mega 12qt capacity with either flat cover or high dome lids.
The lids are hands down the smartest I've ever come across! Equipped with three convenient settings to make cooking real breezy- a whistle to remind you the food has reached cooking temperature; a vent setting for releasing vapors silently; and a lock setting to retain moisture and nutrients. You can put it on self-basting mode or lock it down depending on the dish you're cooking. Pretty neat, huh?
Popular Related Article: Frying Pans Made in the USA That We Love
Factors to Consider When Choosing a Dutch Oven
For the uninitiated, a dutch oven is a thick-walled pot with a tight-fitting lid designed to hold heat and retain moisture. Its heavy-duty design makes it ideal for a host of recipes that involve baking, slow cooking, braising, sautéing, frying, and roasting.
Here are a few things to keep in mind before buying this hard-working piece of cookware for your kitchen.
Size: Most brands sell dutch ovens in various sizes, from as small as 1 Quart to as large as 15 Quarts, with the most common one being 5-6 QT capacity. Roomy enough to fit and cook a whole chicken, 5-6 QT dutch ovens are neither too big nor too small, perfect for feeding a family of four.
Ideally, you need to consider the upper limit of the number of people you'll most often be cooking for to arrive at the most suitable size.
Exterior Material: With its superior heat retention and temperature stability, cast iron makes an excellent candidate for dutch ovens. Stainless steel, another common choice of material for dutch ovens, is known for being easy to clean but not quite a match to cast iron's heat holding abilities.
If you're buying stainless steel, make sure you go for one that has undergone cladding or strengthening to enhance its heat stability. We have many such brands on this list.
Raw vs. Enameled: Cast iron dutch ovens come either bare or enameled. Enameled ones are easier to clean and resistant to chipping, rusting, and cracking. Due to their relatively smooth cooking surface, food doesn't stick, nor does it react with acidic food. Although building up seasoning doesn't happen as well as in an uncoated dutch oven.
Raw cast iron, on the other hand, needs some care to keep it from rusting. With proper upkeep, it will last you generations, considering it is tough as nails. To add a non-stick element, brands often pre-season them with oil, giving you a natural cooking surface you'll love using.
Wrapping Up
Whether you pick a heavy-duty cast iron by the likes of Lodge, Finex, and the Field Company, no-fuss stainless steel by All-Clad, NutriCraft, or a close-to-nature earthenware, each dutch oven in this guide is made with pride in the USA.
As always, we look forward to hearing from you. Do drop us a comment and tell us what you thought of our list of best brands that still make dutch ovens in the USA!
Hi, my name is Kevin and I'm from Pittsburgh, Pennsylvania. Choosing products made in America is important to me because it supports local economies, creates jobs, helps the environment, and ensures ethical labor practices. I also find that American made products are usually of higher quality so although they're a little more expensive, you save money in the long run. Before starting this website I was in the USMC infantry and nowadays I work on this website as a hobby.