Gloves are one type of protective gear that is often overlooked and underappreciated. A quality pair of gloves can make a hard day of work or spending time outdoors a whole lot more enjoyable. There are many kinds of gloves, so in this article, we're going to share our favorites within each category.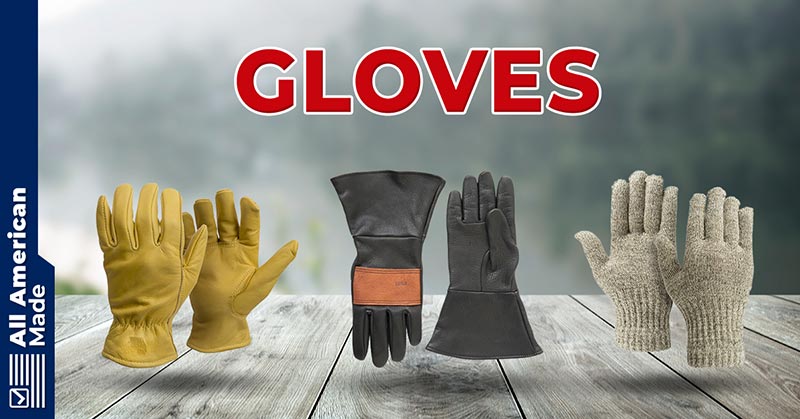 Whether you're looking for leather work gloves, nitrile gloves to protect your hands, or mittens to keep your hands warm during the cold winter months, there is something for everyone on this list.
List of American-Made Gloves
1. Midwest Gloves (Best Value Leather Work Gloves)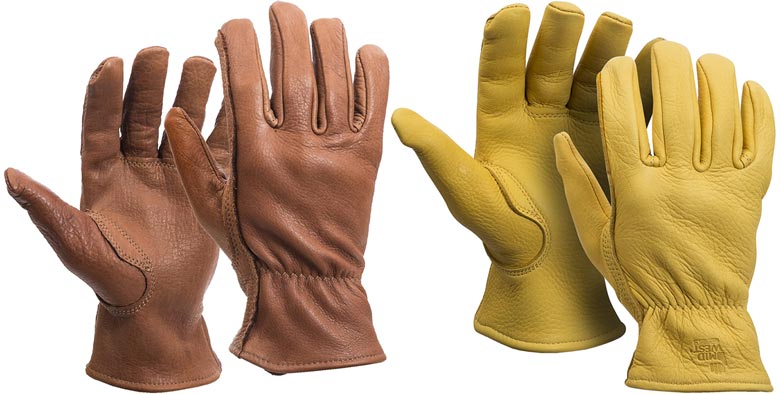 | | |
| --- | --- |
| Estimated Price | $20 to $40 |
| Origin | Chillicothe, Missouri |
| Founded | The 1930s |
| Material | Deerskin leather |
Midwest Gloves's Origin and Manufacturing Locations
Midwest Gloves and Gear is a well-known producer of quality, American-made products. Housed in Chillicothe, Missouri, the brand is one of the largest manufacturers of work gloves on American soil. Their rich history of success began in the mid-1930s under a different name, the Midwest Glove Corporation.
The company later reorganized in the mid-1980s under the Midwest Gloves and Gear name and was one of the only surviving glove companies of their era, thanks to their unbeatable quality and price. Their goal is to create quality products at an affordable price point for citizens who are looking for gloves suitable for work, play, and everything in between. You can check out the Midwest Gloves and Gear official website here. One thing to keep in mind is that while all of their leather gloves are made in the USA, they do offer some gloves that are made overseas, so if you're interested in any of their products other than their leather gloves, be sure to check the listing page.
What We Like and Don't Like About Midwest Gloves
I personally own a couple of pairs of leather work gloves made by Midwest Gloves and Gear, and that's why they're at the top of this list. After much use and abuse, they've held up surprisingly well, and although I'm probably ready to get a new pair, my old ones are still functional and get the job done. They're perfect for tasks like cutting firewood, stacking firewood, and other outdoor work. They're pretty versatile, so it would be impossible for me to list every situation they'd work well in. I find the thickness of the leather to be just about perfect and provide that perfect ratio of protection while still allowing you to move your fingers easily.
The company understands the importance of quality in construction, and I've really been impressed by the quality of the leather, especially for a glove at this price point.
Overall, I'd say these are the best leather work gloves made in the USA for the money. The only thing I don't like is that Midwest Gloves and Gear does make some of their gloves overseas, but thankfully all their leather gloves are still made in America. They aren't the highest quality gloves on this list, nor do they offer their gloves in many different types of leather, but if you give them a shot, I know you won't be disappointed.
2. All American Clothing Co Gloves (Great Thermal Gloves)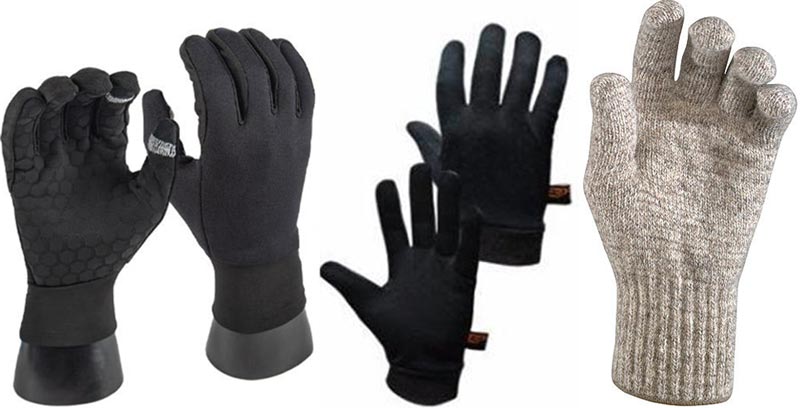 | | |
| --- | --- |
| Estimated Price | Varies by model |
| Origin | Arcanum, Ohio |
| Year Founded | 2002 |
| Material | Varies by type |
All American Clothing Co's Origin and Manufacturing Locations
Lawson Nichol founded All American Clothing Company in 2002 after noticing that the US-based jean manufacturer that he worked for had swapped production out of the United States and exported their manufacturing to Mexico. This really bothered him and went against his principles. He is adamant about delivering American-made quality at affordable prices, so he decided to follow his dreams by creating his own line of clothing nearly 20 years ago. He owned and ran the company with his son until his death in 2020, as they had then assumed a new owner. The new ownership does include the Nichol family in operations and management decisions, and they work in tandem to create high-quality American-made clothing. This company has seriously impressed me, and I've been surprised by how quickly its lineup of American-made products has grown.
What We Like and Don't Like About All American Clothing Co Gloves
It's rare that you find heated gloves that are made on American soil, so when I saw that American Made Clothing Company had included them in their lineup, I was very excited to get my hands on them!
The company offers two main elements of heated gloves and accessories: both the liner and a wind-resistant total glove. Both elements are created with the Heatr technology woven into the liner of the glove for a more comfortable wear experience. They also offer the same design with similar technology in a mitten form if you prefer that type of wear, suitable for any cold day activities.
The brand also offers a variety of other types of gloves that are all proudly made in America, including:
Fingerless gloves
Mid-weight gloves
Kids mittens
Adults mittens
They also offer a variety of cold-weather wear gear and extensive clothing lines, all of which are made in America, so that you can consume in confidence.
These gloves are great for anyone who works extensively outside in the cold weather, providing the heated element via Heatr lining and adding additional benefits of wind resistance and grip ability. The other products in their line are suitable for the whole family! The only thing I don't like is that they don't have any leather gloves at the time of writing this article, but since they're expanding so rapidly by the time you're reading this, they may!
3. Vermont Glove Leather Gloves (Premium leather)

| | |
| --- | --- |
| Estimated Price | $80 to $140 |
| Origin | Randolph, Vermont |
| Year Founded | 1920 |
| Material | Goatskin leather |
Vermont Glove's Origin and Manufacturing Locations
Vermont Glove has been making some of the finest American-made leather work gloves for over 100 years. Their gloves are handmade, and the entire process from sourcing materials to stitching is 100 percent done in the USA. Their attention to detail and craftsmanship is apparent in each pair of gloves, and these gloves are almost like a piece of art. Check out the video below if you'd like to see a pair of their gloves being made, and I think you'll be impressed.
What We Like and Don't Like About Vermont Gloves
We have a lot of great leather gloves on this list, but in terms of overall craftsmanship, these are easily at the top of the list. One of the most notable differences between these gloves and something like cowskin gloves is their thickness and toughness. Traditional cowskin-type gloves are better at taking abuse and weight, but goatskin gloves are typically softer, more flexible, more water-resistant, and offer more dexterity. I'm not saying that one is necessarily better than the other, but different types of leather do shine in different areas.
If you're looking for a heavy-duty leather work glove, these probably aren't your best bet. That said, if you're doing some moderate work and still need some dexterity to feel what you're doing for tasks like untying knots, goatskin gloves like this are great.
These gloves are perfect for types of work where you still need some dexterity. I wouldn't recommend expensive gloves like these for things like chopping wood or shoveling gravel. They are expensive, but they will last a very long time if you take care of these gloves.
4. Geier Glove Co Leather Gloves (Tons of Options)

| | |
| --- | --- |
| Price Range | $40 to $100 |
| Origin | Centralia, Washington |
| Year Founded | 1927 |
| Material | Deerskin leather, Bison leather, or goatskin leather |
Geier Glove Co's Origin and Manufacturing Locations
Texas Good Gloves has been working for years to create quality, American-made alternatives for work and PPE products that are domestically made and supported for your ultimate satisfaction. The family behind the company used to own a ranch in Texas, giving them insight into what is currently available and unavailable on the market. Their goal was to create domestic products that would serve the needs of a diverse group of hardworking American citizens, which they've done daily since their creation through partnerships with Geier and other brands and additional production opportunities.
What We Like and Don't Like About Geier Glove Co Gloves
Texas Good has secured a very lucrative partnership with Geier, who is a top American gloves producer. From driving gloves to work gloves to dress gloves to riding gloves, Geier makes some outstanding leather gloves for just about any task. Even their driving gloves are becoming increasingly popular thanks to their protective and grip-like benefits and have been produced by Geier for nearly 100 years out of their main location in Centralia, Washington.
Currently, Texas Good stocks 43 different types and styles of gloves, ranging from goatskin to elkskin gloves, all of which are made in America and tailored to your preferences. You can select from a wide range of colors and styles to walk away with a driving glove that you'll be proud to wear for years to come — completely domestically made and refined by Texas Good x Geier Gloves.
The company doesn't stop there. You are able to custom order your own Geier set through Texas Good and can also choose from their wide variety of other products.
Texas Good supplies gloves for the everyday consumer and the manual worker, offering selections that appeal to everyone in addition to their larger glove packages for multiuse and team needs.
When you first get these gloves, you can tell right away that they are very well made, and compared to many leather gloves made overseas, they are much higher quality.
Texas Goods has a wide range of gloves for just about any occasion. I really like their selection of leathers. Whether you want a more flexible goatskin leather or more rugged deerskin leather, there is something for everyone. Overall, if you're looking for a great pair of leather work gloves made in the USA, then Geier has some great options.
5. Sullivan Gloves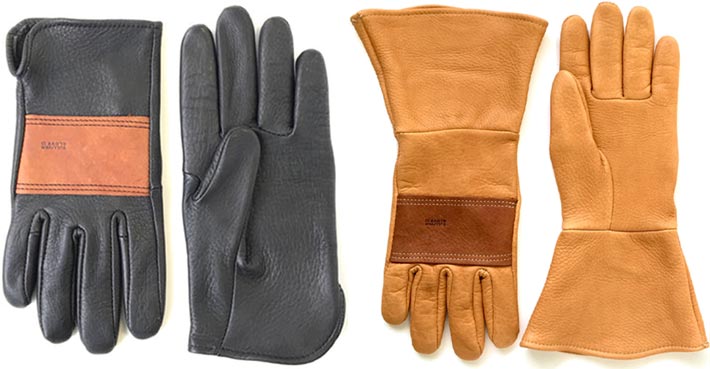 | | |
| --- | --- |
| Estimated Price | $50 to $70 |
| Origin | Bend, Oregon |
| Year Founded | 1941 |
| Material | Deerskin leather, buffalo leather, and more |
Sullivan Glove Co's Origin and Manufacturing Locations
Sullivan Gloves are sold in tandem with their sports line, Sullivan Sport. The company focuses on getting kids and adults back into the Great Outdoors, keeping them safe with quality, domestically made products that they can trust. The gloves have been a central focus of the Sullivan Glove company since its creation in 1941 and have continued to be made in their original headquartered location of Bend, Oregon.
What We Like and Don't Like About Sullivan Gloves
Finding authentic deerskin is hard enough nowadays, let alone a company that also sources its leather in the United States. I was excited to see that Sullivan had created gloves specifically suiting this niche, offering three-pair styles in a variety of colors, types, and styles to suit the need of any wearer.
The current popular styles offered include a fringe style, a riding style glove, and an open-gauntlet design that is designed for maximum comfort of wear and can be used for both work and recreation. The versatility offered by all options makes this one of the most cost-effective investments that you can make in your wardrobe, as you can use this at any time or weather without compromising the overall glove quality.
We recommend this for anyone who is looking to upgrade their wardrobe with domestically sourced and authentic deerskin options. When you choose this type of glove, you can enjoy additional dexterity and the naturally water-repellant nature of the deerskin material, making this the perfect cold-weather gift for your friend or loved one.
Popular Related Article: Great Hammers Made in the USA
6. SHOWA Nitrile Gloves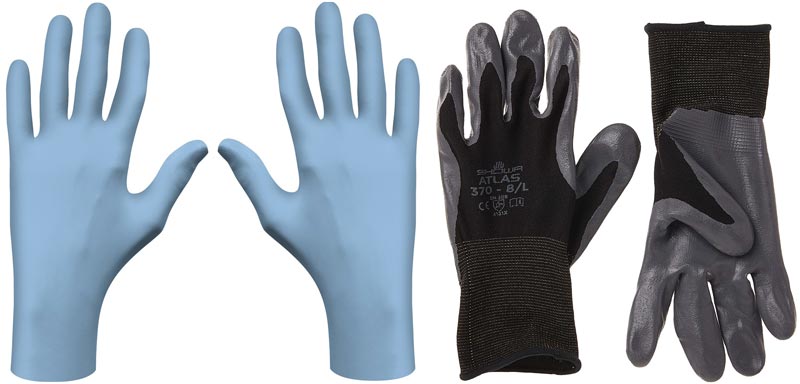 | | |
| --- | --- |
| Estimated Price | $25 |
| Origin | Alabama |
| Year Founded | 1951 |
| Material | Nitrile |
SHOWA's Origin and Manufacturing Locations
SHOWA has been offering quality, domestically manufactured gloves for over fifty years and is credited with developing the world's first single-use nitrile glove, impacting the medical community permanently.
PPE-oriented disposable nitrile gloves became even more of a company focus as they expanded their Fayette, Alabama, production facility to accommodate the growing need. At the moment, they currently produce 4 million gloves per week and have maintained their half-century-long passion for employing domestic workers and pouring them back into our national economy. One thing to be aware of is that not all of their nitrile gloves are made in the USA, so be sure to check the listing page before purchasing.
What We Like and Don't Like About SHOWA Nitrile Gloves
It isn't often that you come across an American-made nitrile glove manufacturer, especially with 95% of PPE being imported from outside of the United States. The way that SHOWA rose to the occasion in the most recent few years is inspiring and only adds to the benefit that they've been offering the domestic economy over the past fifty years.
If you're looking for a greener option for single-use PPE, SHOWA is an ideal option for you. Their products are backed by Eco Best Technology, meaning that they are fully biodegradable and won't put additional strain on the environment throughout the use process. With SHOWA's diverse product line, you can purchase protective gear and gloves.
Their line of products and gloves is designed for specialty work and personal protective equipment. The affordable price points make them an ideal domestic alternative for healthcare organizations, factories, service industries, or personal use. Overall, if you're looking for Nitrile gloves made in the USA these are easily one of our top recommendations.
7. Lutema Disposable Gloves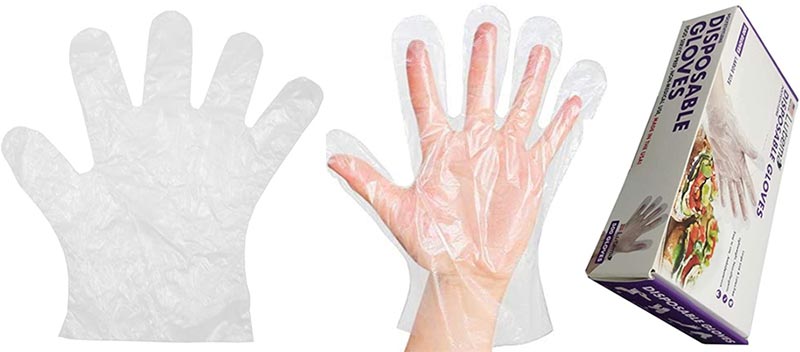 | | |
| --- | --- |
| Estimated Price | $30 |
| Origin | San Diego, California |
| Year Founded | 2017 |
| Material | Polyethylene |
Lutema's Origin and Manufacturing Locations
Lutema was formed in 2017 and is currently headquartered in San Diego, California. Their goal is to provide quality products for personal use, offering products ranging from masks to gloves. Their latest focus is on food safety and disposable gloves.
Quality is a top priority to Lutema, who has registered with the FDA and passed the qualifications to be ISO 9001:2015 certified, undergoing rigorous external audit processes to ensure that their products meet and exceed current ISO standards. When you invest in Lutema, you can rest assured that you're investing in quality, safe, and reliable options that you can trust.
What We Like and Don't Like About Lutema Disposable Gloves
Currently, Lutema is promoting their clear, disposable gloves, which are suitable for a variety of uses. These types of gloves are most commonly used for personal care, food safety and handling, or light, hygienic protection. The construction is extremely lightweight for ultimate comfort and wear and is crafted from polyurethane for affordability and durability for more manual tasks, such as food preparation and handling.
Despite their single-use purpose, Lutema has constructed these with as many user comfort and experience-oriented design elements as possible. Their disposable products feature light bevels and ridges to help enhance the grip of the glove and further reinforce its use and wear. The loose fit and thinness of the overall construction give you a seamless transition for single-use tasks. These gloves come at an affordable price point for disposable gloves that aren't domestically sourced, making these a worthy competitor to other imported brands.
You can use these lightweight, disposable gloves for any single-use purpose. These are safe to use for food handling purposes and can be a great help to you in the kitchen or at the grill. You can also enjoy this extra barrier to your hands for home improvement tasks or personal care tasks, making good use of the diversity that polyurethane construction offers.
8. Tough Gloves Leather Gloves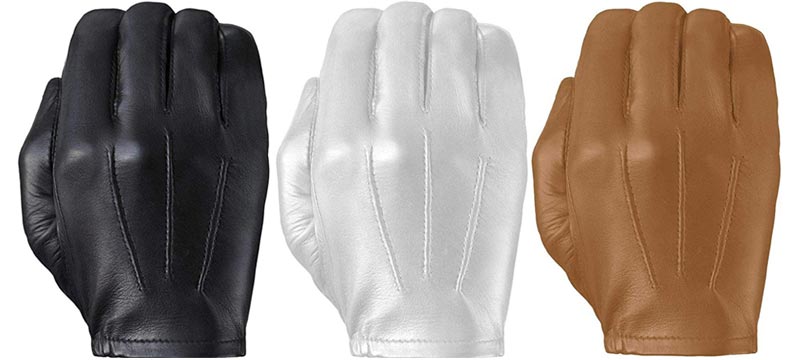 | | |
| --- | --- |
| Estimated Price | $50 to $70 |
| Origin | Fort Lauderdale, FL |
| Year Founded | 1967 |
| Material | Cabretta leather |
Tough Gloves' Origin and Manufacturing Locations
Tough Gloves was formed around a singular goal: carrying the legacy of Damascus Protective Gear after they discontinued several key models for law enforcement officers and other agency operatives. The company works nearly exclusively with Cabretta leather and has remained in the family since its inception. For over 40 years, they have been committed to creating and promoting American-made products.
What We Like and Don't Like About Tough Gloves Leather Gloves
When I heard the story and goal of the brand, I immediately knew that we wanted to review them for this list. The amount of ingenuity and innovation that it takes to continue the legacy of a well-known brand with your own product is immense, but Tough Gloves pulls it off in a way that retains its rave reviews and a growing, dedicated customer base.
The company offers an assortment of fits that are suitable for both field and performative use (i.e. Honor Guard styles) and are a great choice based on the dexterity, grip, and quality that they are known for in the field.
The gloves are made mainly of Cabretta leather, which has been popularized for use in golf gloves. This is an ideal material of choice for your gloves thanks to its ability to reduce vibrations and friction and give you the grip that you need to rely on in the field.
The company further tailors the gloves to your need with a style and fit that is designed to hold your hands snugly in the glove without inducing friction or pain. Many of the designs are created with a polyester lining for your ultimate comfort and versatility in wear.
These gloves are ideal for those on patrol or guard that are looking for a reliable replacement or alternative to their current pair. This makes for a great gift for any occasion or a great addition to your next uniform run.
What impresses me most about these gloves is their fit. Many leather gloves are loose around the fingertips or are too tight in certain areas, but these gloves seem to fit just about perfectly.
9. Stormy Kromer Tough Mitts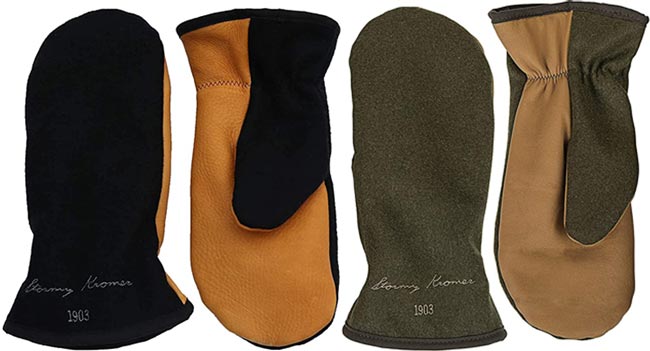 | | |
| --- | --- |
| Estimated Price | $50 to $70 |
| Origin | Ironwood, Michigan |
| Year Founded | 1903 |
| Material | Wool/nylon |
Stormy Kromer's Origin and Manufacturing Locations
Stormy Kromer is a company that's well known for its unique-looking cold weather hats, but many people don't know that they offer a lot of cold weather apparel. The company has been making high-quality products in America for over 100 years. Their products were initially designed to meet the needs of railroad workers during the cold winter months that Michigan offers, and to this day, they still live up to those standards. While I don't really like how many of their hats look, I find their gloves fantastic.
What We Like and Don't Like About Stormy Kromer Tough Mitts
If you're looking for some incredibly warm American-made winter gloves, these are one of my top recommendations. The gloves themselves aren't overly thick, but they are still plenty warm because they're made of wool/nylon blend. The palm of the glove is made of goatskin, which I've found to be extremely tough. One important thing with mittens especially is to ensure you purchase the right size glove. If you have a glove that is too large or too small, you likely won't be happy with it even if it does have a great design.
These mittens are great for anyone who needs to do daily tasks outdoors during cold winter days. Being that they are mittens, they won't be ideal for every task, but if you just need to do something like run a snow blower, shovel snow, or walk your dog, they are perfect.
10. Wintergreen Northern Wear Gloves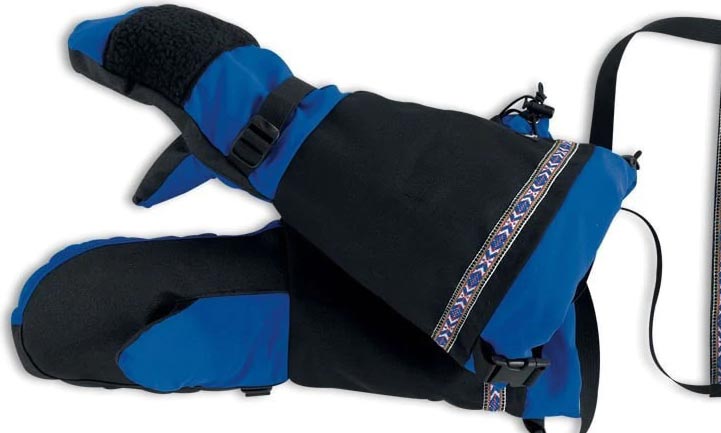 | | |
| --- | --- |
| Estimated Price | $200 |
| Origin | America-Ely, MN |
| Year Founded | 1987 |
| Material | 3-ply Supplex nylon with ToughTek grip pad |
Wintergreen Northern Wear's Origin and Manufacturing Locations
Wintergreen Northern Wear is a company that specializes in outdoor apparel. The founders of this company have traveled to some of the harshest environments in the world and have used their experience to craft some of the most unique outdoor wear I've seen. From 30 below zero to 80 degrees, they have products for just about any condition. Another thing I love about this company is that the founders are extremely adventurous. They actually field-test all of their gear and make improvements to ensure they produce the most useful products possible for their customers.
What We Like and Don't Like About Wintergreen Northern Wear Gloves
If you're looking for an extremely durable and warm pair of mittens, these are going to be extremely hard to beat. These things are built like absolute tanks and also feature a nice removable fleece liner. The saying "buy once, cry once" comes to mind when talking about these gloves because they are very expensive, but they're the type of gloves that last for many years. Overall, I feel they are worth the price, and compared to gloves made overseas, there is no comparison.
These gloves are for those who spend time outdoors during the cold winter months and want the absolute highest quality gloves they can get their hands in. Overall, these are easily some of our favorite gloves made in the USA.
11. LL Bean Fireplace Gloves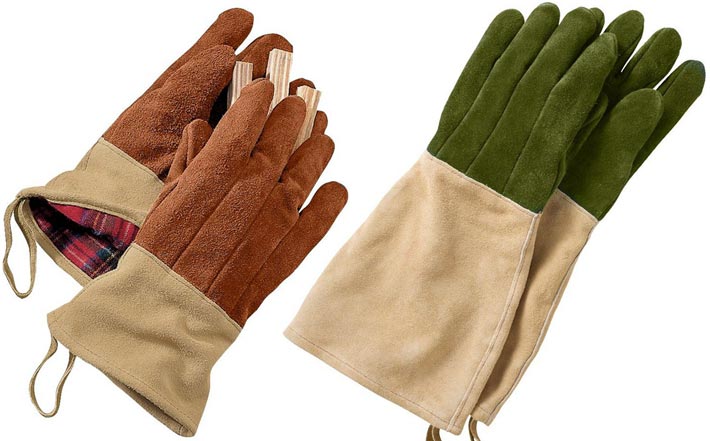 | | |
| --- | --- |
| Estimated Price | Varies |
| Origin | Brunswick, Maine |
| Year Founded | 1912 |
| Material | Leather |
LL Bean's Origin and Manufacturing Locations
LL Bean was created by Leon Leonwood Bean after his creation of a weather-resistant boot in 1911. He ran additional production for more pairs and began to sell on a broader scale in 1912. This soon expanded into an entire product line oriented around survival and the outdoors and began offering luxury clothing experiences at affordable prices.
The brand was even frequented by Eleanor Roosevelt, among others, as it grew in popularity. While the company has since expanded to create new avenues of adventure gear and quality clothing, a majority of its offerings have been created overseas. Recently, the brand returned to its roots and launched a Made in America line featuring products that are exclusively made in America.
What We Like and Don't Like About LL Bean Fireplace Gloves
I was interested to see that the company chose to revise its original processes to include a Made in America line, and was even more fascinated by what they chose to include. Among the rest of the products, we were able to spot both regular-length and extra-long fireplace gloves that offered considerable protection for when you're doing fireplace chores or want to have your bonfire safely.
The gloves themselves are crafted from an Insuleather material, which is spark resistant and designed to regulate heat between your hands and the outside environment. The variability in lengths was great to see rather than the one-length alternative options, offering you additional protection based on whatever type of fire that you planned to have.
The actual construction is created with wide-set gauntlets, ranging from 5"-9.5" depending on the length of glove that you purchase in order to accommodate the length of the forearm. You can choose length as well, varying from 13" to 18". The gloves are designed to be resistant to shrinkage or hardening even with repeated use and offer the bulk necessary to protect the most vulnerable parts of your hands from heat, ash, and flames.
The product has received several positive reviews and is one of the most reliable options available if you're looking for quality fireplace gloves that are made in the USA. Alternatively, their Made in the USA line also offers great product availability for other domestically-made products that you may be in search of, ranging from all-weather clothing options to patio furniture items.
Anything that you purchase in this line will be American-made, so you can rest assured it will not be a part of their regular product line.
This is a great cold-weather gift to give ahead of the winter season or for the holidays and is ideal for anyone who works with fires and fireplaces or enjoys making bonfires in the backyard. The protection that these gloves offer is unbeatable and can be suited to fit the needs of any wearer, thanks to the wide gusset and variety of length styles available.
12. JRC Leather Motorcycle Gloves

| | |
| --- | --- |
| Estimated Price | Varies |
| Origin | Centralia, WA |
| Year Founded | 1895 |
| Material | Deerskin leather |
JRC's Origin and Manufacturing Locations
JRC's story and origin began over a century ago in the 1890s by a man named James Churchill. Mr. Churchill was a wagon peddler and was famous for selling life-enhancing wares and tools. He fell into glove creation as a result of a bad trade decision and continued to build his brand around glove creation after he received his first pair back from the tanner in town. His business continued to grow, and he launched his first glove-making factory in 1897. The business has stayed in the family through the present day and currently employs 35+ employees to continue operating out of their Centralia, Washington center.
What We Like and Don't Like About JRC Leather Motorcycle Gloves
JRC products come from years of industry experience and process perfection, leaving users with an excellent and well-loved end result: gloves that are built to withstand just about anything. Their motorcycle gloves are made from deerskin, which is one of the softest and most supple leathers that you can use for that type of construction. Deerskin is preferred for its naturally tear-resistant benefits and can be great for protecting against sun, heat, and the elements.
Each glove is created with the optimal weight-to-thickness ratio, giving you a lightweight ride experience without compromising on quality or benefits. Their design and structure are enhanced by the care put into each small component of the total glove — such as the addition of single or double-needle stitching on the seams and joining pieces for a barely-there feel. You can choose from a variety of offered styles as well, ranging from classic, gauntlet, or open tip style. They also offer seamless and lined options for a more comfortable and tailored fit.
When you shop with JRC, you can go from riding the roads to hitting the range in seconds with their selection of rodeo and work gloves, boasting the same high quality that you can expect from an American-made business. They offer a variety of glove liners as well for a truly tailored fit, such as:
Foam
Sherpa
Thinsulate Finish
Vellux
You can also look for options without lining if that suits you.
JRC gloves make for an excellent gift for any occasion. If you're a motorcycle enthusiast who is looking for the next accessory that can make your ride more comfortable, investing in a good pair of American-made motorcycle gloves is a great place to start. Their other offerings, such as falconry gloves and rodeo gloves, offer additional opportunities for investment for any hobbyist or enthusiast.
Popular Related Article: Work Boots Made in the USA (Source List)
13. Newberry Knitting Cold Weather Gloves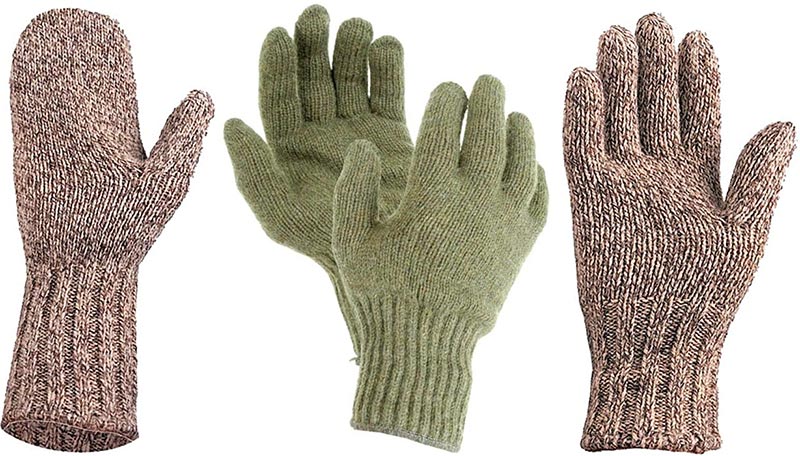 | | |
| --- | --- |
| Estimated Price | $10 to $20 |
| Origin | Schenectady, NY |
| Year Founded | 1946 |
| Material | Varies by type |
Newberry Knitting's Origin and Manufacturing Locations
Newberry Knitting has been a family business, successfully providing cold-weather gear and knit products since the business began in 1946. They grew their business by catering to a niche of the market who was looking for adequate and reliable cold-weather gear that would still be in fashion and ready to wear for any occasion, be it a night out on the New York skyline or cozying up at home in the frigid East Coast winters. The brand continued to grow and has expanded its manufacturing process to include more specialty materials as well, such as authentic wool and soft deerskin. The company continues to operate today out of its main factory in Schenectady, New York.
What We Like and Don't Like About Newberry Knitting Cold Weather Gloves
There are few things cozier than handmade cold-weather gear products. Knit items are often items that are found to be imported, so I was truly excited to add a domestically-made option to this list. Newberry Knitting offers a variety of made-in-America cold weather items and gloves, ranging from small to large sizes and including specialty items, such as mittens, as well.
For most of their gloves, the company opts for a specialty blend of 70% wool and 30% nylon. This offers you the warmth that you need against the most frigid of winters while providing the supple and supportive elements of the nylon for a more comfortable wear experience. Most gloves in their line are designed to offer you the option to either wear them as a standalone, midweight glove or add to your cold-weather attire by providing a great liner to continue to layer off of. The versatility offered for the price point is affordable and a great deal for those who are looking to find more domestic options for their cold weather gear.
The gloves in their lines are designed to be unisex and suit all hand types and sizes, making this the perfect gift for any wearer or occasion. They also offer a variety of other product options that are all made in the USA, including:
Fingerless gloves
Mittens
Lined gloves
Hats
Children's gloves
Children's mittens
Newberry Knitting products are ideal for wearers of all ages and preferences, and their wide product line offers the perfect style and fit for everyone. You may consider gifting these all year round or purchasing them for yourself to indulge in quality cold weather gear before the bitter winter months.
Wrap Up
That does it for this article. Let us know if there are any great gloves we should add to this list. We are always looking to add to and improve our articles, so your feedback is always appreciated.
Hi, my name is Kevin and I'm from Pittsburgh, Pennsylvania. Choosing products made in America is important to me because it supports local economies, creates jobs, helps the environment, and ensures ethical labor practices. I also find that American made products are usually of higher quality so although they're a little more expensive, you save money in the long run. Before starting this website I was in the USMC infantry and nowadays I work on this website as a hobby.