No kitchen is complete without a can opener! From soups to sauces to refried beans – a delicious variety of canned foods is a staple in every American home or restaurant. But if you go looking for a can opener made in the USA, you'll find that most are manufactured overseas. They may be easy on the pocket but won't score high on quality, durability, or patriotism.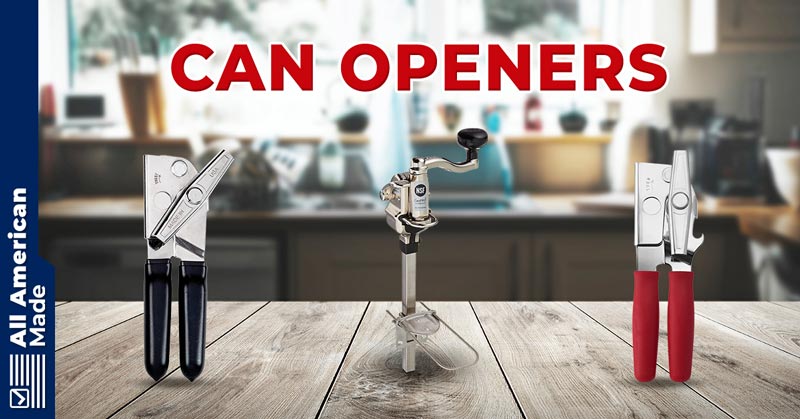 That's why we've done the research and picked out can openers that are manufactured on American soil! Simply scroll down and find the perfect can opener for your needs.
List of American Made Can Openers
EZ-DUZ-IT Deluxe Can Opener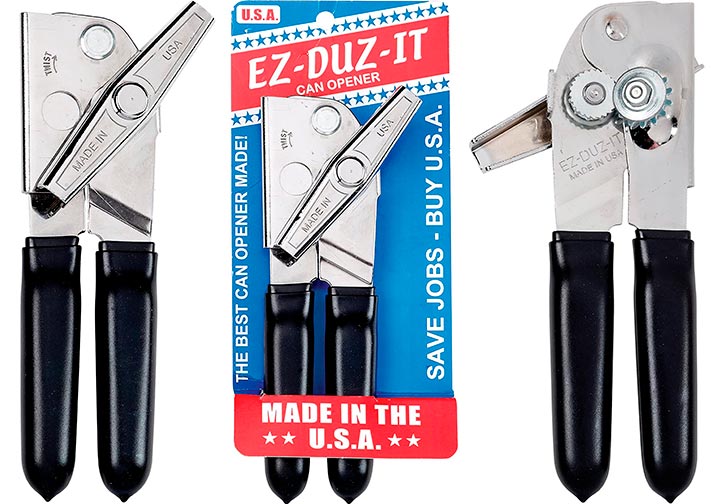 | | |
| --- | --- |
| Type | Manual, Handheld |
| Body Material | Heavy Guage Chromed Steel Body with Rubberized Handles |
| Cutter Material | Carbon Steel Blade |
| Location Produced | Hazelwood, St. Louis, Missouri |
EZ-DUZ-IT's Origin and Manufacturing Locations
John J. Steuby Company's 144,000 square foot large facility in Hazelwood, St. Louis, Missouri, is home to a large number of precision machine metal products. This plant provides livelihood to over 100 US employees and is now one of the Midwest's largest and most diversified contract manufacturers.
The company's founder Steuby, now 92 years old, has manufactured for various industries from Aerospace to Hardware. But the product closest to his heart is a 100% American-made can opener, perhaps one of the most popular on this list- EZ-DUZ-IT!
What We Like and Don't Like About Can Openers About EZ-DUZ-IT Deluxe Can Openers
I've owned this particular can opener for years, and while it's not fancy, it gets the job done and still works like new even after years of use. Steuby Co's most iconic creation is a handheld, super reliable kitchen tool that will never let you down when it comes to opening a can. What works in its favor is the classic rotary design and solid build. It's made from durable heavy-gauge chromed steel with a hardened and sharpened carbon steel cutter. EZ-DUZ-IT's all-metal body is paired with a gear-led swing design that glides across the tin cutting it open clean.
It's easy to hold and operate thanks to its sturdy chrome-plated carbon steel handles, which are rubberized for a comfortable grip. Being a 7.25-inch long can opener, it's just about the perfect size and durable enough to last you for years to come. The only thing you need to keep in mind is that it should be washed only by hand with warm soapy water to protect chrome plating from rusting. Not asking for much, considering you're getting a durable, dependable opener for a great price!
EZ-DUZ-IT is great for those looking for an affordable, manual can opener. While it doesn't come with higher-end features like lid removal, what it does is open a can effortlessly every single time. The gear-led design and ease of use make this can opener ideal for everyone, including seniors with arthritis. Apart from classy black, EZ-DUZ-IT is also available with green, red, and yellow grips. Overall, it's just a great can opener for the money. I've tested a lot of can openers over the years, and I have to say I'm impressed EZ-DUZ-IT can sell this opener for the price they do. Even compared to products made overseas, it's a similar price and much higher quality. While it's not fancy, for the money, it's a great value and gets the job done.
Made in USA Manual Can Opener
| | |
| --- | --- |
| Type | Manual, Handheld |
| Body Material | Alloy Steel |
| Blade Material | Stainless Steel |
| Location Produced | Hazelwood, St. Louis, Missouri |
Made in USA's Origin and Manufacturing Locations
Before moving its operations to China, the renowned American company, Swing-A-Way, held the lion's share of the can opener business in the United States. Steuby Co., a well-known contract manufacturer in the Midwest, was the one who used to make Swing-A-Way's popular can openers. A practice they continued even after Swing-A-Way moved all of its manufacturing overseas. These can openers are now sold by John J. Steuby Co. under the "Made in USA" brand label.
What We Like and Don't Like About This Can Opener
Made in the USA can opener's name and performance celebrate and showcase superior American manufacturing. And the fact that this can opener was designed way back in 1958 shows its time-tested quality. The design was modified in 2018 to keep up with contemporary use and lifestyle.
A gear-driven functionality, a smooth rotating wheel, and stainless steel cutter deliver quick action. The sharpened cutting blade runs over the can's rim and cuts it open with minimal effort. All the metal parts, including traction gear, wheel, and cutting blade, have been thermal treated and coated with zinc for enhanced durability. The long handles have comfortable rubber grips, and the crank turns swiftly without exerting any pressure.
Like EZ-DUZ-IT, you need to handwash it with warm soapy water and wipe it dry to reduce the risk of rusting. At $15, this authentic, American-made robust can opener is something of a steal and worth exploring!
Together with EZ-DUZ-IT, Made-in-USA can openers are fine examples of John J. Steuby Co.'s stellar manufacturing prowess. This can opener is suitable for household use and extremely easy to use, even for southpaws or people with arthritis. Its pocket-pleasing price, high utility, and longevity hit the sweet spot, beating several cheaper imported alternatives hands down!
Popular Related Article: What Cutting Boards Are Made in the USA?
Edlund #1 Old Reliable Can Opener (Very Versatile)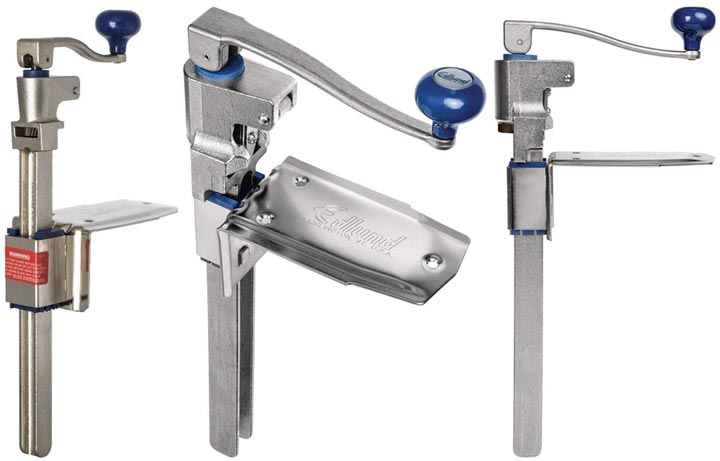 | | |
| --- | --- |
| Type | Manual, Table Mount |
| Body Material | Stainless Steel |
| Blade Material | Stainless Steel |
| Location Produced | Burlington, Vermont |
Edlund's Origin and Manufacturing Locations
Did you know the very first can opener produced for commercial use was Swedish inventor H.J. Edlund's brainchild? Impressed with the results, Edlund started his own manufacturing factory in Burlington to produce commercial can openers.
All of this was way back in 1925, and now close to a century later, Edlund is an industry leader in kitchen equipment, specifically commercial can-opening systems. Their wide range of products includes everything one might need in a food service setup.
What We Like and Don't Like About the Edlund #1 Old Reliable Can Opener
So far, we've talked about can openers suitable for home kitchen use. But opening a can is not restricted to a household. In a high-volume, harsh setting of a commercial kitchen, one would typically need a can opener that is way more efficient and quicker than a handheld one. And this is where Edlund's 11100 comes steps in!
This heavy-duty can opener is a part of what Edlund calls "Old Reliables"- their much-loved original design with an upgraded finish and rust-resilient arbor. Unlike handheld ones, this can opener can be fixed on any tabletop using its robust plated steel base. All you need to do is drill some holes for the bolts and mount the equipment.
Edlund #1's sturdy base has a plastic insert that extends the lifespan of the plating. And the inclusion of plastic bushings reduces friction, popping the can open before you know it!
Edlund's stainless steel can opener is one of the most versatile can openers on this list. It can open up to 11″ tall cans and anything between 4-6 of them in under a minute. Be it at home or a hyper-energetic set up of a restaurant kitchen, this "old reliable" will not disappoint.
Edlund 12100 #2 Manual Can Opener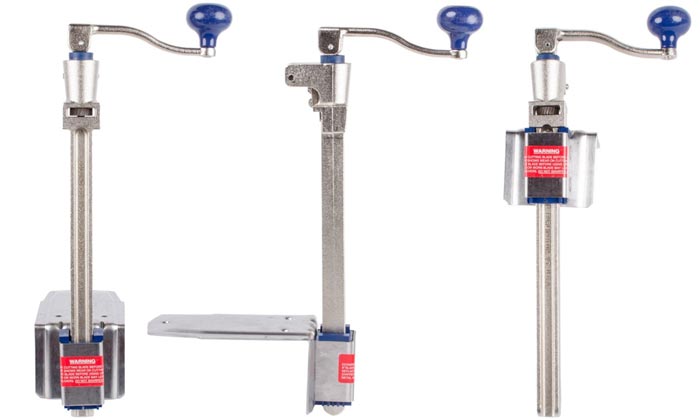 | | |
| --- | --- |
| Type | Manual, Table Mount |
| Body Material | Stainless Steel |
| Blade Material | Stainless Steel |
| Location Produced | Burlington, Vermont |
Edlund's Origin and Manufacturing Locations
Nestled in the beautiful city of Burlington, Vermont, surrounded by the scenic Lake Champlain and green rolling hills, is Edlund Co's production haven. The state-of-the-art facility produces a wide array of heavy-duty, operator-oriented kitchen equipment, including iconic can openers.
Once the production takes place in Vermont, the distribution gets done through their various centers in the USA., Hong Kong, and Belgium. Besides standalone food service and processing units, Edlund Co is also very popular among food chains for its reliability, quality, and entirely American-made kitchen solutions.
What We Like and Don't Like About the Edlund #2 Manual Can Opener
The 12100 #2 is another one of their "Old Reliables" that have dominated commercial kitchens across the USA. With safety and efficiency in mind, Edlund has loaded this tabletop can opener with long-lasting and easy-to-use features. Its long-wearing spool and corrosion-resistant gear are thoughtful inclusions that you won't be able to find in any other market alternative.
The overall construction of #2 is quite similar to 11100 #1, with the only difference being that this one is lighter, smaller, and can open cans up to 7″ tall. It has a plated steel base and a solid blade that just won't give up.
An easy-to-turn handle also means you get your cans open with lightning-fast speed. What seals the deal is how effortlessly the knife and gear can be removed to give it a thorough clean. And we know just how important this is in commercial kitchens where several cans are opened every day.
The Edlund 12100 is ideal for commercial use but does that mean it cannot be used in a home kitchen? Certainly not! We feel that it's worth the investment and will last you a lifetime, wherever you decide to use it. And if most of your meals and cooking revolve around using contents out of a can, then this opener will work out better in the long run than other lower-priced handheld ones.
As I mentioned earlier, 12100 #2 Old Reliable can open up to 7″ tall cans within seconds. For bigger, taller cans, you might want to check out 11100 #1 on this list.
Edlund Tabletop Electric Can Opener (Great for Restaurants)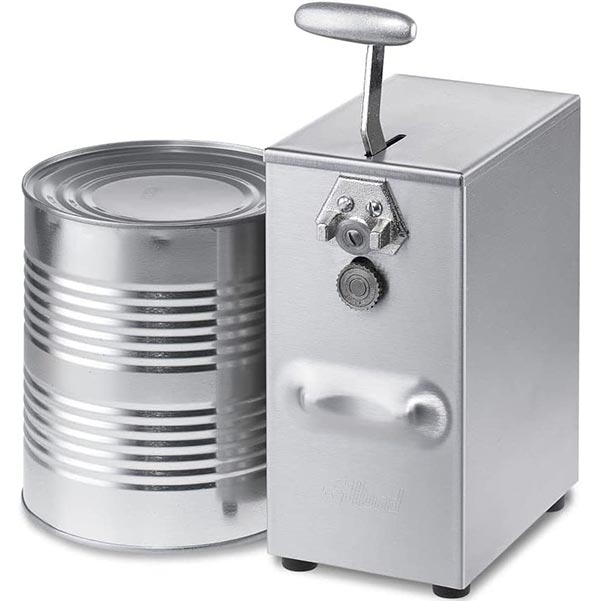 | | |
| --- | --- |
| Type | Electric, Countertop |
| Body Material | Stainless Steel |
| Blade Material | Stainless Steel |
| Location Produced | Burlington, Vermont |
Edlund's Origin and Manufacturing Locations
The idea to adapt can openers for commercial use laid down the roots for this Vermont-based company. Before Edlund, restaurant staff struggled to open cans quickly and efficiently. They used knives handheld openers, but nothing could keep up with the hectic environment of a commercial kitchen.
Edlund's #1 and #2 can openers took the food industry by storm, but the company didn't just stop there. They started producing a vast range of products from kitchen prep to storage. However, their expertise in commercial can-opening solutions remains unchallenged.
What We Like and Don't Like About the Edlund Tabletop Electric Can Opener
When I started looking for authentic American-made can openers, most of what I came across were manually operated options. And despite so many electric can openers in the market, it seemed impossible to find one that's made here. As it turns out, in addition to producing a high-quality manual commercial can opener, Edlund is perhaps the only one that still makes an electric variant in the USA.
Edlund 266 boasts a highly durable stainless steel construction that is also super easy to maintain and clean. In this electric can opener, Edlund has employed a unique spring-loaded cutting mechanism that opens cans of all shapes and sizes, even the ones that are dented.
I love how user-friendly Edlund can openers are! The 266 has a single-handed operation which is simple and easy thanks to its strong handle. This apparatus comes with rubber feet at the bottom for added stability and safety.
Finally, the demanding nature of a commercial kitchen can result in wear and tear of some parts, including knives and gears. The good news is that they are all easy to replace. Just make sure you check them regularly.
Edlund 266 electric can opener, can open up to, hold your breath- 75 cans a day! This is why it is most suited for restaurants and other high-volume setups. Electric can openers score over manual ones as they are automatic and operationally efficient. This incredible tool reduces the workload on kitchen staff so they can focus elsewhere instead of fumbling around opening cans, one after another. If you're looking for an electric can opener made in the USA, this is a great option for those who have a need to open many cans. Sadly, after doing hours of research, our team wasn't able to find any electric can openers that were reasonably priced for the average consumer.
Popular Related Article: List of Great Kitchen Knives Made in the USA
Nemco 56050-1 CanPro Can Opener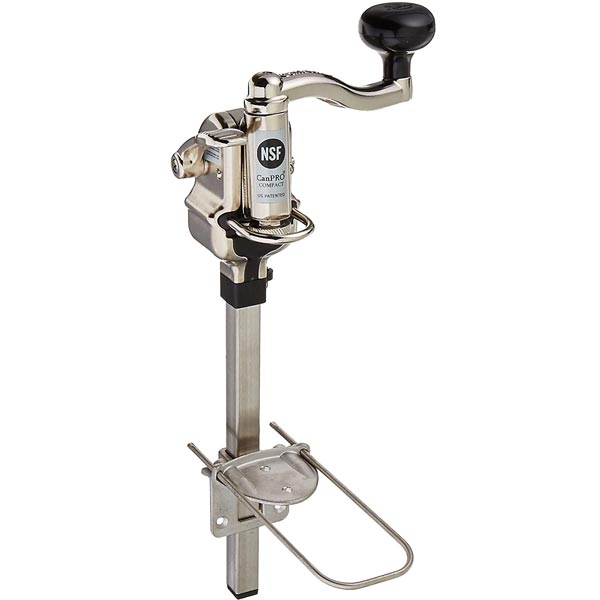 | | |
| --- | --- |
| Type | Manual, Table Mount |
| Body Material | Stainless Steel |
| Blade Material | Stainless Steel |
| Location Produced | Hicksville, Ohio |
Nemco's Origin and Manufacturing Locations
What started in a small machine shop in Hicksville, Ohio, has grown into a trusted food equipment brand in North America. Founded in 1976 by Ed Neidhardt, Nemco is known for relying on innovation and modern technology to cater to the needs of the food service industry. Apart from its world-class food prep line, Nemco also produces a host of countertop solutions that extend to cooking, food merchandising, and storage.
What We Like and Don't Like About The Nemco 56050-1 CanPro
Nemco's CanPro compact can opener is a huge hit in the restaurant world for its ability to handle cans of different shapes and sizes. Its unique design is a real showstopper and also why this model was voted as a FER 2007 Smallwares Award finalist!
The 56050 CanPro's clever constriction allows the blade to cut horizontally instead of making vertical incisions, as seen in other can openers. What this does is protect the user from hurting their fingers and, at the same time, shield the contents of the can from any external contamination.
CanPro's shaft and cutting mechanism is sturdily built from stainless steel and can rip open 5000 lids before it has to be replaced. This can opener has no gears, so you don't have to worry about any other part replacement besides replacing the cutter. The 56050 comes in three mounting variants- Permanent, Clamp, and Security mount. The 56050-1 model is a permanent mount that needs to be screwed onto the countertop.
Nemco CanPro compact is a top-of-the-line can-opening solution for any industrial kitchen and can be adjusted to handle any can, even #10 size. CanPro's unique side-cutting feature stops the lid from falling into the can. It's also pretty safe as there are no sharp blades to trouble the operators. Its flawless design, safety profile, and durability will give you your money's worth.
P-38 John Wayne Survival Can Opener (Excellent for Emergency Use)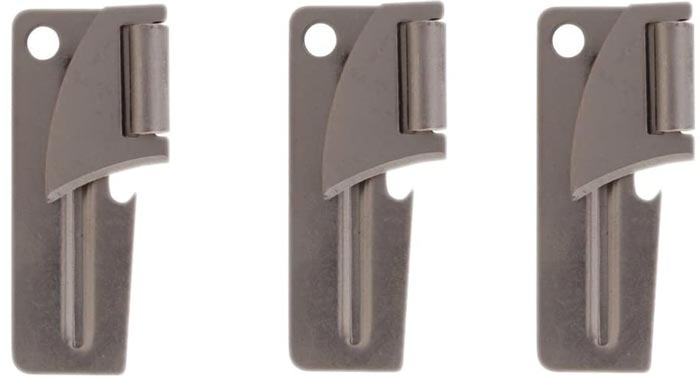 | | |
| --- | --- |
| Type | Manual, Handheld |
| Body Material | Stamped Steel |
| Blade Material | Stainless Steel |
| Location Produced | USA |
Product Origin and Manufacturing Locations
Often called one of the Army's greatest inventions, this little wonder has opened not only cans but also saved lives! P-38 was designed in 1942 and extensively used by American troops during World War II. It continued to be a part of canned rations of the US Armed Forces well into the 1980s.
While the earlier wartime versions of P-38 were manufactured by Wisconsin-based J.W. Speaker Corporation and Washburn Corporation, the more recent ones were made by Mallin Shelby Hardware inc. Though not used by the military anymore, P-38 openers are still in production and sold across the globe.
What We Like and Don't Like About the P-38 John Wayne Survival Can Opener
With a clue in the name, P-38 stands about 38mm or 1.5 inches tall. They are made from stamped steel and designed in a metal blade shape. There's a little notch that fits on the lip of the can, and a small, hinged metal tooth folds out to puncture the lid. What you do next is walk it around along the rim.
There's a reason why P-38s are called "John Wayne" by the US Marines. These can openers have proven time and again to be durable, dependable, and handy tools.
P-38 can opener's tiny, lightweight frame makes them a must-have for emergency and travel kits. And if for some reason, your primary can opener is not available, this ultra-small opener will make a great substitute.
Apart from opening cans, P-38 can also be used as flat screwdrivers. I recommend buying them in lots instead of single units to place them in many places and kits while keeping a few around as replacements.
Garde Heavy Duty Can Opener with Ergonomic Handle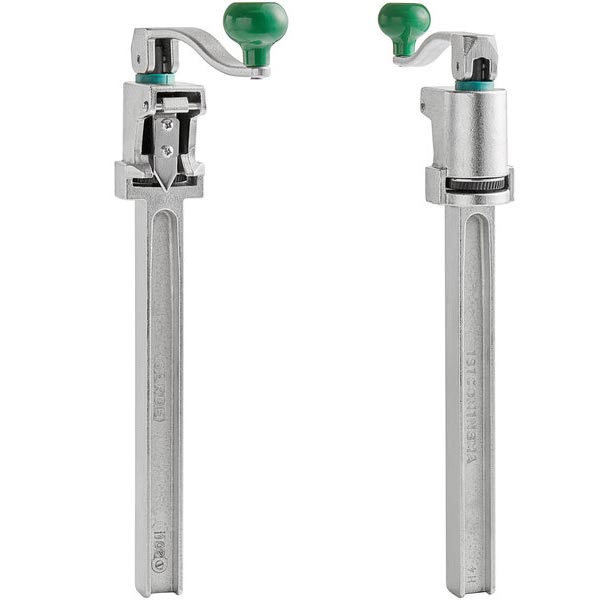 | | |
| --- | --- |
| Type | Manual, Table Mount |
| Body Material | Nickel-coated Cast Iron with Stainless Steel Base |
| Blade Material | Dual Edged Stainless Steel |
| Location Produced | Lancaster, Pennsylvania |
Garde's Origin and Manufacturing Locations
Garde is one of WebstaurantStore's many exclusive brands available only on their website. The idea is to offer hard-to-beat value and prices on everything a restauranteur, chef, or anyone would need to run his kitchen smoothly.
The Lancaster-based WebstaurantStore was started with the aim to become a one-stop online shop for industrial kitchens and individual customers. With fast shipping and round-the-clock customer support, WebstaurantStore has become a leader in the distribution of kitchen supplies and equipment. From dinnerware to the kitchen equipment, this online store has got it all!
What We Like and Don't Like About the Garde Heavy Duty Can Opener
At 13″ tall, the Garde Heavy Duty can opener looks big but incredibly easy to use. Simply mount it on your countertop using its stainless steel base and watch it open up to 50 cans a day or 4-6 cans in under a minute. Got a #10 can? Bring it on! Because this American-made opener can deal with cans of all shapes and sizes out there.
This can opener's solid construction and ergonomically designed handle get a big thumbs up from me! Garde has used highly durable cast iron with rust-resistant nickel plating to make sure this opener will last you decades. The blade and gear are the only parts that might need replacing but not before opening 4000 cans for your kitchen.
Opening cans with a handheld tool is a real struggle, especially in a restaurant kitchen. Being a labor-intensive place, people working there should get all the help they need. American-made Garde can opener can get the job done with just a few cranks of the handle.
Its dual-edge knife and gear set are easy to remove and clean and won't require any replacing for a long time. While this can opener is big with restaurants, it'll also prove to be an excellent houseware for someone who consumes a lot of cans.
P-51 Military Style Can Opener (Most Travel-Friendly)

| | |
| --- | --- |
| Type | Manual, Handheld |
| Body Material | Stainless Steel |
| Blade Material | Stainless Steel |
| Location Produced | USA |
Product Origin and Manufacturing Locations
Along with the popular P-38, P-51 can openers were widely used by the United States Military for the purpose of opening large "Tray Rations" or canned bulk meals. While P-38s were introduced during World War II, P-51s came a couple of decades later. However, unlike P-38, P-51 is still a part of the military inventory. Besides the USA Military, these can openers have also been a part of rescue missions and disaster recovery operations in the USA and Afghanistan.
What We Like and Don't Like About the P-51 Military Style Can Opener
Most would describe P-51 as the larger version of P-38, but there's more to this Military style can opener. Measuring approximately 51 mm or 2 inches in length, P-51 is a versatile can opener that can double up as a survival tool. It is entirely built using stainless steel in a blade style with a pointy hinged metal tooth that opens out to pierce the lid.
Due to its longer length, P-51 is easier to use and opens cans more quickly than P-38. A small notch is hooked onto the edge of the can. With a bit of pressure, the tooth starts puncturing the lid, and all that's left for you to do is rotate the can counter-clockwise using the other hand. We've linked a nice little demo below to help you figure out how to use this tool.
The P-51 can opener is a reliable "Jack-of-all-trades" kind of tool that should be a part of every emergency kit. They are inexpensive, light, easy to carry and come in handy when your primary can opener is not around. Both P-38 and P-51 are quite low maintenance. All you need to do is wipe it clean and stash them away in a folded position.
Popular Related Article: Our Favorite Measuring Cups Made in the USA
Wrap Up
Whether you're a home cook or a restaurant chef, you always need a dependable, easy-to-use can opener that'll stick around for a long time. This list possibly has every single can opener that's still manufactured in the USA, so we hope it helps you find the perfect model that you're looking for. If you want a conventional can opener for day-to-day use, EZ-DUZ-IT is an excellent pick.
However, if you want something suitable for a high-volume kitchen, it'll be worth checking out Edlund's Commercial can openers on this page. Whatever can opener you may finally pick, don't forget to stock up on the small, light, and super handy P-38 or P-51 Military style can openers for emergencies and on-the-go use.
Hi, my name is Kevin and I'm from Pittsburgh, Pennsylvania. Choosing products made in America is important to me because it supports local economies, creates jobs, helps the environment, and ensures ethical labor practices. I also find that American made products are usually of higher quality so although they're a little more expensive, you save money in the long run. Before starting this website I was in the USMC infantry and nowadays I work on this website as a hobby.