Makeup is a great way to create a lasting impression for any occasion, and it can amplify your natural beauty while highlighting facial features to help you feel like your most confident self. Unfortunately, nowadays, it can be difficult to find makeup not made in China or countries where the cost of labor is very low. Thankfully, though, there are still some great brands that offer makeup made in the USA.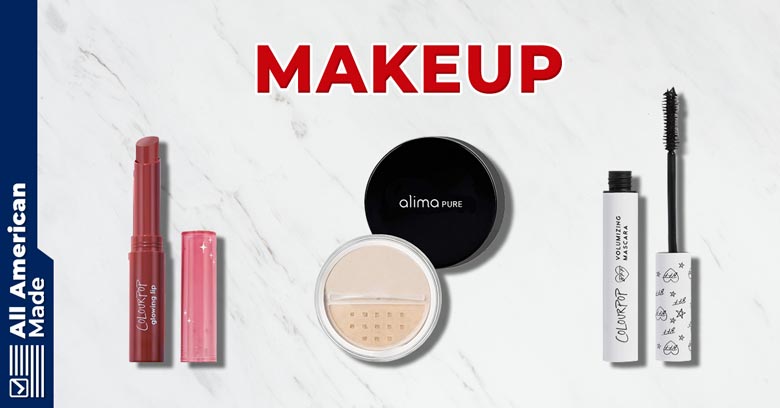 In our hunt for quality, we discovered many great American makeup brands that give you the quality that you demand at a price you can afford. They're also designed responsibly and consciously, often conceived from the need for cleaner, non-toxic products.
We're sure that you'll love this comprehensive list of products that can help you to feel at your best, no matter what occasion you're getting ready for!
List of American-Made Makeup and Cosmetics
Alima Pure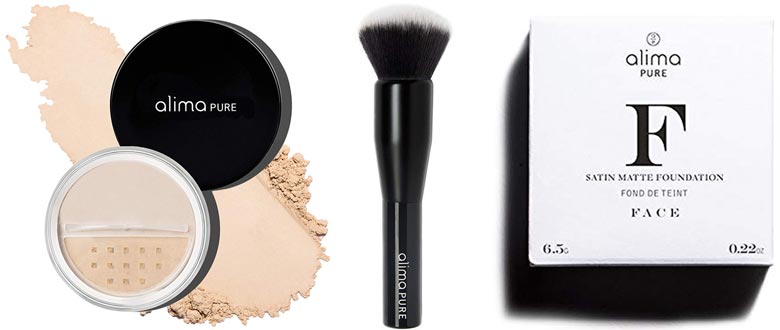 | | |
| --- | --- |
| Product Lineup | Pressed powders, mineral makeup (all types), brushes, highlighters, eyeshadow, lipsticks, foundations, setting powder |
| Shades | Diverse, from Beige #2 to Cool #9 |
| Origin | Portland, OR |
Alima Pure's Origin and Manufacturing Locations
Based in Portland, Oregon, Alima Pure was founded in 2004 by mother and kindergarten teacher Kate O'Brien. The brand was formed with altruism at its core, with Kate wanting to make an impact on the modern-day beauty industry. Her goal was to create quality and luxury that consumers could enjoy transparently, without concern for their health.
To this day, Alima Pure is a certified member of B Corporation, which includes businesses meeting the highest standards of verified environmental and social performance, as well as legal accountability, and transparency to balance purpose and profit. They are also a part of 1% For The Planet, which is a group of businesses that donate 1% of their annual gross revenue to environmental organizations that protect the planet. This is in addition to the brand's rolling donation of 250,000 trees per year.
Many people don't realize that all of their loose powder products are made on-site in Oregon, but you can verify on the Alima Pure website here that they are.
What I Like and Don't Like About Alima Pure Makeup
Alima Pure offers a diverse product line that is centered around its core concepts of quality and transparency. I was excited to see the wide variety of shades, making it both an inclusive and ethical line. This really stood out to me as a significant effort to support the brand's initial goal of quality makeup for everyone, no holds barred.
The variety of products makes Alima Pure a very attractive brand to consider if you're looking for a new way to update your makeup bag! Beyond the line's flagship line of pressed foundation powders and finishing powders, you can also enjoy their lipstick, eyeshadows, blushes, highlighters, contours, concealers, primers, mascaras, eyeliners, and so much more!
You can enjoy most of these offerings in powdered form or in their classic form (like concealers and primers). This gives you the variety that you need to choose your favorite product formats without compromising on quality or safety.
The brand features buildable products that give you a light-wear feel throughout your day and continues to develop new products and shades to be even more inclusive to a diverse group of customers. Alima Pure is vegan-certified and cruelty-free, based on four key hypoallergenic ingredients. We do want to note that while not all of Alima Pure's products are made in the USA, this foundation is, as well as their lipstick, concealer, and mineral mascara. You can clearly discern on their product listings what is made overseas and imported.
We recommend Alima Pure's products to anyone who is looking to update their makeup kit with responsibly sourced, quality products that you can count on. The company conveniently offers $1.75 foundation samples to find your perfect shade, helping you to walk away with your perfect product. I've used their makeup for years and I find it to be very high quality!
Colourpop (Huge Selection)

| | |
| --- | --- |
| Product Lineup | Eyeshadows, jelly shadows, blushes, contour powders, foundation, setting powders, brow kits, matte lips, liquid lips, cleansers, oils, toners, moisturizers, washes, scrubs, lotions, concealers, highlighters, lashes, and more! |
| Shades | Diverse, from Fair (3C) to Deep Dark (215N) |
| Origin | Los Angeles, CA |
Colourpop's Origin and Manufacturing Locations
Colourpop, founded in 2014 by its parent company, Seed Beauty, makes products with love. The brand takes an unconventional approach to modern-day focuses and continues to make a splash thanks to its commitment to quality and safety. The company doesn't test on animals and instead experiments on real people, which are usually their employees! Colourpop has won several beauty awards, including Glamour and Allure's best beauty awards in 2019 and 2020.
The company continues its legacy of customer focus and quality, offering full transparency by listing every ingredient in every eyeshadow on its website. The brand was formed in 2014, creating its first line of cosmetics in its flagship factory location in Los Angeles, CA. They have continued to domestically manufacture makeup and cosmetic products domestically through the modern day, nearly 10 years later. You can verify that their products are made in California on the website here.
What I Like and Don't Like About Colourpop Makeup
Colourpop has received a massive amount of traction since its launch thanks to its edgy, modern feel and the presence it builds on social channels through influencer marketing. The brand has taken a rather unique approach, catering to a younger crowd with trendy collaborations with some of the latest crazes, most recently doing this with both Star Wars/The Mandalorian and Animal Crossing: New Horizons.
Beyond their genius marketing techniques, their products have continued to set the standard for cruelty-free beauty options and accessible, diverse formulas and color compositions. One of the customer favorites is the eyeshadow palette, giving you endless opportunities to blend and mix your perfect color combination. Additionally, it's also one of the things that help to set this brand apart for the new generation, featuring build-your-own palette options for users to enjoy and create with.
In addition to the build-your-own palette options, Colourpop offers lip products, foundation, powder, highlighter, blush, bronzer, cream shadows, eyeliner, mascara, brows, and false lashes. They're also well-known for glitter gel, pressed glitter, and glitter sets. Most recently, however, they've launched their own skin and body care line, featuring cruelty-free, naturally sourced scrubs and wash products to get an unbeatable, total-body glow.
We recommend Colourpop makeup for someone who is looking for highly-pigmented, American-made makeup that comes in eclectic shades and combination palettes. The brand is extremely playful, making this resonate most with youthful, creative souls. If you're looking for products that will put a little fun in your makeup kit, look into Colourpop for your next few essentials.
Gabriel Cosmetics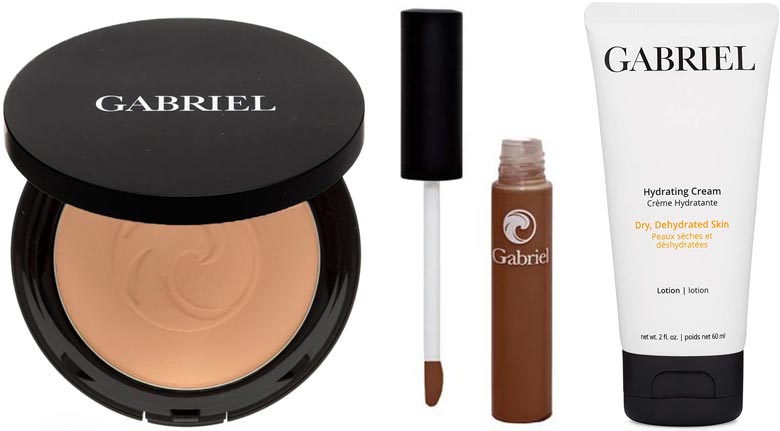 | | |
| --- | --- |
| Product Lineup | Foundations, Concealers, Eyeshadows, Eye Pencils, Highlighter, Powders, Brushes, Primers |
| Shades | Diverse, from Light Beige to Walnut |
| Origin | Seattle, WA |
Gabriel Cosmetics' Origin and Manufacturing Locations
Gabriel Cosmetics has a unique history in that the founder, Gabriel De Santino, is from the coast of Mexico. At 18, he moved to Redmond, Washington, to build his empire of accessible and affordable beauty products. His brands have expanded since his first business launch in the mid-1990s and have grown to include Gabriel, Gabriel Organics Skincare, Zuzu Luxe (bold and bright products for a younger demographic,) and Clean Kids Naturally. The company was founded on transparency and integrity and even today holds those values while making earth-conscious and ethical products. This is a brand that has a ton of great American-made makeup options that I love.
What I Like and Don't Like About Gabriel Cosmetics Makeup
I was excited to review Gabriel's lineup, as it was one of the classic go-to's for corrective beauty from the 1990s onward! The company was before its time with its paraben-free, gluten-free, and cruelty-free formulation, setting the foundation for what would soon be beauty standards that would lead the industry in the decades to come.
Every product in Gabriel's line offers comprehensive, full coverage that you can count on, giving you an effortlessly buildable formula and all-natural ingredients list that you can trust. When possible, the brand infuses its products with natural vitamins and other supplements that work to rejuvenate your skin with each wear, getting you the highest possible benefit from each product. In addition to its "free" claims, they are also non-GMO, which is great for more sensitive skin types. Using plant-powered hydration formulas, you can enjoy subtle notes of mattifying hydration in each formula and the effects of balanced, supple, nourished skin.
In addition to this foundation, Gabriel Cosmetics also offers mineral blush, powder foundation, concealers, primers, eyeshadows, liquid liners, pencil eye and brow liners, mascara, lipsticks, and makeup tools.
Gabriel Cosmetics is ideal for those who are looking for natural makeup solutions with a higher level of buildable, clean coverage. Gabriel Cosmetics won't disappoint with its wide variety of products and shades, crafted from the highest quality products just for you.
HAN Skincare Organic Makeup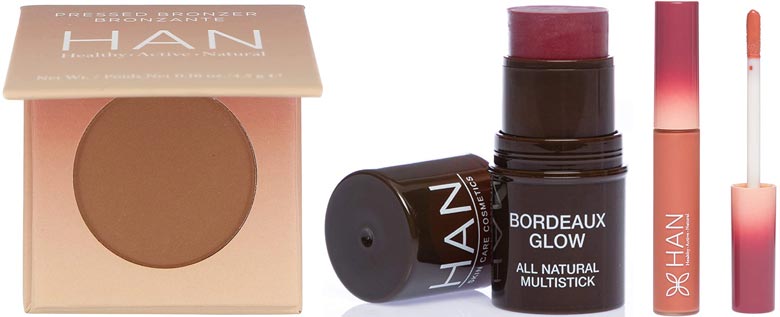 | | |
| --- | --- |
| Product Lineup | Concealers, Eyeshadows, Multisticks, Highlighter, Powders, Blushes, Bronzer |
| Shades | Diverse, from Light Beige to Deep |
| Origin | San Francisco, CA |
HAN Skincare's Origin and Manufacturing Locations
HAN Cosmetics was founded in San Francisco's Bay Area when the owner discovered a need for healthier and safer makeup. The non-toxic cosmetic line seeks to enhance natural beauty and inspire confidence in women. By combining protected ingredients, reasonable prices, better product integrity, and high quality, the company fulfills its mission and creates happy customers.
What I Like and Don't Like About HAN Skincare Makeup
Han Skincare and Cosmetics is one of the few makeup brands that we have seen that is widely available and that openly markets the fact that every product is made in the USA, rather than just a selection. HAN Skincare and Cosmetics is also completely cruelty-free, vegan, and made with whole, organic ingredients. We do want to note that this is rare to find in makeup but can greatly benefit those with extensive allergies or sensitive skin.
The organic claim details the process that the ingredients undergo from seed to harvest and is indicative of the quality and purity of the overall product list. Organic products may have a lower incidence rate of allergic reactions or skin irritation due to their pure nature and can give your skin additional nutritional benefits over inorganic options.
HAN products wear slightly heavier than alternative options, according to several different reviews that we've seen. This is likely due to the quality of the product used and how the product is used in the line, providing extra moisturization and plant-powered skin health.
This brand has expanded its product line to accommodate virtually every makeup or skincare need. They offer organic, cruelty-free products, including concealers, blushes, multi-stick, bronzers, and glosses. However, we were surprised to see that there weren't any options currently available for their foundation, with the brand instead offering SPF-protective serums in its place.
HAN Cosmetics has also partnered with Bay Area organizations in need to increase their social responsibility and give back to those in need. They're also pleased to offer a recycling program to lessen their environmental footprint.
HAN's organic makeup is great for anyone who is in the market for organic makeup options and who is passionate about clean, ethical beauty. HAN stands for "healthy and natural," which is what customers can expect to get with this brand. If you're looking for cruelty-free, quality blends that won't affect sensitive skin and that can truly elevate your skin's health, HAN is the brand for you.
Vapour Beauty Natural Makeup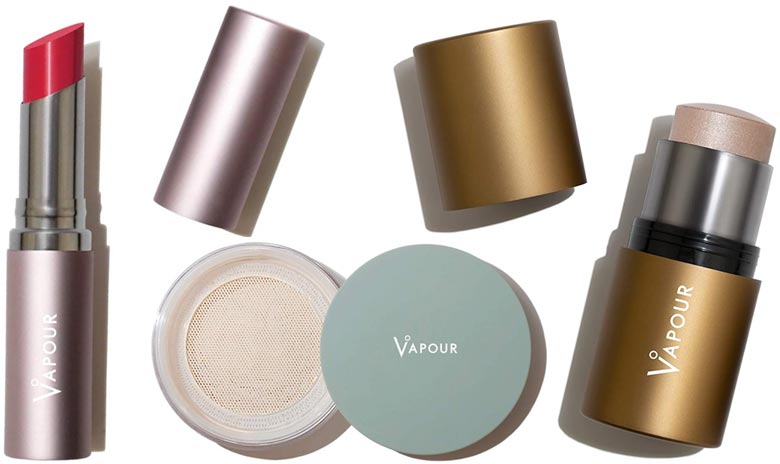 | | |
| --- | --- |
| Product Lineup | Eyeshadows, lipstick, mascara, haircare, primer, concealer, and much more |
| Shades | Many shades available |
| Origin | Taos, New Mexico |
Vapour Beauty's Origin and Manufacturing Locations
Vapour Beauty was founded by two makeup industry veterans, Krysia Boinis and Kristine Keheley, in 2009. With a lot of success in the industry behind them, they want to change the industry by making products that their customers raved about, and that's exactly what they've accomplished.
They specialized in natural makeup that is made without any dangerous chemicals or cheap ingredients. They understand that the quality of their products is only as good as the products used to make them. They've also delivered by doing their research and manufacturing in Taos, New Mexico.
What I Like and Don't Like About Vapour Beauty Makeup
I'm a huge fan of Vapour Beauty. It's so refreshing to look at the ingredient list in their products compared to many products made overseas. You'll find ingredients such as all-natural papaya, natural oils, pomegranate, plant collagen, and other safe and organic ingredients. That's a nice change after looking at some budget makeup brands which use ingredients that you can barely pronounce and hide many of their ingredients behind some kind of vague propriety blend.
They offer a ton of different products ranging from lipstick to concealer to mascara. Their products aren't cheap, but because they're made in the USA and made with ingredients I can feel safe putting on my skin, I think they're well worth it.
Vapour Beauty makeup isn't cheap, but if you are someone who is looking for a product they can trust and have some extra money you can invest in your skincare routine, we highly recommend their products. They offer some of my personal favorite makeup made in the USA, and I'm confident you'll love it too.
Popular Related Article: Our favorite yoga mats made in the USA
Mineral Fusion (Great Mineral Makeup)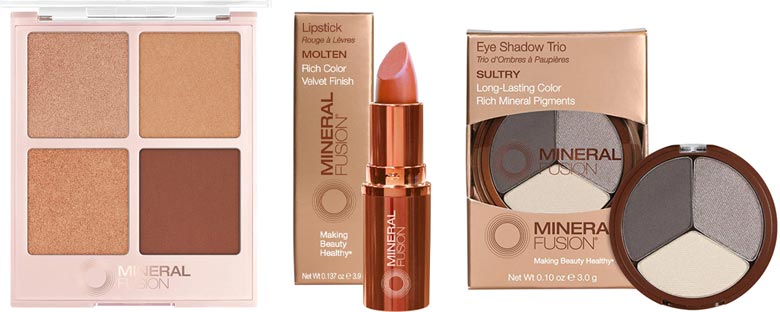 | | |
| --- | --- |
| Product Lineup | Nail polish, lacquers, skincare, scrubs, toners, moisturizers, foundation, bronzers, blushes, eyeshadows, mascara, haircare, anti-aging creams, primer, concealer |
| Shades | Diverse, from Warm 1 to Deep 7 |
| Origin | Denver, CO |
Mineral Fusion's Origin and Manufacturing Locations
Since 2007, Mineral Fusion has innovated makeup solutions for those wanting more than the average brand. They have remained committed to their formulation practices and quality standards, manufacturing their products to be completely free of gluten, talc, parabens, artificial colors, phthalates, and synthetic fragrances. They're also cruelty-free. The USA company uses the power of minerals to deliver superb, multi-tasking products that help defy age, moisturize, and tone skin.
What I Like and Don't Like About Mineral Fusion Makeup
I was especially excited to review a mineral-based makeup option, as you won't often find mineral makeup that's entirely made in the USA. These types of products are great for the skin but are often cut with lesser quality products when made internationally. This is largely due to the fact that synthetic "mineral" powders and mixes are cheaper to source than their higher quality alternatives, leaving you with a subpar product and the potential for skin disruption.
You won't have to question quality when you choose Mineral Fusion for your mineral makeup of choice. The brand has years of experience leading the industry with high-quality formulations, loved by many across their various platforms of choice. Their motto is to leave skin and hair in better condition than when they found it by using high-performing ingredients and rich pigments.
Beyond their SPF powders and serums that boosted their popularity, the company also offers a complete line of brushes and tools. They have expanded their line to include skin and nail care products fueled by the power of minerals, as well as a haircare line for those who want to manage their hair regimen naturally.
We recommend this brand to those who are interested in finding a quality alternative for their mineral makeup products. With the added benefit that this brand offers of SPF protection and other perks, we're sure that these products will make a great addition to any makeup bag or preference! If you're looking for great makeup made in the USA, then I highly recommend Mineral Fusion.
LA Splash (Great Eye Makeup and Eyelashes)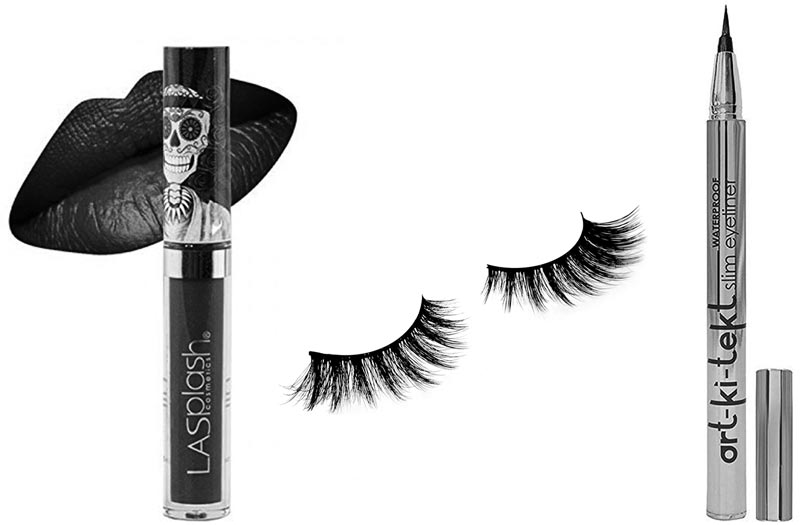 | | |
| --- | --- |
| Product Lineup | Eyeliner, Eyeshadow, Lipstick, Lashes, Foundation, Eyebrow Kits, Highlighter |
| Shades | Limited, from French Vanilla to Walnut |
| Origin | Temple City, CA |
LA Splash's Origin and Manufacturing Locations
LASplash, founded in 1996, is based in Temple City, California, and offers cruelty-free, high-quality beauty products. The company prides itself on its unique blends of shades, high-performance wear, and commitment to domestic manufacturing. Every product in their line is made in America, allowing you to purchase confidently. LASplash continues to set the bar with its in-house research and development, as well as its extensive color library.
What I Like and Don't Like About LA Splash Makeup
LASplash is ready to help you make a splash on your next occasion. I was excited to have the chance to review these, as it can be nearly impossible to find quality American-made eyelashes without any outsourced manufacturing, but LASplash has done just that. Beyond their quality falsies, you can also enjoy a full-face lineup, including bronzers, blush, foundation, eyeshadows, highlighters, lipsticks, and glosses.
This brand has the experience necessary in the industry (approximately 30 years) to elevate your experience with their own and has continued to make high-quality products that are designed for the environmentally conscious.
LASplash doesn't even outsource its research and development tasks. Instead, they opt for self-study and independent research, creating a wealth of unbiased, quality consumer use and safety information for future product development. There's no doubt that this brand is unique and will serve excellently to a customer base that demands the quality that LASplash delivers.
We recommend this brand for those who are looking for a lineup of products and who don't want to compromise between cost and quality. LASplash is a great choice to consider at any age but has been especially popular among the younger demographics thanks to its rich, vibrant colors and shades.
Bella Mari Chemical Free Makeup

| | |
| --- | --- |
| Product Lineup | Pressed powders, mineral makeup (all types,) brushes, highlighters, eyeshadow, lipsticks, foundations, setting powder |
| Shades | Diverse, from light cream to deep ebony brown |
| Origin | Chattanooga, TN |
Bella Mari's Origin and Manufacturing Locations
Since 1995, Nature's Brands has been creating American-made makeup through their Bella Mari product line. The company owns multiple brands that feature organic and all-natural products. Outside of Bella Mari Makeup, they also own Herbal Choice Mari, PhytoVitamins, Supa Herbal Greens, and Herbal-Medi-Care. Proudly made in the USA, their products are chemical-free, vegan, and earth-friendly. The brand is centered around creating healthier choices and promotes organic wellness through mineral makeup, organic vitamins and herbal remedies, and alkalizing supplements.
What I Like and Don't Like About Bella Mari Makeup
Bella Mari's makeup line is diverse and inclusive, joining a number of brands in pushing back against traditional makeup coloring norms. For example, the Natural Mineral Powder Foundation comes in 25 shades, including cool, neutral, and warm skin tones. This loose powder is free of synthetic dyes, fragrances, soy, corn, or gluten. It gives you feather-light t and long-lasting coverage powered by plants and minerals and is great for yielding soothing inflamed skin.
The line is well known for being gentle and suitable for a variety of skin types, which makes it ideal for those who struggle with skin conditions such as eczema or psoriasis or simply for those who have very sensitive skin. Due to its light powders and plant-based formulation, the brand is also effortlessly non-comedogenic and will likely help you to avoid breakouts caused by oil buildup and product on the skin.
The company offers a wide range of products to appeal to its client base, including foundation (of all types), lipstick, tinted moisturizer, moisturizing foundation, concealer sticks, lip gloss, mineral blush, bronzer, and eyeshadow. Bella Mari products are also excellent for the environment, thanks to their low-impact and all-natural formulations.
Another thing we love about this brand is the transparency about sourcing, ingredients, and around just about any question you may have regarding the brand or products. Currently, you can take advantage of the brand's guarantee (double-check this is still available if interested) if you walk away dissatisfied after using one of their products, which isn't common to see among makeup brands due to profitability concerns.
The brand is very clear about what consumers will be getting when they choose to invest in the product, giving you the ability to purchase American-made products without the ongoing concern that they may be imported. In the product information box, you can clearly see which products are made in America across the entire line, thanks to their "MADE IN AMERICA" addition to every description.
Bella Mari is a brand we think is great for those who are looking for lighter-wear makeup and who want to upgrade their daily morning essentials. We're confident that due to the wide variety of shades and hues, you'll be able to find the perfect match for your unique composition and tone. They offer a variety of great cosmetics made in the USA, so check out their website if you want to learn more.
Endlessly Beautiful (Gluten-Free Makeup)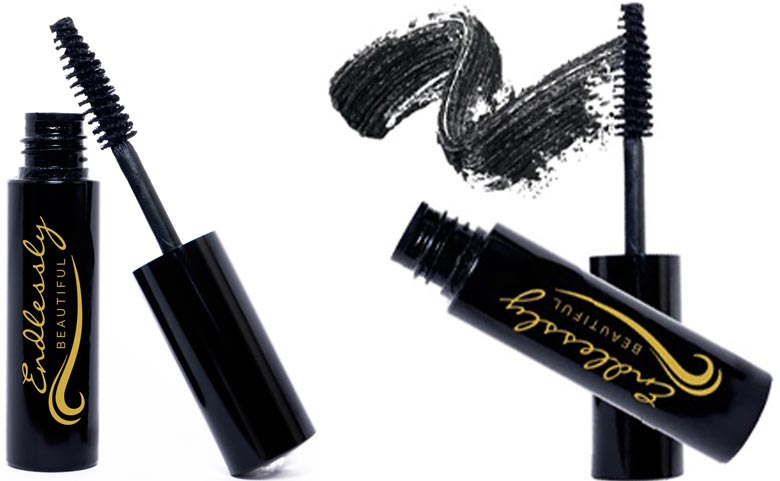 | | |
| --- | --- |
| Product Lineup | Mascaras |
| Shades | Deep Brown, Dark Black |
| Origin | United States (Unspecified) |
Endlessly Beautiful's Origin and Manufacturing Locations
Endlessly Beautiful began in 2014 with the creation of its two main vegan and organic beauty products: lengthening and strengthening mascaras. The co-owner, Jennifer Muthui, wanted to create products free from harmful chemicals that worked overtime to enhance your natural beauty. The brand is cruelty-free, vegan, gluten-free, and extremely transparent with consumers, maintaining the quality you need through their American-made family business structure. At this point, they only currently offer mascaras, but they do plan to expand to other types of makeup in the near future.
What I Like and Don't Like About Endlessly Beautiful Makeup
I was excited to get to review the mascara that "broke" the internet due to its quality and immense popularity across generations. Simply put, Endlessly Beautiful's Organic Mascara is one of the best options that you can get. Since mascara is a staple for most women, you'll be glad to know this formula is cruelty-free and paraben-free and comes in two main shades: warm, amber-based brown and a deep, ember black.
The company has always been customer-focused, giving you a risk-free offer and a 30-day Money Back Guarantee. However, you probably won't need it because this mascara is formulated to moisturize and thicken your natural lashes, leading to a more voluminous look. It doesn't flake, clump, or smudge, and it's water-resistant and sweat-proof for any occasion.
This mascara has a naturally delicious scent and non-irritating formula thanks to ingredient additions such as chamomile, vitamin E, and grapefruit to nourish your lashes from the inside out and also naturally stimulate their growth and volume.
Endlessly Beautiful's makeup is unique and ideal for anyone who is looking for strengthening and lengthening mascara options that are made in the USA and safe to use long-term. This mascara isn't considered an eyelash serum or treatment, meaning that you can use it daily without consequence. We're sure you'll enjoy the benefits and refreshing look that this single product can bring to any makeup look.
Popular Related Article: Great Toothpaste Made in the USA
theBalm

| | |
| --- | --- |
| Product Lineup | Foundation, bronzers, blushes, eyeshadows, mascara, haircare, anti-aging creams, primer, concealer, eyebrow kits |
| Shades | Limited, from Lighter Than Light to After Dark |
| Origin | San Francisco, CA |
theBalm's Origin and Manufacturing Locations
theBalm began with glam and confidence in mind. Since 2004, the founder has created quality cosmetics using anti-aging ingredients, velvety textures, and triple-milled pigments resulting in the highest quality and most vibrant of shades. Additionally, their products are paraben-free, cruelty-free, and talc-free. theBalm has also embraced green packaging and clean beauty, reducing its carbon footprint through 100% recyclable packaging.
What I Like and Don't Like About theBalm Makeup
theBalm is a fun and fresh brand that has similar marketing and style to the famous Benefit Cosmetics brand — making this a great option for those who want quality cosmetics with the same full-spectrum, all-natural coverage. This brand has become a staple in my makeup bag, and I'm sure it will find a home in yours too.
theBalm acts just as the name suggests. The makeup provides full-spectrum coverage without compromising your skin's barrier, keeping that vital balance and offering you smooth, blurred effects without the comedogenic tendencies that other brands carry.
Every product from theBalm is made in America, allowing you to shop in confidence knowing that you're receiving great products sourced from natural, domestic ingredients. theBalm is exceptionally transparent with its ingredient lists and sourcing practices, preventing any sort of doubt or question about the product's quality and safety. This is great to see, especially when major brands are using products that are carcinogenic or that can otherwise offer significant harm to your skin and overall health.
theBalm makeup is perfect for people who are looking for deeper, more intense coverage out of their makeup products. Often, American-made products offer lighter wear experiences due to their formulation and domestic sourcing practices. With theBalm products, you get the best of both worlds and may even walk away with fewer products needed in your makeup bag due to the quality and diversity of use that you can enjoy with every product in their lines.
Other Great USA Makeup Brands We Love
Taspen's Organics
Taspen's Organics is an American cosmetic brand that is based in Colorado. The company is family owned, and they specialize in natural and organic ingredients. They avoid using any of the ingredients that commonly cause skin irritation. I really like their moisturizers and lip balm, but they also have a ton of other great products to choose from.
Taylor Made Organics
Taylor Made Organics is a cosmetic and makeup brand with an excellent reputation. The founder actually started the company, and her interest in natural cosmetics grew because her child ended up getting a really bad rash, and she was able to heal it with natural methods. She later went on to get a Naturopathic doctorate degree with an emphasis on essential oils. Their makeup is phenomenal, and they also have a ton of other great products that I've found work great on my skin, like their lotions and moisturizers. You can learn more about the brand story here.
Bliss
Bliss is one of my favorite cosmetic companies, and they offer great makeup remover and other great facial and body products. what really impresses me about them is the vast number of products they offer at such low prices. Any products I've received from them have been made in the USA, but I did notice in the FAQ section on one of their product pages that some of their products are also made in Australia, Japan, and South Korea. I believe most are made in the USA, and either way, it's still great to find cosmetics and makeup not made in China. You can find their cosmetics on the official Bliss website here.
Axiology Lipstick
Axiology Lipstick is some of the highest quality lipstick you can get your hands on, and as you might have guessed by the price, it checks all the boxes as far as natural, vegan, sourced in an ethical way, etc. The founder of the company, Ericka, started the company because she found that many types of makeup and lipstick were tested on animals, and this upset her. All the vegan lipsticks she tried didn't work for her because they dried out her lips, so she decided to take matters into her own hands and utilize her American spirit to start Axiology Lipstick. They have a lot of great products you can find on their website.
Wrap Up
That does if for this article, but if you have any questions or comments about any of the cosmetics on this list, let us know in the comments below. Also, please let us know if there are any great products we should add to this list. We're constantly looking to improve our website to provide as much value as possible to our readers, so we always appreciate community help!