Outdoor living, backyard get-togethers, family cookouts, and grilling meals at home are as American as baseball or apple pie. With so much riding on your need to have a quality pellet grill that fits your home life, there are a lot of things to consider. Many companies have moved their manufacturing overseas to cut costs, but thankfully there are still some great pellet grills made in the USA to choose from, and we'll be sharing our thoughts on each of them below.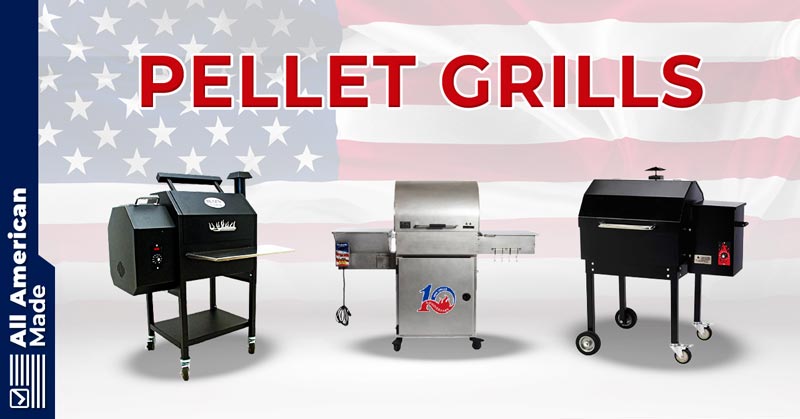 We considered several factors when deciding on which grills to add to this list. Some of these factors are the cooking capacity of the pellet grill, its features, the build materials, and of course, the all-important price. We also made sure that all of these grills are built in the USA, so you can rest assured you are supporting local businesses here at home as much as possible.
List of American-Made Pellet Grills and Smokers
Pitts and Spitts Maverick 1250 Wood Pellet Grill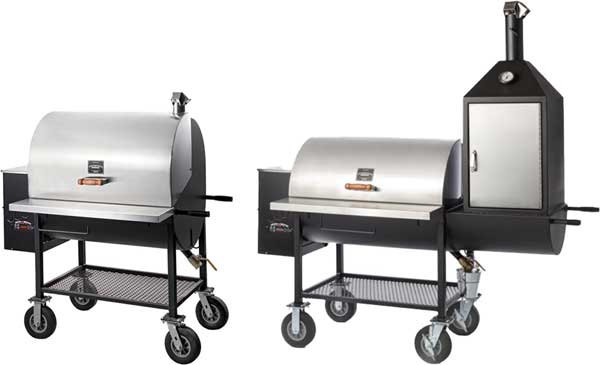 | | |
| --- | --- |
| Estimated Price | $2,400 |
| Features | Wi-Fi, 35 Pound Hopper, Custom Digital Controller, Sturdy Build, Comfortable Rubber Moving Handles, Hard Wood Lid Handle, Easy-To-Use Grease Drain |
| Dimensions and Weight | 24x50x50", 275 pounds |
| Material | 304 Stainless Steel Lid, 7 & 10 Gauge Carbon Steel Cooking Chamber |
| Origin | Texas |
| Cooking Surface | 1250 sq in |
Pitts and Spitts' Origin and Manufacturing Locations
The Pitts and Spitts brand is a well-known and revered brand in the BBQ community and is known for making high-quality grills. Based in Texas, Pitts and Spitts have been in business for over 35 years, dating back to 1983.
The brand is also popular for its American-made PID controller made by Roanoke, which regulates airflow and temperature. While the Pitts and Spitts brand make several great grills and smokers, we're covering their most popular mid-level wood pellet grill, the Maverick 1250. To get a good visualization of the Maverick 1250, we recommend checking out the brand's well-produced videos on YouTube here or the video linked below.
What We Love About Pitts and Spitts Maverick Pellet Grills
The Maverick 1250 features the same PID controller that the Pitts and Spitts brand has been praised for. This PID controller offers flexible and accurate temperature control and helps to cook your food to precise doneness with exceptional flavor.
This mid-level model features a lid made from a shiny, durable 304 Marine-grade stainless steel and carbon steel cooking chamber. The brand also offers a Maverick version made of all stainless steel, which is significantly more expensive.
The cooking area of the Maverick 1250 is made of a mixture of both seven and 10-gauge steel. This is thicker than some other premium pellet grills that use only 10. This might seem trivial, but the thicker gauge steel is better at retaining and evenly distributing heat. Coupling this with the brand's PID controller, the Maverick 1250 should be great at maintaining steady heat throughout the cooking process.
The Maverick 1250 is very well-built, as there are no cheaply made pop rivets, bolts, or other such parts. The pellet hopper, cooking chamber, and wheels are all bolted securely and strongly. Everything is welded tightly together, rounding out this impressively durable build. We can clearly see that Pitts and Spitts take pride in their craftsmanship and heavy-duty grills.
Home BBQ enthusiasts have remarked that they like how the Maverick 1250 features a barrel shape, as opposed to the square shape that most other grills have. This opinion is that a rounded cooking chamber is better for the even distribution of heat and also helps to circulate air better and infuse your food with a fuller smoky flavor.
We were also impressed by the custom-made digital temperature controller. It features a wide temperature range from 180F to 600F, with 5-degree increments. While other pellet grill manufacturers say they have precise temperature control, the Maverick 1250 stands up to the test and appears to be as finely tuned as we've seen.
Another thing we liked about the construction of the Maverick 1250 is that the drip pan is built to position itself at an angle over the deflector plate, which easily directs grease in the chamber. What's more, cleaning out the grease is easy with the grill's brass ball valve, which enables grillers to open the valve as much as they'd like. This is a thoughtful touch that helps you be precise with airflow control.
The Maverick 1250 also features Wi-Fi capabilities. While this is a nice feature, it's a bit of an afterthought on this pellet grill, which isn't necessarily a bad thing. Another minor knock is that the smokestack on this grill sticks out about four inches, meaning when the lid is opened, the stack goes with it.
So, when you position your 1250 grill on a patio or backyard, you'll need to make sure to leave enough clearance for the smokestack, so it doesn't hit a wall or a fence. While this is a minor concern, it is something to be aware of when making a purchase decision.
Who We Recommend These Grills For:
The Maverick 1250 is for the BBQ lover who is looking for functionality, sturdiness, and durability over flashy features. This grill has a heavy-duty build from steel that won't rust and is thicker than most other grills of its kind.
The price is reasonable, especially for a mid-level grill of its kind. There are less expensive Mavericks available from the brand as well, depending on your price range.
The Pitts and Spitts brand shares a love for American BBQ that does not go unnoticed. The Maverick is built like a tank, with clever construction features like the barrel shape, the angled drip pan, and the airflow valve. We are not surprised that the Maverick 1250 is one of the most popular home pellet grills on the market today.
Cookshack / Fast Eddy's PG500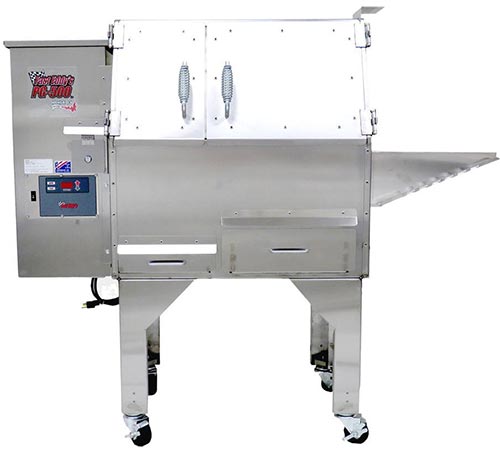 | | |
| --- | --- |
| Estimated Price | $2,200 |
| Features | Warming Drawer, Pellet Door, Large Cooking Space, Side Shelf, Up to 600 Degrees of Heat, Meat Probe Opening, Utensil Holder, 40 Pounds of Hickory Pellets |
| Dimensions and Weight | 330 pounds |
| Material | Stainless Steel Grate and a Nickel-Plated Grill Surface |
| Origin | Ponca City, Oklahoma |
| Cooking Surface | 10″ x 18″ |
Cookshack's Origin and Manufacturing Locations
The Cookshack Brand is a pioneer in the commercial pellet grill game, with the origins of the brand dating back to 1990. According to the Cookshack website, the Original Cookshack brand joined forces with Pit Boss-Master Ed "Fast Eddy" Maruin back in 2003, and the rest is history.
Fast Eddy had restaurants and BBQ competitors in mind when he designed the first grill/ smoker after merging with Cookshack. For BBQ restaurants, keeping the food as warm and fresh for as long as possible is one of the utmost goals.
What We Love About the Cookshack Fast Eddy's PG500 Grills
The Fast Eddy's brand designs their pellet smokers with this in for high-level BBQ restaurants and competitions, offering a large warming drawer and Charbroiler technology. Combined, this cooking capability of the PG500 heats food evenly and keeps it warm for 2-3 hours without burning or drying out.
From everything we can see, we think the PG500 is a wise investment. BBQ lovers who have bought this grill also seem to agree. The PG500 is available from the manufacturer directly, but you will have to pay for shipping.
If you're committed to buying fully American-made, buying from the brand website might be closer to maintaining that integrity. In addition to the warming drawer, it has a side shelf, casters, a pellet door, an ash cashier, a meat probe opening, and a utensil holder. We thought that the included 40-pound bag of hickory pellets was a nice touch.
Who We Recommend These Grills For:
While the PG500 from Cookshack/ Fast Eddy's is designed for BBQ restaurants and grill masters, this doesn't mean home BBQ smoking enthusiasts will be unable to use it. It might have a bit of a learning curve for use, and the price tag might prevent some home cooks from purchasing. However, the charbroiler, the large warming draw, ease of use with the pellet door, and the ash catcher all make this grill a solid investment.
Twin Eagles 36" Wood Fired Pellet Grill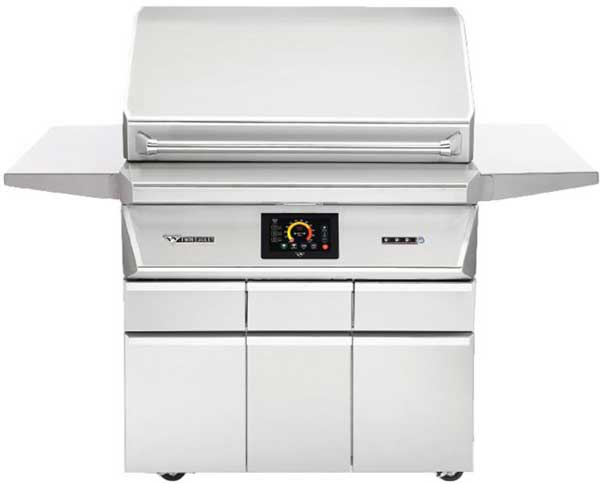 | | |
| --- | --- |
| Estimated Price | $9,000 |
| Features | Waterproof Touch Screen, Wi-Fi, 3 Separate Cooking Racks and Inserts, Vast Temperature Range, Halogen Night Lights, 120 V Auger, 2 Independent Drip Trays, Hanger Hook, Optional Rotisserie. |
| Dimensions & Weight | 29" L, 36" W, 31" H, 330 Pounds |
| Material | 304 Stainless Steel |
| Origin | California |
| Cooking Surface | 36" X 25" |
Twin Eagles' Origin and Manufacturing Locations
The Twin Eagle brand was founded by an engineer and designer named Dante Cantal. For nearly 30 years, Cantal has been designing high-end culinary equipment for food industry brands. This stellar reputation led him to found the Twin Eagles brand, which combines technology with a love for cooking great BBQ.
The Twin in the Twin Eagles name represents the founder's twin children, and the Eagles represent being an American brand. The Twin Eagles brand makes their luxury grills in their State-of-the-art factory in California.
We were impressed with the video tour of this facility on the Twin Eagles website. It is important to note that Twin Eagles were acquired by global outdoor lifestyle brand Dometic in February of 2021 but still appears to manufacture its products here in the USA.
What We Love About Twin Eagles Pellet Grills
The 36" Wood Fired Pellet Grill is one of the most expensive pieces of outdoor cooking equipment we've ever come across. However, most American-made pellet grill enthusiasts who own one of these seem to think that it was worth the investment.
This grill is loaded with incredible features and cutting-edge technology. You can sear, bake, grill, smoke, or even use the optional rotisserie, and it's all programmable with the touch screen. The touchscreen allows for manual input, or you can select your desired doneness for many different food items.
The brand's website says this grill has a very wide temperature range from 140F up to 725F, which is one of the largest ranges we've seen if this is the case. The features and temperature range even let you use the pellets to light charcoal and then cook over the charcoal for that classic backyard BBQ flavor. This is something that few if any, other pellet grills can do.
The touchscreen is waterproof, meaning you can grill in any weather. You can either check the doneness of your food right on the screen of grill or monitor your food's cooking progress on the Twin Eagles smartphone app. While they haven't posted a lot of content, you can still get a good visual representation of this pellet grill on the brand's YouTube channel.
On top of this, Twin Eagles have developed an exclusive SmokePlus feature that can quickly infuse just about any food with a natural smoked flavor. What's more, you can even opt for the rotisserie feature for an additional cost.
This rotisserie has a 100-pound capacity, which is great for low and slow cooking of whole chickens, hearty fruits like pineapples, kababs, and much more. Some owners of this grill even cook their Thanksgiving turkeys right on the cooking surface.
Coming from such a high-end luxury outdoor living brand like Twin Eagles, we'd expect this grill to have a good warranty, and they delivered. Depending on where you buy, the stainless steel burners and grates have lifetime warranties. Some of the other parts come with 3-5 year warranties, depending on where you buy and the part you need to be replaced.
Who We Recommend These Grills For:
While the hefty cost for this Twin Eagles pellet grill will price many home-based BBQ lovers out of buying, it is still seemingly a good investment for those who want to make it. This BBQ could be used by pitmasters in competitions or would make a great piece of cooking equipment for American restaurants.
We recommend this grill for high-end foodies and premium culinary lovers, techies, and those who are willing to spend a lot on their pellet grill. Backyard BBQ lovers who are on a budget will definitely want to look elsewhere. But this grill can last a lifetime and also replace several pieces of outdoor cooking equipment in one, making it a solid investment for those who have the means to do so.
Blaz'n Grill Works Grand Slam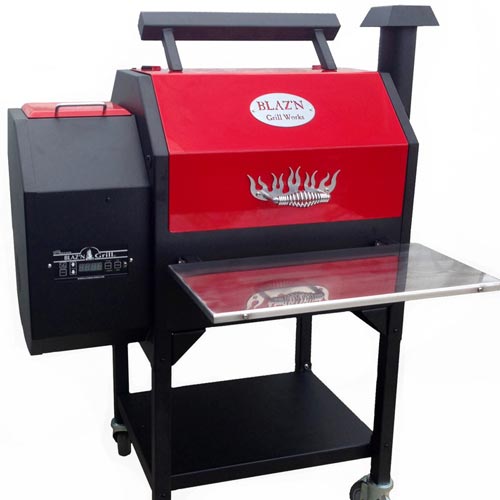 | | |
| --- | --- |
| Estimated Price | $1,500 |
| Features | Roller Grates, Gasket for Lid, Front Shelf, and Powder Coat Finish |
| Dimensions and Weight | 34" x 52" x 20", Weighs 174 pounds |
| Material | 12 gauge steel lids and 16 gauge steel body |
| Origin | Beatrice, Nebraska |
| Cooking Surface Space | 663 square inches |
Blaz'n Grill Works Origin and Manufacturing Locations
One brand that really has stood out to me over the years is Blaz'm grill works. The brand's owner has almost 50 years of experience as a metal fabricator, and he brings that expertise coupled with a passion for American BBQ to the Blaz'n Brand.
The Grand Slam Pellet Grill is the most popular model from the Blazin' brand, making it a customer favorite. There's an in-depth video from their YouTube channel linked below that offers a deep dive into the accessories, options, and capabilities of this pellet grill.
What We Love About Blaz'n Grill Works Grand Slam Grills
The Grand Slam is priced a bit higher than other pellet grills that offer similar features. However, there are a few things that set the Grand Slam apart from the pack. First, the whole grill is built with thick gauge metal, and the lower body is doubled-lined. This means that your metals will cook low and slow for hours while retaining evenly-distributed heat.
In addition to its excellent heat retention and thick gauge metal, the Grand Slam boasts a massive, 663 square inch cooking surface and a noticeably larger pellet hopper than most other grills of its kind. Its burn pot is easily removed for no-fuss cleaning. This pellet grill comes in 6 colors, Black, Silver, Red, Copper, Cherry, or Blue.
Blaz'n Grill Works is one of the most popular pellet grill makers out there. Most USA-based BBQ lovers who own it have overall good things to say about the Grand Slam from the Blaz'n brand. A few owners were not able to get it to smoke, but that doesn't seem like a common theme with most home grill cooks.
One drawback of this model is that while its pellet hopper is huge, dumping out pellets is a process, unlike with other grills that allow you to change pellets quickly. Additionally, most grill owners say they can only reach a temperature of 450 F, which is lower than what you would need if you want to broil something. These are relatively minor drawbacks, though.
Who We Recommend These Grills For:
The Grand Slam from Blaz'n Works is a good choice for lovers of BBQ that are looking to dive into making it themselves. Despite its relatively minimal investment, the durable build of this grill will last at least five years of heavy cooking if properly maintained, even if covered and left outside in the winter. While the other grills on this list offer more features, a longer smoke time, and a larger capacity, the Grand Slam is no slouch. All in all, this is certainly one of the best pellet grills made in the USA. Although it's cheaper than a lot of the other products out there, it still has great performance and some great features for a grill at this price point.
Smokin' Brothers Traditional Grill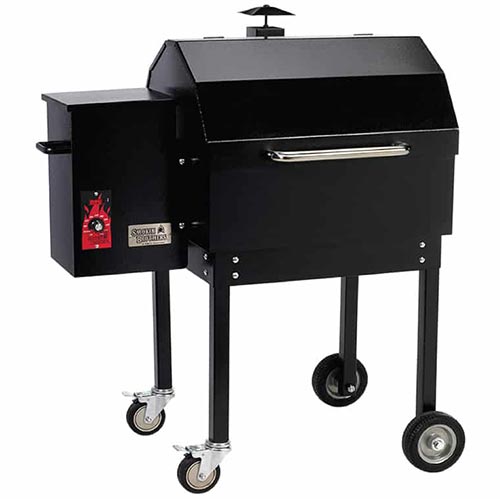 | | |
| --- | --- |
| Estimated Price | $1,100 |
| Features | Holds 20 Pounds of Pellets, Durable Build. Double-Steel Insulation, Turnaround Workstation, Digital Thermometer |
| Dimensions and Weight | 48" X 40" X 29", Weighs 170 pounds |
| Material | Heavy Gauge Steel |
| Origin | Missouri |
| Cooking Surface Space | 792 square inches |
Smokin' Brothers Origin and Manufacturing Locations
Hailing from Southeast Missouri, Smokin' Brothers is a pellet grill brand that takes pride in the quality of its products and has done so since 2011. The brand was started by two brothers who entered BBQ competitions and received praise for their rubs, sauces, and other BBQ flavorings. The video linked below this review will give you a visual representation of the passion for BBQ that the Smokin' Brothers have.
The "30" Traditional Grill is the Smokin' Brothers Best-Selling model. It is a larger than average grill, allowing grill cooks to use up to 20 pounds of pellets. This capacity is excellent for low-and-slow cooks and means you have to refill your pellets less often than smaller models.
The brand tries to be as direct to consumers as they can be, promoting a find a local dealer option on their website for interested buyers to find a dealer in their area. When buying from the manufacturer, the grill comes almost fully assembled with the other parts attached to the grill in ten minutes or less.
What We Love About Smokin' Brothers Traditional Grills
The Traditional Grill from Smokin' Brothers is the epitome of low and slow. Most outdoor meat smoking lovers will only have to use up about half a pound of pellets every hour. This means you can cook even the thickest of meats for almost two days straight if you had to, without needing to refill the pellet hopper like on other models. This capacity is more than enough for most whole hog backyard BBQs.
Observing the thoughtful build quality and options of the "30" Traditional Grill from the Smokin' Brothers clearly see that they have the backyard enthusiast in mind. The pull-out section of the grill demonstrates this fact, allowing you to keep the firebox lid open for the duration of your cooking if you wanted.
The firebox is insulated and walled with double steel, meaning the heat retention is excellent. The lid can be turned around as well, turning itself into a workstation, meaning you don't even need to bring any additional tables outside. The thermostat is all digital and programmable and even doubles as a meat probe. This grill is so well-made that it could even be used in some lower-stakes competitions.
As with anything you buy, though, the Traditional Grill from the Smokin' Brothers has a few drawbacks, albeit relatively minimal. First, while the community-oriented "Buy Local" feature on their website is a great way to support American-owned businesses, not everyone has a BBQ store near them. Of course, the brand does ship directly to consumers, but shipping costs can be a bit steep, so just keep that in mind.
The only other drawback of this grill is that it doesn't have a pre-fitted water pan like most other vertical pellet grills do. Water pans serve several purposes, the most important of which is that it helps the food retain moisture and even-cooking while smoking. This means the food being grilled won't dry out, keeping your food tender and juicy. Water pans also will also catch any sauce, rub or marinade you put on your food while smoking, which helps to prevent the grill from unintentionally flaring up.
Who We Recommend These Grills For:
The Traditional "30" Grill from Smokin' Brothers is another relatively low-cost grill that is ideal for those who have eaten at BBQ restaurants and are now interested in trying their hand at their own creations. However, its shipping costs can be almost a quarter of the entire price, and picking one up in person isn't always feasible, which could be a turn-off to many would-be home BBQ cooks.
Popular Related Article: Great Steak Knives Made in the USA
MAK Grills Two-Star General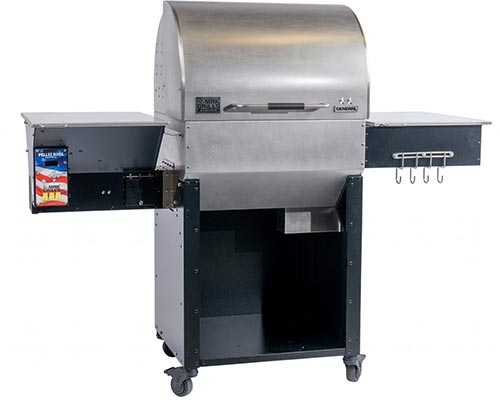 | | |
| --- | --- |
| Estimated Price | $3,200 |
| Features | Cold Smoking Option, Quick Release Pellet Hopper Door, Warmer Box, Vast Temperature Range, Rugged Build |
| Dimensions and Weight | 49" x 60" x 25", Weighs 235 Pounds |
| Material | 16-gauge stainless steel |
| Origin | Dallas, Oregon |
| Cooking Surface Space | 429 Square Feet |
MAK Grills' Origin and Manufacturing Locations
MAK Grills from Oregon saw the pellet grill market and weren't satisfied with it, so they took matters into their own hands. Like several other companies on this list, the owners of the MAK grills company have a background in steel fabrication and metalworking. Taking their expertise and coupling it with their love for grilling was a no-brainer.
According to the brand's website, they saw the designs of most pellet grills as 'outdoor ovens rather than actual grills' and set out to design the best-performing pellet grills on the market.
Rather than offer a dozen or so options, the MAK brand decided to keep things simple, doing what they know expertly. As such, MAK makes just three grills, each "Star-General" goes from one to three stars, respectively. We are reviewing the 2-Star General in this review.
What We Love About MAK Grills Two-Star General Grills
Pitmasters say that the temperature control system of MAK grills is the best in the business, delivering some of the best ribs BBQ lovers have tasted. The brand demonstrates the way the MAK 2-Star General smokes ribs on their YouTube channel (linked below)l, and it makes us hungry just looking at it.
The 2-Star General offers two things that many pellet grills don't, and that's a cold smoker and a quick-release door for your pellet hopper. The cold smoker gives you options you only see in stores and restaurants, like smoked fish, nuts, and even cheese. The cooking temperature range is one of the most versatile you'll find, from as low as 200 degrees up to a blazing hot 600 degrees.
The pellet door means you don't have to scoop the pellets out by hand when it's time to reload them, you just open the chute with a bucket underneath, and you're ready to refill. The additional included features of the 2-Star General are excellent as well, including an upper grate, a smoker box that doubles as a warmer, two meat probes, a 20-pound bag of pellets, as well as both a bottle each of their beloved rub and sauce.
For BBQ lovers on a budget, the one drawback of the 2-Star General is that it is clearly more expensive than most consumer pellet grills. At double the price of the first two grills we review, the 2-Star General is a much bigger investment than its competitors.
The MAK 2-Star General Pellet Grill is by far the most expensive grill on this list, but for some, the cold-smoking option itself is worth the extra thousand dollars or so. There are actually two more models made by MAK that are even more expensive than the 2-Star General. MAX manufactures an all-stainless steel 2-Star General Grill and a 2-star General, both of which are even pricier than the original 2-Star General.
To some home grill cooks, the higher price is worth it just for the cold-smoking feature, though. Their website offers free shipping to the entire conterminous United States, which we thought was a nice add-on.
Who We Recommend These Grills For:
While the first two pellet grills we reviewed here were great choices for home cooks looking to get into pellet grills, this one is likely best suited for the experienced BBQ cook. In addition to the high price, which is double what our first two grills were, the advanced features of the 2-star general would be the best fit for those who are experienced.
This is not to say that MAK grills are so difficult to figure out that inexperienced home BBQ cooks will be unable to use them. There just might be a bit of a learning curve with the MAK 2-star. The price tag on all MAK grills is hefty, but the cold-smoke feature, the included meat probes, the included high-quality grill grates, as well as their signature sauces and rubs add great additional value.
Yoder Smokers YS640s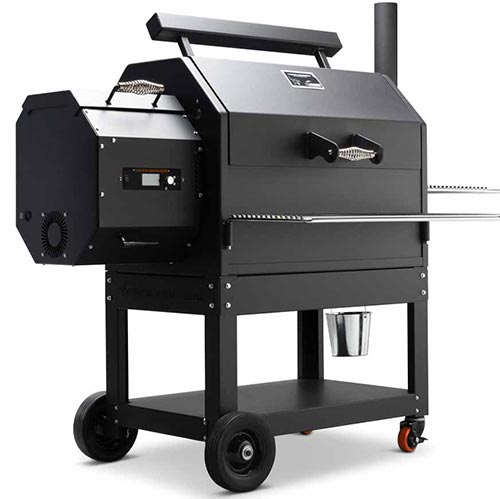 | | |
| --- | --- |
| Estimated Price | $2,300 |
| Features | WiFi Connectivity, Integrated Heat Probes, Stay-Cool Handles, 2nd Level Cooking Shelf that Slides out, Ceramic Ignition System, Over-Flame Grilling, Temperature Versatility |
| Dimensions and Weight | 61.3″ X 55″ 36.1", Weighs 335 pounds |
| Material | 10-Gauge Steel |
| Origin | Hutchinson, Kansas |
| Cooking Surface Space | 1,070 square inches |
Yoder Smokers' Origin and Manufacturing Locations
When it comes to brand loyalty and name recognition, Yoder Smokers manufacture American-made BBQ pits that pitmasters use in competitions. In fact, each one of Yoder's smokers they sell on their website is available in a competition version designed for use by some of the best BBQ pitmasters in the country.
The YS640s comes complete with integrated heat probes, handles that the brand claims never get hot, a hopper that holds 20 pounds, and several other features that we will go into more depth about below. But the feature that stands out in comparison to most other smokers is that the YS640s offers WiFi and Bluetooth connectivity. This capability brings new-school tech to the age-old traditional world of American BBQ.
What We Love About Yoder Smokers YS640s Grills
As previously mentioned, Yoder manufactures some of the highest quality and sturdiest smokers and pellet grills on the market. What sets the YS640s apart from traditional pellet grills and smokers is actually new-school tech, which is its WiFi and Bluetooth capability. With these features, you can control just about everything right from your Smartphone. This includes temperature control and smart programming, and you can even set it up to start smoking when you're not home. We recommend only letting it smoke for an hour or so before you get home, though.
Although we don't recommend letting it smoke for more than an hour or so unattended, you could do that in theory or if you have someone to check on it. The app also gives Yoder smoker owners exclusive deals on replacement pellets, rubs, spices, and sauces and even suggests recipes for meat and wood combinations.
Of course, the YS640s offers more than just WiFi capability. It delivers what the brand calls direct flame grilling, which is supposed to sear meat as well as your traditional charcoal grill. Other features include a 20-pound hopper capacity, a 2nd level cooking shelf that slides out, a heavy-duty 10-gauge steel build, and a versatile temperature range from as low as 150 degrees F up to as high as 600 degrees.
Who We Recommend These Grills For:
The YS640s is less expensive than the MAK 2-Star General because of the General's cold smoke option, but the 640d offers WiFi connectivity and smartphone app functionality. We'd recommend the YS640s for homeowners who love their smart devices.
Old school pitmasters might be turned off by the high-tech nature of the 640s, but just because you buy one, doesn't mean you have to use those features. It is still a solid pellet grill and will last you for several years of tasty smoked foods.
Popular Related Article: What Grills Are Made in the USA?
Factors We Considered:
As you can see, there are many things to consider when buying your home pellet grill/ smoker. In our tables, as well as the in-depth reviews you've read on our website, we spend extensive time researching the most important factors of each product and explaining them to you. Here is why we chose the information found in all of the tables above.
Features:
Perhaps the most important aspect to factor in when making a decision on a home pellet grill is the features it offers. Some of the most notable features on this list include a lid that transforms into a handy pull-out workstation with the Smokin' Brothers model, so you don't have to go back inside to chop, separate, or marinate. This is a good choice for the home cook who would like the option to add smoked food to their mealtime menu.
Perhaps the feature that stood out to us the most is the cold smoking capability of the MAK 2-Star General. Cold smoking opens up a plethora of options for delicious food, like fish, cheese, and smoked nuts. An interestingly innovative feature is the WiFi access of the Yoder YS640s, which could indicate the direction in which pellet smoker manufacturing may soon head. The Charbroil technology of the PG500 from Fast Eddies, as well as an ash catcher, side shelves, and large warming drawer, make that grill stand out.
Depending on what you're looking for, each of the above five grills will offer unique and exciting features. It's all up to the individual home BBQ lover and the meals they're looking to make with their pellet grill. All of these grills are great for home smoking and will deliver deliciously tasting smoked food if you smoke and cook on them cleanly and correctly.
Dimensions and Weight:
When it comes to the dimensions and weight of pellet grills, the pricer the grill, the heavier and bigger it tends to be. That holds true with all of the grills on this list, with weights ranging from 175 to 225 for the least expensive ones up to over 300 pounds for the most expensive.
Carrying these pellet grills is at least a 2-person job, with the MAX General requiring a dolly or other equipment to move. The dimensions and weight are important to consider when buying a pellet grill because they will determine how much space you have and the capacity your smoker will have to cook delicious meats.
Material:
The most common built material for today's pellet grills is steel. Some grills are stainless steel, some are thick gauge or double-layered, and so on. The Yoder Smoker on this list uses a nickel-plated cooking station, which helps maintain an even temperature throughout, according to the manufacturer. The build quality of all of the steel-based materials used in these grills are all solid, but again, you get what you pay for.
Origin:
As far as origin, the criteria to make this list is simple. A significant amount of the production of the grills had to be done in the USA. Some grill manufacturers, like Yoder, Traeger, and Weber, outsource their manufacturing to non-US-based companies, but a brand worth its salt should make their customers aware of that. We took the time to add only American-made pellet grills to this list because we know many BBQ lovers find that important.
Cooking Surface:
As is the case with everything else you buy, you get what you pay for when it comes to the size and material of your cooking surface. If you're starting to see a pattern, it's because there is one. While some of the cooking surfaces of some grills on this list might be smaller than others on this list, even the least expensive will provide plenty for the typical home BBQ lover.
Price:
Just about every one of these pellet grills is going to be costlier than most gas or charcoal grills on the market today. However, if you're reading this article, you're likely willing to pay a little more for the smoking capabilities of the pellet grills on this list.
With this in mind, we added a wide range of price ranges to this list. The MAK General Models seem to justify their steep price tag, with most owners seemingly satisfied with their investment which is more than double the cost of their competitors.
We believe that all of these grills will deliver top-notch quality BBQ if kept clean and cooked with love and knowledge. In addition to the standard price for each model, we also factored in shipping. If you do decide to buy a pellet grill online, keep in mind that it could take some time to ship to your home.
What Makes a Pellet Grill Different?
Pellet grills are different from smokers and traditional charcoal/ gas grills in that they can offer the best of both worlds as far as outdoor cooking. Electric pellet grills also offer similar functions as your home kitchen ovens. There are US-made portable pellet grills on the market as well.
Most pellet grills use indirect heat, and the fans that resemble in-home ovens use fans that heat the food. Pellet grills heat the wood that uses the smoldering coals to deliver delicious flavor to meats, vegetables, and whatever else you love!
While pellet grills do have more functions than your average outdoor cooking device, they do have a few drawbacks in the eyes of some home cooks. First, many modern pellet grills do run on electricity for their digital controls and oven functions, so you must plug them in to use.
According to some home grill cooks, pellet grills may lack the well-known sear and grill marks of a traditional gas or charcoal grill as well. However, several of these grills on this list are designed to solve this sear issue, according to the words of the manufacturers themselves. We'll let you be the judge.
Wrap Up:
That does it for this article. If you have any further questions about what pellet grills are made in the USA or want to know anything specific about any of the grills mentioned above, let us know in the comments below. Also, let us know if you know of any great grills that we can add to this list. Over the years, we've tested and used a lot of grills, but there is no way for us to know about all of them so let us know if you have any good intel for us below. Thank you for reading. Happy BBQ grilling!
Hi, my name is Kevin and I'm from Pittsburgh, Pennsylvania. Choosing products made in America is important to me because it supports local economies, creates jobs, helps the environment, and ensures ethical labor practices. I also find that American made products are usually of higher quality so although they're a little more expensive, you save money in the long run. Before starting this website I was in the USMC infantry and nowadays I work on this website as a hobby.