Whether you're hosting a gathering of friends or cooking a meal for your family at home, having an exceptional grill is a game-changer. Despite the trend of grill manufacturers turning to cheaper overseas production in recent years, there is still a strong selection of gas grills made in the USA to choose from.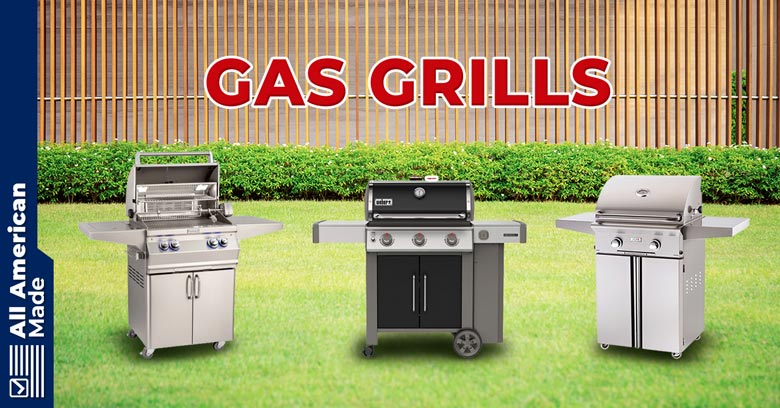 Most of the companies featured in this guide have a long and decorated history in the industry and are dedicated to manufacturing their products in America. We've drawn from our many experiences using and testing American-made gas grills to determine which options are worth your hard-earned money.
Keep in mind that these grills aren't necessarily in order with the "best ones" at the top. Everyone has different preferences, and each grill has unique features that might make it better for your needs.
List of American-Made Gas Grills
Weber Grills (Most Models)

| | |
| --- | --- |
| Origin | Illinois |
| Year Founded | 1893 |
| Sizes of Grills Offered | 24" to 48" |
| Common Materials Used | Stainless Steel, Porcelain, Cast Iron |
Weber's Origin and Manufacturing Locations
Of all the gas grill brands featured in our list, Weber is amongst the most iconic. The brand was formed shortly after World War II by steak fanatic George Stephen Senior who took advantage of the equipment he had at his disposal in the metal works where he earned his living. His first creation left a lot to be desired in terms of appearance, but his neighbors found his grills so amazing them kept coming back for more.
It didn't take long for Mr. Stephen's grill design to be in high demand, and so he purchased Weber Brothers Metalworks in the late 1950s, changing the name to Weber-Stephen Products. In the following decades, he enjoyed nationwide success and grew Weber into a household name by manufacturing a series of brilliant gas and electric outdoor grills. If you'd like to learn more about how and where Weber Grills are made, we have an in-depth guide here.
Grill Selection and Our Favorite Weber Grills
First and foremost Weber is one of the largest grill brands, and most of its grills are made in the USA. Just note that there are a few models that are not. The good news is that Weber makes it very clear exactly which models are American Made, and you can view them all on the Weber Website here.
Weber's range of gas grills is split into four categories: the Genesis Series, Spirit Series, Summit Series, and Q Series. While all of their grills share many of the same materials and components, there are some important differences between them that make them better suited to specific outdoor cooking areas and requirements.
Weber is one of the most prolific gas grill manufacturers in the USA, so you'll almost certainly be able to find one that suits your needs. The company uses durable stainless steel for its grill housings, and many of its products have built-in digital functionality, which is useful for keeping track of temperatures and timings when cooking.
The Genesis series is my personal favorite and features a wide variety of grill sizes and provides a classic, vintage look with modern controls and functionality. These grills are also very easy to move around, so you can quickly put them into a storage space after your food is prepared.
The video below demonstrates how the Genesis gas grills work. This grill is one of Weber's finest creations, and you can clearly see the quality of its design and features in this video.
American Outdoor Grill (AOG)

| | |
| --- | --- |
| Origin | California |
| Year Founded | 1949 |
| Sizes of Grills Offered | 24" to 48" |
| Common Materials Used | Stainless Steel, Solid Brass |
American Outdoor Grill's Origin and Manufacturing Locations
American Outdoor Grills have a history that dates back to 1949, when their manufacturing firm, RH Peterson Co, was formed. RH Peterson Co. has consistently been at the forefront of the gas-based product market in the past 70 years, producing a range of gas grills, fireplaces, and fire pits. They formed AOG to specialize in grills, constantly tweaking their designs and investing in the quality of their products.
RH Peterson Co. has ensured that all of the products made under the American Outdoor Grills' name are manufactured in the USA. The company's headquarters and factory are located in the City of Industry, California, and their gas grills consistently rank among the best sellers each year.
Grill Selection and Our Favorite American Outdoor Grills
AOG offers a wide range of gas grills. Whether you need a compact, portable 24-inch grill for your garden or a more spacious 48-inch grill, you can find what you're looking for in American Outdoor Grill's selection. The company produces two built-in gas grill ranges – the "L" and "T" series. The latter range of grills has a piezoelectric starter installed, while the former range includes a more efficient electronic ignition with lights installed for improved visibility. You can be sure that these gas grills will last for many years, thanks to the robust housing which is constructed from 304-grade stainless steel. Another key difference between the "L" and "T" built-in gas grills is that the "T" series is equipped with chromium and titanium burners, Diamond Sear steel grids, valves made from solid brass, and a system for drip collecting, and a thermometer on the lid. The "L" series also includes all of these features, but it can be used with both natural gas and propane gas and has halogen lighting on the interior of the grill.
American Outdoor Grills also offers "L" and "T" series portable gas grills, which are ideal if you'd like to have the option to move your grill from one location to another. The main difference between these two ranges of gas grills is that the "L" series lacks electronic ignition and halogen lighting. The "T" series requires 120v to start up, so it's worth considering whether this is practical for you.
They also have steel poles that can be tire mounted for portability or ground-mounted. If you want to bring the flag with you when camping, tailgating, or at sporting events, bring along the tire mount flagpole. You can display your support for America wherever you go.
AOG has a generous warranty policy, too. Their steel burners are under warranty indefinitely, while every other component on their grills is warranted for a decade. Other accessories, such as the thermometers and ignitions, come with a year's warranty.
In addition to their gas grills, AOG also manufactures a variety of optional components to improve your outdoor cooking setup. These include rotisserie sets and a range of side and sear burners which may be useful if you're preparing food for the whole family.
Here's a video of the popular "T" series gas grill by American Outdoor Grills in action. It's definitely worth exploring the other grills offered by the brand too, but this video provides a good overview of the design and capabilities of the manufacturer's gas grills.
Broil King

| | |
| --- | --- |
| Origin | Indiana |
| Year Founded | 1986 |
| Sizes of Grills Offered | 30" to 60" |
| Common Materials Used | Stainless Steel |
Broil King's Origin and Manufacturing Locations
Broil King's story begins in 1970 when the original company named Char-Broil released the first grill that included a portable gas propane tank in a single steel chassis. This innovative design sparked a revolution in the industry, and soon many of the other top manufacturers followed by making their gas grills portable as opposed to the fixed, bulky units that preceded Char-Broil's creation.
After rebranding to Broil King, the brand continued to go from strength to strength. They used their original gas grill designs to form the foundations of more advanced outdoor cooking appliances and are renowned for producing some of the largest grills on the market, with some offering up to 1,000 square feet of cooking surface! The company manufactures its grills in the state of Indiana and is committed to using American-made materials and components wherever possible.
Grill Selection and Our Favorite Broil King Grills
The first thing you'll notice about Broil King's gas grills is their distinguished designs. These grills certainly look the part, but they also deliver an excellent cooking experience. If you're looking for a large cooking surface, the Regal series provides enough space to prepare food for large groups of friends and family on a hot summer's day.
Broil King also offers smaller gas grills which are ideal if you live in an apartment or small house or have limited space in your backyard. The Gem series, which has a corrosion-resistant aluminum cook box and dual-flame side burners, is compact enough to fit into any sized area.
Another great thing about Broil King's range of gas grills is that they offer a variety of affordable and high-end models, so you can find a suitable option regardless of your budget. In the video below, you can see their grills in action and get some valuable tips on how to use them most effectively.
Twin Eagles Grills

| | |
| --- | --- |
| Origin | California |
| Year Founded | 1999 |
| Sizes of Grills Offered | 24" to 54" |
| Common Materials Used | Stainless Steel, Ceramic |
Twin Eagles Grills' Origin and Manufacturing Locations
Founded by innovative entrepreneur Dante Canal in 1999, Twin Eagles Grills began as a small-scale business. However, once word began to spread amongst consumers about the quality of the brand's outdoor cooking appliances and gas grills, the company expanded at a rapid rate.
Today, Dante Cantal is joined by a team of expert designers and engineers who come together to create Twin Eagle's high-end gas grills and other products. Based in California, the company has stayed true to its American heritage and avoided outsourcing its manufacturing overseas, which largely contributes to the quality of its gas grills.
Grill Selection and Our Favorite Twin Eagles Grills
Classy in design, Twin Eagles grills are designed for efficiency without overcomplicating the process of outdoor cooking. The brand produces several built-in and portable American-made gas grills, which are made from corrosion-resistant, 304-grade stainless steel that will last for many years. They also commonly add ceramic briquettes to the grills, along with a range of useful features, including interior lighting and independent temperature zones.
With sizes ranging from 30" to 54", there is a Twin Eagles gas grill to suit all requirements. While these grills may look fairly simplistic, when you analyze the range of features that they include, it becomes clear that they are capable of much more than first meets the eye.
Here is an informative video explaining how Twin Eagles Grills makes some of the best gas grills made in the USA. It really comes down to their expertise and attention to detail.
MHP Grills

| | |
| --- | --- |
| Origin | Illinois |
| Year Founded | 1958 |
| Sizes of Grills Offered | 24" to 48" |
| Common Materials Used | Stainless Steel, Porcelain |
MHP Grills' Origin and Manufacturing Locations
Modern Home Products, or MHP, was founded by Walter Koziol in the late 1950s. The company's products were introduced to the masses in 1960, initially focusing on gas lighting systems for adding a decorative touch to the exterior of customers' homes. As gas products became more popular, MHP ventured into the grill market, producing the first outdoor gas grill which revolutionized the way that Americans cooked outside. Founder Walter Koziol dedicated his efforts to innovation, resulting in the manufacturing of the first steel rectangular gas grill and later a cast aluminum version with a hinged hood – a design that is still used in the modern era.
As outdoor cooking has continued to grow in popularity across the United States, MHP Grills have remained one of the nation's leading gas grill producers. This iconic brand has been responsible for many of the innovative designs that other manufacturers use as the blueprint for their grills, and they are seen by many as icons of the industry.
Grill Selection and Our Favorite MHP Grills Grills
MHP offers a handful of gas grill models, each of which is available in varying sizes. Their larger grills, like the WNK series, come with large cooking areas of up to 642 square inches. If you like to have plenty of space when cooking outdoors, the spacious gas grills by MHP will ensure that things don't become crowded.
The majority of MHP grills are made from 430-grade stainless steel. Porcelain briquettes are also often included, and this choice of material maximizes the flavor of the food you cook compared to metal plates or bars. In addition to the WNK series, MHP also produces portable outdoor grills in their AMC, JNR, and TJK ranges. A common feature of all of these grills is that they are equipped with heavy-duty wheels, so you can maneuver them around your garden with ease, and easily store them away when they're not in use.
If you're looking for a more compact, practically-sized gas grill, the JNR series is a great choice. With a cooking area spanning 495 square inches, this grill is still sizable enough to prepare food for a group of people without taking up too much space in your garden or storage area.
In an industry where many manufacturers have chosen to outsource their grill production to cheaper locations, WNK has stayed true to its iconic history and remains exclusively American in every way possible. This video provides an overview of the company's gas grills so that you can get an idea of their designs and features.
Alfresco Grills

| | |
| --- | --- |
| Origin | California |
| Year Founded | 1999 |
| Sizes of Grills Offered | 30" to 56" |
| Common Materials Used | Stainless Steel, Nickel-Plated Steel, Ceramic |
Alfresco Grills' Origin and Manufacturing Locations
Alfresco was formed in the late 1990s, releasing its first line of outdoor cooking equipment with the aim of bringing restaurant-quality appliances to American citizens' homes. With a factory located in the City of Industry, California, the brand produces all of its gas grills in the United States. Their first offering was the Alfresco Open Air Culinary System, which went on to become one of the most popular outdoor grill lines in California before achieving success nationwide.
In the twenty-plus years since the company's formation, Alfresco has gained a reputation for its innovative approach to designing outdoor cooking equipment. Their gas grills are widely used in the professional culinary industry and are also highly popular amongst Americans who desire the finest outdoor cooking experience at home.
Grill Selection and Our Favorite Alfresco Grills
Alfresco produces a total of 5 gas grills, which are categorized by size. The smallest grill they offer is the ALXE-30 model, which measures 30 inches and is ideal for those who have a small outdoor area to cook in. The ALXE-42 is a medium-sized gas grill, which includes three stainless steel burners – one more than the aforementioned smaller model. Alfresco also offers two 56-inch gas grills – the ALXE-56 Deluxe and the ALXE-56BFG. These grills will allow you to cook for large groups without running out of space.
Alfresco is committed to using the finest materials and components on all of its gas grills. Made from robust stainless steel, they include integrated smoking and rotisserie systems, powerful halogen lights for improved visibility, and a heating rack that can be used in three different positions.
The various components and features installed on Alfresco's gas grills will allow you to cook different foods simultaneously without making the process stressful. Everything is ergonomically designed and laid out intuitively, so it doesn't take long to become accustomed to the way the grills operate.
This video provides a quick review of the ALXE Grill by Alfresco, highlighting its pros and cons. It also allows you to get an idea of the size and design of Alfresco's grills so that you can determine whether they'd be right for your outdoor cooking area.
Fire Magic Grills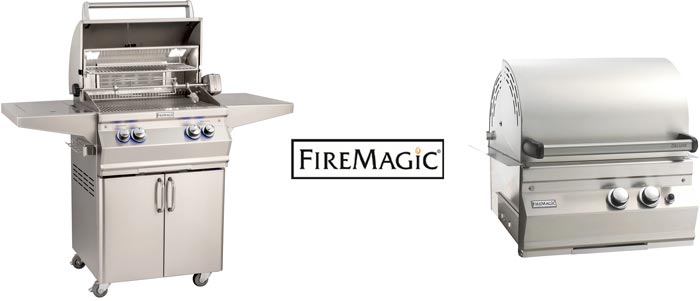 | | |
| --- | --- |
| Origin | California |
| Year Founded | 1937 |
| Sizes of Grills Offered | 24" to 48" |
| Common Materials Used | Stainless Steel, |
Fire Magic Grills' Origin and Manufacturing Locations
Fire Magic was founded over 75 years ago in the state of California. It didn't take long for their barbeques and grills to build a reputation throughout the United States for their exceptional durability and easy-to-use, practical designs. Over the years, the brand has updated its grill designs to ensure it stayed ahead of the curve, and as a result, they have maintained its position as one of America's best-known manufacturers in the category of outdoor cooking systems.
Fire Magic is owned by the RH Peterson company, which you may recognize as the owners of the first company featured in our list, American Outdoor Grills. Despite this, there are many noticeable differences between the grills made under the Fire Magic name and the AOG brand.
Grill Selection and Our Favorite Fire Magic Grills
With an extensive selection of portable and built-in gas grills made in the USA, Fire Magic caters to all of your requirements. Each grill produced by the brand is made from corrosion-resistant 304-grade stainless steel, so even if your hometown experiences all kinds of weather, these gas grills are able to withstand it.
All of the cast stainless steel burners and housings of Fire Magic's grills, in addition to their cooking grids, come with a lifetime warranty, which underlines the brand's confidence in the longevity of these components.
A few of the standout gas grill ranges offered by Fire Magic include the built-in Echelon series, which can easily be integrated into an outdoor unit. Furthermore, the Aurora series grills are portable options that boast extensive cooking surfaces, inbuilt halogen lights, advanced ignition systems, and many other useful features and components. Overall, I'd say Fire Magic easily makes some of the best American-made grills out there.
Here's a useful video that demonstrates the functionality of Fire Magic's popular Deluxe Legacy 24" built-in gas grill. It gives you an idea of the wide range of features that the brand installs on its grills.
Summerset Grills

| | |
| --- | --- |
| Origin | California |
| Year Founded | 2002 |
| Sizes of Grills Offered | 26" to 42" |
| Common Materials Used | Stainless Steel |
Summerset Grills' Origin and Manufacturing Locations
Summerset Grills have been in business for 20 years, which isn't a long time compared to some of the other US-based gas grill brands on this list. However, their relatively short history makes their rise even more impressive.
Initially, the brand imported its gas grills from outside the US, but they are now committed to manufacturing the majority of its products on American soil. Even the steel they use to construct their gas grills is made in the US, underlining their dedication to keeping their products as close to home as possible. The main factory where Summerset grills are produced is located in Huntington Beach, and they also have an outdoor kitchen showroom in Corona.
Grill Selection and Our Favorite Summerset Grills
You can find gas grills of all sizes in Somerset's range. One of their most popular grill types is the Sizzler series, which includes a compact 26″ built-in grill, along with a 32″ and 40″ version. These grills are made from 443-grade stainless steel and have a variety of useful features installed, including stainless steel tube burners, Briquette systems that are easy to clean, and onboard temperature indicators.
One thing that sets Somerset grills apart from the majority of other brands is their selection of gas oven grills for outdoor cooking. These innovative grills are ideal for cooking meats, pizzas, and even desserts, without needing to go inside your home.
You'll be pleased to know that Somerset produces all of its grills entirely in the US. Even the more affordable gas grills they offer are constructed using high-quality materials at their factory in California.
This video demonstrates how to get the best out of the Summerset Sizzler Pro gas grill and also allows you to get a feel for how the grill operates.
Hestan

| | |
| --- | --- |
| Origin | California |
| Year Founded | 2016 |
| Sizes of Grills Offered | 36" to 42" |
| Common Materials Used | Stainless Steel |
Hestan's Origin and Manufacturing Locations
Throughout the 1970s, entrepreneur Stanley Cheng enjoyed success producing innovative nonstick cooking equipment. His experience in this industry led him to a new venture, which focused on the outdoor cooking market. Within a matter of years, Hestan had gone from an unknown brand to one of America's leading gas grill manufacturers.
Interestingly, as Hestan grills became more popular, the brand branched out into several other industries, forming Hestan Commerical for restaurant kitchen equipment, Hestan Vineyards for limited-edition wines, and Hestan Outdoors for gas grills and backyard cooking devices. The brand produces all of its products at its California factory.
Grill Selection and Our Favorite Hestan Grills
Hestan's range of high-quality gas grills includes a variety of built-in options, freestanding grills, and larger models which are ideal for hosting parties and gatherings. Every single part of the grill is built and assembled in the company's Anaheim, California-based factory. They even cut their own steel and construct their own grates!
The attention to detail that Hestan has when designing their gas grills is evident as soon as you set your eyes on them. In addition to their impeccable cooking capabilities, they have many performance-enhancing features like spring-assisted hoods and infrared burners to provide you with a smooth experience.
Hestan's selection of gas grills includes sizes and designs to suit all outdoor cooking areas. Two of the most popular grills they produce are the Aspire and the Big Dog, which you can see a side-by-side comparison of in this video.
Popular Related Article: What Pellet Grills Are Made in the USA?
TEC Grills
| | |
| --- | --- |
| Origin | South Carolina |
| Year Founded | 1980 |
| Sizes of Grills Offered | 26" to 44" |
| Common Materials Used | Stainless Steel |
TEC Grills' Origin and Manufacturing Locations
TEC Grills is best known for introducing America's first infrared grill almost four decades ago. The original Patio Grill was responsible for the brand's early success, with consumers amazed by its ability to reach high temperatures in a very short time compared to most other grills available in the early 1980s.
In the decades that have followed, TEC has constantly updated its gas grill designs to stay at the forefront of the market. If you're looking for a true American gas grill that is steeped in history and has a solid reputation, it's worth checking out TEC's selection.
Grill Selection and Our Favorite TEC Grills
TEC manufactures a diverse range of outdoor cooking equipment, from freestanding, compact gas grills to complete outdoor kitchens. The Sterling Patio FR series is amongst their finest offerings, made from highly durable stainless steel and available in sizes ranging from 26" to 44".
The company's portable gas grills are ideal for cooking burgers, steaks, or grilling vegetables for friends and family. When you consider the quality of the components included on these grills, they're priced very fairly. The G Sport FR grill is capable of cooking up to 18 burgers in less than 10 minutes!
Designed and constructed in TEC's South Carolina factory, these gas grills are worth considering if you're serious about cooking the best outdoor meals possible. You can get an idea of how these grills work by watching the video below.
Primo Grills

| | |
| --- | --- |
| Origin | Illinois |
| Year Founded | 1996 |
| Sizes of Grills Offered | 23" to 48" |
| Common Materials Used | Stainless Steel, Ceramic |
Primo Grills' Origin and Manufacturing Locations
Primo, which translates as "the best" in Italian, was formed by George Samaras in 1996. Originally focusing on producing ceramic grills, the company has grown from its humble beginnings into one of the most prominent American grill brands today.
All Primo gas grills are manufactured in a factory located in Poplar Bluff, Missouri, with the company's headquarters located in Belleville, Illinois. The brand's grills are available throughout North America and have also achieved success in 23 other countries around the world.
Grill Selection and Our Favorite Primo Grills
Primo's unique ceramic gas grills simplify outdoor cooking. Despite their seemingly simplistic design, these grills are incredibly versatile and can be used to cook everything from chicken to steaks to vegetable skewers. The patented oval design ensures that heat circulates evenly throughout the grill so that no energy is wasted throughout the cooking process.
Primo's oval ceramic grills are available in many different sizes. They're also pretty lightweight, so moving them around the backyard shouldn't cause you any problems. This video provides a detailed breakdown of how the grills work and what you can expect if you choose to invest in one. Overall, they're some of the best grills made in the USA and while they are rather expensive I do feel that the price is justified.
Vermont Castings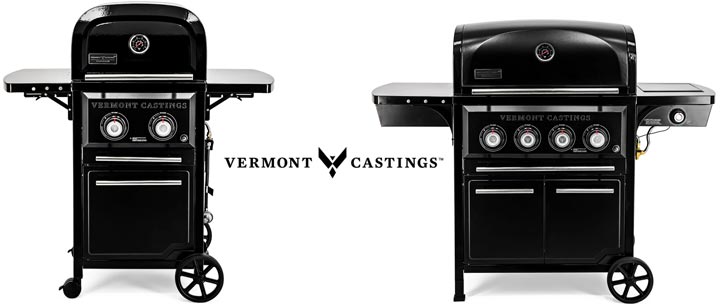 | | |
| --- | --- |
| Origin | Vermont |
| Year Founded | 1975 |
| Sizes of Grills Offered | 24" to 48" |
| Common Materials Used | Stainless Steel, Cast Iron |
Vermont Castings' Origin and Manufacturing Locations
The Vermont Castings story began in 1975 when founder Duncan Syme took his idea of manufacturing wood burners to a local businessman Murray Howell. The pair worked on Syme's design until they built the Defiant wood-burning stove, which went on to enjoy national success.
Syme and Howell's dedication to producing the finest wood stoves propelled Vermont Castings to the forefront of the industry, and in 1979, the company relocated to Randolph in Vermont. Eventually, after decades of success predominantly producing wood burners, they branched out into gas grills and other outdoor products.
Grill Selection and Our Favorite Vermont Castings Grills
Vermont Castings manufactures four varieties of gas grills. While this may be less than many of the other brands featured in our list, it enables them to focus on a limited number of designs, and this is evident in the quality of the grills they produce. The Vanguard series includes a 2-burner, 3-burner, and a pair of 4-burner gas stoves. It also has an extended cooking area of 742 square inches.
The brand uses 304-grade stainless steel for most of the components on their gas grills, including the housing, burners, and cooking grates. Furthermore, they use cast iron for the lids, which is great for retaining heat and keeping the grill at an optimal temperature.
If you enjoy convenience when barbequing, you'll love the additional features included on Vermont Castings' gas grills. They're packed with useful side shelves, grease-collection drawers, and heavy-duty wheels to ensure they can be safely moved around the backyard. In the video below, you can see the quality of the company's propane grills made in the USA and watch them in action.
Popular Related Article: Where Are Traeger Grills Made?
Factors We Considered
Although many gas grill brands choose to outsource their manufacturing overseas to save on costs, there are many great options that are made in the USA, as you can see from our list. To identify the gas grill brands we've featured, we researched their history and products extensively.
Great grills must combine a range of capabilities and features. Here's a breakdown of the criteria we analyzed when selecting the brands.
Features:
An integral part of any gas grill is the various features that the manufacturer installs on its products. The more features that are included, the more versatile the gas grill is, and the more options you'll have available when preparing your meals.
One essential component of a gas grill is the burners. These are usually the first part that will need replacing, so look out for an option that comes with a warranty for this component. Another essential feature is the grates. For optimal searing and maintenance of temperature, stainless steel or cast-iron coated grates are considered the gold standard.
The type of igniter that is installed on the gas grill will also have an impact on how smoothly it runs. Generally speaking, electronic igniter systems are the most efficient variety. Having a side burner is also very useful if you need to heat a sauce or keep a side dish warm while cooking the main meal.
The controls that are installed on a gas grill will decide how easy it is to operate. Some manufacturers install LED-backlit controls, which make it easy to see the heat settings of each burner even when cooking at nighttime. Finally, it's worth looking for a grill that provides you with an indication of the fuel level so that you can replace the tank when necessary and avoid running out of gas midway through preparing your food.
Mobility and Size:
Gas grills come in two varieties – built-in and portable units. Built-in grills tend to be more expensive, and they obviously can't be moved around once they're installed. If you anticipate needing to move your gas grill into storage during the winter months or would like to have the option to take it to another location, it's a good idea to choose one with onboard wheels.
The size of your gas grill also needs to be compatible with the space you have available. Most manufacturers offer at least three sizes of each grill series they produce. The larger grills have an extended cooking surface and are therefore suitable for preparing food for large groups of people. However, they may be unnecessarily large if you're only going to be cooking for small groups.
The smallest gas grills are generally sized somewhere around 24", which is ideal for those who have limited space in their backyards or storage areas. If you'd rather have a larger cooking surface, you can opt for a gas grill that is over 50" in size, as this will provide you with all of the space you need to prepare a lot of food simultaneously.
It's a good idea to measure the space you have available for your gas grill before you decide on the size you'd prefer. It's difficult to gauge the size of the grill based on photos or a video, so checking the dimensions is a wise move if you want to avoid purchasing the wrong size.
Materials:
As you probably noticed from the gas grills we listed in this guide, the vast majority are made from stainless steel. This material is ideal for outdoor grills, as it can withstand extreme weather conditions and is highly resistant to rust or corrosion. The higher grade the stainless steel is, the more robust it will be and the longer it is likely to last.
An alternative material to steel that is used by some manufacturers when constructing their grills is ceramic. This material is also very effective at maintaining an optimal cooking temperature, and it also boasts excellent longevity. However, the ceramic material can break if it is dropped or knocked over, making it less reliable than steel.
Origin:
All of the gas grill brands featured in this list manufacture the majority of their products in the United States. A small number of grill manufacturers may source some of their components and materials from overseas, but we made sure to check that they assemble their grills on American soil. We are aware that many of the people that enjoy outdoor cooking feel strongly about using US-based products and therefore have made every effort to only include companies that fit this important criterion. The history of the gas grill brands is also very important, as it indicates their experience and expertise in the field, which is why we've detailed this aspect in our list.
Price:
Every American should be able to enjoy USA-made gas grills regardless of their budget. Indeed, as is the case with most products, the more you're willing to pay, the better the gas grill is likely to be. It's worth investing a little extra to enjoy the additional features that manufacturers include on their high-end grills.
Maintaining your gas grill correctly will ensure that you get your money's worth and that it lasts for a long time. We're confident that the brands included in this list produce gas grills to suit any budget, so you can find the ideal product for your circumstances.
Final Thoughts:
We've come to the end of our guide to the best gas grills made in the USA. Hopefully, the information in this article has helped you to decide on which brand you should choose and which specific type of gas grill is best suited to your requirements. If you have any questions, feel free to leave a comment below, and we'll get back to you as soon as possible. Thanks for reading, and we hope you enjoy your new gas grill!
Also, if you know of any great grills that we missed, please let us know in the comments below!
Hi, my name is Kevin and I'm from Pittsburgh, Pennsylvania. Choosing products made in America is important to me because it supports local economies, creates jobs, helps the environment, and ensures ethical labor practices. I also find that American made products are usually of higher quality so although they're a little more expensive, you save money in the long run. Before starting this website I was in the USMC infantry and nowadays I work on this website as a hobby.