If you're a steak lover like me, you probably appreciate a high-quality steak knife. Cutting a premium cut of beef with a low-quality blade is doing the delicious meal a disservice. Many knives are manufactured overseas these days, but thankfully there are still some great steak knives made in the USA out there.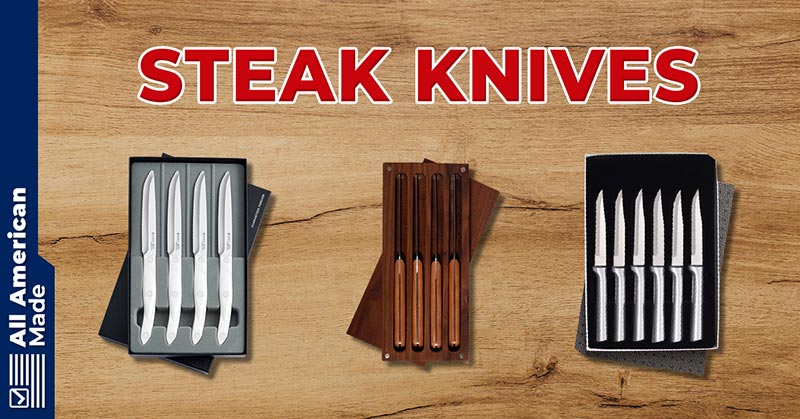 Below, we have included a comprehensive list of knife sets with offerings at different price points. Simply scroll through this list of knives and find the perfect steak knives for your family.
List of American Made Steak Knives
1. Rada Cutlery Steak Knives (Best Value)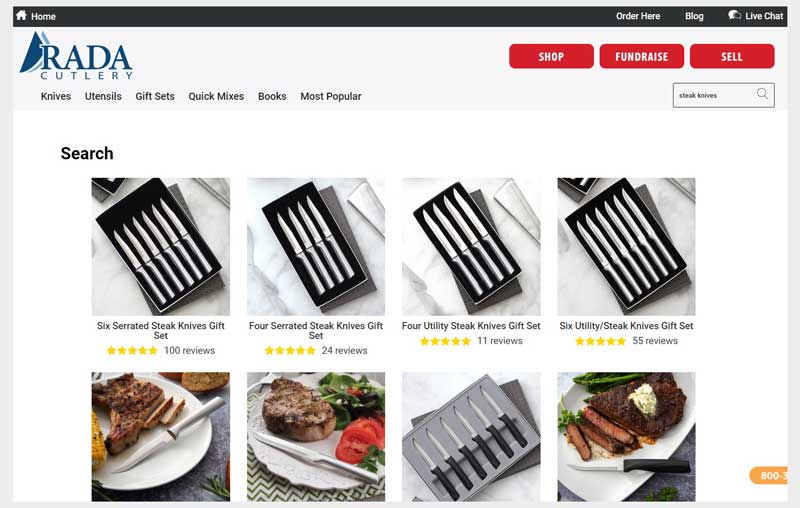 | | |
| --- | --- |
| Estimated Price | $50 |
| Blade | T420 |
| Length | 8.5" |
| Origin | Waverly, Iowa |
| Handle | Aluminum Silver or Black Molden Resin |
Product Origin and Manufacturer Information:
Established in 1948, Rada Manufacturing Company has been making kitchenware and utensils for 73 years. Based in Waverly, Iowa, Rada knives are 100% American-made.
Overseeing all of their operations down to raw materials and even packaging to ensure customers get a truly American-made quality product. Overall, we find Rada delivers quality knives at a more than reasonable price. They've become one of our favorite knife companies and compared to many other similar products, they're an extremely good value. Another thing to keep in mind is that Rada makes many steak knife sets. You can see all of the most popular sets they offer on their website here.
Why We Love Rada Steak Knives:
These knives will not only cut steaks well, but the T420 surgical grade stainless steel blade can be used to chop and slice veggies and hard fruit like mangos and pineapples. These knives are thin and slightly flexible, but that's to be expected at this affordable price point.
You can either choose from the silver cast aluminum handles or the molded resin black ones. While many think all silver knives look better, the black handles are dishwasher safe, and the silver aluminum ones are not.
This set comes in a nice-looking box as well, which is great for storing in your kitchen or for giving as a gift. The form-fitted insert will keep the knives in place for long-term storage or gift-giving. There is also a lifetime guarantee on this knife set, which is a nice touch.
Overall, these knives are razor-sharp and well made. You can find these knives with serrated and non-serrated blades. One is not necessarily better than the other, it just comes down to personal preference. The only thing I don't like about these knives is that they shouldn't be put in a dishwasher. They tend to tarnish over time if you do put them in the dishwasher, but Rada is very transparent about that, so I don't want to be too critical of them.
Who We Recommend These Knives For:
The utility/ steak knives 6-Set from Rada Cutlery are a great choice for anyone looking to get the most value out of their steak knives at an affordable price. You won't get the expensive-looking nature of some of the other knives on this list, and you will probably have to sharpen these at least once a year, but they will last a long time if properly taken care of.
2. Cutco Steak Knives (Highest Rated)
| | |
| --- | --- |
| Estimated Price | $200 |
| Blade | 440A high carbon steel |
| Length | 8.5" |
| Origin | Olean, New York |
| Handle | Ergonomic Thermo-Resin |
Product Origin and Manufacturer Information:
Established in 1949, Cutco is a large company with over 600 employees. This New York-based staple of American cutlery has made a name for itself in the tableware industry.
To the Cutco brand, being 'Made in America' means more than just manufacturing their knives here in the United States. It means committing to their customers to provide great products as well as great jobs for Cutco employees, which is something this impressive company has taken pride in for over 70 years.
Why We Love Cutco Steak Knives:
We love how committed the Cutco brand is to being All-American made. This certainly doesn't mean they exclude customers from other countries, but it's refreshing to see brands who practice what they preach, especially after doing so for over 70 years.
Although the 4-piece knife set from Cutco is on the expensive side, it's one of the better-serrated blade steak knives out there. The blade is made from 440A high carbon steel, which has the highest corrosion resistance of all 440 types of steel.
The handle is made from ergonomic thermo-resin, which feels comfortable and secure in the hand of most knife users. Even left-handed customers have commented that this set feels natural to them. Considering all of these factors, it comes as no surprise that this 4-piece set contains Cutco's best-selling steak knives.
Cutco's more upscale knives, like the ones in this set, feature their patented Double-D Edge blade, which is a registered trademark of Cutco. This unique shape forms three recessed edges for cutting. Cutco, in their knife guide, claims their Double-D Edge blade makes for a smoother, cleaner cut than other knives, with less pressure required.
Some customers who love Cutco knives say they have had these table knives for over 15 years, and they are still sharp. We thought that the brand's willingness to sharpen their customer's knives for free was a nice touch, although you'll have to pay for the cost of shipping to them and back to you after sharpening.
Who We Recommend These Knives For:
This set is for the home-based steak lover who wants an American-made knife product that will last. The brand says the knives are all dishwasher safe, which is another selling point.
This set also makes a great gift, as the 4-piece knife set comes in a convenient gift box. Keep these knives clean and well taken care of, and they will easily last you into the 2030s and beyond.
3. Lamson Premier Forged Steak Knives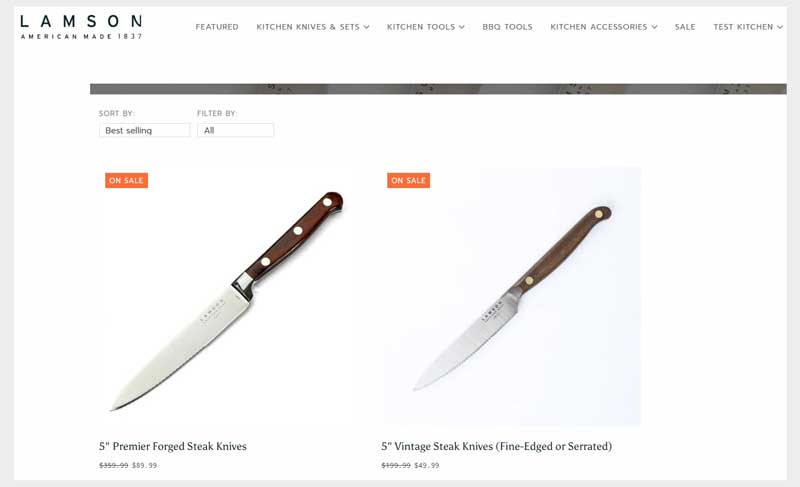 | | |
| --- | --- |
| Estimated Price | $280 |
| Blade | 4116 High-Carbon Steel |
| Length | 9 x 3 x 0.5 inches |
| Origin | Westfield, Massachusetts |
| Handle | Triple-Riveted Acrylic |
Product Origin and Manufacturer Information:
Established in 1837 in Massachusetts, the Lamson brand lays claim to being the oldest cutlery manufacturer in the United States. As truly American-made as you'll find, Lamson handcrafts every knife in their factory in Western Massachusetts.
According to the Lamson brand's website, Lamson presented President Ulysses S. Grant with a 62-piece dinner set in 1869. Some parts of the dinner set can still be seen today, as they are on display at the Smithsonian Museum in Washington, D.C.
Why We Love Lamson Steak Knives:
Any cutlery fit for a US President is going to cost a pretty penny, but to some Lamson customers, purchasing this set is worth it. These knives are sharp right out of the box, have a beautiful look, and cut the toughest steak with ease.
This knife set from Lamson is available in three different styles, fire, midnight, or walnut. The handle is made from triple-riveted acrylic, and the midnight handle is made from a strong G-10. Everything about the Lamson brand is traditional American, right down to their precision-forged, corrosion-resistant steel using the hot-drop method.
The full-tang blades and triple-riveted handles are luxurious enough for those with the finest tastes. The set comes in an attractive gift box that is easily used as a long-term storage container.
As we'd expect from a top-tier knifemaker, Lamson offers lifetime warranties on most of their products, including this premium steak knife set. The brand also offers complimentary sharpenings for the life of the knives.
Who We Recommend These Knives For:
When it comes to American-made steak knives, Lamson is as top-tier as it gets. These knives are fit for a king as well as a U.S. president. It's hard to be in business as a respectable brand for 85 years, let alone for 185 years, but the Lamson brand does it with class and style.
If you're seeking a budget steak knife set, you'll want to look elsewhere. But If you're cooking a premium steak like Kobe or wagyu beef, Lamson brand steak knives will make a perfect pairing.
4. Buck Knives 936 Steak Knives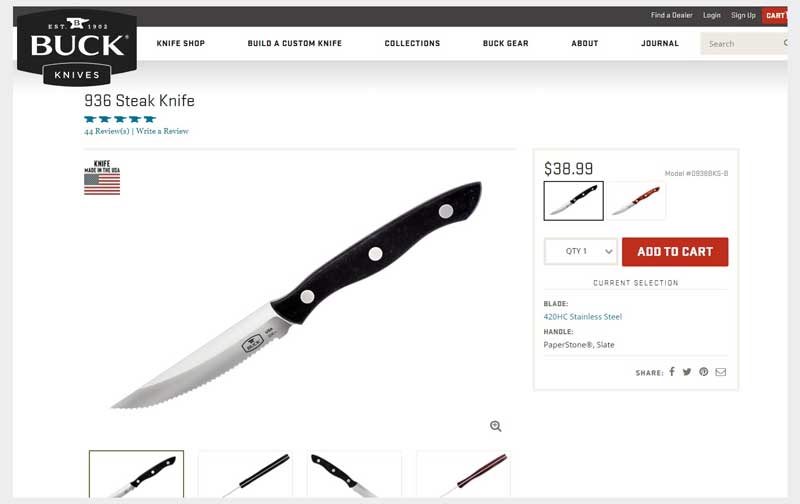 | | |
| --- | --- |
| Estimated Price | $55 |
| Blade | 420 HC Stainless Steel |
| Length | 8.5" |
| Origin | Post-Falls, Idaho |
| Handle | Rosewood Dymalux |
Product Origin and Manufacturer Information:
The founder of Buck knives, Hoyt Buck, had humble beginnings as a humble blacksmith seeking a more practical way to temper steel so knives would stay sharper longer. This desire led to him producing the first Buck knife in 1902, and the rest is history.
Hoyt's tradition of manufacturing and designing high-quality knives right here in the United States lives on through three and now four generations. Buck makes over 3,000 knives every day in their factory located in Post Falls, Idaho, where about 300 workers are employed.
Why We Love Buck Steak Knives:
The 420HC steel found in the blade of this knife was chosen by the Buck brand because it offers a balance between the wear resistance of high carbon and the corrosion resistance of stainless. We think this is an excellent blade choice for a steak knife, and it shows when customers use these knives at their dinner tables.
The triple-riveted handle is called a Dymalux handle, which is a registered trademark of the Buck brand. Every knife that the Buck brand makes comes with a lifetime warranty, on top of the promise to remain all-American.
Who We Recommend These Knives For:
This is another top-tier knife for steak lovers looking for a mixture of longevity and quality. The Buck brand stands the test of time for quality, and the majority of its customers reflect that opinion. The 936 steak knife makes a perfect addition to any kitchen and can be used for many different applications. I've owned and tested a lot of Buck knives and feel they are a great value compared to many of their competitors. I'd have to say, hands down, they make some of the best steak knives made in the USA. Give them a try, and you won't regret it!
5. Alfi Cutodynamic Steak Knives
| | |
| --- | --- |
| Estimated Price | $20-45 |
| Blade | Stainless Steel |
| Length | 10 x 11.25 x 1 inches |
| Origin | Newbury Park, CA |
| Handle | Ergonomic Multi-Colored Plastic |
Product Origin and Manufacturer Information:
The Alfi brand was founded in California in the 1980s by E.A. Alfi. During the Dotcom boom of the 1990s, the Alfi kitchenware brand helped pioneer what is now known as a multi-billion-dollar e-commerce industry.
According to the Alfi website, they were one of the first thousand brands to ever have a website, which clearly tells us Alfi was focused on technology from the beginning. Today, Alfi is still family-owned and operated in California.
The kitchenware brand prides itself on providing a real person to speak with whenever you call customer service. The fact that they are an A+ Hall of Fame Member of the Better Business Bureau tells us that Alfi takes customer service very seriously.
Why We Love Alfi Cutodynamic Knives:
The Alfi brand says they craft their knives from fine steel using aerospace precision to keep their knives sharp enough for daily use. The blades in this pack are Cutodynamic Stainless Steel, with the Cutodynamic part being a trademark of the manufacturer.
All of these knives have serrated edges, which means they can be used for cutting steak as well as vegetables, fruits, and other meats. All of Alfi's knives are USA-made and are dishwasher-safe. The knives in this twelve-pack come in four different colors: blue, green, red, and orange.
Who We Recommend These Knives For:
As each American-made steak knife in the 12-pack costs about $4, this is a perfect choice for steak lovers on a budget. This pack is great for having decent quality steak knives on hand, whether you love entertaining company for dinner parties or have a large family.
The other knives on this list will almost certainly last longer and stay sharper than the knives found in these packs from Alfi. However, you should have no issue with getting the most out of these steak knives, as long as you sharpen them frequently and keep them clean.
6. R Murphy 4-Piece Steak Knife Set with Maple Box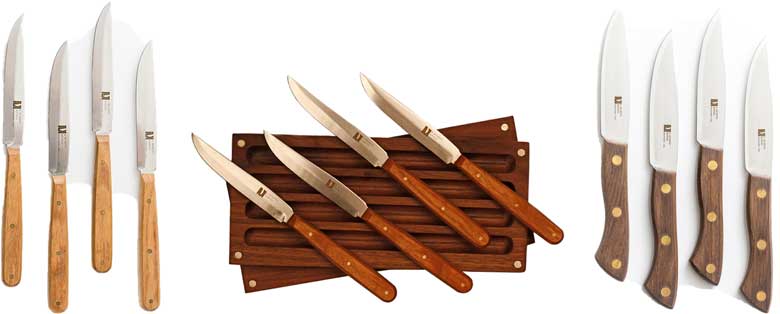 | | |
| --- | --- |
| Estimated Price | $200 |
| Blade | 420 HC High Carbon Stainless Steel |
| Length | 9.5" |
| Origin | Boston, Massachusetts |
| Handle | Walnut |
Product Origin and Manufacturer Information:
Founder Robert Murphy established the R. Murphy brand in the mid-to-late 1800s in Massachusetts, making dental and surgical instruments. The business then expanded into making fine cutlery and knives of almost all kinds.
In 1934, the brand trademarked its MADE SHARP and STAY SHARP slogan, which holds true to this day. In 2018, knifemaker and cutlery brand Dexter-Russel bought the R. Murphy brand which has maintained its operations in Massachusetts for over 150 years.
Why We Love These Knives:
With over 150 years in business, the R. Murphy brand clearly makes some excellent knives. Their 4-piece steak knife set boasts triple brass rivets on its walnut handle that is contoured for comfort.
The 420 HC high carbon steel is stainless and corrosion-resistant and cuts any steak with ease. The maple box the knives come in has a rustic, old-world New England feel, which makes this set a great gift for any steak lover on any occasion.
Who We Recommend These Knives For:
This is a high-end knife set that is meant for both knife and steak lovers alike. The high carbon steel, triple-riveted walnut handle, and maple box tell you that this is a top-tier knife and is priced as such.
7. Liberty Tabletop Modern America 4-Piece Set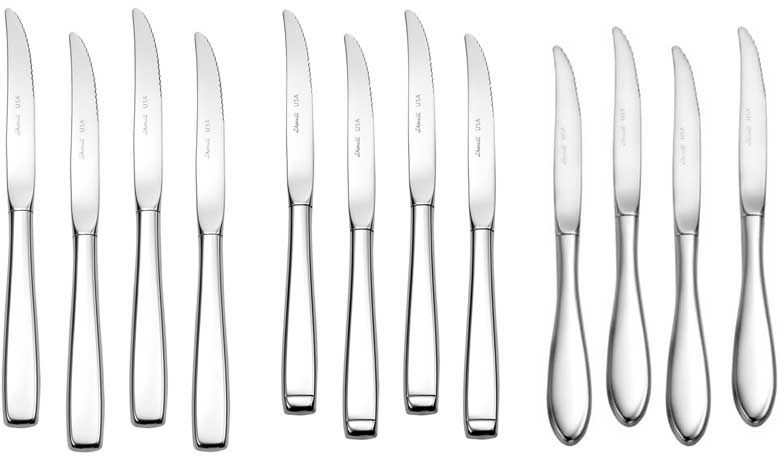 | | |
| --- | --- |
| Estimated Price | $50 |
| Blade | 18/10 Stainless Steel |
| Length | 9.5 |
| Origin | Sherrill, NY |
| Handle | Hollow Stainless Steel Handle |
Product Origin and Manufacturer Information:
Liberty Tabletop was first started as Oneida Limited in the 1800s. In 2005, the company announced they were closing the factory after over 100 years. To preserve this brand and its American workers, Sherrill Manufacturing purchased Onedia and formed the Liberty Tabletop.
Liberty Tabletop knows how important American-made products are to their customers. They take social responsibility seriously, vowing never to move American jobs or their manufacturing processes overseas. Additionally, the brand takes pride in being as earth-friendly as possible, partnering with the One Tree Planted foundation.
Why We Love Liberty Tabletop Knives:
The 18/10 stainless steel blade is the kind of steel that is common in some mid to upper-level cookware for both home and commercial uses. This is not a bad steel quality, but it is not the best in the world, either.
The serrated blade and relatively dense weight of this knife tell us that you'll probably cut most meats with relative ease. The Liberty Tabletop brand is not at all famous for its knife-making, but this doesn't mean they make poor-quality knives.
Who We Recommend These Knives For:
With each knife costing a little more than ten dollars, this is a quality knife set for steak lovers looking to get a good product without breaking the bank. If you're looking for a product from a brand that is specifically geared towards knifemaking, you'll likely want to see another option on this list.
8. New West KnifeWorks G-Fusion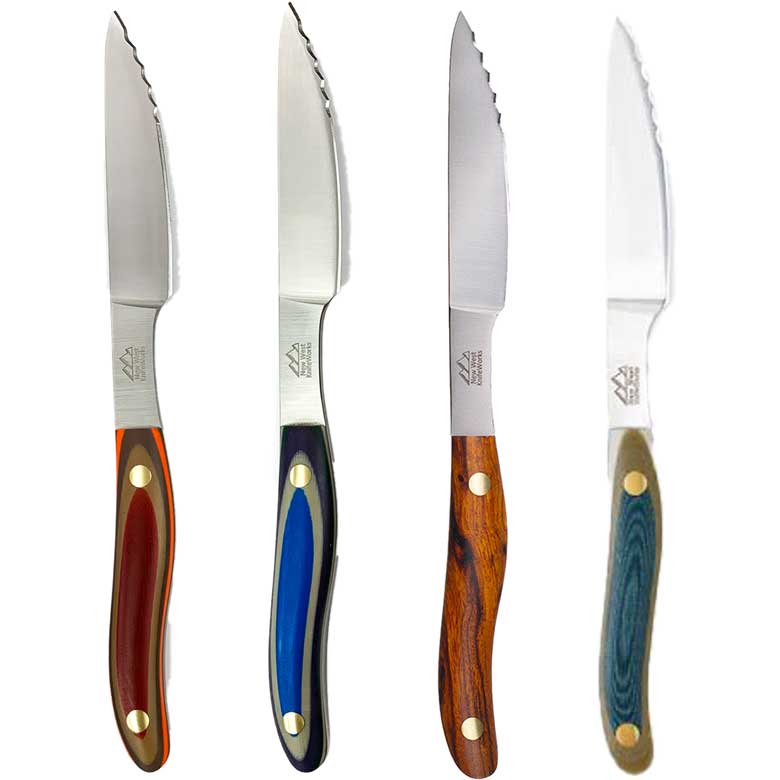 | | |
| --- | --- |
| Estimated Price | $170 |
| Blade | S35VN |
| Length | 8.5" |
| Origin | Jackson Hole, Wyoming |
| Handle | G-10 |
Product Origin and Manufacturer Information:
Years of working in commercial kitchens inspired New West Knife Works' Founder Corey Milligan to start making his own knives in his bedroom. Today, Milliagan has expanded his knife-making operation from his humble beginnings to starting a business that manufactures some of the finest knives in the world.
With its headquarters located in Jackson Hole, Wyoming, the New West brand strives to make knives as precise and impressive as world-class chefs make Michelin-star dishes. New West knives are durable, functional, last a lifetime, and are made with some of the finest materials you can find.
Why We Love These Knives:
The first thing that sticks out to us is G10 handles made out of fiberglass epoxy composite. Available in seven beautiful colors, these beautiful handles earn the name of the G-fusion knives with their glass-woven fabric that is soaked in epoxy resin.
This is certainly not to say that the blades on these G-fusion knives from New West are lacking in any way. S35VN steel is tough and durable, which is sharp enough to be used in bushcraft and hunting scenarios. These steak knives are half-serrated and half razor-sharp, straight-edged. This design helps prevent dings on your plates as well as finish cutting your steak smoothly.
Unlike similarly priced knives, G-Fusion Knives from New West Knife Works are as lightweight and comfortable to grip as they are visually appealing. You have the option to choose one knife, two knives, or a six-knife set, all with varying prices. As is the case with most of the brand's knives, G-Fusion knives come with a lifetime warranty.
Who We Recommend These Knives For:
These knives are aesthetically stunning, cut the toughest steaks like soft butter and last a lifetime. However, they are some of the most expensive steak knives out there. But as the saying goes, you get what you pay for. These knives are a good choice if you are looking for a top-tier steak knife that will last forever.
9. Dexter-Russell Basics Jumbo Style Steak Knife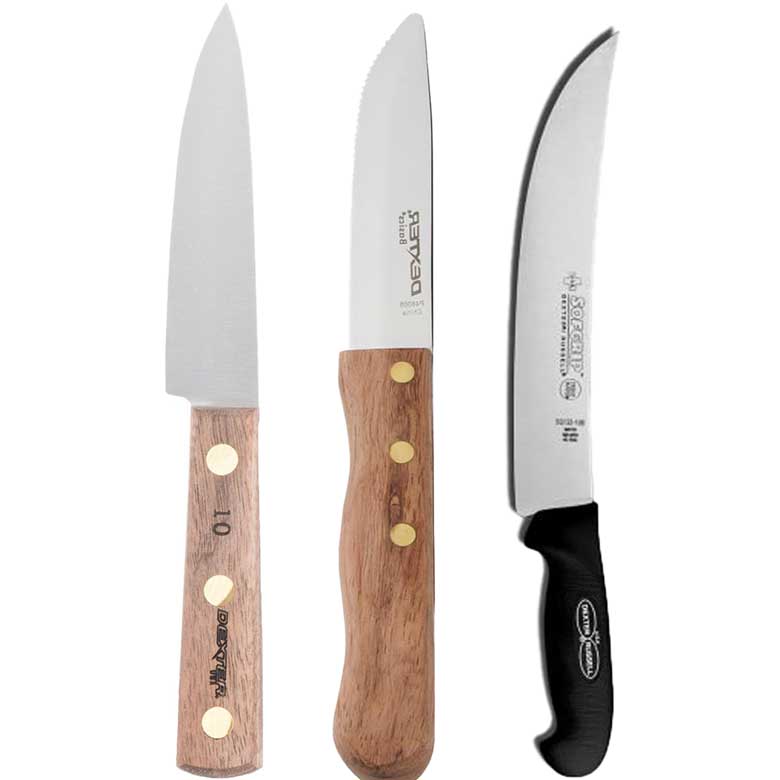 | | |
| --- | --- |
| Estimated Price | $10 |
| Blade | 400 Series, High Carbon Stainless Steel |
| Length | 9.5" |
| Origin | Southbridge, Massachusetts |
| Handle | Wood |
Product Origin and Manufacturer Information:
Getting their start as an outdoorsman-centric knifemaker, the Dexter-Russel brand has been an American-made company since the 1800s. Today, Dexter-Russel offers hundreds of hunting and fishing knives and over 1,500 steak knives, utensils, and other kitchenware for home cooks and commercial kitchens alike.
Why We Love These Knives:
If the steak knives made by the Dexter-Russell brand are anything like their hunting and fishing knives, they will be of good quality. We wanted to add another budget American-made steak knife to this list, and we found just that with the Dexter-Russel basics jumbo style model.
Customers who purchase this knife seem to think that it combines high performance with affordability without feeling overly flimsy or cheaply made. The steel is of decent quality, being 400 series, stain-free, and fairly high-carbon. The hollow ground edge of the knife helps finish cutting your steak without marking up your plate and fast sharpening.
The handle is made of basic, generic wood, which is nothing to get overly excited about. But that doesn't mean it's made of cheap plastic, either. The handle is also formed with a finger guard and feels comfortable when cutting.
Who We Recommend These Knives For:
We imagine that just about everyone who has eaten at a steakhouse has seen a knife similar to this one, which tells us there's not much special about this particular product. And that's okay, some steak lovers are just looking for a knife that gets the job done without the flashiness.
Sometimes, it's best to let the taste of a delicious steak speak for itself without an expensive knife getting in the way. This knife from Dexter-Russel is a great choice to do just that, costing right around the price of two or three cups of coffee.
Popular Related Article: Great Dinnerware Made in the USA
10. Warther Cutlery 5" Steak Knives in a Wood Chest

| | |
| --- | --- |
| Estimated Price | $600 |
| Blade | CPM S35VN |
| Length | 9.5" |
| Origin | Dover, Ohio |
| Handle | Black or Brown Wood |
Product Origin and Manufacturer Information:
The Warther Cutlery Brand was founded in 1902 by Ernest "Mooney" Warther. At the age of five, Warther got his first pocket knife, according to the Warther Cutlery website.
As a teenager, Warther developed a love for wood carving and was frustrated and dissatisfied with store-bought knives that would not stay sharp, so he made his own. Passed down to his sons and grandsons, the elder Warner's legacy for making top-shelf knives that stay sharp has endured for 120 in their home of Dover, Ohio.
Why We Love These Knives:
One look at these American-made knives and you can tell they are hand-crafted. The Warther brand makes a variety of knives for just about any application, and you can tell that they are all hammered by hand. Each knife from Warther is made with functionality and durability in mind, from their tomato knives to their bread knives and of course, their steak knives. The handles come in either black or brown wood and feel comfortable in your hand as you smoothly cut through any food with precision and undying sharpness.
We were impressed by the thoughtfulness Warther put into these knives, and the rounded edge that helps you cut the meat off of the bone easily and quickly is a testament to that. Unlike other premium steak knives that come in different types of boxes, these knives come in a wood chest. You can pick from either cherry, maple, or walnut, and the wooden boxes give these knives a rustic yet premium feel.
Who We Recommend These Knives For:
Right down to the hand-hammered nature and individual craftsmanship of each knife they make, Warther produces some of the highest of the top-tier knives you can buy. The wooden box is a nice touch and is a perfect gift for the steak lover in your life who loves that old-world, All-American feel that the Warther brand embodies. These are without a doubt some of the best steak knives made in the USA. If they're within your budget, I'd give them some strong consideration.
Factors We Considered
In determining which factors to put into our product description boxes, we contemplated which factors would be the following the most important to consumers. These factors include price, the type of steel on the blade, the length of the knife, the origin of the manufacturer, and lastly, the handle of the knife.
Blade:
Aside from the price, the quality of the blade of your steak knife is the most important characteristic. The blade quality determines how long your knife will last, how long it stays sharp, its corrosion resistance, and of course, how well it cuts food.
There are typically three different types of blade shapes on steak knives. These include straight-edged, serrated blades similar to bread knives or micro-serrated blades that have fine-toothed serrated edges. The blade type usually depends on the steak eater's personal preference, as a good steak knife that's sharp should cut your meat with few issues, regardless of its edges.
For this list, we looked for American-made knives that have high-carbon steel. This type of steel helps prevent rust and helps the strength of cutting. Additionally, these knives should be sharp right out of the box, which tells you they were ground by hand rather than being cheaply made.
Length:
Most of the knives you'll find online will list the length of the entire knife itself. The length of the blade is typically half of the length of the entire knife, sometimes a little less, but rarely any more than that. Most steak knives are all somewhat the same overall shape, with the differences being seen when it comes to that of the blade, be it a straight-edge, a serrated, or otherwise.
Origin:
Like all of the products we review, we put a great deal of effort into making sure that all of these knives were truly American-made. While some brands say they are American-made, they often outsource some or even all of their manufacturing out to other countries.
As such, we will always work hard to highlight U.S. brands like the ones found in this list. Supporting American-made brand names helps our economy and encourages employees of these companies as well.
All of the knives you find on this list are from reputable brands that manufacture all of their knives in America. Additionally, these knives are all approved by the National Sanitation Foundation,, abbreviated NSF.
Handle:
To many, the most important characteristic of a quality American-made steak knife is the blade, and the second most important is the handle. A good handle on your steak knife will feel comfortable in your hand.
A quality handle will help you avoid the "sawing" action that can happen when you try to cut a steak with a low-quality knife. A quality knife handle will allow you to let the blade do the work for you.
On top of being ergonomic and comfortable, most steak knife enthusiasts will want to look for knives that have pleasant aesthetic qualities. Whether made of wood, epoxy resin, or steel, a knife handle is almost as important as the blade itself.
Price:
When making any kind of purchase, the most important factor for the vast majority of consumers is the price of the product. The price of the product not only determines whether you can afford it, but it should indicate its quality as well.
Pro Tip: Hilt and Tang
Tang is the part of the knife where the blade extends into the handle. The blades of some knives stop right at the handle, while others either extend either partially or fully into the length of the handle. Many steak knife enthusiasts say that a full tang gives you more support in your hand and cutting strength.
The part of the knife where the blade meets the handle is called the hilt. Even more so than the tang, the hilt is not the easiest thing to see when ordering online. A well-constructed, handmade steak knife should have no gap between the blade and the handle. A gap can lead to a weakened knife and is increasingly difficult to clean after every use.
The Rest of the Kitchen:
A great steak knife can take you a long way, especially when it comes to the actual consuming part, but before we get to that, we need to make sure the rest of our kitchen is prepared and outfitted with what we need to create a quality meal! Buying a steak knife made in the USA is already a great choice considering they're some of the best on the market, but did you know there is also some amazing American-made cookware? Check out our cookware made in the USA here!
As a final note here, if you're considering using your steak knives to tear into some pan-fried steak, then you'll, of course, need some good frying pans. We've got you covered there, too, with a list of American-made frying pans that you can find here.
Wrap Up:
Clearly, there exists a multitude of aspects to take into consideration when purchasing a quality steak knife. If you're in the market for one, the blade, handle, length, and origin of the manufacturer will all play a part in adding up to how much the knife will cost.
Looking at steak knives in person before buying would be advantageous for analysis of quality and can give you a better indication of how long it will last. Unfortunately, doing so obviously isn't possible when purchasing online. For this reason, we put together handy guides just like this one to help aid your decision to purchase the best American-made steak knife for your home-dining needs.
Hi, my name is Kevin and I'm from Pittsburgh, Pennsylvania. Choosing products made in America is important to me because it supports local economies, creates jobs, helps the environment, and ensures ethical labor practices. I also find that American made products are usually of higher quality so although they're a little more expensive, you save money in the long run. Before starting this website I was in the USMC infantry and nowadays I work on this website as a hobby.