As someone who needs an early morning run to power through the day, I understand the importance of a pair of reliable, ergonomically-sound running shoes. That said, it can be very difficult nowadays to find quality running shoes made in the USA because most of the major shoe brands choose to manufacture overseas to cut costs.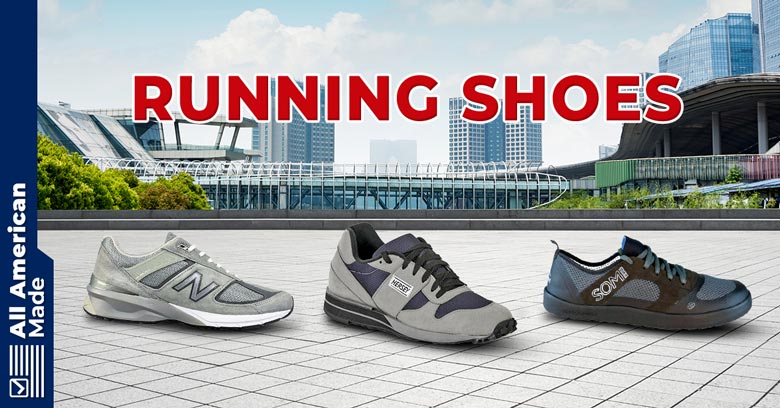 Thankfully, we still have some great American-made options offered by some great American companies dedicated to supporting American workers. Simply scroll through this list and pick out your new favorite pair of running shoes!
List of American-Made Running Shoes
New Balance Running Shoes (Most Popular)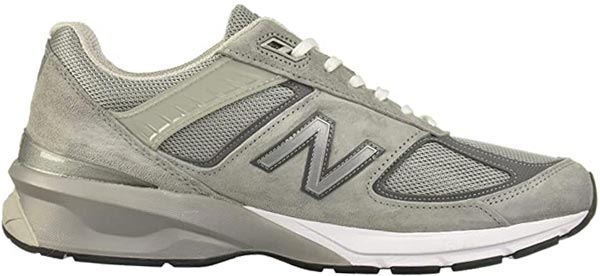 | | |
| --- | --- |
| Year Founded | 1906 |
| Popular Styles for Men | Made in USA 993, 990 v5 core |
| Popular Styles for Women | Made in USA 990v5 Core |
| Origin | Massachusetts and Maine, USA |
New Balance's Origin and Manufacturing Locations
Let's kick off this list with New Balance, one of the leading running shoe brands in the world and the only one of its scale that still manufactures substantially in the USA. A rare success story, New Balance held its own during the sneaker boom of the 80s, which saw American shoe manufacturing succumbing to low-cost imports. All thanks to some well-timed decisions by owner Jim Davis who made the brand a raging success globally.
Before Davis took over in 1972, the company changed hands many times over. It was founded in 1906 by an Irish immigrant, William J.Riley, who also designed the first few New Balance shoes. He gave his shoes three support points and ultra-responsive insoles for superior arch comfort.
Interestingly, Riley's famous design resulted from observing chickens strut around on their three front toes. The chickens' perfectly balanced walk inspired the design philosophy as well as the name "New Balance."
New Balance's Selection and Styles
New Balance produces and assembles over 4 million pairs of shoes at their five factories in the US. Available under the "MADE in the USA" label, these tick all the right boxes when it comes to comfort and performance. The collection has 12 styles for men and 3 for women, with the most popular ones being Made in USA 993 and Made in USA 990 v5 core.
The 993, from the iconic 990 series, is a fan favorite for flexible ACTEVA cushioning and a robust rubber outsole with the signature upper of top-grade suede and airy mesh. Another one from the same series, the 990 v5 core, stands out from the earlier models for its improved stability and comfort, making it dependable for all kinds of runs, from a grocery store to outdoor trails.
Now, the suede on a typical New Balance pair is pigskin, so those who aren't okay with that can always explore the vegan version with synthetic upper.
Besides exceptional comfort and durability, the wide range of sizes available in this brand will help you find a shoe that fits you perfectly.
SOM Footwear Running Shoes

| | |
| --- | --- |
| Year Founded | 2012 |
| Popular Styles for Men | Nutrail Air |
| Popular Styles for Women | Nutrail Air, Nutrail Hayloft Blue |
| Origin | Colorado, USA |
SOM Footwear's Origin and Manufacturing Locations
Sense of Motion (SOM) is an excellent example of a brand that makes shoes to support running the way nature intended.
SOM was started by Olivier Marchal, a running enthusiast, to create the perfect footwear for long-distance running. Before discovering his love for minimalist shoes, Marchal frequently suffered from back pain. The culprit turned out to be the running shoes Marchal was using then. They were run-of-the-mill, over-cushioned, clunky, and packed with unnecessary features.
Barefoot-style shoes were hard to find, and American-made ones were even more difficult. Marchal took this as a sign to get into the shoe-making game himself. Now a decade into its launch, SOM shoes are designed and handmade with care at a state-of-the-art factory in Colorado, USA.
SOM Footwear's Selection and Styles
Made by a runner for runners, SOM shoes are a great find for everyday use on a variety of terrains. Comfortable right out of the box, these minimalist runners come with a roomy toe box allowing you to spread your toes freely.
In terms of flexibility, SOM takes it to a whole new level. They are incredibly light and have one of the most flexible soles I have come across. All things considered, for me, the highlight of these shoes has got to be the zero drop. What this does is keep your foot flat, firm, and connected to the ground without any elevation getting in the way.
Available in both Casual and Sporty styles, SOM shoes hold up impressively well year after year. I recommend exploring their Sporty collection, especially Nutrail Air, for running. The Nutrail Air has a strong and breathable mesh upper, flat heel-to-toe design, and a flexible, lightweight construction- A dreamy pair for those who love to walk and run naturally!
SoftStar (Great Minimalist Running Shoes)

| | |
| --- | --- |
| Year Founded | 1985 |
| Popular Styles for Men | Adult Moc3 RunAmoc, Adult Dash RunAmoc |
| Popular Styles for Women | Adult Moc3 RunAmoc, Adult Dash RunAmoc |
| Origin | Philomath, Oregon, USA |
SoftStar's Origin and Manufacturing Locations
There's a reason avid runners are vouching for barefoot-inspired running shoes these days. Such designs encourage uninhibited, natural motion with a mid-foot or fore-front strike as our feet were designed to deliver instead of a striking heel first, which we do with traditional shoes. SoftStar gets that. That is why they make their runners light, flexible, and without elevation.
The lack of quality, minimalist shoes for their child drove Corina and Tim Oliver to start SoftStar in 1985. Joining forces with local artisans, they learned and honed the craft of making soft leather shoes.
The brand grew steadily on the back of word-of-mouth popularity. Today, close to four decades since they first started shoemaking, SoftStar has become a brand of choice for anyone seeking shoes minimalist, feet-friendly, sustainable, and American-made running shoes.
SoftStar's Selection and Styles
SoftStar's design principles are pretty straightforward- lightweight, thin, and stretchy, with just the right amount of protection to shield your feet from outdoor elements. The designs are brought to life by a group of skilled artisans who are adoringly called "Shoemaking Elves." This talented bunch works hard to create ultra-comfy shoes for men, women, and kids.
While they make everything from moccasins to chukkas, let's learn more about some of their popular RunAmoc line of running shoes. These are built with a zero drop and a spacious toe compartment, making them perhaps the closest you can get to a barefoot running experience.
The sole is thin yet sturdy and made with leather, designed to give you a firm footing on the move. While Adult DASH RunAmoc and Quick Dry Dash are perfect for everyday runs, Megagrip PRIMAL with Vibram outsoles and protective rubber toe caps will become your trusty companions on rugged trails.
Psudo (Very Eco-Friendly)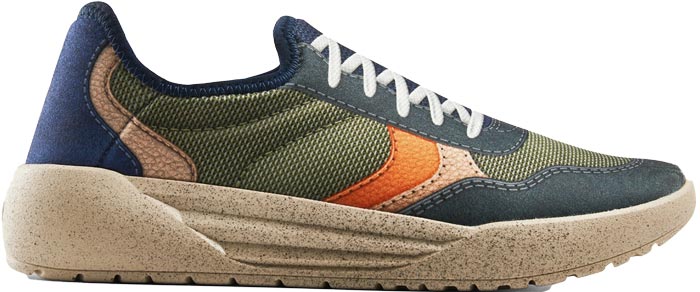 | | |
| --- | --- |
| Year Founded | 1987 |
| Popular Styles for Men | Court, Sport |
| Popular Styles for Women | Court, Sport, Cruiser |
| Origin | St Louis, Missouri, USA |
Psudo's Origin and Manufacturing Locations
Psudo is all about building comfortable, affordable, and lightweight sports footwear that is good for you and the planet. The brand was founded in 1987 to shake up the shoe-making industry with its sustainably made, ultra-comfy kicks.
One of the essential principles of being environmentally friendly is to stay local. Psudo makes all of its shoes in the USA with locally sourced materials using ethical labor practices- something not many shoe manufacturing brands can claim.
Psudo's Selection and Styles
In a market that's flooded with low quality, unreasonably priced, imported poorly conceived imported runners, Psudo's American-made eco-friendly shoes are a breath of fresh air. They look good, last long, and don't hurt the pockets. The hero of Psudo shoes is an innovative eco-friendly fabric made with 75% recycled plastic bottles.
The airy and water-resistant resistant fabric paired with anti-microbial insoles makes these shoes hygienic and comfy for use all day, every day. The fact that you can slip them on super quick gets a big thumbs up from me. Though the laces are there, only to complete the look of a classic sneaker.
Finally, for exceptional traction and all-terrain performance, Psudo relies on a grippy, high-rebound Maxum-Lite. It doesn't slip no matter the surface you're running on.
Psudo makes shoes in three styles- Court, Sports, and Cruiser for men and women with a delicious array of colors and patterns to choose from.
Carson Footwear (Many Options)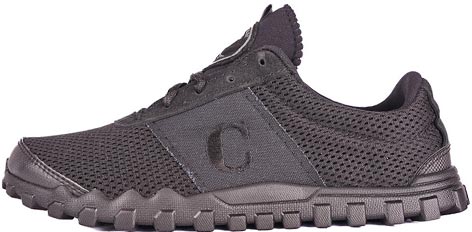 | | |
| --- | --- |
| Year Founded | 2015 |
| Popular Styles for Men | Iguana Racer, Tartan Racer |
| Popular Styles for Women | Fresh Flowers |
| Origin | Philomath, Oregon, USA |
Carson Footwear's Origin and Manufacturing Locations
Much like SOM and SoftStar, Carson footwear began with a purpose to address the lack of quality shoes with good ergonomics made right here on American soil. Together these brands are changing the game when it comes to natural running shoes.
Fed up with chunky, toe-squishing shoes, Everett Carson started looking for something more lightweight and neutral to make his long runs comfortable and breezy. Not finding any that came close to what he had in mind, Carson started making them himself.
Carson Footwear's Selection and Styles
Carson running shoes are made by hand from start to finish in a factory in Milwaukie, Oregon, USA. By combining true American craftsmanship with high-quality material and smart design, Carson has delivered shoes that every kind of runner will love!
A typical running shoe the brand makes comes with a wide toe box from a natural toe splay and a lightweight, breathable, and stretchy upper. The 10mm PU Tread sole plus a 5mm sock liner offers adequate shock absorption and keeps you comfy and safe even during long runs.
Like all minimalist shoes, these shoes feature a zero heel-to-toe drop which works wonders in improving leg and foot strength while allowing you to walk and run naturally.
Carson's catalog is colorful and eye-catching. And while all of their shoes are a class apart, some of my favorites are Tartan Racers, Stars and Stripes, Iguana Racer, and Fresh Flower.
Hersey Custom Shoes (Custom-Made Runners)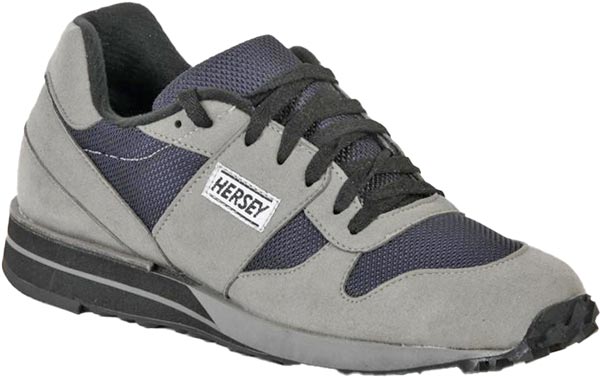 | | |
| --- | --- |
| Year Founded | 1982 |
| Popular Styles for Men | Hersey Custom DPS, Custom Original, Trail Runner |
| Popular Styles for Women | Hersey Custom DPS, Custom Original, Trail Runner |
| Origin | Fitchburg, Massachusetts, USA |
Hersey Custom Shoes' Origin and Manufacturing Locations
If you've read our review on Victory Sportswear, you'd already know about Hersey shoes. The brand was started in 1982 by Bart and Jan Hersey, who loved making running shoes on order for their loyal clientele. When it was time to hang up the boots, Bart sold the brand to Stephen Keosian of Keosian of Keosa Brothers Shoe repair company.
Keosian moved Hersey's Maine-based operations to Fitchburg, Massachusetts, a place he was more familiar with. He then merged his own shoe-making brand with Hersey to start Victory Sportswear. But instead of shutting the once-famous Hersey brand altogether, Keosian kept it alive.
Now known as Hersey Custom Shoe, this brand makes world-class running, walking, and hiking shoes made by hand for one foot at a time.
Hersey Custom Shoes' Selection and Styles
Being in the business of custom-crafting for four decades and interacting with customers who are avid runners, walkers, and hikers have made Hersey highly intuitive to their needs. In running shoes, Hersey makes six models that are customized for you. Inarguably their most famous, the DPS custom shoe features a midsole that can be customized to support the way you like to run and the level of cushioning you prefer.
Another popular model- the Trail Runner, offers superior traction on all sorts of terrains. It has a breathable upper that keeps your feet fresh and moisture at bay. Plus, the padded tongue and toe bumper offer great protection from bumps and other elements you may encounter during the run.
Sizing and fit will never be an issue with Hersey shoes as they are based on last and patterns made just for you. Even more impressive is the freedom to pick and choose several design features such as the kind of nylon mesh, suede trims, removable inserts, and any special orthopedic correction if required.
Hersey's selection of outsoles is any runner's delight- Carbon Runner, Vibram, Off-Road Deep Lug, Non-Marking, or you can Let Steve Decide. And if you still don't find what you're looking for, just let them know. They'll be sure to figure out something that matches what you need.
One thing I do want to point out is that after reading a lot of feedback on Yelp, some customers did say that it took a very long time to get their shoes and there were some other complaints. Many people also had positive things to say, though, so since I've never personally owned a pair of Hershey running shoes, I can't say they would be my first choice without spending some more time reading about them. That said, since there really aren't a ton of options when it comes to running shoes made in the USA I did want to let you know about them.
Victory Sportswear (Easily Re-soleable for Longevity)

| | |
| --- | --- |
| Year Founded | 2015 |
| Popular Styles for Men | Classic, Speed |
| Popular Styles for Women | Classic, Speed |
| Origin | Fitchburg, Massachusetts, USA |
Victory Sportswear's Origin and Manufacturing Locations
Before its present home in Fitchburg, Massachusetts, Victory Sportswear used to be a small-scale Maine-based shoe company run by the husband-wife duo of Bart and Jan Hersey. The two made quite the team, with Bart pouring his heart and soul into crafting custom shoes for their clients while Jan kept the overall operations running smoothly and efficiently.
And when it was the time to retire, the Hersey sold their business to Stephen Keoseian, who then relocated the manufacturing to Fitchburg, Massachusetts. Coming from a family of talented shoemakers himself, Koeseian gave the brand a facelift and turned it into mainstream success.
Victory Sportswear is now well-recognized for its stellar selection of athletic shoes that are built to last and designed to keep your feet happy and healthy.
Victory Sportswear's Selection and Styles
What struck me the most is the sturdiness of these athletic shoes. All thanks to double reverse flare foxing- a unique technique where the outsole is folded out all the way to the top of the midsole to make the shoes strong, stable, and re-soleable. It requires a level of intricate stitching that can only be done by hand.
Every Victory sneaker goes through a series of rigorous quality checks to give you a flawless and reliable product. These shoes feature a time-tested silhouette and an upper made from high-quality suede and mesh. The ever-reliable Vibram outsole and the lightweight and flexible EVA midsole last long and can be resoled should the need arise.
These shoes score high on looks with limited but classy colorways centered around good ol' Grey, Black, Red, and Blue. Each pair is stitched with precision and takes about 6-8 weeks to arrive at your doorstep from when you placed the order. It might seem long but what you get is well worth the wait!
This company seems to offer more athletic shoes rather than long-distance running shoes, but on their About Us page, they do want to point out they make shoes for everyone from walkers to marathon runners.
Popular Related Article: Where Are Brooks Shoes Made?
SAS (Most Sizing Options)

| | |
| --- | --- |
| Year Founded | 1976 |
| Popular Styles for Men | Journey Mesh Lace-Up, Journey Lace-Up Sneaker |
| Popular Styles for Women | Tour Mesh |
| Origin | Colorado, USA |
SAS's Origin and Manufacturing Locations
SAS's story began in San Antonio, Texas, with two friends, Terry Armstrong and Lew Hayden, who wanted to make premium quality leather shoes. As they expanded from a workshop with a handful of artisans to two manufacturing plants, so did their product range. They now make a vast range of styles in pumps, sandals, casual shoes, dress shoes, boots, and athletic shoes, for both men and women.
Success is sweeter when you can share it with those around you. That is why everyone at SAS works together as one big family, helping the local economy grow, one well-made pair of shoes at a time.
SAS's Selection and Styles
Although best known for its handmade leather collection, SAS does offer great athletic shoes. I wouldn't recommend them for anyone looking to do long-distance running, but for someone just looking for a versatile athletic shoe, they are great. Their catalog has everything from walking shoes to sporty sneakers to shoes that support long-distance running. The shoe that impressed me the most is their Journey Mesh Sneaker, which incidentally is also their hottest selling product.
The thing I love the most about this brand is its range of sizes and widths that accommodate all feet of all shapes and sizes. Snug, roomy, and cushioned in the right places, these shoes are an excellent pick for an outdoorsy soul.
The mesh and leather upper protect your feet and lets them breathe. Each pair comes fitted with SAS's proprietary CoolStep footbed to keep your feet fresh and healthy. The heel stabilizer, TRIPAD tech, and grippy rubber outsole all play their part to a T in making your walks and runs safe, stable, and comfortable.
If you're looking for something similar in the women's catalog, I suggest checking out Tour Mesh Lace Up Sneakers. An average pair of SAS running shoes will set you back by $100-$200 but are worth every penny for the comfort they add to your daily life.
Popular Related Article: American Made Shoes We Recommend (Source List)
Earth Runners (No-frills Running Sandals)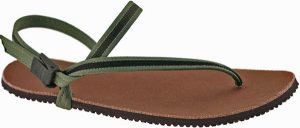 | | |
| --- | --- |
| Year Founded | 2012 |
| Popular Styles for Men | Circadian, Alpha, Elemental |
| Popular Styles for Women | Circadian, Alpha, Elemental |
| Origin | California, USA |
Earth Runners Origin and Manufacturing Locations
Earth Runners was Mike Dally's response to the cushioned, modern shoes that were typically loaded with more features than needed. The idea for these nature-friendly sandals occurred to Dally on one of his runs that he could breeze through comfortably by tweaking a few design elements in his otherwise flimsy flip-flops.
Dally was further inspired by Tarahumara Natives of Copper Canyons, famous for wearing simple sandals for blazing through the longest of trails. Dally's Kickstarter campaign in 2012 has now turned into a reliable brand for running sandals. They are made in the USA, and 1% of all sales proceeds go to the Tarahumara and their children.
Earth Runners Selection and Styles
You may be wondering what a brand that only makes sandals is doing in this list of running shoes. Earth Runners are not just any sandals. They are adventure shoes made for the outdoorsy crowd. The design philosophy is rooted in restoring our bond with nature and improving our health along the way.
The lacing is ergonomically on point, secures your feet, and allows you to spread your toes for uninhibited running and efficient gait. Meanwhile, the Vibram technology soles add their usual magic by amping up comfort, protection, and durability.
If you're tired of conventional runners and looking for something different to take your running to a whole new level, this is the brand for you.
In the brand's bustling catalog of runners, you'll find adventure sandals, lifestyle sandals, and minimalist sandals for kids. For running, I strongly recommend trying out their Elemental, Circadian, and Alpha Sandals.
Luna Barefoot Running Sandals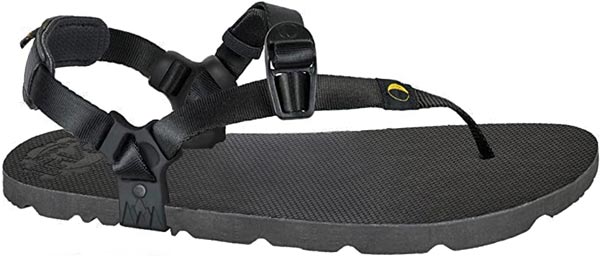 | | |
| --- | --- |
| Year Founded | 2010 |
| Popular Styles for Men | OSO Flaco Wingedd, Mono 2.0, Mono Winged Edition |
| Popular Styles for Women | OSO Flaco Wingedd, Mono 2.0, Mono Winged Edition |
| Origin | Wenatchee, Washington, USA |
Luna's Origin and Manufacturing Locations
Long before the advent of modern sneakers and running shoes, people used to depend upon a pair of sturdy, well-laced-up sandals to run. From Ancient Romans to Native Americans, sandals were widely used to run great distances.
Like Earth Runners, Luna's selection of running sandals promises a free, primal, and healthier running experience, which is hard to find in the modern-day world.
Heard of Barefoot Ted from the bestseller "Born to Run"? Luna Sandals was founded by Ted and the Smuin brothers in 2010. In the last decade, the brand has grown by leaps and bounds. They design and manufacture their sandals with the help of a group of skilled people at a lovely facility in Wenatchee, Washington, USA.
Luna's Selection and Styles
Luna's natural footwear is a modern take on traditional "huarache" sandals that are worn by the natives of Copper Canyons of Mexico, known for their superhuman running. Luna offers a variety of styles and customizations. You can pick out a sandal depending on the terrain you cover- Trail, Road, or a hybrid. Next, choose a lacing system you're most comfortable with- easily adjustable Wings, Traditional, or non-sidepost Retro.
How close to the ground do you want to feel, or the level of protection and grip you expect from your sandals are some of the questions you need to factor in while choosing a pair that works best. For lean yet grippy trail runners, check out Luna's bestselling Oso Flaco Winged Edition. You won't be disappointed.
Wrapping Up
Whether you run trails, daily 5Ks, or ultra-marathons, we hope our list of best brands for American-made running shoes helped you find a pair that works perfectly for you.
For high-quality and versatile runners, you can depend on brands like New Balance and SAS or choose something more minimalist and nature-inspired from SOM, SoftStar, or Carson's vault. And for an even more primal and barefoot-inspired running experience, check out Earth Runners and Luna Running Sandals. If you still don't find a pair that you have in mind, just ask Hersey Custom Shoe to make one just for you.
That does it for this article. If you know of any great shoes that we could add to our list, please let us know. We are constantly looking to improve our guides, so community feedback is always greatly appreciated.
Hi, my name is Kevin and I'm from Pittsburgh, Pennsylvania. Choosing products made in America is important to me because it supports local economies, creates jobs, helps the environment, and ensures ethical labor practices. I also find that American made products are usually of higher quality so although they're a little more expensive, you save money in the long run. Before starting this website I was in the USMC infantry and nowadays I work on this website as a hobby.