Brooks makes some of the most popular running shoes in the world, and their shoes are well known for their cushioning, stability, durability, and balance. The legendary shoe brand was founded in Philadelphia in 1914, but many consumers wonder if Brooks shoes are still made in the USA.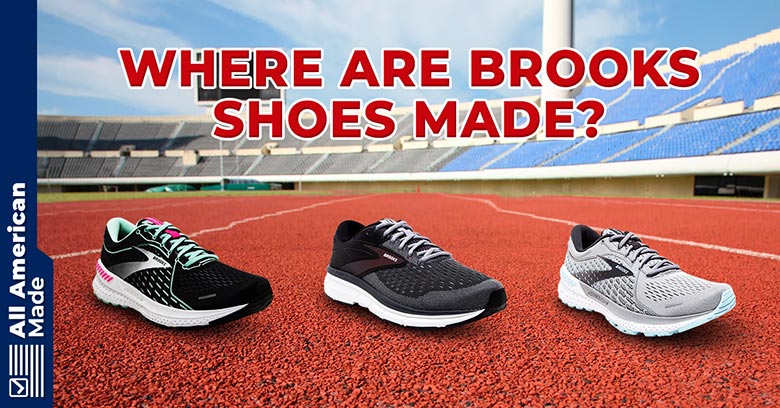 In the rest of this article, we'll share exactly where Brooks shoes are made and other interesting information about the company.
Brooks shoes are made in Vietnam, Thailand, Mexico, and other countries with low manufacturing costs. In the past, many Brooks shoes were made in China, but the company has shifted that manufacturing to other countries, and now about 65 percent are made in Vietnam.
I actually decided to contact Brooks to verify where their shoes are made. A service representative told me that their products are produced all over the world, including the United States, Vietnam, Thailand, Taiwan, El Salvador, and Mexico. To create their running gear, they partner with factories with high levels of expertise in manufacturing quality performance gear, which they do so ethically and sustainably. The mix of products created at each facility can vary based on manufacturing needs, so they weren't able to specify what products are made where.
This answer was a little vague because it included all of their products, not just their shoes. When I asked if any of their running shoes are made in the USA, they told me they could not specify where any particular shoe is made because it varies based on manufacturing needs. That said, after a ton of research, we determined that very few, if any, of their shoes are made in the USA. We say this because while they do have a few listings that show the shoes as "Made in the USA or Imported," almost no one that orders through these links receives American-made shoes. If Brooks did decide to offer American-made shoes, we think it would be great if they sold them separately and marketed them as made in the USA only.
Other than that vague phrase (made in the USA or imported) we found Brooks to be very transparent, and they actually provide a great resource where you can see the location of their factories and other details here. This really impressed me because most brands are not very transparent at all.
Now that I had a good answer from Brooks about where their shoes are made, I actually decided to go to some local footwear stores by my house to see where the Brooks shoes being sold there were made. Below, I'll attach photos so you can see some of the tags for yourself. I looked at over 50 different pairs of Brooks shoes that day in one day, so I could get a good sample size.
The first Brooks shoe that I checked was made in Vietnam, as you can see below.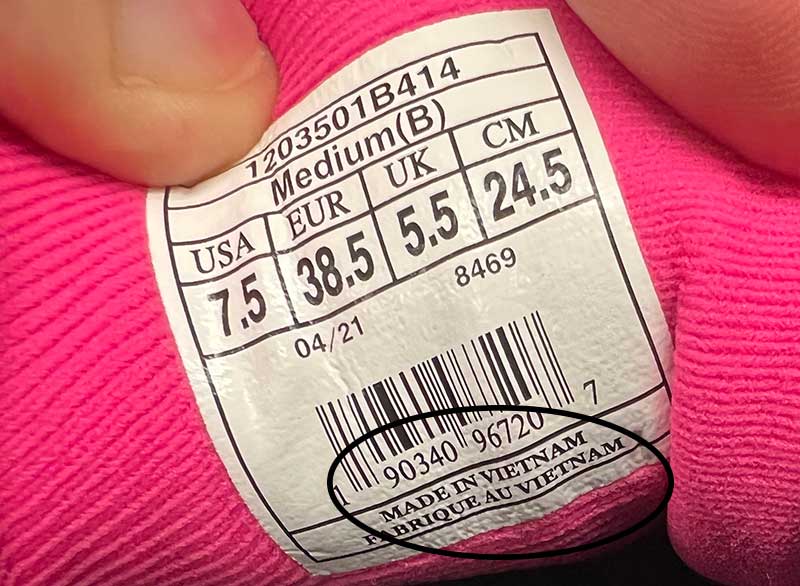 Then I grabbed another pair of running shoes and it was also manufactured in Vietnam.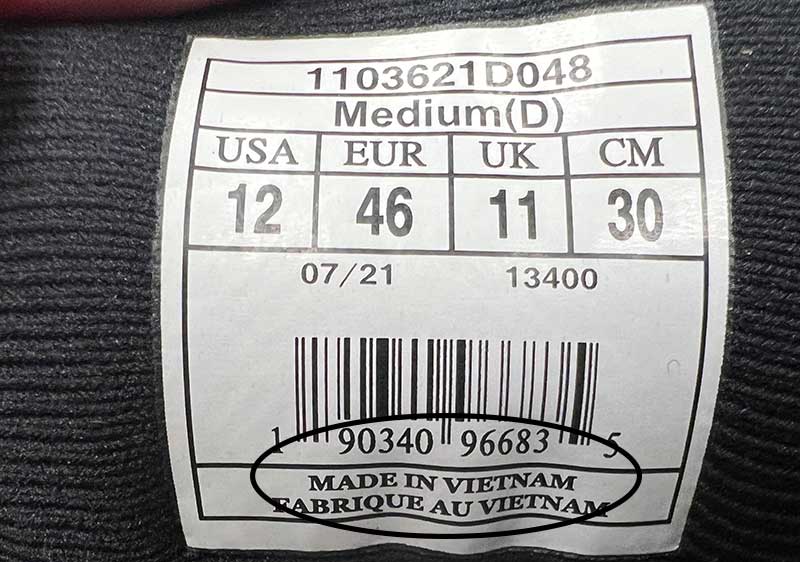 The third shoe I inspected was also made in Vietnam.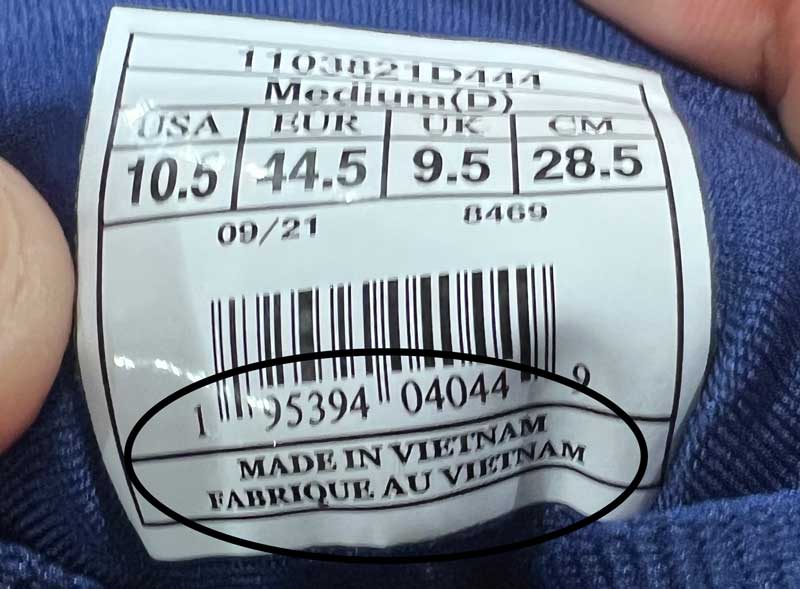 The fourth shoe I inspected was also made in Vietnam.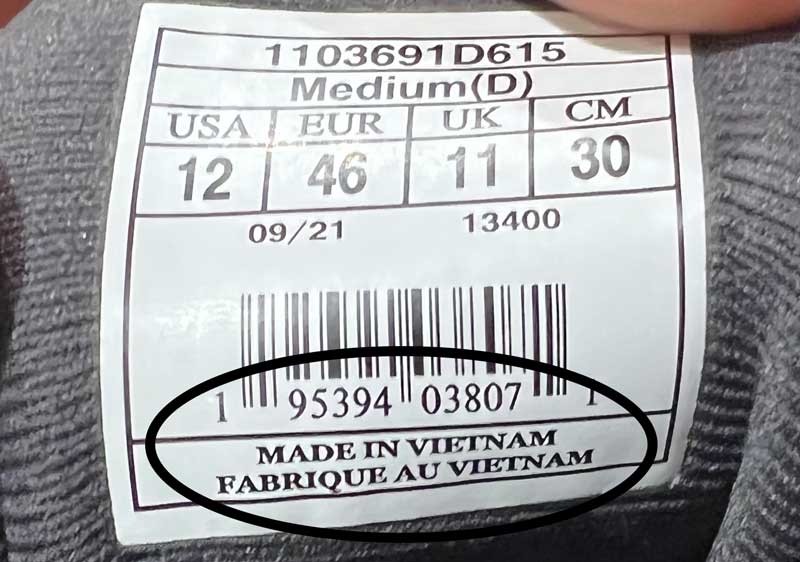 After checking about 20 different shoes, I was surprised that literally all of them were made in Vietnam, which makes does make some sense because I already knew that most were made there.
Are Any Brooks Shoes Made in the USA?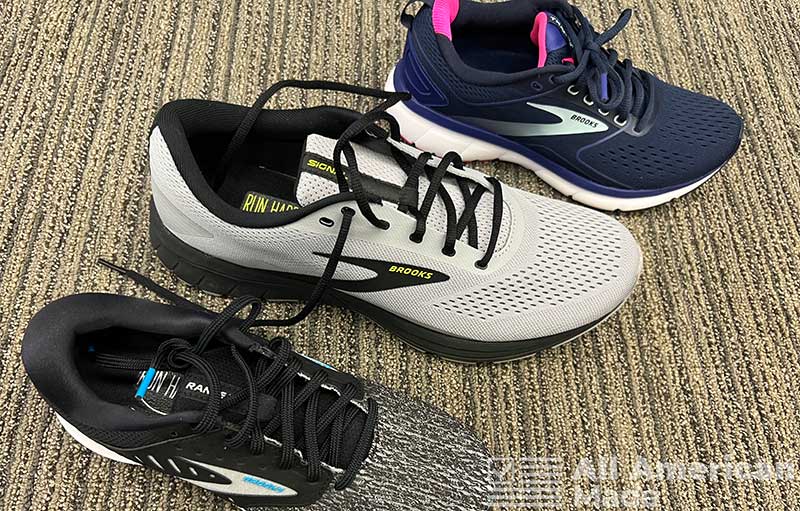 Very few, if any, Brooks shoes are made in the USA. While a few listings may say "Made in USA or Imported," based on our research, it's highly unlikely you'll receive shoes that are made in the USA. One reason we believe that almost none of their shoes are made in the US comes from how since 2006, this is a subsidiary of Warren Buffett's Berkshire Hathaway.
While Warren Buffett is known for great business sense and frugality, we wouldn't always say that that always translates to the best choices for American manufacturing – it's a corporation, and corporations are known for trying to maximize profits rather than create American jobs. We don't believe Berkshire Hathaway is willing to do that at the expense of profits, and we don't see Berkshire Hathaway as the breakaway company in this regard, nor does the evidence suggest it.
We also wouldn't expect to see this change in the future since the brand has expressed no interest in producing shoes in the United States. However, we did spot one area where you can buy American-made products from Brooks, and it isn't in their shoes.
Brooks partners with The Sock Factory in Hickory, North Carolina, to produce American-made socks through a third party. Even with the manufacturing in the US, we find the overall hiring of people here negligible, with only 60 American workers in 2021. Some of the American-made socks that you can buy from the brand include:
Brooks Run-in-Three-Pack Socks
Brooks Carbonite Socks
Important to note: You can either buy them as made in the USA or imported, so you have to watch to ensure that you buy real American-made socks. If you wanted authentic American-made products, we wouldn't call this brand a strong buy. It does have a couple of products, but most of them will come from overseas, and we find the overall idea questionable with Brooks.
Reasons for Skepticism
If you've done your own research, you may be asking yourself, "Wait, what about the Run USA collection?" Why didn't we mention them? It uses the USA theme, after all. To put it lightly, that doesn't mean much. Many times, companies do this and try to cover up the origin. We're not saying that they're using dishonest marketing, but we don't like when companies do this because some people will inevitably be misled by the American stars, the flag, and the label.
We have heard some people say that some of them were made in the USA, but based on all the evidence that we will outline in the rest of the article, we find this claim to be on weak ground.
First, every listing that we have checked doesn't make big claims about its origin. They will either say nothing, or they will say, "Made in the USA or imported." When we further researched this, many people said that they got the Vietnam model. If they make them in the United States, we don't think the scale comes even close to its Vietnam operation.
Also, not many people want to take the risk of buying a product like this when you could more than likely wind up with an imported model. You could get a USA model, but more than likely, we all know what they favor due to the lower cost. The lower retail price of the shoes also suggests more manufacturing elsewhere.
Whenever we find a company that truly produces in the United States, we see it proudly listed everywhere on the sales page because it becomes a huge selling point. People want to support patriotic businesses when possible.
In the case of the Brooks Run USA collection, we couldn't find bold claims printed out front, which we believe helps them to avoid liability.
Are Brooks Running Shoes Made in China?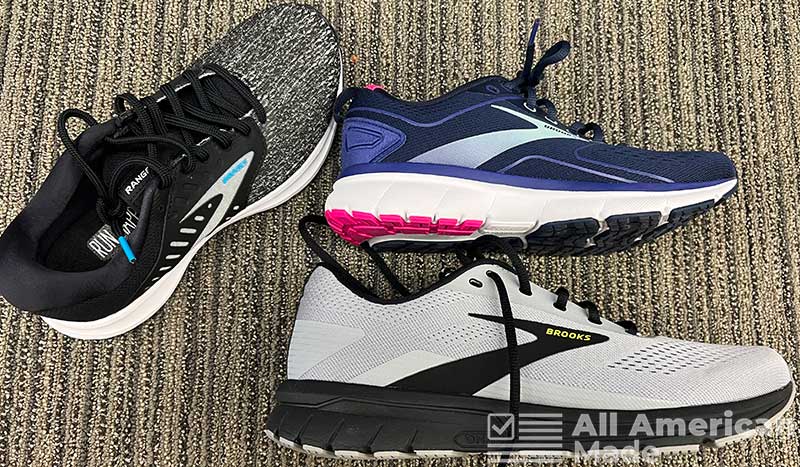 Very few if any Brooks shoes are made in China anymore due to the threat of tariffs. In the past, one-third of all their shoes came from China, but we don't think they have a factory there any longer. We heard at one point that they wanted to keep 10 percent of their operations in China, but we think that they pulled out of China altogether. This was due to how the threat of a 45 percent tariff would drastically hurt their business. The threat of it made Vietnam a more worthwhile manufacturing partner.
Other Countries Where They Make Brooks
We covered how Brooks makes its shoes in Vietnam, but what do they do in other countries? Let's have a look:
| | | |
| --- | --- | --- |
| Country | Type of Factory | Number of Workers |
| United States | 1 accessory factory | 60 |
| El Salvador | 1 apparel factory | 165 |
| Thailand | 1 accessory factory | 450 |
| Taiwan | 1 accessory factory, 1 apparel factory | 230 |
| Mexico | 1 apparel factory | n/a |
| Vietnam | 4 footwear factories, 7 apparel factories | 31,339 |
We highlight the last one to show you the full picture of manufacturing for this brand as of 2021. Understanding where they make everything can help you figure out what type of product you would want to buy from them, if at all.
What Kind of Products Does Brooks Shoes Offer?
We see Brooks Shoes offer its products in three main categories that include:
Trail runners
Marathon runners
Beginner and professional runners
All of their shoes must meet up to specific standards, including environmental standards for athletes of all levels.
Here is a cool video that shows how Brooks shoes are engineered and designed.
Choosing to Switch Production out of China
When Brooks chose to leave China, it came at the heels of the US-China Trade War. President Donald Trump threatened to raise the tariffs on shoes from 20 percent to 45 percent, which didn't bode well for the company since they didn't have an option to raise the prices. They typically retail for $100 to $160, and it would ruin their business to sell them for higher since these are considered more budget shoes.
Due to the problems with China production, Jim Weber, the CEO of the company, said that they made a choice to pull most of the production out of China and switch it to Vietnam. This slashed an estimated 8,000 jobs in China.
They set an ultimate goal to bring the production in China down to 10 percent from its former 33 percent. Ultimately, we believe that they pulled out of China altogether based on their global factory list for 2021.
Brooks Shoes: Made in Vietnam
Over the years, production has shifted away from China even without regard to the tariffs, as Vietnam has become the emerging player in the clothing and shoe manufacturing industry. Companies can get even better deals here than they could in China. The Brooks Ghost 12s are made in Vietnam. There are 11 factories in Vietnam (Google "brooks sports global factory list 2021"—downloadable first result), which demonstrates the level of production taking place there.
The brand partners with third-party manufacturers to produce its shoes, and they have four factories in Ho Chi Minh City in the south. Despite that, we find that most of their factories sit in the north and the northeast.
Looking at shoe production as a whole from all companies in Vietnam, we found that much of the production comes from Ho Chi Minh City.
With Brooks Shoes, however, you had some production in the north and northeast. Also, to paint a picture of US manufacturing versus the manufacturing in Vietnam, the factory in the United States only hires 60 employees. Contrasted with the number of employees in Vietnam, they hire 31,339 total workers. Now, keep in mind that these are all third-party factories. That means that we don't know how much they use them, but we can rest assured that much of the production happens here.
Compared with everywhere else, their biggest factory is in Thailand with 450 workers—in other words, you can see where they favor production. When it comes to their footwear production, all of it happens in Vietnam. They have apparel and accessory factories, too, but all of the shoe production happens in Vietnam (Google "brooks sports global factory list 2021"—downloadable first result). Of the 11 factories in Vietnam, four of those factories produce shoes.
None of this means that you can't find Brooks products made elsewhere, but we would say that the bulk of its products come from this country. Furthermore, Weber has also said that he planned to continue expanding manufacturing in this region over the long term.
Are Brooks Shoes Worth It?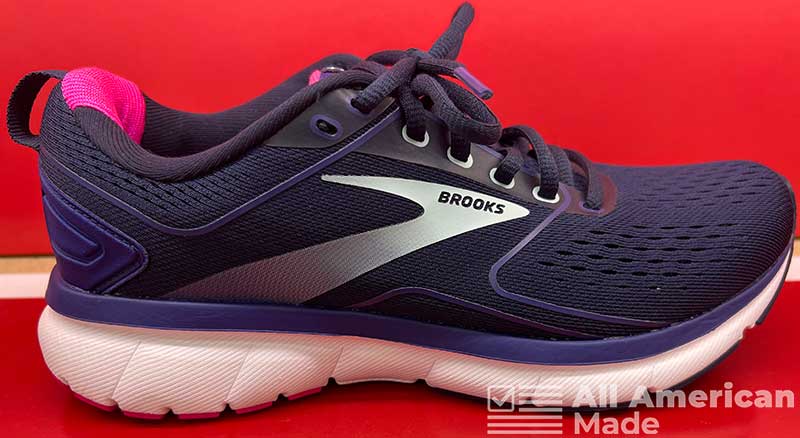 Despite them having a huge manufacturing presence in Vietnam, they offer reasonably priced running shoes that have become a favorite among casual and long-distance runners. Their shoes feel durable and comfortable, which matters in a runner's environment. We wouldn't consider them a great American-made brand, and that's fine for the right people who need a more budget-friendly choice.
In case you'd like a more American-made brand, check out the article that we wrote here on New Balance shoes and where they're made. We've done a lot of research on American-made shoes and understand where to buy the right ones.
We can't necessarily blame Brooks for taking its manufacturing elsewhere if we continue to support companies that produce in other countries. If we support American-made companies, we will see a roaring return in US manufacturing.
Popular Related Article: Where Are Asics Made?
Who Owns Brooks Shoes?

Berkshire Hathaway has owned Brooks shoes since 2006 when their subsidiary Fruit of the Loom bought it, which is the same company that famous investor Warren Buffett owns. They even released a limited edition Warren Buffett shoe: a graphic of Warren Buffett on the sole and the label of Berkshire Hathaway on the back—check out the Ghost 13s Berkshire Hathaway Edition if interested.
The regular Ghost also happens to be the best-selling model for the Brooks brand. Berkshire Hathaway paid $598.3 million for the label.
Originally, Brooks was under the brand Russell Athletics, but Berkshire Hathaway turned Brooks into its own subsidiary in 2012. One of the great things about Berkshire is that they usually own companies for the long term, which means that you won't see the products degrade in quality. Companies that own them over a shorter time may simply want to capitalize on the popular label without regard for the quality before selling it.
Final Thoughts
That does it for this article, we hope we answered the question of where are Brooks running shoes made and cleared up any misconceptions. I personally love their shoes but wish more were made in the USA.
For over 100 years, Brooks Shoes has existed, making it one of the oldest footwear companies in the nation. In case you'd like to learn more about the American-made options, check out our list of great shoes made in the USA. There are still plenty of great American companies, and when we buy from them, consider it a vote for American manufacturing. Not only does your buying support current American jobs, but it gives other companies an incentive to bring their own manufacturing back to the United States.
Hi, my name is Kevin and I'm from Pittsburgh, Pennsylvania. Choosing products made in America is important to me because it supports local economies, creates jobs, helps the environment, and ensures ethical labor practices. I also find that American made products are usually of higher quality so although they're a little more expensive, you save money in the long run. Before starting this website I was in the USMC infantry and nowadays I work on this website as a hobby.