Although there are many slippers and moccasins on market, very few are truly made in the USA. After sifting through marketing gimmicks and hundreds of different products, we are proud to bring you our list of the best slippers made in the USA.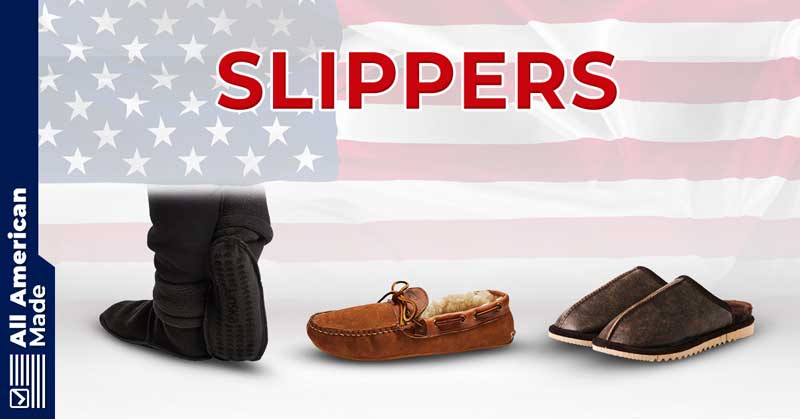 Many of the brands on this list have sacrificed sales and profits to keep their production here in America, so it's good to show them our support.
This list has a wide range of tough, stylish, and comfortable options for spring, winter, or fall, from hard-bottom house shoes to soft-soled bed slippers. If there are any products you find that are not on our list, let us know in the comments so we can expand our list for future readers!
List of American Made Slippers and Moccasins
1. Footskins Sheepskin Slippers

| | |
| --- | --- |
| Estimated Price Range | $30 to $160 |
| Materials Used | Deertan leather and sheepskin |
| Origin | Minnesota, USA |
Product Origin and Manufacturer Information
Operating out of Spring Grove, Minnesota, Footwear by Footskins finely crafts a myriad of comfortable footwear including slippers, moccasins, shoes, and even boots! These sheepskin slippers for the whole family have a luxurious American sheepskin lining inside and are handcrafted with American deer-tan leather.
This company has been in business for over four decades and prides itself on never shipping manufacturing overseas or using mass-production techniques that would hinder its ability to produce high-quality and custom-tailored products. Every single piece of footwear is handled and created by a skilled American in our dwindling but high-quality textiles industry.
My Thoughts and Review
The first thing you'll notice from this brand is their adoration for the moccasin-style of footwear, which their slippers resemble. At first, I wasn't exactly interested in this style of slipper, as it's just not what fits my pre-defined definition of what a slipper would be, and boy was I misguided! The moccasin-style slippers from Footskins are extremely comfortable and yet sleek and stylish, almost similar to a modern boat shoe. The insides are either low molded, which means they can be both worn indoors or outdoors as this uses a quality rubber sole, or they can come with a soft sole meant for indoor use and are extremely comfortable!
Also, be sure to check out the Lambskin Shearling Booties for babies and toddlers! These adorable shearling moccasin slippers are made of genuine sheepskin in tan or brown. They also come with tan laces, or you can order them with pink or blue laces of your choice. Baby sheepskin slippers are available in sizes ranging from newborn to toddler size 6.
Who We Recommend It For
These won't be the cheapest slippers you've ever bought, most likely coming in a tad over a hundred bucks, but they will be among the longest-lasting and highest quality you'll find in the American slippers market today. Footskins really focuses on their customer satisfaction and with a complete guarantee, so long as you have the coin, they're worth a try for really anyone so long as the moccasin-style fits your liking.
2. Windwalkers Sheepskin Slippers

| | |
| --- | --- |
| Estimated Price Range | $40 to $160 |
| Materials Used | Sheepskin and leather |
| Sizes Available | Kids (1-6), Men (4-13.5), Women (4-11.5) |
| Origin | Oregon, USA |
Product Origin and Manufacturer Information
Since 1977, Ms. Angél Fioritohas has been producing leather footwear and clothing in Eugene, Oregon, where she began her apprenticeship in the art of custom-fitted moccasins with master shoemaker Scott Taylor. At the same time, she was studying tailoring and pattern making in college.
She then became a teacher and took on several apprentices after completing her first apprenticeship. WindWalkers was born in 1980 when the company completed its line of sheepskin slippers and boots. As the company has grown, new styles have been introduced, including the WaveWalkers orthotic sport sandal line in 1985.
In 2009, Sara LaCount, Angél's niece, joined WindWalkers as Angél's fourth apprentice. In addition to attending college in Santa Rosa, Sara continues the WindWalkers tradition of handcrafted footwear and brings fresh ideas to their designs.
My Thoughts and Review
Windwalkers sheepskin slippers come in several styles, including the Backless Scuff, designed specifically for people who want to easily slip on something, which was a huge selling point for me as that's the kind of slippers I was in the market for. For trips to take out the garbage or grab another beer from the garage, the Backless Scuffs are plush and warm. These are excellent "leave by the door" kind of shoes and really make coming home and getting out of the cold a sort of cozy ritual, as getting in from a long day and slapping these on just really changes the tone and mood of the events to come, which is usually cooking a warm meal and hanging out with the family.
One of their most popular gift items is the Classic Slipper which has a back but is still extremely easy to just slip on and off as you please and comes in a style that anyone would love! These slippers are warmer and more like shoes than the Backless Scuff.
Additionally, they offer a Low Boot that covers the ankles. The cozy feel of their shortest boot, which has an adjustable height and roomier toes, makes it a customer favorite when shopping for themselves. All of their Sheepskin shoes feature a flexible crepe rubber sole that allows them to be worn anywhere.
Last but not least, they offer the Snuggies! Made entirely of plush sheepskin, this slipper can be rolled up or down. Colors are earth tones on the fur, with creme on the outer.
Windwalkers also offers a full moccasin line-up for the whole family!
Who We Recommend It For
Available in men, women, and kids sizes, and various styles, Windwalkers are truly for the whole family and most models can be had for under a hundred bucks, making them one of the more budget friendly American choices. They offer a long-lasting sole that means you can wear them everywhere. Garage party anyone?
3. Northstar Trading The Travellers

| | |
| --- | --- |
| Estimated Price Range | $110 to $140 |
| Materials Used | Cowhide and sheepskin |
| Sizes Available | Men (8-13), Women (5-10) |
| Origin | Washington, USA |
Product Origin and Manufacturer Information
As a company, North Star Trading Co. is dedicated to making the most comfortable footwear available. They have been creating shearling slippers and hats for over forty years, die-cutting the soft and durable material using their own patterns and designs, and sewing them themselves.
The company sources all of its high-quality shearling right here in the United States. Featuring the original soft-soled indoor Snugg to the thick rubber-soled, leather-backed Traveler, there is a pair of slippers for just about everyone.
Elizabeth and Patrick VanDyke established North Star Trading Company in 1978, soon after relocating from Napa Valley.
After creating their new ideas in their living room on Queen Anne Hill in Seattle, North Star took to the tables in the north arcade of the Pike Place Market to begin selling the amazing slippers and hats they are best known for today. Over time, Liz and Pat grew tired of city life and wanted more space for their young children to grow up.
Their business was continued from their new home on Whidbey Island after they moved there in 1984. Many years and many products later, Nick is still running the business with the same attention to detail, quality, and customer service as his predecessors and is bringing in new clients from near and far. North Star invites you to experience the best sheepskin slippers and hats in the world.
My Thoughts and Review
The Traveler, the company's latest slipper style is casual, breathable, and comfortable. As with all of their slippers, the Travelers are made with no seams inside which ensures longtime comfort. Available in brown, red, or green. Snug at first so size down from a half size. They will feel tight at first but after a short break-in, are exceptionally comfortable and keep their form for a very long time.
The Travelers are very much so what I envision when talking about slippers. They are backless and very fluffy on the inside but they have an EVA bottom that won't shred if worn outside like some other slippers, which I like because I typically wear slippers on my porch or deck.
Who We Recommend It For
These are not cheap, but then again, when has American made quality leather goods ever been cheap? If you're willing to spend the money, these will outlast basically any other slippers you might find on the market today. They do have a cowhide outer shell embossed in either red or black which wasn't exactly my style but close enough.
4. Janska MocSocks

| | |
| --- | --- |
| Estimated Price Range | $30 to $40 |
| Materials Used | Fleece |
| Sizes Available | Varies |
| Origin | Closed for business |
Product Origin and Manufacturer Information
Janska MocSocks were made in Colorado Springs, Colorado and had been opened for about 15 years making some of the most unique and high quality slippers within the United States borders. Sadly, the Janska Company closed its doors in March 2019 due to the influx of fast fashion. Lucky for you, some of their products are still available on Amazon.
My Thoughts and Review
If you or your loved one is someone who likes socks but not slippers, and whose ankles get cold, too, these are fantastic! Cute, soft, warm, and well-constructed with quality materials, the outside seams are a great choice if things like seams and tags get on your nerves. These aren't the most rugged options on the list and aren't really suitable for any outdoors use, even if light, but they sure are excellent options to wear around the house and lounge in.
Made with fleece and a polyester lining, these slippers are ultra-soft and warm. They are made with no-pill, moisture-wicking polar fleece fabric, which makes them super easy to care for. Just machine wash & tumble dry low.
Who We Recommend It For
If you're looking to live in slipper socks, these are the best choice. They are affordable, easy to wash, and are overall just excellent MocSocks to add a little additional warmth for the toes during winter.
5. Sundance Leather Shag Top Sheepskin Slippers

| | |
| --- | --- |
| Estimated Price Range | $100 to $180 |
| Materials Used | Sheepskin and leather |
| Sizes Available | Men (4-16), Women (4-16) |
| Origin | Colorado, USA |
Product Origin and Manufacturer Information
Founded in 1971, Sundance Sheepskin and Leather is a family-run business. Almost 50 years later, they still pride themselves on being a family-owned and operated business. In the small town of Guffey, Colorado, they hand make all of their products.
In 1976, they began marketing their products at juried arts and crafts fairs, as well as running a mail-order business, and they entered the digital age around the turn of the millennium when they launched sundanceleather.com.
Their retail marketing expanded in 2011 to include a physical store in Buena Vista, Colorado, run by their daughter Corey and her husband Scott.
As a result of the passing of Barry Anderson, his son Dylan and his wife Jean have taken over the business and are continuing to offer the full product line from the Guffey location and make top-quality sheepskin and leather products.
My Thoughts and Review
In the wise words of Anges from the movie Despicable Me, "They're so fluffy!"
I love these right out of the box and wear them every cool day possible! If you're worried about all the fluff at the top getting matted, don't. They stay fluffy and cozy for you and look cute at the same time. I love the quality of these slippers and claim years later, there is not one loose stitch or any worn-out leather.
These slippers will be the warmest, most comfortable slippers you ever own, with no need to wear socks. These are well worth the money and your feet deserve the luxury! If you're lucky enough to get these as a gift, you'll be buying them for everyone in your life as well.
These are ankle-high sheepskin slippers with a soft, durable leather sole and luxurious natural length sheepskin cuffs. Sundance Leather only uses the highest quality, extra-thick sheepskins from Western US ranches.
Who We Recommend It For
Everyone! If you love an extra warm slipper with all the fluffiness your little heart desires, these are perfect. On those evenings when you want to curl up with your heated blanket and a good book or movie, these babies are incredible for keeping you warm. They're also great for running around the house and getting things done if you decide to get the rubber crepe sole for an additional $10.
6. Shepherd's Flock Full-Cuffed Slippers

| | |
| --- | --- |
| Estimated Price Range | $40 to $80 |
| Materials Used | 100% shearling uppers and soles |
| Sizes Available | Children, Women, Men |
| Origin | Vermont, USA |
Product Origin and Manufacturer Information
Everything at Shepherd's Flock is made to order. The Shepherd's Flock Legacy was adopted by Chris Medina and his family in September of 2019. They are a small family-owned company in Bellows Falls, Vermont.
In addition to moccasins, Shepherd's Flock offers beer can koozies and adorable hats and mittens for children.
My Thoughts and Review
These Full Cuffed Slippers come from the very first pattern for sheepskin slippers that Shepherd's Flock started with, 40 years ago.
Those who wear the simple boot liners can wear them folded down or flip them up to cover their ankles. Since this style of slipper has an open front, it fits a little more loosely than their other styles, so for that reason, it may be beneficial to size down.
Offered in women's sizes 5 – 11.5, you can send the company a tracing of your foot to receive a custom pair. This company also offers to re-sole their slippers once they are worn out. Please allow up to 4 weeks for all orders. It doesn't get any more handmade than this!
Who We Recommend It For
Meant for cold Vermont winters, these slippers will provide endless warmth for the woman in your life! Shepherd's Flock also makes lovely slippers for men.
7. Itasca Moccasin COTA Moccasin

| | |
| --- | --- |
| Estimated Price Range | $200 |
| Materials Used | Leather and synthetic |
| Sizes Available | Men (6-13) |
| Origin | Minnesota, USA |
Product Origin and Manufacturer Information
This family-owned company has been providing affordable, high-quality footwear to millions of families for three generations. Since then, they have produced quality footwear for almost every outdoor activity imaginable.
Itasca footwear stands out for its durability and performance. To ensure comfort, only high-quality materials are used and each component is carefully selected. As a result, customers can count on durability and reliability. This is a company you can rely on for hiking and snow boots, on top of their moccasins line.
My Thoughts and Review
Many of Itasca's customers have described the feeling as better than barefoot. Buffalo leather used in the sole provides ruggedness and durability, while the elk leather used for the upper is the softest and most supple of the leathers we carry. The quality is impeccable.
Enjoy traditional soft soles for a barefoot feel, double sole construction, and an easy slip-on style with this moccasin. This moccasin has a synthetic insole, is made from 100% buffalo and elk leather, and is designed for indoor and outdoor use. Two colors are available: black and tobacco.
Please note: Moccasins should fit snugly at first, then the leather will conform to the shape of your foot as you break them in. This style runs generously sized. We recommend ordering one size smaller than you normally would.
Who We Recommend It For
Back off ladies, this one is for the boys. It is most likely that these moccasins are the most comfortable footwear you will ever own because they are made of buffalo and elk hides. Putting them on for the first time is pure comfort like they've been yours for years.
8. Geier Glove Company Adult Bison and Moose Leather Moccasins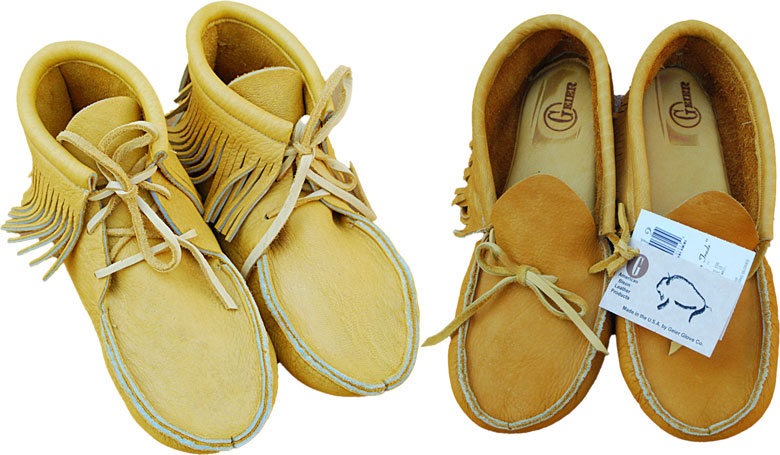 | | |
| --- | --- |
| Estimated Price Range | $90 |
| Materials Used | American Bison leather, Moose leather, or deerskin. |
| Available For | Babies (deerskin), Men (sizes 5-13) |
| Origin | Centralia, Washington, USA |
Product Origin and Manufacturer Information
This 90-year-old company makes gloves and moccasins from American bison leather and moose leather. The leather is comfortable and will last a lifetime.
Well known throughout the West for their quality leather gloves, they are committed to unwavering attention to detail. There are many full-grain options available, including deer, goat, kangaroo, bison, and elk skins. Occasionally, natural irregularities may be found in leather, but any imperfections that lower wear qualities are avoided in cutting out the leather.
My Thoughts and Review
Geier's moccasins are made with leather sourced exclusively from American Bison raised in ranches. Comfortable and durable, Bison leather moccasins will last you a lifetime. This line is also available in moose leather. Geier carries a baby line as well, made from super soft deerskin.
Bison leather has a distinctive grain and texture. The wearing experience and comfort of moccasins made from American Bison leather do not seem to be affected by small imperfections or scars.
Who We Recommend It For
Geier offers some pretty high-quality options for the men in your life. Made from ultra-soft tan buffalo leather, these moccasins have a soft insole, suede lining, and adjustable laces. These slippers have a soleless bottom that makes them ideal for wearing as house slippers, though a sole can always be added by a cobbler.
9. Rancourt and Co. Women's Rose Freeman Slipper

| | |
| --- | --- |
| Estimated Price Range | $185 |
| Materials Used | Leather & lambswool Shearling lining |
| Sizes Available | Men (7-12) and Women (5.5-11) |
| Origin | Maine, USA |
Product Origin and Manufacturer Information
Rancourt & Co. has perfected the traditional shoemaking techniques of Maine's heritage shoemakers over three generations. The passion for the craft can still be seen in the heart of Lewiston, Maine. And they stand by their products.
Rancourt & Co. guarantees the highest quality workmanship in the materials and construction of their shoes and accessories. If your product is damaged due to a defect in materials or workmanship at any time during its lifespan, they will repair or replace it at no cost to you.
My Thoughts and Review
The Women's Freeman Slipper features exceptionally soft lambswool lining and shearling. Freeman slippers, also available in mens' sizes, provide warmth and comfort on those cold days, while still being suitable for warmer temperatures. When you want to go barefoot, lambswool is the perfect lining because it breathes well and won't absorb odors. Made in Maine, these are genuine hand-sewn moccasins.
Who We Recommend It For
Do you love pink? These slippers are a gorgeous soft cameo rose color, and luxurious. Wrap your feet in high-class comfort!
10. Quoddy Fireside Camp Slipper

| | |
| --- | --- |
| Estimated Price Range | $180 to $200 |
| Materials Used | Twin-face shearling, suede leather, Vibram air-injected rubber sole |
| Sizes Available | Men (7-13), Women (5-11) |
| Origin | Maine, USA |
Product Origin and Manufacturer Information
Quoddy says they make slippers for one purpose; to keep your feet comfy.
In every way, Quoddy slippers are like Quoddy shoes, as they offer incredible comfort and durability. Since they are made from soft twin-faced shearling, they are light as a feather. With hand-sewn true moccasin construction, Quoddy slippers last for years. Each slipper has a Vibram air-injected rubber sole and is hand-cut, buffed, and stitched.
My Thoughts and Review
Like their other products, Quoddy made the Fireside Camp Slipper with one purpose in mind: keeping your feet comfortable. They use soft twin-face shearling for comfort and insulation, making it as light as a feather.
Featuring a hand-sewn true moccasin construction, a full-grain leather collar, backstay, and rubber sole, they are built for long-lasting comfort, style, and support. The Auburn rawhide lace threaded through the collar is fully functional. Snug it up around the heel for a snug, no-slip fit.
Who We Recommend It For
If you live in a cold climate and have hardwood floors, or just like warm feet, these are a great choice. Offered in men's and women's sizes, there are several styles to choose from including some that fold up to cover your ankles. Super cozy comfort in a high-quality slipper for the most discerning of slipper connoisseurs. We just made that phrase up, but if you want to put it on your Instagram handle, we encourage you to always be yourself! Overall, I think these slippers are great and they're some of the most stylish American made slippers out there!
11. Pierrepont Hicks

| | |
| --- | --- |
| Estimated Price Range | $180 to $250 |
| Materials Used | Suede, deerskin, and sheepskin |
| Sizes Available | Men (8-13), Women (5-10) |
| Origin | Minnesota, USA |
Product Origin and Manufacturer Information
Pierrepont Hicks had a very simple plan when it launched back in 2009. The company wanted to design and release products that were just right and of better quality. Using small batch production, limited quantities, the company wanted to release products that were just right and of better quality. What's more? Always made in the USA.
They started with a small collection of neckties when they first appeared on the scene. Even though they were not revolutionary, their use of unique, bold, and non-traditional fabrics attracted publications such as The New York Times and Esquire, and business took off.
In 2021, they launched a footwear collection that delivers arguably the most comfortable pair of shoes you will ever own. It provides pure comfort and is individually crafted for each customer so it will last for years to come.
Enter: The Moc lineup from Pierrepont Hicks.
My Thoughts and Review
Women and men can choose from several styles of moccasins. Although the choice was difficult since they all look extremely comfortable and well-made, we chose one for men and one for women.
Women can enjoy the softness and comfort of this Canoe Moc, which is crafted in soft suede with a cream lining. Rawhide leather laces and a 1/4 honey crepe sole round up the details.
For men, the Sand Forest Oxford Moccasin is handcrafted in suede and lined with cream sheepskin for the ultimate in comfort. The shoe features a 1/2″ Honey crepe sole, eight antique brass eyelets, and rawhide leather laces.
Who We Recommend It For
Honestly, Pierrepont Hicks has done it right with a lineup of gorgeous colors and offerings in their moccasin range. You need to see them all for yourself. Good luck though, especially if you struggle with making decisions. You're going to want them all. As well, in true Pierrepont Hicks style, these are made in small batches and won't be around for long. May the odds be ever in your footwear favor!
12. Softstar Soft Leather Slippers and Moccasins

| | |
| --- | --- |
| Estimated Price Range | $70 to 230 |
| Materials Used | Leather, suede, shearling. |
| Sizes Available | Baby, toddler, kid, men, and women |
| Origin | Oregon, USA |
Product Origin and Manufacturer Information
Shoes made by Softstar are known for being comfortable and healthy for the feet. Their shoes are handcrafted in their workshop in Oregon in the USA. Softstar strives to be a socially and environmentally responsible company, as well as providing a good experience to both employees and customers.
Through excellent customer service, they strive to create unique, beautiful, comfortable, and quality footwear.
Their environmental impact is important to them, so they try to minimize it as much as possible. In addition, they conserve raw materials by using them wisely. By reducing waste, reusing, and recycling, they strive to minimize their environmental impact.
Furthermore, they value their employees and make the workshop a pleasant, energizing, and efficient workplace. To create an environment where families and communities are welcome and integrated, they provide a respectful and open work climate in which openness, honesty, and dignity are valued.
My Thoughts and Review
Like gloves for your feet, allowing for natural movement and healthy foot development, Softstar's designs are purposefully minimal. They offer naturally soft and breathable leather that feels and smells yummy.
With simple, elegant, clean designs that give you all the essentials in a shoe, their handcrafted shoes are so obviously made with so much love. Furthermore, they are customizable! You can choose from hundreds of color and pattern combinations and they will make the perfect gift for you or your loved one.
Made from Nubuck leather, the Adult Roo Moccasins are flexible, soft, ultimate comfort shoes that you can tuck away in your bag for travel, the workplace, or even for those long-drawn-out wedding receptions when your feet just can't take one more second of your dress shoes!
While you check out their website, do yourself a favor and check out their kids' moccasins. Fun vibrant colors available from baby to child and youth sizes will delight your kids and stand up to the wear and tear of the reckless lifestyle of tiny humans.
Vegan Ultrasuede is available for those of you who love animals and don't want to wear them. There is something for everybody at Softstar.
Who We Recommend It For
There's something for everyone at Softstar! Designed for your feet to stay comfortable and strong all day, their minimal, lightweight footwear will keep you in style. Soft leather and zero-drop soles are used on every shoe, slipper, and moccasin made in Oregon.
With a wide toe box for amazing, natural toe splay, they offer barefoot athletic shoes and cozy indoor slippers. No matter what you're doing, whether you're hiking, working, dancing the night away, or just relaxing at home, they have a shoe, slipper, or moccasin for you and your kiddos!
13. Nomie's Baby Leather Moccasins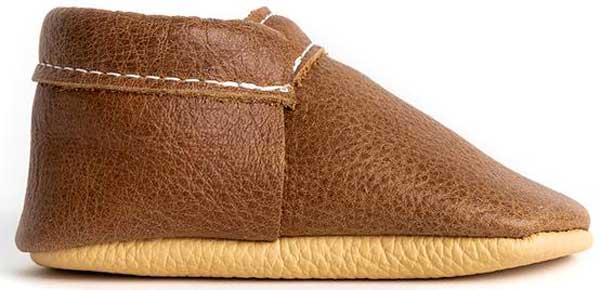 | | |
| --- | --- |
| Estimated Price Range | $30 to $60 |
| Materials Used | leather |
| Sizes Available | Baby sizes (0-4) |
| Origin | USA |
Product Origin and Manufacturer Information
Proudly made by Moms in the USA, founder Annie is a Mom of 3. She started making baby slippers at her kitchen table when she was pregnant with her middle child and has been providing for her family for years while her husband was in medical school.
With a Real-Mom Victory Guarantee, these soft-soled booties and shoes fit perfectly and go with almost every outfit. You will love the quality and how soft they are, and they will last till your child outgrows them. Annie backs her Nomies products with a guarantee whereby they will pay the return shipping and refund your money.
My Thoughts and Review
The leather used in Nomies shoes is soft and durable. The elastic ankle makes it easy to put them on and helps them stay put on your baby's foot. They're ideal for babies or toddlers who are just learning to walk.
Who We Recommend It For
This lovely company supports an amazing family and their products are perfect for a baby shower gift, the birth of a baby, or if you're looking for long-lasting slippers or shoes for your babies. In sizes ranging up to toddler, you're sure to find the Nomie's booties that are right for your baby. Overall these are great slippers made in the USA and I feel comfortable recommending them!
14. Gokey USA Double Sole Moccasin

| | |
| --- | --- |
| Estimated Price Range | $220 |
| Materials Used | Bull hide |
| Sizes Available | Men (8-13) |
| Origin | Missouri, USA |
Product Origin and Manufacturer Information
It is a rare occurrence nowadays to find a bootmaker's art as elaborate as that of Gokey. Using generations-old techniques and methods that take years to learn, their craftsmen expertly cut and hand sew this durable leather.
Their process is fascinating. Selecting the best oil-tanned bull-hide in the world is the first step. A hardwood last is molded over this heavy, remarkably durable bull-hide. After that, a welt is stitched to this so cleverly that no awl hole ever penetrates the shoe leather completely enough to admit water. Hand-sewing the outer sole into place, inserting the arch support, and constructing the top follow. A knot is tucked into every stitch to keep the waxed thread in place.
It should be noted, this is carried out for every individual shoe made at Gokey. Shoes from Gokey are designed for comfort and a lifetime of use with Vibram soles and cushioned leather insoles.
My Thoughts and Review
Gokey's adaptation of the classic North American moccasin is not your average slipper. From the sole up, these mocs are handcrafted with rugged bull hide, the same leather used in their famous Botte Sauvage boots. They will stand up to the rigors of outdoor life for years to come. The thick leather bottom is expertly hand-lasted and then the plug (top) is hand-stitched one lock stitch at a time to the foot. A hand-lasted shoe is one whose leather upper has been stretched over the last by hand and tacked to the insole.
To ensure rugged dual sole durability and form-fitting comfort, the second layer of bull-hide is double-machine-stitched to the bottom. Traditional moccasin construction and styling conform to your foot contours over time and only get better with use. Made with a rawhide collar and rawhide laces. A removable insole pad is also included.
Who We Recommend It For
These are tough slippers, made for tough people. Chuck Norris himself would be a serious rival to these slippers. Seriously though, if you're hard on your footwear, these might be the perfect slippers for you, Sir. Or ma'am. We don't discriminate.
Factors We Considered
Comfort
In this study, we examined how the slippers felt while wearing them. We took the time to develop criteria such as how they felt and chose slippers and moccasins based on if they seemed nice and soft underfoot, and that there were no rough spots in the footwear. We also take the time to consider the fit of every product, making sure that they stretch out properly for a snug fit that's supportive but doesn't put excessive pressure on the feet.
Fabrication, Stitching, and Construction
Hand-stitched rawhide moccasins are preferred because of the strength they provide, but high-quality machine-stitched moccasins also hold up well over time. The important thing is that the stitching penetrates thick hide and is heavyweight enough to withstand long-term use.
Every pair of slippers we review has its build quality scrutinized carefully. The level of stitching and the materials used in their construction were examined when evaluating their construction.
In selecting non-leather footwear, we made sure the material used at attachment points was durable and thick. It should be thickly stitched, and it should spread out pressure for a comfortable and even performance that withstands quick movements and everyday wear.
The Sole Type
When evaluating slippers or moccasins, your first concern should always be the type of sole that's used. The sole is the only thing separating your foot from contact with the ground, so this largely determines how the footwear feels to walk around in.
We evaluated the various options based on the purpose of the sole. Our goal was to find moccasin or slipper soles that would be as soft as possible while still offering durability. A flexible leather sole with double bottoms on moccasins or a lightweight padded sole in a slipper were our favorites.
Outdoor moccasins and slippers need a thick, waterproof sole capable of standing up to rocks and other abrasives. The best choice is a thick leather sole or a hide sole.
Quality of Leather
Choosing leather moccasins or slippers is all about getting a product that doesn't skimp on leather quality. For a long-term investment, full-hide and suede leather are the best options.
Poor-quality leather stands out immediately as it is thinner, has a fake plastic appearance, and simply won't last. This is why we didn't include any products with fake leather.
The only difference between the leathers on this list is the animal from which they are sourced. In that case, it is a matter of personal preference in terms of flexibility, softness, and durability. You probably noticed that the baby/toddler slippers we chose were made from deerskin, one of the softest leathers available.
Style
We gathered feedback on how the slippers performed on surfaces such as hardwood, carpeting, and stairs, and we gathered opinions on style and warmth.
Although looks can vary widely, we handpicked footwear that we believe looks stylish and appeals to a broad audience. Our goal was to choose slippers and moccasins made from nice-looking components, styled appropriately, and stitched precisely.
Care
We've listed several slippers and moccasins that are an investment, so of course, you'll want to know how to care for them. It depends on what they are made of, which we have listed. Nearly every company we've featured has care instructions on their website, but just in case, here is how you care for your slippers, based on what they are crafted with. The overwhelming instruction you will find is: do not apply water and let it air dry.
How Do I Care For Suede Footwear?
Use a soft brush to clean suede. Keep in mind that liquid should not be applied to suede, as it will stain/discolor it.
How Do I Care For Moose/Bull/Bison Leather or Deerskin Footwear?
Due to the natural oils contained in leather, a finish is not necessary before use. Use quality leather conditioners as needed to protect your footwear and extend its life. Some products will darken the leather. Do not use solvent-based products.
Whenever leather slippers or moccasins are worn in rain or snow, simply allow them to dry at room temperature. Do not use high heat to dry them. A soft bristle brush can be used to remove most water spots after they are dry. Store them in a dry place to prevent mildew from forming because it is impossible to completely remove mildew. Do not store them in plastic. Use a paper bag or box instead. As a rule, moths will not bother the items unless you have a significant problem with moths. If this is the case, store the slippers or moccasins as you would a good wool sweater and consider calling pest control.
How Do I Care For Sheepskin or Shearling?
Lint can be removed from the sheepskin lining with occasional vacuuming. The sheepskin area can be hand washed with mild soap and water if it has been soiled. Let it air dry. As an alternative, you can sprinkle talcum powder on the sheepskin dry, then vacuum to remove some soil and freshen it.
The items should be treated like fine wool sweaters. It is important to note that sheepskin products do not look brand new after washing. Wool will retain any curl that has developed over time when it is washed and will curl even more when it is washed, and suede will probably become discolored as well. The only difference will be that they will be cleaner than they were before. We recommend washing them only occasionally. The product will not last as long if it is continuously washed, regardless of how it is used.
Wrap Up
The influx of fast fashion has hit every aspect of the fashion industry, but we managed to round up a sweet list of USA-made slippers and moccasins to keep her frigid ice cube feet off your calves. We also found several pairs that you will appreciate when relaxing at home or when taking the trash out. (This has nothing to do with your girlfriend, but if you read into that a little, that's on you pal.)
Hi my name is Kevin and I'm from Pittsburgh, Pennsylvania. Purchasing products made in America is important to me because it supports local economies, helps the environment, and I know the companies follow high labor standards. I also find that American made products are usually of higher quality so although they're a little more expensive, you save money in the long run.