While water bottles aren't typically something many people put a lot of thought into, the quality of the bottle itself can make an impact on the quality of the water you drink as well as the overall experience. It's no secret that just about all water bottles have now been shipped overseas for manufacturing; however, there are still some top-quality water bottles made in the USA that can be had at competitive prices.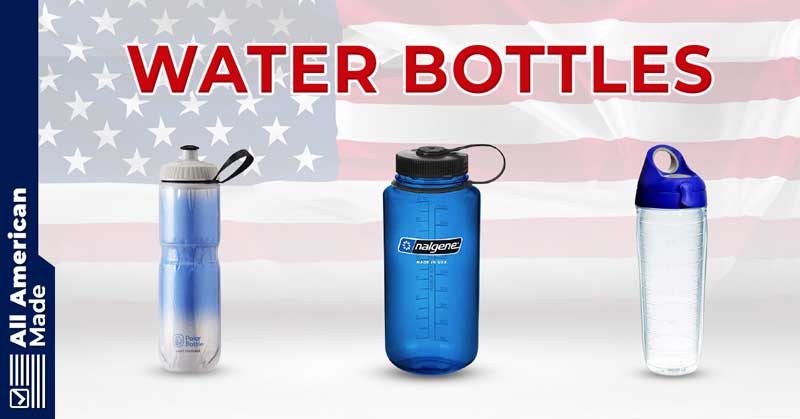 In this article, we'll cover the highest quality American-made water bottles you can use to help stay hydrated. We'll be including different styles of bottles at different price points.
List of American Made Water Bottles
Nalgene Wide Mouth Water Bottle (Most Popular)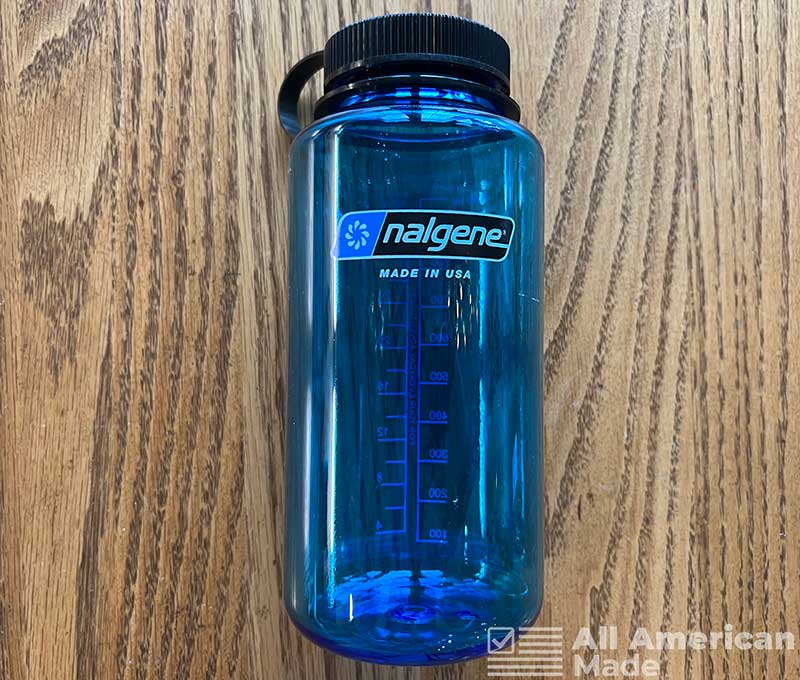 | | |
| --- | --- |
| Estimated Price | $16 |
| Capacity | 32 Fluid Ounces |
| Colors Available | Over 10 |
Nalgene's Origin and Manufacturing Locations
Nalgene products are well known for their quality, versatility, and all-around design in a variety of different product lines. Nalgene has been proudly made in America and continues to deliver world-class results with every one of its products.
Nalgene bottles were popularized in the 1960s and widely used by scientists on backpacking and research expeditions in the Androniak Mountain Range. Nowadays, Nalgene water bottles are used by just about everyone and can be found in stores all over the world.
What We Like and Don't Like About Nalgene Wide Mouth Water Bottles
This is one of Nalgene's most popular water bottles, and it has been in production for over 30 years. I can personally attest to this and have had one of these handy bottles on hand throughout my adventurous years from middle school and beyond.
The bottle is built with versatility in mind, offering a 32-fluid-ounce capacity that is suitable for both hot and cold beverages. Many bottles are built for one or the other; otherwise, you risk the consistency and stability of the material of the bottle. What's unique about Nalgene bottles is that can accommodate a wide range of temperatures (from -40 to 212 degrees Fahrenheit) which reduces your need to purchase cups in the future and can be a powerful cost saver!
The bottle is both impact-resistant and easy to clean, even if you find yourself frequently camping or on the hiking trail. This bottle has a streamlined design free of those nooks and niches that allow bacteria to grow and thrive.
With millions of satisfied customers, we can safely say that this is one of the most trusted and best American-made water bottles on the market.
One thing that really stands out to me about Nalgene water bottles is the markings located on the back. The picture below shows these markings.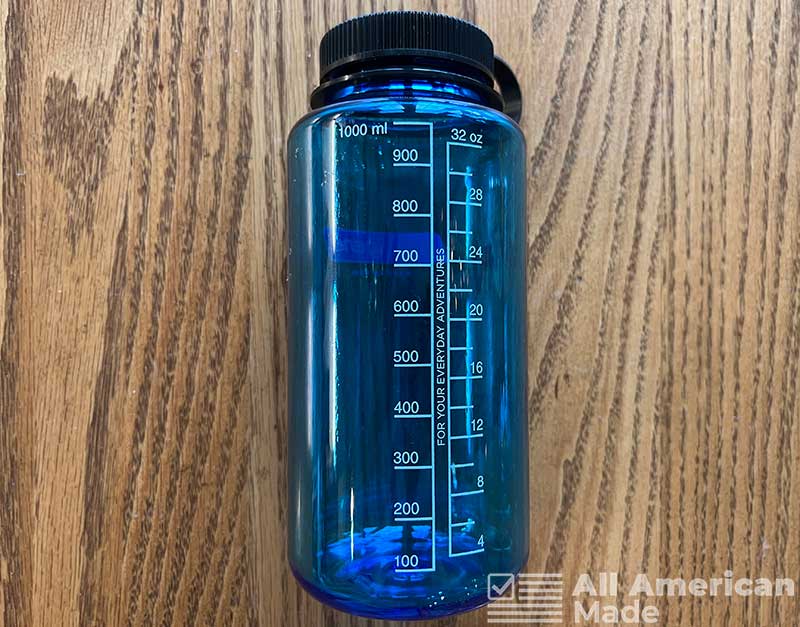 I find these markings a useful tool to keep track of how much you've been drinking and can help you stay on pace if you're trying to drink a set amount of water throughout the day or during an event.
Another one of my favorite features about Nalgene bottles is their dependable lids. Nalgene has touted this product's leakproof features, ranging from cap to seal to bottle construction. The material used is BPA-free Titan, which is extremely strong and durable. The bottle is marked for your ease of measurement and has been proudly made to be free of BPA, BPS, and Phthalates for decades. Your safety is of utmost priority to the creators of Nalgene, and this claim is especially important as these elements have been found to cause and exacerbate underlying health issues. Another great thing is that they're dishwasher safe, so if you're anything like me and really like to ensure you're drinking fresh and clean water, this is a great choice.
That said, wide moth bottles like this aren't for everyone, so for those of you who are looking for a more traditional water bottle, we have lots of other options for you below.
Here is a good video that covers the most significant features of this bottle.
Anchor Hocking Life Glass (Awesome Glass Water Bottle)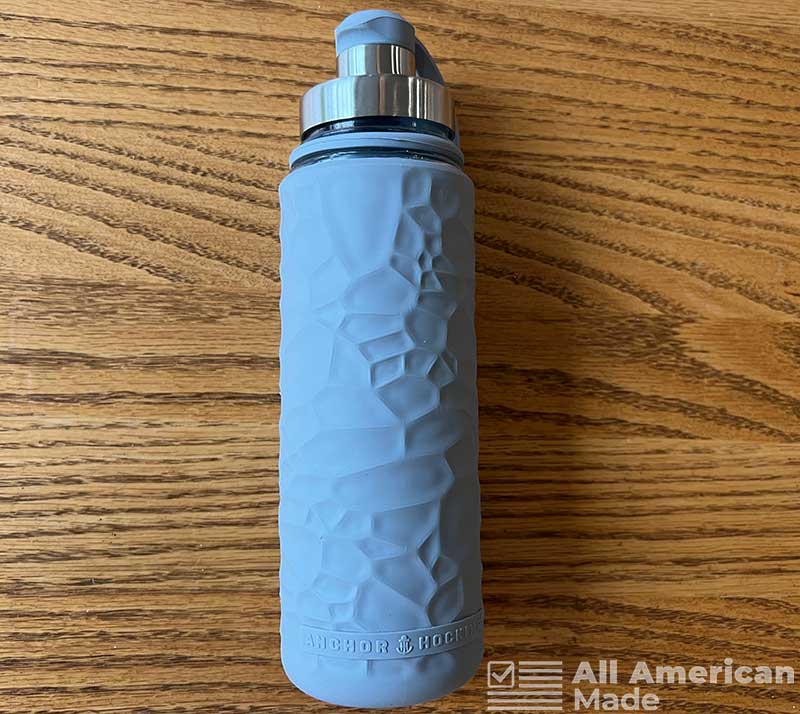 | | |
| --- | --- |
| Estimated Price | $25 |
| Capacity | 19.5 Ounces |
| Colors Available | White, Black, Gray, Mint, Light Green, Pink, Blue |
Anchor Hocking's Origin and Manufacturing Locations
Anchor Hocking is a company based out of Lancaster, Ohio, right near the Hocking river, and they've been there making awesome drinkware like these bottles for over 115 years! It's important to note that Anchor Hocking is actually the child of two companies that merged in 1937, Hocking Glass Company and Anchor Cap Corporation. You've probably used some of their very popular measuring cups and other glassware at some point, but today we'll be talking about their very unique water bottles!
What We Like and Don't Like About Anchor Hocking Life Glass Water Bottles
I'm personally a huge fan of glass water bottles, so when I realized that there was actually an American-made glass water bottle, I was pretty happy. I like glass water bottles because they feel very safe to drink out of, and even though I know most plastic bottles are safe, there is just something about drinking out of glass that I prefer. That said, being a glass water bottle, one of the first things you'll notice when you take it out of the packaging is that it's much heavier than your typical plastic water bottle.
Now, of course, glass water bottles cannot take a beating like a stainless steel bottle or a quality plastic bottle, but this isn't just ordinary glass; it's heavy tempered glass with a durable coating applied over it to ensure it doesn't just explode under any duress.
Let's talk about some other reasons why someone might prefer a glass water bottle over a plastic or stainless steel water bottle.
Stainless steel bottles can become scratched and pitted, and those scratches can harbor bacteria. Glass bottles don't have any of these issues and yet can match or even sometimes exceed the insulating properties of these other materials. So long as you won't be using this bottle in a rough environment where it'll be dropped regularly and come into heavy contact with other hard objects, it should be just fine, especially for use around the house!
Next, let's talk about the lid and some other standout features. The lid itself is stainless steel, and there is a silicone piece that secures the lid to secure the bottle. The seal is very tight, and you definitely won't have to worry about it opening unexpectedly. The lid and stopper are well designed, and it's very easy to remove the gasket, take a drink, and seal the bottle again. It's not as secure as a screw-on lid, but I do think it's perfect for a glass bottle since you aren't going to be doing anything too rough while using a glass water bottle.
In my opinion, this is the best glass water bottle made in the USA and is actually one of the few options for those of you looking who want one.
The only things that someone might not like about a glass bottle are its weight and durability.
Tervis Water Double-Walled Insulated Water Bottles (Great Value)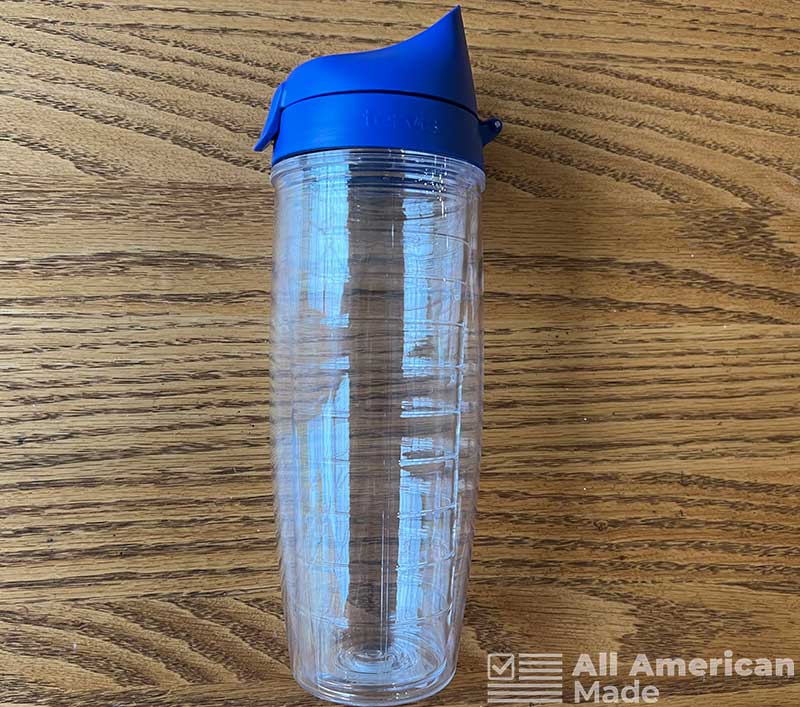 | | |
| --- | --- |
| Estimated Price | $20 |
| Capacity | 24 Fluid Ounces |
| Colors Available | Grey, Blue, Red, Green, Lime Green, Pink, Purple, Orange, Yellow, Navy, Maroon, Black |
Tervis' Origin and Manufacturing Locations
Tervis was founded in 1946 by innovative entrepreneurs Frank Cotter and G Howlett Davis, who created the world's first known insulated tumbler. Shortly after, the rights were purchased by John Winslow. This was a formative moment for the brand, as this led to the creation of the versatile and durable product that you can buy today.
This is unique, as before, cups were seen to be indoor amenities only. The outdoor cup concept was created to be the perfect accompaniment to any adventure. Tervis has been providing quality, American-made products for decades and strives to exceed expectations with every purchase.
What We Like and Don't Like About Tervis Water Bottles
This water bottle is one of the most versatile options on the market and can be used in a variety of ways. The bottle is microwave, dishwasher, and freezer safe, making it viable for nearly any application. This is the perfect bottle for smoothies, shakes, and most liquids. When I got my first Tervis bottle, I was surprised by how lightweight it was. Being double-walled, I figured it would be much heavier than your average water bottle, but that was not the case. It feels very strong and sturdy when you hold it but also lightweight and stable.
Next, let's talk about the lid since that's one of the most important aspects of any water bottle. The snap-to-close hinge feature on Tervis bottles is actually much more secure than I was expecting, but I still wouldn't put one of these bottles in my backpack because they aren't as secure as bottles with a screw-on lid, like the Nalgene bottle we talked about above. That said, this hinge-lock lid is a lot more convenient for someone who wants to be able to quickly take a drink without having to unscrew a lid. I can open a Tervis bottle without even thinking about it within a fraction of a second. While I did say I wouldn't trust one of these bottles in a backpack, they are definitely secure enough to take with you in the car or on the go without worrying about the lid opening, and they're very convenient. These are also perfect for the gym; being that they're double-walled, there are tons of unique ways you could use a Tervis bottle.
These bottles are specifically designed to handle and control the temperature of your favorite hot or cold drinks, which is a rare but appreciated feature. I also like that Tervis takes a lot of pride in using safe materials, and this particular bottle is made of a BPA-free co-polyester.
Tervis really is a company you can trust, and after owning and testing many of its products over the years, I've really come to like them. Overall, this is one of my personal favorite American-made water bottles.
Here is a good video that covers the most important things you should know about this water bottle.
Liberty Works Vacuum Sealed Bottles (Great Stainless Steel Water Bottle)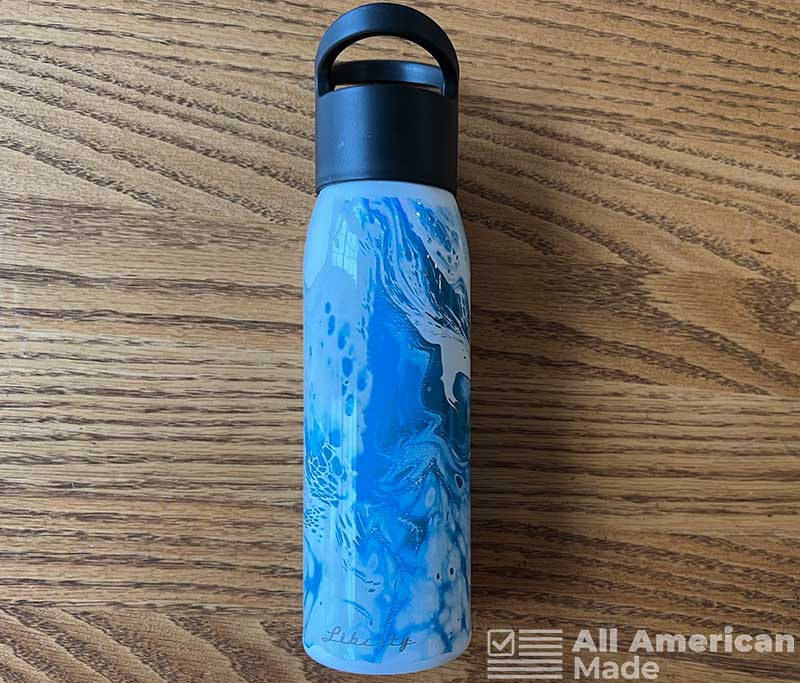 | | |
| --- | --- |
| Estimated Price | $20 to $30 |
| Capacity | 12, 20, 24, 32, 64 Ounces |
| Colors Available | Available with a myriad of color schemes, prints, styles, etc |
Liberty Works' Origin and Manufacturing Locations
Sustainably designing their products in the USA for over ten years now, Liberty Works is based out of Union Gap, Washington. Now, it's quite rare that we do this, so pay attention!
The "Liberty Originals" are made of aluminum that is completely made in the USA, and they're awesome!
Liberty Works DOES NOT make the actual stainless steel "Liberty Insulated" bottle in the United States, these are blank bottles that are imported from Asia and then designed and finished in the United States. We would typically not include something like this, but there really aren't any great American Made stainless steel water bottle brands available, so this is really just the next best thing for those of you really itching for something in stainless steel material with great insulating properties.
What We Like and Don't Like About Liberty Works Vacuum Sealed Bottles
Liberty Works takes bottle design and character to a whole new level when it comes to American-made aluminum water bottles and is actually one of the few companies still making aluminum bottles and designing stainless steel bottles in America at all. With over 30 different styles and colors to choose from, ranging from any of their five sizing options, there is likely a bottle for you somewhere in their product offering.
These bottles surprisingly aren't much, if any, more expensive than their closest stainless steel competitors that are made overseas, so it's truly a no-brainer when it comes to choosing American in this category. All in all, the Liberty Works water bottle collection offers something for everyone and offers some of the best American-made aluminum water bottles as well as options for stainless steel water bottles made in the USA or at least designed and decorated in the USA.
Here is a good video overview of Liberty bottles.
Polar Bottle Sport Insulated Water Bottle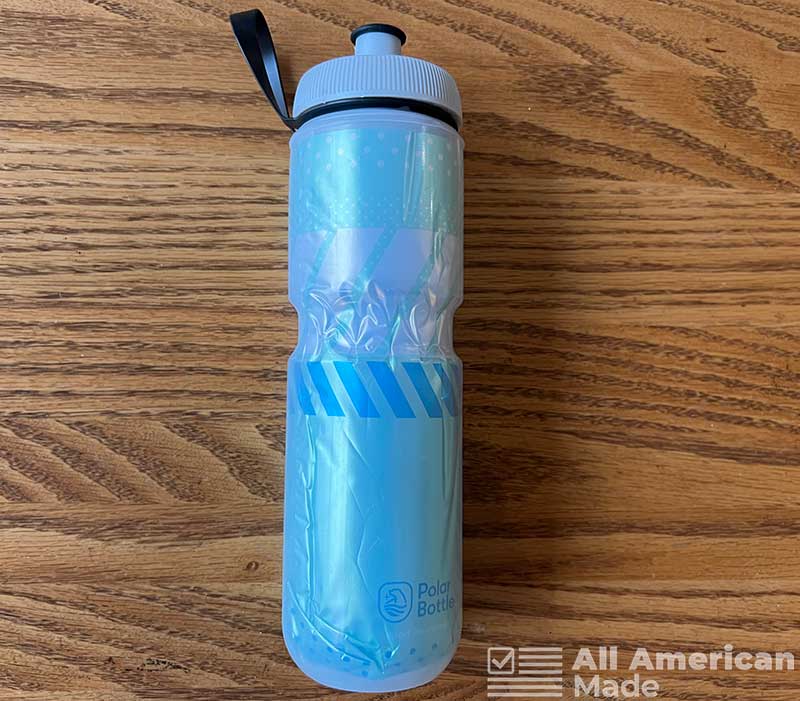 | | |
| --- | --- |
| Estimated Price | $20 |
| Capacity | 24 Fluid Ounces |
| Colors Available | Black, Blue (Bear, Contender, Fade), Charcoal, Mint, Navy, Olive, Red, White (Contender, Tempo) |
Polar Bottles' Origin and Manufacturing Locations
Polar products launched in the mid-1990s and have been committed to providing quality beverage solutions while supporting the local manufacturing community. For over 30 years, Polar has made its products in the United States – right in Boulder, Colorado. The brand draws its inspiration from the natural beauty and purity of the outdoors, seeking to mimic those qualities in its daily business practices. They are passionate about reducing the ecological footprint that they create and want to give back to the community wherever possible. They have since launched multiple product lines and sold tens of thousands of units around the world – supporting the American economy and delivering the quality that you can trust from American-made products.
What We Like and Don't Like About Polar Bottle Sport Insulated Water Bottles
When I found this bottle, what immediately caught my attention was the over 10k reviews that the bottle had alone. Once I learned that Polar was an American company, I got even more excited. These have been a family favorite purchase since my youth, and I was happy to see the wide variety of environmentally friendly bottles that they've come out with, suited to unique taste and style preferences.
This water bottle is unique from other options, featuring a unique triple-walled insulation system that is proprietary to Polar. This system can keep your cold drinks completely icy for hours, making this the perfect bottle to grab on the way to your next gym session. The material used is BPA-free and provides you with the safety-mindedness that you need to purchase confidently.
Polar bottles use a squeeze-based technology, encouraging users to squeeze the sides of the bottle to get that perfect stream. This can be especially helpful for easy access or for athletes who need hydration on the go. This also indicates the resiliency and quality of material that Polar has to use in order to make this technology work.
Despite its layered technology, the Polar water bottle is extremely easy to clean. Polar wanted to give consumers the benefits of multi-layered technology without the hassle of cleaning and the risk of bacterial growth in the bottle. They've manufactured the product to be completely dishwasher safe and functional in a sleek 2-piece design. Simply wash it after each use, put it in the dishwasher, and go about your day.
The sports cap design is a nod to 90s design preferences and gives you the versatility and ease of use of a traditional sports cap design without the leaks that you may have come to expect with cheaply-made alternatives. Polar caps are leak-resistant and easy to pop open with a single finger. They also are extremely easy to clean and don't have crevices or other places for bacteria to grow that dishwashers can miss. The cap is also dishwasher safe and fully removable to ensure that you get a quality clean every time. You can also take advantage of the unique dash handle, allowing for easy carrying during exercise or travel, with comfort that is incomparable to other alternatives on the market.
The polar sports water bottle is the perfect breakaway-style water bottle for an athlete or a gym enthusiast in your life. It also makes for the perfect hiking or travel bottle thanks to its sleek handheld design and insulated interior. You will never have to sacrifice the perfect drink or sip again – no matter where life takes you! If you're looking for an insulated water bottle made in USA this is an excellent option.
50 Strong BPA-free Reusable Water Bottle with Time Marker (GreatHydration Tracker)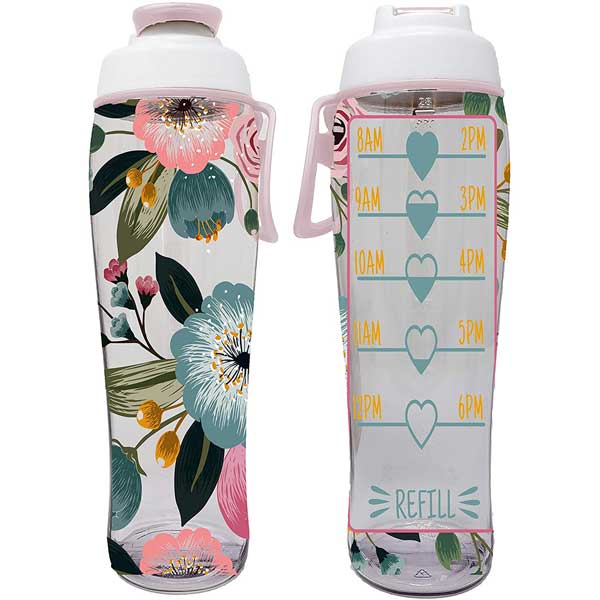 | | |
| --- | --- |
| Estimated Price | $25 |
| Capacity | 30 Fluid Ounces |
| Colors Available | Floral |
50 Strong's Origin and Manufacturing Locations
50Strong is a family-owned company in rural Ohio that is committed to creating quality American-made products that provide quality beverage solutions with unique style and flair that isn't necessarily seen with larger-scale brands.
What We Like and Don't Like About Strong BPA-free Water Bottles
When I saw a decorative water bottle option that was made in the United States, I was excited. So often, you find that these products are either manufactured here and printed overseas or completely outsourced out of the United States. I was even more excited to see that the bottle had timing marks on the side indicating when you should drink to reach your optimal level of hydration.
Many may struggle to get their daily intake of water, either due to medical issues, nausea, or simply daily distractions that can derail us from prioritizing our health. If you or someone you know is starting on a weight loss journey, is pregnant, or simply needs to up their daily intake of water and fluids, this is the perfect gift to give.
While the design is floral, the brand offers more unisex designs that are suitable for both male and female tastes. The diversity in design and quality of print make this a strong beverage solution as opposed to lesser quality options on the market. Beyond the quality of the graphics, 50Strong has created a tailored solution for its consumer base. Many bottles you can buy online are cheaply made and ill-proportioned, unable to fit in your average car cupholder. This cup has a slim-base design that slides effortlessly in a cup holder or handbag.
User experience is key with 50Strong products, which is why their products feature a soft-touch carry loop that allows you to transport your bottle with the lift of a finger – yes, that's really all there is to it! The loop is balanced to allow for a weight-less carry of your bottle as you slide it into its pouch or your handbag. You can also use this to tote it freehanded if you choose not to use a bag that day.
These bottles are crafted with your safety in mind and are durable and drop-resistant. The material is also resistant to taste and smells, making this the perfect all-purpose use bottle if you plan to mix it up with some flavored drinks or beverage powders. The wide-mouthed design makes this the perfect bottle to pour ice right into – no shoving and pushing required.
You can also enjoy the fact that it is completely non-toxic and BPA-free. Long-term use of low-quality plastic bottles can cause the leaching of chemicals such as Bisphenol A and other toxins right into your drink of choice – and directly into your body.
Frequent use of products containing BPA has been linked to an increased risk of endocrine and hormonal disruption, as well as hormonal-related cancers, according to the Mayo Clinic. That is why the commitment to quality that 50Strong displays are a strong factor in making the purchasing decision for many.
With nearly a ton of positive ratings, you can rest assured that you're in good company when you choose to buy any 50Strong decorative bottle. The family-based team takes great pride in providing quality American-made products that you can trust.
Helimix Vortex Blender Shaker Bottle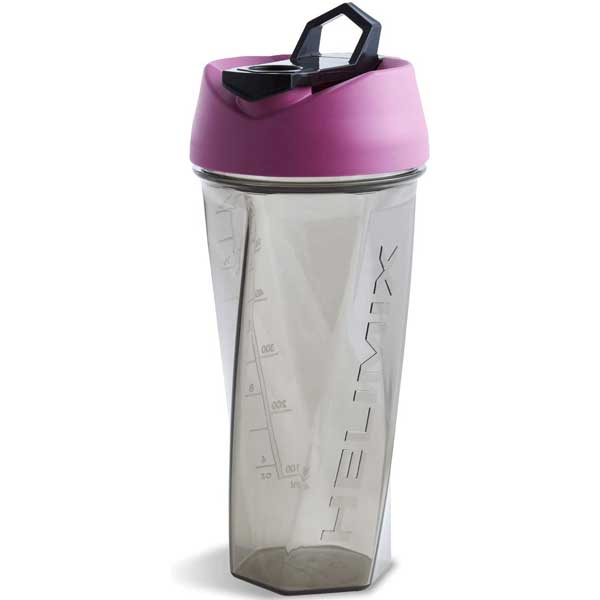 | | |
| --- | --- |
| Estimated Price | $30 |
| Capacity | 28 Fluid Ounces |
| Colors Available | Black, Blue, Island Paradise (Teal), Kale (Green), Pink Yarrow, Purple, Red, White |
Helimix's Origin and Manufacturing Locations
Helimix comes from a long line of American-made creators that have a passion for innovation and for technology that works seamlessly into their daily lives. They made a splash into the fitness scene with their beverage solutions and commitment to excellence. They have since ascended the ranks of Amazon beverage options and stand to be one of the top American made options available on the market today. They pride themselves on unique and proprietary products that you won't find anywhere else, completely patented and made proudly in the United States of America.
What We Like and Don't Like About Helimix Vortex Blender Shaker Bottles
Sometimes you just want to add something to your water and mix it up a little. I used to love doing this with shakes, drinks, and powders but stopped because it would inevitably end up either flaking or clumping at the bottom of the cup or in the lid and rim. With the Helimix, you can experience innovative technology that takes your hydration game to the next level – whether you prefer water or your favorite blend of powder. You can enjoy all of the convenience of a shaker bottle – no shaker ball needed.
The Helimix was originally designed to eliminate the use of a shaker ball or shaking accessories altogether, right at the cusp of the fitness craze of the early 2010s. This led to innovation and development of their unique vortex design, requiring only a few firm shakes of the user to fully immerse their favorite powder or mix in. This can be especially helpful if you're on the go, struggle with mobility or functionality, or simply want to enjoy a blended drink without the clacking and extra washing that a blender ball would bring.
Helimix also has invested money into product research and claims that it can provide a more thorough immersion than any other blender bottle on the market. This is due to their patented vortex bottle design and the way it interacts with different viscosities of blends and powders.
The material that Helimix uses is BPA and BPS-free, keeping your health and safety as the number one priority with each use. Helimix uses Titan material, which is odor and taste-resistant. This makes this the perfect water bottle to use for mix-ins of any sort, with no lingering flavor or smell that taints your next drink. The manufacturing process allows it to have a perfectly tailored base that slides right into your car's cupholder or gym bag. You can also utilize its easy-grip loop system for simple one-hand carrying whenever your situation requires it.
Titan plastic is one of the most durable materials on the market that is available for beverage and consumer use. This makes this the perfect shatter-resistant option that fits seamlessly into your routine. You can also enjoy the added benefits of this material, as it is designed to be easy to clean and dishwasher safe. No more scuffed and scarred cups after washing, and you'll save hours by tossing it in a dishwasher and hitting "go" – no handwashing required. This is a stark contrast to other cheaply made alternatives that can shatter or be damaged after a single round in the dishwasher. You need a cup that is Titan-tough and can last with you no matter what adventures you go on!
The Helimix team is here to help you if you experience any issues with your product. The Helimix is designed to be 100% leakproof to help you go about your day worry-free. Their promise is to deal with any client issues quickly and personally, providing you with a level of support that is uncommon with other manufacturers.
If you're looking for a water bottle that can work double duty as a blender bottle, look no further than the Helimix bottle.
Platypus Platy 2-Liter Ultralight Collapsible Bottle (Collapsible)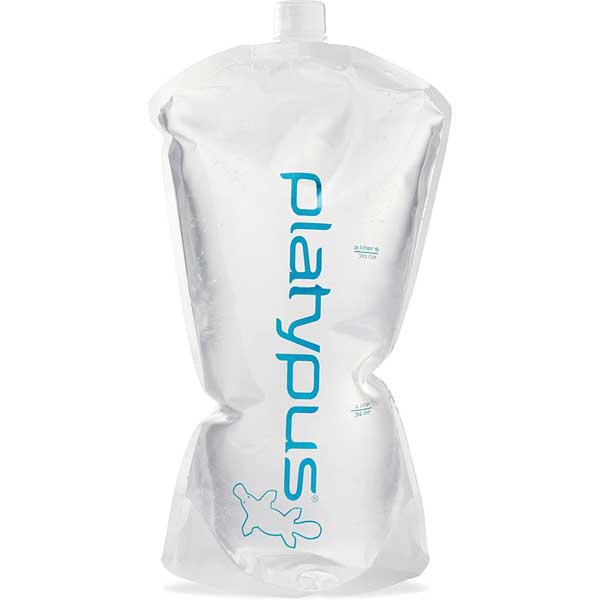 | | |
| --- | --- |
| Estimated Price | $16 |
| Capacity | 67 Fluid Ounces |
| Colors Available | Clear |
Platypus' Origin and Manufacturing Locations
Platypus has been providing quality drink solutions for over 20 years. Their products are meant to create safe and sustainable drinking products that you can use (literally) anywhere – while hiking on the most remote trail or driving to work daily. The development and business group is comprised of outdoor enthusiasts, lab technicians, scientists, and engineers. Platypus has come out with several innovations when it comes to consumer safety and beverage consumption and continues to provide some of the most well-manufactured products available on the market today.
What We Like and Don't Like About Platypus Platy 2-Liter Ultralight Collapsible Bottles
One of the ongoing issues that I have struggled with when it comes to choosing the perfect water bottle is the unwieldy nature of the object. Often, I have limited space in my purse, backpack, or shoulder bag…and I don't have the hands or the resolve to carry it all over Los Angeles in my hand! When I saw the Platypus collapsible bottle, I realized that I found the perfect space saver without compromising the quality of the bottle.
When hiking, it can be difficult to account for the extra weight that water adds to your gear setup. This problem is negated thanks to the sleek and portable design of the Platypus bottle. The total weight only weighs 1.7 ounces, making this the perfect accompaniment to your exercise or hiking bag. It's built to be resilient and completely collapsable, fitting comfortably into your pocket when it is emptied.
While most bottles can leave behind a plastic-based taste, this bottle is specifically formulated to leave nothing behind but the clear, pure taste of freshwater. This is thanks to the food-grade polyethylene lining that is used in the bottle's construction. The material is also guaranteed to be BPA, BPS, and phthalate-free. This claim is especially important to consumer safety, as usage of these materials can cause long-term illness and acute health issues.
Just because the bottle is flexible doesn't mean that it is flimsy. The bottle is able to stand on its own completely upright when filled due to the proprietary design of the oval-shaped base. It features a screwcap design that can be easily used with any of Platypus' filtration systems to ensure that you have the safest drink possible – whether you're on the trail or in the car on the way to work.
My favorite thing about this product is the ability to simply roll it up and tote it empty with you en route to the airport or any other form of travel. Refilling the bottle is a breeze, and you can save valuable space in your handbag or carry-on. If you're looking for versatility and stability, look no further than the Platypus collapsable bottle!
GAK GI Canteen (Great American Canteen)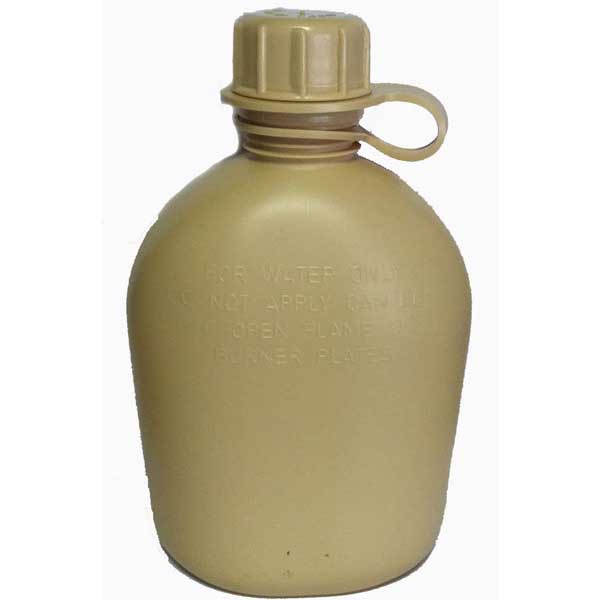 | | |
| --- | --- |
| Estimated Price | $30 |
| Capacity | 1 Quart |
| Colors Available | Black, Grey, Tan, Pink |
GAK's Origin and Manufacturing Locations
G.A.K. provides high-quality military-styled equipment that offers you the quality you need under any circumstance. The company prides itself on providing kit-style layouts that are meant to suit your needs and keep you prepared for any situation.
What We Like and Don't Like About GAK GI Canteen
This kit includes three total pieces, including a canteen, cup, and MOLL-E style kit. This is the perfect gift for an outdoorsman or military enthusiast in your life. The stainless steel cup provides the perfect apparatus to enjoy your favorite cold beverage. The canteen slides perfectly into the MOLL-E pouch for the ultimate space-saving product that can keep you hydrated any time that you need. The MOLL-E has longer winding threads that can be woven into vests and belts or simply used on a standalone basis. If you're looking for a ready-to-use solution, look no further than this American-made kit.
American Maid Water Jug (Great Water Jug)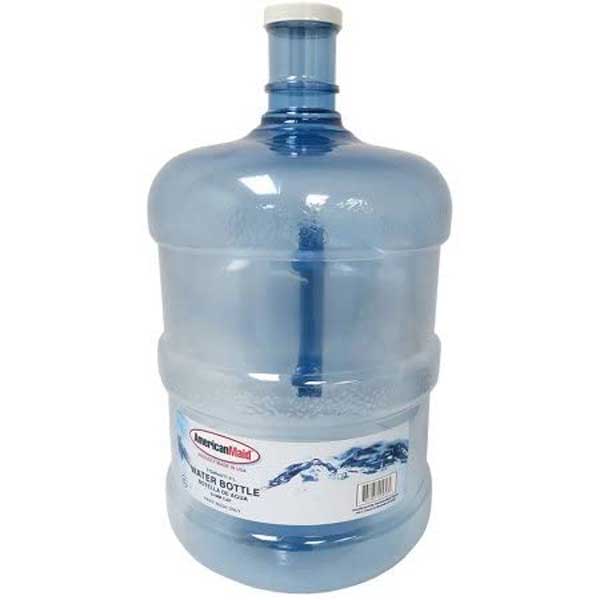 | | |
| --- | --- |
| Estimated Price | $10 |
| Capacity | 3 Gallons |
| Colors Available | Clear |
American Maid's Origin and Manufacturing Locations
American Maid can be found on the shelves of several major retailers, including Walmart, Food4Less, and Vons, as well as across the internet. This brand has become renowned for its product quality and design, creating solutions suitable for a variety of needs.
What We Like and Don't Like About American Maid Water Jugs
This three-gallon traditionally styled bottle is perfect for transporting large quantities of water for any reason – camping, adventuring, or even a weeknight at the gym. This bottle fits handily in the trunk of any car, on the seat side next to you, or alongside your gym bag and ensures that you will have fresh water for adequate hydration – no matter where you may find yourself!
The top features a narrow neck design, which can help you to get the perfect amount with every sip. You'll also enjoy the screw-cap element, thoughtfully placed there to be spill-resistant and durable under any circumstance you may encounter.
The design is classic and timeless, as if it were a miniature version of the larger-scale water bottles. The blue plastic is smooth to the touch and features an easy-grip handle on the side for the perfect grasp.
This bottle is perfect for your favorite college student, gym junkie, or an adventurer who needs an adequate water supply with them. This is also great to keep for emergency situations in your car or in a prep bag.
Why Purchase an American Made Water Bottle?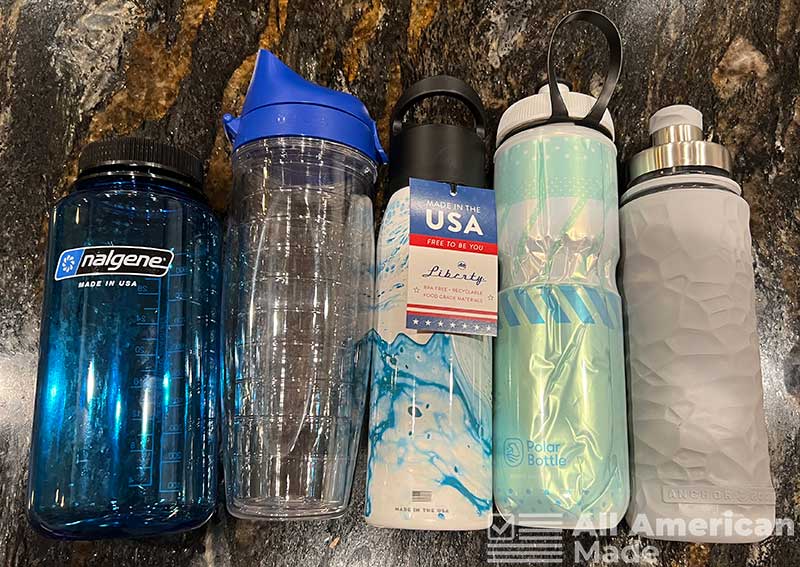 Beyond the element of convenience that water bottles provide, you can also enjoy the utility that they offer in difficult situations. If you're in a more remote location with limited freshwater options or are unable to find a water source in your current circumstance, bringing your own in a portable bottle offers you a safe option that you can count on. It is also more environmentally responsible, reducing the amount of plastic waste that is put into landfills on a daily basis.
Wrap Up:
That does it for this article; let us know if you have any questions at all in the comments below. Also, let us know if there are any great water bottles that we missed and should add to our list. We always appreciate your feedback!
Hi, my name is Kevin and I'm from Pittsburgh, Pennsylvania. Choosing products made in America is important to me because it supports local economies, creates jobs, helps the environment, and ensures ethical labor practices. I also find that American made products are usually of higher quality so although they're a little more expensive, you save money in the long run. Before starting this website I was in the USMC infantry and nowadays I work on this website as a hobby.