As a corporation, Bosch was founded in 1886, but it wasn't until 1929 that the German behemoth would begin to reinvent home appliances for maximum convenience and luxury. Ever since, Bosch has been a thriving name and a force to reckon with when it comes to equipping your home with the finest, most durable refrigerators, ovens, dishwashers, and, well, you name it!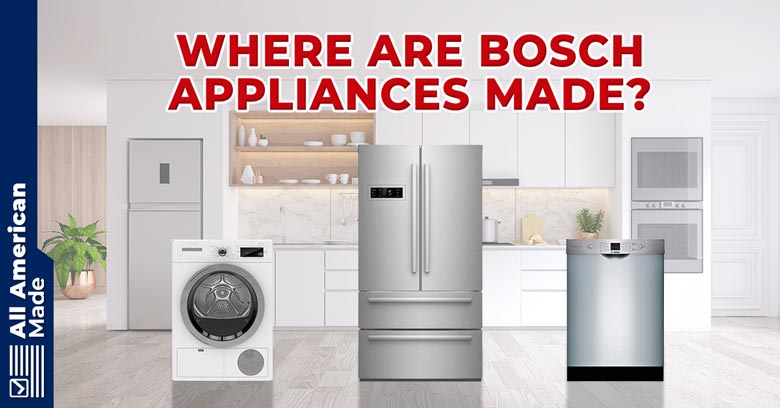 Being one of the major appliance brands, many consumers wonder where Bosch appliances are made. We'll answer that below and share other important information about the company.
Bosch appliances are made in many countries, including the United States, Germany, Spain, Greece, Poland, and China. Each factory in these countries accounts for distinctive lines and variations in appliances as well as regional market demands.
Over the years, we've seen Bosch become one of the best consumer goods brands in the market, earning America's Most Trusted Kitchen Brand 4 years in a row. In this post, I will break down where Bosch appliances are made and everything relating to the brand found in my research.
Who Owns Bosch?

Bosch is completely owned by its parent company Robert Bosch GmbH, a charitable institution that also owns Thermador and Gaggenau home appliances. It functions as a conglomerate private multinational corporation, with Stefan Hartung as its CEO, CTO, and CDO. Back in 2016, Robert Bosch Stiftun bided $3.85 million to completely acquire its domestic line of products.
However, this wasn't always the case. In 1967, domestic appliances sported the familiar Bosch identity as a brand but had been manufactured under Bosch und Siemens Hausgeräte. This industrial congregation split 50-50 of the appliance conglomerate shares until the 2000s, when BSH started to slowly but surely acquire the subsidiary.
Where Are Bosch Dishwashers Made?

Bosch dishwashers are made in the brand's benchmark factory in New Bern, North Carolina, which also happens to be the largest dishwasher plant in the whole world. An estimated 2000 Americans are employed at this facility, and it's not limited to production only. It's also a place where workers continue to engineer new features that make Bosch a leading innovator in lifestyle appliances.
Here is a video showing Bosch's manufacturing facility in North Carolina.
Even more so, dishwashers hailing from this plant supply the entire American region and bordering countries.
Additionally, Bosch also manufactures its dishwashers in Germany, and it covers its entire European market. However, there's also the brand's Benchmark Series 8, which sits at the top of their dishwasher line. It is exclusively made in Germany and ships globally to meet its most luxurious customer demands.
Where Are Bosch Refrigerators Made?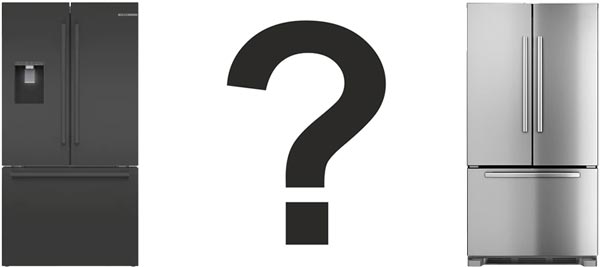 Since 2006, Bosch has made their refrigerators through Whirlpool as a third-party manufacturer in the USA. These refrigerators and freezers are assembled in many of Whirlpool's major American facilities, mainly in Benton Charter Township, Michigan. Bosch understands the demands of its regional markets, so typically, every Bosch fridge or freezer you find in the US or Canada is made in America.
While finding Bosch American-made fridges should be the norm when buying in the USA, we would advise caution when buying them. Given the fact that they are fabricated through third-party partnered facilities, identifying their country of origin is not as easy as finding a label on the back.
Furthermore, all Bosch refrigerators are made with rigorous craftsmanship down to every detail. Looking for a higher price tag in a fridge won't necessarily translate to American-made, so keep this tip in mind when looking for a Bosch refrigerator or freezer.
On the other hand, 1994 saw Bosch's move to open operations in China, where the company would yield its refrigerator manufacturing and assembly process to third-party partners. Some of Bosch's most distinctive designs have been delegated to Bossie Home Appliances Co. Ltd in Chuzhou City, Anhui Province, China, a subsidiary of the BSH corporation. This decision to move their freezer and refrigerator operations to China came in partnership with Siemens Home Appliances Group, with whom Bosch invested over $500 million to establish a 144,50 square meters plant.
Of course, just like American-made fridges are sold in the US and Canada, Chinese-crafted appliances are meant to satisfy the Asian and European markets' diverse needs. While this duality might seem a tad too industrial, one needs to understand that these sorts of corporations are in fact massive in size and demand. With this in mind, it seems like a fairly smart approach to keep every customer satisfied.
What are Other Bosch Products Made in America?
Bosch's makes a variety of American-made appliances, including ovens, cooktops, ranges, and of course, the aforementioned dishwashers. Most of these products are made in their facility in New Bern, North Carolina. This state-of-the-art facility is specialized in the design and assembly of lifestyle appliances.
On the other hand, it is worth pointing out that many home appliances and kitchen accessories are also manufactured in the states of Michigan and Tennessee. These factories are in charge of washing machines, dryers, coffee machines, blenders, bakeware, cooktops, microwaves, and ovens, among other smaller domestic tools.
Bosch Operations and Presence in America
Understanding that Bosch's core operations are much larger than their consumer goods branch, their business spreads across four sectors: Mobility (relating to hardware and software development), industrial technology, energy building technology, and, well, consumer goods (home appliances). Given their broad variety of projects, Bosch has become a heavy investor in America, which, in consequence, led to their presence in the country expanding across nine states.
We do applaud their efforts and investment in the US. Bosch remained a steadily booming and expanding company in the country. It's hard to look over the fact that the company has created significant career opportunities in so many levels of expertise. Not to mention the positive impact on our economy.
Finally, this presence in America is not a new thing. Bosch became one of the very first European names to seek the potential of the American market and craftsmanship. Bosch's first sales offices in the US were opened in Chicago in 1908, San Francisco in 1909, and Detroit in 1910. 1912 saw the first Bosch factory in Springfield, Massachusetts, and in 1947 under very tough circumstances, the first Robert Bosch Inc office would open in New York City.
Below, we listed all the cities and states we found Bosch has been operating in:
Research and technology facilities:
Pittsburgh, Pennsylvania
Sunnyvale, California
Cambridge, Massachusetts
Factories and distribution facilities:
Waltham, Massachusetts
Hoffman Estates, Illinois
Broadview, Illinois
Kentwood, Michigan
Warren, Michigan
Owatonna, Minnesota
Clarksville, Tennessee
New Bern, North Carolina
Anderson, South Carolina
Charleston, South Carolina
What Are Bosch Products Made in Europe?
Just like in America, Bosch looks into eastern European countries such as Poland and the Czech Republic to manufacture their broad catalog of washing machines, dryers, dishwashers, and accessories like coffee machines, ovens, microwaves, etc. As for their refrigerators, Bosch manufactured them in Spain and Greece as early as the first half of the 80s.
In fact, Spain is one of the largest countries to house Bosch's production in all areas, with 8,400 associates across the entire country. It's the second-largest operation of consumer goods for the corporation, the first one being Germany.
Bosch is known for manufacturing its latest, finest catalog products in Germany. As of 2022, the company has mainly been manufacturing its Series 8 line of dishwashers, ovens, laundry machines, refrigerators, and coffee machines in Germany.
Bosch In Asia
Just as any other large corporation, Bosch has capitalized on the massive Asian market and its opportunities. Their massive efforts are rather atypical when you consider that while they may in fact manufactured in China, Bosch remains true to their quality in every dishwasher, refrigerator, microwave, and oven.
This venture is one of the newest ones in Bosch's consumer goods trajectory, as Bosch and Siemens entered the Asian market through China in 1994, the joint venture largely invested in four major manufacturing partnerships and has consistently expanded through the years.
By the year 2000, the Bosch and Siemens partnership had built the largest fully European and foreign-owned domestic appliance industry in Asia. This joint effort would buy all Chinese shares and, to an extent, keep their influence outside of their board, so in a sense, Chinese manufacturing of Bosch products is, in essence, but an extension of their European operations.
To this day, Bosch's appliance manufacturing in Asia mainly takes place in China, delegated to their very own associates and subsidiaries.
Below you'll find a list of their associated manufacturing companies and their facilities locations:
Bossie Home Appliances Co. Ltd plant in Nanjing, China
Boxihua Household Appliances Co., Ltd. in Chuzhou City, Anhui Province, China.
The amazing thing about Bosch in Asia and China, in particular, is that they managed to keep their autonomy while applying their own rules and standards in such a complicated market and strictly bureaucratic system.
Bosch – An Innovative Company's Timeline
Founded by industrialist Robert Bosch in Stuttgart in 1886, Bosch started as a precision mechanics and electrical engineering workshop. Ever since its earliest days, the name Bosch stood out for aiming to achieve a balance between economic success and social responsibility.
Under this same philosophy, Bosch started to provide its technology abroad in 1899, eventually finding a way to root itself as an international company in the United States in 1902. Just as the brand was making a name for itself as an innovating driving force in the motor vehicle sector, it would become apparent that the world needed a way to make home caring more practical. Taking this into consideration, it was in 1929 that Bosch took this matter into their own hands and made one of the first electric refrigerators in history.
Later on, in 1958, Bosch started their first laundry machine series line of production as they started to invest heavily in home practicality for the modern world. Soon would follow their 1964 introduction of the electric dishwasher. According to Bosch's historians, this appliance would end an era of laborious dishwashing by hand that would take up an enormous amount of time from women who were starting to go out and work away from home.
As the '70s brought global acceleration, Bosch started to innovate their already standardized home appliances further. Thus, electric toothbrushes, vacuum cleaners, and tumble dryers combined with washing machines in one and dryer hoods joined the brand's catalog, with the microwave oven supporting every household in Europe.
In the 80s and 90s, higher expectations came about regarding everyday life, so it wouldn't be long until a vast range of functions combined in one would become the norm for home appliances. For Bosch, these innovations came in the form of multipurpose products, such as built-in cookers with integrated microwaves and self-cleaning appliances.
The new challenge ahead would be to target the reduction of greenhouse gases. But as early as 1993, Bosch had already started turning its German, Greek, and Spanish facilities into CFC and FC-free refrigerators setting a new standard for a cleaner footprint in European manufacturers. At a consistently increasing rate, Bosch started expanding their catalog to every aspect of the contemporary home.
By 2016 Bosch had been recognized as the best home appliance brand in Europe and #3rd in the world. The company has an astonishing 77,000 registered patents. This brand's latest Series 8 designs are rooted in the highest quality designs, and it's been renowned for its time-saving and state-of-the-art eco-friendly technology.
A major factor playing a part in introducing Bosch into the modern home is its integrational technological approach toward improvement and practicality. The last decade saw intelligent networks incorporated into every appliance. Starting in 2016, Bosch's Home Connect allowed users to control their domestics through their smartphones and/or tablets for greater convenience. From brewing coffee to doing the dishes or even letting you as an owner knows about precise system failures only paved the way for this technological behemoth of a company to become synonymous with reliability.
The one amazing thing when buying Bosch products wherever they may hail from is that all of them do follow and deliver truthfully to their quality promises.
Related Article: Where Are LG Appliances Made?
Final Thoughts on Bosch Home Appliances
Bosch home appliances are more than reliable, they live up to the standards of their reputation as a globally leading technology and consumer goods manufacturer. Ranked not only as the most trusted home appliances in Europe but in America four years in a row, 2019-2022.
While Bosch may not be a 100% American corporation or brand, its historical presence in the US translates into performing large shares of America's productivity-enhancing employment. Multinationals such as this create a diversified local economy and increase a considerable inflow of capital.
Their popularity and technician-approved appliances, on another note, make them easy to repair, even more so when almost every appliance in their catalog is manufactured in the USA.
That does it for this article, if you have any further questions or comments, or you think we missed something regarding the question of where are Bosch appliances made, let us know in the comments below.
Hi, my name is Kevin and I'm from Pittsburgh, Pennsylvania. Choosing products made in America is important to me because it supports local economies, creates jobs, helps the environment, and ensures ethical labor practices. I also find that American made products are usually of higher quality so although they're a little more expensive, you save money in the long run. Before starting this website I was in the USMC infantry and nowadays I work on this website as a hobby.