Whirlpool stands out as one of the leading manufacturers of household appliances. They sell products under other name brands like Maytag, Amana, KitchenAid, Jenn-Air, and Consul. A distinctly American brand founded in 1911 in Benton Harbor, Michigan, the company has always set new milestones for the industry. With all of that in mind, you may wonder where they make Whirlpool.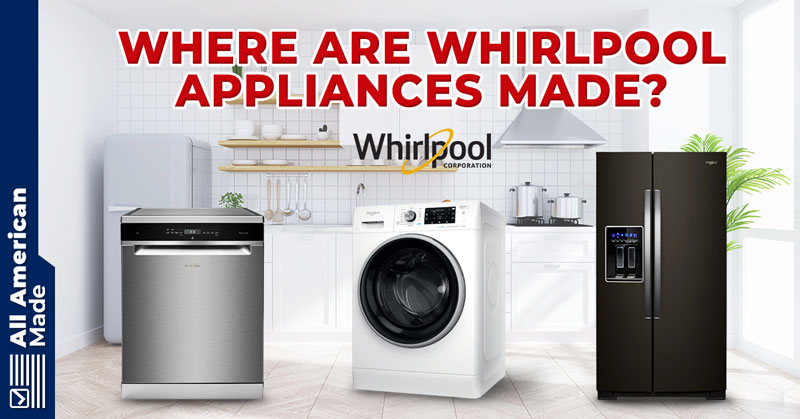 If you'd like to learn more about where they make Whirlpool products and their American roots, keep reading because we will definitely get into more detail about them.
Over 80 percent of Whirlpool appliances are made in the USA. The Whirlpool company has nine manufacturing facilities in the United States and over 70 manufacturing and technology research centers worldwide.
More Information about Whirlpool Manufacturing

Whirlpool headquarters itself in Benton Charter Township, Michigan, sitting two hours from Chicago and three hours from Detroit. Their headquarters alone employs 2,058 employees.
Its manufacturing facilities in the USA include:
Amana, Iowa (3,000 employees)
Tulsa, Oklahoma (2,000 employees)
Cleveland, Tennessee (1,500 employees)
Clyde, Ohio (3,000 employees)
Findlay, Ohio (2,600 employees)
Greenville, Ohio (1,000+ employees)
Marion, Ohio (2,500 employees)
Ottawa, Ohio (400 employees)
Fall River, Massachusetts (51 employees)
How Many People Does Whirlpool Employ?
For the year 2020, Whirlpool reported having employed approximately 78,000 people out of which 27 percent are employed in North America. Here's Whirlpool's sustainability report for 2020, in case you want to dig into some numbers and statistics.
Who Owns Whirlpool?
Now that you've learned a little bit more about their business, you may find yourself wondering who is behind Whirlpool. Whirlpool is owned by Whirlpool Corporation, which means no other company owns them.
As a public company, Whirlpool Corporation's shares are traded freely; and that means that we get to know exactly who is behind them. Here's a chart with the top 5 Whirlpool Corp shareholders and mutual funds to date:
| | |
| --- | --- |
| Top 5 Shareholders | Top 5 Mutual Funds |
| The Vanguard Group, Inc. | Vanguard PRIMECAP Fund |
| PRIMECAP Management Co. | Vanguard Total Stock Market Index… |
| BlackRock Fund Advisors | Vanguard Mid Cap Index Fund |
| SSgA Funds Management, Inc. | Vanguard 500 Index Fund |
| Greenhaven Associates, Inc. | American Balanced Fund |
If you'd like to go into a little more detail about Whirlpool's ownership, here's a CNN Business article listing Whirlpool Corp's top ten stockholders and more.
Who Makes Whirlpool Appliances?
Whirlpool makes its products. They do not hire a subcontractor to make their products. In fact, Whirlpool Corporation has several other subsidiaries that fall under its control, such as:
Maytag
Consul
Inglis
Vitamix
Ignis
Amana
Jenn-Air
Indesit
KitchenAid
In total, they hold 11 major brand names as subsidiaries. The home appliance company belongs to the Fortune 500 company list, and they see an average revenue of $21 billion every year.
Related Article: What Appliances Are Made in America?
Who Makes Whirlpool Refrigerators?
For the refrigerators that it sells in the United States, Whirlpool exclusively manufactures them in the United States. Most of its refrigerators come from Ohio, but its French Door models come from Amana, Iowa.
People choose the Whirlpool brand because a well-maintained Whirlpool will last between 14 years and 17 years. An LG fridge, in comparison, will only last 13 years, and Samsung fridges last ten years on average. Keep in mind that this also depends on how well you maintain your fridge, but Whirlpool has superior materials and is made better than the other home appliance brands.
Identifying American Made Whirlpool Appliances

Because they come with a "Made in USA" sticker, you can spot the American-made appliances easily. It becomes a selling point for companies that proudly hold their American roots. If you're on the lookout to buy an American-made whirlpool home appliance, check for the sticker, it's your best bet!
Many of the Whirlpool home appliances made in the USA facilities will have at least some of the gaskets and other components that they manufactured in Middlefield, Ohio.
We would advise that you exercise caution when buying online because they don't tend to label it as openly. That's not to say that you shouldn't buy appliances online, but you may want to speak with someone from their online customer service before purchasing to make certain that you buy American-made.
In stores like Home Depot, they make a point to openly label this information to ensure that you know you're buying American-made appliances.
What Solely American-Made Whirlpool Appliances Can You Buy in the USA?
Here's a fun fact for you that may send you looking for Whirlpool's Ohio-built home appliances. Consumer Reports issued a survey of over 50 consumer appliances, and those built-in Ohio were regarded as some of the best and most reliable. Some of the Whirlpool products that did well from Ohio included:
Amana clothes washers
Whirlpool clothes washers
KitchenAid dishwashers
KitchenAid stand mixers
Vitamix blenders
Most of the Whirlpool dishwashers are made in Findlay, Ohio. When we say Whirlpool, we mean all the labels that fall under this brand, like Maytag, KitchenAid, JennAir, Amana, and Whirlpool. You have one JennAir dishwasher that they don't make in the USA, and one of the ADA-compliant Whirlpool dishwashers also gets made overseas, but they make most of them in the USA. Check ahead of time to be sure.
For the clothes washers, the company manufactures Amana, Whirlpool, and Maytag in Clyde, Ohio. They make Amana dryers in Marion, Ohio. Want a front-loading washer? Both of the Maytag Maxima washers come from Clyde, Ohio.
They make KitchenAid dishwashers in Findlay, Ohio. Meanwhile, the chest and upright freezers from Maytag and Amana come from Ottawa, Ohio. KitchenAid stand mixers come from Greenville, and their ranges are from Cleveland, Tennessee. Again, you can easily find the ones made in the USA because they will proudly have the label. Americans want American-made products when possible.
According to the New York Times, an estimated 80 percent of Whirlpool's home appliances come from their factories in the United States. In an age where many corporate giants have moved their operations elsewhere, we would call this a fair amount of manufacturing that takes place in the United States from this 101-year-old company with a deep American heritage.
Identifying Non-American Made Whirlpool Appliances
The biggest sign comes from the fact that it costs less than the American-made Whirlpools. We would, however, exercise caution if you believe that you have a good deal. The biggest issue with the products made in other countries is that they may not have the same strict standards as what the USA upholds.
More Americans have become conscious of the "Made in USA" label, and they are often willing to pay more for it because it supports our nation. We make good products that have durability in comparison to elsewhere. If the price seems suspiciously low, check the packaging before you buy or request an American-made Whirlpool.
In most cases, this shouldn't be a problem since Whirlpool does a good job at remaining American-made.
Where are Whirlpool Products Manufactured?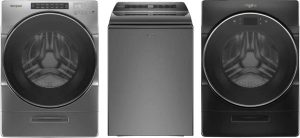 We have gone on extensively over where they make the Whirlpool products in the USA, but we should outline some of the other places where they make Whirlpool products. Keep in mind that this brand has an international presence in over 170 countries around the world. Having the manufacturing near that location can help them to sell to that market.
Some of the places where Whirlpool has manufacturing plants include:
India (4 factories)
China (2 factories)
Brazil (3 factories)
Poland (3 factories)
Italy (5 factories)
Turkey (1 factory)
Slovakia (1 factory)
Argentina (2 factories
Russia(1 factory)
Mexico(3 factories)
You have an exceptionally even spread as far as where Whirlpool chooses to manufacture its products. They place factories in an even fashion without heavily focusing on a single country. This makes sense because of the issues we've been seeing with the global supply chain.
We see that they have the heaviest focus in Italy and India. Whirlpool remains one of the top employers in Italy, and they're the largest producer of home appliances in Italy. While we don't know how popular they are in Italy, we do know that Whirlpool in India holds a 25 percent share of the market. That should highlight to you one of the reasons that they established four factories in India.
Whirlpool has state-of-the-art manufacturing facilities in Pune, Faridabad, New Delhi, and Pondicherry.
Should You Buy the Whirlpool Brand?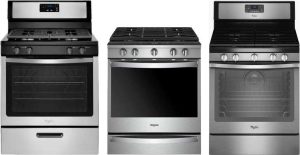 We would say that this would be a fine brand if you were to buy from them since 80 percent of their products in the USA were made there. They create such a large number of jobs in America, which they estimate at around 28,000 total. Around 15,000 can be found in the manufacturing of Whirlpool products.
They do have plenty of manufacturing facilities elsewhere, but you can find plenty of American-made products from them.
The other thing that we hope you noticed was how Whirlpool largely focuses most of its manufacturing facilities in the U.S. They seemed to favor this country over the others, with over eight of its manufacturing facilities in the U.S. The only country that approaches that number is Italy, with five Whirlpool manufacturing facilities. They went heavier with manufacturing in the USA, which shows that they still favor the United States.
One of the curious things comes from how they chose five manufacturing facilities in Ohio. This choice may be because the state of Ohio has more policies favorable to manufacturing, which is why they also tend to have automobile companies manufacturing here as well.
Want to see more about how Whirlpool appliances are made? Check out the video below to get a glimpse of the behind-the-scenes Factory tour.
Is Whirlpool Made in China?
China only has two Whirlpool factories, one in Hefei and one in Shunde. With over 33 manufacturing facilities around the globe, this means that only six percent of Whirlpool's manufacturing comes out of China. In comparison, 27 percent of its manufacturing comes out of the United States. The company as a whole remains well spread out with its manufacturing facilities across the globe.
Whirlpool has six manufacturing plants in Asia, six in Latin America, 11 in Europe and the Middle East, nine in the USA, and three in Mexico.
In the past, other companies would manufacture home appliances in China, which hurt American-made brands like Whirlpool. At the start of 2017, the USA began to impose heavier tariffs on Chinese-made goods, making this practice less profitable.
To put this into perspective, Samsung now pays 52 percent, and LG products face a 32 percent duty. Both of these companies were manufactured heavily in China and South Korea. We must protect the companies that bring jobs to America.
Is Whirlpool Made in India?
Whirlpool has four manufacturing facilities in India that including New Delhi, Faridabad, Pondicherry, and Pune. In total, Whirlpool India has 2,523 employees across its locations. Whirlpool India is an 82.3 percent subsidiary of Whirlpool Corporation. First established in 1995, Whirlpool India hopes to become the biggest Whirlpool manufacturer in Asia.
Closing of Factories in the United States: A Problem?
On the whole, we would say that Whirlpool has done a good job at keeping its jobs in the United States. However, that doesn't mean that the company hasn't closed down manufacturing plants. Particularly during the Great Recession in 2008, Whirlpool shut down three of its manufacturing plants in the USA. They closed one in La Vergne, Tennessee; Jackson, Tennessee; and Oxford, Mississippi. Whirlpool also closed its plant in Reynosa, Mexico, in 2008.
While they closed these factories down, they announced the building of a new factory distribution center in 2020 in Tulsa, Oklahoma. This shows you that the brand remains committed to keeping jobs in America.
Conclusion:
Whirlpool remains an uncommon corporation in that it largely remains American made, especially with the products that it sells in the U.S. An estimated 80 percent of its home appliances come from the United States. Not only do they have factories in the USA, but they have continued to build new ones up until now. We would still advise watching the packaging, but you can find American made products from the Whirlpool brand.
Hi, my name is Kevin and I'm from Pittsburgh, Pennsylvania. Choosing products made in America is important to me because it supports local economies, creates jobs, helps the environment, and ensures ethical labor practices. I also find that American made products are usually of higher quality so although they're a little more expensive, you save money in the long run. Before starting this website I was in the USMC infantry and nowadays I work on this website as a hobby.