An iconic American brand born 60 years after the birth of America, John Deere has a history of innovation in the United States almost as old as our nation. They invented the first steel plows capable of plowing the American prairie soils without clogging. With that in mind, many people wonder where John Deere tractors are currently made.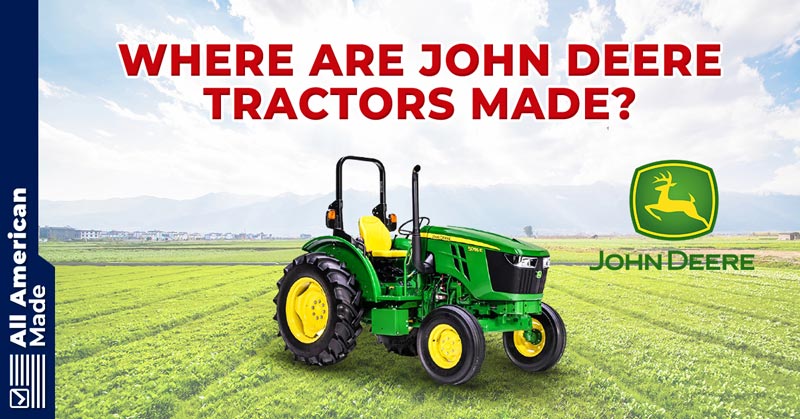 In the rest of this article, we'll explore where John Deere tractors are made and share other interesting facts about this legendary company.
Most John Deere tractors are made in the USA, including several of the most popular models like the 9R, 8R, and 7R series. Not all John Deere tractors were made in the USA, however, as they have manufacturing facilities around the world.
Keep reading if you'd like to discover more about the John Deere brand.
Where Are John Deere Tractors Made in the USA?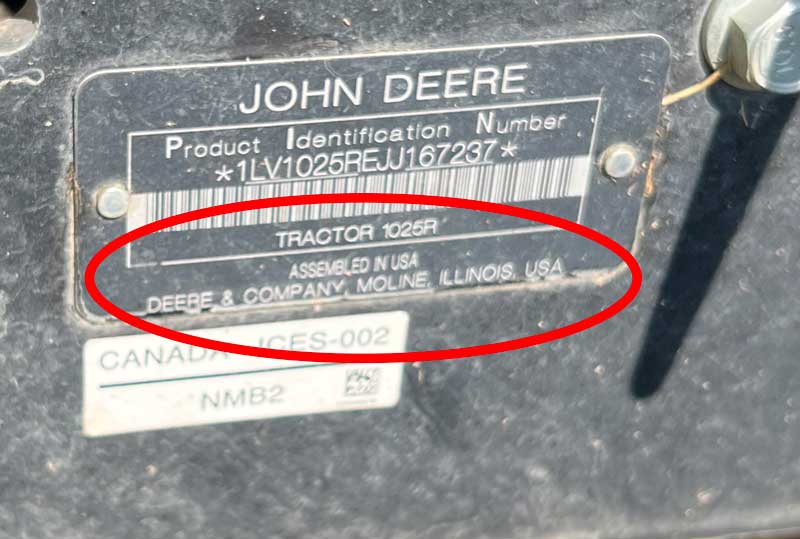 John Deere makes many of its tractors within the United States. The table below shows where their tractors and components are made within the United States. Keep in mind that the estimated number of workers and the manufacturing location of different products vary from time to time. That said, the table below still provides a good rough estimation.
| | | |
| --- | --- | --- |
| Location | Workers | Products Made |
| Waterloo, Iowa | 3000 | Tractors, cabs, agricultural components |
| Ottumwa, Iowa | 200 | Baling and foraging equipment |
| Dubuque, Iowa | 200 | Crawlers, backhoe loaders, forestry, knuckle-boom |
| Ankeny, Iowa | N/A | Tillage equipment, cotton harvesters, and sprayers |
| East Moline, Illinois | 2400 | Large combine harvesters |
| Moline Illinois | 900 | Large combine harvesters |
| Valley City, North Dakota | 250 | Planting equipment |
| Thibodaux, Louisiana | 425 | Sugar cane equipment |
| Coffeyville, Kansas | 450 | Agricultural components |
| Grovetown, Georgia | N/A | Hay and forage equipment and small tractors |
This table highlights some of the jobs that John Deere offers to Americans around the country. The brand enjoys considerable popularity even among workers due to the benefits and popularity of the brand in rural communities. In Iowa, many employees will tell you how they left their previous job because a position at John Deere opened up.
People feel strongly about the brand, but that also shows you how John Deere goes above and beyond to provide Americans with great opportunities. In total, John Deere employs 31,000 Americans in the United States, with an estimated 67,000 people working for them internationally.
Many of their jobs also go to Canada, which means that over half of John Deere's workforce remains either in American hands or with our friendly Canadian neighbors to the north. While Canada isn't exactly in the USA, it puts the jobs next door to us, and it shows you how they aren't trying to take the easy way out by paying less because Canada offers a similar pay structure to that of the United States.
You wouldn't put a manufacturing plant there to outsource the work like you would with China.
If you'd like to see Americans at work, check out this video detailing how John Deere Tractors are made!
Foreign Made John Deere Tractors – What Countries Are They Made In?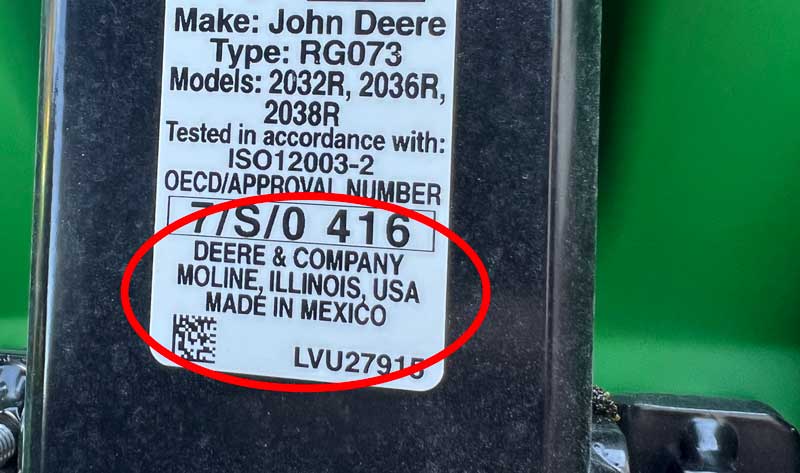 Some other countries where John Deere tractors are made include:
Mexico
Brazil
Germany
Argentina
Finland
France
India,
The Netherlands
China.
One big reason John Deere manufactures internationally is that having a manufacturing facility closer to their target customers in each country makes distribution much easier. This isn't nearly as big of a deal for things like tools or small TVs, where the cost of shipping is relatively low. Still, many tractor companies, like automakers, have begun to discover the lower cost of having agricultural equipment made overseas to increase profits.
As you can see, not everything remains rosy with John Deere, and you still need to exercise caution when choosing one of their tractors. For example, beware of the mid-size tractors with John Deere since they have begun to have them imported from Germany. Many of its smaller tractors use a Yanmar diesel motor, which is of Japanese origin.
Made in the USA can prove a tricky subject because of how it can either mean assembled in the US with foreign parts, or it can mean fully made in the USA, which is rare. No major equipment gets fully made in the United States anymore because of the global supply chain and a lower cost overseas. If you can make a greater profit and come out with more, a lot of companies will feel tempted by that bait. You'll notice many John Deere tractors are simply labeled "assembled in the USA," which is not nearly as impressive as a product that is fully made in the USA. If you aren't sure of the difference, we have a full article here where we explain what the made in USA tag means and why it matters.
John Deere, however, still manages to do better at this than most. You can learn more about the history of the company here.
Which John Deere Tractor Models Are American Made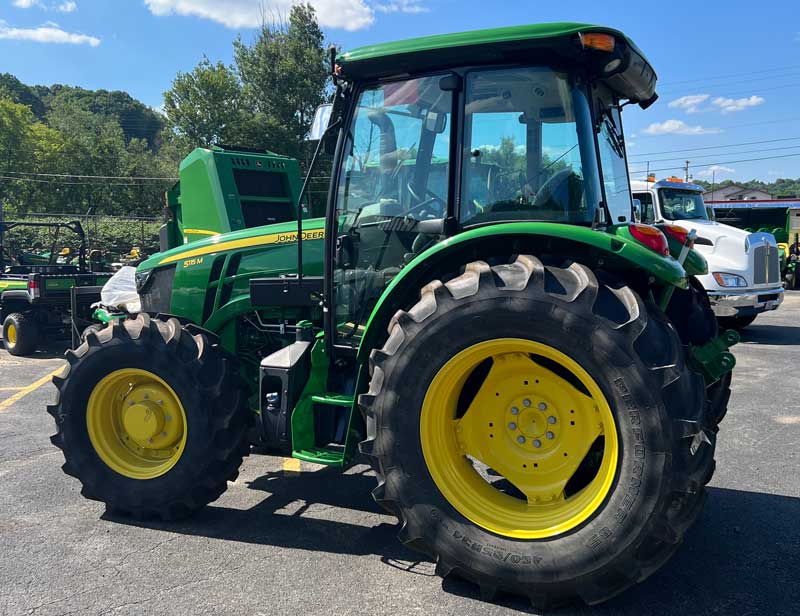 The odds are high that when you buy a John Deere, it will be made in the USA. However, like with anything on American-made products, we would advise research to ensure that you have truly bought American-made. The risk remains lower here, however, than with other products because of the size.
Most John Deere tractors are made in the USA. Speak with the company to request this specifically if you feel worried that you would buy a product made in China or elsewhere.
Some of the John Deere models made in the USA include:
7R series
8R series
9R series
Combines
John Deere manufactures its smaller tractors in Augusta, Georgia. Your large frame tractor models come from Waterloo, Iowa.
Where to Find American-Made Tractors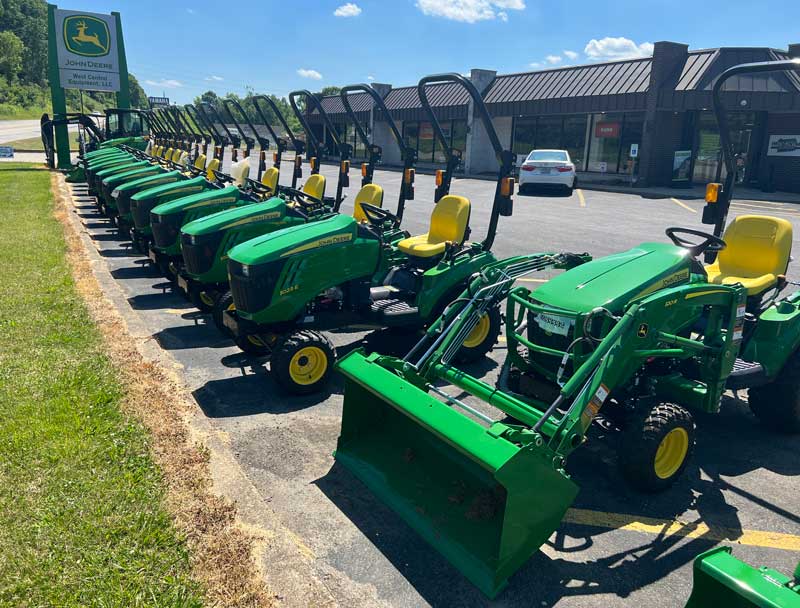 Much of the process of manufacturing tractors resembles that of automakers. The manufacturing plants act more like assembly plants in that John Deere and other tractor brands will buy from a network of suppliers.
John Deere, however, unlike some of the other tractor brands, does have a facility where it makes some of its own parts on American soil. Coffeyville, Kansas, helps with the manufacturing of some of the components, such as:
Hydraulic pump drives
Agricultural powershift transmissions
Planetary gearboxes
Hydraulic motor-driven transmissions
Industrial axle components
This example shows the five main product lines that John Deere makes. Many of the components made in Coffeyville will wind up in the sugar cane harvester, cotton harvester, feller buncher, or high-capacity nutrient applicator.
Unfortunately, even despite the good news, John Deere, like some of the other tractor manufacturers, will have a mixture of components both of US origin and an origin from overseas.
We would, however, like to praise John Deere in that they remain one of the most American-based companies of the other tractor choices. John Deere is known for doing some of its own steel casting and engine manufacturing in Waterloo.
Among its competitors, John Deere stands out as the only company that remains an original American company, with its headquarters in Moline, Illinois. Let's show you examples of companies that no longer have U.S. ownership.
Case-IH, for example, belongs to the CNH corporation, which has its headquarters in Basildon, UK, but it has become owned by Italy. Bobcat, once a strictly American-based company, was bought out by Doosan of South Korea. AGCO, while it might have had its headquarters in Duluth, Georgia, since 1980, is owned by a combination of corporate interests, many with deep European ties. Kubota? That's a Japanese brand that has always been of foreign influence.
John Deere is the only company among tractor manufacturers that remain wholly American.
Are John Deere Tractors Still Made in the USA?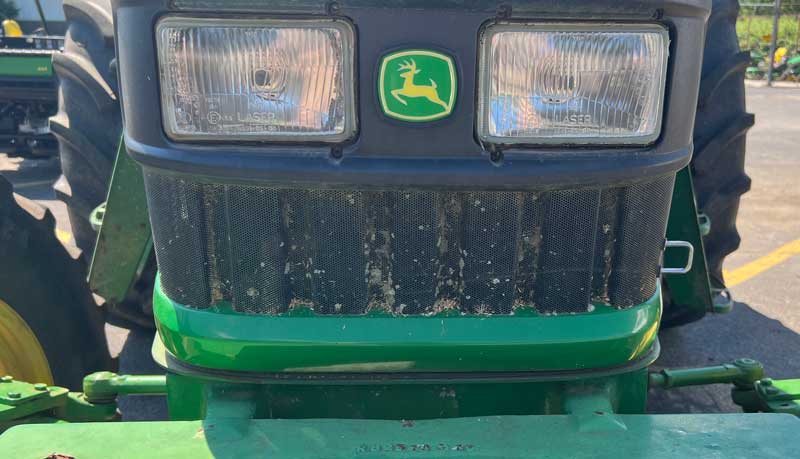 John Deere is an American company and many of its tractors are still made in the USA. The company has begun to see the advantage of bringing work to other countries, but over half of their jobs remain in America and Canada. The key tractor production locations for John Deere include the USA and Germany. If you wanted to guarantee an American-made tractor from John Deere, buy from the 7R, 8R, or 9R series.
John Deere sources its 5M tractors from a manufacturing facility in Augusta, Georgia.
Beware of the 6R series tractors. While John Deere used to make all of its bigger tractors in the USA, they have begun to outsource the 6R series tractors to Mannheim, Germany. The 5G series of orchard and vineyard tractors come from Rovigo, Italy. 5E tractors come from the Hadapsar facility near Pune, India, to the southeast of Mumbai.
As you can see, a growing number of John Deere tractors have begun to come from elsewhere, and it remains unclear whether this trend will continue. For the time being, most of the John Deere tractors remain made in the USA.
Where are the 5 Series John Deere Tractors Made?
The 5 series tractors from John Deere continue to be produced in Augusta, Georgia, or more specifically at Grovetown, a part of the Augusta metropolitan area. They first began production here in 2016, and they have continued to produce them ever since.
The 5 series utility tractors have become a popular choice because of how they have more horsepower, transmission, and cab options to meet the needs of your specific requirements. While other facilities also make the 5 series, few of them produce as many as the factory in Grovetown. In fact, the entire 1 to 5 series gets produced at Grovetown, a testament to John Deere keeping American jobs in America.
Are There Any Tractors Manufactured in the USA?
Along with the John Deere legacy, you will find several other brands in the industry, and it remains a competitive niche. Several companies produce tractors in the United States that include:
Ventrac
Massey Ferguson
Tuff-Bilt
Power Trac
Tilmor
New Holland
Important to note: While some of these companies do manufacturing in the USA, not all of them are American-owned companies. New Holland, for example, has its administrative headquarters in Turin, Italy. It does keep another headquarters in New Holland, Pennsylvania.
One of the Most Admired Corporations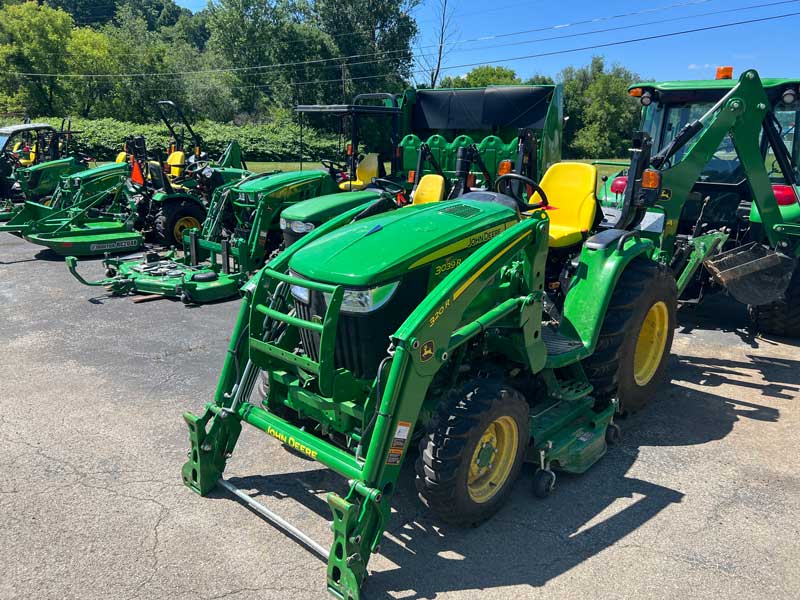 Fortune conducted a poll of 1,500 companies to determine the businesses with the most admired reputation. On that cherished list, you had Amazon, Apple, Berkshire Hathaway, Walt Disney, and Deere & Company. John Deere ranked 43rd place among 1,500 companies. You only need to go out to the countryside and speak with a few farmers to realize the truth of that poll. Few people say anything bad about John Deere. You can learn more about this honored title with John Deere right here.
Conclusion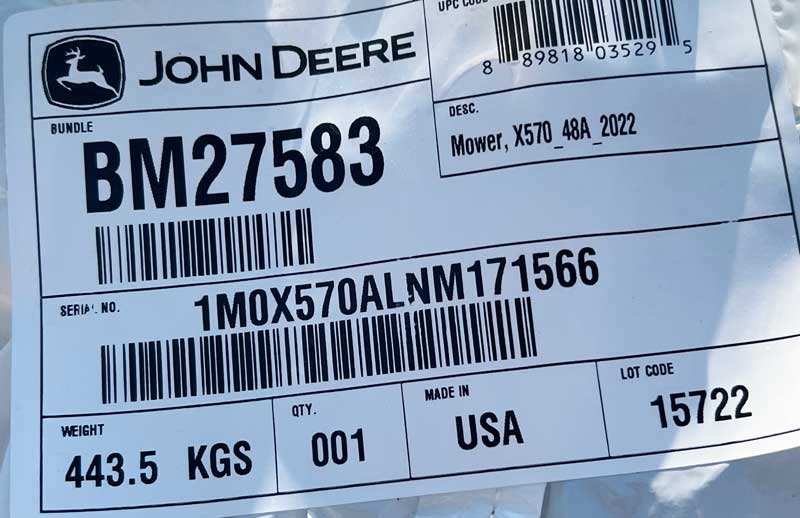 A large portion of the John Deere tractors remain made in America, and you support a fully American brand with this company. The roots of this company alone make it worth supporting since they have been here from the beginning. We hope that this trend will continue where they keep the work in the USA, but they have begun to outsource to other countries with time.
If you'd like to learn more about John Deere as an inventor and innovator, check out his biography here.
Hi, my name is Kevin and I'm from Pittsburgh, Pennsylvania. Choosing products made in America is important to me because it supports local economies, creates jobs, helps the environment, and ensures ethical labor practices. I also find that American made products are usually of higher quality so although they're a little more expensive, you save money in the long run. Before starting this website I was in the USMC infantry and nowadays I work on this website as a hobby.