Ashley Furniture is a distinguished family ran business and has been since its foundation in 1945. Based in Arcadia, Wisconsin, the now father and son duo have managed to retail their designs in over 2000 locations across the globe. To this day, it's become the largest American furniture retailer for 13 consecutive years, spawning a steady $5.7 billion revenue since 2018. Being that it's such a large company, many customers wonder if Ashley furniture is still made in the USA.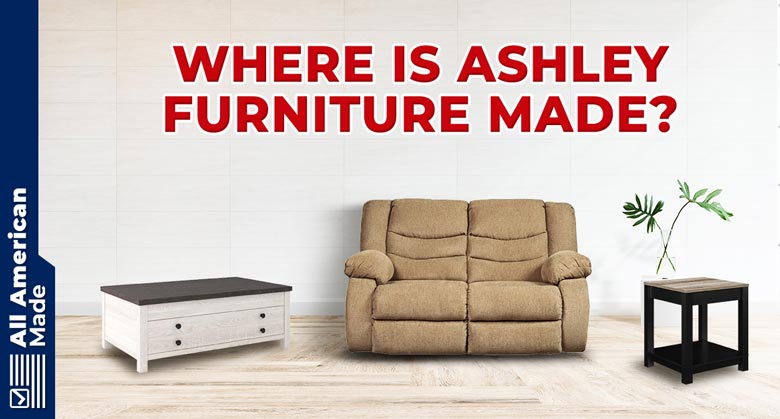 In this article, we'll share exactly where Ashley Furniture is made and other important information that you should know about the company.
About 60% of Ashley Furniture is made in the USA at manufacturing facilities in North Carolina, Mississippi, Florida, Pennsylvania, Indiana, and Wisconsin. About 40% is made abroad, in both China and Vietnam.
Where Can I Find Ashley Furniture Made in the USA?
Unfortunately, Ashley Furniture doesn't share where any of its products are made. They don't include this in any labels or seals on their furniture. Nevertheless, chances are if you visit your local Ashley HomeStore, you'll find all American-made furniture with American-sourced textiles and materials. If you were to walk into an Ashley Furniture store today or purchase one of their products online, chances are it is made in the USA, but it's not possible to know for certain.
If you do shop online, make sure you're buying directly from the official Ashley Furniture website.
Overall, Ashley Furniture has a great ratio when it comes to domestic production. While maybe not 100% of their products are completely grounded in the USA, they're still pretty high when compared to other companies. We really like that the company makes an effort to keep as much manufacturing as it can in the USA while supporting the American economy and American workers. That said, we really wish Ashley Furniture would be more transparent about exactly where products are made. If you have nothing to hide (which we don't believe they do), it doesn't make much sense not to display exactly where each product is made.
Who Owns Ashley Furniture?
Ashley Furniture is a family business that is currently owned by Ron and Todd Wanek, the company is kept private. Headquartered in Arcadia, Wisconsin, the father and son team has made their objective to slowly but surely reduce foreign exports and make their workforce as largely sustainable and American as possible.
Where in the USA is Ashley Furniture Made?

Ashley Furniture's American manufacturing facilities can be found in the following states:
Trempealeau, Wisconsin
Leesport, Pennsylvania
Advance, North Carolina
Brandon, Florida
Fort Wayne, Indiana
Ecru, Mississippi
As for their distribution facilities, there are nearly a hundred all across the USA.
Their Headquarters can be found in their Wisconsin facility. By the year 2000, Ashley Furniture had employed more people than Arcadia's population. On the other hand, this is an ever-growing company with priority plans on developing and expanding its American facilities. In 2012 they announced a $6 million expansion plan to their distribution plant in Wisconsin, becoming the largest one in the USA.
More recently, Ashley has laid claim to 10 million square feet in warehouses, offices, and manufacturing spaces throughout the country. This has all been a part of chairman's Ron Wanek commitment to continuously focus on growing domestic production as a priority.
Considering the hard task it would be to maintain solid revenue while producing locally, Ashley's has done a pretty solid job at keeping an even balance while increasing American production. Albeit, their competitive pricing in relation to their labor force speaks highly of a local success story.
Is Ashley Furniture Made From Sustainable Wood? – Does it Come From the USA?
As of 2022, Ashley Furniture uses engineered wood, also known as man-made wood. This is crafted from a wide variety of derivative lumber products, manufactured by binding together fibers, veneers, and strands from residues and even sometimes locally grown and "defective" labeled trees like reclaimed pine. On a larger scale, this material blend significantly reduces their carbon footprint, but traditional lumber hailing from trees is still a part of their craft.
Most of this man-made wood is processed and created in the United States as a viable echo-friendly solid wood derivate. Given their wood mill facilities in the mountains in North Carolina and their apparent plans to keep it at a steady growth pace, Ashley's is a set on American sustainability.
Ashley Furniture's Footprint in America
An ecological approach is yet another crucial question in the minds of customers, this delicate subject becomes even more present when a company uses natural materials such as lumber for basically every product. In recent years, Ashley Furniture admitted its large footprint. They announced that by 2022 they would target energy reduction as a priority across their multiple manufacturing and distribution facilities.
This plan is expected to take action through renewable energy sources and new technologies, of course. By 2025, the company expects to make a shift towards the electric truck industry as the means to transport delivery and other operational trips. Additionally, upcycling plans to reduce landfill waste streams in their facilities throughout the USA. is also among the company's intention to reduce their carbon emission print in America.
Ashley Furniture has been awarded the first-ever corporate social responsibility award for keeping sustainability at the top of their minds. Reportedly, their contributions and methods give back to the community of Arcadia and save up to 13,000 barrels of oil per year. Two hundred eighty thousand tons of wood per year is the estimated recycled trees Ashley produces, additional to 1,500+ tons of metal and 540 cardboard trailers.
Finally, engineered wood can be found as the main element in almost every Ashley furniture piece. Although their lumber blends tend to include acacia and pine, these come 100% from recycled trees according to the company's social responsibility statements and federal communications. By using sustainable and conscious materials in the backbone of its production, we can say that's a huge step toward echo-friendly woodcraft.
Is Ashley Furniture Good?
Ashley Furniture has oriented toward mid-range budget-minded customers. With this in mind, they still offer reasonably great, durable products. There is good reason for this company to be the largest furniture manufacturer in America.
Their wooden products have solid standards, even when you consider softwoods are their main source material. The most common criticism is that engineered wood and veneer pieces can seem a tad frail and, therefore, less durable, but of course, softwoods tend to be more delicate in both looks and feel, regardless of the craftsmanship behind it.
Typically, veneer and engineered lumber are part of their most accessible price tags, which make up for the largest and most popular sold products. If sturdier wood types are part of your needs as a customer, then you might want to look at some of their pricier articles. As Ashley's is known to blend their engineered softwoods with solid woods such as acacia and reclaimed pine trees, these make for more robust and resistant beds, sofas, and whatnot!
Either way, you can expect top-tier quality with a budget-friendly tag on your furniture.
Popular Related Article: Office Chairs Made in the USA
Ashley Furniture's Role in the American Community
Ashley Furniture supports America in different ways beyond reducing the country's carbon footprint. And perhaps the most evident one is by creating more career opportunities through their continuous expansion across the USA. Be it in the manufacturing department, sales associates, or even cashiers, Ashley plans to invest in America and create a vast array of opportunities in the nation on a larger scale.
For instance, Ashley's is the main supporting company of Operation Shut Eye. A partnership between Tempur-Pedic and the furniture manufacturer to help donate top-quality mattresses and campaign furniture to the USA. Special Forces. These include active duty and retired servicemen alike. Needless to say, this token of appreciation to the men who risk their lives spells out a great sense of community.
Furthermore, there's a sales percentage that goes out to fund different health research services. Mayo Clinic, for one, receives a chunk of donations to accelerate their cell-based advancements on heart defects.
Another association that receives considerable donations from the company is the American Heart Association. The Red Sofa Tour partnership helps raise awareness on cardiovascular disease, which is a massive problem in the United States.
Last but not least, Ashley Furniture is also a Hope to Dream partner, which donates bed sets and mattresses to under-served children worldwide and of course in the USA. Ultimately, this initiative's impact in America has been considerable, further improving the system.
Ashley Furniture Made in Asia
Ashley Furniture currently holds four manufacturing centers in Asia, with larger production focused across their three facilities in Vietnam and only one in China. There are also two distribution facilities, one in Vietnam and one in China.
Manufacturing Facilities
Tan Uyen Town, Vietnam (40 Acres)
Binh Duong City, Vietnam (6.8 Acres)
My Phuoc 3 lp, Vietnam (18.5 Acres)
Millennium Factory (61 Acres)
Distribution Facilities
Ho Chi Minh, Vietnam (12 Acres)
Kunshan-Jiangsu, China (5.4 Acres)
Ashley is one of the most prominent furniture companies in the South Pacific Rim. Just like it is with American-made furniture. Items assembled in Asia are distributed all around the continent and in neighboring countries such as Mongolia, Taiwan, Indonesia, China, South Korea, and others.
As of 2019, these facilities have been known as ETA or easy-to-assemble factories, further enhancing their productivity and sufficing increasing demand in nearby regions. Now, Ashley Furniture has made it well known to investors that they're looking forward to expanding their reach across the South Pacific region. What this would mean in relation to their alleged plans to reduce production operations in the region is hard to predict.
Knowing that the American market is constantly looking forward to purchasing locally manufactured products, it's easy to speculate that Ashley's is simply employing a very similar business model in Asia. Satisfying overseas demand with a local workforce seems like the most affordable move when looking to expand from an industrial perspective.
Ashley Furniture Other Interesting Things to Know
Ashley Furniture is rooted in 1945 before becoming Arcadia Furniture in the 1970s. They would specialize in wall systems and tables before being acquired by the Chicago-based group Ashley Furniture Corp. It would remain this way up until 1982, when the two companies merged. Still, with humble roots, they would focus on quality over quantity before expanding.
During the 1980s, Ashley furniture became one of the first American companies to learn about the economic prospects of production in China compared to the USA. In light of the need to make higher quality products, however, Ashley decided to start reducing its workforce abroad. Today, less than 10% of their products are made in China, leaving a remaining estimate of 20% in Vietnam. Today, 60% and growing operations take place in American facilities.
Soon enough, the family business became the largest furniture manufacturer in the United States. Producing about 18,000 jobs nationwide, a workforce that's at its core manufacturing all across their 5 American plants. With this local craftsmanship, especially in the bedroom and living room area, comes quality control in each and every plant.
Furthermore, Ashley's has developed through the years their very own alternative to leather, DuraBlend, offering high standard quality at an affordable price tag. It consists of 57% polyurethane, 26% poly/cotton, and 17% leather. As you might guess, it is way more durable and superior to traditional leather, created to offer a "lifetime guaranteed" material.
What Are Other American-Made Alternatives?
Although American upholstered furniture has been seemingly beaten by overseas companies and affordable pricing, Ashley Furniture is a great example of good quality and price relation. However, if you're not convinced of their bid, here are a few other alternatives for you to support the American economy. All of these alternatives offer great furniture made in the USA.
Dutch Crafters
Dutch Crafters builds to your specifications, this heirloom company distributes Amish manufactured pieces straight from their communities in Ohio, Pennsylvania, and Indiana. While their furniture might be pricier, you're guaranteed a piece for a lifetime made from one of the hardest working communities in the country.
Perhaps Dutch Crafters' biggest hook is that they really are high-end, crafted from their own soil and cultivated trees.
American Signature Furniture
Based in Columbus, Ohio, American Signature prides itself on offering American-made A-graded manufactured pieces. This company's experience hails from the post-world war years when they started attending to the market's massive demand for furniture; hence they've expanded all across the USA. since then with over 120 stores in 19 states.
Even more so, their trajectory dates a long way back, working with suppliers and retailers based solely in America. It's one of the most easily recognizable privately owned furniture companies in the country, with a dynamic range of prices as well.
Maiden Home
Based in North Carolina, Maiden Home focuses on the distribution of American artisan products crafted from locally sourced raw materials. In the market, Maiden Home offers leading-time delivery and return policies. Furthermore, this company fills the massive gap between overpriced big box stores with dubious quality and the often out-of-reach boutique furniture retailers.
Popular Related Article: American Made Mattresses (Source List)
Wrap Up:
If you're looking to furnish your home, you know there's a massive market with a broad range of prices, quality, policies, and values as well. Needless to say, investing your hard-earned cash should be a fulfilling experience that gives you peace of mind.
Within their catalog, Ashley Furniture suits all sorts of styles, whether it's an heirloom, modern or minimalistic, there will be a fit for you. Expanding their options has been one of their market hooks for nearly six decades. Now, this includes trustworthiness, which has made them quite a name.
Ashley Furniture suits our standards for a well-balanced quality-price relationship within an American-made company. At the top of our mind is the sense of community and opportunities this brand provides for the USA. is arguably one of the strongest points they have in their favor.
It's a real chance for you to build your home while propelling American jobs, reducing the country's carbon footprint, and directly giving back to the community through various charities and projects.
That does it for this article. If you have any further questions regarding where Ashley Furniture is made, let us know in the comments below. Also, please let us know if we missed anything or if you find anything outdated on it! We're constantly trying to update our content and bring you great information. We also have a lot of other great articles on furniture and home decor, like rugs, if you're interested.
Hi, my name is Kevin and I'm from Pittsburgh, Pennsylvania. Choosing products made in America is important to me because it supports local economies, creates jobs, helps the environment, and ensures ethical labor practices. I also find that American made products are usually of higher quality so although they're a little more expensive, you save money in the long run. Before starting this website I was in the USMC infantry and nowadays I work on this website as a hobby.