With so many companies moving their manufacturing overseas, many consumers wonder if companies like Carhartt, with a reputation for producing durable, rugged, and high-quality products, are still making their apparel in the USA.
Most Carhartt products are made in Mexico, Vietnam, and other countries where the cost of manufacturing is low. The American-based brand does make a small number of products in the USA at their facilities in Kentucky and Tennessee.
Keep reading for a more in-depth review and discussion about where Carhartt products are made.
Which Carhartt Products Are Made in the USA? Here is How to Find Them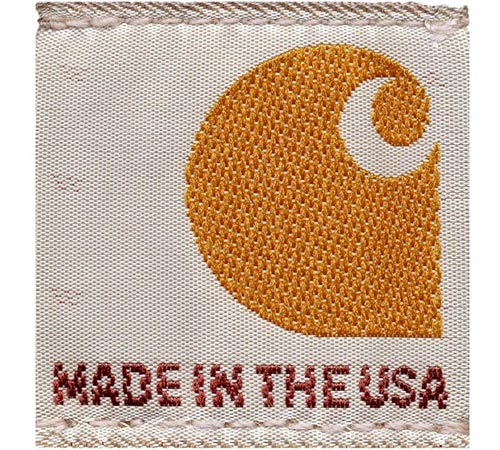 Similar to other large apparel companies, when Carhartt was founded, it made most of its products in the USA, but as it expanded, much of its manufacturing shifted overseas. However, regardless of the country of origin, Carhartt remains committed to offering the best in durable workwear.
Here is How to Find Their American Made Products:
The easiest way to see all of the American-made Carhartt products is by viewing this page on the Carhartt website.
If you check the Carhartt website and enter "USA" into the search field, you will get around dozens of products to choose from.
One thing to note is that even if you go to the page on the Carhartt website that shows all of their American-made products, you'll notice that some of the products still say "imported". This is because the materials are imported, but manufacturing takes place in the USA at one of their facilities in Kentucky or Tennessee.
Carhartt says they stand behind all of their products, regardless of where they are manufactured. However, they understand that consumers may still prefer to buy products made in the United States, and for that reason, created a "Made in the USA" line of clothing product page on their website.
More About Carhartt's Manufacturing
As mentioned above, Carhartt products are made all over the world. But I wanted to spot-check some products, so I decided to go to some stores near where I live to see where the Carhartt products being offered there were made.
I checked multiple jackets, boots, pants, t-shirts, gloves, and other products. Below, I share some of the photos I took while I was inspecting some of their products.
First, I took a look at the Carhartt jacket that was in my truck before heading into the store. I found that it is made in Mexico with US Components.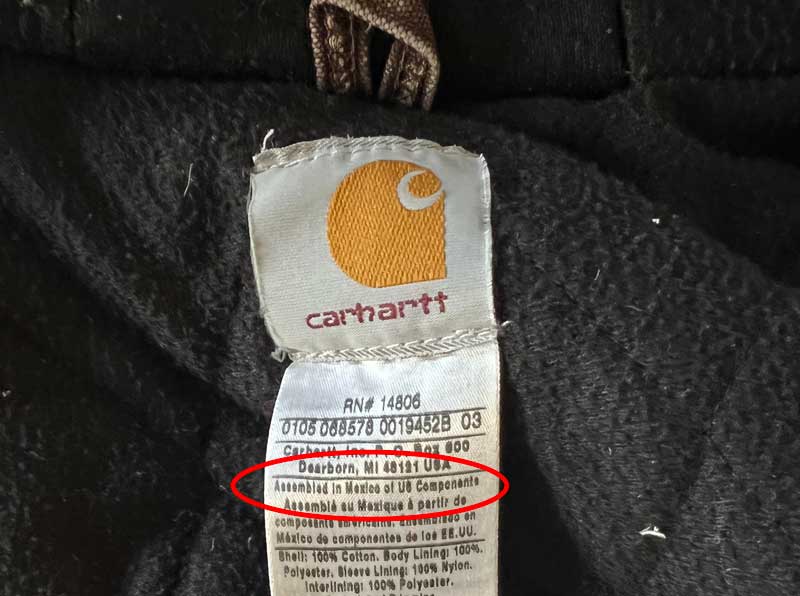 When I got into the first store, the first thing I saw were some Carhartt boots on display.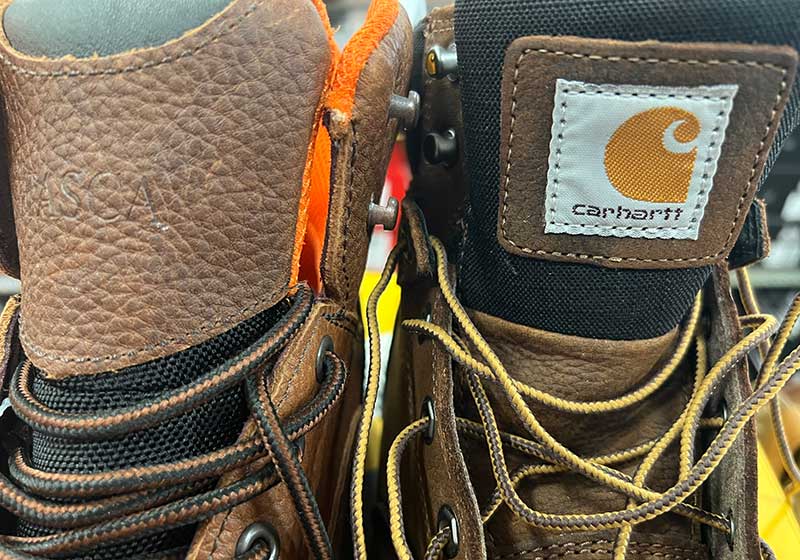 I found that almost all of the boots being offered were made in China or Bangladesh. Below, you can see a photo I took of one of the tags showing these particular boots were made in Bangladesh.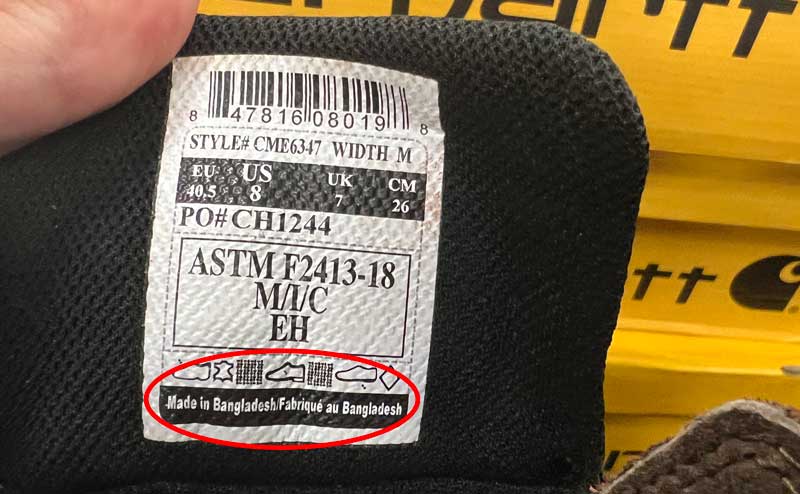 Then, I saw a pant display and headed over to it.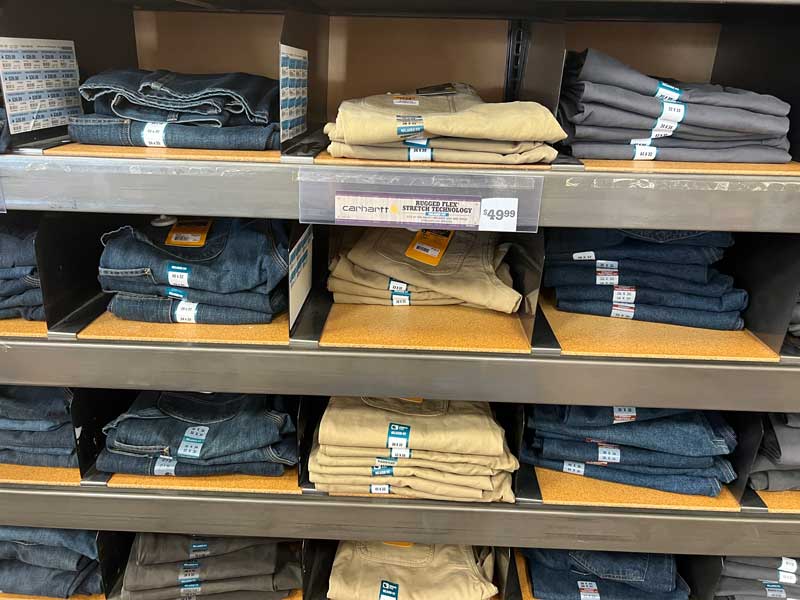 First, I checked a pair of jeans and found that they were made in Mexico.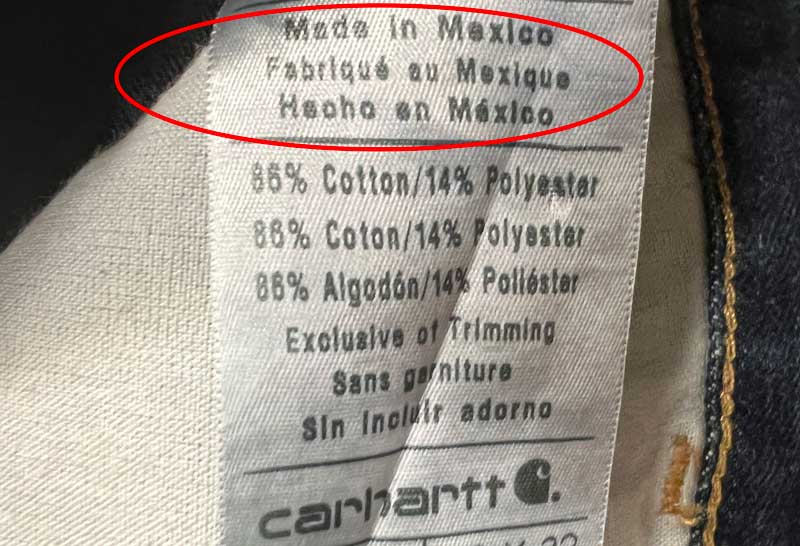 Then I checked some khaki pants and found that they were made in China.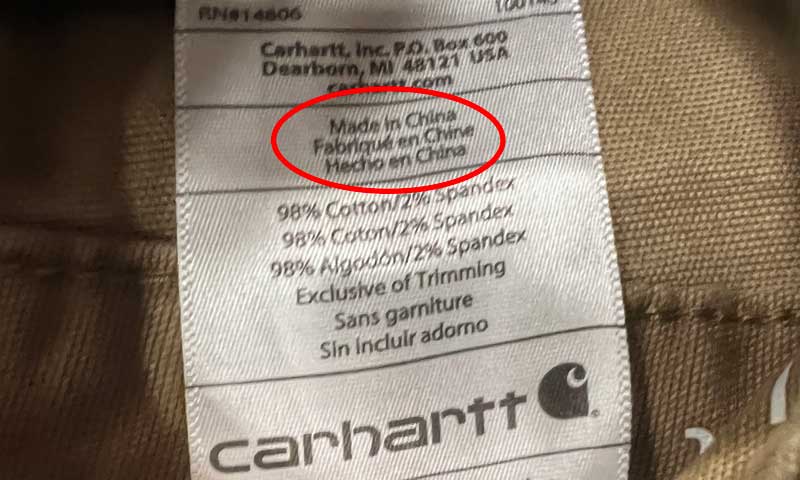 The next pair of pants I checked were made in Nicaragua.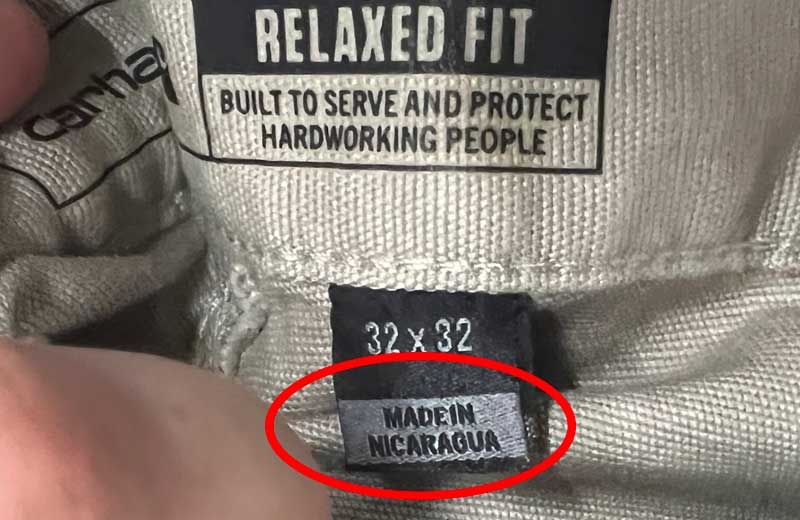 After checking about 10 more pairs of paints, I found that most were made in Mexico, but a fair amount of pants were also made in China. Next, I decided to check where some of the shirts being offered there were made. The shirts being offered there were all made in Honduras.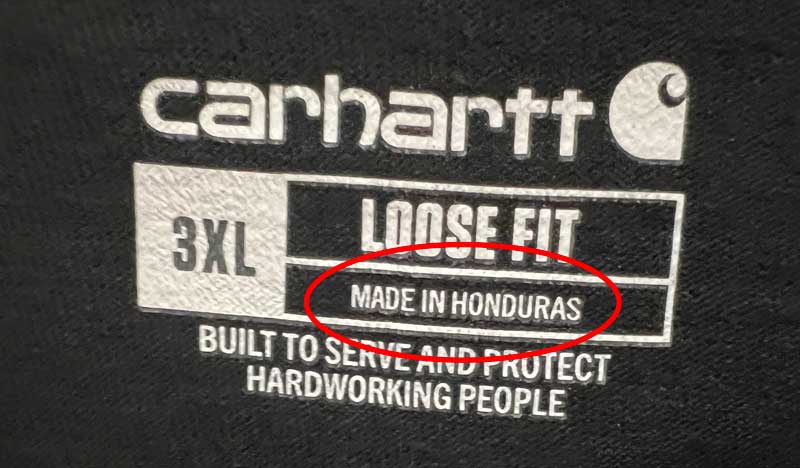 Next, I decided to check where some of their gloves were made. The first pair of gloves I checked were made in Indonesia.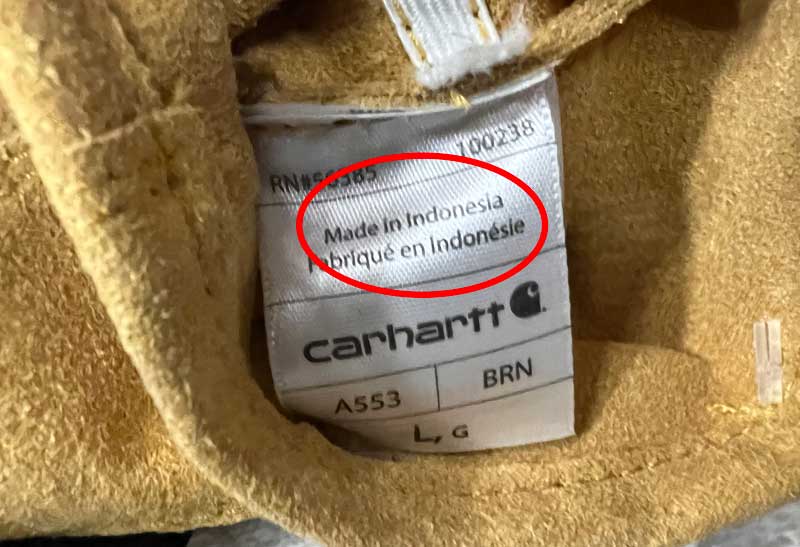 The second pair I inspected was also made in Indonesia.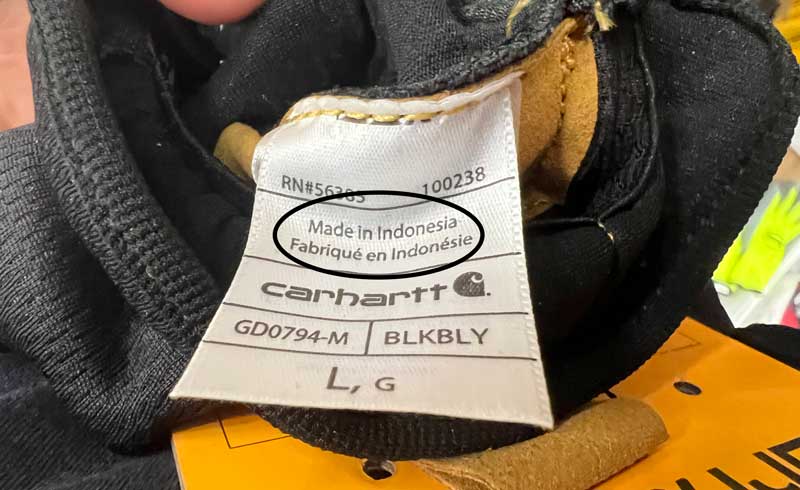 Almost all of the other gloves were also made in Indonesia. Another interesting thing I noticed is that the packaging said printed in China.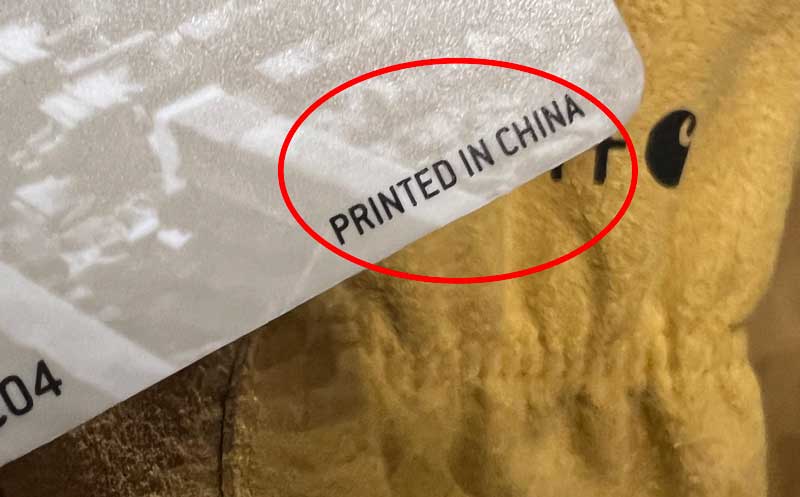 As you can see, the majority of Carhartt products are not made in the USA. That said, they still do offer some great products that are American-made.
Check out this video about Carhartt's production in the USA:
Carhartt Manufacturing Partners in the USA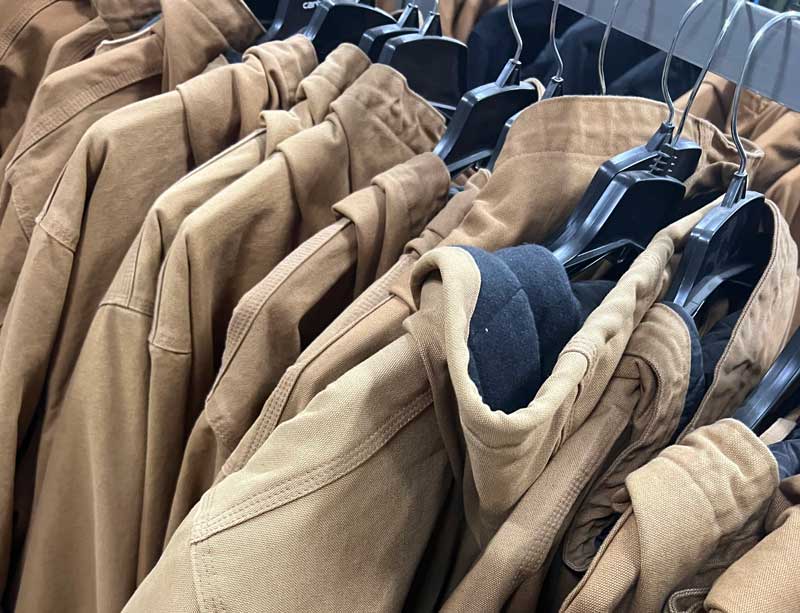 The Carhartt brand got its start in 1889, making overalls for railroad workers, and their motto was "honest value for an honest dollar." Hamilton Carhartt, the founder of the company, surveyed railroad employees directly for feedback to create a product for hardworking Americans. Within a short time, the brand became synonymous with quality workwear.
Carhartt's roots are that of an American company. The company headquarters is located in Dearborn, Michigan, and they have four production facilities, three in Kentucky and one in Tennessee, employing around 1,107 American workers in total. The bulk of their manufacturing in the United States is in Kentucky. Aside from producing items in-house at their US facilities, the brand also collaborates with US suppliers.
Carhartt works with fabric suppliers out of Mt. Vernon Mills, Georgia, and procures YKK snaps and buttons from Kentucky.
Additionally, they operate their European headquarters in Amsterdam and have factories in Mexico, China, and many other countries.
Carhartt has four factories in the United States that they directly own, but they have six other American manufacturing partners. We believe that these act more as third-party manufacturing facilities and partners that they work with on some level. We couldn't always discern what their relationship was with these companies.
Let's list them below:
Artex—Westville, New Jersey
Classic Caps—Dallas, Texas
Fox River Mills—Osage, Iowa
Industrial Sewing & Innovation Center—Detroit, Michigan
JLM Apparel Inc—South El Monte, California
Minnesota Knitting Mills—Mendota Heights, Minnesota
We would also like to take the time to highlight how the manufacturing partners listed above are great American-made companies worth supporting. Fox River Mills, for example, has existed since 1900, and they sell socks that were made at their hosiery in Osage, Iowa. In fact, Fox River Mills made our list of socks made in the USA.
In the case of Artex, their knitted hats are made in the United States, and in some cases, we found them half the price of Carhartt. Especially when you consider how Carhartt makes a lot of its products abroad, it doesn't make sense for them to be charging double the price.
Where Are Carhartt Factories?
Covering all of Carhartt's partners and factories, we will have a look at how they spread the manufacturing with this company to better understand it:
| | | |
| --- | --- | --- |
| Origin | # Factories | % of MFG. |
| USA | 10 | 11% |
| China | 1 | 1% |
| Mexico | 18 | 21% |
| Vietnam | 14 | 16% |
| Cambodia | 4 | 4% |
| India | 10 | 11% |
| Bangladesh | 4 | 4% |
| Guatemala | 8 | 9% |
| Honduras | 1 | 1% |
| Indonesia | 2 | 2% |
| Jordan | 1 | 1% |
| Nicaragua | 4 | 4% |
| Colombia | 1 | 1% |
| Pakistan | 2 | 2% |
| Italy | 1 | 1% |
| Canada | 1 | 1% |
| Taiwan | 1 | 1% |
| Dominican Republic | 1 | 1% |
Mexico makes up the largest manufacturing number for Carhartt at 21 percent, with Vietnam in second place at 16 percent. Behind them are India and the United States, tied for third. We were pleasantly surprised to at least find the United States in third place. Unfortunately, the information doesn't show the exact manufacturing levels. Nevertheless, it does give you an idea of where they operate around the world.
In total, Carhartt has 84 manufacturing partners that it works with. Keep in mind that only a small portion of them are factories that they directly own. This makes it difficult to say exactly how much business goes through each of the third-party factories.
Carhartt Manufacturing in Kentucky
Previously, we spoke about how Carhartt hires 1,107 workers in the United States. Let's have a deeper look at their Kentucky manufacturing plants. First, you have their plant in Madisonville, Kentucky. The plant here has a total of 700 workers, and they invested $11 million in 2011, which upped their workforce from 500 to 700. They officially completed the upgrades in 2014.
Once a major employer in Kentucky, Carhartt employed 2,000 workers in the state at the height of its American industry. The brand appealed to farmers, hunters, union workers, and urban rappers.
Before, they had four facilities in Kentucky, but Carhartt closed down a sewing plant in Providence in 2006. Unfortunately, this was a common shift that many apparel companies had to make to stay competitive. Fighting against Chinese-made clothing is difficult because they cost so much less than their American-made competitors due to the lower cost of labor.
Now, let's have a look at their plant in Irvine, Kentucky. This plant began in 1932 and it started out as administrative offices and warehousing, but it eventually became a sewing plant. Today, they have seven employees, which makes it an understatement to call it a minor facility.
Still, we applaud them for hiring American workers. They went from hiring over 2,000 in the state, however, to an estimated 707 workers. We wouldn't necessarily blame this company, however, because of the factors in the market that made American apparel more difficult. Our politicians didn't take enough action to save the American textile industry. Meanwhile, the American people didn't take enough action to keep the American textile industry alive.
Their final plant here is located in Edmonton, Kentucky. They have a potential staff of between 100 and 249. We couldn't confirm how many worked here, but we will take a more optimistic estimate in the 200s. This would mean that they have around 1,107 total workers in the United States directly.
Carhartt Manufacturing in Tennessee
In Camden, Tennessee, Carhartt employs around 200 people at their facility. It's the last remaining facility in Tennessee. This factory started in 1992 around the middle part of July. In 1994, Carhartt expanded to construct another facility in Mckenzie, Tennessee, which they bought from their competitor Oshkosh B'Gosh, but they closed it down shortly after in 1999.
Carhartt's other facility in Tennessee was a sewing plant in Dover, Tennessee. They bought it in 1995. Unfortunately, they shut down this factory in 2005 as imports hurt their business, and they had to send manufacturing jobs abroad to compete.
Carhartt Manufacturing in China
Carhartt has one third-party factory in Zhongshan City, Guangdong. They don't have as big of a manufacturing presence in China as you might think, but they do still manufacture here. The company works with a partner here that was first established in 1980. It is unknown how long they have worked with Carhartt or how often. They have an estimated 1,300 employees. Along with Carhartt, this factory's other top trading partner is Under Armour Inc.
Carhartt Manufacturing in Vietnam
Carhartt has 17 locations in Vietnam that are either a factory or a partner. This should come as no surprise since Vietnam has emerged as the new player in the textile industry. The low cost of manufacturing has made Vietnam a better location than China due to the rising wages in China.
Carhartt Manufacturing in Mexico
Starting in 1997, Carhartt took its manufacturing operations to Mexico when it built its first factory in Pejamo, Guanajuato. This area sits in the center of Mexico. It was a 300,000-square-foot facility, and they employed around 500 union workers. At the time, the idea behind it was to keep the core products in the United States. This was where Carhartt began the slow descent into manufacturing abroad.
By December 2001, they bought a second factory 30 miles away in Irapuato. When 2003 came around, Carhartt had purchased two more factories in the state of Durango at an auction from the Labor Board of the state of Durango.
The first one that they bought is in Gomez Palacio, Durango, a suburb of Torreon. This factory sits right along the Mexican state line between Durango and Coahuila. It is approximately six hours from the border with the United States, a strategic location for manufacturing products.
Carhartt also has a few other partnerships and contractors in Mexico, and in total, they have over 18 places that they work within Mexico. You can check out Carhartt's direct factory list here. Keep in mind that some of these are partnerships and third-party factories rather than directly owned by Carhartt.
Is Carhartt American Made?
Largely speaking, Carhartt has sent most of its manufacturing abroad. If you go to their "Made in the USA" line, you can buy the few products remaining that are still American-made. With that said, their American-made line of clothing remains some of the most popular and iconic clothing with the American industrial workers.
Carhartt has a great American heritage, and they have made an estimated 57 million pieces of clothing in the United States. They also tried their best to stay American, making most of their products in America much longer than many other apparel companies. The American textile industry fell during hard times in the 1980s and 1990s due to cheaper labor abroad, and in some cases, the infrastructure was no longer available, giving some clothing brands little to no choice but to move abroad.
Carhartt only started shutting down US manufacturing in the late 2000s as they found their business model unfeasible. They had to adapt to survive. We blame companies sometimes for not being American-made, but Carhartt has given us that choice with their products. Unfortunately, we need more American support for it to prosper and incentivize companies to stay American-made.
Today Carhartt cannot boast they are solely made in the United States, but the company remains a private, family-owned company operating in the US and abroad. They employ an estimated 1,107 Americans directly and 5,500 people worldwide. Every article Carhartt produces comes with an ultimate commitment of reliability to its consumers, backed by its promise of outstanding quality, craftsmanship, durability, and worth. You can read about the Carhartt warranty here.
If consumers think they have purchased any counterfeit Carhartt products, they can call customer service or reach out to the Carhartt brand protection department.
If you were in the market for some quality American work boots, you can check out our article here, where there are a couple of Carhartt work boot options to ponder.
Hi, my name is Kevin and I'm from Pittsburgh, Pennsylvania. Choosing products made in America is important to me because it supports local economies, creates jobs, helps the environment, and ensures ethical labor practices. I also find that American made products are usually of higher quality so although they're a little more expensive, you save money in the long run. Before starting this website I was in the USMC infantry and nowadays I work on this website as a hobby.