Founded in 1946, Tervis tumblers have double-wall insulation that will keep drinks hot or cool for longer. You can reduce the risk of condensation rings at the table with these tumblers. A Florida-based, family-owned and operated company, Tervis designs and manufactures this drinkware. With that in mind, you may wonder where they make their products.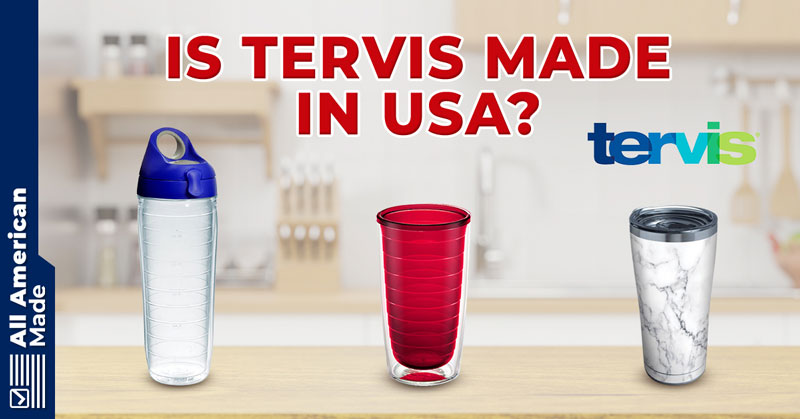 If you'd like to learn more about this uniquely American brand, keep reading because we will cover everything you need to know about Tervis and its manufacturing.
All plastic Tervis drinkware is made in North Venice, Florida. Tervis has a manufacturing facility here, employing an estimated 700 employees. At one point, they thought of leaving North Venice but decided to keep their property at 201 Triple Diamond Boulevard.
More About Tervis Manufacturing
The factory in North Venice runs 24 hours per day, five days out of the week, and it only takes one minute to produce a tumbler. Want to know how efficient this manufacturing is? After the Baltimore Ravens Superbowl, the tumblers from this were ready within a few hours after the game had ended. That demonstrates the level of industry happening at this facility. The company produces eight million glasses every year.
All the tumblers sold at the amusement parks at Disney are Tervis tumblers, and the brand has continued to grow its global presence.
If you ever wondered where and how Tervis insulated tumblers are made, make sure you check out this short video about the whole process at their North Venice facility.
Tervis and Its Beginnings
Tervis began in 1946 by two engineers from Detroit—Frank Cotter and G. Howlett Davis. They created this glass to keep drinks warm or cool. For the time, it revolutionized modern life, and using the power of inner air to bind together the inner and outer clear plastic, Tervis was a virtually indestructible tumbler.
We wouldn't say that Tervis has always been manufactured in North Venice, but they have always made their products in the USA. The brand first started in Detroit, but they relocated to Osprey, Florida, at the start of the 1960s. We didn't see them come to North Venice until 2005, when they began to manufacture there. You can learn more about Tervis and its history here.
Throughout its time, Tervis has acted aggressively to expand its business, and they have pursued the licensing rights to thousands of decorative emblems.
We have seen Tervis continue to expand its operations over time, and it added an extra 50,000 square feet in 2011. This addition allowed them to produce as many as 90,000 glasses per day, which shows you the scale of their operation. They make an estimated $80.53 million every year.
Is Tervis Made in China?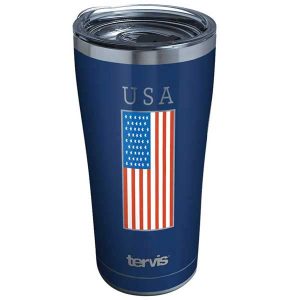 We wish we could say that Tervis makes everything in the USA, but you do have one exception to this rule, stainless steel tumblers. You see some people saying that Tervis is 100 percent made in America, which isn't true. Granted, a large part of the manufacturing comes from the USA, but the stainless steel cups are made in China.
Let's elaborate further, they decorate the cups in the United States, but the cups themselves are made in China using cheaper labor. One person estimates how they have put the stainless steel tumblers at up to 50 percent of their offering now. That means that over half of their manufacturing is coming from China. They are no longer fully made in the USA.
Tervis makes eight sizes of stainless steel tumblers, but we do believe that a large part of their operations continues to produce tumblers in the United States. Even though China produces them, the stainless steel tumblers are decorated in the United States.
There's a lot of misinformation on the internet that has created an opportunity for some people to be misled into believing that Tervis is a 100-percent American-made company. While we respect that they do provide many jobs to Americans in Florida, we hope that the company will set an example of transparency and make the situation clearer to the consumers interested in knowing the full spectrum of their manufacturing operation.
Why Are Tervis's Stainless Steel Tumblers Made in China?
This information came according to the Vice President of Human Resources from Tervis. They say that they introduced the stainless steel line due to customer requests. At first, Tervis tried to manufacture this product in-house, but they couldn't afford to manufacture it and sell it at a fair price to customers when made in the USA.
For that reason, they sent the stainless steel tumblers to be made in China.
That sounds like a fair answer from Tervis, but it doesn't answer why the company continues to mislead customers into thinking that they remain 100 percent American-made. We hope that they would do better to make these things more apparent in the future, especially considering how the stainless steel tumblers now account for 50 percent of what they offer.
Should You Support Tervis?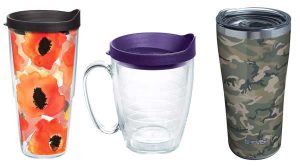 While we offer areas where the brand could improve, we would still give this company the green light to buy from them. They continue to manufacture their products in North Venice, and many people continue to have jobs through that arrangement. Because of that, we would still say to support this brand. However, exercise caution with what you buy from them. Buying the plastic tumblers will give you American-made products, but the stainless steel line will hand you the Chinese-made products from Tervis, which now account for 50 percent of what they offer.
In some ways, we might think of that, however, in the same way, that you would think of "Made in the USA" and "Assembled in the USA." The brand continues to provide Americans with manufacturing jobs, and they still do the designing in the USA. even with the stainless steel tumblers.
We see the potential for Tervis to one day lay off all their American workers and send the manufacturing jobs entirely overseas, but they haven't done that yet. The company has done its best to stay American-made, and they deserve your support because of that.
They provided over 500 jobs in the USA and even tried to keep the design of the steel tumblers in the USA.
To give you an idea about some of the misinformation, here's an example of the press talking about Tervis's manufacturing facility in North Venice. They're talking about the steel tumblers in the article, which is misleading since they don't make those tumblers in North Venice. They talk about Tervis being the largest manufacturer in the Tampa Bay region, but they fail to mention that the cups they're talking about aren't made there. To worsen matters, this isn't the only article like that.
We don't think that Tervis is doing this intentionally because their stainless steel products do say made in China on their products page. Hopefully, they will correct some of the misinformation, however.
The reason we do recommend this brand is that you could still do far worse than Tervis. You have other brands that don't make any of their products in the USA, and we find that many of the tumbler brands have worldwide manufacturing, even with some of it in the USA.
Tervis does a good job at staying American-made.
Are There Any Stainless Steel American-Made Tumbler Brands?
Part of the reason that many stainless steel tumblers are made in China comes from the fact that China has the biggest stainless steel production in the world. They produce most of the world's steel.
To be more specific, an estimated 49 percent of the world's stainless steel water bottles come from Yongkang, China. This includes all the major tumbler brands like Stanley, Yeti, Hydro Flask, and S'well.
You can learn more about China's steel production and how it has dominated this industry here. Like manufacturing, China doesn't play fair when it comes to steel.
We couldn't confirm if Tervis's stainless steel water bottles come from Yongkang, but considering how they come from China and most of the world's stainless steel water bottles come from Yongkang, we could make a safe guess that they produce them in the same region.
Are There Any Stainless Steel Water Bottles Made in the USA?
We would like to cut Tervis some slack because no one makes stainless steel water bottles in the USA. Even Liberty Bottleworks, a company that produces its aluminum water bottles in Union Gap, Washington, doesn't produce its stainless steel water bottles in the USA. They have them imported from their sister company in China. They state this openly on their website, however.
Liberty Bottleworks remains the only American-made company of metal water bottles in the USA. With that said, though, they don't produce stainless steel water bottles here.
Tervis and Liberty Bottleworks both continue to do the designing of stainless steel water bottles in the USA. We see these companies doing their best to provide jobs to hard-working Americans. It's hard to produce stainless steel water bottles in the USA and remain profitable, so we cut them some slack.
Other American-Made Tumbler Brands
Tervis is a great American-made brand, but you may wonder about some of the other choices. You have other great American-made tumbler brands that deserve your attention.
Some of the other brands that you might consider include:
| | | |
| --- | --- | --- |
| Brands | Location | Total Number of Employees |
| Yeti | Iowa and Wisconsin | 701 |
| Pelican | Torrance, California | 1,400 |
| Liberty Bottleworks | Union Gap, Washington | 32 |
| Nalgene | Rochester, New York | 1,200 |
| Polar Bottle | Boulder, Colorado | 38 |
With whatever brand that you buy from, we would recommend that you check to see that they make those products in the USA ahead of time. You have several great American-made tumbler brands in the USA. The big exception here comes from when the water bottle is stainless steel because no American-made company can produce them here and stay profitable.
We have put together an excellent resource of American Made water bottles that you can find here.
Are Tervis Tumblers Good?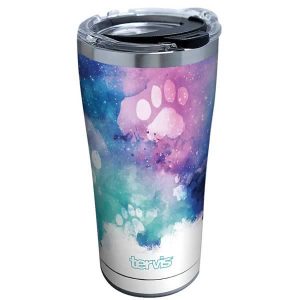 While the higher cost may turn some customers over to other brands, Tervis tumblers remain some of the best for a reason. The lid remains leakproof, and you can use the ergonomic loop to carry it easily. At the same time, triple layering of the bottle ensures that you experience as little condensation as possible. This water bottle keeps your drink cool for up to 60 hours, that's what separates this brand from a simple bottle of water. Your drink will stay cool for longer.
You can keep your drink ice-cold for up to 24 hours, and if you have a hot drink, it will remain warm for up to eight hours. The designs of the products have kept them popular and fashionable for years. The plastic Tervis tumbler comes with additional benefits, like it remains highly durable, and you don't get the bulk that you would with stainless steel. That makes it ideal for hikers and joggers, where the lower the weight, the better.
Conclusion:
Tervis may not be fully made in the USA, but we think they do their best to provide jobs within the U.S. We also believe that this company has tried to keep the jobs here, but due to market influences, they had to take the stainless steel tumblers and manufacture them overseas. Along with that, we cut them some slack because how none of the tumbler companies make their stainless steel tumblers in the USA because the fact is that it's simply too expensive and too difficult to compete in that particular market.
If you're looking into refreshing your drinkware collection in the coffee department, we have some excellent selections of all-American coffee mugs, which include Tervis!
Hi, my name is Kevin and I'm from Pittsburgh, Pennsylvania. Choosing products made in America is important to me because it supports local economies, creates jobs, helps the environment, and ensures ethical labor practices. I also find that American made products are usually of higher quality so although they're a little more expensive, you save money in the long run. Before starting this website I was in the USMC infantry and nowadays I work on this website as a hobby.