Having a high-quality charcoal grill puts you in full control when cooking food outdoors. These efficient grills can be used to cook any type of food, and they don't limit you to a particular style or process. If you like to take a hands-on approach when preparing meals outdoors, a charcoal grill is one of the best investments you can make.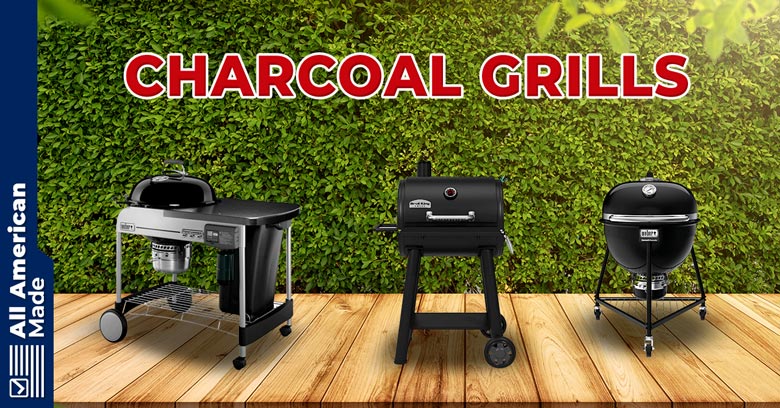 Many grill manufacturers have unfortunately outsourced their production to foreign countries to save on costs, but thankfully there is a strong selection of companies who continue to offer charcoal grills made in the USA.
The team here at All American Made has spent countless hours researching and using as many grills as possible. We've narrowed down the search to the companies featured in this list, many of whom have long-standing histories in the charcoal grill industry and are committed to keeping their products American-made.
We've included a wide range of charcoal grills in this guide so that there are options to suit all budgets, requirements, and preferences. These grills are all built to a very high standard and are not necessarily sorted from best to worst, as you may need a specific type of charcoal grill to suit your needs.
List of American-Made Charcoal Grills
Weber Grills (Most Options)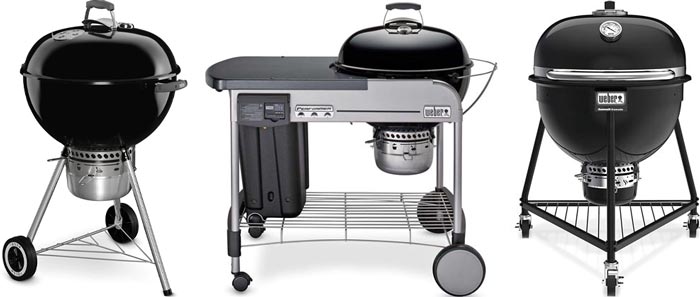 | | |
| --- | --- |
| Origin | Illinois |
| Year Founded | 1952 |
| Sizes of Grills Offered | 34" to 54" |
| Common Materials Used | Stainless Steel |
Company History and Manufacturing Locations:
Weber is one of the best-known grill manufacturers in the USA. The brand's story began after the Second World War had come to an end when Mr. George Stephen Senior had an idea to build a grill in the metalworks factory where he has worked for many years. The grill that he created was far from the finished article, but it quickly became popular amongst locals in his hometown in Illinois.
As Mr. Stephen Sr. tried to keep up with the demand for his outdoor grill, he decided to acquire Weber Brothers Metalworks, and he rebranded the company to Weber-Stephen Products. The company quickly rose to nationwide fame, and Weber began to produce a range of high-end charcoal grills, gas grills, and pellet grills.
The vast majority of Weber charcoal grills are made in the USA. However, to keep up with high demand, the company makes some of its products overseas. If you're interested, we also have a full article on Weber's origins and manufacturing processes.
Grill Selection and Offerings:
Weber offers an extensive selection of charcoal grills, which are categorized into seven ranges. These ranges consist of the Summit Kamado, Master-Touch, Performer, Original Kettle, Portable Charcoal, Ranch, and Smokey Mountain grills. The sheer volume of charcoal grills that Weber produces means there is bound to be an option that suits your budget and size requirements.
The Master Touch range includes affordable charcoal grills that are equipped with essential features for outdoor cooking. They come with onboard thermometers built into the lid, charcoal baskets, and even the most basic models that can cook around 13 burger patties simultaneously.
If you're looking for a portable charcoal grill that is very easy to use, the Performer range includes some excellent options. These grills have convenient one-touch gas ignitions, removable circular cooking crates, and a large flat surface for preparing your food. They also boast exceptional heat retention thanks to the porcelain-enamel layered lid and bowl.
If you want the very best outdoor cooking experience, Weber's Summit Kamado grill is my personal favorite. This model is made from insulated steel and reaches optimal cooking temperature in a matter of minutes. It makes the cooking process effortless, as you can leave the grill smoking all day. Furthermore, this grill has a 24″ cooking area, making it the perfect choice for feeding a large group of friends or family.
The video below provides an overview of the Summit charcoal grill so that you can get an idea of how it works. This grill is one of Weber's standout offerings, as is evidenced in this video.
Broil King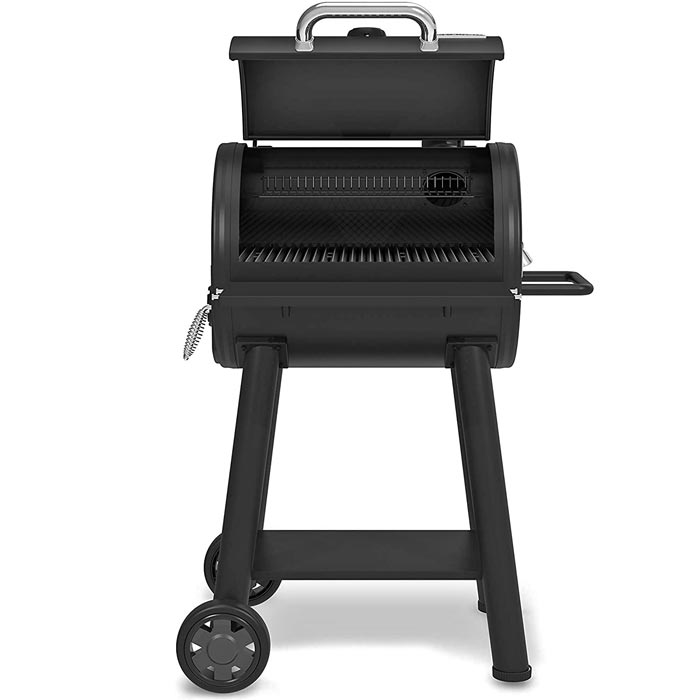 | | |
| --- | --- |
| Origin | Indiana |
| Year Founded | 1986 |
| Sizes of Grills Offered | 50" to 60" |
| Common Materials Used | Stainless Steel, Cast Iron |
Company History and Manufacturing Locations:
Broil King has been in business since 1986, but their story began 16 years earlier. Originally, the company was called Char-Broil, and they are remembered as the first producers of a unique propane gas grill encased in steel housing. These grills set the standard for the large, versatile grills that many Americans still use in their backyards today. The design put Char-Broil on the map, and the was used as a blueprint by many other manufacturers in the industry.
The second phase of this charcoal grills manufacturer's story began in 1986 when they began trading under the Broil King name. The decision to rebrand propelled the company to new heights, as they took their original, built-in grill designs and used their experience to create a diverse range of portable charcoal, gas, and pellet grills. To this day, Broil King proudly manufactures all of its charcoal grills in the USA, with factories in Indiana and Tennessee.
One of the things that make Broil King standout out in the charcoal grill industry is that they are always looking for ways to improve their products. Throughout the company's history, they have witnessed many advancements in grilling technology and managed to retain its values while moving with the times. This is evidenced by the variety of designs of their grills and the many features they include.
Grill Selection and Offerings:
Broil King manufactures conventional charcoal smokers and grills, in addition to their more compact Keg Kamado Grills and Cabinet Smokers. If you need plenty of space to cook for the whole family, the Regal Charcoal Offset 500, with its 955 sq. inch total cooking space, is a great option. This grill comes with two robust wheels, which make it easy to move and store away, and it has a pair of cast iron cooking grids coated in porcelain for maximum efficiency.
If the Regal grills are a little too bulky for your backyard, the compact Keg 5000 may be a better option. This portable charcoal grill is perfect for quickly preparing food outdoors and is constructed from a blend of high-end, durable materials. The upper damper is made from cast iron, while the cooking chamber is layered with rust-resistant porcelain. Despite its convenient dimensions, this grill still provides you with 480 sq. inches of cooking area.
Broil King also offers a generous warranty with their charcoal grills, which commonly cover the cook boxes, for five years. All of the other main components are under warranty for two years, which illustrates their confidence in the build quality of their grills.
Here's a video that demonstrates the capabilities of my personal favorite Broil King charcoal grill, the Keg 5000.
Fire Magic Grills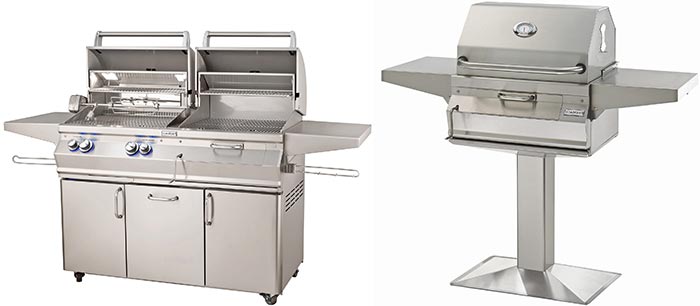 | | |
| --- | --- |
| Origin | California |
| Year Founded | 1937 |
| Sizes of Grills Offered | 22" to 48" |
| Common Materials Used | Stainless Steel |
Company History and Manufacturing Locations:
With over 75 years of experience producing grills under its belt, Fire Magic has built an excellent reputation amongst American barbeque lovers. The company started out focusing mainly on gas grills but has never shied away from expanding its product range.
Fire Magic Grills is owned by RH Peterson, a highly respected American manufacturing company that has been in the industry for over 75 years. They produce all of their charcoal, gas, and pellet grills in the USA and have done throughout their long and decorated history. Many of their vintage charcoal grills are still used today, which is a testament to Broil King's build quality and longevity.
Grill Selection and Offerings:
Fire Magic produces a wide range of built-in, portable, post-mount, and drop-in charcoal grills. They offer options to suit a variety of outdoor cooking setups, so no matter how much space you have available in your backyard, you can find the ideal charcoal grill to suit your needs.
The company's portable charcoal grills include the exceptional Patio Post Mount-Grill. This model is made from durable 304-grade stainless steel and comes with a sturdy mount stand that supports the main components of the grill. Another standout feature of this grill is its diamond sear cooking grids, which are commonly included in most Fire Magic charcoal grills. The adjustable charcoal pans that Fire Magic installs on their grills put you in full control of the temperature so that you can tailor the heat to suit the foods that you're cooking.
If a built-in charcoal grill would be better suited to your requirements, Fire Magic has got you covered. They produce 24" and 30" built-in grills, which benefit from tweakable hood vents and an onboard warming rack to keep your food at the perfect temperature for longer.
You can get an idea of Fire Magic's charcoal grill design by watching the video below. It's a little retro, but it does a great job of explaining the main features of their grills!
PK Grills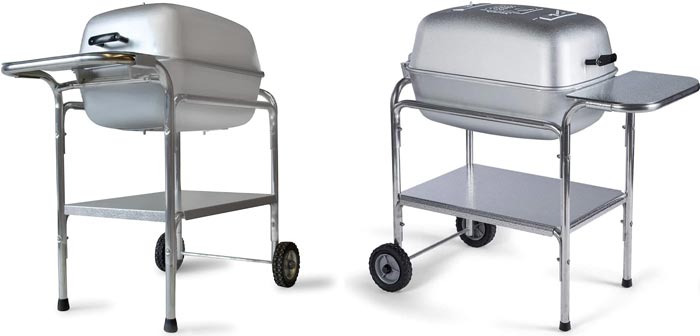 | | |
| --- | --- |
| Origin | Arkansas |
| Year Founded | 1952 |
| Sizes of Grills Offered | 26" to 35" |
| Common Materials Used | Stainless Steel, Aluminum |
Company History and Manufacturing Locations:
USA-based grill manufacturers PK Grills are one of the longest-standing in the industry. Formed in the early 1950s when Mr. Hilton Meigs designed a highly functional charcoal barbeque grill in his hometown of Tyler, Texas, the company's progress was unfortunately halted in the mid-1970s when a tragic fire wreaked havoc on its main factory.
PK Grills would essentially lie dormant for the next 20 years until Paul James discovered one of the original portable grills made decades earlier at a garage sale. Mr. James was so impressed by the creation that he purchased the PK name, and began working on new, revamped versions of the original grills. Mr. James has ensured that PK Grills are made in the USA ever since and hasn't deviated from the original design.
Grill Selection and Offerings:
PK Grills produces a vast selection of charcoal grills to suit your requirements. If you like to keep your outdoor cooking process as straightforward as possible, the Original PK Grill & Smoker is worth considering. This affordable grill is almost identical to the original made by Hilton Meigs in the 1950s and is made from 13-grade aluminum, which conducts heat four times more efficiently than steel.
In the video below, you can see one of PK Grills' high-end charcoal grills, the PK360, in action. This grill may look simplistic, but it boasts a range of features that greatly enhance the outdoor cooking experience.
Broilmaster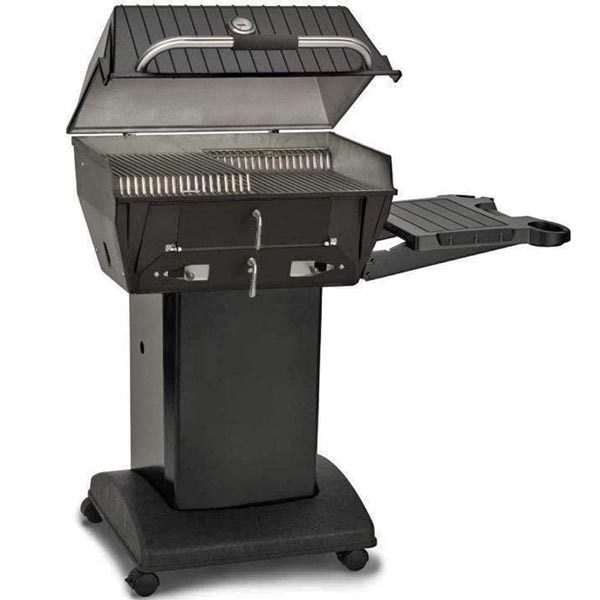 | | |
| --- | --- |
| Origin | North Carolina |
| Year Founded | 1966 |
| Sizes of Grills Offered | 24" to 42" |
| Common Materials Used | Stainless Steel, Cast Aluminum |
Company History and Manufacturing Locations:
Broilmaster has over fifty years of experience in the grill industry. The company started from humble beginnings in 1966, and the release of their iconic G-1000 cast-aluminum grill took them from being a locally-known business to nationwide success. The longevity of Broilmaster's grills led to them being passed down from generation to generation in American families, and they continue to rank amongst the best-selling USA-made grill companies today.
Grill Selection and Offerings:
Broilmaster's charcoal grills are built using high-quality components, which ensures that their products stand the test of time. If you're looking for a reliable charcoal grill that is great value for money, I'd recommend checking out the C3. This grill benefits from a cast aluminum grill head, which promotes the even distribution of heat. This particular model is portable and mobile, but it also provides 442 sq. inches of total cooking area, so you won't run out of space when preparing food for large groups of people.
Another reason that Broilmaster charcoal grills are so popular is their innovative air intake systems. The front panel of the grill is fitted with two air vents so that the food cooks evenly and the temperature remains consistent. Overall, Broilmaster offers excellent charcoal grills made in the USA, and we really love the company.
The video below provides a detailed overview of the Broilmaster C3 grill and underlines its efficiency and durability.
Hasty Bake Charcoal Grills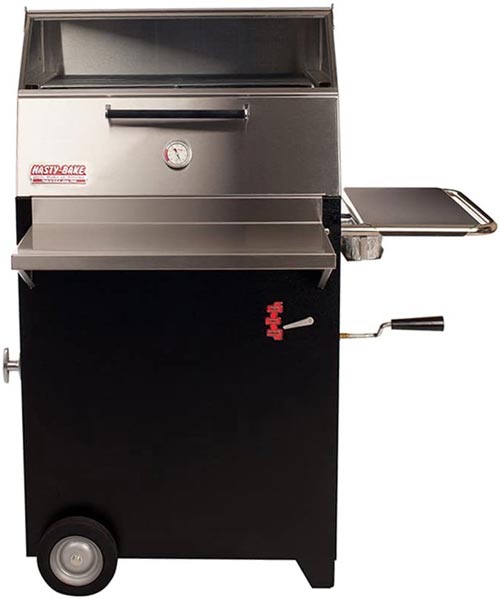 | | |
| --- | --- |
| Origin | Oklahoma |
| Year Founded | 1948 |
| Sizes of Grills Offered | 23" to 44" |
| Common Materials Used | Stainless Steel |
Company History and Manufacturing Locations:
The origins of Hasty-Bake date back to 1948, when founder Grant Hastings designed his first charcoal grill. The company was one of the first to mass-produce outdoor cooking equipment for Americans to enjoy, and Mr. Hastings quickly became a legendary figure in the industry. In the following years, Hasty-Bake became the first manufacturer to produce a portable charcoal grill, and then impressively, they pioneered the hooded charcoal grill, which was a real game-changer due to its impeccable heat retention capabilities.
In 1958, Hasty Bakes was recognized by the State Department and selected to represent the USA at the Brussel's World's fair. Four years later, the company won the prestigious Hess Award. The next fifty years or so would see Hasty Bakes maintain its position at the top of the American charcoal grill industry, still only using materials made in the USA.
Grill Selection and Offerings:
Hasty Bake's charcoal grills are built to last. The company uses only the finest materials to construct its grills, as is evident with the exceptional 357 PRO. This conveniently designed grill has a dual-walled design, which is made from 304-grade stainless steel. It also features an innovative heat deflector, which means you can load up more charcoal on the grill and cook at the ideal temperature for longer.
The Legacy 131 is one of Hasty Bake's most popular grills. It has a vintage design, which pays homage to the company's iconic original models. This grill is affordable when you consider the quality of the materials used to construct it and the range of performance-enhancing features that the manufacturer installed on it.
The video below explains why Hasty-Bake charcoal grills are so highly respected in amongst American consumers and give you a clear idea of the attention to detail that the company puts into designing and building their products.
Popular Related Article: Pellet Grills Made in the USA (Source List)
Grillworks Charcoal Grills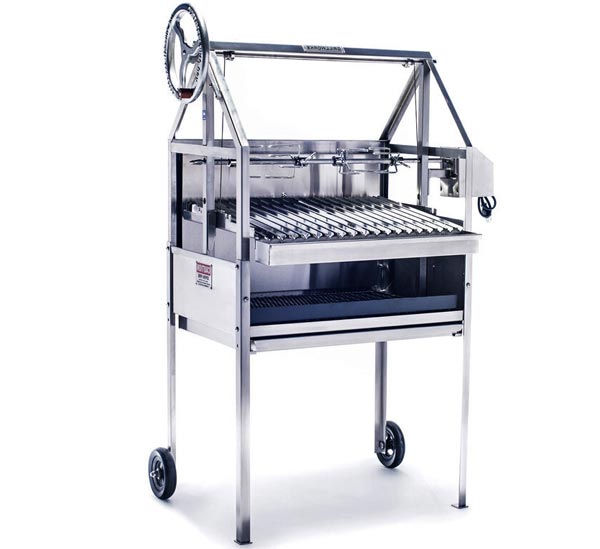 | | |
| --- | --- |
| Origin | Michigan |
| Year Founded | 1974 |
| Sizes of Grills Offered | 20" to 54" |
| Common Materials Used | Stainless Steel |
Company History and Manufacturing Locations:
Grillworks is a family-owned business, which was formed by Mr. Charles Eisendrath in the 1970s. Mr. Eisendrath worked for Time Maganize in the 1960s, and while traveling the world in this line of work, he was introduced to some of the finest outdoor cooking equipment out there.
This inspired him to bring the ultimate outdoor grills and barbeques to the USA when he returned to his hometown of Chicago. After fourteen failed attempts, he finally created a fully functioning charcoal grill, which he named "The Grillery". In the decades that followed, the company was passed down to Mr. Eisendrath's son, Ben, who has continued to stay true to the American heritage and outstanding quality that his father promoted.
Grill Selection and Offerings:
Grillworks produce some of the finest charcoal grills in the country. This means that they are considerably more expensive than most of the brands featured on our list, but if you want the ultimate outdoor cooking experience, you can find some incredible options in their range.
One of my favorite charcoal grills is the Grillworks 20, also known as The Grillery. This grill is designed exactly like the original made by Charles Eisendrath in 1978. It is incredibly easy to use and includes everything you need to cook for the whole family. Furthermore, this grill can be installed by removing the legs and wheels, so it's suitable for all spaces and areas.
In the video below, you can see a Grillowkrs charcoal grill in action. It provides you with instructions on how to use the grill to its fullest potential.
Assassin Smokers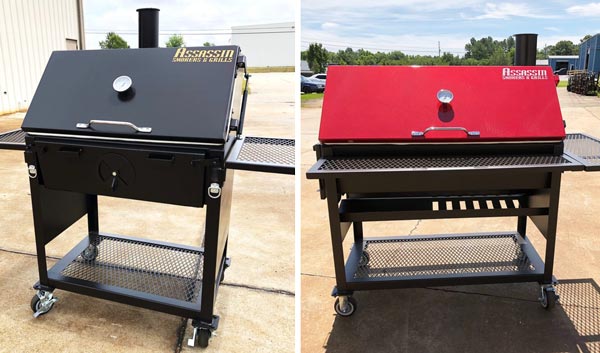 | | |
| --- | --- |
| Origin | Georgia |
| Year Founded | 2009 |
| Sizes of Grills Offered | 36" to 72" |
| Common Materials Used | Stainless Steel |
Company History and Manufacturing Locations:
Assassin Smokers is a relatively recently formed grill company, whole ensures that all of its products are made in the USA. Impressively, the company has built a solid reputation in the past decade, with its versatile charcoal grills rivaling some of the long-established brands in the industry in terms of quality and popularity.
Grill Selection and Offerings:
The charcoal grills produced by Assasin Smokers cover all bases. Whether you're a casual weekend cooker looking for an affordable grill to entertain guests or you're serious about producing a lot of food outdoors, you can find a suitable option in Assasin Smokers' diverse range.
The standout charcoal grill offered by Assasin Smokers is the Standard Assasin, which is available in three sizes; 36 inches, 48 inches, and 72 inches. The smallest version of this grill is ideal for those who have a limited amount of space in their backyard or storage area, while the larger varieties are a great choice for those who like to host parties for friends and family.
These grills are constructed from high-quality materials and are designed to burn charcoal as efficiently as possible so that you need to refill the smokers less often. They're great for cooking a range of meats and vegetables and can easily be moved around thanks to the robust frame and wheels that support them.
Summerset Grills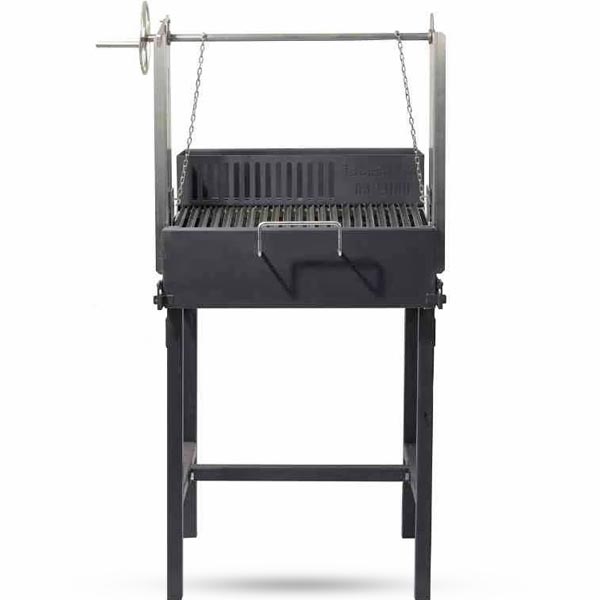 | | |
| --- | --- |
| Origin | California |
| Year Founded | 2002 |
| Sizes of Grills Offered | 24" to 42" |
| Common Materials Used | Stainless Steel |
Company History and Manufacturing Locations:
With over two decades of experience under its belt, California-based Summerset Grills has quickly become one of the leading USA-based charcoal grill manufacturers. Renowned for their durable build quality and simplistic designs, their charcoal grills are available in a range of different sizes, catering to all needs and requirements.
Grill Selection and Offerings:
Summerset Grills produce two exceptional charcoal grills in their Glastonbury Asado range. These grills are ideal for cooking everything from rib eyes to chicken wings. They come with easy-to-adjust temperature control and a customizable grill height so that you can cook your food exactly the way that you desire.
The Glastonbury Asado grill comes either with an open stand design or with a built-in woodstore. The latter option is ideal if you have a wood burner or open fire in your home, as it will dry out the logs nicely as you cook so that they burn more efficiently. The stands are made from heavy-duty stainless steel, and the company offers many accessories to improve their grill's functionality, as you can see in the demonstration video below.
Primo Grills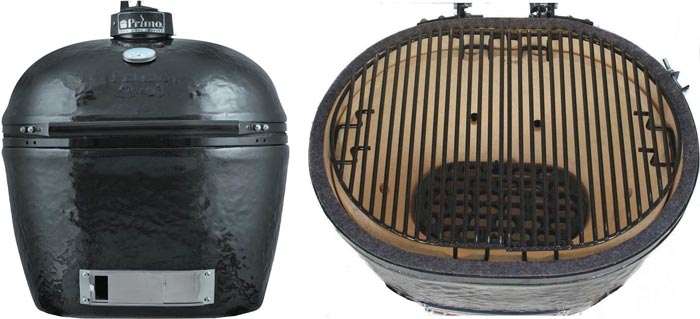 | | |
| --- | --- |
| Origin | Illinois |
| Year Founded | 1996 |
| Sizes of Grills Offered | 20" to 28" |
| Common Materials Used | Ceramic Blend |
Company History and Manufacturing Locations:
In the late 1980s, after being introduced to a kamado cooker, George Samaras fell in love with the idea of creating a ceramic outdoor cooker. Despite experiencing many setbacks during the process, he eventually established Primo Ceramic Grills in 1996.
The company enjoyed success in the late 1990s, but 2002 was a breakthrough year after they produced their patented oval-shaped charcoal grill, which firmly established the brand as a household name in the USA.
Grill Selection and Offerings:
The great thing about Primo's charcoal grills is that they all feature the classic oval-shaped design which made the company famous. They produce a total of five different versions of this grill, each of which is differently sized. The largest model, the X-Large Charcoal Primo, is perfect for grilling large quantities of food. The more compact versions, like the Junior Charcoal Primo, are ideal for small families and can be stored away easily.
Made from ceramic, these oval-shaped grills quickly reach optimal temperature and maintain it for many hours. They have an onboard temperature gauge installed on the top of the lid, and the airflow system affords you even more control over the cooking process.
Factors We Considered
As you can see from our list, there is no shortage of excellent American-made charcoal grills to choose from. However, the designs and features of these grills vary greatly, so it's important to consider the relevant factors before deciding on which one would best suit your requirements.
Features
Compared to gas grills, charcoal grills tend to be more simplistic in design. However, in the past decade or so, the technology behind charcoal grills has advanced considerably, leading to manufacturers adding more features to their products.
Having an onboard temperature gauge is essential, as it allows you to monitor the heat inside the grill so that you know when to replace the charcoal. Additionally, having an air intake system will make it easier for you to keep the temperature of the charcoal grill at an optimal level. Some charcoal grills also have igniter systems, which make the process of lighting the charcoal quicker and easier, but these are not essential to its functionality.
Mobility and Size
You've probably noticed that there are several varieties of charcoal grills available. Some larger grills around mounted on steel stands with two or more wheels, making them easier to maneuver around your backyard. There's also the oval-shaped charcoal grill, which is compact and easy to store away. Built-in charcoal grills are designed for permanent outdoor cooking structures and are often much heavier than the aforementioned varieties.
Materials
Most high-quality charcoal grills are constructed from 304-grade stainless steel. This material is often used for the lid, chassis, and grill components. Cast iron is also commonly used for its excellent heat retention capabilities. Some grill manufacturers also like to use ceramic materials which stay hot for long periods.
Origin
The manufacturers listed in this guide all produce their charcoal grills in the United States. A small number of them may outsource some of their production overseas, but if this is the case, we've listed it in the description.
Along with quality, the main criteria we looked for when finding these grill companies was that they are dedicated to manufacturing their products on American soil. Most of them also have rich histories of providing grills for American citizens.
Price
When compiling this list of the best American-made charcoal grills, we ensured that we included a range of products to suit all budgets. You don't need to spend a small fortune to enjoy a great outdoor cooking experience, but the more you invest, the more features and capabilities the grill is likely to offer. The cost is often relative to the quality of the materials and components that make up the grills, but there are plenty of options available to suit your requirements.
Final Thoughts:
After reading our guide to charcoal grills made in the USA, you can now make an educated decision on which grill is the right choice for you. Charcoal grills come in many shapes and sizes, with varying qualities, so it's important to consider the space you have available and the amount of food you intend to cook. If you have any questions, feel free to leave them in the comments section, and we'll be happy to answer them!
Hi, my name is Kevin and I'm from Pittsburgh, Pennsylvania. Choosing products made in America is important to me because it supports local economies, creates jobs, helps the environment, and ensures ethical labor practices. I also find that American made products are usually of higher quality so although they're a little more expensive, you save money in the long run. Before starting this website I was in the USMC infantry and nowadays I work on this website as a hobby.