Weber Grills was founded in 1952 and has been growing at an impressive rate ever since. Today, they're one of the leaders in the grill industry and have a lot percent of market share in the United States. Being that they are such an established company, many people wonder if the company is sticking to its American roots and still making its grills in the USA.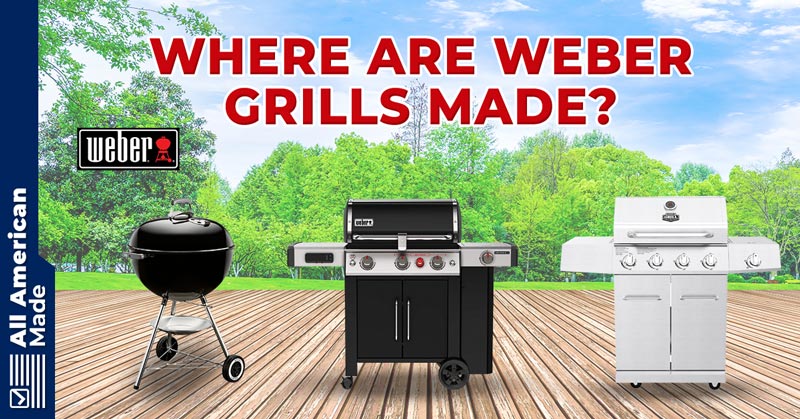 In the rest of this article, we'll discuss exactly where Weber Grills are made and other important information about the company.
Most Weber Grills are made in the USA, incorporating globally sourced parts; however, some are made in China and Taiwan. The Weber website makes it easy to see exactly which grill models are American-made.
Another way you can tell where a Weber grill is made is simply by checking the label located inside the grills. Simply open the doors on the bottom of the grill and look for labels that look like this. This method is convenient if you're at the store and want to know exactly where the model looking at is manufactured.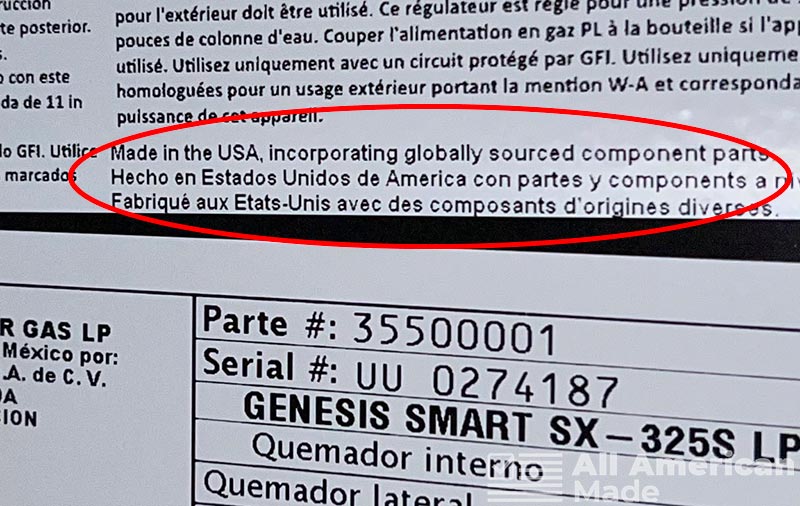 I'll attach another photo below that's more zoomed out so you can see where to look on the label.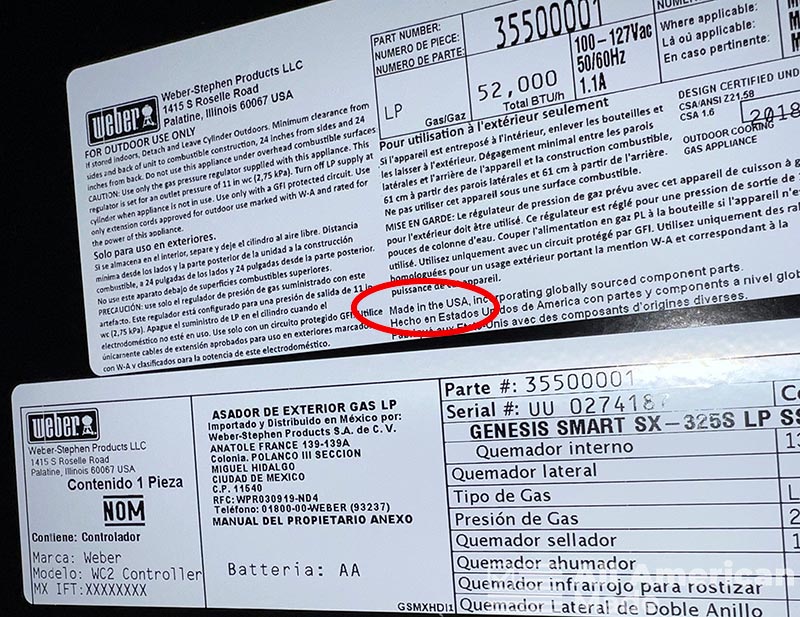 You can see in the picture above that this particular Weber grill is made in the USA, but not all of them are. Now let's take a look at a grill that isn't made in the USA and see what the label looks like.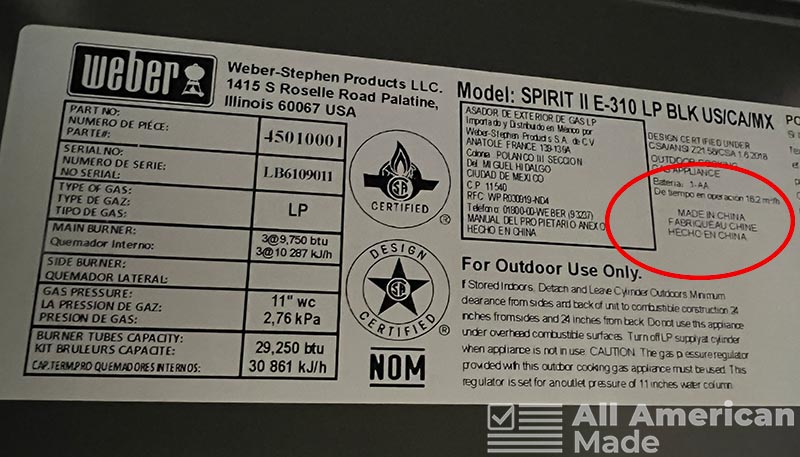 You can see the Weber grill above is clearly made in China, and it's no surprise that it's one of their cheaper models. You'll find that most of the cheaper grills are made in China, and the more expensive ones are made in the USA with globally sourced components.
If you'd like to find out more about Weber's manufacturing processes and which of their grills are made in the USA, keep reading.
Which Weber Grills Are Made in the USA? Here's How to Find Them

If you'd like to see more of the specifics around Weber's grills made in the USA, you can see exactly which grills they make in the USA on the Weber website here to exactly which models are made in the USA. In total, they still produce 79 grills in the United States as of 2022.
Weber continues to make the following products in the United States:
Summit series
Genesis series (excluding some Genesis II)
Signature series
Smokefire series
Charcoal series
We say some Genesis II grills are excluded because starting in November 2018. Weber began using a "dual source" approach to manufacture their Genesis II series gas grills.
When I asked Weber about this, they said, "Some of the Genesis II grills are manufactured in Palatine, Illinois, incorporating globally sourced component parts. Some Genesis II grills are manufactured in China. The quality of the Genesis II grills is identical, no matter where they are sourced from, and the warranty you receive with a Genesis II grill is also identical."
They also said, "please check the box of a Genesis II series grill, and there will be a Statement of Origin that identifies the location where the Genesis II grill was manufactured."
Why Weber Can No Longer Use the Made in USA Label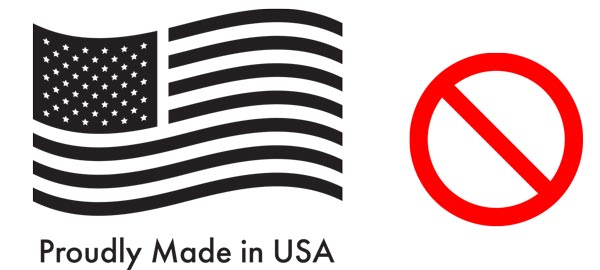 As we said before, many of the components for Weber are made from globally sourced parts, which we don't see as a problem as long as you list it as such. In case you've never encountered such a thing, mislabeling your products can land you in a boatload of trouble. A class-action lawsuit was filed against the American company for anyone who bought a Weber Grill from February 15, 2007, to February 15, 2012.
In particular, the charcoal grate and the charcoal separator were a problem since they made them both in China. Meanwhile, there was an issue with the hinged grilling grate, which they made in Taiwan. Weber finally settled on the case to avoid further litigation costs.
The class-action lawsuit payments were expected to be $2, $5, or $9. That may look laughable, and it is, but the point wasn't to make money off the lawsuit. Instead, they wanted to keep companies honest about the origin of their products. Lawsuits aren't always about the money but instead about holding companies accountable for their dishonest actions. If a product uses substantial globally sourced parts, it should have to list this information.
Weber continues to deny that it did anything wrong—we can see their point of view to a degree because they have largely remained a made-in-America brand, and we respect them for that. We wouldn't consider this a fully American-made brand because it uses globally sourced parts. However, the grilling industry, on the whole, has taken much of its manufacturing overseas to countries like China and Taiwan. That's why when a company like Weber does most of the work in the United States, we respect that.
What we don't respect is how the company is allegedly said to have not changed its practices even after the class-action lawsuit.
However, the use of globally sourced parts has many resemblances to the auto industry, where even the cars made in the United States will use globally sourced parts to keep the costs low. In some cases, you can buy better materials as well, so we wouldn't think of it as all bad.
What We Think of Weber Grills Being Made with Foreign Components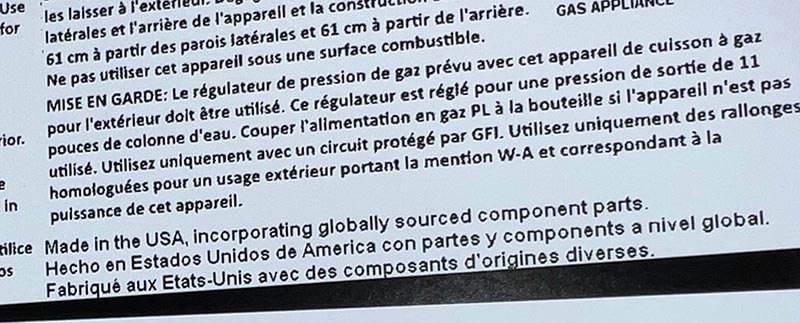 We have seen some people online act excessively harshly toward Weber over its use of globally sourced parts in its products. To us, this is a bit surprising because we haven't seen other companies catch half so much flack for doing the same thing.
The fact remains that the brand still largely produces most of its grills in the United States, which includes over 75 of its grilling products. To say that this company isn't worth supporting because it uses globally sourced parts doesn't look at the full picture. We can think of companies doing far worse than Weber. Still, we believe that they should use the label "Made in the USA with globally sourced parts" because this is an honest practice.
Most grilling companies don't even go this far to manufacture in the United States, which is why we cut them some slack. Another advantage of globally sourced parts comes from the fact that it still lowers the price slightly. If you have ever seen fully American-made grills, you would know how the higher-end grills can cost anywhere from $5,000 to $7,000. With not many people willing to spend that much on a grill, this shows us one of the reasons that Weber might look for parts abroad while keeping the manufacturing here.
To be clear, we still think that you should watch this company closely if you buy from them since they may shift production overseas at some point. Still, they haven't done that yet for the most part, which is why we still support them.
Are Weber Grills Made in China?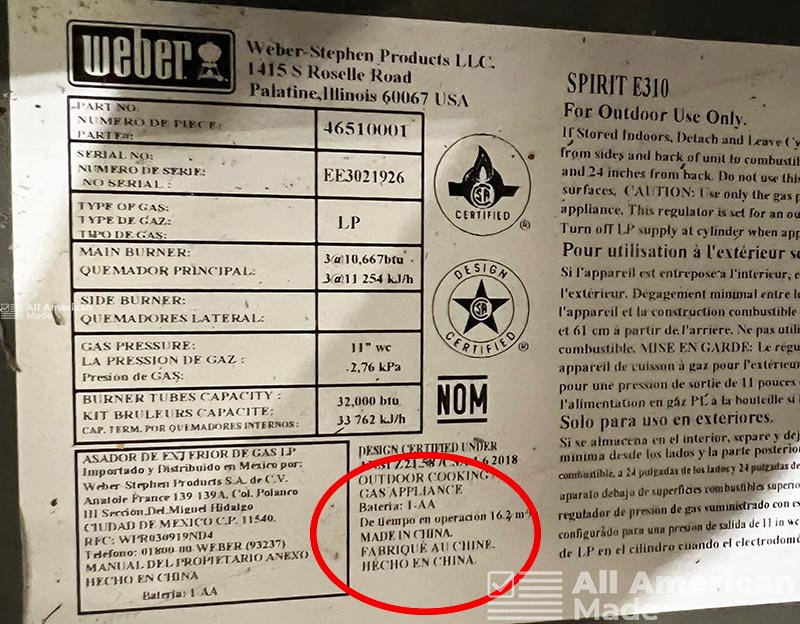 Some of the Genesis II Grills were made in the United States, but we think that a large portion of them come from China. We have also witnessed Weber's willingness to construct its newer models in China. They build the Genesis II models in China from a lighter material. Many of the parts that Weber uses come from China. The grills from the Genesis LX Range assembled in the United States are made differently from the Genesis II grills made in China.
The Genesis II LX Range continues to be produced in the United States, but you must watch this series if you want American-made. In particular, where we would watch would be with the expensive models. You don't want to pay exorbitant prices for a grill only to learn that they made it in China to pad their profits. You could put the same amount of cash toward a hard-working American-made company. Unfortunately, that can happen if you don't watch closely enough.
Many complained about how despite Weber manufacturing in China, the cost of the grills has remained the same.
Weber produces its Spirit series in China, also. One of the reasons behind this may come from how they can access better manufacturing facilities in China, and the logistics for parts are also more convenient. They have made the two products in China at least since 2007, which suggests to us that they may keep the rest of the manufacturing in the US. The one thing that we have noticed, however, is that we haven't seen a lot of investing in manufacturing more in the United States from this brand, which could indicate that they may switch it over.
Who Owns Weber Grills?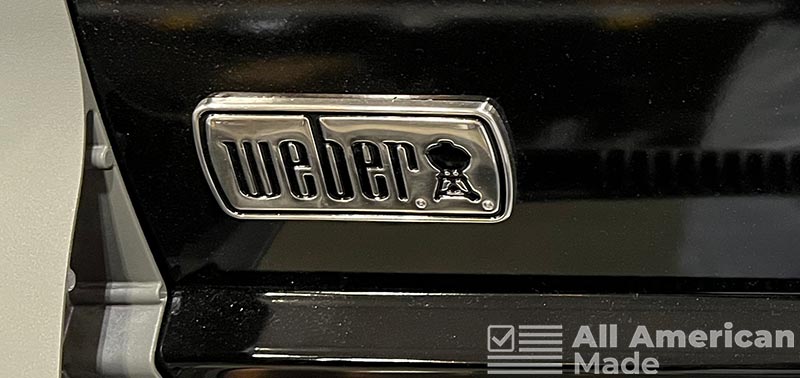 A company with its roots entangled deep in American heritage, the Weber brand started out as an American-owned company. The grilling part of the company began in 1952, but the metalworking part of the company stretches back to 1893. In fact, they started the company on May 8, 1893, as Weber Bros. Metal Works.
Today, along with BDT Capital Partners, the biggest shareholders in the Weber company include:
| | |
| --- | --- |
| Shareholders | Shares |
| BDT Capital Partners LLC | 25,548,789 |
| Bill & Melinda Gates Foundation Trust | 2,500,000 |
| Vanguard Group Inc. | 1,596,479 |
| Blackrock Inc. | 1,082,429 |
| Retirement Systems of Alabama | 750,000 |
This paints a picture of the top five shareholders at the company. Most of the shares remain in the hands of BDT Capital Partners LLC. The investment firm has a reputation for putting money into family-owned businesses and offering buyouts. Weber gives us one example of it, but they own other famous companies like Whataburger, Panera, Krispy Kreme, and Caribou.
Weber Factory in Palatine
Located an hour to the northwest of Chicago, Weber constructs its Genesis and Summit grills in Palatine. Below is a very cool video that shows Weber Grills being made in Palatine.
Technically, Weber can't say "Made in the USA" because of how they use globally sourced parts with many of their products. Outsourcing happens with various larger parts that make it no longer acceptable to say 100 percent American-made.
They do use some American parts, but they still have to say, "Made in the USA with Globally Sourced Materials." We still think that Weber performs 95 percent better than most of its competitors in the American-made category since most grilling companies send everything overseas.
George was a genius and father of 12 children—one thing he continued to get wrong, however, was the need for space. When he first moved into Palatine in 1983, George thought it was too much space. By 1997, they opened a second manufacturing plant several miles down the road to cope with the lack of space. In fact, the operation had so much success that they had to buy all the adjacent land in Palatine to keep up with the space requirements.
Back in the day, Weber made Palatine its main manufacturing facility, but they moved it over to a facility in Huntley, Illinois, in a building nearly as large as three football fields. You can see the construction of the Weber building in Huntley here to get an idea of the scale of its operations:
Weber: Made in Huntley
Huntley could be thought of as the newest facility for Weber. We first saw the building going up as a distribution center in 2014, but in 2020, manufacturing also started to take place here. This 757,120-square-foot facility has become the second-largest employer in Huntley, Illinois, behind Northwestern Medicine. All of the non-gas grills from Weber now come from Huntley.
They keep approximately 900 employees at the facility in Huntley but keep in mind that this includes global distribution. The global distribution center serves North America, Latin America, Asia Pacific, Africa, and Europe. It eliminated the need for distribution centers in other locations like Texas.
The factory sits on 73 acres, and some believe an expansion will happen here that will add 405,600 square feet to the building. This will bring the facility up to 1,162,720 square feet. They manufacture the kettle grills at this facility.
While the main manufacturing has moved to Huntley, Weber keeps its headquarters in Palatine.
The Largest Changes That Have Happened to Weber in Terms of Ownership and Manufacturing
In 2010, the Weber family sold most of its stake to BDT Capital Partners LLC. Some may worry that Weber is no longer an American company. In fact, this Chicago-based investment firm was started by Byron Trotts. To put that into further perspective, Byron Trotts was Warren Buffett's banker and advisor at one point. It remains an American company, and they continue to hold the majority of its shares.
In August 2021, Weber became a publicly-traded company where they put up 17.9 million shares for sale on the stock market. To put that into perspective, Weber has 287.18 million shares total, and 17.9 million was less than half of what they planned to offer for their IPO.
When companies enter the stock market, they hope to raise more capital to expand their operations. Sometimes, venture capitalists use IPOs as a way of exiting the investment of a company. We don't think that was the case here since they put less than six percent of all shares on the public market. They still hold a majority of the shares.
One of the biggest issues with Weber-Stephen going public comes from the fact that this often becomes a slow descent into manufacturing abroad. We haven't seen it yet with Weber, but we would advise strong caution with this company due to how its manufacturing operations could change quickly. If the company suddenly becomes less profitable or whatever, they may send manufacturing jobs overseas to appease investors.
Currently, they still manufacture 79 products in the United States, but when shareholders take stakes in companies, they often want the most profit and could care less about where they manufacture it as long as it brings the highest profit. The threat may prove less because of how they offered less than six percent of their shares to the public market, but we would still advise caution with this brand.
Popular Related Article: List of Great Pellet Grills Made in the USA
How to Buy American Made From Weber
Let's say that you like the Weber brand and you want to buy a grill—fair enough. Most Weber grills will bring a great return on investment. Its value enters into play as we look at the long-term cost of ownership and amazing grilling performance.
To buy an American-made Weber, don't shop based on price alone because even some of the Chinese models will fetch a higher price tag. Instead, check the origin of the product. You might research the specific model that you plan to buy ahead of time. You can even go so far as to call the Weber customer service line to see that the model that interests you was made in the USA.
Other Fully American-Made Alternatives
We have spoken about Webber and how whether you want to support a brand that uses globally sourced parts or not is up to you. Unfortunately, in today's globalized society, we think it will be an uphill battle to find entirely American-made grilling brands. However, we would like to point out some of the other excellent grilling brands made in the United States below that you may find preferable. We also have a full article on gas grills made in the USA here. Other awesome brand names include:
Broil King
Broilmaster
Artisan
American Outdoor Grill
Challenger Designs
American Muscle Grill
Broil King
Broil King builds gas grills, and they have factories in Dickson, Tennessee, and Huntington, Indiana. They have a third factory in Waterloo, Ontario, meaning that you may need to exercise caution with this choice. However, they operate as a Canadian company. Like their Weber competitor, the brand uses globally sourced parts in some of its grills.
Broilmaster
Broilmaster has produced luxury gas grills in the United States since 1966. They make the grills in Destin, Florida, and Belleville, Illinois, and have done business for over 50 years. The grill may cost more than its competitors, but it includes a lifetime warranty and a free replacement burner. Think of them as one of the proud few that remain made in America.
Artisan Grills
Owned by Alfresco, Artisan Grills has its base in Southern California. When Alfresco added Artisan to its lineup, they bought into one of the more reasonably priced, high-quality American-made grills. We like this brand because all of its grills were produced in the United States.
American Outdoor Grill
Unfortunately, even with names like American in the brand name, you can't always trust that they made them in the United States. We always advise checking even still. AOG gives us an exception. Located in a 260,000-square-foot facility in the City of Industry, California, they added a lifetime warranty on the grill's burners.
Challenger Designs
Challenger Designs offers a broad spectrum of products, including their ceramic grill carts, which they build in the USA. Starting in 2008, two principles hold up the values of this company, including adaptation and innovation. Not only have they made local manufacturing a selling point—they turned it into their mission. The small 25,000-square-foot facility has grown to 100,000 square feet in Nappanee, Indiana.
American Muscle Grill
Made in Huntington Beach, California, American Muscle Grill, a family-owned business, prides itself on over 20 years in business and its backing with a value-driven warranty. They offer an unlimited lifetime warranty on the stainless steel burners and a limited lifetime warranty on the front panel, steel hood, grates, hood, fuel trays, and burner covers.
Born from a passion for crafting the best products, American Muscle Grill lays out the full luxury grilling experience in an immersive cooking setting. You can buy their grills in two sizes: 36 inches and 54 inches. The brand has a presence on Amazon, and its widespread availability has made it a popular choice in some circles.
Popular Related Article: Where Are Traeger Grills Made?
Are Weber Grills Worth the Money?
Weber was the original maker of the grill, and they remain the king of backyard grilling for a reason—unchallenged value. Provided you treat a Weber grill with care, it will last a lifetime. The parts from Weber offer greater accessibility when you need them. Many have spoken about the awesome propane cookers and the charcoal porcelain-coated grill as lasting forever. Some reported having a Weber for over 10 to 15 years and still operating it.
They may cost more upfront, but there are far fewer issues reported compared to many other standard grills on the market.
Conclusion
If you have any further questions about where Weber Grills are made, let us know in the comments below. On the whole, we find that they made Weber Grills in the USA, but we would advise caution about the brand. Some felt burned in the past when they bought the grill, thinking of it as fully American-made, and learned later that it wasn't as much as what they thought. We would still give them credit where they deserve credit, however.
Hi, my name is Kevin and I'm from Pittsburgh, Pennsylvania. Choosing products made in America is important to me because it supports local economies, creates jobs, helps the environment, and ensures ethical labor practices. I also find that American made products are usually of higher quality so although they're a little more expensive, you save money in the long run. Before starting this website I was in the USMC infantry and nowadays I work on this website as a hobby.