Like other industries, American dinnerware brands have also had to compete with low-cost imports that may not be up to mark with their quality. To keep up, many companies started outsourcing production overseas, but thankfully some companies are still making great dinnerware sets made in the USA despite higher costs.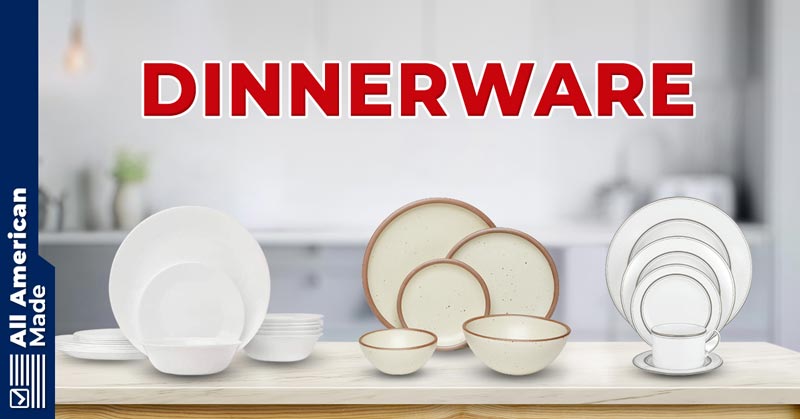 The brands featured on this list have long-standing faith in American craftsmanship and its unbeatable quality. There are many styles of dinnerwear, so simply scroll through this list and find the perfect set for your needs.
List of Dishes and Dinnerware Sets Made in the USA
Corelle Livingware (Very Popular)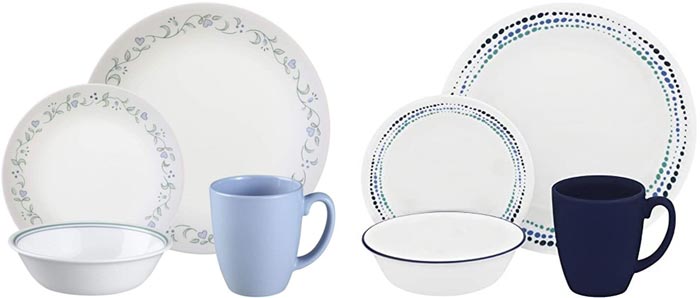 | | |
| --- | --- |
| Year Founded | 1970 |
| Types of Dinnerware | Dinner Sets, Plates, Bowls, Serving Platters and Bowls, Glasses |
| Styles | Embossed, Everyday, Classic, Signature, Boutique, Kids Collections |
| Materials Used | Vitrelle, Stoneware |
| Origin | Corning, New York, USA |
Corelle Livingware's Origin and Manufacturing Locations
This brand needs no introduction when it comes to dinnerware because Corelle is somewhat of a global rockstar! All thanks to the brand's revolutionary Vitrelle, a virtually indestructible concoction of two different types of glass, thermally bonded into a three-layer glass.
Corelle's journey began as a consumer products division under Corning Inc. before being formally launched as a brand in 1970. The parent company, Corning Inc., has been a pioneer in glass and ceramics for over 170 years. They're responsible for a slew of innovations in material science, including the ultra-sturdy and durable, Vitrelle. Besides Corelle, Corning Inc. is also home to several other leading Kitchen & Dining brands like Pyrex, Chicago Cutlery, CorningWare, and more.
Corelle Livingware's Dinnerware Selection and Offerings
Corelle is arguably the most popular dinnerware brand not just in the USA but across the globe! With a strong presence in over 40 countries and more than half of American households, it's highly likely you already own one of these. If not, check with your parents or grandmom for a first-hand account of Corelle's timeless and long-lasting dinnerware.
Corelle's never-ending catalog of No chip, No break dinnerware will woo even the most discerning buyers. A typical Corelle dish is delicate and exquisite enough to be cocooned in layers of bubble wrap and stashed away in the cupboard. But that's the best part about this dinnerware. It's thin, lightweight, but strong enough to withstand decades of daily use.
Whether shopping for everyday or occasional use or wedding registries, Corelle's generous selection of styles, patterns, shapes, and colors will not disappoint. Some of my favorite picks are- Portofino set, Ocean Blue Dinnerware, Winter Frost meal bowls, and Timber Shadows Square Dinner set. All of which are crafted with pride and love in Corning, New York, USA.
Fiesta Tableware (Most Color Options)

| | |
| --- | --- |
| Year Founded | 1936 |
| Types of Dinnerware | Sets, Plates, Bowls, |
| Materials Used | Ceramic, China, Stoneware |
| Origin | Newell, West Virginia, USA |
Fiesta Tableware's Origin and Manufacturing Locations
We can't talk about Fiesta without talking about Homer Laughlin China Company. Fiesta's parent company and one of America's most famous pottery ware brands was started by two brothers, Homer and Shakespeare Laughlin, in 1871. East Liverpool, Ohio, was then popular for yellow clayware but was facing a hard time competing with the English whiteware imports. Sensing an opportunity, the Laughlin Brothers started manufacturing white graniteware, eventually becoming a well-reputed maker of ceramic dinnerware and toilet ware.
Over the years, the company expanded on the back of new plants, kilns, and product lines. Launched in 1936, Fiesta's line of solid-colored glazed ceramic dinnerware became quite the rage. But like other industries, American pottery makers, too, had to grapple with the cheap imports. Not the one to give up, Homer countered competition by foraying into the food service industry with their new lines, including lead-free, eco-friendly china. As a result, Fiesta became a big player in the retail and commercial dinnerware space, with all its products made right here in the USA.
Fiesta Tableware's Dinnerware Selection and Offerings
Even though the company faced hard times in the '60s and '70s, people's admiration for their high-quality American-made dinnerware never diminished. Fiesta was clever enough to add colors and patterns that were in keeping with the contemporary decor trends.
They started with six simple color options in the 1930's- Red, Yellow, Cobalt Blue, Green, Ivory, and Turquoise. By 2008, Fiesta had produced dinnerware in over 39 color glazes! People love collecting Fiesta, especially vintage ones in original colors. And it is for this reason Fiesta dinnerware is also widely gifted.
Their catalog has all the essentials for a perfectly laid-out dinner table- plates, platters, bowls, place setting sets, cups, mugs, and saucers. For people who like their dinnerware colorful, this is the brand for you. Fiesta's color palette keeps growing each year with an addition of a new color glaze, the most recent one being a gorgeous peony shade.
HF Coors (Most Versatile)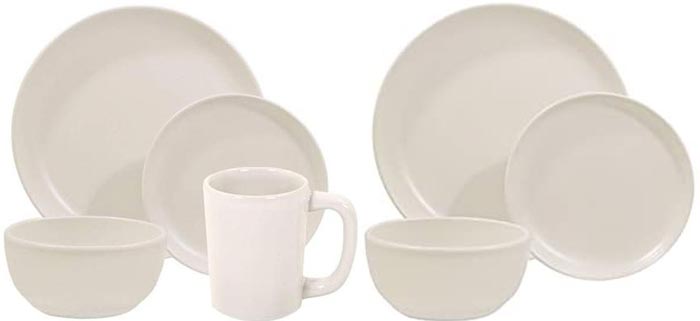 | | |
| --- | --- |
| Year Founded | 1925 |
| Types of Dinnerware | Dinnerware Sets, Plates, Bowls, Platters, Mugs, Cups, and Saucers |
| Materials Used | Vitrified, lead-free Ceramic |
| Origin | Tucson, Arizona, USA |
HF Coors' Origin and Manufacturing Locations
When you've been around for as long as this brand, surviving and thriving can only be because of unmatched levels of quality, durability, and craftsmanship. HF Coors began as the producer of vitreous china to commercial kitchens and restaurants before jumping wholeheartedly into retail space. California was picked as their first manufacturing location mainly because of the easy access to Southern California clays.
In his efforts to replicate Eastern and European chinaware, Founder Herman Fredrick Coors researched and worked tirelessly to create proprietary glazes and formulas. The result was fine quality, fully vitrified china available in a myriad of solid colors. After getting acquired by Catalina China in 2003, HF Coors moved lock, stock, and barrel from California to Tucson. From its new home, HF Coors is crafting 100% American-made dinnerware that you'll be proud to own.
HF Coors' Dinnerware Selection and Offerings
Making bright-colored dinnerware is the cornerstone of this brand. It was one of the few, nay, the only brand to offer hand-painted china to restaurants. The designs were often a collaboration between the client and Coors' in-house Art experts. The final patterns were painted on every piece using lead-free, high-fired, long-lasting colors.
Eye-catching creative designs and a wide color palette amount to nothing if the dinnerware breaks easily. Lucky for us, HF Coors plates and bowls boast unbeatable durability. They are chip-resistant and built to withstand rough wear at a restaurant. If it's good enough for a restaurant, it'll last even longer at home, with a bit of care, of course! And that's not all. Every plate and bowl is constructed to be safe for use in the microwave, dishwasher, oven, broiler, and freezer. All of this adds up to versatile dinnerware for your home or restaurant needs. Overall, HF Coors is easily one of our top recommendations to those searching for dinnerware made in the USA.
Nordic Ware (Melamine Dinnerware)

| | |
| --- | --- |
| Year Founded | 1946 |
| Types of Dinnerware | Plates, Meal Trays, Salad Plates, Picnic Bowls, and Sets |
| Materials Used | BPA-free and Melamine-free Plastic |
| Origin | Minneapolis, Minnesota, USA |
Nordic Ware's Origin and Manufacturing Locations
Nordic Ware is well-known for its innovative bakeware, cookware, dinnerware, kitchen tools, accessories, and whatever you need to get your kitchen going. It was started by the husband-wife team of Dotty and Dave Dalquist from the basement of their Minneapolis home in 1946. Their first product, the forever-popular Bundt cake pan, introduced new ways of baking to home cooks and chefs alike.
Close on the heels of the iconic cake pan came a wide array of versatile bakeware, Scandinavian cookware, and finally, microwave-safe dinnerware that we'll be talking about in a bit. Today, Nordic Ware provides livelihood to hundreds of employees and produces a major chunk of their products, 300 to be precise, in their hometown in Minneapolis, Minnesota.
Nordic Ware's Dinnerware Selection and Offerings
Nordic Ware's Bundt cake pans may be the jewel in their crown, but their dinnerware is equally awesome! It's true that the selection is limited compared to their ever-expanding bakeware, but it's worth exploring. After all, this brand is a crowd-favorite for its quality and high-performance products.
Nordic Ware's dinner collection of microwave-safe picnic bowls, plates, 3-piece dinnerware sets, meal trays, and salad plates are all made from BPA-free and Melamine-free plastic. Perfect for everyday use, this dinnerware is well-made, microwaveable, hygienic, and an eco-friendly alternative to disposable plates and bowls.
Kate Spade (Modern Design)

| | |
| --- | --- |
| Year Founded | 1993 |
| Types of Dinnerware | Sets, Plates, Bowls |
| Materials Used | Bone China |
Kate Spade's Origin and Manufacturing Locations
If you don't recognize the name, Kate Spade is a massive company known for everything from apparel to jewelry to dinnerware. The company offers a wide selection of dinnerware sets and they all look great.
Kate Spade's Dinnerware Selection and Offerings
I find Kate Spade dinnerware to be stunning and extremely quality. A five-piece setting includes one dinner plate, one salad plate, one bread plate, one cup, and one saucer.
Whenever I hold a Kate Spade piece, whether it's a wallet, purse, or these dishes, I just feel like everything they make is exquisite and special. There's something kind of fun and modern about everything they offer, and these dishes are no exception. The design and weight of the china are both excellent.
Popular Related Article: Cookware Made in the USA (Source List)
Lenox Eternal Dinnerware Sets

| | |
| --- | --- |
| Year Founded | 1889 |
| Types of Dinnerware | Dinnerware Sets, Plates, Bowls, Platters, Mugs, Cups, and Saucers |
| Materials Used | Bone China |
| Origin | Kinston, North Carolina |
Lenox Eternal's Origin and Manufacturing Locations
Lenox's bone china is absolutely stunning and if you don't already know, bone china is considered by most to be the finest porcelain. In contrast to basic porcelain and "fine" porcelain, bone china is stronger and more translucent.
What I like about Lenox's bone china is that it's chip-resistant and dishwasher-safe. This is the kind of dinnerware set you buy and enjoy for a lifetime.
Lenox Eternal's Dinnerware Selection and Offerings
Lenox offers a wide variety of stylish white dinnerware if you love sophistication and elegance. It's a popular collection that can be used alone or combined with other Lenox patterns to make a memorable presentation.
Lenox is in a class of its own when it comes to color. Whether you're looking for soft pastels in Westmore or a rich and detailed floral style in Garden Grove, Lenox has a pattern for you.
As you mix and match different patterns and color variations, you can create a table that matches your style.
Heath Ceramics (Timeless and Functional)

| | |
| --- | --- |
| Year Founded | 1948 |
| Types of Dinnerware | Plates, Bowls, Mugs & Cups, Sets, Serving Bowls & Platters |
| Materials Used | Ceramic and Glass |
| Origin | Sausalito, California, USA |
Heath Ceramics' Origin and Manufacturing Locations
This brand's mission is pretty straightforward- to create timeless, functional designs that you'll enjoy using. And they've been doing precisely that since 1948! Edith & Brian Heath founded Heath Ceramics, a small pottery business in Sausalito. Fueled by Edith's creative designs and Brian's keen business acumen, the brand prospered, becoming a well-known name for its uncompromising quality and careful crafting.
After spending years establishing Heath Ceramics as a pottery ware brand of choice, the Influential couple handed over the reins to Catherine Bailey and Robin Petravic in 2003. The new owners had a better sense of the modern pulse. They adapted the designs more in sync with contemporary lifestyle and meal habits and made Heath Ceramics an even bigger success.
Heath Ceramics' Dinnerware Selection and Offerings
Mid-century modern enthusiasts will love this brand! Ever since Bailey and Petravic took over, new colors and product lines have been introduced- more practical from today's point of view but never once straying from Edith and Brian's legacy. High on beauty and versatility, Health Ceramics' dinnerware is a staple of wedding registries.
What I loved most about this brand was the freedom to mix and match a dinner set. The glazes blend amazingly well with each other. In their dinnerware collection, you'll find plates, cereal bowls, dessert bowls, salad bowls, vegetable bowls, serving platters, and mugs. Their best-selling Coupe line from the 1960s is a workhorse- simple, functional, and still very much in style.
Chez Panisse is another line that deserves your attention. Designed with inputs from famous Chef Alice Waters and Designer Christina Kim, this elegant collection is inspired by the quintessential French porcelain restaurant ware. And trust me when I say this, eating off of it feels like dining at a Michelin-starred restaurant!
HAAND 5 Piece Dinner Setting (Very Unique)

| | |
| --- | --- |
| Year Founded | 2012 |
| Types of Dinnerware | Plates, Bowls, Dinnerware Sets |
| Materials Used | Porcelain |
| Origin | North Carolina |
HAAND's Origin and Manufacturing Locations
HAAND is a relatively new company compared to many of the others on this list, but I love that the company makes all of its products in-house. The company is obsessed with the entire creation process, and they've become well known for their high-quality porcelain dinnerware.
HAAND's Dinnerware Selection and Offerings
Although the plates look handmade, they have a consistent shape, so they can be stacked. There is a nice finish on the plates. The plates are durable, and the team at HAAND could not have been more helpful.
These plates offer good value for handmade quality tableware. We can't recommend them highly enough. We are impressed with the quality and craftsmanship. I look forward to using my place settings at our next family gathering. It has a contemporary style I really like. The pottery is a perfect match for my bohemian eclectic style, and I like how the settings look on my dining room table.
The Ripple Dinner set in Burl is beautiful. I just love how timeless, classic, and simple it is. Because of the hand-crafted Ripple dinner set, I am so excited for my Thanksgiving table this year. Beautiful hand-crafted pottery like this can't be emphasized enough. It's beautiful, artful, and well-designed.
They have earthy, asymmetrical shapes that I love. I also like the way the porcelain feels. The multi-color option was perfect for me because I had trouble choosing between the glazes. I plan on expanding my collection in the future. Supporting a small American company ticks all the boxes for me. Overall, HAAND easily makes some of the highest quality dinnerware made in USA.
US Acrylic (Budget-Friendly Pick)

| | |
| --- | --- |
| Year Founded | 1978 |
| Types of Dinnerware | Dinner Sets, Plates, Meal Trays, Cereal Bowls, Serving Bowls |
| Materials Used | Acrylic |
| Origin | Libertyville, Illinois, USA |
US Acrylic's Origin and Manufacturing Locations
US Acrylic has been proudly making long-lasting and practical acrylic ware in the USA for over four decades now. Besides an inviting collection of dinnerware, this family-owned company also makes stylish glasses and multi-purpose serving bowls and trays. The person behind US Acrylic, Junior Hsu, started his operations by producing and supplying quality acrylic ware to mom-and-pop stores.
As time passed, new challenges and opportunities came up. The company continued growing by getting creative and adapting its product lines to keep pace. Today, US Acrylic is the brand of choice for American-made clear acrylic among large-scale retailers and the online marketplace.
US Acrylic's Dinnerware Selection and Offerings
The lion's share of US Acrylic's more recent success is thanks to their much-loved store on Amazon, where they sell over 150 products. Their hot-selling Newport dinnerware is a 12-piece set with 10-inch dinner plates, 20-oz tumblers, and 6-½ inch bowls. Available in four colors, This set uses BPA-free acrylic that tends to fare better than glass in terms of durability. It doesn't shatter, chip, or get damaged, making it an ideal option for picnics and outdoor dining.
Stackability is another feature I am in awe of. The entire set piles up on top of each other neatly, leaving you plenty of space in kitchen cabinets or countertops for other items. For kids, US Acrylic offers Harmony Divided meal trays in 12 tropical colors, sure to put a smile across your little one's face.
Bennington Potters (Stoneware Dinnerware)

| | |
| --- | --- |
| Year Founded | 1948 |
| Types of Dinnerware | Dinner Plate, Lunch Plate, Dessert Plate, Soup/Pasta Bowl, and Tankard Mug |
| Materials Used | Stoneware |
| Origin | Bennington, Vermont, USA |
Bennington Potters' Origin and Manufacturing Locations
From humble beginnings as an artists' cooperative in a tiny barn to graduating to a five-acre manufacturing setup, Bennington Potters has come a long way. It was started in 1948 by David Gil in picturesque Vermont. Gil applied his technical know-how as a graduate of a University run ceramics program to produce top-grade, classy and budget-friendly ceramicware.
Under Gil's dynamic leadership, the brand not only survived fierce competition but grew by facing challenges head-on and not letting good opportunities slide by. Now led by Gil's wife, Sheela Harden, Bennington Potters still makes all its carefully crafted and functional pottery ware at Potters Yard in Bennington, Vermont.
Bennington Potters' Dinnerware Selection and Offerings
For all your hosting and gifting needs, Bennington Potters' gorgeous, heirloom-quality pottery ware is a match made in heaven. Each piece has a unique character and is made by hand from start to finish.
This brand makes two lines of American-made dinnerware sets – Classic and NewLine. The classic dinnerware comes in 10 beautiful glazes, including Blue Agate, Tavernware, and Morning Glory. A 5-piece place setting comes with all the essentials like a 10.5-inch Dinner plate, 8.5-inch lunch plate, 6-inch dessert plate, a 16-oz rimmed soup bowl that can double up as a pasta bowl, and a Tankard mug. You can buy these sets depending on your family size.
What sets NewLine apart from Classic is its unique glazed bottom and eye-catching rimmed design. Other than that, everything is pretty much the same, including the price, giving you the flexibility to mix and match the dinnerware between the two. Need more reasons to check this lovely collection out? How about their offer of getting 10% shaved off when you buy any four or more place settings? Click the link above to explore Bennington Potter's beautiful and durable stoneware.
Pickard China

| | |
| --- | --- |
| Year Founded | 1893 |
| Types of Dinnerware | Accent Plates, Dinner Plates, Appetizer Plates, Dessert Plates, Soup, and Meal Bowls |
| Materials Used | Fine China, Porcelain |
| Origin | Antioch, Illinois, USA |
Pickard China's Origin and Manufacturing Locations
As the oldest fine china manufacturer in the US., Pickard China has stood the test of time and held its own during the onslaught of low-cost imports. All this while remaining family-owned with unwavering faith in the power of American manufacturing. It was started in 1893 by Wilder Austin Pickard, and eventually getting famous for its hand-painted dinnerware, especially dessert and tea sets.
Initially, the company wasn't into making their own porcelain, instead of relying on importing blank ware, which would be hand-decorated by Pickard's selected artisans. In 1937, Pickard China began its plant in Antioch, Illinois, producing and decorating china for the likes of American diplomats, heads of state, multinational companies, and luxury hotels, including President Barack Obama!
Pickard China's Dinnerware Selection and Offerings
At their Illinois factory, every piece goes through no less than 21 steps and multiple rounds of inspection by a highly trained eye to deliver the quality and craft the brand is so famous for. To me, their dinnerware collection looked nothing less than pure art, crafted in elegant shapes and patterns. The china itself is highly durable, lightweight, and translucent- a perfect canvas for the adornment that follows.
From traditional to contemporary, clean to vividly colorful, sophisticated to statement pieces, Pickard makes them all. And each of these patterns comes with 24k gold rim or decor,100% pure platinum, and cobalt for a lustrous finish. Since this is an upscale brand, expect the price to be a little steep but every bit worth the heirloom quality. If you like personalization and are in the mood to splurge, ask Pickard to monogram your pick of dinnerware from their signature collection.
Pickard China is your one-stop shop for all dining and entertaining must-haves like Accent, Dinner, Appetizer, Dessert Plates, Soup, and Meal Bowls, manufactured with the same American craftsmanship and attention to detail as when first launched.
Related Article: American Made Cutting Boards We Recommend
Preserve (Eco-Friendly Option)

| | |
| --- | --- |
| Year Founded | 1996 |
| Types of Dinnerware | Everyday Plates, Bowls, Tableware Set, Compostable Plates and Bowls, On the Go Dinnerware, Serving Bowl |
| Materials Used | 100% Recycled BPA and Melamine-Free, Non-Toxic Compostables |
| Origin | Waltham, Massachusetts, USA |
Preserve's Origin and Manufacturing Locations
Since 1996 Eric Hudson's Preserve has been making a difference in the world with its innovative, low-impact products made from 100% recycled AND recyclable plastic. Preserve's commitment to preserving the planet's resources has started bearing fruits. The company was recently certified Climate Neutral for reducing its already low carbon footprint by contributing to initiatives like reforestation and planting mangroves to improve ocean health.
Preserve's Dinnerware Selection and Offerings
Changing yogurt cups into toothbrushes and take-out boxes into dinnerware might sound like magic, but it's really just science and a hearty dose of creativity. Through their collaboration with experts and scientists, Hudson and his team manufacture functional and environment-friendly items, including fan-favorite dinnerware.
Preserve's lightweight, sturdy, BPA-free dinnerware can be bought as a set or open stock. Their tabletop collection is perfect for on-the-go meals or everyday use at home. Now, who hasn't been bothered with cutlery marks on dinnerware that is somewhat of an eyesore? Not in this case! Preserve plates come with a textured surface to hide those ugly marks. Their Everyday TableWare Set is ideal for a small family. For a bigger gathering, you could opt for a pack of 20, 40, or 60 that comes with a roomy reusable tote bag for storing the dishes.
Bauer Pottery (Open Stock Dinnerware)

| | |
| --- | --- |
| Year Founded | 1895 |
| Types of Dinnerware | Appetizer, Salad, Luncheon, Dinner, and Dessert Plates; Soup, Cereal, Pasta Bowls; Serving Platters; Dessert Cups |
| Materials Used | Lead and uranium-free Earthenware, Ceramic |
| Origin | Highland, California, USA |
Bauer Pottery's Origin and Manufacturing Locations
When Bauer Pottery's founder John Andre Bauer first set up shop in 1895, he mainly produced brown-glazed, hand-thrown tables and jugs. With growing demand came new product lines as well as a brand new manufacturing site in Los Angeles. After Bauer died, his son-in-law Watson E. Bockman stepped in and launched California Colored Pottery, a brilliantly colored solid earthenware, dinnerware, and kitchen products.
After decades of successful existence, the company succumbed to neglect and poor management, causing it to shut down in 1962. The brand got a new lease of life in 2000 when collector Janek Boniecki reverse-engineered and recreated Bauer's original shapes and lines from his possessions. The new products are handcrafted by skilled artisans at Bauer's factory in Highland, California.
Bauer Pottery's Dinnerware Selection and Offerings
Bauer Pottery is another brand that can rival the likes of HF Coors, Fiesta, and Picakard China in color options and durability. You pick out a dinner set in monochrome or experiment by mixing it up. Bauer offers everything you might need to eat your meals in style. Their classic earthenware dinner collection still sports the iconic rings that were designed in the early 20th century.
Start the day with their small bread plate, cereal bowl, fruit bowl, and egg cup. For lunch and dinner time, use the well-made and identical 8-inch salad plate, 10.5-inch luncheon, and 11-inch Dinner plates, available in 16 stunning shades. To serve the meals, you can rely on Bauer's lovely selection of round and oval platters that come in different sized. Meanwhile, parfait cups, custard cups, and dessert plates are perfect to end the meal on a sweet note.
While their classic collection does well in a casual setting, the curvy, trendy, and glossy Russel Wright ceramic dinnerware is what you should use when hosting guests. We love Bauer Pottery's made-in-USA dinnerware, and we're impressed by its wide range of offerings.
Simon Pearce (Very Stylish)

| | |
| --- | --- |
| Year Founded | 1981 |
| Types of Dinnerware | Pasta Bowl, Side Plate, Dip Bowl, Serving Platter, Dinner Plate, Pitcher, and Mug |
| Materials Used | Stoneware, Glassware |
| Origin | Quechee, Vermont, USA |
Simon Pearce's Origin and Manufacturing Locations
Vermont-based Simon Pearce has graced many American kitchens and homes with its expertly crafted glassware and dinnerware. Having trained in glassblowing from Kilkenny, Ireland, founder Simon Pearce brought the centuries-old craft to America when he moved to Quechee, Vermont. As someone from a family of artisans, attention to detail and passion for intricate art was in Simon's blood.
Powered by Pearce's European sensibilities and artisanal talent, the brand evolved into highly-reputed glassware and dinnerware brand that did all of its manufacturing with pride and passion in the USA. To know more about the celebrated design icon's fascinating life and his namesake brand, grab a copy of Glenn Suokko's book Simon Pearce: Design for Living.
Simon Pearce's Dinnerware Selection and Offerings
Simon Pearce's hand-thrown dinnerware collection is designed to be your go-to tableware for any occasion. It's available in four sensational lines- Barre Alabaster, Cavendish Dove, Belmont Crackle Celadon, and Burlington. Let's get to know each in a bit more detail.
Barre Alabaster is an upmarket line of chic place setting handmade with lead and cadmium-free stoneware. It comes in two gorgeous matted options, Alabaster(White) and Slate (Black). Cavendish, on the other hand, has a more enduring design. Dishwasher and microwave safe, finished in dove, a shiny white alabaster glaze- perfect for everyday use.
When it comes to design, Belmont is a masterful blend of traditional and modern aesthetics. Hand-finished in classic dove, crackle celadon, and crackle ivory, this dinnerware is restaurant-level fancy. Finally, for the more adventurous souls, I recommend Burlington-rustic, earthy, freehand ware for a truly unique dining experience.
Popular Related Article: Great American Made Stake Knives
Your Western Decor (Great Western Dinnerware)

| | |
| --- | --- |
| Year Founded | 2009 |
| Types of Dinnerware | Dinner Plates, Salad Plates, Soup Bowls, Salad Bowls, Mugs, and Chili Bowls |
| Materials Used | Stoneware, Melamine, Vitrified Ceramic |
| Origin | Pilot Rock, Oregon, USA |
Your Western Decor's Origin and Manufacturing Locations
Fans of the Wild Wild West, look no further than Your Western Decor's thoughtfully curated Western-inspired dinnerware collection. From furniture to linen to decor to dinnerware, this brand's bustling vault has everything for the rustic souls. All tableware and dinner sets offered here are 100% crafted on American soil for durability and beauty.
Your Western Decor's Dinnerware Selection and Offerings
Pinecone Lodge dinnerware is a real head-turner! It's a delightful combination of red, terracotta, and rich copper glaze with an interesting design. The collection offers everything you'd possibly need, including dinner plates, salad plates, soup bowls, salad bowls, and mugs. It's entirely made by hand and available on order, typically within 30 to 45 days from the date of order.
Feathered Frenzy Melamine Dinnerware is one of the best-selling collections, well-suited for outdoor fiestas and barbecues. Beautiful feather design against soft hues, it's available in a 14-piece set and can be yours within days of placing the order. Forest Moose Pottery is another set that caught my eye. A picturesque wildlife scene against a multi-colored backdrop makes it a real treat to the eyes.
For something that's crafted in the USA, the price of these Western-style dinner sets isn't too bad at all! Some other collections that I found fascinating are- Senora Splash Southwest, Succulent & Cactus Print, Teal Stone Melamine, Turquoise Embossed Dinnerware, and Texas Chili Bowls.
Popular Related Article: Measuring Cups Made in the USA (Source List)
Emerson Creek Pottery

| | |
| --- | --- |
| Year Founded | 1977 |
| Types of Dinnerware | Sets, Dinner Plates, Salad Plates, Cake Plates, Bowls, and Cups |
| Materials Used | Stoneware |
| Origin | Bedford, Virginia, USA |
Emerson Creek Pottery's Origin and Manufacturing Locations
Before relocating to Virginia in 1977, Emerson Creek Pottery's workshop used to be a stone's throw away from a historic creek in Massachusetts, New England, which was also the inspiration behind the brand name. Their early designs honored traditional cobalt-adorned ware- simple, monochrome, porous-glazed stoneware decked up with a hand-painted Pine tree or an Iris in full bloom.
With time, designs evolved, and techniques became sharper and more efficient. Even today, Emerson Creek Pottery continues to hand-decorate and craft every piece all the way down to clays, glazes, and paints in Virginia, USA.
Emerson Creek Pottery's Dinnerware Selection and Offerings
Whether you pick flat, painted, rimless Coupe or matte, rimmed Brooklyn, or the ever-popular Classic, each design packs loads of personality to elevate the aesthetics of any table.
The brand also makes bright and colorful hand-painted kids' dinnerware in two lovely designs, Ladybug and Goldfish. You can also customize these plates, mugs, and bowls with your child's name and date of birth.
I was happy to find this hand-painted glossy, and matte pottery is freezer, microwave, oven, and dishwasher safe. Each piece is built with a special non-toxic formula and is perfect for all occasions. Besides making everything, including clays, glazes, and paints onsite, Emerson Creek takes pains to source all raw materials from within North America.
Kiddiebites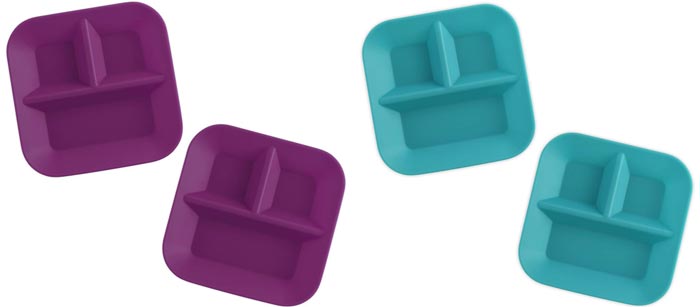 | | |
| --- | --- |
| Year Founded | 2017 |
| Types of Dinnerware | Divided Plates |
| Materials Used | 100% Platinum-cured FDA-approved Silicone |
| Origin | New York, USA |
Kiddiebites' Origin and Manufacturing Locations
For our tiny tots, nothing less than the best will do! True, there are many options for kids' meal-time gear, but finding brands that make extremely safe, highest-quality, toxic-free, American-made is daunting. Joining the likes of Re-Play, US Acrylic, is Kiddiebites, an innovative and reliable brand that makes safe and adorable meal-time products for kids from scratch in the USA with American-made materials.
The lady behind this brand is Denise Kulhan, a stay-at-home mom who was underwhelmed by the quality of dinnerware for kids. Buying imported cheaply made plates, even if easy on the pockets, wasn't an option and USA-made silicone plates were simply not available anywhere. So she decided to make it herself.
Kiddiebites' Dinnerware Selection and Offerings
When it comes to kids, anything that has a remote chance of shattering and chipping just doesn't cut it. That is why this brand's 100% platinum-cured FDA-approved silicone is the perfect pick of material. The material is strong, flexible, and easy to clean- wash it by hand or pop it in the dishwasher for a good clean. What's even better is that silicone outlasts plastic in longevity. Just make sure you read the care and safety guide for hassle-free maintenance.
All Kiddiebites plates are completely free of harmful chemicals, meaning you won't have to worry about BPA, BPS, and other toxic chemicals leaching into your baby's food. Available in many colors, Kiddiebites flexible silicone plates have divided sections to keep food from flowing and mixing into each other. The unique angled edge is a thoughtful design feature ideal for nudging toddlers to feed themselves with spoons and forks.
When you buy one of their plates, you're not only supporting the local economy and providing a nourishing meal for a pre-schooler in need through Kiddibites' one plate= one meal program. If you're looking for non-toxic dinnerware made in USA, Kiddiebites is perfect for kids.
Re-Play (Loved by Kids and Grown-ups Alike)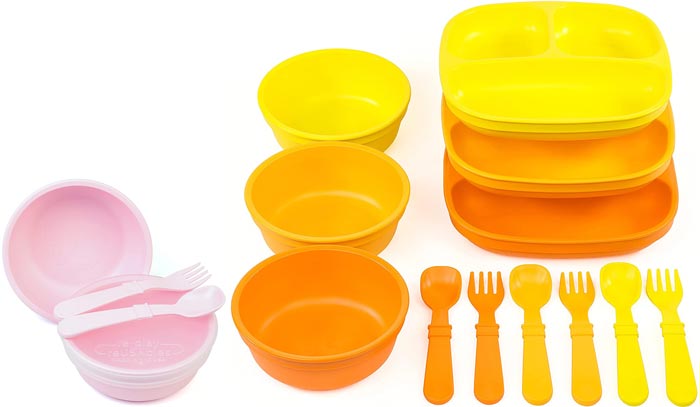 | | |
| --- | --- |
| Year Founded | 1987 |
| Types of Dinnerware | Plates, Bowls, Trial Sets, Deluxe Sets, Snack Stacks, Meal Trays |
| Materials Used | Chemicals-free Plastic from Recycled Milk Jugs |
| Origin | Winter Park, Florida, USA |
Re-Play's Origin and Manufacturing Locations
Founders Craig and Amy Shumway's eco-conscious lifestyle was the driving force behind Re-Play. Their very first product was a multi-purpose scrubber. The inventive bit wasn't the scrubber but its extremely planet-friendly handle made from recycled milk jugs.
Following the success of their all-purpose scrubber, a new product category was introduced in 2011- colorful dinnerware for kids. For quite some time, Re-Play was limited to producing only kids' tableware. But in 2018, they decided to cast a wider net by launching grown-up sizing. Today, this brand is sought-after for its reusable, bright, durable, and wallet-friendly tableware for the entire family. And the icing on the cake is that all their dishware is made 100% right here in the USA.
Re-Play's Dinnerware Selection and Offerings
Now, there are many brands in the market that claim their dinnerware to be eco-friendly, recycled, and whatnot. But one look at the fine print, and you know it's coming from across the borders. Such a long journey, with some coming as far as 12,000 miles from the other side of the globe with all its carbon emissions, isn't good news for the planet? Now compare this with Re-Play's policy of restricting product travel to 940 miles from the factory to the doorstep, and you get a brand that's truly "eco-friendly" in every sense of the word.
Re-Play's products are made from recycled, food-grade chemical-free plastic. You'll never have to worry about BPA, BPS, PVC, lead, phthalates, and toxic coatings going into your food. Their dinnerware catalog has everything from plates, bowls, snack stacks, and divided meal trays. In terms of colors, you could pick from a vibrant array of bright and perky colors or go for something softer and muted from their recently launched Earth-tone palette.
Factors to Keep in Mind While Buying Dinnerware
Tasty food gets even more enjoyable when served on the right dinnerware. Here are some quick tips on how to shop for dinnerware that you, your family, and guests will love using.
Type: Most brands sell dinnerware in the following ways
Boxed Sets: These include everything from dinner plates, salad plates, soup bowls, teacups, and saucers. I find them more budget-friendly than individual place settings. The most common boxed sets with all essentials come in lots of 16 or 20.
Place Setting: Some premium materials, especially porcelain, are offered in place settings or all the gear a person would need to eat in style. These can get as elaborate as you want or your pocket allows.
Open Stock: Most brands offer their dinnerware as open stock or individual pieces. You can buy something that goes with your existing collection or add a bit of pizzazz by mixing and matching!
Material: Lightweight, semi-translucent china looks delicate but is one of the most durable dinnerware you could buy. It is, of course, steeper in price than the rest. For something more affordable with the same gracefulness and durability as china, consider Porcelain. Both bone china and porcelain are widely used in formal dinnerware because of their elegance.
For everyday use, stoneware and earthenware are perfect. These are heavier and thicker but not as strong as bone china. Although some brands, with their special clay formulas and glazes, have managed to make these quite long-lasting. For something totally shatter and chip-proof, Melamine Dinnerware is a good call.
Style: Do you prefer whites or solid colors? A timeless design that never goes out of style or something contemporary or historic? A glossy or matte glaze? Spend some time thinking over the color, pattern, and decor of your dinnerware, and choose the one that reflects your style.
Wrapping Up:
As always, we were thrilled to find that there are still some companies that will not give up on American manufacturing for the world! Every brand in this article brings something unique to the table (pun intended!).
Whether you pick something in vintage styles or modern, fine china or stoneware, or eco-friendly recycled plastic, this guide has something for everyone. If we inadvertently left out a popular brand or one you really love, drop us a comment below. We'll be happy to include it here!
Hi, my name is Kevin and I'm from Pittsburgh, Pennsylvania. Choosing products made in America is important to me because it supports local economies, creates jobs, helps the environment, and ensures ethical labor practices. I also find that American made products are usually of higher quality so although they're a little more expensive, you save money in the long run. Before starting this website I was in the USMC infantry and nowadays I work on this website as a hobby.