Ryobi was founded in Japan in 1943 and has remained a foreign-owned company. They began their production of power tools in 1968. Knowing how this brand started overseas, you may wonder where Ryobi produces its products. Do they make some of their tools in America?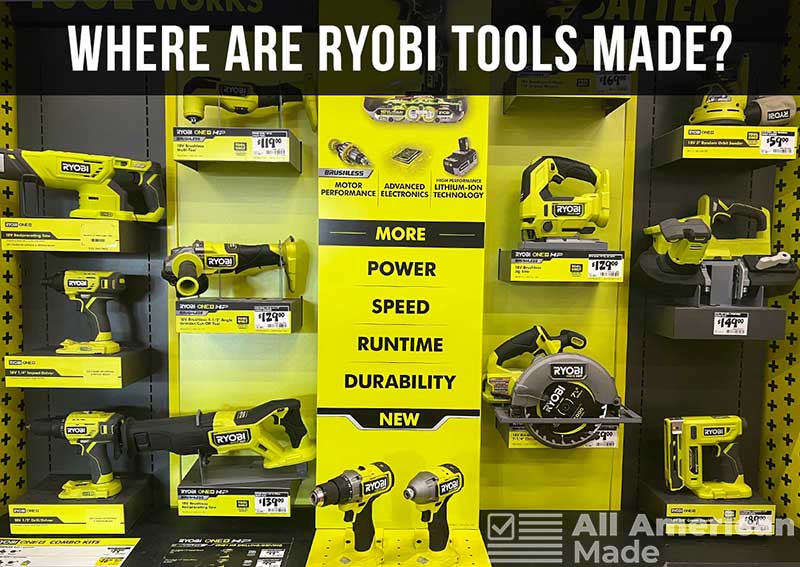 In the rest of this article, we'll share where Ryobi tools are made and other important information about the company.
Most Ryobi tools are made in China. However, they do have 12 manufacturing facilities across six countries, and a few select products are made in the United States. They make some of their products at their Anderson, South Carolina facility.
Are Any Ryobi Products Made in the USA?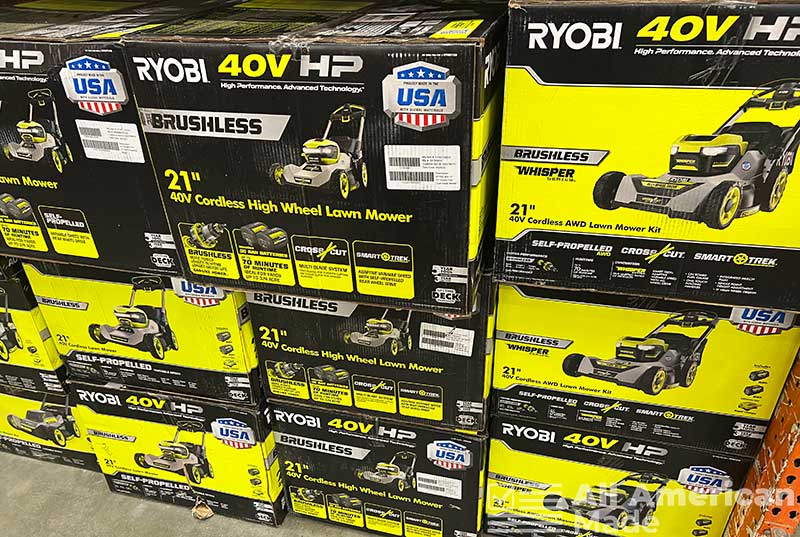 Ryobi does offer some lawn mowers that are American-made, but none of their power tools are made in the USA. I actually reached out to Ryobi support, and they confirmed they offer two lawnmowers that are made in the United States. These two models are:
Unfortunately, the two products outlined above show you the only guaranteed Ryobi products made in the United States. The representative told us that Ryobi makes some of its other products in the United States, but they sometimes make them abroad as well, which makes it difficult to tell where they made their products.
We also wish that Ryobi would make it a little easier to determine the country of origin. You rarely see their product descriptions say, " Made in China." Most often, it doesn't even come with an origin label.
Whenever this happens, however, you can usually assume that the product wasn't made in the United States. The reason behind that is that most Americans want to support brands made in the USA.
If they weren't made in the USA, it often becomes more of a liability for them to put the origin. Still, they're required by law to put it on the package, but if you don't see it out in the open as "Made in the USA," they probably made it elsewhere at the least. Most of the time, they will even put it out in the features list if American-made since it becomes a strong selling point.
Ryobi Power Tools Manufacturing Locations
Ryobi primarily makes its power tools in China. You have several manufacturers there that make it difficult to say where in China. We know that Ryobi has a manufacturing facility in Hong Kong, where Techtronic Industries also keeps its headquarters.
I actually decided to go into a Home Depot, Lowes, and other home improvement stores by my home to see where the Ryobi tools being offered there were made.
The first tool I checked was a drill, and I found that it was made in China (as you can see in the photo below).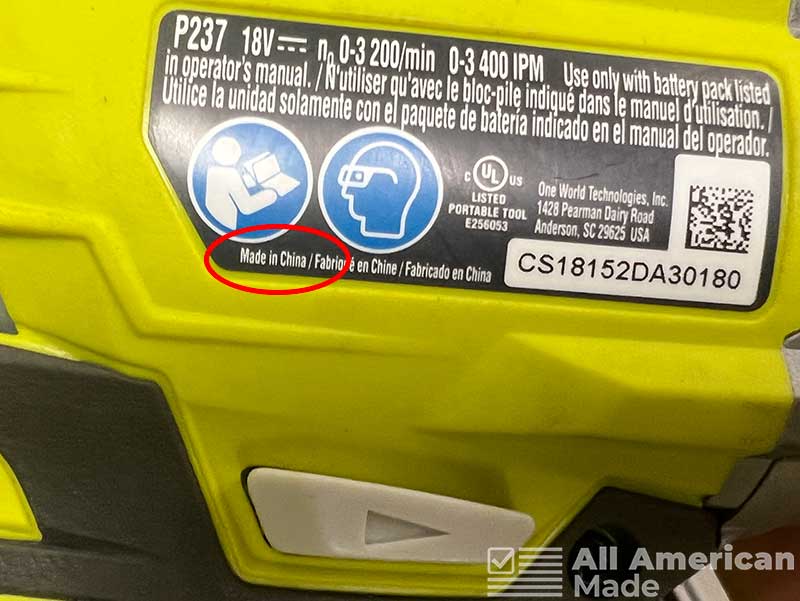 The second power tool I checked was also made in China.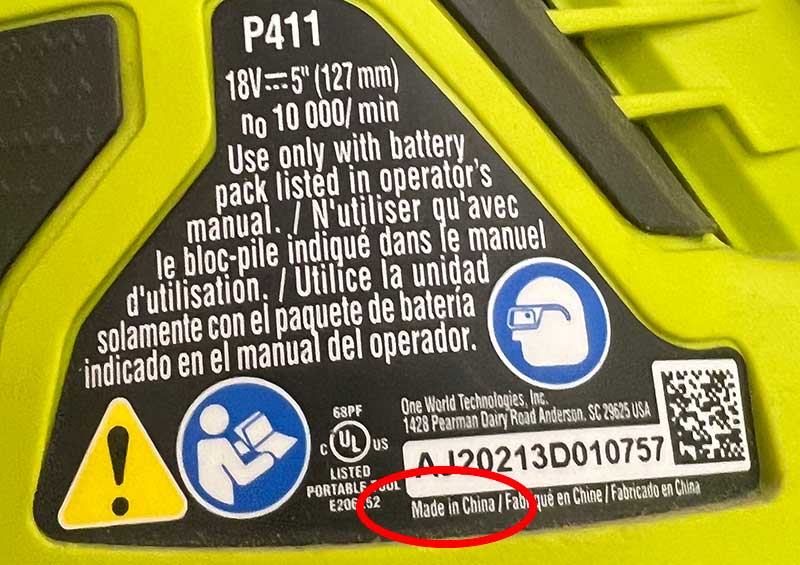 Next, I checked the box of a circular saw and found that it was also made in China.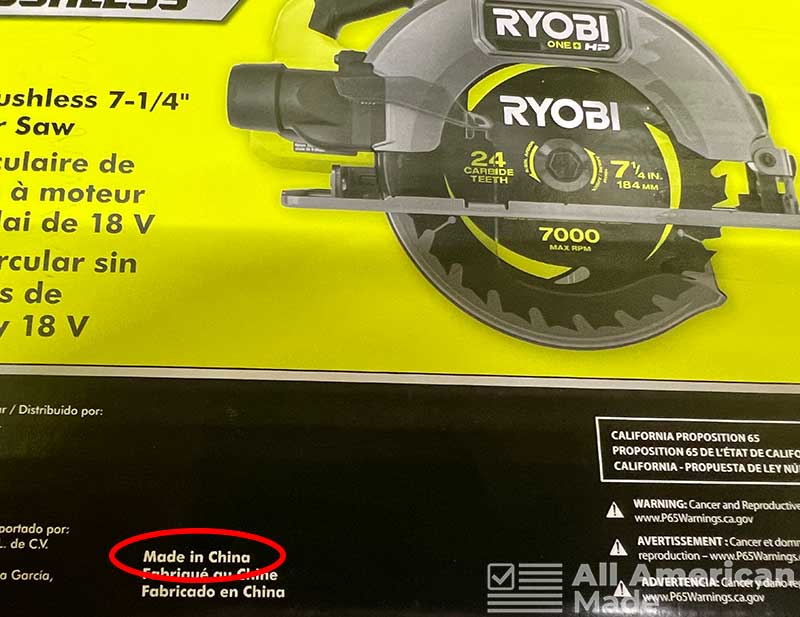 Next, I checked a hammer drill and found that it was made in Vietnam and the battery was made in China.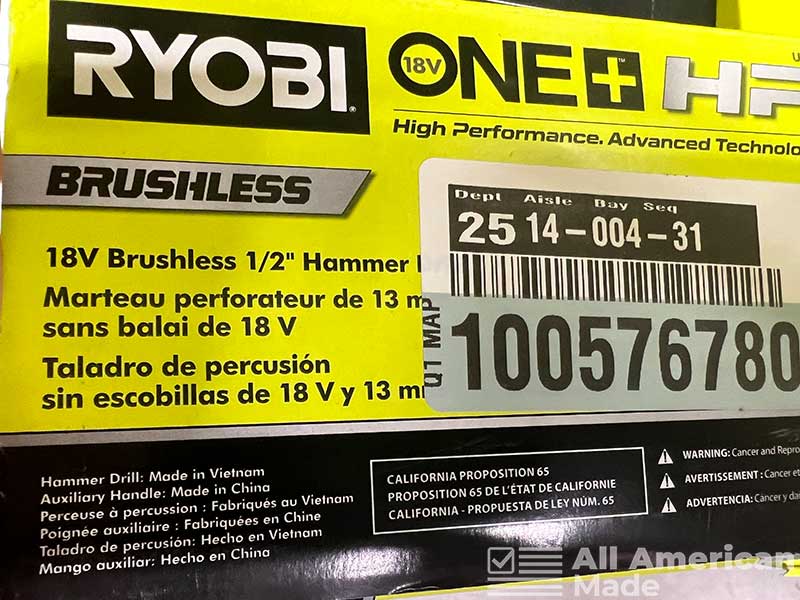 After checking dozens and dozens of tools, I found that over 90 percent of them were made in China. That does not mean that 90 percent of Ryobi tools are made in China, it just means at the few stores around my house, the far majority of the Ryobi tools there were made in China.
Reasons for Optimism: South Carolina
Despite the negatives, Ryobi Tools has plans to make more of its products in the United States in the future. We confirmed this with their upcoming plant in Anderson, South Carolina. Techtronic Industries announced plans in 2020 to build a $100 million facility that will add 525 new jobs on American soil over several years.
The new facility will cover 1 million square feet, which includes warehousing support, assembly, and production. We dislike the word assembly, however, which obviously means that they plan to have part of the product made elsewhere. Given how much they manufacture in China, we don't find this surprising.
Ryobi says that the expansion at the factory in Anderson will finish in the fourth quarter of 2022. After that point, we may see more products made in the United States. However, the facility here will build more than Ryobi, and some of the other subsidiaries under Techtronics Industries that they will build here include:
Hoover
Dirt Devil
Vax
Oreck
Milwaukee
AEG
Homelite
Ryobi Tools
This makes you wonder how much of the production will go to Ryobi at the facility. We can only wait and find out. With so many other subsidiaries being made at the factory in Anderson, 525 manufacturing jobs aren't that much with that in mind.
To get a sense of how they operate in Anderson, you can see more of this facility in operation here:
As they say in the video, the American-made manufacturing from Ryobi is still in its infancy stages, but we can expect to see more from it in the future. The video shows at this point that they only appear to make lawnmowers in Anderson.
Ryobi Tools in Shelbyville
The oldest factory in the United States, Ryobi opened its Shelbyville facility in 1985. For the longest time, the Shelbyville facility was the only one in the United States. They do diecast there. Ryobi divided the facility into two plants that they use for several industries. You won't encounter an actual consumer product made here.
The products that they do make in Shelbyville include:
Engine parts
Transmission casings
Housings
Structural parts
At the factory in Shelbyville, they produce auto parts for Ford, GM, and Toyota. They build parts for the lawn and garden industry as well. We do like that Ryobi hires workers in America because this adds an extra 600 workers to their American-made footprint. When their jobs in Anderson reach full capacity, that will mean that Ryobi hires around 1,125 workers.
How Did Ryobi Tools Manufacturing Go to China?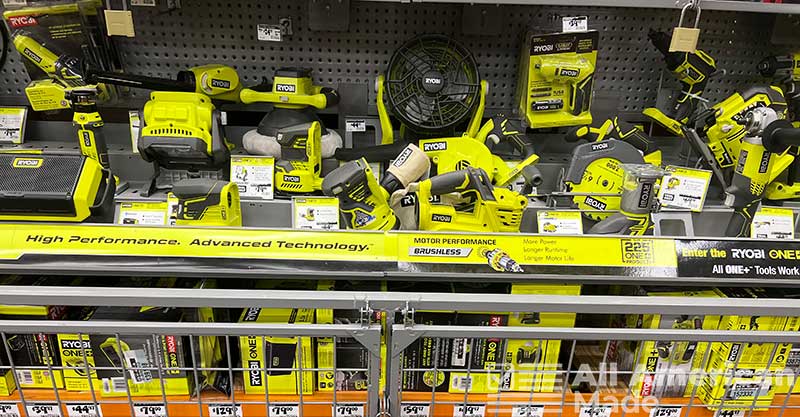 Ryobi Tools didn't always make all of its products in China. Throughout the 1990s, Ryobi had a reputation for building incredible woodworking tools that rivaled the quality of Makita for the era.
Today, check the store shelves at Home Depot, and you will struggle to find a single Ryobi product not made in China. How did this shift in manufacturing happen?
Techtronic Industries acquired the Ryobi brand in 2000 for $95 million. After this acquisition, we saw much of their manufacturing shift over to China. Along with them owning Ryobi, Techtronic owns Milwaukee Tools as well, but we see a slightly different manufacturing imprint with that subsidiary.
Where Are Ryobi Lawn Mowers Made?
Lawn mowers are the one product that Ryobi appears to make in the United States to a degree. Some of the Ryobi lawn mowers made in the United States include the RY401150US and the RY401140US. Anyone who wants an American-made product from Ryobi would want to choose one of those two products. Ryobi makes its riding lawnmowers like the Ryobi RY48130 in Shelbyville, Indiana, but some of them come from China as well. For that reason, you have to exercise caution.
The only two that we could 100 percent confirm were the RY401150US and the RY401140US:
Notice the US at the end of them as well? The other lawn mowers didn't have that, which means only some of them will come from the United States, but the country favors Chinese manufacturing.
Is Ryobi Made by Milwaukee?
Rather than being made by Milwaukee, Ryobi and Milwaukee both belong to the same parent company Techtronic Industries. Techtronic Industries makes both brands. On the whole, the parent company took a decentralized approach in that Ryobi continues to keep its headquarters in South Carolina, and Milwaukee Tools keeps its headquarters in Wisconsin.
Is Ryobi Made in Japan?
In fact, Ryobi Japan, the original company of Ryobi, is separate from TTI Ryobi. They transferred Ryobi Japan over to Kyocera in 2018. TTI Ryobi pays for licensing of the name, and we see the products from this company marketed to the United States, the United Kingdom, and Australia.
What if You Want Tools Made in the USA?
On the whole, we would consider Ryobi a poor choice when it comes to American-made products since they only appear to make lawn mowers in the United States. That's not to say that they're a bad brand, but you may want to buy from another brand if you want American-made products unless you want lawnmowers.
At least, that's their current manufacturing imprint. We may see a change. We advise cautious optimism with this brand because they have begun to build factories in the USA.
Still, it's a budget brand, and we think they will always have a limit to how much manufacturing they do in the United States. You have other American-made tool brands worthy of your attention. We wrote an article here on our favorite tools made in the USA.
Buying Chinese-made products isn't always bad—that misses the point. The reason that we buy products made in the United States is that it supports the American economy. We prop up our fellow Americans with great jobs. This has a more positive effect than if we supported brands made in countries elsewhere.
Also Read: What Wrenches Are Made in the USA?
Who Owns Ryobi?
Since 2000, Techtronic Industries Co. Ltd. has owned Ryobi. This excludes the Ryobi of Japan, which is a separate company. What happened was that Ryobi Japan sold the rights to its brand in the United States, Europe, and Australia. That explains why you won't see Ryobi Japan products in the US market.
Techtronic Industries has its headquarters in Hong Kong, and this is a holding company that owns several other brands like Oreck, Hoover, Milwaukee, and Dirt Devil.
Techtronic Industries paid an estimated $95 million for the rights to sell Ryobi in the designated regions. They made this decision because they wanted to expand their revenue. When Ryobi sold to TTI, it led to a change in the manufacturing process. Before, some of the manufacturing was done in the United States, but we have seen a lack of US manufacturing ever since with the brand in favor of Chinese manufacturing.
Today, the power tools in TTI's portfolio have led it to generate around 75 percent of its revenue—this includes Ryobi in its portfolio, which performed outstandingly well in 2021 to achieve double-digit growth.
Final Thoughts:
For someone in the market for budget tools, Ryobi makes a lot of sense. Individuals who want products made in the United States, however, may want to look at brands known for making more in the USA. Ryobi remains popular because it keeps a balance between price and reliability over its origins.
If you have any further questions about where Ryobi tools are made, let us know in the comments below.
Hi, my name is Kevin and I'm from Pittsburgh, Pennsylvania. Choosing products made in America is important to me because it supports local economies, creates jobs, helps the environment, and ensures ethical labor practices. I also find that American made products are usually of higher quality so although they're a little more expensive, you save money in the long run. Before starting this website I was in the USMC infantry and nowadays I work on this website as a hobby.