An American company with its headquarters in Manhattan Beach, California, Skechers began in 1992 and soon became the second-largest athletic footwear brand in the United States, behind Nike. That said, with so many companies moving their manufacturing overseas, you may be wondering where Skechers are currently made.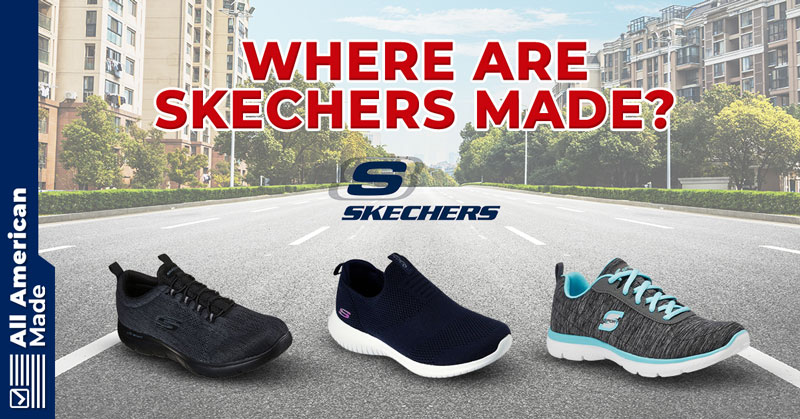 In the rest of this article, we'll be covering exactly where Skechers shoes are made, along with other important information about the company.
Most Skechers are made in China and Vietnam. Sketchers mostly hire independent contractors, meaning they don't own any of their own factories, making it easier for them to change manufacturing locations.
I decided to head into a local footwear store to see where the Sketchers shoes they carried were made.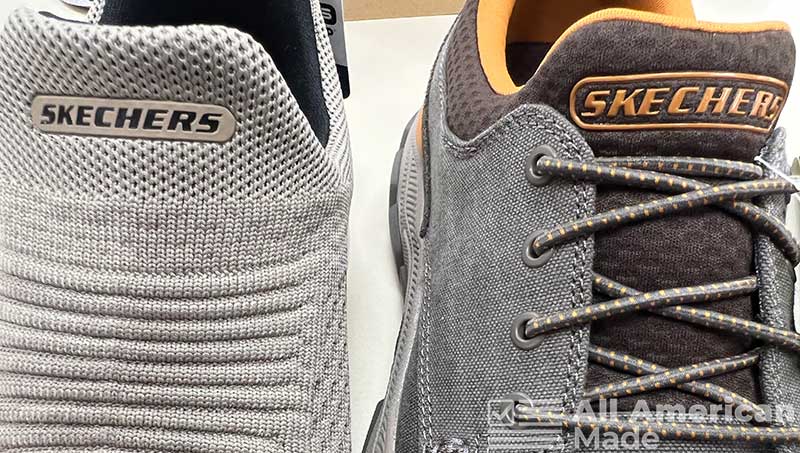 Here is what I found when I got there. The first Sketchers shoes I looked at were made in Vietnam.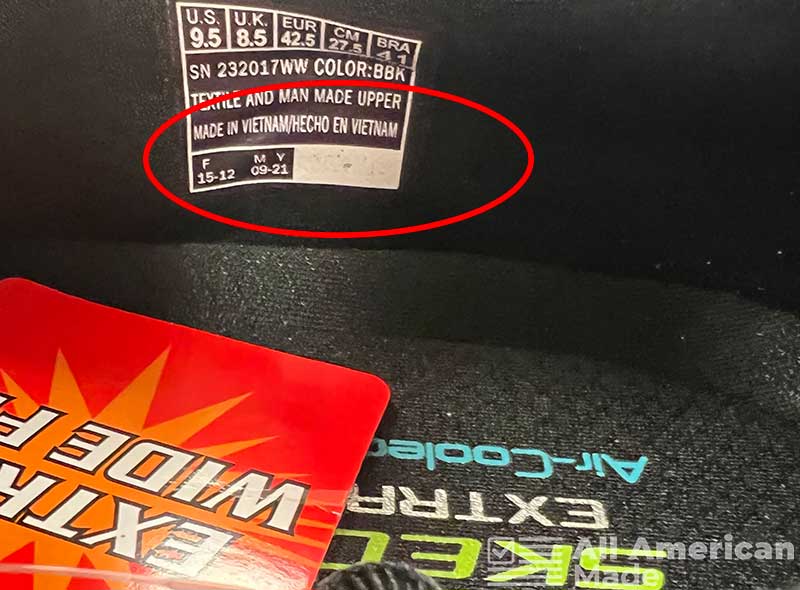 The second pair of shoes I examined was made in China. At this point, things were going just as I expected.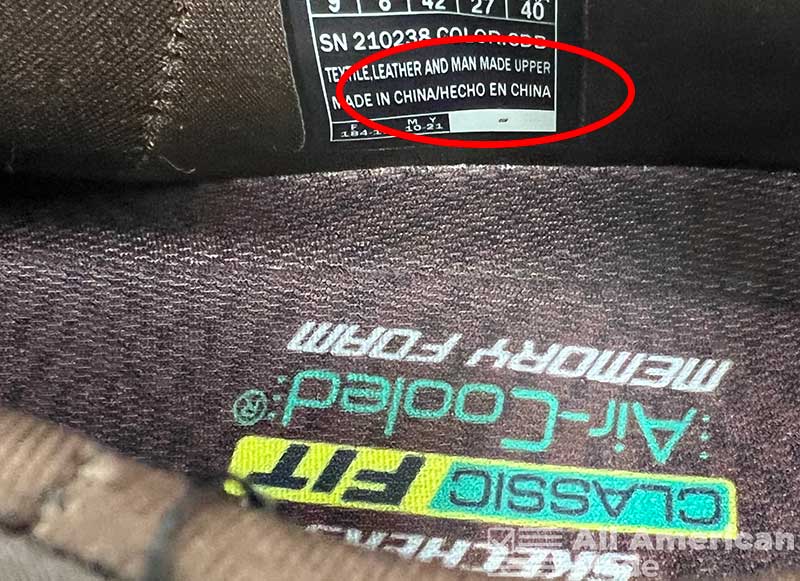 I decided to check about ten more pairs. All of these were different models so I could get as accurate of a representation as possible. The third pair of shoes I checked out were also Chinese-made.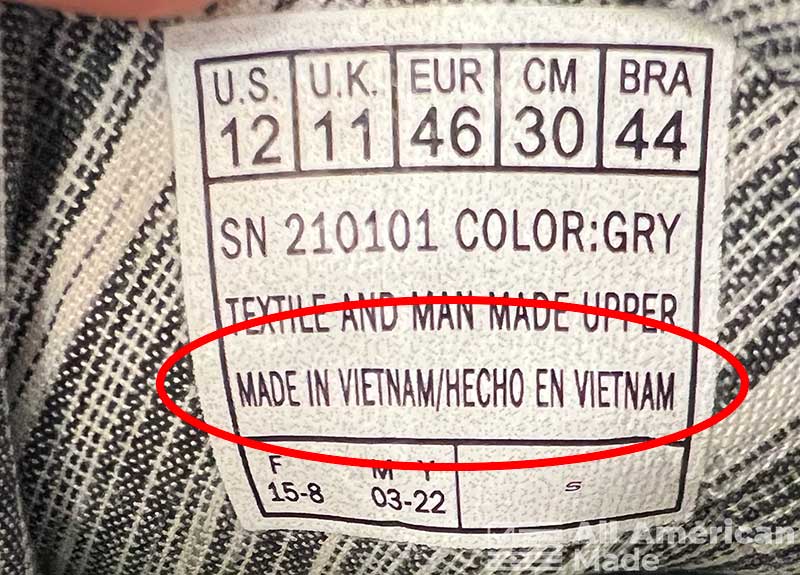 The fourth pair of shoes I looked at were unsurprisingly made in Vietnam.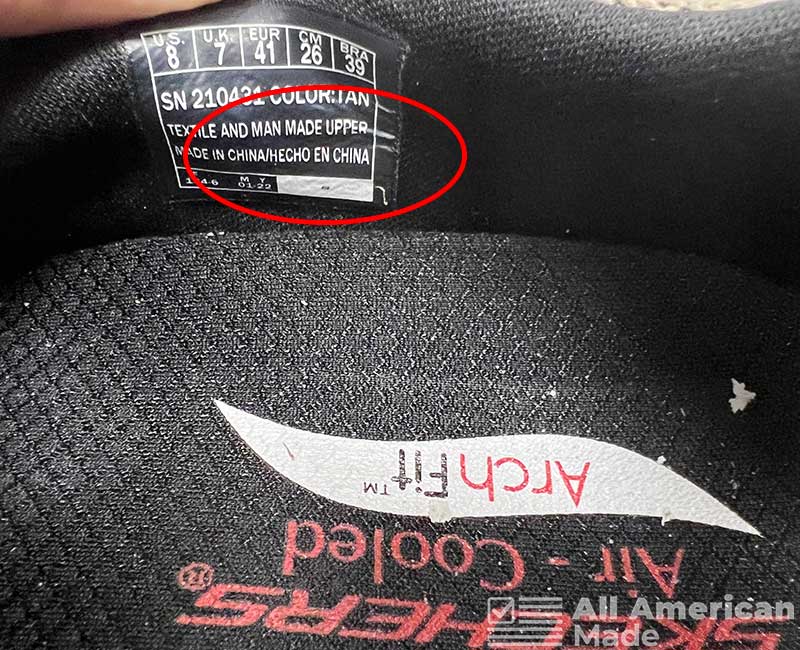 The fifth pair of shoes I looked at was made in China, so it really became apparent to me that China and Vietnam were the two most common manufacturing locations. This also matched what I learned after contacting Sketchers customer service about where their shoes are made. Every single shoe I checked out in the store was made in either of these two countries. Then, I noticed some sandals that were made by Sketchers, so I decided to check out where they were made, and unsurprisingly, they were also made in China!
Does Sketchers Manufacture in the USA?
No, Skechers doesn't hire factories in the USA for its shoes. They mainly manufacture in Vietnam and China.
To be fair, Nike is mostly manufactured in China, and Adidas is as well. Few shoe companies remain in the United States anymore because of the higher cost of labor. It has made it more profitable to send the work overseas.
An estimated 98 to 99 percent of the shoes in the USA come from foreign countries. The one thing that we think Skechers could do better is to use more transparent origin and manufacturing information.
To find the origin of a shoe, you can look at the tag to see where it's been made. The photos above show what the tags look like, and I have circled the country of manufacture on the tags for you.
A company must legally and correctly state this information to US customs. Normally, you can spot shoes not made in the USA because American-made shoes will always have that label proudly stamped on them. It becomes a selling point for the company because they have kept the jobs in the United States.
You can also spot these shoes because they will cost more than the shoes that come from overseas.
Skechers Made in China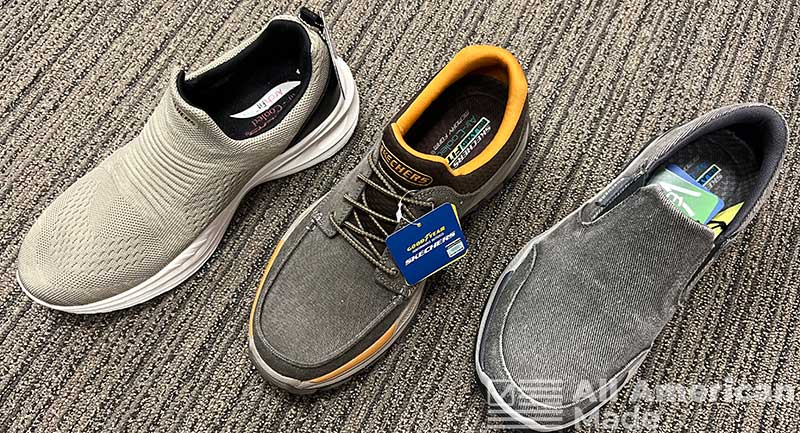 Skechers makes at least some of its products in Putian City, China. You have a strategic reason for this that we would like to cover. Putian City serves as one of the shoe manufacturing hubs of China. Other athletic footwear companies like Nike, Adidas, and Puma all produce shoes here and in Jinjiang, roughly an hour and a half away.
It began as a shoe manufacturing hub in the 1980s. Important to note is that we're only trying to paint a picture here of where some of the manufacturing happens, and you probably have more manufacturing locations for Skechers factories around China than what we could list in a single article.
The manufacturing that goes on in China may not be all for the United States either. China ranks as the biggest international market for the Skechers brand, and some of the shoes may be going straight to the local markets in China.
Skechers Shoes Made in Vietnam
In recent times, shoe manufacturing has become increasingly popular in Vietnam as the cost of labor has risen in China. This has sent some of the shoe manufacturing jobs from Skechers over to Vietnam. With most of the factories that Skechers uses, they have a longstanding relationship with independent factories to ensure quality.
One of their manufacturing locations is VSIP Binh Duong, Vietnam. At this location, they make their shoes through the Kingmaker Vietnam Footwear Co. Timberland, Clarks, Wolverine, and Stride Rite have also used them as manufacturers for their shoes.
Keep in mind that they keep a variety of factories because one factory couldn't supply all the world's demand, even for Skechers shoes.
More of the Skechers brand comes from China than Vietnam, but you have started to see some manufacturing locations pop up here as China prospers and the cost of manufacturing rises there.
Unlike other businesses, Nike and Yeti, Skechers didn't have as many issues with its supply chain in Vietnam in 2021 because most of the manufacturing isn't found in the southern part of the country. The brand has experienced some problems, but not as bad as in some of the other companies that produce there.
Does Skechers Have Other Manufacturing Facilities?
We have listed the top two countries where they manufacture Skechers, but do you have other locations where you might find manufacturing facilities? For example, one of the newly emerging locations has been its expansion into Mexico. Mexico has an advantage over Asia in that it sits much closer to the USA.
Skechers first signed an exclusive deal with Grupo Charly in Mexico in 2010. The odd thing about this deal was how they will use their manufacturing facilities in Vietnam to bring more Skechers shoes to the Mexican markets, but we don't know if they do some of the manufacturing in Mexico or not.
Part of the reason that Skechers may have signed this deal with Grupo Charly came from how the brand has a ubiquitous presence in Mexico.
When tariffs hit Chinese manufacturing, Skechers had to pull all of its products from Mexico for a time because they weren't profitable to sell. This led to the deal with Grupo Charly as they sought a partner who had the manufacturing capabilities to bring them back to that market.
Only two shoe companies sell over one billion dollars worth of shoes every year in the USA: Nike and Skechers. That was part of what made this deal crucial to the shoe brand.
Some of the other locations where they manufacture Skechers shoes include Romania, Brazil, and India. In India, Skechers had plans at one point to have manufacturing facilities there because of how they saw the potential for their local market share to double within two years in that country. We don't know a lot about this because of how information seems scarce about it. However, we can assume that they don't have a large manufacturing presence there for the time being.
Why Are Skechers Shoes Popular?
Skechers rose to fame because of their emphasis on comfort. They were less about style and glitz, but they were more comfortable, which turned them into a top brand for walking shoes and women's casual shoes. They also grew in popularity from celebrity endorsements. Over the years, the number of celebrities who have endorsed Skechers include:
Tony Romo
Brooke Henderson
Demi Levato
Camila Cabello
Howie Long
Wesley Bryan
David Ortiz
Meb Keflezighi
Ringo Starr
Wayne Gretzky
Skechers built its $4 billion empire with the assistance of celebrity endorsements, which has helped the brand to maintain its trendy image. Learn more about Skechers' involvement with celebrities here.
Who Owns Skechers?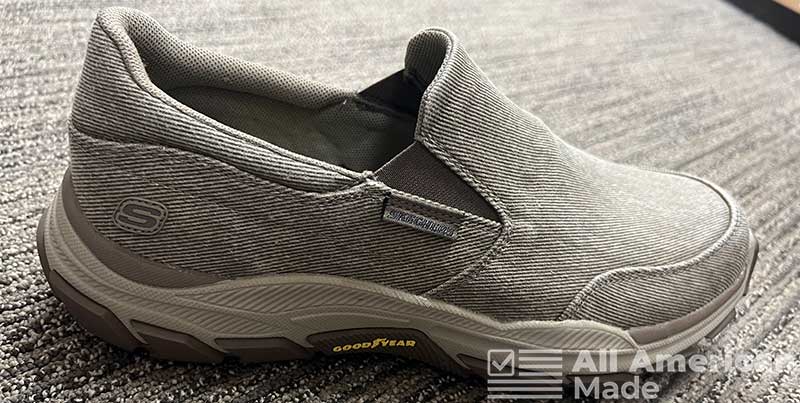 Skechers is owned by American Businessman Robert Greenberg, starting the company out of the garage of his Manhattan Beach, California home. The same garage where he used to distribute Doc Martens. Skechers is currently a public company, and Greenberg owns the majority of the shares.
Besides Greenberg, the highest shareholder of Skechers is The Vanguard Group, Inc, with a 9.02% stake and 12,164,371 shares.
Why Does Skechers Choose to Manufacture Overseas?
Based on a statement from Skechers, they choose to manufacture in countries like China and Vietnam because of a lower amount of capital investment needed. At the same time, it provides them with greater flexibility for manufacturing, and they can produce more shoes this way.
Are You Supporting American Business and American Jobs by Purchasing These Products?
Skechers largely gives manufacturing jobs to China and Vietnam. They do not have a manufacturing presence in the USA. We don't know if they will in the future, but they don't appear to express an interest in doing that for the time being. With some companies, you can also buy from brands that either have a line of shoes made in the USA or they may make them entirely there.
What Are American-Made Alternatives to Skechers?
The number of choices for American-made shoes has taken a beating since the start of the 1980s. By the 1990s, 80 percent of shoes sold in the USA were made abroad. It has progressively worsened as 98 to 99 percent of shoes come from overseas. Still, you have some great American-made footwear companies.
New Balance:
New Balance shows you one of the few major footwear companies that make their shoes within the USA. They make or assemble an estimated four million pairs of shoes within the USA every year. Important to note that when you buy from New Balance for American-made shoes, you will want to buy the New Balance USA Collection. Keep in mind, not all their products were made here, and some still come from overseas.
Some of the great American-made shoes from New Balance include:
New Balance Women's Made in US 990 V5 Sneaker
New Balance Men's Made in Us 990 V5 Sneaker
New Balance Men's Made in Us 990 V5 Sneaker
Unisex-Child Made in Us 990 V4 Sneaker
New Balance makes many of these shoes with globally sourced materials, but they remain American-made, and we applaud them for that.
SOM Footwear:
SOM Footwear hands you a perfect example of a company doing sneakers the American-made way. All of its shoes were made in the USA—pick any model, and it was made here. Their headquarters sits in Montrose, Colorado. Along with its headquarters being there, SOM Footwear has its manufacturing facility there as well. They use a minimalist design and were made for the maximum level of comfort.
Each pair receives love and attention from skilled American craftsmen who exceed expectations.
Scandic Footwear:
Scandic Footwear gives you another great example of an American-made company. Handcrafted in New England, this brand of shoe hands you fashionable clogs. Because they make the shoes from natural materials, they feel as comfortable as they look. They come handcrafted from the New Hampshire region, and they support the old-world craftsmen.
SAS Shoes:
Committed to making some of the most comfortable shoes that you will ever wear, some of these shoes, like SAS VTO is even medicare and diabetic approved. The premium leather shows you the true quality of American craftsmanship. They founded the company in San Antonio, Texas, in 1976. Meanwhile, they manufacture all their shoes in the Lone Star State.
Another advantage that many people don't point out with American-made shoes comes from how they use American size measurements. For example, the women's sizes will range from 4 to 12. They make great fitness walking shoes because of their comfort, and many people swear by them.
Psudo Sneakers:
Like many of the other brands mentioned, Psudo Sneakers makes all of its products in the United States. Not only that, but they use eco-friendly fabrics that were 75 percent recycled. You have to admire a company that goes the extra mile to do well for the environment. The fabrics used feel stretchy and soft, and some of the fabrics were made from recycled plastic bottles.
The footwear brand produces the Psudo shoes at its solar-powered facility in Milwaukee, Wisconsin, and they have another facility in St. Louis, Missouri. Not only are they American-made, but over 79 percent of the shoe uses recycled materials.
The Advantages of American-Made Shoes
Most customers choose American-made shoes because of the quality that they purchase. Due to regulated processes in manufacturing, the quality tends to outperform those made elsewhere. You may pay more for an American-made shoe, but they have a reputation for lasting longer than other shoes.
Furthermore, they help to fight climate change because the United States government has more stringent laws and regulations to limit the amount of pollution going into the air, soil, and water. We also found many of the American-made shoe brands to have great missions and designs that could rival their counterparts. You can find American handmade brands—Scandic Footwear, for example.
Oftentimes, you will find how American-made shoes will exceed your expectations.
Conclusion
For the near future, we don't think that they will make Skechers in the USA, and the American footwear brand largely produces most of its shoes in Vietnam and China. On their physical shoes and packaging, you can confirm this because how U.S. legislation requires them to show a clear country of origin on foreign-made products. This company designs and markets over 900 styles of shoes that they sell to major department stores. They have done a good job at being "Everyone and everything" in the realm of footwear.
That does it for this article. If you have any further questions about where Skechers are made, let us know in the comments section below, and we will get back to you as soon as possible.
Hi, my name is Kevin and I'm from Pittsburgh, Pennsylvania. Choosing products made in America is important to me because it supports local economies, creates jobs, helps the environment, and ensures ethical labor practices. I also find that American made products are usually of higher quality so although they're a little more expensive, you save money in the long run. Before starting this website I was in the USMC infantry and nowadays I work on this website as a hobby.