As the largest bicycle company in the United States, Trek manufactures nearly 50 percent of all the bikes sold in the USA. They make all styles of bikes, including mountain bikes, road bikes, professional-grade bikes, and bikes for kids. Understanding the scale of its operations, you may wonder where they make Trek bikes and if they produce them in the United States.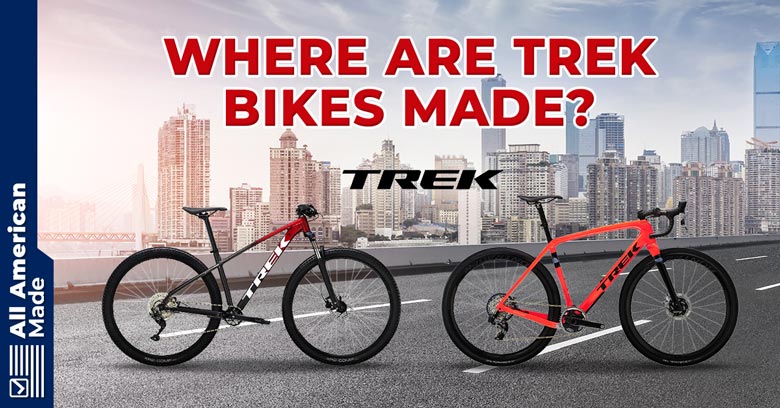 In the rest of this guide, we'll explain exactly where Trek bikes are made and other interesting information about the company.
Trek bikes are made in China, Taiwan, Cambodia, and other countries. Trek Bikes are no longer fully produced in the USA; however, they do assemble some of their bikes in the United States.
Which Trek Bikes Are Made in the USA?

Despite having an awesome American legacy, less than 1 percent of all Trek Bikes today comes from the United States. In 2014, they made somewhere between 20,000 and 25,000 bikes in the US, but in 2013, they made around 50,000. We have continued to see a steady decline in the number of bikes that they make in the United States. Let's have a look at the bikes made in the US:
Madone 6 series
Trek Madone 5.2
Trek Emonda SLR 8
Project ONE
ZR9000
Even these bikes, we would exercise caution in thinking that they fully make them in the United States because we get the feeling that they only assemble them here. Every bike that they make in the US will come from its sole factory in Waterloo, and it will have a label on it that says, "Handbuilt in the USA."
Unfortunately, due to the lack of manufacturing that this company now does in the US, you have reason to exercise caution. For example, they say that only the red and white bike frames for the Trek Madone 5.2 were made in the USA.
Made in Waterloo
At the manufacturing facility in Waterloo, Wisconsin, they continue to build Trek bikes, but we would advise caution about believing in this too much. Unfortunately, we believe it is quite little in comparison to the past.
Believe it or not, like many American-made companies, Trek started from humble beginnings in a big red barn. They chose an operation that sat in the middle between Madison and Milwaukee. One of the funny things about this company comes from how they will occasionally put the face of their employees on coffee mugs as they did with their road bike manager.
When you buy the more quality Trek bikes, that would show you where you get the American-made bikes from Trek. For example, look for custom-built bikes as well to receive the ones made in Waterloo.
Some of the things that they do at the factory in Waterloo include sanding, bonding, and painting bicycle frames. They also assemble the chains and tires on the bicycles. Many of their US-made bikes will consist of carbon fiber since these are more high-end materials.
All of the carbon fiber frames come from Hexcel, a company based in Salt Lake City, Utah, so as long as you buy a carbon fiber framed bike, you will have an American-made frame. Hexcel has provided its services to Trek for over 25 years.
Along with the original factory in Waterloo, Trek also has its headquarters in Waterloo, where they hire 1,000 employees. Anyone interested in the history of this brand may want to tour its headquarters in Waterloo. You can learn more about their visitor tours here, where you will learn about their history.
Here is a cool video showing just how passionate Trek is about their bikes.
Why Did Trek Bikes Stop Making in the US?
We saw the manufacturing numbers halve from 2013 to 2014. It dropped from 50,000 bikes per year down to 25,000. Today, only around 10,000 Trek bikes get produced in the United States. Once upon a time, all Treks came from the United States, but you can't say that anymore.
Trek first began building its bikes in 1976, but over the years, as the bicycle industry has outsourced its manufacturing more and more, we saw Trek do the same.
The increased labor costs and lower profit margins meant that they sent the jobs overseas to stay competitive with other companies. We do like that this brand appears to have held out longer than most. The first bicycle brand to start manufacturing overseas was Schwinn in the 1980s, and we saw a gradual slide from there where all the other companies followed.
Gradual Decline in US Manufacturing
Instead of an instant halt to production at Trek, we have seen a slow and gradual decay of its US manufacturing. Trek continues to this slow decline, and we don't know where it will end and if all bikes will eventually be made overseas.
In either 1994 or 1995, we started to see them making most of their welded frames, such as the aluminum frames in Taiwan. The only exception to this was their tandem bikes. We believe that the real transition started in 2007 to 2008 because this was when their bikes stopped showing the "Made in X" stickers. Still, we think they held out longer than some of the other biking companies.
Be Careful About "Made in the USA" with Bikes
Don't be taken in at the first sight of "Made in the USA." Now, we're not necessarily talking about Trek Bikes but the biking industry in general. Many times, they made put "Made in the USA," but if you look closer, you will see the fine print that says, "Frame designed in the USA."
Another trick that companies will sometimes use is to import the frame unpainted, and once they have painted them, they can claim that they were made there. Every country will have different laws on what is and is not acceptable for things like this.
One of the recent tricks that they use is to say, "Manufactured in America," which means the same thing as "Assembled in the USA with Domestic and Foreign Parts." You want to stay hip to the games that companies will play if you want a true American-made product, rather than some company padding its pockets of well-intentioned patriots—it's more unacceptable than stating the true origin upfront, in our opinion.
Popular Related Article: What Air Compressors Are Made in the USA?
Made in the USA – Getting the Custom Bike Experience
Custom-made Trek bikes offer a one-of-a-kind bicycle that differs from all the rest. You have two options, but both of them involve American made bikes. First, you can head to the headquarters in Waterloo, Wisconsin, to meet the individuals who brought your bike idea to life. Before that, you order it from your local Trek retailer.
Upon buying a custom bike in this way, you receive the VIP tour of the Trek headquarters and have a look at the design and manufacturing of your bicycle. You take a group lunch ride with the employees, which has become a personalized and favored experience unlike anything the competition offers. The Trek Race Shop will also provide you with tips on how to race better.
For the second custom-made option, you order the bike from the factory by visiting it onsite to discuss how you would like it built. After you order it, they will ship it to your retailer for pickup. You receive a personal design and spec consultation with this choice and a factory tour. In many ways, they're kind of the same, but the second option offers you one-on-one support when ordering. Whatever option you choose, they will handle assembling the bike, but they don't do this with a mass assembly line.
Here is a cool video showing custom Trek bikes being made:
Touring the Factory in Waterloo
You don't necessarily need to buy a custom-built bike to tour the factory in Waterloo. You can schedule a tour on Wednesdays if interested in better understanding what they do at the facility there. For example, you will learn how they don't manufacture the frame at that location, but you see the painting booths, the wheel manufacturing, and the design area.
The tour doesn't cost anything, and the guides are incredibly knowledgeable about the facility and willing to answer questions. You will see every phase of the bike manufacturing process that they control in Waterloo. It's also a fascinating way to learn the history of Trek and how it began. We wouldn't recommend taking this tour in groups larger than 12 since it can be difficult to move around.
Made in Taiwan
In the last couple of decades, Taichung, Taiwan, has exploded into the bicycle manufacturing scene. The whole of Taiwan has become a major producer of bikes, including Trek Bikes, usually through Giant, a biking company that produces parts for most bicycle brands. Giant has the world's largest bike manufacturing facility in Taichung.
Trek does its manufacturing in Taichung. Many would award this city with the title, "Bike manufacturing capital of the world."
Let's have a look at what Trek Bikes does in Taichung. At this factory, under the label Giant, they produce one million bikes, and in total, they produce 6.3 million every year at all nine of their factories. This shows you the deplorable state of US manufacturing, where they only now produce an estimated 10,000 bikes per year.
We would say that Taiwan and China produce lower-tier to mid-tier bikes. Giant produces more of their low-level bikes in China. We did hear that Giant shuttered a factory in China in 2019 due to the 25 percent tariffs on Chinese goods. The production rate in Taiwan doubled as soon as this happened.
Giant went on to blame former President Donald Trump—as if everyone should be outraged about a Chinese factory closing—since it was no longer profitable to produce the bikes in China. While there are plenty of legitimate reasons that someone could pick a bone with any US president, the only people upset about a Chinese factory closing down are the ones profiting off it.
Since the late 1980s, Giant has produced bikes for Trek as it has for many other biking companies, and today, they build many of the Trek bikes. Follow where Giant produces its bikes, and you will often find that they make Trek bikes there. Despite some of the negative connotations about foreign manufacturing, we wouldn't necessarily say that bikes made in Taiwan would be the worst thing ever. You have many specialists here that understand how to build a quality bicycle. While it may not be American-made, it does have its advantages.
Made in China: Trek Bikes
All of the big bicycle brands have a manufacturing presence in either China or Taiwan—Trek manufactures in both. The lower-end Treks will often come from China since it costs less to produce them here, and they use lower-quality materials. Some of the locations where we believe that they manufacture Trek in China include:
Jiangsu, China
Guangdong, China
Heibei, China
Zheijiang, China
Most of the Trek bikes come from Taiwan, not China, but you still have some that come from this country. In the past, they produced more in China, but because of US tariffs, they now produce bikes in Taiwan. They have six factories in China where they produce bikes.
Trek Bikes does have a manufacturing presence in China, but they don't make all of their bikes there.
Most of the Components are Made in China or Taiwan
Trek commonly produce the components for their bikes in countries like China or Taiwan. Even if you have a bike that says, "Made in the USA," we would advise caution on thinking of it as fully American-made since that rarely happens with this brand anymore. The only exception to this would be their carbon frame bicycles, but many of the components will come from China and Taiwan.
Trek Bikes Go to Cambodia
In 2018, Trek Bikes announced plans to move the production of 200,000 of its bicycles from China over to Cambodia. We believe this decision came at the heels of the US tariffs against China. Many of the bikes with aluminum frames now come from Cambodia. They make them at the A&J Factory, which first opened in 2006. This is, in fact, a Taiwanese-owned factory.
Along with Trek Bikes, they make Kona, Norco, and Kent there as well. The choice to move production from China marked a deliberate action to take production from Giant in China and put it elsewhere due to the Trade War.
This is a 500,000-square-foot facility in Cambodia, and it sits near the nation's capital of Phnom Penh. We found this an interesting choice because most bike manufacturing in the country happens closer to Vietnam in the north.
Behind Taiwan and China, Cambodia remains a popular manufacturing spot for bikes, but it struggles with the infrastructure. Because of that, many of the components must be imported to build them. That could be one of the reasons that we don't see more manufacturing of bikes here.
Like with China, you can expect more entry-level and lower-priced Trek bikes to come from here. The one issue that has come up often with manufacturing in Cambodia comes from its poor treatment of factory workers.
Trek Bikes and Manufacturing in Germany
When we say that Trek makes its bikes in Germany, we mean their subsidiary Diamont Bicycles, a German brand of bikes. Trek first acquired the brand in 2002, and they make a stylish city bicycle. The brand has a history in Germany that goes back to the late 19th century. They manufacture in Hartsmanndorf, Germany, where they employ an estimated 250 workers.
Unfortunately, like with the US, we have seen Trek gradually lower the amount of production in Germany. They once employed 600 workers, but they now only employ 250 in the country.
The facility in Hartsmanndorf shows you the only directly owned factory under the Trek Bikes label. All of the other manufacturing comes from third-party factories like Giant. Diamont gives you an example of one of the oldest bike manufacturers in Germany. The factory does appear to have a decent output of 150,000 bikes.
Made in Hungary
Along with its manufacturing switch to Cambodia, Giant, Trek Bikes's manufacturer, announced plans in 2018 to switch over to Gyongos, Hungary. This decision came during the US Trade War with China, and they lobbed high tariffs on goods. Giant has said that it will construct a $72 million facility with the aim of better serving the European market and reducing its dependence on Chinese manufacturing.
The choice to manufacture nearby will reduce the cost of taxes and transport. Building the new factory in Hungary will allow them to produce one million more bikes next to its market.
Are Trek Bikes Made in India?
While Trek does sell its bikes to the Indian market, they do not produce bicycles in the country. They have also said that they have no plans to produce in India. It first entered the market there in 2018, and they have said that they plan to sell to over 125 cities in India.
Favoring Countries with Cheap Labor
Unfortunately, we don't see Trek Bikes bringing back manufacturing to the United States any time soon because it appears to favor the countries with cheap labor the most. For example, China, Taiwan, Cambodia, and Hungary pay lower wages than countries like the USA or Germany.
We were even surprised that they have kept as much manufacturing in Germany as they have because outsourcing to countries with cheaper labor appears to be the norm. We believe that even their manufacturing in Germany could change with Hungary 494 miles away.
For those who want American-made products, as Americans, we can only blame ourselves that the manufacturing has gone to places like this because of how we often go for the cheaper products despite them being made elsewhere. If we want American manufacturing to return, we must make it clear that we support American-made products rather than those made in other countries. Your money is a vote for American manufacturing.
Considering how Trek Bikes receives 60 percent of its business from the United States, we think that they should do a lot more manufacturing in the United States, but we can only fairly ask that of them by supporting the American-made bikes that they produce.
What Trek Does Do in the US
While they don't have a great record of manufacturing in the US, especially in the last decade, we wouldn't write them off completely. The brand hires American workers for its engineering, testing, and design. We respect that the brand has at least kept that much in the United States over choosing to send it elsewhere.
Don't See a Barn, See Something Bigger
Trek has a saying at their factory in Waterloo that we find inspiring. The American heritage of this company has separated it from the other choices because it all started in something so humble as a big red barn and grew from there. Over time, the company expanded to become a billion-dollar business that has a presence around the world. Trek has since outgrown the barn that it started in, but the founding principles of "Don't see a barn, see something bigger" have always guided the mission of the brand.
Conclusion:
That does it for this guide, if you have further questions about where Trek bikes are made or if you know any information we should add to this guide, let us know in the comments below. Like some of the other brands in the biking industry, Trek doesn't do much production in the United States, but they do have a history in the United States. You can still buy bikes from Trek that were made in the United States, but we would advise heavy research in advance to make sure that you bought one made here. Beware as well of how a higher cost on the bikes doesn't always mean that they made them in the United States.
Hi, my name is Kevin and I'm from Pittsburgh, Pennsylvania. Choosing products made in America is important to me because it supports local economies, creates jobs, helps the environment, and ensures ethical labor practices. I also find that American made products are usually of higher quality so although they're a little more expensive, you save money in the long run. Before starting this website I was in the USMC infantry and nowadays I work on this website as a hobby.