The Wolverine boot company, known as Wolverine World Wide Inc is a boot and apparel manufacturer that has been around for nearly 140 years. It started in 1883 as a leather tanning and boot manufacturing company. They made high-quality, tough, long-lasting American-made work boots and soon increased in popularity to become one of the most popular work boot companies in the world.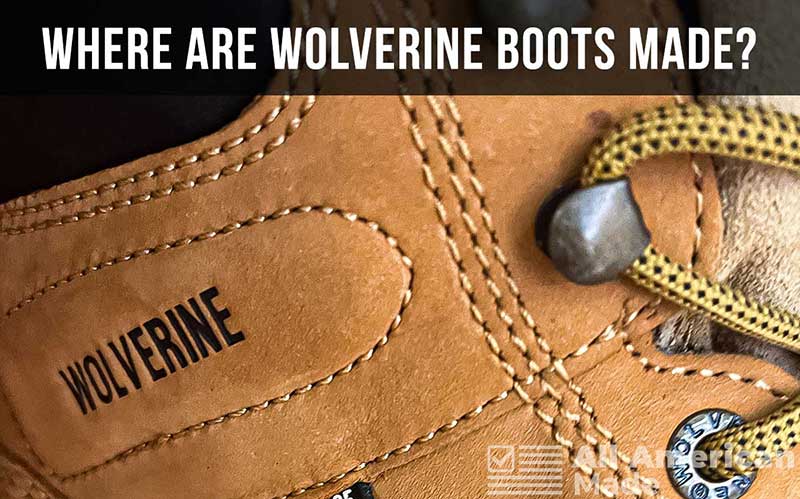 The company started from humble beginnings as a family-run business located in Rockford, Michigan. Their boots were handmade from supple but strong horsehide leather, but over time as most big companies do, to tighten margins, stay competitive, and increase their bottom line, they started moving to manufacture outside of the United States. In the rest of this article, we'll look at where Wolverine boots are currently made.
Some Wolverine boots are made in the USA, but the majority are made in China, Cambodia, Vietnam, Thailand, Mexico, and other countries where manufacturing costs are low.
Are Any Wolverine Boots Manufactured in the USA?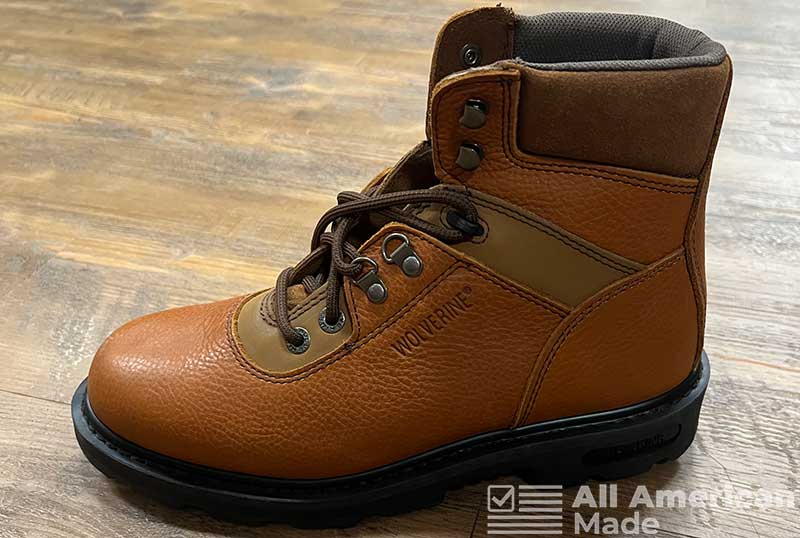 Yes, there are a few models of Wolverine boots that are still made in the USA. The vast majority of their products, on the other hand, are made overseas.
The iconic 1000 Mile Boots, the boots that skyrocketed Wolverine sales, are still manufactured in a few places across the US. The company still makes these boots from the original 1914 patterns with Horween horsehide leather from the Chicago, Illinois-based tannery. They also source the cotton laces from a manufacturer in Landrum, South Carolina, and the outsole and rubber heels are made in America from a factory in Williamsport, Pennsylvania. The Wolverine website states that their 1000 Mile Boots are "the soul of who they are." It's good to see these boots are still made in the United States, with most of the materials being sourced from here as well.
These boots are called the 1000 Mile Boots because in 1914, when they were first made, they were guaranteed 1000 miles. If you really look at it, only equates to about 3 to 4 years of extensive walking. For the average working man or woman, "extensive" walking is a typical workday. But compared to other cheaper, foreign-made boots that only last six months to a year, you get your money's worth, especially if you can find a good shoe repair shop because the soles of the 1000 Mile Boots are manufactured to be easily re-soled.
There are several styles of USA-made 1000 Mile Boots available for purchase on Wolverine's website. Occasionally they will come out with limited edition boots such as the now sold-out Old Rip Van Winkle Batch boots that actually had pieces of the iconic whiskey's oak barrels worked into the heel.
The only other model of shoes that are still put together in the USA is Wolverine's Ramparts boots. Though these boots are made domestically, most of their manufacturing parts come from foreign sources. Since most of the parts from these boots are outsourced, they can't legally carry the "Made in USA" tag. To get around this, Wolverine tags these boots as Built in the USA. These boots come in eight-inch or six-inch heights and regular or safety toe options.
Wolverine's Ramparts also come with their Durashock comfort system. In the 1980s, Wolverine Boots opened an engineering laboratory at Michigan State University to stay ahead of their competition and create new innovations. After about ten years, the company came up with its Durashock technology. What this does is it absorbs shocks from walking on hard surfaces like asphalt and concrete, then redirects the energy back to the foot to make the wearer feel lighter. This creates a more comfortable sole so the wearer can stand comfortably for longer periods.
Both these brands of Wolverine boots are manufactured in America, while all the rest of their line are made in foreign countries.
Where Wolverine Boots are Made Today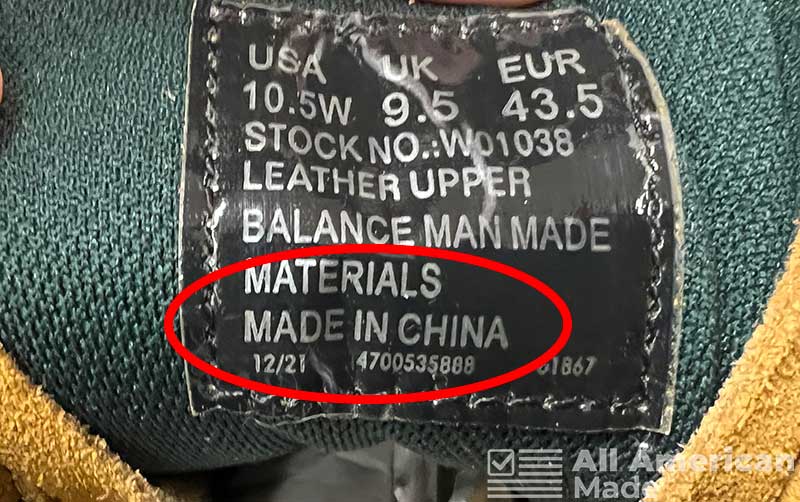 During the early 1980s, the company that previously saw astounding success in its boots and shoes was starting to see a decline in sales. This led to a massive restructuring which ended up closing five American factories and several retail outlets and ultimately sent many manufacturing jobs to Asia. When 1985 rolled around, about 50 percent of manufacturing was now being completed in Asia. Sales continued to struggle as consumers repeatedly searched for cheaper footwear. In answer, Wolverine sent even more jobs overseas. By the time 2003 rolled around, Wolverine boots were only making around 5 percent of their products in the United States.
It's sad that the company should move so many jobs into foreign territory because of declining sales. Even during the crushing grip of the Great Depression—when most of America was shuttering jobs across the nation—Wolverine Boot Company didn't close the doors to their factories. They kept everyone on their payroll, continued working, and shelved most of the boots because the owners knew better times were on their way.
When America was finally coming out of the depression years, Wolverine gained a massive client—the United States Navy. Not only were they selling their boots, but it was about this time they started making pigskin gloves which were an immediate success. These gloves were softer, more supple, and overall more comfortable than traditional cowhide leather. They were an instant hit and are still popular today as they are the hallmark of most construction gloves.
Soon after, during the Korean war, the US government asked if Wolverine could design a faster pig skinning machine. Until this time, it was done by hand, and even the fastest skinner could only process one whole pig in an hour. Wolverine answered the call by creating a machine that could skin 400 pigs in an hour. With such a surplus in pigskin, Wolverine needed to come up with another use. Their designers quickly went to work and invented a new pigskin leather called nubuck. Then they took it a step farther, added Scotchgard Protectant—which had only recently been invented—and created a leather that was water repellant, stain resistant, and looked and felt like no other leather on the market. Wolverine Boot Company used this new leather to craft the first Hush Puppies shoes. These new comfortable, casual shoes became an instant hit and were the highest-selling shoes for Wolverine Boots in the mid-1960s. At the height of their popularity, nearly 1 in 10 households across the United States owned a pair of Hush Puppies shoes. Then this brand started seeing a decline in sales in the 1970s when cheaper athletic footwear and tennis shoes became popular with the younger generation.
Even with so many innovations, and new advances in leather and comfort, the Wolverine Boots Company started seeing losses in profits for the first time in the 1980s. New, cheap athletic shoes made by foreign companies were emerging on the market. Work boots and casual wear were being replaced with shoes made from synthetic materials. After seeing sales suffer, the Wolverine company started to panic. They decided on sweeping changes to tighten their bottom line. They decided the best way complete these changes was to send manufacturing overseas. Now Wolverine World Wide Inc manufactures the majority of its boots and shoes in China, while other manufacturing countries—to a lesser degree—include India, Thailand, Vietnam, Germany, Dominican Republic, Mexico, and Canada.
I actually decided to go to some local stores by my house to see where the boots being offered there were sold. Below, I'll attach some photos so you can see them for yourself.
The first pair of boots I checked were made in China, as you can see in the photo below.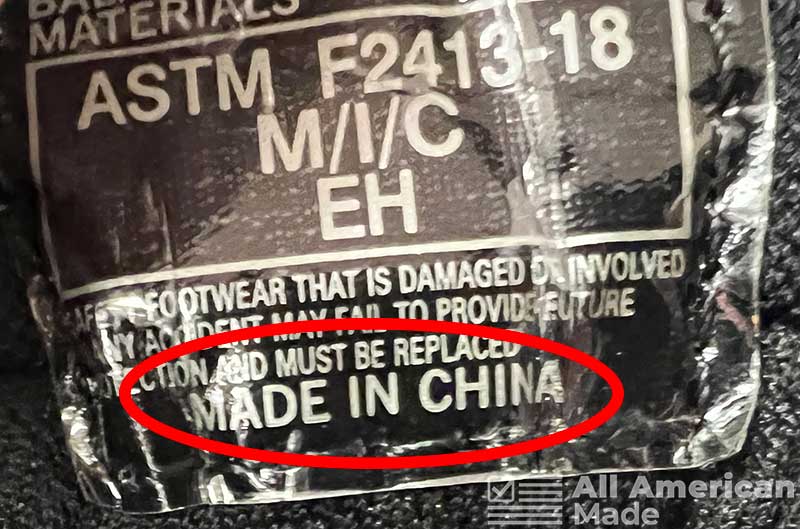 The second pair of boots I inspected were made in Bangladesh.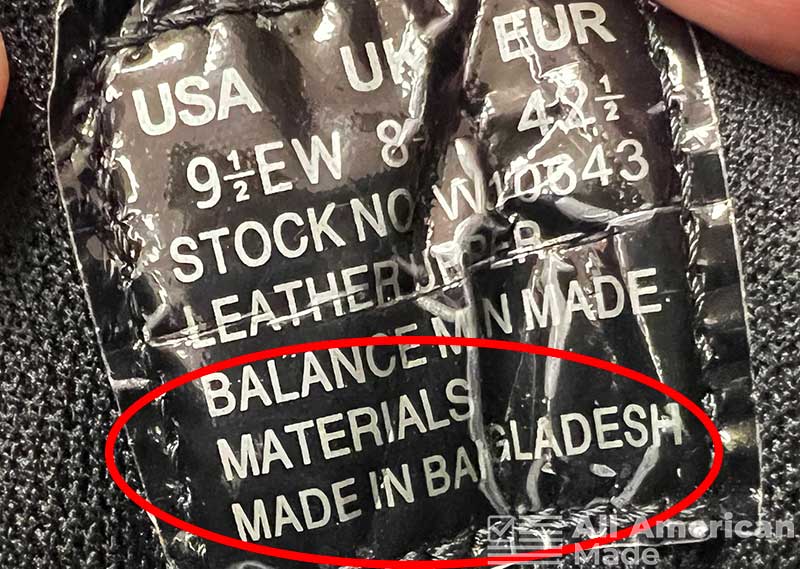 The third pair of boots I checked were also made in China.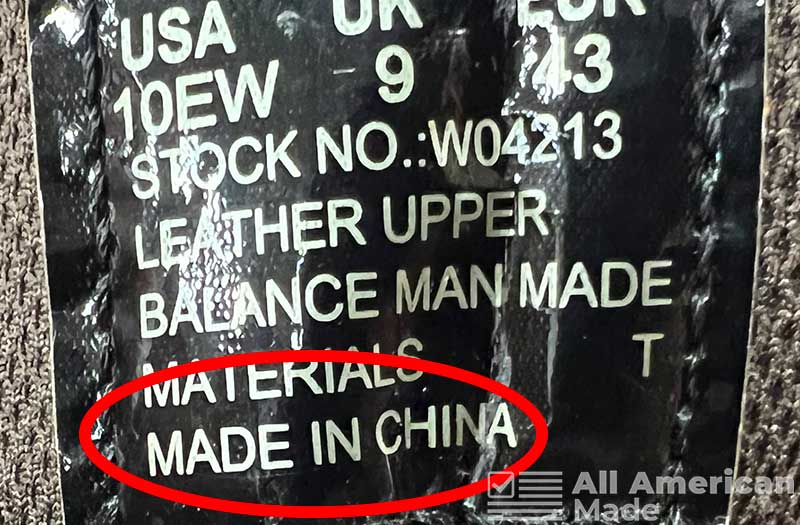 After checking about 20 more pairs of boots, I found that over 90 percent of them were made in China.
Who Owns Wolverine Boots Today?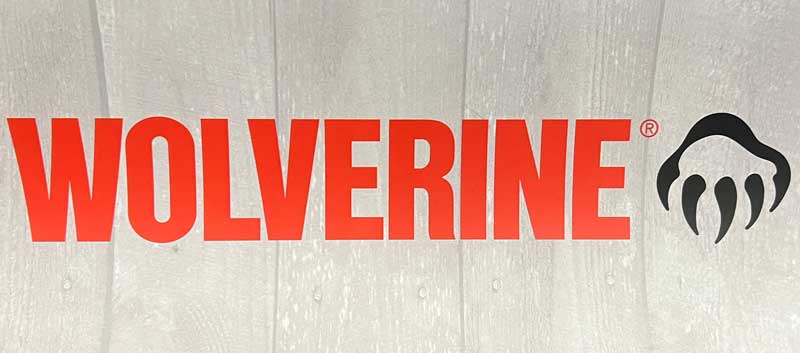 In 1883 Fredrick Hirth and G. A. Krause started the company by purchasing a small leather shop, then went on to purchase and update the Rogue River Electric Light and Power Company to power their raw material processing plant and the manufacturing facilities. Under the name Hirth-Krause, the two men grew the company until they changed the name to Wolverine Shoe and Tanning Company in 1921.
For over 40 years, the company kept the same name; then, in 1964, the name was changed to Wolverine World Wide Inc, and still has that name as of this writing.
Wolverine World Wide acquired the license to manufacture footwear for Harley-Davidson Motorcycles in 1998. Since then, the company continued to purchase more shoe brands over the years. Along with Wolverine boots, the company also owns these brands of footwear:
Merrell
Caterpillar footwear
Bates
Sperry
Keds
Stride-Rite
Saucony
Sebago
Chaco
Top-Sider
Hush Puppies
Hytest
Harley-Davidson footwear
Sweaty Betty
With so many brands under one title, Wolverine World Wide created three operating groups. They are Wolverine Outdoor and Lifestyle Group, Wolverine Boston Group, and Wolverine Heritage Group.
The Outdoor and Lifestyle Group's president is Jim Zwiers, who has over 20 years with the company. The brands represented in this operating group include heavy hitters such as Merrell, Hush Puppies, and Cat Footwear.
The Wolverine Boston Group oversees the operations of Sperry, Saucony, and Keds shoes which will be headed by Richie Woodworth. A 30-plus-year veteran in branded footwear and apparel that was previously the president of Saucony. Under his leadership, Saucony has become one of the most innovative and fastest growing brands under Wolverine World Wide's umbrella.
Wolverine Heritage Group, which controls the Wolverine brand, Harley-Davidson footwear, Bates, and Hytest, will be presided by Ted Gedra. He has been a member of the Wolverine company for over 30 years and has many years on the company's senior management team.
Brendan L. Hoffman just this year (2022) took over as president and CEO of Wolverine World Wide Inc. The previous president, Blake Kreuger, recently retired and is still a member of the Board of Directors. Brendan Hoffman has been CEO or president of over seven companies in his career, including the CEO of Neiman Marcus.
Also Read: Recommended Work Boots Made in the USA
Conclusion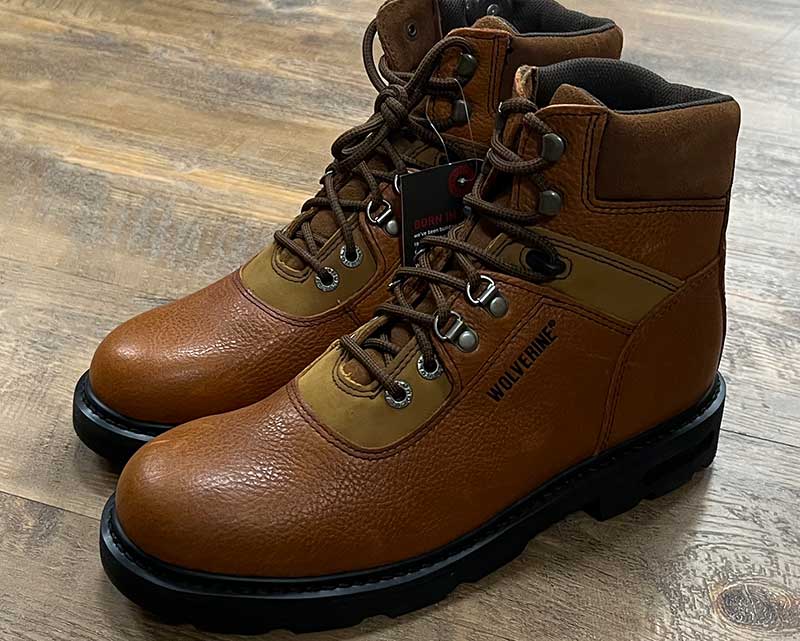 Wolverine boots are synonymous with hardworking individuals, and at one time, all of their boots were made by American, hardworking hands. Unfortunately, like most big companies, when the bottom dollar suffers, their first knee-jerk reaction is to send these jobs overseas where the labor is incredibly cheap.
You can still get a few styles of Wolverine boots that are Made in the USA with all or mostly all American parts or Built in the USA from global components. Check their website for more information because the brands that are manufactured in America are stated boldly.
If you have any further questions about where Wolverine boots are made, let us know in the comments below.
Hi, my name is Kevin and I'm from Pittsburgh, Pennsylvania. Choosing products made in America is important to me because it supports local economies, creates jobs, helps the environment, and ensures ethical labor practices. I also find that American made products are usually of higher quality so although they're a little more expensive, you save money in the long run. Before starting this website I was in the USMC infantry and nowadays I work on this website as a hobby.