There is no doubt that YETI coolers are extremely high quality. The YETI company has an almost cult following, especially among sportsmen and outdoors-minded Americans, but are their products manufactured in the USA using American labor?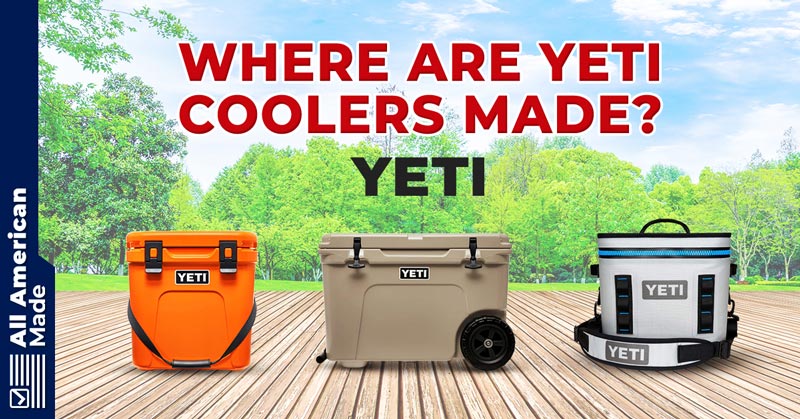 In the rest of this article, we'll be digging into exactly where YETI coolers are made and how to ensure you're getting one made in the USA.
YETI coolers are made in the Philippines, China, and the USA. Coolers within the Tundra Line are made in the USA and the Philippines, but the only way to ensure you get one made in the USA is by going to an authorized dealer and checking the tag.
No coolers outside the Tundra line are currently made in the USA. We recommend going into a store that sells YETI coolers and checking the tag because shopping for them online can be hit or miss if you want an American-made YETI. What we mean by that is usually an online listing will just have the model, and since some models are made in several locations, it's hard to know where your cooler will be coming from.
I actually decided to go into my local sporting goods store and check the tags on some YETIs. You can see some of the tags I found below.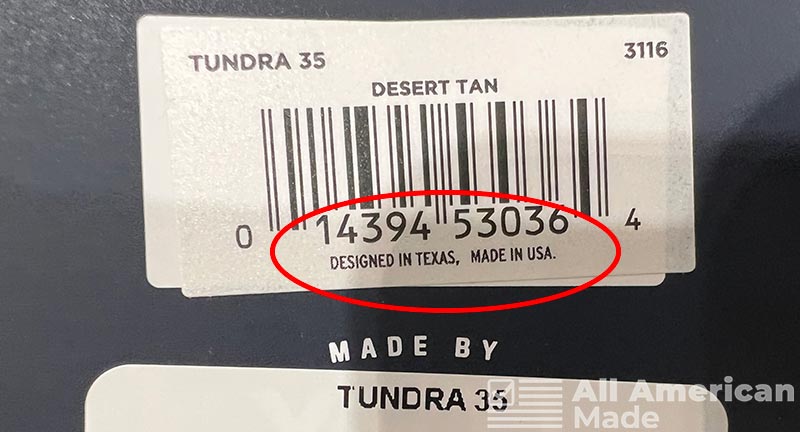 In the photo above, you can see a YETI Tundra 35 cooler that's made in the USA, but the same cooler is also made in the Philippines as well, which you can see below.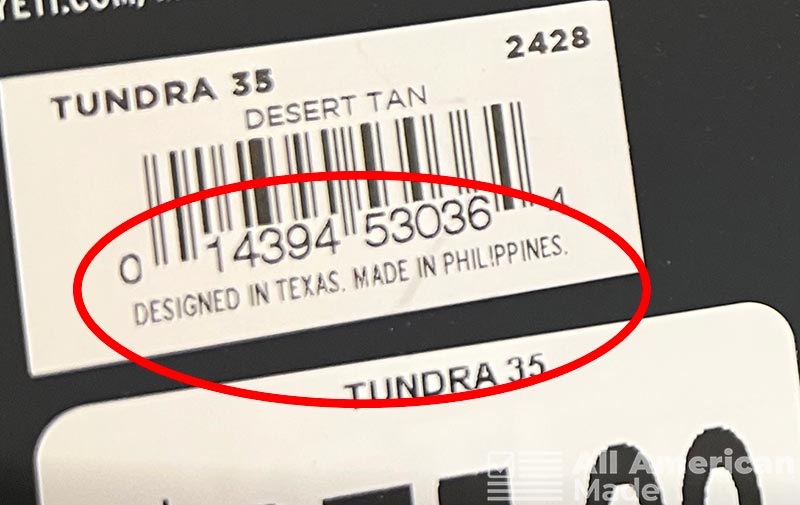 After going through a ton more coolers at my local sporting goods stores, it seemed like about half were made in the USA, and half were made in the Philippines. To my surprise, I even found a YETI Tundra that was made in Poland, which you can see below, but after talking to YETI support, I was informed the Tundra coolers are no longer made there, but you can still find them in stores sometimes.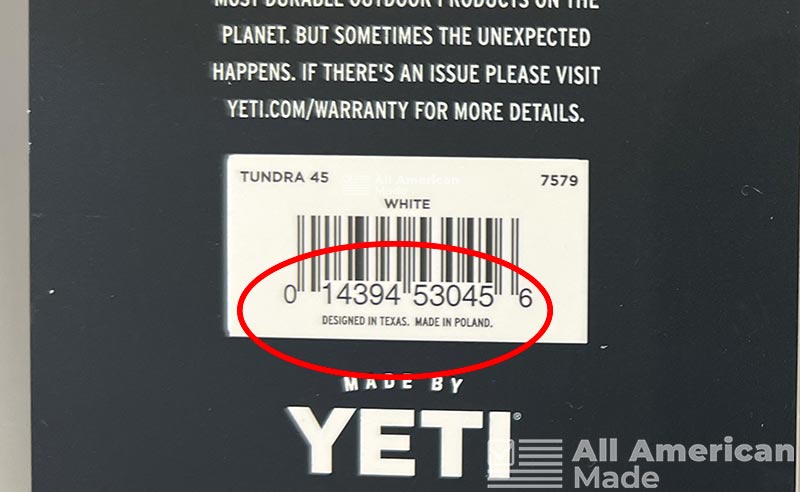 Most of YETI's mid-size coolers outside of the Tundra line were made in the Philippines, including their Hopper, Carryall, and Camino coolers. Below I have attached some photos so you can see them for yourself.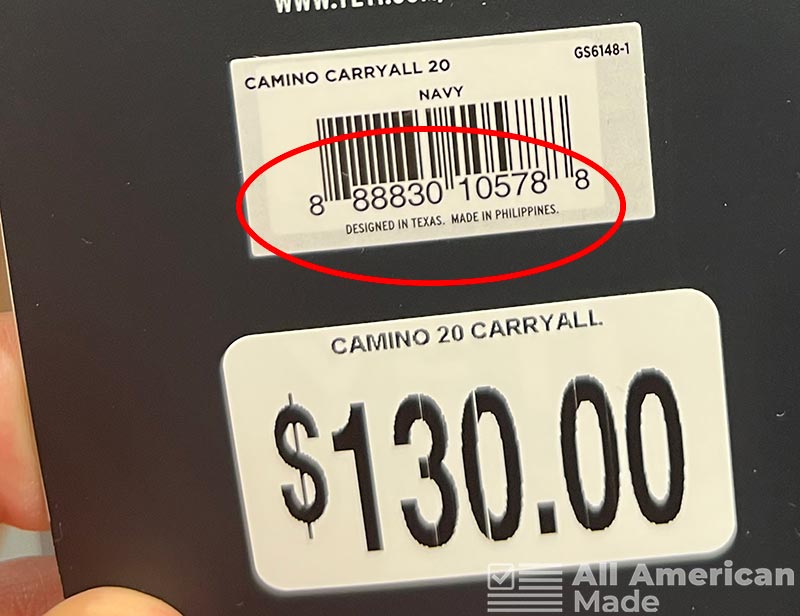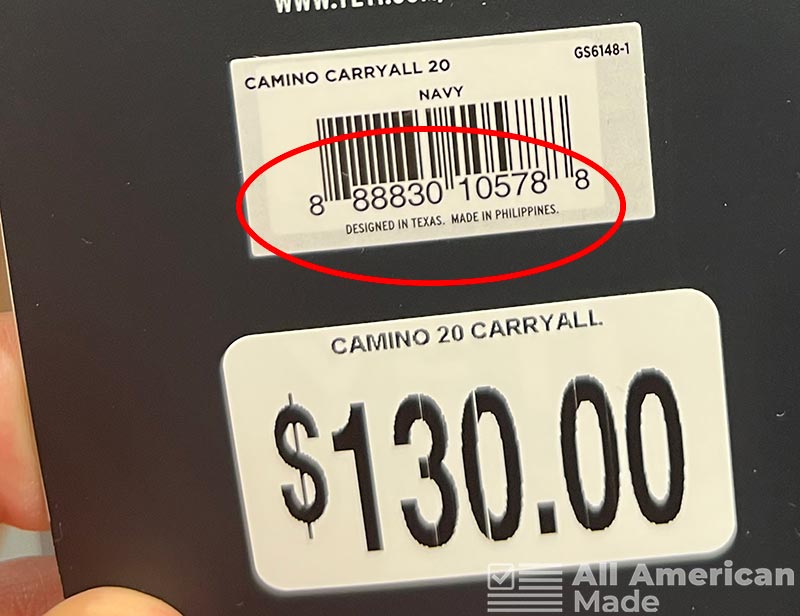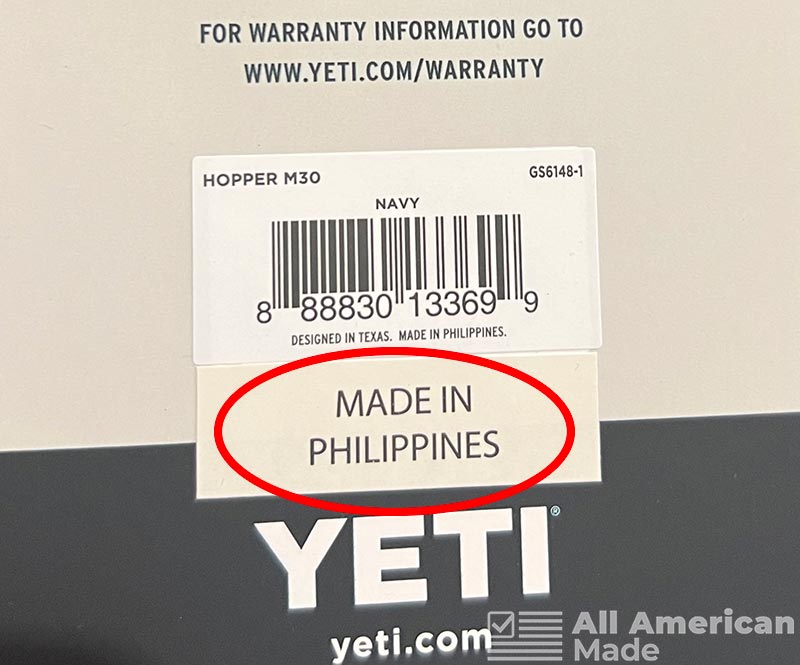 I also found a YETI GOBOX 30 cooler that was made in the USA, which is strange because YETI told me that only their Tundra coolers were made in the USA, but maybe I just got lucky and found one that was made in the USA before they shifted their manufacturing location.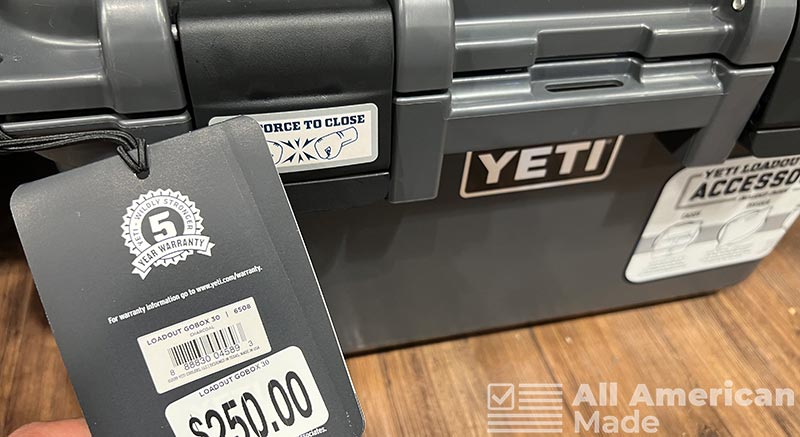 What YETI Customer Service Told Me
Now that we have a pretty good idea of what to expect when we head into a sporting goods store, I want to let you know what YETI also told me.
The representative from YETI said, "All products, regardless if they are manufactured domestically or internationally, are held to the same standard. We always perform quality checks and reviews before, during, and after each product is made. You will gain a superior quality of materials from all our manufacturing partners."
While I do agree that almost all YETI coolers are fantastic, it's still interesting that the price of the cooler remains the same regardless of where it's made. It appears that YETI really is making an effort to keep a good chunk of their manufacturing in the USA, especially for their higher-tier coolers that are more expensive. We also like how the company is based out of Austin, Texas.
More Info about YETI Manufacturing and Diversification
YETI's 2020 annual report provides information about the countries where it manufactures its coolers.
YETI's core products are manufactured in the United States, Malaysia, Taiwan, China, the Philippines, and Vietnam. They also have third-party manufacturing partners in Italy and Mexico.
In its report, YETI Holdings points out that its efforts to avoid concentration risk in its supply chains are the reason for the diversity of its locations here, a practice it intends to continue. Concentration risk is when a company spreads all of its manufacturing between several different companies.
To shift the current allocation of production to a better balance among them, YETI seeks a wider diversification of manufacturing partners, both with geographic and sourcing advantages.
YETI Products Were Originally Manufactured Overseas
In the beginning, when Roy and Ryan invented the YETI cooler, they were manufactured in Thailand.
The first rotomolded cooler developed for YETI was manufactured in Thailand. At the time, it was the best cooler out there, but YETI soon figured out that it had high potential to be much better. The company contacted a manufacturer in the Philippines to build the cooler they wanted from scratch.
Moreover, roto-molding's low initial investment made it a logical choice. To build a perfect ice chest every time, they requested that their manufacturers push the limits of rotational molding.
YETI coolers are produced using the roto-molding process. It is a method of molding that minimizes the possibility of seams in the finished product since small amounts of molten plastic are injected into the mold as it rotates through the injection process.
YETI uses high-quality plastic to produce high-performance shells into which insulation is embedded. This provides the ice retention properties for which the company is known.
YETI coolers that are produced via roto-molding have a seamless construction that is far stronger and more durable than other forms of manufacture.
High Consumer Demand Meant Partnering With US-Based Manufacturers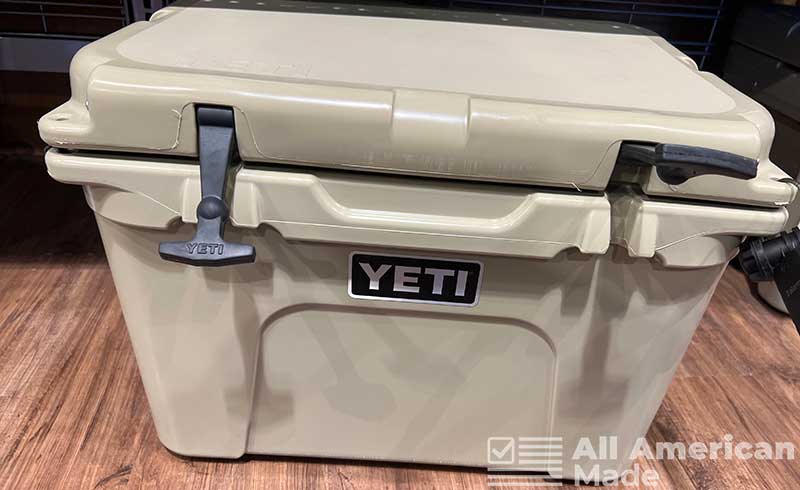 YETI had no idea this would be such an incredible success. Customers praised the product's quality, which is not common among new products made today. Many companies start manufacturing locally, then move production overseas to cut costs. YETI seems to have taken the opposite approach.
According to reports, they have partnered with US manufacturers to produce a sufficient number of coolers in order to meet the high demand. There has been no decline in the popularity of YETI products: revenues are expected to reach $357.2 million in Q3 2021, an increase of 21.3% over Q3 2020. The camping and outdoor recreation industry exploded during 2020 and well into 2021, so this increase in sales is not surprising.
Competitors can rarely match the level of quality and craftsmanship that YETI achieves on all of its products.
Over the past few years, YETI products have taken off, and it isn't very often that a week goes by without seeing bumper stickers, hats, T-shirts, etc.
It is, however, unfortunate that despite their top-quality products, some people have taken issue with them.
Although they are an American company founded by two Texans, they have faced some criticism since not all its products are manufactured in the United States.
YETI's website states that they have plants in Iowa and Wisconsin. The plants that they use do not belong to them; other companies make their products for them.
This is not an uncommon method of operation. For example, Apple does not depend entirely upon its own manufacturing. The company relies on over 200 suppliers for the procurement of components.
YETI works closely with the following suppliers and plastics companies:
Hedstrom Plastics in Ohio
Plastics Professionals in California
Centro Incorporated in Iowa, Wisconsin, and North Carolina
Solar Plastics in Minnesota and Iowa
Dutchland Plastics in Wisconsin
To create their coolers, YETI designs their products and works with their vendors to manufacture their products. To get the product just right for the end-user, the YETI company develops the product and works closely with the suppliers.
There is no doubt that YETI manufactures some of its coolers in the USA.
YETI Holdings, YETI's parent company, is based in Austin, Texas.
How Has YETI Employed Americans?
YETI opened its first flagship store in Wicker Park, Chicago, in September 2019. Currently, there are nine YETI stores located in Dallas, Denver, Austin (the flagship store as well as a northside store), Scottsdale, Charleston, Fort Lauderdale, and Houston. You will find everything you need, from YETI gear to cooler repair to customization, in these stores.
The YETI Tundra Cooler: Made in the USA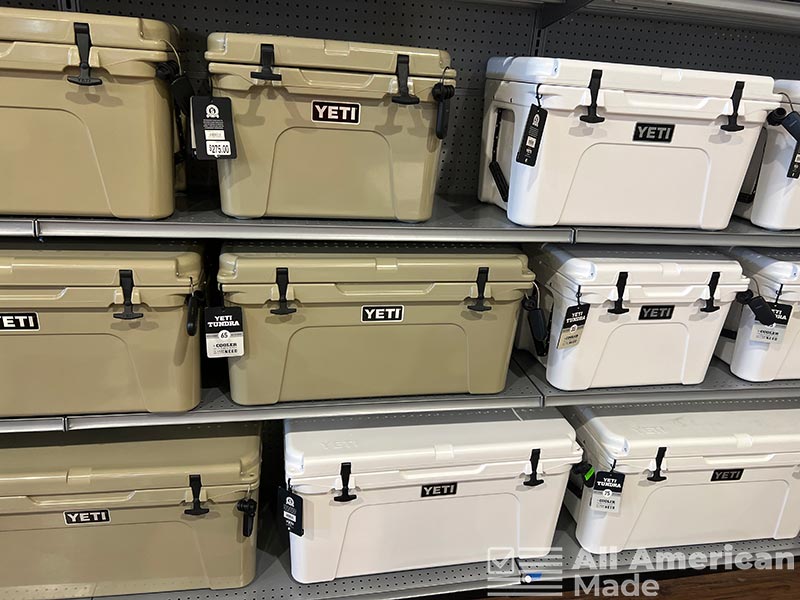 The Tundra coolers from YETI are larger than the Roadie models. This is a renowned range of hard coolers that include styles that are between 20 and 63 inches long.
With its extra-thick walls and pressure-injected polyurethane foam in both the walls and lid, the Tundra range offers up to three inches of insulation.
Despite the fact that some of the manufacturing facilities are located in the Philippines, YETI Tundra coolers are primarily produced in the United States.
Tundra coolers are manufactured in the USA at factories in Iowa, Wisconsin, and the Philippines. Just remember to check the tag so you're so where the Tundra cooler you're looking at is made. Even Tundra coolers that are the same model can be made in two different locations.
Where Are YETI Roadie Coolers Made? It's Not the USA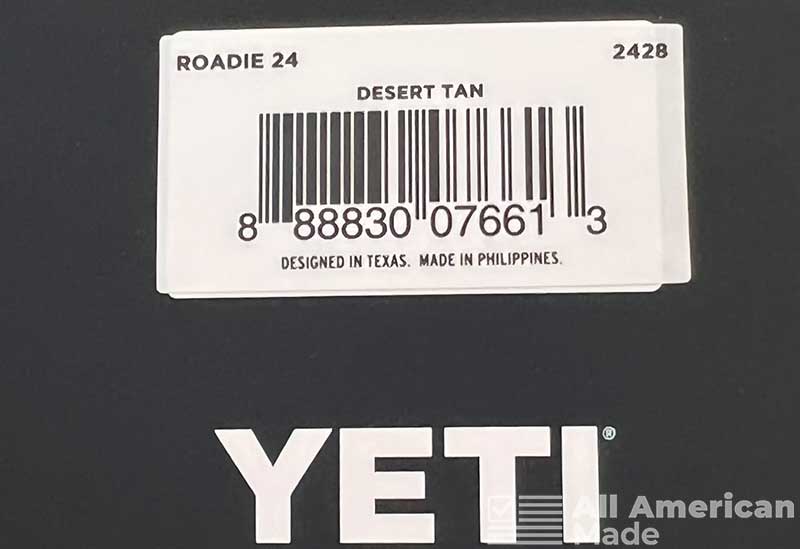 The YETI Roadie cooler is a favorite among campers and outdoor enthusiasts throughout the world. When you're on a day trip or in a cornhole tournament lasting all day, they are convenient and effective at keeping food and drinks cold. With the new Roadie 24 model, you can store 18 cans of beer and plenty of ice to keep them cold.
Additionally, they serve as extra seats around the campfire.
These YETI hard coolers are constructed with rotomolded construction, preventing weak points by eliminating seams. YETI's Neverfail hinge system keeps the lid on tightly, while Permafrost insulation keeps everything cold.
YETI does not mention where these YETI coolers are manufactured, so it is presumed they are not made in the USA as YETI explicitly states when a model is manufactured in America.
Where are YETI Soft Coolers Made?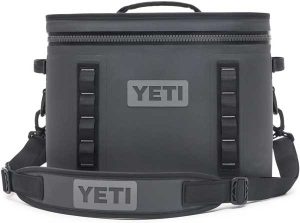 YETI's soft cooler line includes these models: Hopper Coolers and Daytrip lunch boxes and bags. In the following section, we discuss where the main YETI products and coolers in this range are made.
The Tundra coolers and Rambler drinkware are made in China, while the Hopper coolers and Hopper drinkware are made in Iowa and Wisconsin.
The YETI Hopper Coolers come in four sizes, ranging from the 12 (which can hold 13 cans of beer) to the 24, which can carry 20 cans of beer and has a backpack-style appearance.
The leak-proof YETI coolers have a waterproof Dryhide shell and a zippered opening using the Hydrolok waterproof and leak-proof zipper system. Keeping everything nice and cold in the Hopper cooler is closed-cell rubber foam, which also provides great ice retention.
According to the YETI website, these YETI coolers are manufactured in China, as are their Rambler drinkware, some of their smaller products, and other YETI merchandise.
Are YETI Products Worth the Money?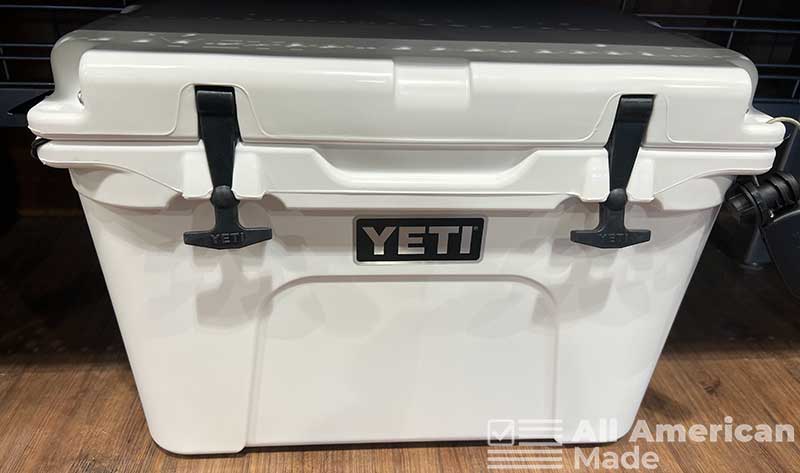 YETI was initially criticized for its high price at the time of its introduction. A cooler costing upwards of $800 seemed absurd at the time. However, as consumers began purchasing YETI products, the quality shone through, and the YETI brand quickly became the cooler of choice for fishermen, campers, and revelers of the outdoors. Famous for its ultra-insulating coolers, the brand has acquired a loyal following due to its wide selection of durable, well-built, and well-designed products.
In the past few years, we've tested a lot of YETI products, including the YETI Rambler 20 oz Tumbler with MagSlider Lid, as well as the 30 oz Tumbler with MagSlider Lid. Both products have stood up to camping, party nights, and endless cycles through the dishwasher. They've been dropped, crushed under gear, and even fallen off the back of our truck. Yet they look as good as the day we got them. In general, we have found anything YETI makes to be exceptionally good.
The short answer to the question of whether or not a YETI product is worth the premium price tag really depends on what's important to you. If you're a coffee enthusiast, start with a Rambler, which happens to be the most popular travel mug. For about $25, you can choose from over 20 colors and a variety of shapes. We love the 20oz Rambler for its comfort in hand. Even big guys who originally bought the 30oz Rambler simply to hold two beers found that the 20oz was far superior for comfort.
Back to coolers: if you're a camper, a fisherman or fisherwoman, a hunter, or someone who likes to hop from bonfire to bonfire all summer, visiting friends, a YETI cooler will stand up to almost anything. They're indestructible. Your biggest risk with these coolers is having someone walk away with them. Everyone we know who owns one loves them.
Unlike lesser-quality coolers, YETI coolers are constructed of roto-molded plastic, which is considerably stronger and more durable than blow-molded plastic. The polyurethane insulation in YETI coolers sets hard, arming the cooler with extra strength.
YETI coolers have a nearly indestructible single-pin hinge, and they are entirely bear-proof when locked. Those of you who camp regularly will appreciate this. Even those thumb-endowed ninja trash pandas we call raccoons can't seem to get into a YETI.
Additionally, YETI coolers are covered by a 5-year warranty. There are not many companies that can stand behind their products in this manner.
Even though there are other brands out there, no other brand offers as many sizes, shapes, and colors as YETI.
If you include some of the bags they offer, there are about 25 different sizes and types of coolers, and each is different. We are certain you will find the right size and color for you.
As far as keeping things cool, it's a no-brainer. Known for their ice retention, the hard-shell YETI coolers mean business. There's nothing worse than waking up on your third morning of camping and going to put cream in your coffee, only to find the carton of cream is a soggy cardboard mess because all the ice in your cooler is now liquid. We've seen YETI coolers hold ice for 10 days!
If you'd like to see what goes into a YETI and why they might cost more than the average cooler, check out this video below that literally cuts into their product and shows what they're made of!
Are There Cheaper Alternatives That Compare to YETI?
There is no question that YETI offers high-quality coolers and drinkware. Many of their die-hard fans will purchase their coolers knowing that this could be the last time they need to purchase a new cooler in their lifetime. For many outdoor enthusiasts and dedicated beer drinkers, there is nothing more valuable than the adage that "you get what you pay for."
Thankfully we've already done our homework and have a comprehensive list of American-made coolers that you can check out here.
Although it's debatable whether any American-made cooler can stand up to the quality of YETI's products, we think that the Grizzly and Pelican models on this list are worth paying close attention to.
YETI Keeps Americans in Mind
We enjoy everything about YETI coolers and know that the company is doing philanthropic things and building a strong and reputable brand comparable to Coke, Nike, and Apple. For example, YETI is offering a patriotic, limited-edition Rambler to show your appreciation to our nation's veterans on Veterans Day (November 11). For every classic 30-ounce tumbler sold, the proceeds are donated to a nonprofit that grants educational scholarships to children of fallen soldiers.
On November 2, Rambler released three limited-edition mugs in three commemorative colors in honor of Veterans Day. With a copper PVD finish and an etched American flag incorporated into the YETI label, you can get the Rambler in brick red, navy blue, or white. As always, it comes with the patented MagSlider lid, which offers splash and shattering resistance.
Important Facts About YETI
Brothers Roy and Ryan were dissatisfied with the variety of coolers available, especially when heading out to do what they love most: fishing. They were not expecting to disrupt the entire industry when they set out to redesign a cooler.
Roy and Ryan Seiders founded YETI in 2006. The brand's name was derived from long discussions with friends and family. However, the one name that stayed in their minds was YETI, the Ice Monster.
As children, the brothers spent a great deal of time outdoors in their hometown of Driftwood, Texas. The Seiders siblings were naturally drawn to entrepreneurship, as their father, Roger Seiders, was an entrepreneur who developed a fishing rod epoxy.
How the brothers turned a $67 million investment into a 3.3 billion dollar company is kind of incredible. Even though they don't make everything in the USA, their products are designed and developed with Americans in mind.
YETI did not initially manufacture its coolers in the United States. Originally, they were manufactured in Thailand and were Icey-Tek coolers with a YETI badge. These were among the best coolers available at the time. The brothers felt they could do better in terms of quality, so they developed the YETI coolers even further.
Later, they moved to a manufacturer in the Philippines. YETI needed to increase their production capacity to meet the growing demand for their coolers once they perfected the design, so they contracted manufacturers locally in the United States.
As they partner with some of the best plastic producers in the US, the quality of their coolers is not compromised at all by manufacturing locally.
Now, YETI has a huge line-up of hard-sided coolers, drinkware, cooler bags, backpacks, duffel bags, dog beds and bowls, and more. Most products can be customized for an additional fee, but sometimes YETI will offer free customization, so watch out for that.
Verdict: Is YETI an American Brand?
Many of their products are not made entirely in the United States, but they are an American brand for sure. The company doesn't state exactly how many coolers are produced in each location, but from our experience, we can tell that a large amount is, in fact, made in America.
Hi, my name is Kevin and I'm from Pittsburgh, Pennsylvania. Choosing products made in America is important to me because it supports local economies, creates jobs, helps the environment, and ensures ethical labor practices. I also find that American made products are usually of higher quality so although they're a little more expensive, you save money in the long run. Before starting this website I was in the USMC infantry and nowadays I work on this website as a hobby.