Calphalon has been known as an American business, and as many companies that are founded in the United States market themselves as "all-American" brands, this reputation often persists for a long time, despite the fact that companies outsource manufacturing and production to other countries as they grow or are acquired.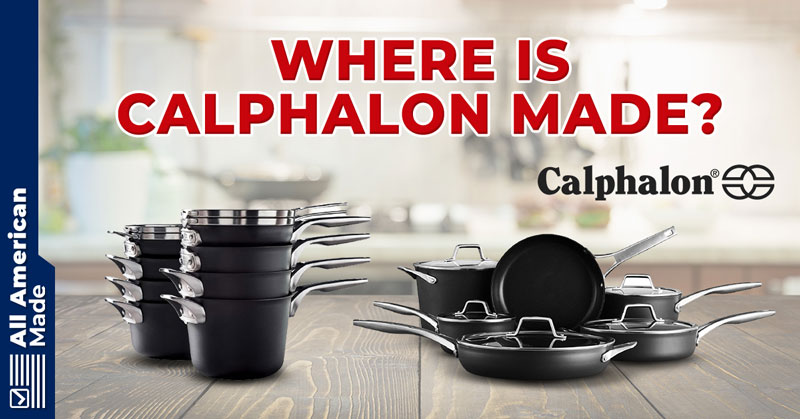 Today, we'll be tackling Calphalon, a popular kitchenware brand that is assumed by most consumers to be American. We'll address whether that assumption is correct and go more in-depth about where Calphalon products are made.
Most Calphalon products are made in China, with a few being made in Mexico and the USA. Their Elite Cookware Line and Commercial HA NS Line are still made in the USA at their manufacturing facility in Toledo, Ohio. Their materials are primarily sourced from Asia or Europe.
The best way to know where a specific product is made is to check with Calphalon customer service and verify the current manufacturing location of that model.
Which Calphalon Products Are Made in the USA?
Calphalon Elite Cookware and Commerical HA NS Cookware are made in the USA. Almost all of their other cookware is made in China.
Here is where you can find it:
The Elite Cookware and Commerical HA NS Cookware are manufactured at their manufacturing facility in Toledo, Ohio.
Keep in mind that the Signature Cookware is sold in individual pieces only, with the exception of the Signature Nonstick Cookware Set and the Signature Stainless Steel.
Which Calphalon Products Are Not Made in the USA?
Outside of the cookware lines we discussed above, everything else is not made in the USA, and the majority of it is made in China.
This includes:
Calphalon knives
Calphalon blenders
Calphalon countertop ovens
Calphalon cast iron pans
Calphalon slow cookers
I was actually recently just at the store and saw some Calphalon cookware, and after checking the boxes, I noticed that everything being sold there was made in China. With that in mind, if you end up going to a local retailer, chances are the cookware you'll see there is made in China. If you want to order Calphalon products that are American-made, the best way to do so is by visiting their website. They have a live chat feature, and their support team is extremely friendly.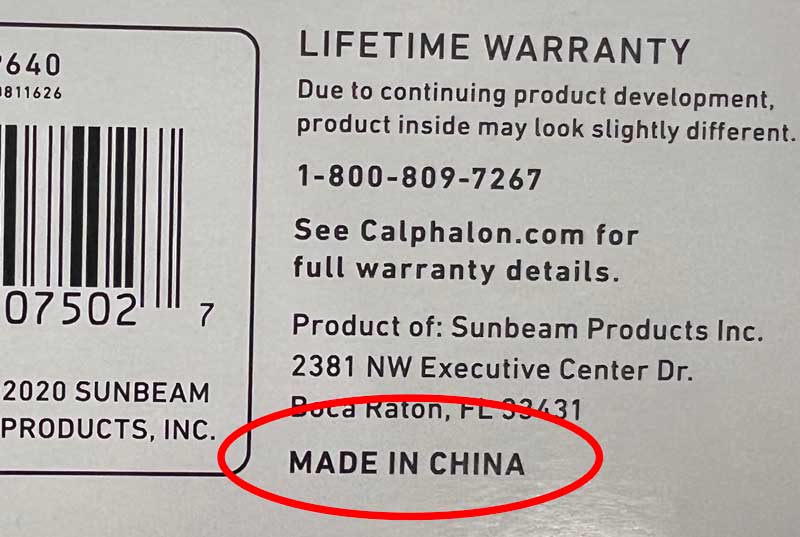 Here is another box that I inspected.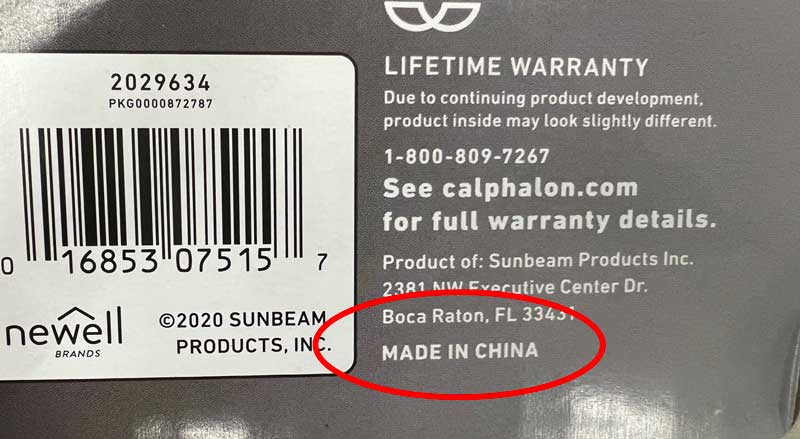 The Calphalon brand is still based out of Perrysburg, Ohio, but they are no longer an independent corporation. Calphalon was purchased by Newell Brands in 1998 as Newell's first expansion into cookware.
Newell Brands may not be from the same area as Calphalon originally was, but it is American; the company was founded in New York and is currently headquartered in Georgia, although they serve customers around the world.
More About Calphalon Cookware Manufacturing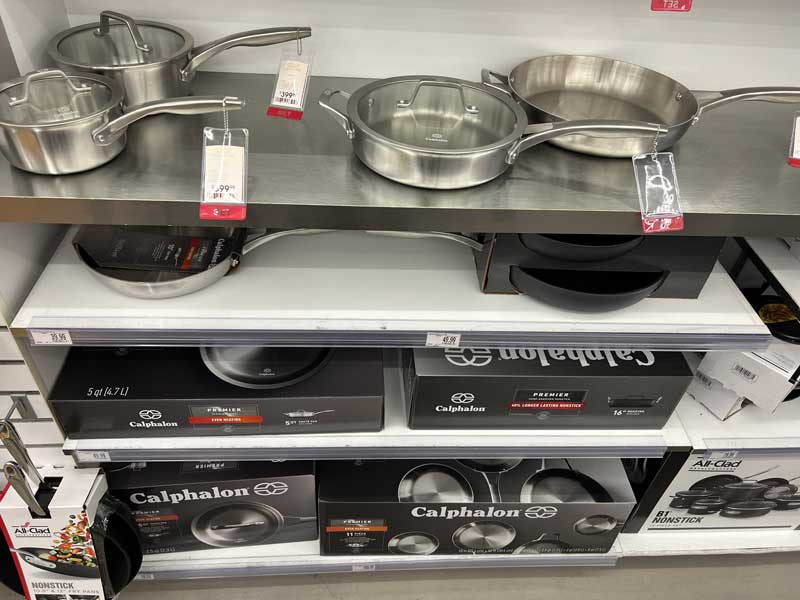 Calphalon started out as a cookware brand, and cookware is arguably still their most popular category of products. The different types of cookware that they offer and the materials from which the cookware can be made have changed and expanded considerably. In addition to the classic, hard-anodized aluminum, they also make stainless steel, ceramic, and cast iron cookware. The aluminum treatment process has been updated since the '60s, but their hard-anodized aluminum products are still based on the aerospace industry's original idea, as adopted by Ronald Kasperzak. Hard-anodized aluminum is also the core material of the stainless steel-coated cookware.
Despite starting as a brand of cookware made in the USA, most of Calphalon's cookware production has been moved to China. Even after the production moved overseas, the cookware still has "Toledo, Ohio" stamped on the bottom; this is referring to the company headquarters, not the product's manufacturing location. False advertising? A bit, but we can't blame Calphalon for being proud of their American roots.
The really troubling thing is the fact that everyone seems to agree that one type of Calphalon cookware is still made in the US, but no one can agree on which type it is. Some people online claim that Calphalon's stainless steel items are the only American-made ones; others state that it's the original product line, the hard-anodized aluminum; still, others say that it's only the Elite collection, which is one of the hard-anodized aluminum collections. After all, who hasn't heard of pots and pans by Calphalon being American made?
We honestly don't find anyone's argument convincing enough to tell you that certain products are definitely made in the USA. Even if one of those answers is correct right now, manufacturing processes and locations can change at any time. The only way to truly know that a Calphalon cookware item is made in the United States is to contact Calphalon customer service with the product number of the item you're considering and ask them; they will be able to tell you the current manufacturing location for any model.
Where is Calphalon Bakeware Made?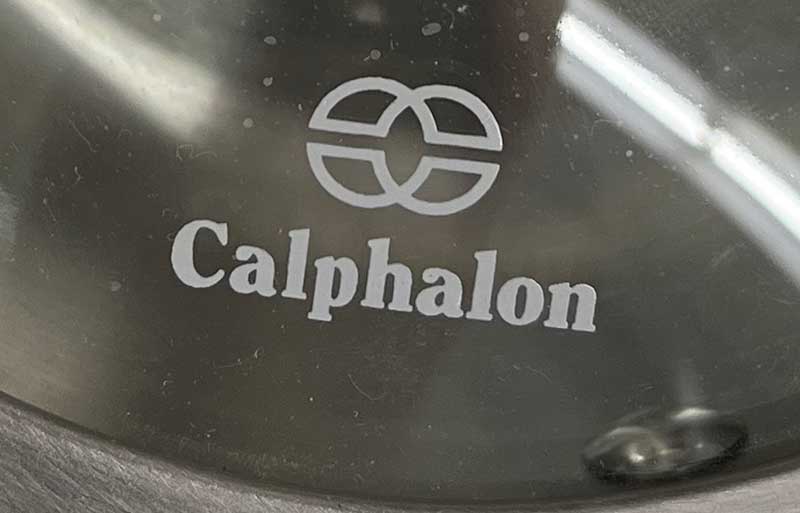 Calphalon Bakeware which is not part of the Elite or HA NS Line, is mostly made in China.
Calphalon's bakeware selection includes different pans for muffins, brownies, cakes, bread, and cupcakes, as well as flat pizza pans and standard baking sheets. They are made from carbon steel, with either carbon steel or stainless steel exterior finish and a nonstick coating. Unsurprisingly, there's not a lot of information available about the origins of these materials or the locations in which the products are manufactured, but we can make some assumptions.
As mentioned, if you're interested in a particular product offered by Calphalon and are unsure of where it is manufactured, the best thing to do is to reach out to their customer service team. We find them to be very helpful and honest.
Where Are Calphalon Appliances Made?
This is where it starts to get a little more complicated. Calphalon offers a selection of coffee makers, blenders, and toaster ovens, as well as one toaster model, one slow cooker model, and one waffle maker model. Unlike cookware and bakeware, these kitchen appliances are typically made from a lot of different materials, especially since they have electronic components, so there are a lot more pieces to keep track of when looking at the origin and manufacturing location of everything.
Most of their toasters, slow cookers, waffle makers, coffee makers, and some of their blenders are made in China. The rest of the blenders are made in Mexico. It's always possible that this will change, so you can feel free to contact customer service about a specific item if you want to check, but it doesn't seem likely. Manufacturing that leaves the US usually doesn't get moved back, and since Calphalon doesn't make any appliances in the US right now, they probably won't start doing so in the future, either.
If you're interested, we have a full article on our favorite appliances that are made in the USA here.
Where Are Calphalon Knives Made?
Most Calphalon knives are made in China. There is a category of Calphalon products called "Cutlery, Kitchen Tools, & Knife Sets," which sounds more diverse than it is. This category consists entirely of knife sets, knife blocks, and a single apple divider. It might seem like this would make the product origins simple to determine, but with every set being unique in some way, there are slightly different materials and manufacturing processes to consider for each. Once again, Calphalon offers little information about these things, but we were able to fill in the gaps with information from retailers.
The main material used in these products is steel, although materials like wood and rubber are used for components like knife blocks and apple divider grips. In some product descriptions, the steel is described as "Asian stainless steel." Interestingly, the location isn't narrowed down any further, and not every knife set calls the steel "Asian," but we have no particular reason to think that steel from a different location is used for those knives. And regardless of whether the steel is sourced from the same place for all products in this category, it's a safe bet that none of it is from the US.
Confusingly, the steel in these knives is described as both "German steel" and "Asian steel" in some online retail stores, which is sort of a clumsy attempt to fool customers about the quality of the knives. "German steel" is a term that can be used to refer to products made using German formulas for steel, regardless of the origin of the steel itself. Because German-sourced steel is widely considered to be of very high quality, many companies use this misleading term to make their products sound better.
However, by using the term "Asian steel" in conjunction with the term "German steel," Calphalon exposes the fact that their steel is sourced from Asia and only made using German formulas. And of course, it is clearly not American either way.
Facts About Calphalon's Manufacturing Practices and How it's Changed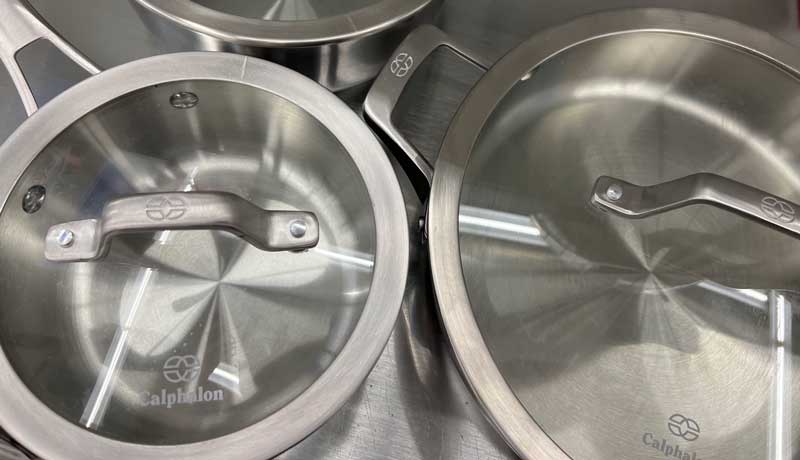 Calphalon has been around since the early 1960s, although it was originally the name of a product, not the name of the company. In 1963 a man named Ronald Kasperzak founded a kitchenware company called Commercial Aluminum Cookware in Ohio, and it became popular among professional food services. Several years later, he developed a type of durable, hard-anodized aluminum cookware, which he called "Calphalon." When this product became wildly popular, particularly among non-professionals, the company changed its name to Calphalon in order to better appeal to its new target audience.
Since Calphalon still has its headquarters and main production facility in Ohio, there hasn't been much concern about whether all or even most of its products are still made in the USA. Unfortunately, the fact is that Calphalon's expansion into other types of kitchen products and their purchase by Newell have caused them to source many materials from Europe and manufacture many products in Asia. They weren't terribly upfront about this switch and don't advertise where their products were made or where their materials come from.
Related Article: What Frying Pans Are Made in the USA?
Conclusion
That does it for this article, but if you have any further questions about where Calphalon products are made, let us know in the comments below.
Hi, my name is Kevin and I'm from Pittsburgh, Pennsylvania. Choosing products made in America is important to me because it supports local economies, creates jobs, helps the environment, and ensures ethical labor practices. I also find that American made products are usually of higher quality so although they're a little more expensive, you save money in the long run. Before starting this website I was in the USMC infantry and nowadays I work on this website as a hobby.