It's easy for a high-performance, dependable blender to stand out in a sea of average, run-of-the-mill models because of the craftsmanship and quality that goes into building it. And when it comes to design, engineering, and craftsmanship, what could be better than a blender made in the USA?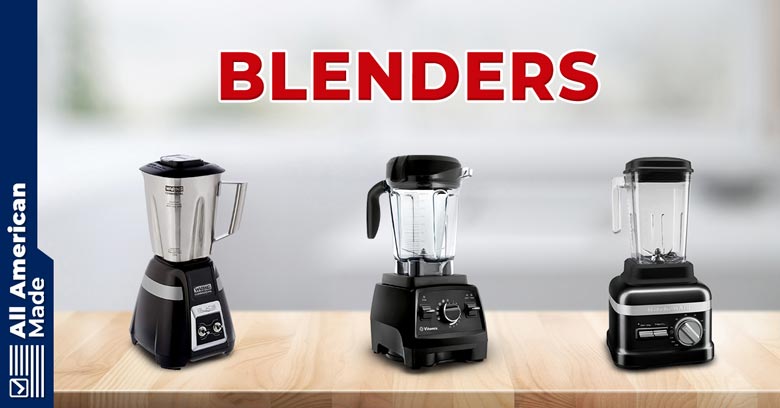 So to help you find that perfect countertop workhorse for your kitchen, here's a great list of blenders made by American companies that support the local economy by making their products right here on American soil. Simply scroll through this list and pick out your new favorite blender!
List of American-Made Blenders
Vitamix Blenders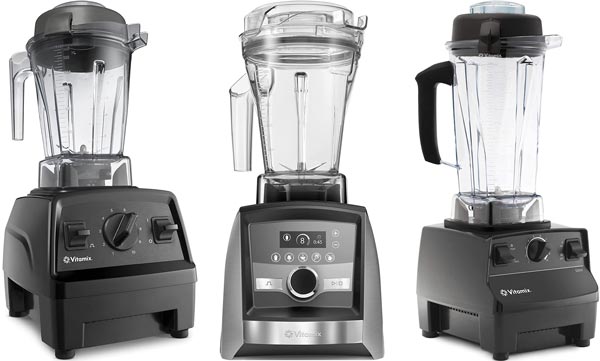 | | |
| --- | --- |
| Year Founded | 1921 |
| Types of Blenders | Residential Blenders, Commercial Blenders, Immersion Blenders |
| Popular Models | E310, A3500 |
| Origin | Olmsted Falls, Ohio, USA |
Vitamix's Origin and Manufacturing Locations
What started from a small log cabin in Ohio has since expanded to one of the most popular brands globally. Loved across 130 countries, Vitamix has been bringing healthy living and innovation together since the 1920s. It all started with founder William Grover Barnard realizing the power of whole foods while watching a chronically-ill friend get better on a plant based diet.
Disappointed that people around him were not having enough whole foods, Barnard created a blender to mix up fruits, veggies, nuts, and seeds into an ultra-nutritious beverage. Not
just any blender, his invention was a solid stainless-steel container with a powerful motor that could blend just about anything!
Barnard's invention and Vitamix took the world by storm, helping thousands of families adopt healthier eating habits. Now run by a fourth-generation member of the Barnard family, Vitamix still works actively towards spreading the magic of whole foods nutrition.
The Vitamix Foundation was set up precisely to counter fad diets and unsustainable eating patterns. And though Vitamix blenders are evolved in tech and features, they are still built and tested at the company's world-class plant in Ohio, USA.
Vitamix's Blender Selection and Offerings
The first Vitamix was a basic, no-frills yet powerful stainless-steel blender that showed people a clever way to increase their plant-based foods intake- by blitzing it all up into a tasty, super healthy drink.
Over the years, these blenders have become smarter, more efficient, and loaded with impressive tech to make them one of the most user-friendly gadgets to have in your kitchen. Take their top-rated model, for example- the A3500 has a super-sized container with five-speed settings and a herculean motor to blend anything from smoothies to frozen treats with great ease.
This appliance's motor itself is intelligent enough to tune program settings and speeds according to the size of the container. When you're done blending, just use its self-cleaning system for
worry-free, hygienic maintenance. They are a little expensive, but Vitamix blenders are truly a "buy once, cry once" type of product. For something wallet-friendly, I suggest exploring the brand's Legacy or Explorian Series, especially the E310.
I'd also like to point out that while most of this brand's offerings are American-made, there may be a couple of imported models in their immersion blenders category. To make sure that whatever you buy is 100% made in the USA, be sure to look for manufacturing origin under the "Specifications" tab.
I personally have owned a Vitamix blender for years, and it's an absolute powerhouse. Of all the blenders I've used and tested, it's by far one of my favorites!
Blendtec Blenders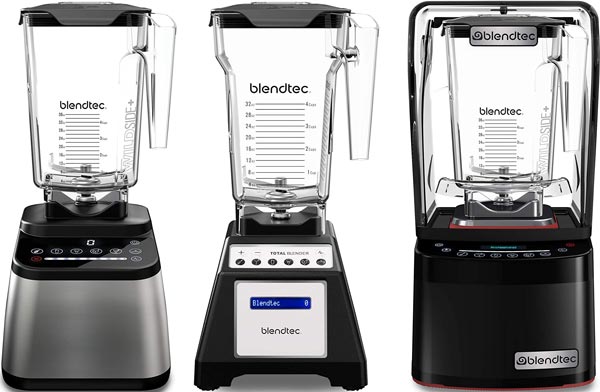 | | |
| --- | --- |
| Year Founded | 1975 |
| Types of Blenders | Residential, Commercial |
| Popular Models | Designer 725, Classic 575, Professional 800 |
| Origin | Utah, USA |
Blendtec's Origin and Manufacturing Locations
In the 1970s, after watching a brand new blender break down, Tom Dickson set out to create a blending appliance that just won't break. And he did precisely that. Dickson's invention was a fantastic blend of performance, durability, quality, and a power-packed motor that simply won't give up!
Dickson had an interesting way of testing the strength and speed of his blenders. He would shove rake handles and watch it get ground to dust. And it took a sacrifice of over 7000 rake handles for Dickson to be finally confident of his invention that he began selling under the brand "Blendtec."
Like Vitamix, Blendtec's sole focus is to make long-lasting American-made blenders. And they've gotten quite good at it. The brand also has a fun yet effective way to showcase its blending prowess. Their viral "Will it Blend" series has Dickson blend everything from car keys to crowbars to iPhones! Easily one of the most hilarious and ingenious marketing campaigns in recent times! I'll put a link up to one of the videos below.
Blendtec's Blender Selection and Offerings
Innovation is the heart and soul of this brand. And you can sample it in Blendtec's robust built, rock-solid material and superior performance. Whether you pick something from their Classic, Designer, or Professional collection, each line is teeming with convenient specs for effortless blending.
My favorite Blendtec, the 725, belongs to the Designer line. This gadget ticks all the right boxes- a sleek die-cast metal body, a 3.8 horsepower heavy-duty motor, and a proprietary SmartBlend tech that can guide you through errors. With its six presets and 100-speed settings, this high-precision blender can take on all sorts of recipes, from dips to juiced to hot soups, with exceptional ease.
If bells and whistles are not your things and you're looking for a more pocket-friendly blender, something out of Blendtec's Classic vault would serve you well. The ever-popular Classic 575 is operated by push buttons instead of Designer and Professional's touch screen. It is sturdy with a far more powerful motor compared to most blenders in its price range. Simple and functional, this blender sticks to the job and aces it each time.
However, if budget is not a constraint and you're looking for some commercial-grade blending without the noisiness, then Professional 800, with its quiet, powerful blending, is just the thing you need.
Overall, all of their blenders are great, so you really can't go wrong with any of them!
Waring Blenders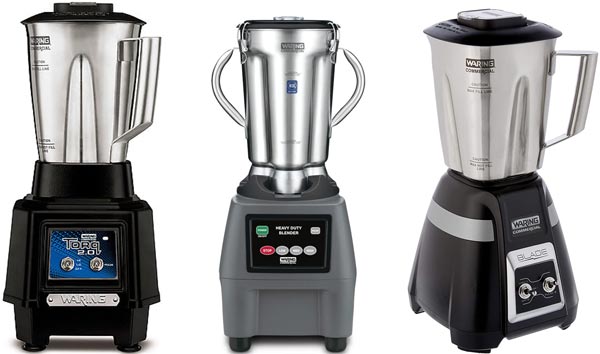 | | |
| --- | --- |
| Year Founded | 1937 |
| Types of Blenders | Residential, Commercial, Immersion Blenders |
| Popular Models | MX1000XTX, BB155 |
| Origin | McConnellsburg, Pennsylvania, USA |
Waring's Origin and Manufacturing Locations
Did you know, though named after the founder, the original Waring Blender was not actually invented by Fred Waring? Way back in 1936, an inventor, Fred Osius, met Waring, a prominent entertainer, to fund and support his invention – a groundbreaking electric blender that'll change the face of modern cooking. With combined might, painstaking efforts, and a few failed prototypes later, Waring and Osius, finally created the "Miracle Mixer."
Later changed to The Waring Blender; this gadget became a staple in many American kitchens. Not only that, the original Waring was one of the components used by Dr. Jonas Salk to develop the precious polio vaccine.
Now hailed not just in the USA but the world over, Waring is home to a great collection of
performance-packed, full-sized blenders, most of which are made at its factory in McConnellsburg, Pennsylvania, USA.
Waring's Blender Selection and Offerings
Shopping for a Waring blender that complements your lifestyle and cooking is a straightforward process. Their American-made blenders are categorized according to peak motor horsepower and the number of cycles they can run for in a day – CB15 (ultra heavy duty), MX (heavy duty), Torq (medium duty), Blade (light-medium duty), BB155 (light duty).
While made for commercial use, these blenders have become a permanent fixture at hospitals, schools, restaurants, cafes, smoothie bars, as well as residential kitchens. With the exception of their immersion line of blenders, everything else is a product of proud American manufacturing.
From their heavy-duty MX series, the MX1000XTX is a crowd favorite among commercial setups like bars, cafes, healthcare, and restaurants for being able to blitz up to 75 times a day. Easy to operate, this blender runs with a motor that can peak to 3.5 HP and comes with a stackable 64 oz. BPA-free co-polyester jar.
For residential use, I recommend checking out BB155, which retails at $129 and offers a strong two-piece stainless steel blade and a 32-ounce dishwasher-friendly container. All in all, a good-looking, sturdy option for those on a budget.
KitchenAid (Very Popular)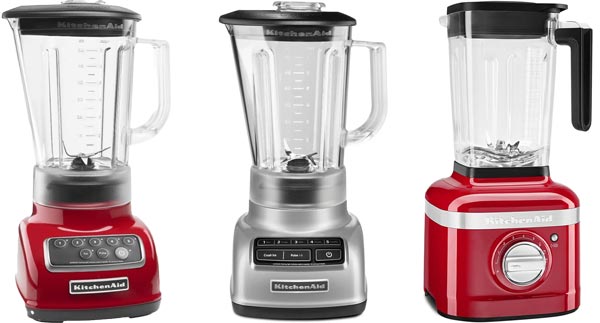 | | |
| --- | --- |
| Year Founded | 1919 |
| Types of Blenders | Residential, Commercial |
| Popular Models | KSBC1B0BM |
| Origin | Greenville, Ohio, USA |
KitchenAid's Origin and Manufacturing Locations
A kitchen workhorse all over the globe, KitchenAid's iconic stand mixers were invented by Herbert Johnson in 1919 to add a bit of ease into a baker's life. Initially sold under "Hobart," these mixers were later changed to "KitchenAid" after the wife of a company executive called it "the best kitchen aid" ever.
Success came knocking in 1937 with Egmont Arens' Model K- a modern, easy-to-use design fit for use across kitchens from commercial to residential. Over the years, KitchenAid's classic stand mixers have become a must-have appliance in every type of kitchen. Available in a vast range of vibrant color options to add a bit of pop and spunk to your countertop.
While mixers are KitchenAid's shot to fame, they also manufacture commercial-grade blenders, widely coveted for their performance by home cooks and chefs alike.
KitchenAid's Blender Selection and Offerings
Built to last with die-cast metal, KitchenAid's powerful industrial-grade blenders can blitz the toughest ingredients in seconds! At 3.5 peak horsepower, the motor is fast and efficient, and when teamed up with the unique 3mm, asymmetrical Talon blade can puree and blend anything from hot soups to drinks to ice-blended delights.
The KSBC1B0BM is aimed at food service or home chefs looking for restaurant-grade blending. It is pretty simple to use, meaning you won't have to deal with a high-tech interface if that's not your thing. In short, here's a robustly-built blender that sticks to the job and does it amazingly well! Overall, if you're looking for an American-made blender KitchenAid has some great ones that I feel are of great value! KitchenAid also has a large selection of other American-made appliances as well including stand mixers that we love! We also have a more in-depth article explaining where KitchenAid appliances are made if you're interested.
Robot Coupe
| | |
| --- | --- |
| Year Founded | 1961 |
| Types of Blenders | Standard Blenders, Residential Immersion Blenders, Commercial Immersion Blenders |
| Popular Models | BL3, BL5, MicroMix, Mini MP 190 VV |
| Origin | Jackson, Mississippi, USA |
Robot Coupe's Origin and Manufacturing Locations
Robot Coupe may be a French brand, but its faith in American manufacturing deserves to be applauded! Founded in 1961, this brand offers a range of stylish, durable, high-performance food equipment that includes prep machines, food processors, cutters, juice extractors, mixers, and immersion blenders. Most of their products are made in either France or Jackson, Mississippi, USA.
Although not as widely recognized as the other brands on this list, Robot Coupe is possibly the only company that offers immersion blenders that have been manufactured here. Here's my take on their compact yet powerful immersion blenders.
Robot Coupe's Blender Selection and Offerings
Robot Coupe makes five lines of immersion blenders- Micromix, Mini Range, Compact Range, Large Range, and Combi Range. The brand's design principles are rooted in innovation, simplicity of use, superb ergonomics, and delivering bang-for-your-buck value.
Whether you're an amateur cook, a professional chef, or a cafe owner, there's a perfect immersion blender for you in Robot Coupe's vault. To help you zero down on your dream blender, this brand has a nifty selection tool on its website.
In contrast to the name, Robot Coupe's Compact models are ideal for restaurants with some blenders like CMP 400 VV that take on up to 73 liters of ingredients! Robot Coupe also makes a line of Large blenders, designed specifically for round-the-clock use and enormous portions required in commercial catering.
If you're looking for a USA-made immersion blender for your kitchen, you might want to explore this brand's Mini range, especially the Combi models that also come with a sturdy whisk attachment. Its high-performance motor, unique aeromix tool, and over-molded stainless steel form a dream team to take care of all your prepping needs from mixing, blending, whisking, and emulsifying.
Factors We Considered
Before we get to the brands and models, we'd like to share a few helpful tips and things to look for while buying a blender for your home or commercial kitchen.
Type: Jar blenders are hands down the most commonly found type of blender. They are versatile, powerful, and perfect for blending up a variety of ingredients in a jiffy. While shopping, you'll also come across Personal blenders. These compact, convenient-to-use devices are great for blending small quantities, typically smoothies, on the go. Finally, handheld Immersion blenders are mainly used to puree, emulsify, and prep food than blitz up drinks.
Material: When we talk about blender material, it's mostly about what its jar is made up of. Is it stainless steel? Copolyester or polycarbonate? It all depends on how often you'll use and clean these jars.
While long-lasting and fuss-free to clean, stainless steel doesn't offer the aesthetics of other alternatives. In terms of durability and looks, polycarbonate scores remarkably well, but it's not meant to be used for hot foods. BPA-free co-polyester, in a way, offers the best of both and holds up well with both hot and frozen ingredients.
Function: The blender you choose also boils down to the application you have in mind. After all, these clever little appliances can do a lot more than just make smoothies! If you're looking to blend up icy treats, your blender needs to have a blade that can take on ice-crushing duties and a preset for frozen delights. Immersion blenders are great if you're looking for reliable food prep assistants.
Size and Speed: For homes and smaller servings, 32-64 ounce jars would work well. However, in high-volume kitchens, jar capacity requirements can be anywhere from 128 ounces to a gallon. Other than size, speed is another essential factor to consider. It's a good idea to get a blender with at least three-speed settings for greater control.
Wrapping Up:
There aren't many brands that manufacture blenders here, but those that do are on our list. The fact that brands like Vitamix, Waring, KitchenAid, and Blendtec have a strong presence not just in the USA but in several countries the world over is testimony to the flawless design, construction, and engineering quality of any object that's made in the USA.
In addition to brands, our research gave us a chance to review some great blender models in the market. Looking to switch to healthy eating? Then the A3500 from Vitamix's catalog is perfect for you. If you want restaurant-quality blending without disturbing anyone around you, we recommend Blendtec's Professional 800.
Let us know what your favorite blenders are in the comments below! Also, let us know if there are any good blenders made in the USA that we missed. We are constantly trying to improve our articles, so community feedback is always greatly appreciated!
Hi, my name is Kevin and I'm from Pittsburgh, Pennsylvania. Choosing products made in America is important to me because it supports local economies, creates jobs, helps the environment, and ensures ethical labor practices. I also find that American made products are usually of higher quality so although they're a little more expensive, you save money in the long run. Before starting this website I was in the USMC infantry and nowadays I work on this website as a hobby.