As one of the oldest materials in the textile market, cotton has been around longer than in the United States. It's no surprise that it has been perfected over time and is a great option when you need the perfect blanket to bring you back to a place of peace and simpler days. Today many blankets are made overseas, but thankfully there are still many great cotton blankets made in the USA to choose from.
Many of the blankets we will go over today are not only made here in the United States but are put together with all raw materials grown here as well. Many of the blankets are also made completely with organic cotton. We did all the research for you, so all you have to do is scroll through the list below and find your new favorite blanket!
List of American-Made Cotton Blankets
American Blanket Company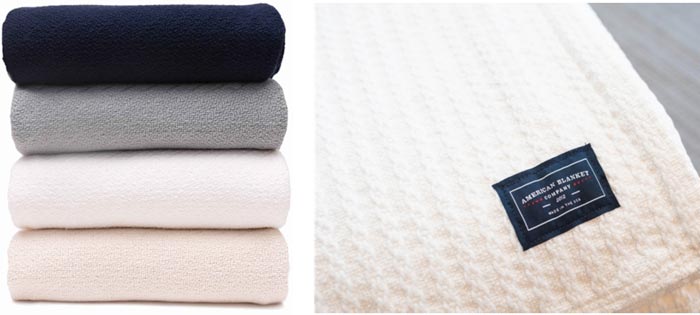 | | |
| --- | --- |
| Origin | Fall River, Massachusetts |
| Materials | Cotton |
| Weight | All Seasons |
| Sizes Available | Throw, Twin-TwinXL, Full-Queen, King-Cali King, Oversized King, Extra Oversized King |
American Blanket Company's Origin and Manufacturing Locations
Rick Lotuff grew up watching his dad create clothing in Massachusetts. Over the years, he watched the industry shift to producing the majority of stuff overseas, and that greatly disappointed him. In 2012 he decided he was going to be a part of bringing production back to America and opened the American Blanket Company.
He is very adamant about designing, cutting, and finishing each blanket in-house and by hand. Believing that this is the best way to create products that people will fall in love with and to gain a customer base that is willing to pay more for a quality product and to support American businesses, they must stand out from the crowd.
In 2020, to give back in his success as a business owner, he created a 1-for-1 giving program. This means that for each blanket he sells, he gives a blanket to a person or pet that is in need. So not only do you get a great blanket to wrap up in, but you also end up giving one to someone who truly needs it.
We really like what this company stands for, and you can really feel the love and care they put into each and every one of their blankets.
American Blanket Company's Selection and Cotton Blanket Offerings
With four different weaves available in their Selection and Cotton Blanket Offerings, it just comes down to which aesthetic you prefer.
There is a cable weave that has a chunkier look to it, a chevron weave that is textured but has a softer overall look, a traditional basketweave that includes advanced spinning techniques to keep the blanket looking its best for the long haul, and the herringbone weave that is actually a two-tone style and unique from the other blanket options within this brand.
The styles come in subtle color selections, including natural, white, gray, and navy. When the raw materials are able to really shine through, there is no need for them to be covered up with fancy dyes.
They also offer some extremely popular fleece blankets that we also love. The only thing we don't like is that most of the colors and patterns they offer are very basic. That said, most people actually prefer basic colors. We just think it would be cool if they expanded their options. Here is a short video that shows some of their blankets.
Brahms Mount

| | |
| --- | --- |
| Origin | Maine |
| Materials | Cotton |
| Weight | All Seasons |
| Sizes Available | Twin, Full-Queen, King |
Brahms Mount's Origin and Manufacturing Locations
Its original factory is located along the 170-mile trek of the Kennebec River Brahms Mount. It has since moved to a factory a little farther down in the heart of Maine in Monmouth but continues to provide exceptional American-made products.
Co-founded in 1983 by Claudia Brahms and Noel Mount, their namesake company works on producing styles that use colorfast cotton yarn and eco-friendly dyes. All of the cotton throws are woven together on an antique shuttle loom by locals who have been involved in the craft for generations.
In 2022 Brahms Mount became part of the Faribault Mills family of brands that are based out of Minnesota, but instead of losing its heritage and history, they simply combined their resources and practices and continued making Brahms Mount products in Maine.
Brahms Mount's Selection and Cotton Blanket Offerings
Brahms Mount offers several different classic cotton blankets in natural and white tones. Their Van Buren style even has hand-embroidered needlework throughout, reminding you just how rich of a history this company has and that they have not lost their eye for the details.
There are also some styles like the Newport or Winslow that will add a nice pop of color to any room while still giving you that same natural feel of a quality American-made blanket. With different textures and pattern options available, you will find the perfect cotton blanket to wrap up in at the end of a long day.
Each blanket is rolled and woven on its own colored wrap, so there will never be two Brahms Mount blankets exactly the same. This is one of the details that you can not get from a big box company shipping their products in from overseas.
Other details that are included in the cotton blankets are that they are prewashed and preshrunk so that they are ready to use the moment they arrive at your door. They also include a double-hand turned hem to make sure that your blanket lasts for many, many seasons.
Maine Heritage Weavers / Bates Mill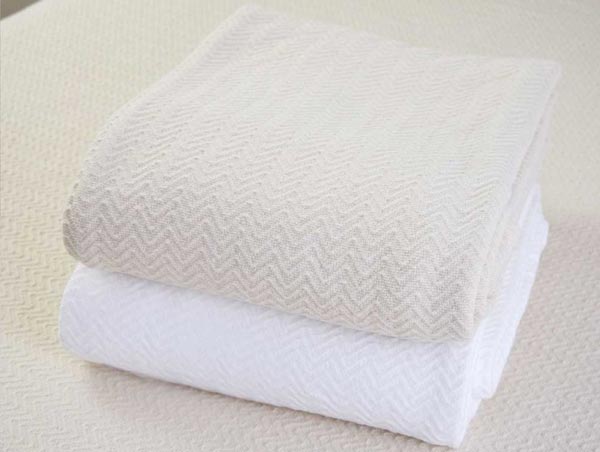 | | |
| --- | --- |
| Origin | Monmouth, Maine |
| Materials | 100 Percent Cotton |
| Weight | Lightweight to Heavyweight |
| Sizes Available | Throw, Twin, Full-Queen, King |
Maine Heritage Weavers / Bates Mill's Origin and Manufacturing Locations
While the Maine Heritage Weavers name has only been going since 2002, its roots and traditions date back all the way to 1850 to the days of the Bates Mill that used to operate where it stands today.
Not only are the buildings and looms a part of the old mill, but the founders of Maine Heritage Weavers, Fred Lebel and his daughter Linda Cloutier use Fred's years of experience working at Bates Mill before it closed its doors in 2001 to keep the traditions and quality alive and well today through their reinvigorated brand of American made cotton products.
Fred also tried to keep on as many employees of the old mill as he could to not only give them and their families more security but to keep skilled craftsmen creating great products for years to come. Building these pieces by hand is a true work of art and it is not something one can learn overnight.
Maine Heritage Weavers / Bates Mill's Selection and Cotton Blanket Offerings
With several different classic and streamlined styles, you are bound to find a cotton blanket that is perfectly matched to your decor and personal preferences.
Many of the styles are lightweight options that would be great for when the weather just begins to cool or when spring first shows its colors. They come in many different detailed stitches, including Herringbone, Kineo, Cathedral, Cable Weave, Basketweave, and Lattice. Each one is unique, and the attention to detail is truly in every stitch.
If you are wanting something just a little heavier, you can try the George Washington's Choice cotton blanket. With bases ranging from white to natural and stitching options in blue, maroon, and sage, this blanket will keep you perfectly warm for many seasons and make you feel that you are wrapping up a small piece of American history.
Maine Woolens

| | |
| --- | --- |
| Origin | Brunswick, Maine |
| Materials | Cotton and Cotton Blends |
| Weight | Lightweight to Extra Warm |
| Sizes Available | Baby, Throw, Twin, Full-Queen, King |
Maine Woolens' Origin and Manufacturing Locations
With just over 15,000 square feet of warehouse and textile mill with its own finishing facility, Maine Woolens works to pull together American-made blankets out of renewable fibers, including cotton and cotton blends.
Continuing to be locally-owned and working to employ the locals in all steps of the process, including weavers, sewers, and dyers, they have an employee base with over 300 years of combined experience.
This should help you rest pretty easily when you cuddle up with your Maine Woolens cotton blanket, knowing it was pieced together by experts who truly love what they do.
Many of the styles are made with materials and designed to continue to get softer and better the more times you use them and wash them. This is a great addition to your investment in an American-made cotton blanket.
Maine Woolens' Selection and Cotton Blanket Offerings
When you are picking out your cotton blanket from Maine Woolens, you can choose by styles you like, or maybe there is a town in that area that you have fond memories of, and you want to pick your blanket by its name; either way, you will end up with a great blanket.
Many of their styles are named after towns in Maine that they draw their inspiration from or have other heritage or cultural meanings behind them, giving them a much more personal touch. A few examples include Caroline, Rockport, and Savannah.
Each style is easy to care for and will maintain its quality for many years to come, and you can truly see the intricate details and love that is put into piecing each one together. Whether you prefer the plaited, herringbone, plaid, chevron, or striped pattern, they are all high-quality and beautiful pieces.
One of their styles has a cotton-ticking design that can date back to the days of kings and royalty.
Red Land Cotton

| | |
| --- | --- |
| Origin | Alabama |
| Materials | 100% USA Cotton |
| Weight | All Seasons |
| Sizes Available | Baby, Twin, Full-Queen, King-Cali King |
Red Land Cotton's Origin and Manufacturing Locations
Red Land Cotton is the epitome of brands for small-town living. Their employees and owners live in rural America and are proud to not only produce great products in America but also to do so in a way that is sustainable and friendly to the environment around them.
They follow the strictest regulations put down by the United States government to make sure that all cotton raised on their family farm in Alabama is the best of the best. Not only is this their place of work, but it is also where they live and raise their families.
With a focus on not doing what is easy and instead trying to do what is right, the brand continues to produce high-quality American-made products to be enjoyed for generations. Starting with growing the raw materials in Alabama, the cotton is then moved to North Carolina for spinning and then sent to the Maine Woolens factory in Maine to be woven together into great cotton blankets.
Red Land Cotton's Selection and Cotton Blanket Offerings
The selection might not be huge from this brand, but that is because they take the time to perfect their styles instead of just offering a wide range that doesn't meet their expectations.
The Baby Blanket from Red Land Cotton would be a great gift for a newborn in your family. It is machine washable for easy clean-up (because we all know babies can be messy a lot!) and is put together in the traditional basketweave design. This is a blanket that parents can hold back after their kids are grown so that they can hand it down to the next generation.
A couple of their tried-and-true styles include the All American Throw Blanket as well as the Traditional Blanket. Both styles are pieced together with the basketweave design and are a go-to on those cooler nights. With their simple colors, they can blend in perfectly in any room.
If you are looking for a pop of color, you can try the Legacy Tri-Color blanket from Red Land Cotton. With its large chevron pattern and colors that truly shine it will give a sense of spring and summer even in the darkest winter months. The knotted fringe details on the end of each blanket give it a unique flair from their other styles.
Pure Country Weavers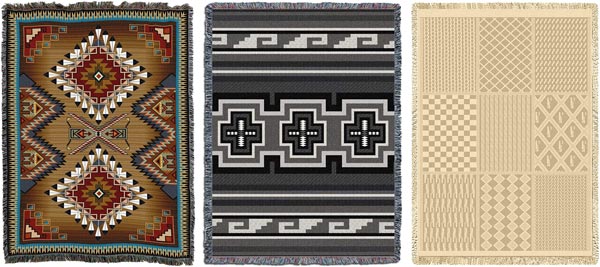 | | |
| --- | --- |
| Origin | Lynn, North Carolina |
| Materials | 100% Cotton |
| Weight | Lightweight |
| Sizes Available | Throws with Widths from 0"-100" and Heights from 0"-90" |
Pure Country Weavers' Origin and Manufacturing Locations
Pure Country Weavers set themself apart by offering throws that are not only American-made but also offer a unique opportunity to give someone a customized and personal gift that they won't be able to find anywhere else.
Founded by Jay Clark IV with his loving wife Margaret always by his side, the company continues the traditions with his children at the realm as they continue to offer endless options of an American Classic built from 100% cotton.
Each throw is pieced together by craftsmen that are highly trained on European Jacquard looms, and they put their hearts into each and every stitch. With each throw containing over eight miles of 100% cotton yarn, that is a lot of love to gift someone or even gift yourself.
Pure Country Weavers Selection and Cotton Blanket Offerings
With 34 separate categories to choose from and even more personalization details in each of these categories, you are bound to find the perfect American-made throw blanket that will make someone say, "This is Perfect!"
Whatever your interest, passion, or hobby, you can find a cotton throw with the details stitched in reflecting your favorite things, and it will be a great conversation piece for many years to come.
Do you like sports? They have anything from golf to basketball and everything in between. Do you prefer to travel or exotic tapestries? They have several different landscapes and scenes that will have you constantly wondering how they pieced it together.
Whether you want it to hang up and display, or you would prefer to have it lying on the back of the couch and ready to grab when you need a feeling of tranquility, these throws would be perfect.
Swaddle Designs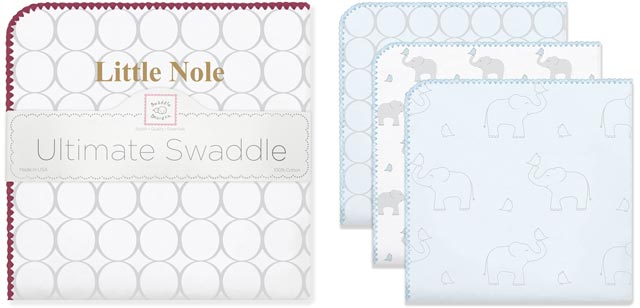 | | |
| --- | --- |
| Origin | Seattle, Washington |
| Materials | USA Cotton |
| Weight | Lightweight |
| Sizes | Crib, Swaddle |
Swaddle Designs Origin and Manufacturing Locations
You know you are investing in a great swaddle blanket when the company founder, and still lead designer, is an RN and has an education in design. With these skills put together, Lynette Damir saw an issue while out doing home visits and saw parents struggling to correctly swaddle their babies due to flaws in the designs of many available blankets and decided she would create a solution.
In 2002 she began her dream, and now the company has a following of not only celebrity moms but doctors, nurses, doulas, and parent educators. She not only focuses on making great products but also has established an exceptional company atmosphere, with many of her employees being team members for over ten years.
While not all of the products are still made in the United States as her company has expanded, she still makes a conscious effort to produce as many as possible in their Seattle, Washington facilities.
She continues to oversee the company as a whole and is still hands-on in all of the design aspects, from overall style, print, color, texture, durability, and quality of materials.
Swaddle Designs' Selection and Cotton Blanket Offerings
If you have ever had a newborn baby and tried to swaddle them, you know that if you don't have the right blanket, it can be a headache for everyone. Knowing that the Swaddle Design blankets have been researched by someone who truly understands these struggles and will be perfect from the get-go is a huge relief to sleep-deprived parents.
With detailed instructions sewn directly onto all of the swaddling blankets, it can help that first-time parent become a swaddling expert in no time. Giving baby and parents some much-needed rest.
The Ultime Swaddle Blanket is one of their top sellers and comes in a multitude of colors and patterns. Whatever your nursery theme is, there is an Ultimate Swaddle Blanket to match it. With the great price point of these blankets, you can even invest in a few so that you always have one on hand while others might be in the laundry.
There are also receiving blanket options from Swaddle Design that are sized in a way that they can be used for multiple purposes. If you need to lay a baby down to change a diaper, need something to block the sun while out for a walk in a stroller, or need a privacy throw while nursing, these blankets are great go-to's.
Organics and More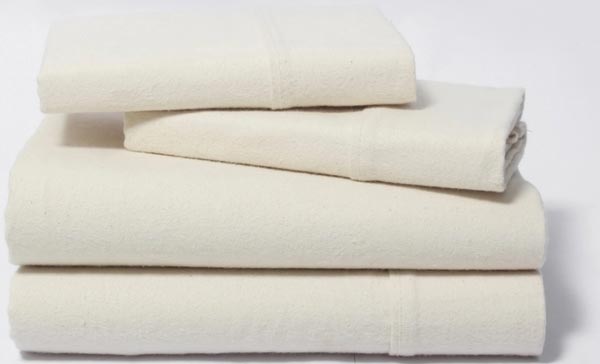 | | |
| --- | --- |
| Origin | Greenville, South Carolina |
| Materials | Organic Cotton |
| Weight | All Seasons |
| Sizes | Twin, Full, Queen, King |
Organics and More's Origin and Manufacturing Locations
Spread out over almost 2 acres of land in the northwest part of South Carolina with several National Forests surrounding its edges, you will find a company putting their hearts and souls into creating sustainable, eco-friendly products.
Creating great products since 2008, Organics and More works to make all of their products and processes as environmentally friendly as possible while crafting products that will stand up to many years of wear and tear and not end up in landfills.
Organics and More's Selection and Cotton Blanket Offerings
With all of their styles being grown and made in the United States, you can use a cotton blanket from Organics and More during all seasons. They are perfect in mild weather and can be used with other layers when it gets really cold.
The natural color of the cotton makes for a subtle statement piece in any room. With each style being set apart by the detail of the stitching, you can decide between herringbone, crepe, weave, stripe, or waffle patterns.
No matter which one you pick, you can rest easy while you wrap up in your blanket, knowing that you are supporting a sustainable company.
Popular Related Article: Wool Blankets Made in the USA (Source List)
Swans Island

| | |
| --- | --- |
| Origin | Maine Coast |
| Materials | Cotton |
| Weight | All Seasons |
| Sizes Available | Twin, Double-Queen, King |
Swans Island's Origin and Manufacturing Locations
If a custom cotton blanket is on your list of must-haves, this would be a great brand to look into. Not only do they start their cotton blankets out with pure fibers, piece them together with time-honored processes and continue the work of fine craftsmanship they were originally developed on, but they also dye the yarn by hand in their own Northport dye house. This means the colors are ones you will not find anywhere else, and even each individual blanket is going to have a unique color that can't be duplicated.
Swans Island has been perfecting its craft of blankets since 1992 and completes the majority of the steps of its production processes by hand. They understand that it might not be the quickest way to get from start to finish, but it will always be done with precision and attention to detail.
Many of the cotton fibers that are used to make up their blankets come from farms in the local New England area. They do source their Merino wool from farms in South America, but since we are going over cotton blankets, it's not something you have to worry about.
Swans Island's Selection and Cotton Blanket Offerings
This brand was unique from the others in that many of the cotton blankets also come with a tote bag that you can use to carry the blanket along with you on travels or makes a great option to gift to a friend. You can even have a monogram put on the blanket to add that extra personal touch.
There are many different stitching patterns to choose from, whether you prefer waffle, cotton ticking, twill, Belgrade, or something in between. You really can't go wrong no matter the pattern. The colors are mostly subtle and can pair well with any kind of decor you might already have at home.
When you see the styles that offer fringe on the ends, you can note that those ends have been hand-tied by a skilled craftsperson. This is a detail that just can't be completed correctly by a machine.
Rawganique USA Made Cotton Blankets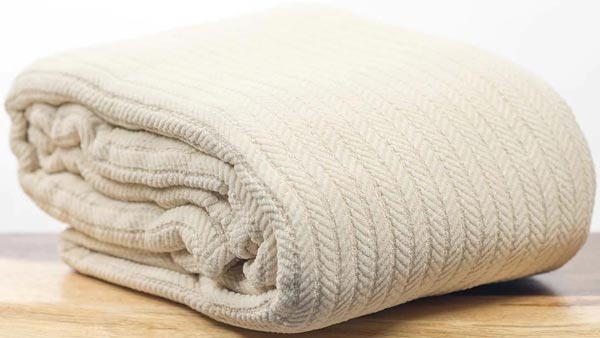 | | |
| --- | --- |
| Origin | Washington |
| Materials | Organic Cotton |
| Weight | All Seasons |
| Sizes Available | Camping, Throw, Twin, Full-Queen, King |
Rawganique's Origin and Manufacturing Locations
Founded in 1997 by a couple who had developed an off-grid lifestyle and wanted to create products that would help others live a more sustainable lifestyle, Rawganique grows, combs, spins, weaves, knits, and sews their own products so that they always know exactly what's in them and also what's not.
They work on keeping their company small so that they can continue their original mission of creating natural products and teaching people to pay attention to the products they bring into their homes and how those products impact the environment.
Rawganique's Selection and Cotton Blanket Offerings
There are several great cotton blanket options to choose from the Rawgnique brand. By using natural materials, all styles are hypoallergenic and easy to maintain and care for.
From their Cozytime baby blanket for the little one in your life to the Organic Cotton Chenille Herringbone style that is the perfect coziness to wrap up in at the end of a long day there is a great American-made cotton blanket waiting for you.
There are also some styles that pay tribute to American history with names such as Dartmouth, Williamsburg, Nantucket, and Philadelphia. Each of them has its own unique weave design that has been tightly woven to keep the blanket in pristine condition for many years of enjoyment.
Made Here New York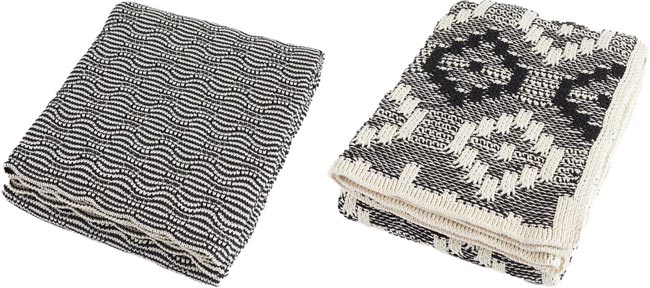 | | |
| --- | --- |
| Origin | New York |
| Materials | Cotton |
| Weight | All Seasons |
| Sizes Available | Throws |
Made Here New York's Origin and Manufacturing Locations
Made Here New York was created by a mom who had previously spent many years in the fashion industry creating and marketing sweaters domestically for many large companies.
She had taken some time off to raise her family when one of her daughters dug a sweater out of her closet and became frustrated when they could no longer find products of that quality.
Accepting the challenge of creating great American-made products, Karyn Villante began walking through Brooklyn, knocking on doors to try and find a loom that she could use to begin her business.
With so much of the textile production industry moving overseas, it took a while, but in the end, she succeeded, and Made Here New York has continued to grow with a determination that making products in the United States is the best option.
While looking around her surroundings in New York and being constantly inspired to create the best products out there, she also takes great pride in supporting cotton farmers in Texas, California, and North Carolina, her spinners in the Carolinas, and the knitters right there in New York City. If you want to get a glimpse of the authenticity of this brand, I encourage you to check out their Instagram @MadeHereNewYork.
Made Here New York's Selection and Cotton Blanket Offerings
With over 40 different styles and color combinations to choose from, you can find the perfect cotton throw blanket to add to your collection and possibly become the next favorite that you always grab for when you're ready to relax.
Many of the styles show Karyn's history in the sweater business as they remind you of your favorite, most comfortable sweater, except in blanket form. The braided cable style was one of the best examples of this, but the Pointelle style would also be a great option if you prefer a thicker throw.
For a more delicate throw style, you can go with the Classic Crossings, Lofty Stripe, or several other stitch patterns available. You can truly see the attention to detail and heart that goes into designing each of these throw styles.
In classic New York style, there is also a style named Deco Skyscraper. This one comes in different color options, but the stitching reminds you of the area in which it is sewn and put together, downtown New York, New York.
Related Article: Comforters Made in the USA (Source List)
Covered in Cotton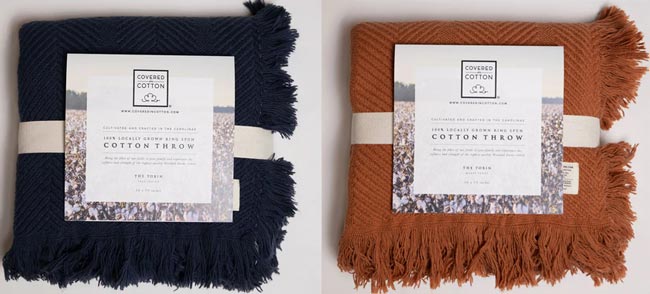 | | |
| --- | --- |
| Origin | Darlington, South Carolina |
| Materials | American Grown Cotton |
| Weight | All Seasons |
| Sizes | Throw |
Covered in Cotton's Origin and Manufacturing Locations
This company's roots started from a family farm that has been producing American-grown cotton for over three generations. Finally, one of those generations decided that they wanted to expand their brand and begin producing high-quality products with their raw materials.
Ty and Tracy Woodard have created a supply chain along the east coast that circles about a 500-mile radius between North and South Carolina. Their goal was to not only find new ways to utilize the cotton from their family farm but also to invest in other American families and businesses throughout the process.
Covered in Cotton's Selection and Cotton Blanket Offerings
One of the richest colored cotton blankets made in the USA that we are going over is The Topin made by Covered in Cotton. It comes in 3 different color options, including the True Indigo, Carolina Pine, and Wheat Penny. Each is unique to the company and would make an amazing staple blanket for any household.
Other styles in the Covered by Cotton collection include The Tate, The Ann, and The Tyson, each with their own unique stitching ranging from basketweave to honeycomb to waffle patterns. They also show the experience and knowledge of cotton farmers that have been a part of the business their entire lives.
With simple cleaning and easy maintenance, all styles from Covered by Cotton fit into the everyday American lifestyle.
Authenticity50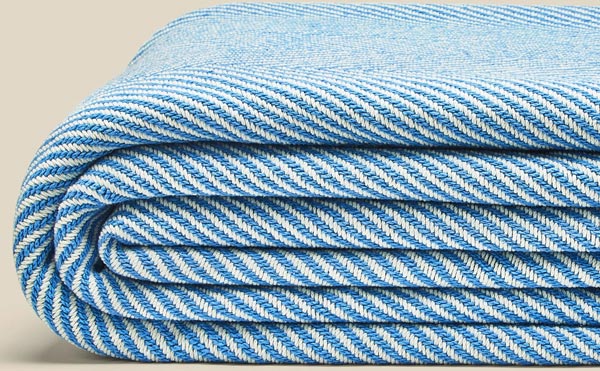 | | |
| --- | --- |
| Origin | Maine |
| Materials | American Grown Cotton |
| Weight | Medium Weight |
| Sizes Available | Throw, Queen-Full, King |
Authenticity50's Origin and Manufacturing Locations
With a name that is meant to stand for making products authentically in the 50 United States, you know you are going to be getting a great product.
Co-founded by husband and wife team Jimmy and Steph McDonald, they were frustrated by the lack of American-made goods available when they were filling their house as newlyweds.
Inspired by both sets of their parents, who had each ran their own small businesses while raising their families, they set out on a mission to create a brand that people could trust when it comes to bedding and other home goods where American-made products were becoming scarce.
Not only has their company become widely popular among American consumers, but they also employ over 1,000 skilled workers from coast to coast with their production processes. This is a great example that keeping manufacturing here in the United States is beneficial throughout the entire process.
Authenticity50's Selection and Cotton Blanket Offerings
There may only be one cotton blanket currently available from Authenticity50, but the Heritage Blanket comes in 4 different color options, and all of them will be a great investment. Each style is hand-sewn and hemmed and is made to last through many seasons.
With quality raw materials, including American-Grown Cotton and American-Spun Yarns, each blanket is tested by employees to ensure it lives up to their quality standards. They want you to be completely satisfied with your purchase.
American Blossom Linens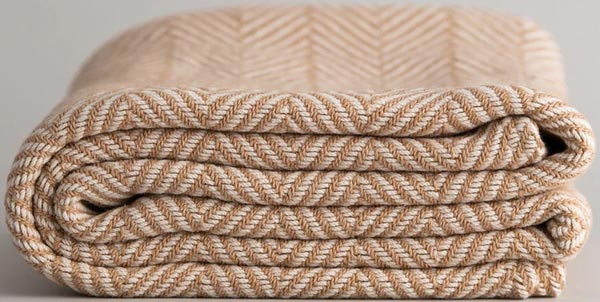 | | |
| --- | --- |
| Origin | Thomaston, Georgia |
| Materials | USA Cotton |
| Weight | All Seasons |
| Sizes Available | Throw, Twin, Full-Queen, King-Cali King |
American Blossom Linens' Origin and Manufacturing Locations
With a history reaching back to 1899 when the Hightower Family was running Thomaston Mills, the stories of products continue to be written today by American Blossom Linens from when their owners, the Zaslow Family, bought the brand in 2001.
Janet, a Zaslow granddaughter, has memories from as early as four years old of being in the factory and sweeping up after the workers. Her love for the business and tradition of building great products continues to inspire her today.
The cotton they use in their blankets comes from farms in Texas. They spin and weave this material in their mills in North and South Carolina and make sure to comb through each of the cotton fibers and only use the ones that are refined and strong enough to hold up to everyday use.
The percale weave is designed to be resistant to pilling. The environment is also a huge factor in their production processes as they live here and work here so they want to make sure that they are doing their part to be sustainable. One of the steps they have taken towards this goal is to ship their blankets out in boxes that are made from 100% recycled materials.
American Blossom Linens' Selection and Cotton Blanket Offerings
With a slogan that your blanket is made in the USA from farm to bed, you know that no matter which style you pick, you are getting a product that is made of high-quality materials and stitched together by your neighbor.
Offering a baby blanket option that reminds you of the old-fashioned wicker baskets, this style would be a great gift for a new mom in your life. Reminding them of simpler times and comfort items that they had when they were growing up.
A unique option from American Blossom Linens is the Beach Throw Blanket. This is knitted with a solar-powered knitting machine and can be laid out across the sand or wrapped around your shoulders at the end of a long day, and maybe your sunscreen was just beginning to wear off.
The Herringbone Weave Blanket is a more traditional USA-made Cotton Blanket from this company. They don't use any dyes but they have a FoxFibre cotton yarn mix that gives a naturally rich color that can't be duplicated. Click on the link below to see the story behind how they created this fascinating color option.
Related Article: Bed Sheets Made in the USA (Source List)
Wrap Up
Cotton Made Blankets are a true American Tradition, and it is so good to see a variety of American companies continuing to bring them into families' homes today. There isn't much more comforting than curling up with the perfect blanket at the end of a stressful day.
We hope this list was helpful for you in finding just the right blanket for your needs, or maybe you were even able to find more than one! We also have many articles related to bedding, pillows, and mattresses made in the USA if you're interested.
Let us know in the comments if there are any great blankets that we missed. We are constantly trying to improve our articles we really appreciate your help and feedback!
Hi, my name is Kevin and I'm from Pittsburgh, Pennsylvania. Choosing products made in America is important to me because it supports local economies, creates jobs, helps the environment, and ensures ethical labor practices. I also find that American made products are usually of higher quality so although they're a little more expensive, you save money in the long run. Before starting this website I was in the USMC infantry and nowadays I work on this website as a hobby.