Ariat is an extremely popular American-based footwear company that sees annual revenue between $100 million and $500 million. With a substantial demand worldwide for their boots, many consumers wonder where Ariat boots are made.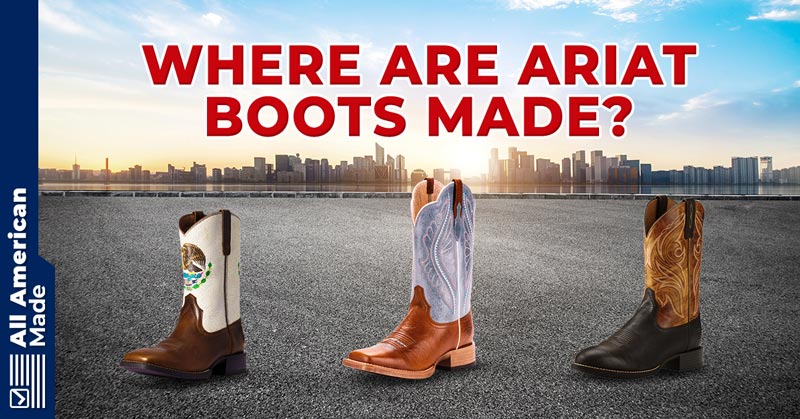 In the rest of this article, we'll be discussing exactly where Ariat boots are made and other important information you should know about the company.
Most Ariat boots are made in China and Mexico. Some boots that are part of the Two24 are made in the USA, but not all of them. On their website, they make it clear exactly where each boot is made, so be sure to check the listing page.
To be clear, not all of the boots that are part of the Two24 collection are made in the USA. If you'd like to learn more about the manufacturing practices of Ariat boots, keep reading as we highlight further information.
Where Can I Find Ariat Boots Made in the USA?
As mentioned above, the Two24 is what you're going to want to look for. You can find some of their boots that are part of this collection. Some examples of great boots that are part of their Two24 collection that is made in the USA are the Two24 Highlands boots which can be found on their official website here. If you want some good alternatives, you can also check out our guides where we share our favorite American-made work boots here.
Ariat Cowboy Boots – What You Should Know About Their Manufacturing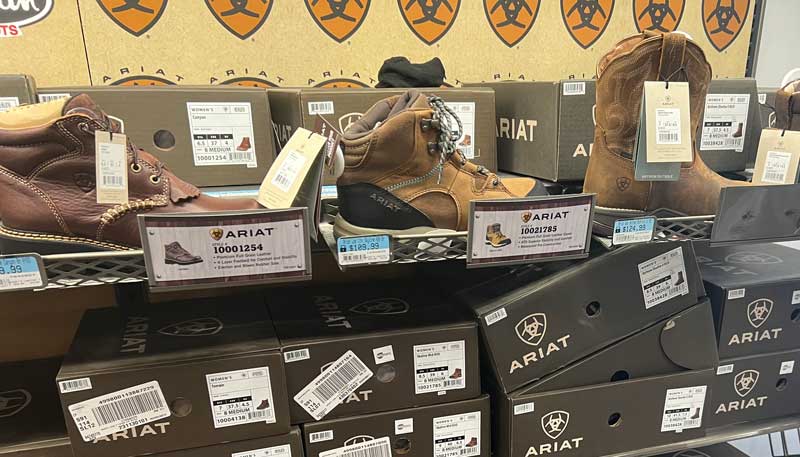 As mentioned above, your best bet to find Ariat boots made in the USA is to look for boots in the Two24 collection and then also check the listing page to make sure they aren't made in China or Mexico. For the Two24 Women's Collection, they stitch and handcraft them in Spain by fifth-generation bootmakers. The quality appears as good as the American-made line from the Men's Collection.
The inspiration for the Two24 boot collection comes from one of the world's greatest horses, The Secretariat. He made an enduring world record of two minutes and 24 seconds in 1973, which captured the Triple Crown at the Belmont Stakes. Incidentally, Ariat is also named after this world-record-breaking horse.
That said, the far majority of Ariat boots are not made in the USA. I actually decided to head into some stores around where I live to see where the Ariat boots being offered there were made. Below, I'll share some pictures showing what I found.
The first pair of boots I came across was made in China, as you can see below.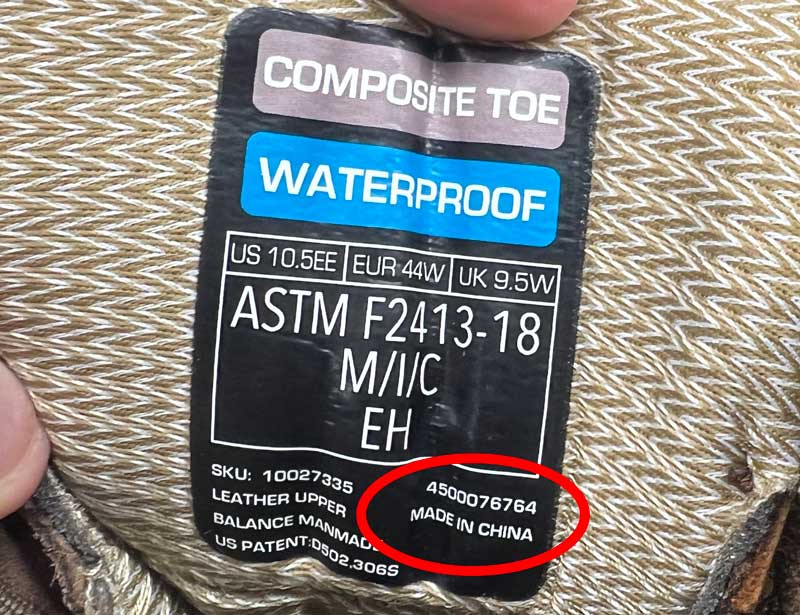 The second pair of boots I inspected were made in Indonesia.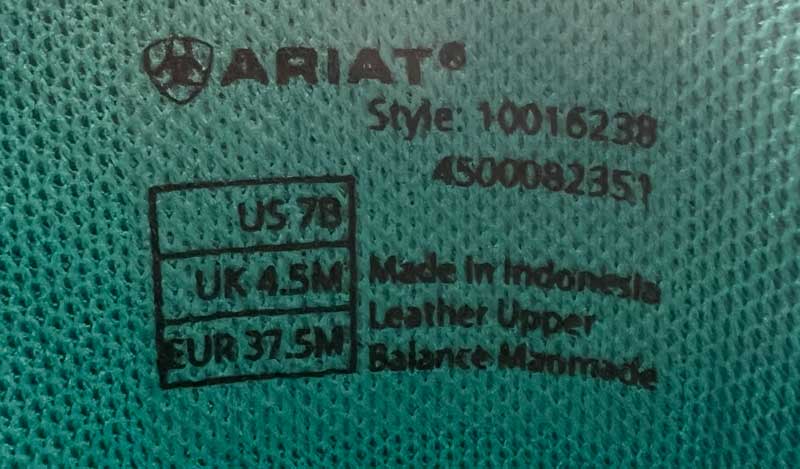 The third pair of boots I checked were made in Vietnam.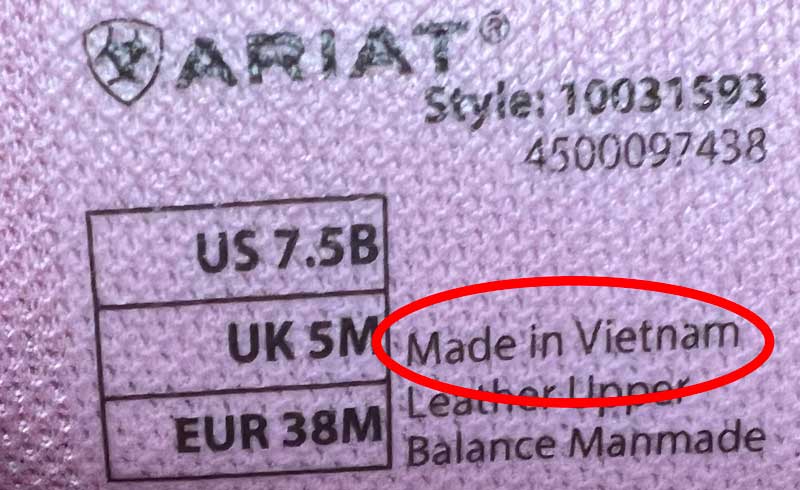 The fourth pair of boots I checked were made in Bangladesh.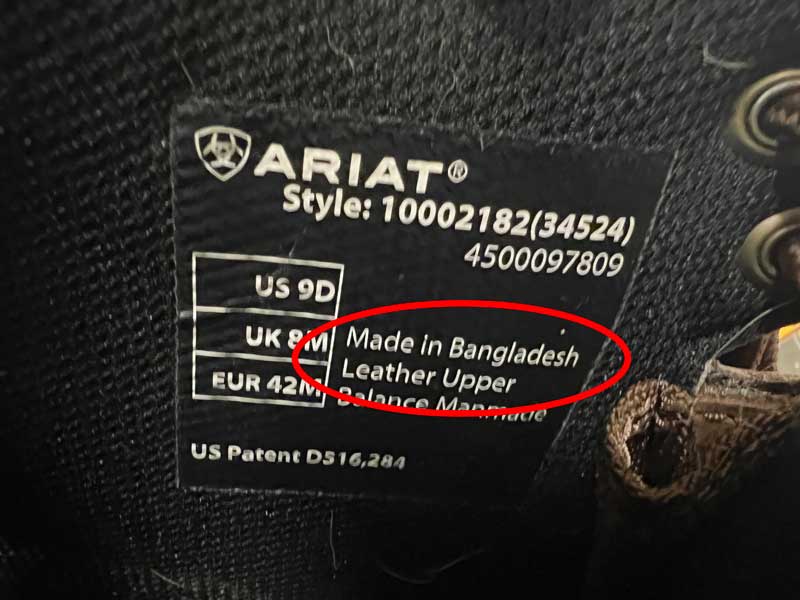 The fifth pair of boots I checked were made in Indonesia.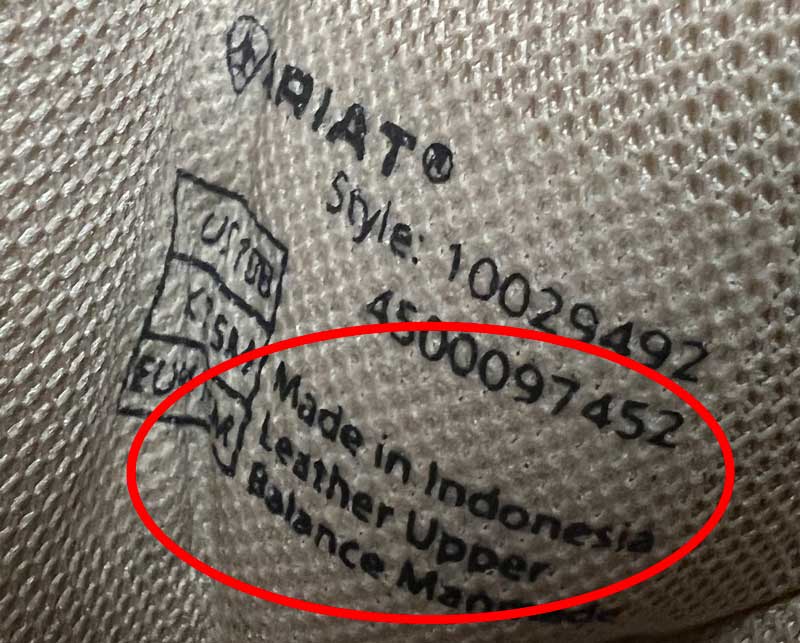 None of the boots being offered in any of the stores I visited were made in the USA. With that in mind, if you're looking for American-made Ariat boots, finding them online is probably your best bet. Ariat makes the Two24 Men's Collection in Union City, California.
Since few tanneries remain within the USA, the materials used to make the Two24 Men's Collection likely come from abroad. In a global economy, it has become increasingly difficult to find products that are entirely American-made. You do have one advantage of global sourcing in that you can ensure top-quality materials.
If you're curious about the design and manufacturing process of Ariat boots, here's a video where Ariat designer Hollin Norwood talks about what it takes to craft the best western footwear.
Ariat's Footprint in China?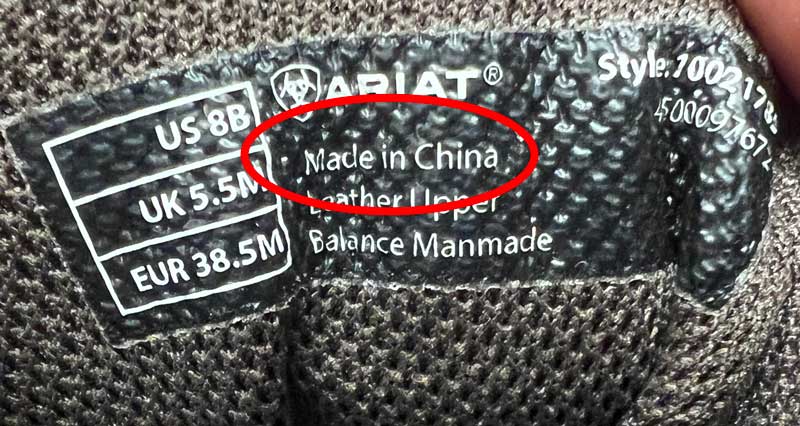 Some Ariat boots are made in China. Beth Cross has said that most of Ariat's factories are in China, and they employ roughly 50 workers there. Ariat does sell some of its boots in China, but it only accounts for a small portion of its market. Beth Cross continued by saying that the brand remains fairly diversified with where they produce the boots in China.
She remains committed to keeping her manufacturing in China despite how China has begun to become pricier than before. Like many other companies, she considered Vietnam but said that it becomes a bit like going into a busy restaurant where you can't get a seat. Vietnam can't handle all the capacity.
Meanwhile, Cross isn't quite satisfied with the quality that comes out of India, and Mexico usually only keeps smaller factories. Ariat could manufacture in Cambodia, but they lack the infrastructure. That is part of what has led the CEO to keep manufacturing in China despite the rising costs. This company appears to favor manufacturing in China over anywhere else.
As you can see, even the cowboy boot, something that was once a distinctly American icon, has begun to be manufactured in China. Tony Lamas now outsources between 35 and 40 percent of their boots.
Ariat makes at least some of its boots in Shenzhen, China, but they said they have a good spread for the diversification of their factories.
When Was Ariat Founded?
In 1992, Ariat was founded by Beth Cross and Pam Parker. The birth of the company came about as an idea while they were working for Bain & Company and providing consultations to Reebok. Because of the industry they were both working in, they gained an understanding of the new athletic technology and saw an opportunity to apply athletic footwear technology to Western and English riding boots.
Ariat started by releasing its first two boot styles in 1993, and after raving reviews of equestrian athletes, they became a staple in their market. In the following years to their boot's release, Ariat went on to hire a number of horse enthusiasts and equestrians and to expand into workwear as well as new performance western and English apparel.
The company's distribution also expanded all across the US, Mexico, Europe, Japan, and Australia.
Ariat isn't unique in that they have sent much of its manufacturing operations elsewhere. The US Census Bureau reported boot production in the USA fell 40 percent between 1997 and 2002.
Here's a quick timeline to give you a snapshot of how Ariat's earned its global recognition in equestrian footwear and apparel:
In 2009 Ariat becomes the official sponsor of Professional Bull Riders (PBR).
In 2015 the company signed a sponsorship deal with the International Federation for Equestrian Sports (FEI).
In 2018 Ariat announced the continuation of its partnership with the US Equestrian Federation (USEF).
As of 2020, Ariat has become the largest equestrian footwear and apparel company in the world.
Before we speak further about the manufacturing processes of Ariat, we would first like to have a look at its CEO and co-founder, Beth Cross. This information will help you to better understand Ariat as a company.
Beth Cross grew up on a horse farm in Swarthmore, Pennsylvania. She was born and raised working with horses, the source of her blooming passion. Raised among a family of eight, Beth started her first job as a busgirl clearing tables at a restaurant. She has worked at the lowest rungs of the totem pole and seen the highest, which has helped with her understanding of the big picture.
Chinese Made vs. Mexican Made Ariat Boots
We found the boots made in Mexico had far more attention to detail than the boots made in China. This flaw with Chinese manufacturing popped up over and over with the Ariat boots. Considering China's reputation for manufacturing as well, it doesn't surprise us.
We still found the quality good overall, but Mexico paid more attention to detail when manufacturing its boots. For that reason, if you were going to buy a foreign-made boot from Ariat, we would say to look for Mexican-made boots.
This may also have to do with how many Mexicans still wear cowboy boots, and they have more knowledge of them than the Chinese. Some people have also complained about how the boots made in China don't last as long as those made in the USA or Mexico.
Ariat and Its Mexican Manufacturing Operations
Want Mexican-made boots from Ariat? We would recommend looking at the Circuit Collection since most of its boots were made there. Mexico has a reputation as the boot capital of the world, which means that they know their craft. This fact also explains why Mexican boots tend to be of higher quality than China.
The one advantage of buying either Mexican-made or American-made boots comes from how both countries have legitimate Western heritage. Buying a boot made in China divorces it from its heritage in the name of profit. Many of the boots made in the USA are also made by Mexicans or Mexican Americans since they have good knowledge in this field.
If the prices were equal, most Americans would prefer products made in America, but in this category, Mexican is second best due to its heritage and history. Mexican vaqueros were also known for wearing cowboy boots and had a similar Western historical background. Even today, many Mexicans and Mexican Americans continue to wear cowboy boots.
Mexican cowboy boots tend to display more color than their American counterparts.
Unlike some of its competitors, Ariat doesn't do a large amount of manufacturing in Mexico, but this country would mark out its second-largest manufacturing operations.
We had a hard time pinpointing an exact location for where they manufacture Ariat in Mexico, but we think they probably have multiple locations and possibly produce in Leon, the boot capital of the world.
Handmade boots from Ariat are commonly made in Mexico and Italy.
Other Ariat Manufacturing Facilities
We spoke about the main locations where they make the Ariat brand, but now we would like to mention some of the other countries where they make Ariat. Spain was one we mentioned before, but did you know they make Ariat boots in Indonesia? When the Dutch first colonized in the 19th century, they left the country with the trade of shoemaking. Much of the shoemaking takes place in Bandung in West Java province. We could not confirm if Ariat made its boots here.
Along with Indonesia, Ariat makes its boots in Vietnam. This manufacturing location has picked up steam as Chinese manufacturing has slowly risen in cost. The less expensive models from Ariat tend to be made in either China or Vietnam. The Rambler Collection tends to come from Vietnam.
With wherever they made the products, Ariat includes a 12-month warranty on all its boots. Looking at most reviews, Ariat boots will last anywhere from three years to five years on average.
Popular Related Article: Where Are Timberland Boots Made?
American Made Cowboy Boots Alternatives
If you want American-made cowboy boots, we see this as a doable goal because you still have plenty of brands that produce in the United States. We would advise caution with some brands, however, because they may only produce some of their boots in the USA. If you're interested, we have a full article on our favorite American-made cowboy boots here you can check out.
Let's have a look at some of the American-made brands. The ones listed below do a good job of staying American-made.
Abilene Boot Company:
Providing over 100 manufacturing jobs to hard-working Americans in Somerset, Pennsylvania, Abilene boots follows the regulations and uses a quality of craftsmanship that honors America. Since 1980, the brand has proudly produced its boots in the USA, and we hope the trend will continue.
Abilene Boot Company remains one of the few larger cowboy boot companies that makes its products in America, and they do so at an affordable price. They are made exclusively in the USA, which we find impressive, especially when you consider how 80 percent of cowboy boots today are imported. We also didn't find their price any higher than Ariat's, and in fact, they came in at the same price or lower.
Anderson Bean Boots:
Handcrafted cowboy boots from Mercedes, Texas, you can spot quality leathers used right from the start. Deeply rooted in Texas bootmaking culture, these boots have a big style, and the brand goes even further with suppliers based solely in the USA. That makes them unusual from many of the other companies, even American-made ones. The leather is also carefully picked.
The linings of these American cowboy boots come from Milwaukee, Wisconsin. While the company may have started in 1989, its process follows a 150-year-old tradition. Founded on strong family values, the company was named after the owner's mother.
Beck:
Handmade boots from Amarillo, Texas, this brand uses American sourced leather as well. They designed the boots for the working cowboy, and the company offers an excellent return policy. The most difficult part of the process comes from the wait, but if you make that sacrifice, you will know it was worth it. High quality becomes the foremost goal with this American-made brand of cowboy boots.
Beck has a great history as well, with its founding in 1916. That makes the brand over 105 years old. Many people who have bought Beck boots have also said that they were some of the best cowboy boots that they had ever owned.
Final Verdict on Ariat
Ariat largely produces its cowboy boots in China, which means they certainly wouldn't be our first choice when it comes to cowboy boots. You can find other cowboy boot companies that produce far more in the United States. If you wanted Ariat boots made in the USA, we would recommend the Two24 Men's Collection.
For an American company, we wouldn't consider this as our first choice, but they do have some boots made in America. We also think the brand could do a little better job at transparency and showing the origin of its products. On the whole, they did good, however. If you want to learn more about the origin, check inside the boot with the tag. It will tell you where they made the product.
Ariat boots offer good quality and comfort, but some may find the origin problematic. Still, no one can deny Ariat's innovative approach. In the 1990s, they made Hexcel cushioning technology for shock absorption when riding. Further Cobalt technology in the 2000s added extra support.
Popular Related Article: Where Are Red Wing Boots Currently Made?
Wrap Up:
While Ariat does make some boots in America, they are few and far between. The boots that they do make in America are fairly priced compared to those made by other American-made boot companies. If you wanted a cheaper selection of cowboy boots, you might choose those made in Mexico rather than China.
When choosing between some of their boots that are made in Mexico or China, we would recommend Mexico because the country shares a Western tradition with the United States, and they have a better understanding of how to make cowboy boots. While many in the USA have forgotten the old traditions, Mexico remains in tune with cowboy boots and their understanding of them.
That does it for this article. If you have any further questions about where Ariat boots are made, let us know in the comments below. Also, let us know if you notice anything in this article that has become outdated since it was published. We always strive to publish the most accurate and up-to-date information, so we appreciate any feedback.
Hi, my name is Kevin and I'm from Pittsburgh, Pennsylvania. Choosing products made in America is important to me because it supports local economies, creates jobs, helps the environment, and ensures ethical labor practices. I also find that American made products are usually of higher quality so although they're a little more expensive, you save money in the long run. Before starting this website I was in the USMC infantry and nowadays I work on this website as a hobby.