DeWalt was founded in 1924 and since then has grown into an international tool behemoth that rakes in billions of dollars in revenue each year.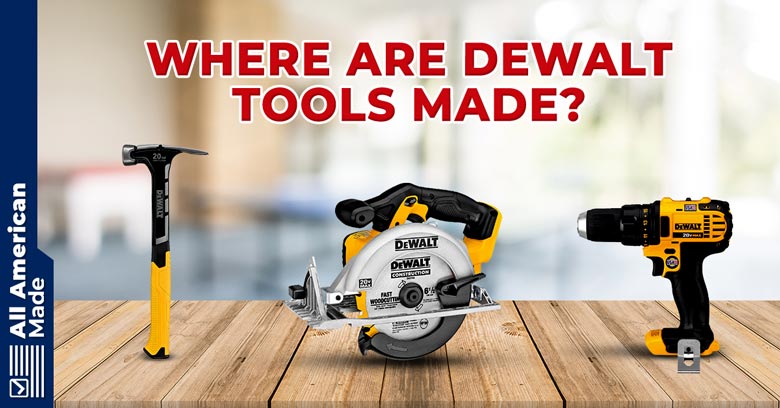 It all started from humble beginnings in Leola, Pennsylvania. Although it's an American-founded company, many consumers wonder where DeWalt tools are currently made. We'll answer that below and share other interesting information about the company.
DeWalt tools are made in many countries, including the United States, Taiwan, South Korea, China, Thailand, Mexico, and others. In recent years they've increased their manufacturing of power tools in the USA.
I actually decided to head into the Lowes and Home Depot stores near my house and check where the DeWalt tools being offered there were made. I wanted to check both the power tools and hand tools. First, I headed over to the power tools section. Below I'll attach some photos showing what I found on the tools and packaging.
The first tools I came across were some drills and saws. If you look closely at some of the drills, you can clearly see the "made in the USA with global materials" label right on some of the drills. I thought this was great because almost none of the other power tool brands had any power tools that were American-made.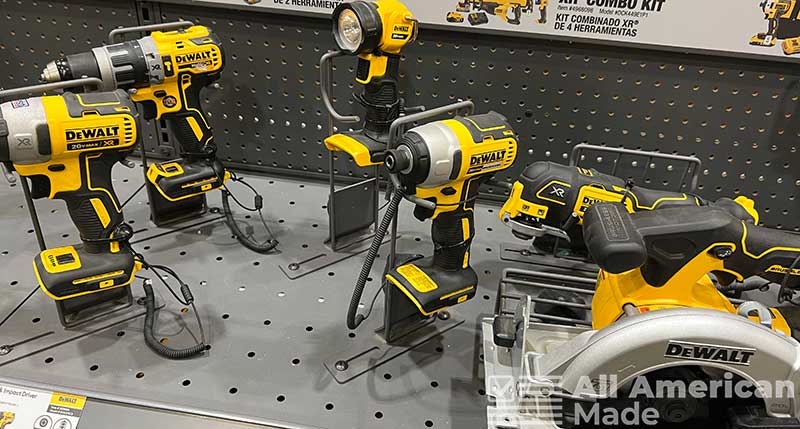 When searching for power tools made in the USA by Dewalt, look for the made in the USA tag you can see on this drill below.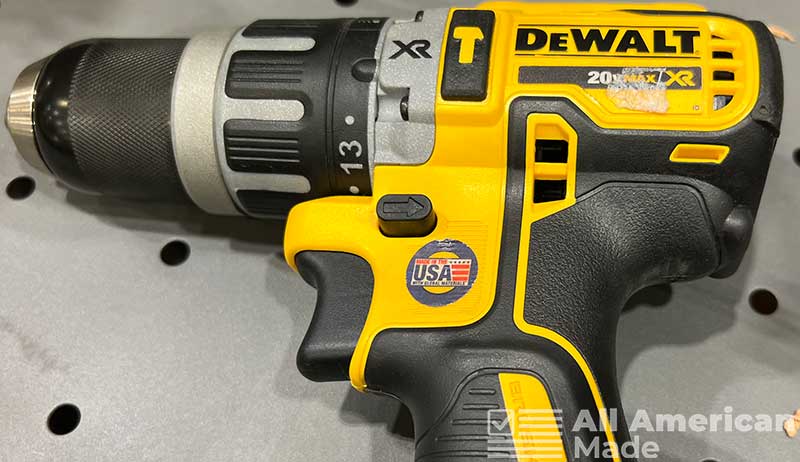 I didn't love that the drills were made "with global materials," but in the industry of small electronics and power tools, it's almost impossible to find anything that's even slightly made in the USA. With that in mind, I thought it was great that DeWalt is at least doing a lot of the assembly and such in the USA and hiring many American workers. But before I got too excited, I decided to check out some other power tools.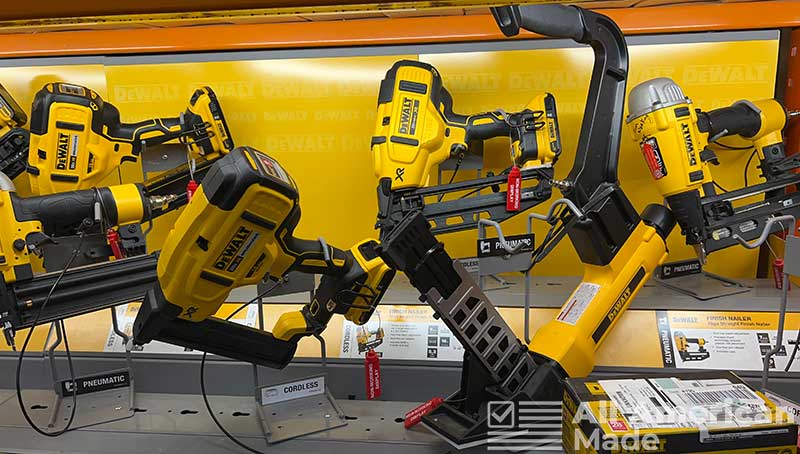 After checking a ton of more labels, I found that most of the power tools that didn't have the made in the USA with global materials tag were made in either Mexico or China.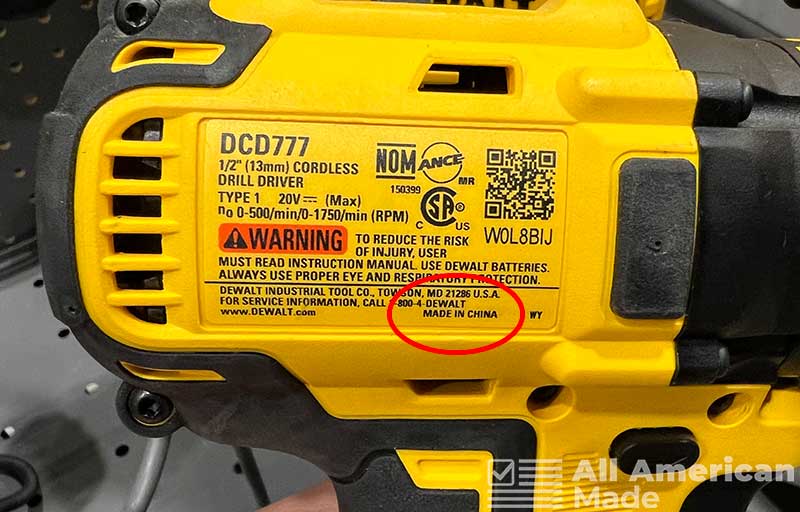 Not all of the other power tools were made in China, though. I noticed that some were also made in other countries where the cost of manufacturing is low, like Mexico. The image you see below is of a reciprocating saw.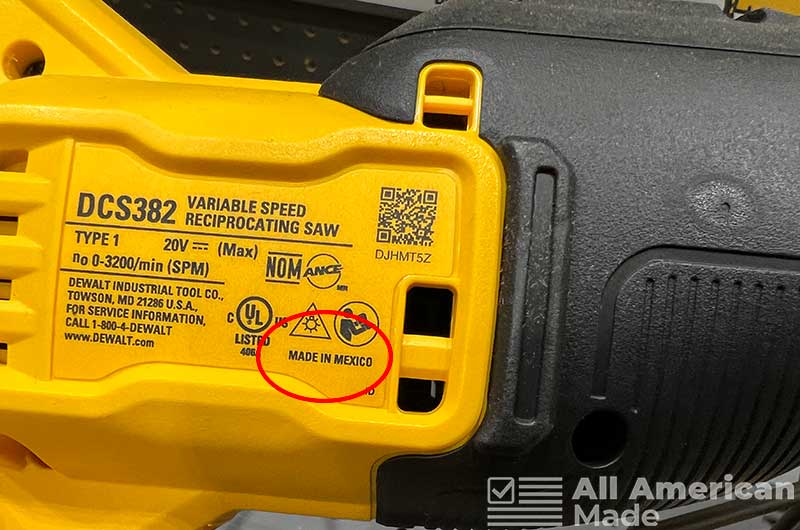 I also found some power tools that had their accessories made in China, but the main tool itself was made in another country like Mexico.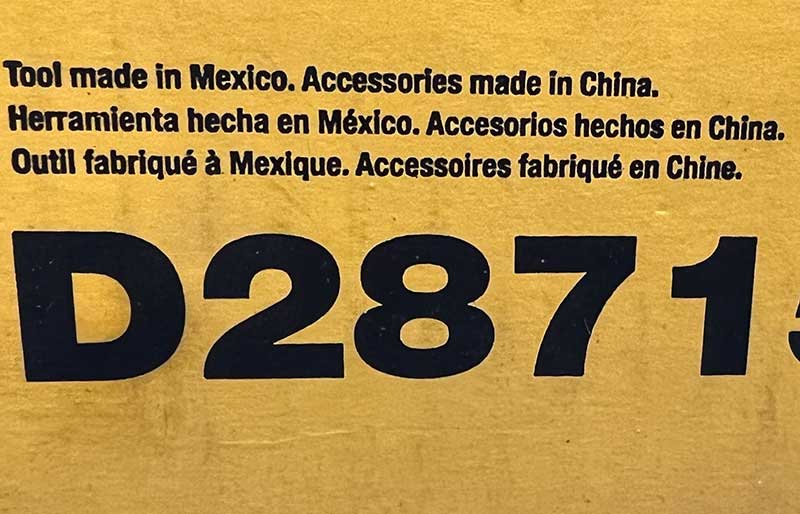 Now that I had a pretty good idea of where the power tools were made in the store, I decided to head over to the hand tools section. The first tool I came across was a hammer.
When I flipped over the hammer and checked out the country of origin, I noticed it was made in Mexico.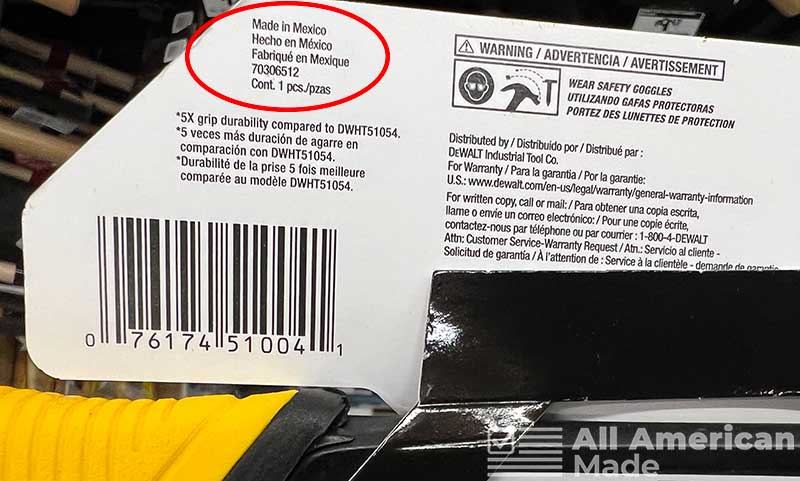 I then noticed some of the hand tools had the "made in the USA with global materials tag on them".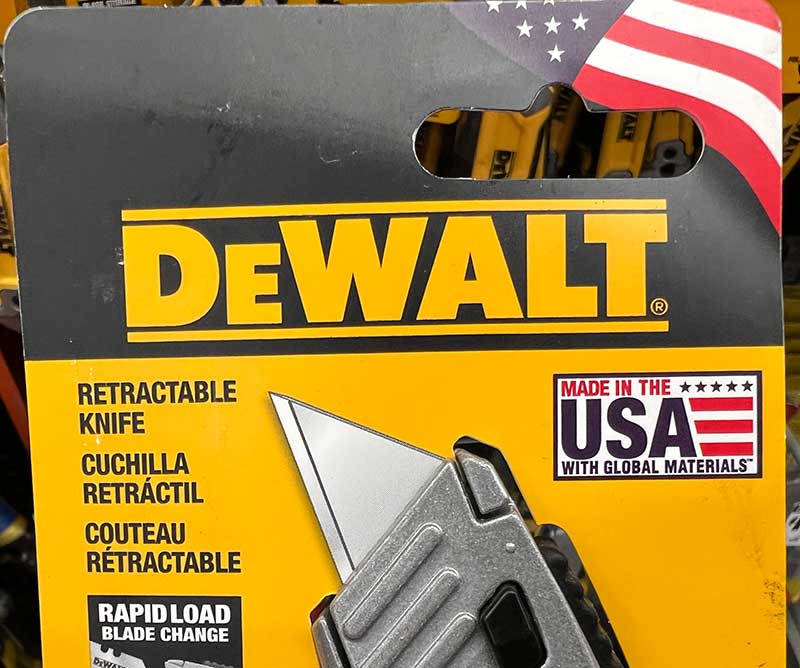 While I was excited that a small amount of the hand tools had the made in USA label on them, the far majority were made in Taiwan and China.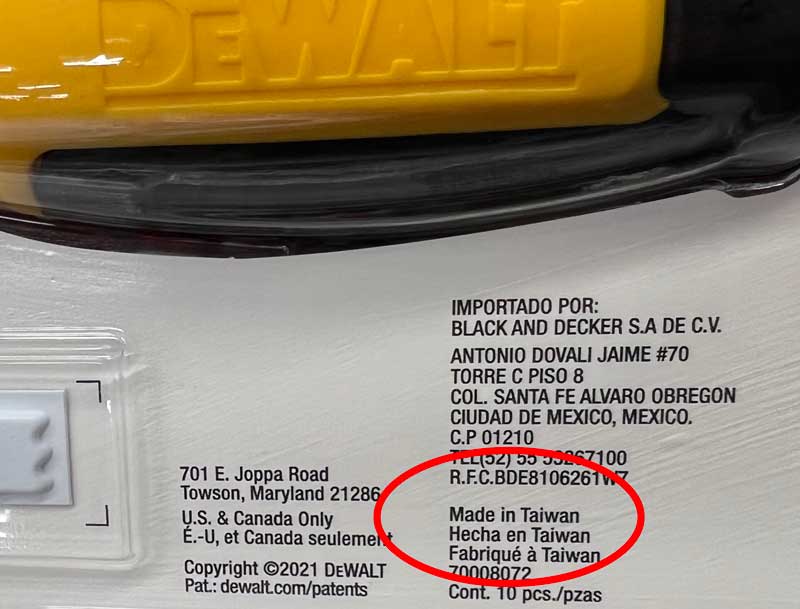 Here is another photo of a hand tool showing that it's made in China.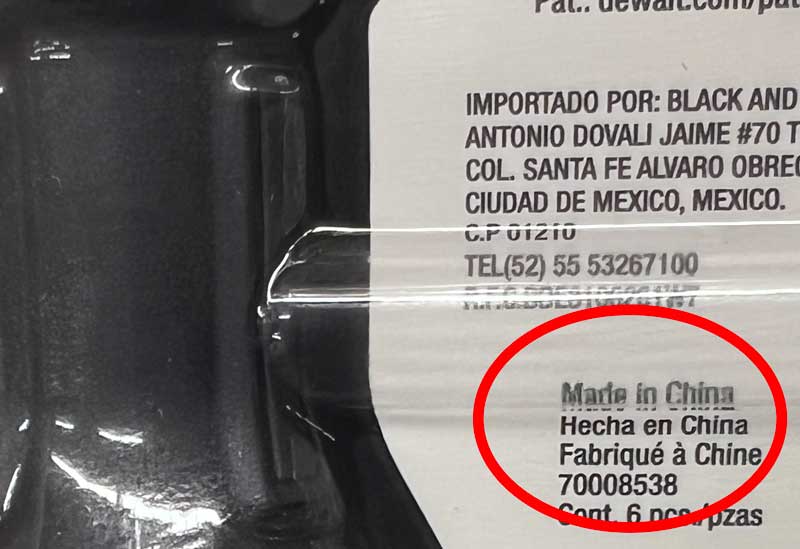 So now I basically confirmed what Dewalt told me when I contacted them and asked them where their tools are made. I wanted to find out exactly which tools they make in the USA. In the next section, we'll cover just that.
What Tools Does DeWalt Make in the USA?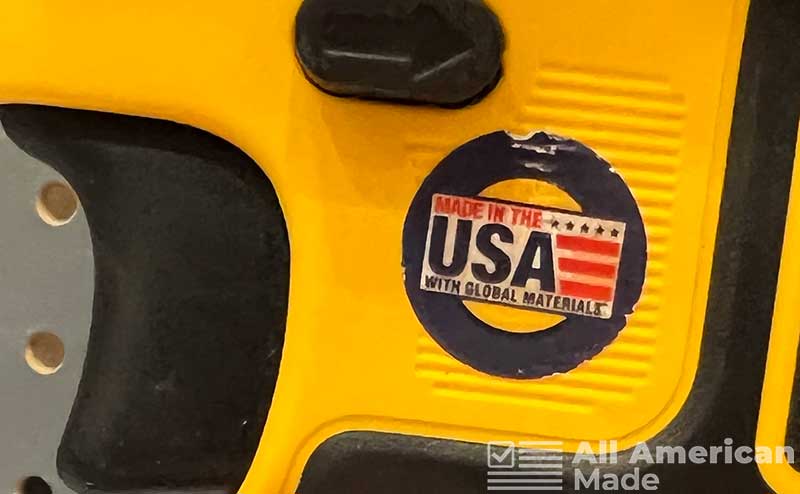 DeWalt makes a significant portion of its tools in the USA. The easiest way to determine if their tools are made in the USA is to look for a sticker logo that says "made in the USA with global materials." You can see what the logo looks like above or on DeWalt's "Made in the USA" page. In fact, the DeWalt "Made in the USA" logo is part of the uniform that their workers wear in the factory, and you can see that same sticker on the back of their shirts.
Here are some of their most popular American-made tools:
Flexvolt Cordless Hammer Drill
Lithium-Ion Five-tool Combo Kit
Lithium-Ion Compact Drill Impact Driver Combo Kit
Lithium-Ion Compact Drill
Master Hole Saw Set
Electrician's Hole Saw Set
Bi-Metal Reciprocating Saw Blades
Folding Retractable Utility Knife
Tough Chest Mobile Storage
15-Gallon Contractor Chest
28-inch Water-Sealed Toolbox
ToughSystem DS130
Heavy-duty 165 PSI Pancake Compressor
It seems that DeWalt's list of American-made tools has been increasing over time, so we recommend referring to their website for the most up-to-date information.
They're also one of the few tool brands that offer American-made air compressors. This is great because not many companies offer them, and the ones that do typically charge an outrageous amount of money.
So while overseas manufacturing still dominates the DeWalt brand, they do offer a great selection of American-made power tools. If you're interested, we also have a full article on our favorite American-made tools here, where we feature our favorite brands.
Here is a video produced by DeWalt that shows some of their tools being made in the USA.
What Tools are Not American Made?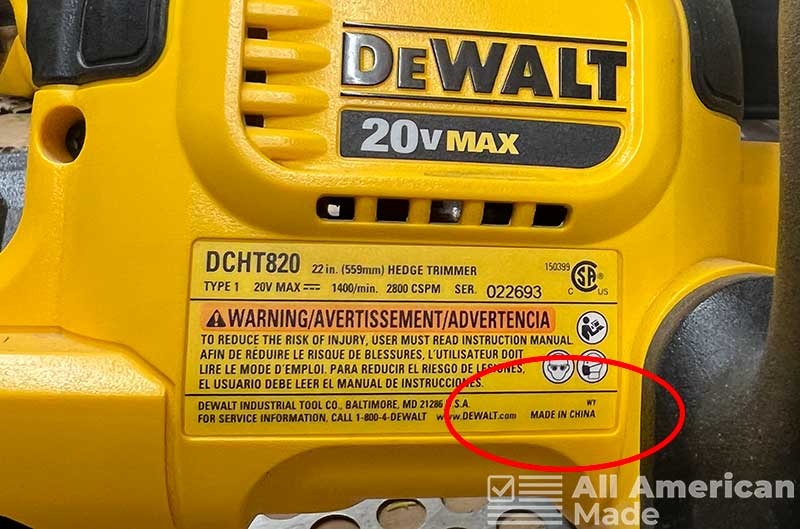 You still need to exercise heavy caution with DeWalt because of how the brand continues to produce some of its most popular tools in other countries. DeWalt offers a lot of tools that are made overseas. Here are some of their most popular tools made overseas:
FlexVolt Table Saw
FlexVolt 60V Max Grinder
FlexVolt Circular Saw Kit
Drywall Screw Gun
Mid-Range Cordless Impact Wrench
Died Cable Crimping Tool Kit
Beware of the DeWalt tools at a lower cost since these tend to come from other countries. If the price seems suspicious, check the origin before buying.
Where Does DeWalt Manufacture in the United States?
| | |
| --- | --- |
| Manufacturing Location | Production |
| New Britain, Connecticut | Tape measures, knives, blades |
| Shelbyville, Kentucky | Recip saw blades |
| Jackson, Tennessee | Air compressors |
| Hempstead, Maryland | Drill and saw components, |
| Charlotte, North Carolina | Cordless drills, screwdrivers |
| Cheraw, South Carolina | Plastic storage, saws, knives |
| Greenfield, Indiana | Grinder, recipicating saws, hammer drills |
We also tried to put together employee information about how much each factory hired, but we struggled to find the information in total. This could be because DeWalt operates as a subsidiary under Stanley Black & Decker. This can make the information mix with its parent company, making it difficult to discern.
DeWalt claims that its operations in the United States number 14,000 employees. Even better, DeWalt claims that they hire 1,650 veterans.
We only found three out of seven of the factory employment numbers, but we don't think they have anything that surpassed the 1,300 from any of the other factories. In Jackson, Tennessee, DeWalt hires 550 employees. One of their largest factories is in Charlotte, North Carolina, with 1,300 employees. At the facility in Charlotte, they build nine of their most popular cordless tools.
Finally, we found a minor facility in Greenfield, Indiana, with 40 employees. Before, the facility in Greenfield hired 179 workers, but they had to make cuts in 2019 that put 139 people out of a job. Stanley Black & Decker does operate other facilities in Indiana like Montpelier and Fishers. The exact number of employees obviously fluctuates, but these are the most up-to-date numbers we could find at the time of writing this article.
Who Owns DeWalt?

DeWalk is currently owned by Stanley Black & Decker; however, the brand has changed hands three times over the course of its lifetime.
The first time the company changed hands was in 1949 when American Machine and Foundry Co bought the company. The brand held the company for 11 years before it sold it to Black & Decker in 1960. It remained there for close to 50 years before changing ownership again in 2009.
In 2009, Black & Decker, the parent company of DeWalt, was acquired by Stanley Works, which has tried four times in the past to buy Black & Decker. In the end, they acquired them for $4.5 billion putting the DeWalt label under a new company even though they were technically still a brand of Black & Decker.
It was at this point that we see the brand name "Stanley Black & Decker" pop up, and today, they're the owners of DeWalt as a subsidiary. Stanley Black & Decker is a Fortune 500 company, and along with owning DeWalt, they own the popular Craftsman Tools as well.
That means that whether you buy DeWalt or Craftsman, the money goes to the same company—why do we say that? We point this out because of an interesting dynamic where these two united brands were once the fiercest of competitors, but they acquired DeWalt years ago, and they bought Craftsman from the failed Sears catalog in 2017 for $900 million. It shows you how monopolies grow over time as more companies are added under the umbrella of a larger brand.
The one thing about Stanley Black & Decker is that they're an American company in terms of where they pay their taxes. If you were to buy from Milwaukee Tools, they're owned by Techtronic Industries, a Chinese company. Although, some might argue that they invest more in American manufacturing facilities than American companies.
DeWalt: The Return to America
DeWalt was once heavily manufactured abroad, and we still think it would be a mistake to believe they will totally cut overseas manufacturing anytime soon. However, they have gotten smarter about how they do it and now produce a portion of their products in the United States, partially due to the backlash that they received for outsourcing in the 2000s.
The damage to their brand image from producing abroad meant that they lost popularity among American consumers like many of the other large corporations doing the same. Product quality was a second likely reason that DeWalt brought back its manufacturing to the United States. The overall quality of their tools had declined from production abroad because of less stringent manufacturing rules in other countries.
In 2013, DeWalt announced in a press release that they would manufacture in the United States again with globally sourced parts.
When DeWalt brought back American manufacturing, it meant that they could put some of their top-rated products into American factories to guarantee quality. This strategic choice was a brilliant business move because they could dictate the quality of their most popular products while outsourcing the jobs for products that weren't as popular. At the same time, they revitalized their American-made image, and the press could no longer criticize them for outsourcing jobs to countries abroad.
Related Article: Where are Craftsman Tools Made?
Globally Sourced Materials: What It Means
You may see how DeWalt uses globally sourced materials and feel disappointed. We understand why someone would want entirely American-made tools. Unfortunately, in the power tools industry, you will struggle to find a company that doesn't use globally sourced materials without the cost blowing the roof off the budget. In some cases, quality improves with globally sourced materials because some countries may have greater expertise on some things than others.
Having multiple suppliers will also give a company like DeWalt more flexibility to improve its products at a lower cost. For example, let's say that a devastating tsunami hits Thailand. If you had all your suppliers tied to that region, your business will struggle and may never recover from the paralysis of your business.
The DeWalt facilities in the United States take in the globally sourced materials where their employees assemble the products for the end result.
With everything said, many former customers of DeWalt have complained that the globally sourced materials made in the USA often wind up meaning that the quality is no better than a "Made in China" product.
"Built in the USA with Global Materials" means that the product contains too many imported components for the Federal Trade Commission to accept under the label "Made in the USA."
Are DeWalt Tools Made in China?
Even today, DeWalt heavily favors China for manufacturing, and they have over 854 factory suppliers in Asia. China is the biggest supplier. That is a lot considering there are only seven factories in the United States. Getting a product made in China will depend on what you buy. Impact wrenches, impact drivers, brushless motors, brush motors, and jigsaws are common tools made in China.
One of their plants is located in Zhejiang, China. This is not surprising since the biggest tool manufacturing centers in China are located in Zheijiang, Shanghai, and Jiangsu. An estimated 80 percent of all tool production on a worldwide scale comes out of China. DeWalt follows the trend.
DeWalt Made in USA vs. China
First, DeWalt doesn't label the Chinese-made tools as well as they do the American-made products.
When comparing a DeWalt made in the USA versus one in China, we found how the Chinese-made products burned out faster. They didn't use the same quality materials due to the lower cost, which will impact the product and its end result. When put through rigorous testing, the Chinese-made DeWalt would smoke or fail altogether.
Where are DeWalt Power Tools Made?
DeWalt produces its power tools in a variety of countries, including the United States, Mexico, China, Taiwan, Thailand, the Czech Republic, Italy, and the United Kingdom. The country of origin will depend on the product since they have specific manufacturing locations for certain products. We think that a lot of this will come from China since they make up 80 percent of the world's power tool manufacturing, but you can still buy products made in the USA. Just watch what you buy and check the origin ahead of time.
The main power tool production facilities where they produce the actual power tools and not simply the blades or components are located in Charlotte, North Carolina; Jackson, Tennessee; and Greenfield, Indiana. If you look at the other DeWalt factories in the United States, they're not necessarily making the power tools, but they're making the knives, tape measures, drill and saw components, plastic storage, and saws. Those things, while nice, don't count as power tools.
Especially with the lithium-ion battery-operated tools, they make them overseas, at least on some level. Nick DeSimone, the vice president at DeWalt, even said as much in an interview. They make them at Chinese plants with years of expertise. Unfortunately, the USA doesn't have enough viable sources for electrical components.
DeWalt performs decently, however, by making many of its power tools in the USA from globally sourced materials. We would love it if DeWalt was simply made in the United States without the globally sourced materials. However, this is better than coming straight from China, and it still creates jobs for the US economy.
Are DeWalt Tools Made in Mexico?
You will find that many of the DeWalt tools that you buy in the US come from Mexico since they manufacture them there to serve the North and South American markets. Some of the DeWalt tools that they make in Mexico will also serve the European markets. Some argue that the components that they put inside of the Mexican-made tools are better than the Chinese tool components, which don't last as long, and the performance overall is worse than the Mexican-made tools.
DeWalt brings many of the tools to the US from a border city across from Texas in Reynosa, Mexico. This is common with many corporations. They will have a manufacturing plant right across the border. It improves their speed to market, and the NAFTA Free Trade agreement makes it more favorable than manufacturing in China.
In fact, Stanley Black & Decker said that the facility in Reynosa is one of their biggest plants in the world, with advanced technologies for manufacturing.
They make dozens of products for DeWalt at this facility that include:
Cordless drills
Jigsaws
Planers
Screwdrivers
Floodlights
Where are DeWalt Hand Tools Made?
DeWalt makes its hand tools in a variety of countries, including the United States, China, Taiwan, Thailand, Mexico, the Czech Republic, and Italy. In terms of their US operations, DeWalt makes its knives, blades, and tape measures in New Britain, Connecticut.
In Charlotte, North Carolina, DeWalt makes screwdrivers, and in Cheraw, South Carolina, they produce knives and saws. Keep in mind that DeWalt achieved international recognition as a power tool brand with a versatile lineup of power tools. Their hand tools aren't as well known, but they possess many of the essential qualities of good tools, such as durability, performance, and efficiency in completing the job.
DeWalt has proven itself to make good mechanics tools with a good value, but you may want to check out some of the other brands since we do find that other brands do a better job at being American-made. DeWalt does a good job overall, but we still think that you can find better brands out there for it.
Related Article: What hammers are made in the USA?
Where are DeWalt Cordless Tools Made?
At the facility in Charlotte, North Carolina, they produce nine of their most popular cordless power drills. They also produce a small portion of their hammer drills in Greenfield, Indiana.
Here is actually a cool video that shows their facility in North Carolina:
Outside of those two facilities, DeWalt manufactures most of its battery tools in China since they favor this country for manufacturing even today. They do, however, produce cordless tools in other countries like Mexico, the Czech Republic, and Thailand.
In Thailand, they produce the DeWalt cordless and the brushless drills. In Mexico, they produce some of the impact drivers, and in fact, some have said that Mexico produces the best tools from this brand.
If you can't buy American-made from DeWalt, Mexico is the second best choice because the quality of the drills even rivals American-made tools. Obviously, supporting another country's manufacturing takes away jobs from the US, which is the reason to buy American-made tools, but you can't argue on the quality. Check out this video to learn more about it and decide for yourself:
Some have said that this is because DeWalt uses globally sourced materials for its US facilities, making it more Chinese-made than American-made. DeWalt, of course, makes a statement that all of their facilities are the same wherever, but we see all corporations make this outlandish statement to justify manufacturing in China. Rarely does that ever prove true, and it isn't true in the case of DeWalt.
Even if they produce cordless drills in the United States, the batteries that they make will either come from China or Japan, depending on the model. This is because China has more lithium reserves than the US, and they produce more of them. China produces about 64 percent of the world's batteries. Japan is also a good producer of rechargeable batteries like the ones that you would see in the DeWalt cordless tools.
Final Thoughts
DeWalt is a company that has brought back some of its manufacturing jobs to America, but we don't know that we would call it a booming return to American manufacturing either. Overall, we do like the company and certainly recommend their American-made products. They have made some investments again in American manufacturing, and you can buy American-made products from them again.
Hi, my name is Kevin and I'm from Pittsburgh, Pennsylvania. Choosing products made in America is important to me because it supports local economies, creates jobs, helps the environment, and ensures ethical labor practices. I also find that American made products are usually of higher quality so although they're a little more expensive, you save money in the long run. Before starting this website I was in the USMC infantry and nowadays I work on this website as a hobby.