With only 6 years in the kitchen market, Made In has been providing globally renowned cooks and Michelin star restaurants with A-plus quality products.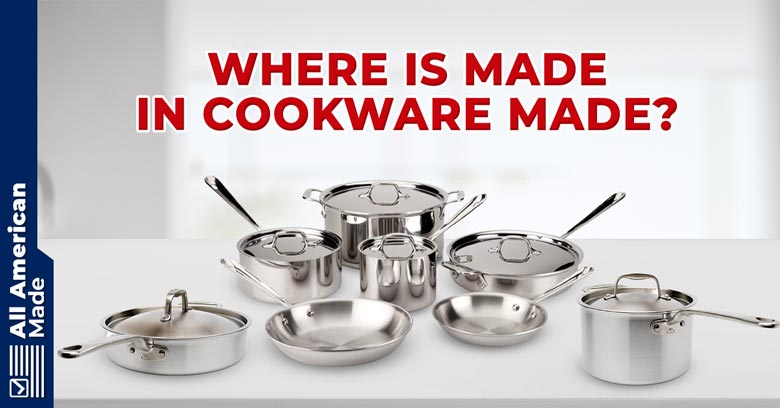 Their willingness to bring that quality tier to the home chef is really a testament to their commitment and status as cookware providers. With so much success so quickly, many consumers wonder where Made in cookware is made.
Made In cookware is made in the USA, France, Italy, and England. Their stainless-steel products are made in the USA and Italy, while their knives are made in Thiers, France. Their plateware is manufactured in Stoke-on-Trent, England, and their glassware in Italy.
What Made In Cookware is Made in the United States?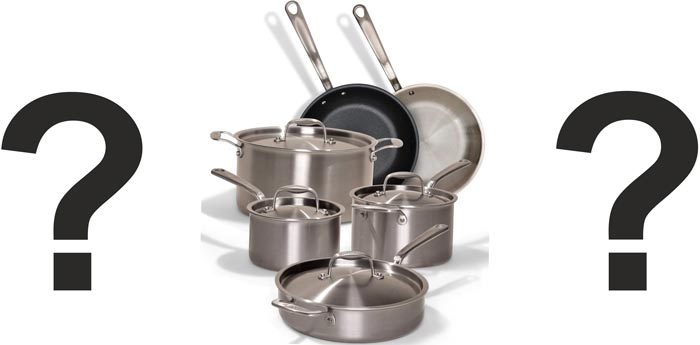 Made In makes and engineers every stainless-steel and stainless clad cookware product in the USA with 5-layers of American metal. Moreover, carbon steel items are also part of their broad American-made premium catalog, but the latter is also made in Italy. Nevertheless, you can always find Made In's country of origin engraved in all of their items so you can check each product.
It's fair to note, however, that sometimes it's hard to pinpoint exactly where each engraving is located. When you add the fact that you probably won't find any Made In retailers any time soon, this task can be a tad too troublesome, as you'll only find out where your cookware is made once it's actually delivered to your doorstep.
Beyond their stainless American steel line, Made In is known for producing a few kitchen accessories in the US as well. These include a couple of select lines of oyster shuckers, bread, fishing, paring, and steak knives. Finally, there's also a broad catalog of basic kitchen equipment such as steel seasoning wax, butchering blocks, sheet pans, and roasting pan racks.
Who Sells Made In Cookware?
Made In operates in a direct-to-consumer business model, meaning that any Made In cookware you find in the streets may be overpriced or has already been used.
On the downside, Made In sells their kitchen gear exclusively through their website, so we made a list of all the American-made items they have to offer so you don't have to go through the hustle.
Where in the United States are Made In Products Made?
As a relatively new brand, Made In is headquartered in Austin, Texas, and this facility also serves as its main steel facility for pots, saucing pans, and a few knife sets. This facility employs 10 full-time workers that partner up with the founders in a family-business-style environment.
Recently, the company has stated that there's a $5 million seed funding plan to ramp up and expand its carbon steel and stainless-steel operations to more states across the United States.
Where are Made In Knives Made?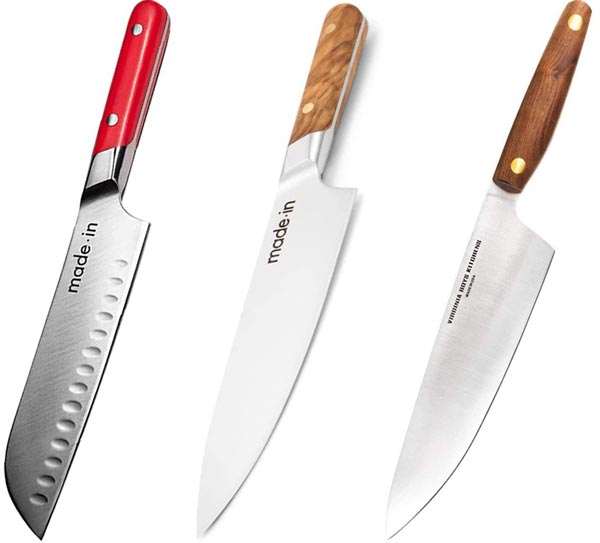 Almost every Made In knife set is made by a partner family-run business of forgers in Thiers, France. The region of Thiers has a 700-year long tradition of making 100%, fully forged knives. What makes "fully-forged" a stand-out trait, is that it translates into a more balanced body and blade in addition to a lifetime-lasting tool in terms of quality.
This craft and attention to detail have made Made In one of the best options when it comes to investing in kitchen knives. It is safe to say that these knives can be passed on through generations for a considerable price.
Related Article: Our Favorite Kitchen Knives Made in the USA
What Made In Cookware is Made in England?
Made In fabricates its tabletop, and general plateware, in central Stoke-on-Trent, England. Their oven-safe plateware is carefully crafted in a traditional clay mix before vitrifying for enhanced durability and lifetime guarantee. Made In's tabletop and oven plates are made in different layers of clay, glazing to protect from scratches, and micro preserving materials, fully applying technology to a classical look. Additionally, these pieces pass through 53 individual quality checks before being made available in stock.
Most of these tabletop pieces are produced with a "no chipping" warranty, made to withstand the busiest of restaurants, and the most crowded hotels, making it an ideal choice for your home at an accessible price. Of course, these are fabricated in multi-generational factories, it seems that Made In only looks for historical experience within their partners, which adds a certain value in my opinion.
Below you'll find a list of Made In's English-made items:
What Made In Cookware is Made in France?
Made In's line of copper cookware is devised in France, mainly because of the material's superior performance in conducting heat. These pieces are made of 90% of copper and 10% inner stainless steel. This line of pans, sauciers, and pots is crafted in the heart of France in the region of Burgundy.
Besides their world-class knives Made In taps into the French culinary culture through their bakeware items, all made in Paris. Gratin and baking dishes are made with the most intensely crafted porcelain withstanding over 650 degrees, hence its resistance to thermal shock thanks to its non-porous design.
What Made In Cookware is Made in Italy?
Arguably, the most elegant pieces in Made in's catalogue are its tabletop glassware and cutlery. Their glass and cup sets are made with titanium-reinforced stems, making them a fine, delicate, and sturdy choice for your home.
Made In's flatware is manufactured in Italy, it is all handcrafted by yet another one of their traditional partners. Their spoons and forks are made with 18/10 stainless steel, while their knives are constructed with 18/0 steel from a single piece that prevents any sort of stain. Additionally, these are all silver-plated in the most meticulous of ways.
Who Owns Made In?
Made In cookware is a private company owned by Jake Kaleck and Chip Malt, the same founders mentioned earlier. As a private company, Jake and Chip have the advantage of developing their brand as they please, and that is exactly what made it a startup success!
Made In's American Roots

Founded in 2016 by Chip Malt and Jake Kalick, who grew up together in Boston, Massachusetts. These lifelong friends decided to tap into Kalick's family tradition of smithing cookware after agreeing to host dinner for their intimate circle of friends over at Jake's apartment at least once a month. The family history started in fact with Kalick's grandfather who started a kitchen supply business in the earlier half of the 20th century and by 2016 Jake had taken over the family business, becoming the third-generation heir to run it.
For Kalick senior, the main hook was to focus on the importance of A-plus cookware and tools, and the impact that could have on your dinner table. But times had changed, and Jake realized he didn't have the same access to all the means as his grandfather, who had been investing in All-clad pricing. So, Kalick teamed up with his pal Chip Malt and found out the best way to source the materials for local production.
The business idea for Made In came from the fact that most kitchenware brands simply outsource their products and ship them on an industrial scale. For Jake and Chip cooking a meal is a much more intimate ordeal, a few of the best experiences according to them are "made in" the kitchen. It's under this ideal, Made In claims that the tools you use to prepare a meal for your family should be as carefully crafted as the food you prepare for your loved ones.
Thus, you should know your tools as you should know what you prepare for your table, that's why the guys at Made In make sure that their partners are as committed to making quality cookware as they are.
Up until 2018 all Made In products were made in a singular factory in Austin, Texas with only 5 employees. It was then that the newly founded company started to partner with other traditionally based craftsmen from other countries. Not only did they acknowledge they could get a lot more done with an expanded team, but they could also get a lot more expertise and experience poured into their brand.
It is precisely their infused expertise and cautious detail that made Made In a staple for so many restaurants. Within a year this brand captivated the hearts of so many home cooks and chefs across the US, and to this day there are over 50.000 Made In items shipped all across the country.
Notorious users include Tom Colicchio, celebrity chef & Top Chef judge, Grant Achatz chef at the Alinea Group, and Top Chef winner Brooke Williamson.
Is Made In Ethical?
By all means, this company has all the looks of a passion project. Made In's team and international partners are all invested workers in their craft, whether it's in England, France, Italy, or USA, every worker is part of a larger compromise rooted in tradition. On another hand, Made In sources their materials in the same countries they produce each of their pieces. So, you can rest assured that their products are ethically made.
When you compare Made In to other major cookware brands, the main difference lies in the fact that massive production forces companies to migrate their production overseas, eventually affecting the quality of their products and thus, blurring the ethical line.
Do We Recommend Made In Cookware?
Absolutely yes, as a growing American name in the market of American made cookware, Made In obviously expects to be expanding, and plans are pointed at opening a new facility over in Tennessee. On another hand, while not all their products are made in the USA these partners help the American name on the line. Furthermore, Made In's growth would eventually lead to a larger operation thus generating more jobs and a steadier flow in the American economy.
It's also worth noting that Made In follows American designs and provides a wide array of career opportunities in the US. Among these careers, the company is constantly looking for packaging engineers, sales developers, HR, and even social media managers.
Related Article: Frying Pans Made in the USA (Source List)
Final Thoughts on Made In
That does it for this article, hope we could bring some light to your question – Where is Made In Cookware made? – If you have further questions or if you know any information we might be missing, please let us know in the comments, or feel free to contact us.
Made In has seen an opportunity to fill up a much-needed spectrum in the kitchenware market. They offer an assertive and stunning value for money when you compare them to their more famous peers. While they might not offer a broad variety of utensils, this brand does offer core kitchen products with outstanding quality, and performance at a mid-tier price.
It's a great example of quality over quantity, although the majority of their products may not be American-made, their highest selling pieces are! Adding that to the fact that the future of this brand will bring more top-quality kitchen essentials made in the USA is a good incentive to recommend Made In.
Hi, my name is Kevin and I'm from Pittsburgh, Pennsylvania. Choosing products made in America is important to me because it supports local economies, creates jobs, helps the environment, and ensures ethical labor practices. I also find that American made products are usually of higher quality so although they're a little more expensive, you save money in the long run. Before starting this website I was in the USMC infantry and nowadays I work on this website as a hobby.