Under Armour is one of the most recognizable companies in the world due to its innovation in the sporting apparel industry. Being so popular, many consumers wonder where they manufacture their products and if it's done in an ethical way.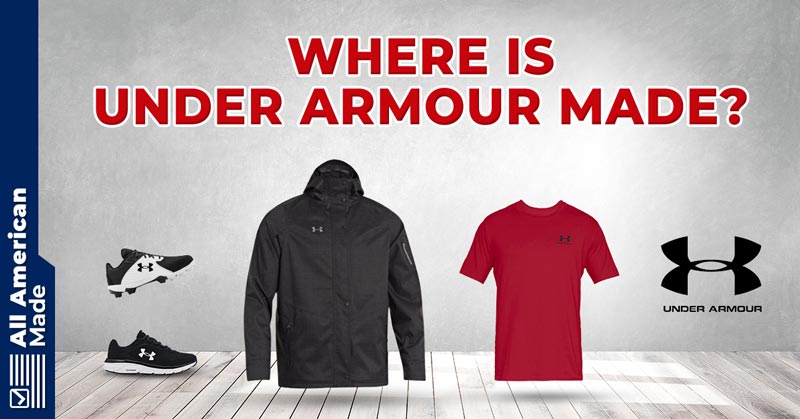 In the rest of this article, we'll discuss exactly where Under Armour products are made and share other interesting information about the company.
Under Armour products are made in over 150 countries worldwide, this includes their shoes and clothing. Their headquarters is in the USA, and while they do make some products in America, most are made in Eastern Countries like Vietnam, Indonesia, and China.
Keep reading if you'd like to learn more about Under Armour and its manufacturing practices.
Where Are Under Armour Shoes Made?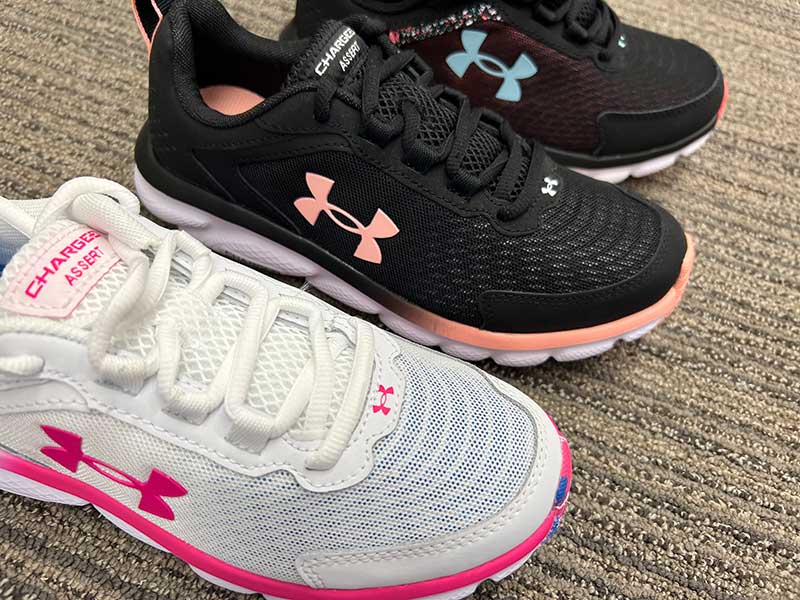 In 2020, an estimated 87 percent of Under Armour shoes were made in China, Indonesia, and Vietnam. Based on the company's trend of manufacturing elsewhere, we see this as happening for the foreseeable future; however, we do think fewer shoes will be made in China over time due to consumer interest in purchasing products that are made under ethical labor standards.
It would be hard for Under Armour to produce shoes in the countries like the United States and stay competitive with other shoe companies like Nike, which are making so many shoes in China in order to keep manufacturing costs low. We do think that some of the production will shift from China over to Vietnam. Vietnam has become a major clothing manufacturing hub over the last several years, competing with its neighbor.
I actually decided to go to some local store near my house to see where the Under Armour shoes being offered there were made. I found that the vast majority were made in Vietnam. Here are some photos I took of the tags on the shoes.
The first pair of shoes I checked were made in Vietnam.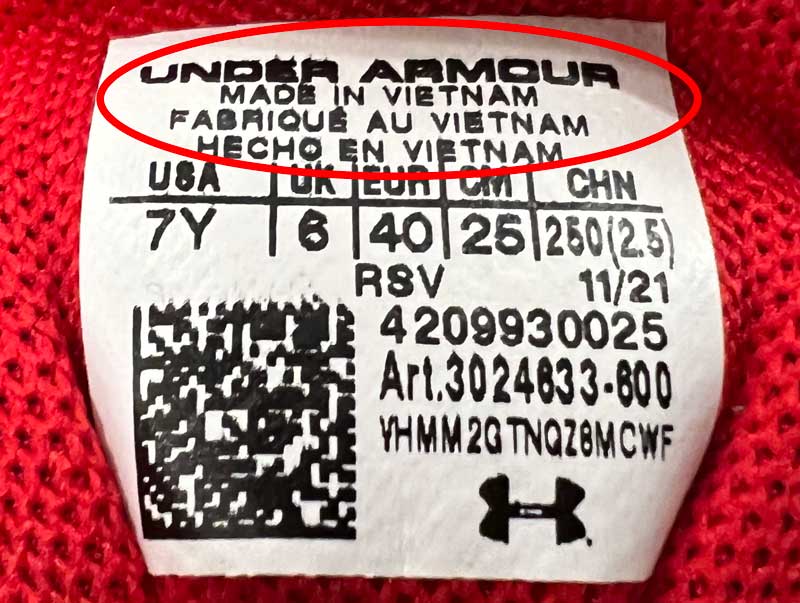 The second shoes I inspected were manufactured in Vietnam as well.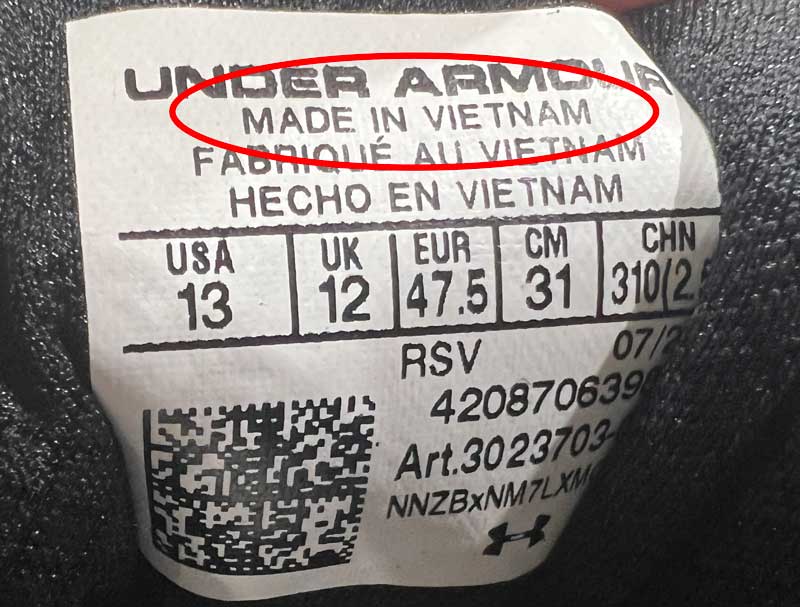 The third pair of shoes I checked were also made in Vietnam.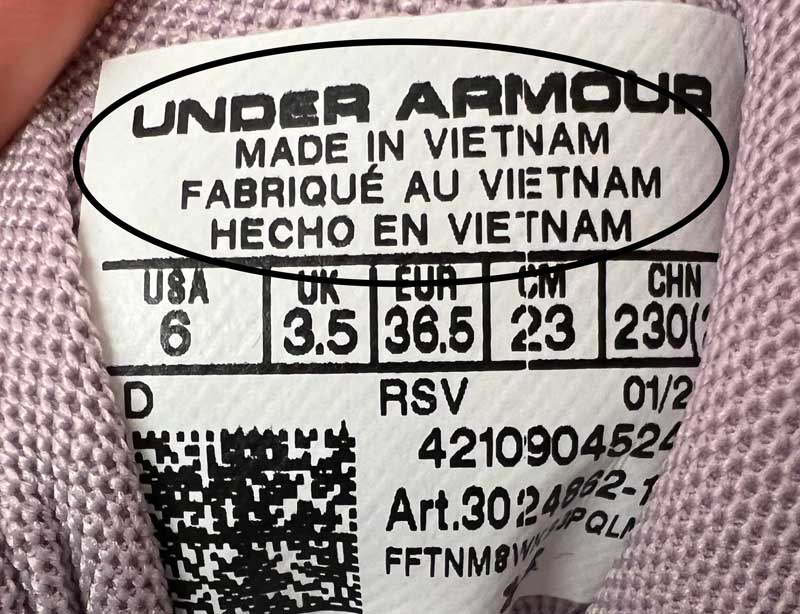 The fourth pair of shoes I checked were also made in Vietnam.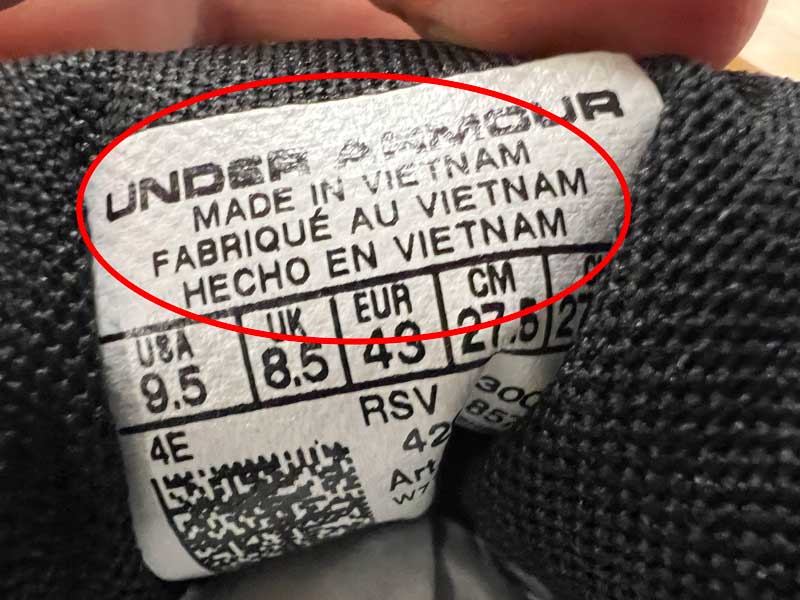 After checking over 20 pairs of shoes, I was surprised that literally all of them were made in Vietnam. That's not to say that all Under Armour shoes are made in Vietnam, but it does seem to be a country where they do a lot of their manufacturing.
Where is Under Armour Clothing Made?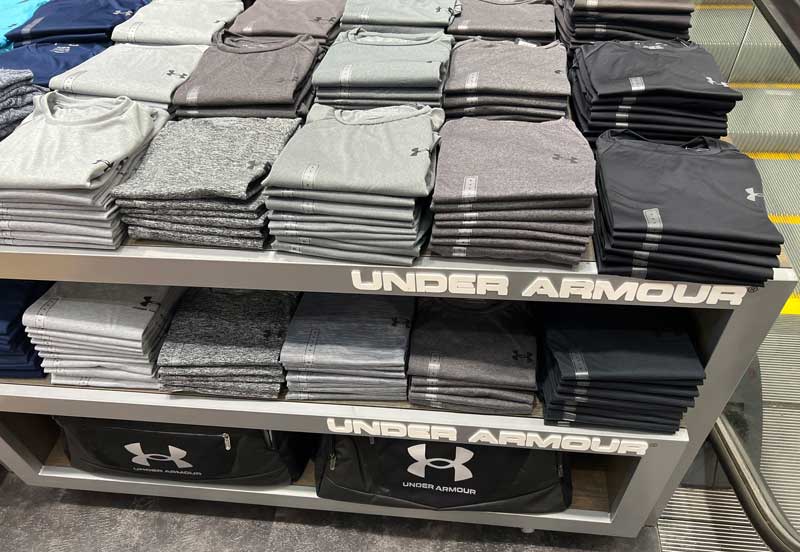 Under Armour clothing is primarily made in Eastern Countries like Vietnam, Indonesia, and China; however, they do many some clothing in the USA. It's no surprise that most of their clothing is made in Eastern Countries where the cost of labor and materials is low, as this is a common practice in the apparel industry. We do that like Under Armour has started focusing on manufacturing in countries other than China.
While I was at the store by my house, I decided to check where some of the Under Armour clothing being offered there was made. Here are some photos showing what I found.
The first shirt that I checked was made in Vietnam.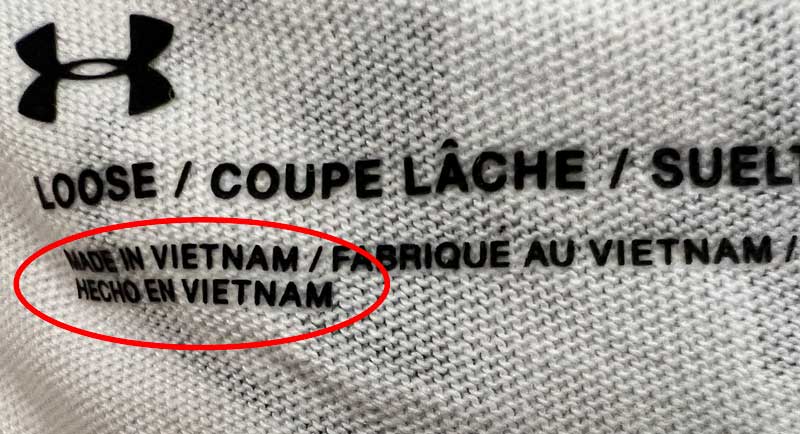 The second shirt I checked was also made in Mexico.
The third shirt I checked was made in Vietnam.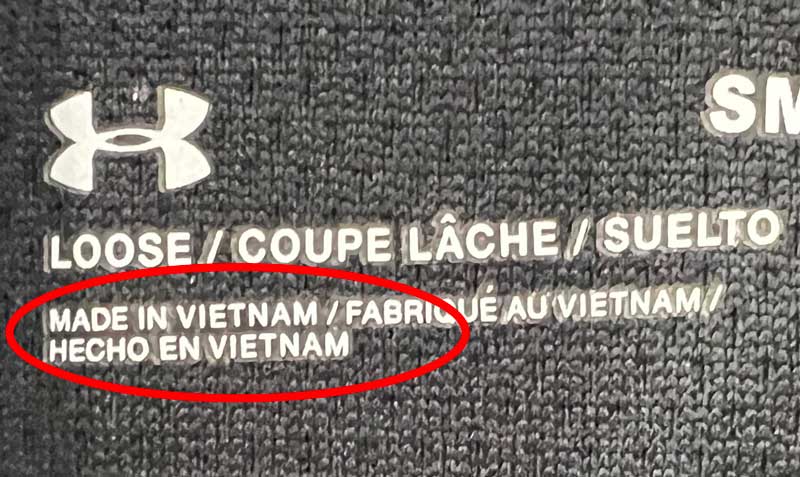 The fourth shirt I looked at was made in Honduras.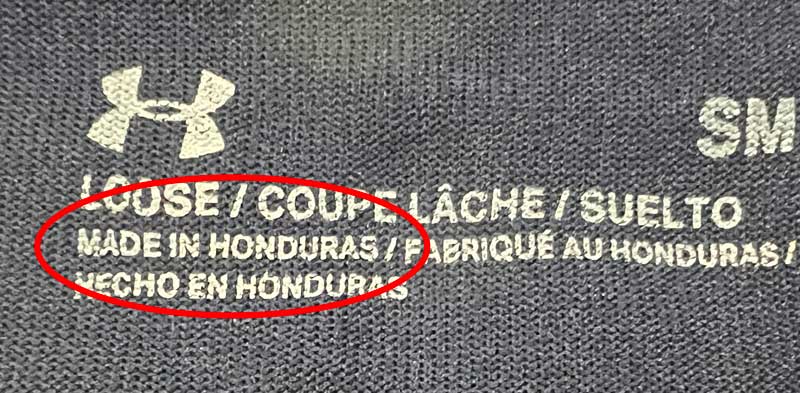 The fifth shirt I looked at was made in Cambodia.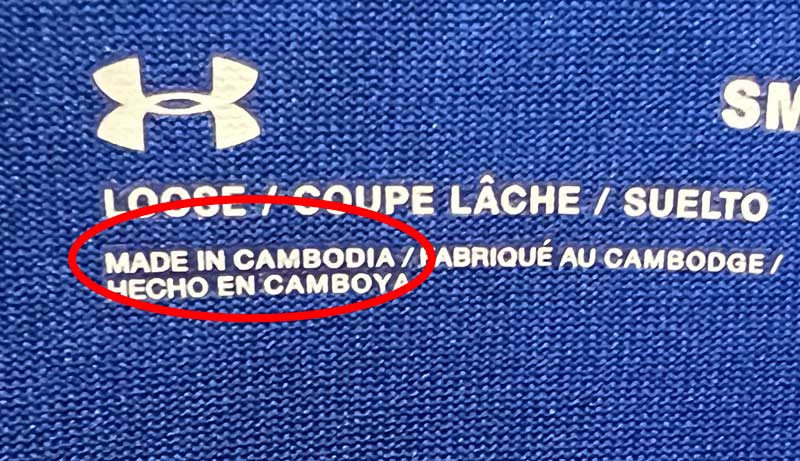 Aside from shirts, I wanted to see where some of their other clothing was made.
Here is a picture I took of some of their jogger pants, showing that they are made in the Philippines.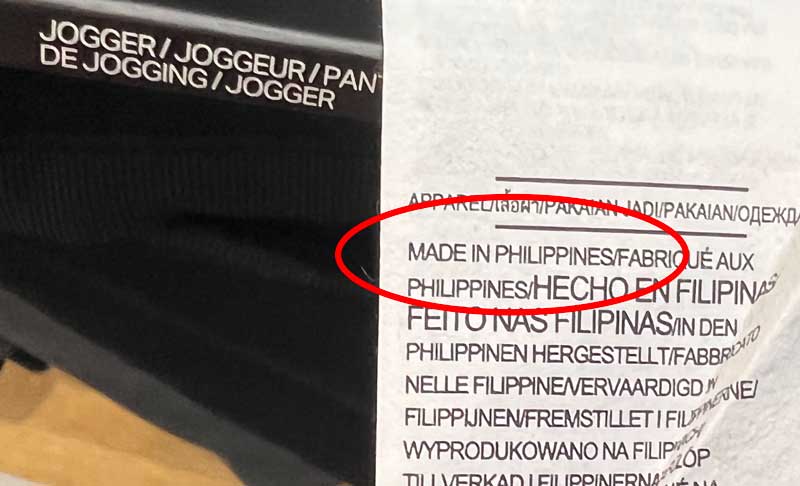 Here is a picture I took of some of their shorts, showing they are made in Nicaragua.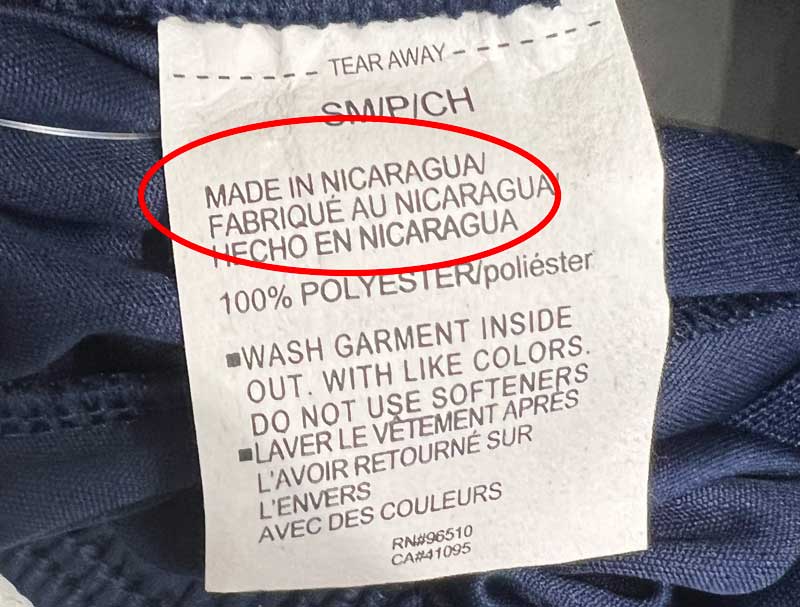 Is Under Armour Made in China?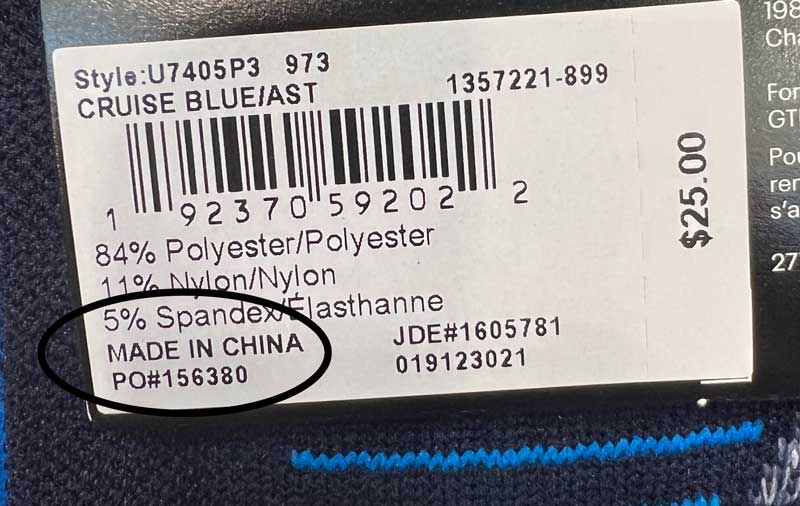 We found 30 Chinese suppliers that Under Armour uses in 2021.
Before, Under Armour had an estimated 18 percent of all clothing and shoes made in China, but they announced plans to lower this down to seven percent or less by 2023, which was largely due to tariffs on Chinese goods. We haven't seen them come even close to that figure despite those goals.
As of 2021, their goal was a miss, seeing as how they still produce 19 percent in China, according to their 2021 suppliers' list.
Some of the locations in China where they manufacture their products include:
Dongguan, China (8 facilities)
Shangyu, China (1 facility)
Suzhou, China (1 facility)
Suqian, China (1 facility)
Hangzhou, China (1 facility)
Qin Zhou, China (1 facility)
Luan City, China (1 facility)
You shouldn't think of this as an extensive list, but we highlight it to give you an idea.
Don't expect too much from this company when it comes to being made in the USA. If you're holding your breath for that, you may turn blue. In fact, we found how even the Under Armour Men's Freedom USA T-Shirt was, in fact, imported with it likely coming from China. We weren't the only ones who discovered this, and the Capital Gazette seemed as disappointed as we were.
When a company slaps an American flag and USA in big letters on the shirt while having it made in China or elsewhere, you have to wonder about the intentions and whether they were trying to mislead the public. Was it dishonest marketing or an honest marketing mistake from a billion-dollar corporation?
We won't say whether Under Armour crossed that line or not. Whether it's right and whether you would want to support that or not, we will leave it up to you. Suffice to say, your money is a vote for whether these marketing tactics continue or not. However, I know many who would buy that shirt and feel upset once they learned of its true origin.
Popular Related Article: Great T-shirts Made in the USA
Under Armour Opens a Manufacturing and Research Facility in the USA? Let's Discuss the Under Armour Lighthouse
Under Armour, the second-largest sportswear brand in the United States, operates a 35,000-square-foot manufacturing and design facility in South Baltimore known as the UA Lighthouse. Opened on June 28, 2016, the UA Lighthouse will serve as a design and manufacturing hub that utilizes the best and most efficient practices. After they learn the best processes, they will share the information with partner factories and teammates abroad.
Here is actually a very cool video that gives you an overview of the Under Armour Lighthouse facility.
Baltimore, Maryland, the location of the factory, is in the home state of Under Armour's founder Kevin Plank, who grew up in Kensington, Maryland, a suburb of Washington D.C.
An estimated 20 percent of the employees at the company consist of engineers. We couldn't confirm how many employees Under Armour worked at its UA Lighthouse operation, however.
We would like to highlight a new development in the United States with the brand where they plan to generate an estimated 1,100 new jobs. On February 28, 2022, Under Armour announced plans to move its global headquarters over to Port Covington in Baltimore. This will be a five-story, 284,000-square-foot office building. It will take over a shopping center for Walmart and Sam's Club that they never finished.
Meanwhile, Under Armour has announced that they will transfer the UA Lighthouse, which sits at the City Garage in South Baltimore, and they will move it over to Building 37. The plans for this have existed for a while, seeing as how Under Armour moved to the City Garage to renovate Building 37.
We highlight this as an area where they do some manufacturing and hire American workers, but we think it would be a mistake to think of manufacturing as the big thing that they do there. By and large, this facility will serve more along the lines of product development, innovation, and sports marketing.
Much of the manufacturing will continue to come from overseas despite them potentially hiring 1,100 workers in the United States. Let's put this into perspective. In 2020, Under Armour said that it had 16,600 employees. That means that around six percent of its employees will be working in the United States. Most of the manufacturing comes from third-party factories in 15 countries abroad, but we see this brand as having a well-spread manufacturing imprint.
We have also found reasons to be skeptical of this company's American-made claims on the whole.
What American-Made Products Can You Buy from Under Armour?
You can buy some American-made products from Under Armour despite much of their manufacturing coming from abroad. We do see potential that Under Armour may produce more in the United States, but it has a few obstacles. In 2017, they launched the Made in America collection. Let's have a look at some of the products that they have made in the United States, which include:
UA Arris Project Bra
UA Arris Project Leggings
Under Armour Face Mask
The prices of these two American-made products will range from $50 to $120. We think of this expansion more as an experiment that Under Armour has undertaken to see if they could manufacture more in the United States. Kevin Plank has said that the brand has struggled with it because of the challenges facing companies that produce in the US over other countries.
Here is actually a great interview with Kevin Plank, the founder of Under Armour, that explains how the company has overcome such much to get to where they are today.
Is Under Armour Made in Vietnam?
Yes, many Under Armour products are made in Vietnam. Under Armour works with 32 suppliers in Vietnam, making their numbers here as formidable as the numbers in China. They appear to work with suppliers throughout the country, including:
Hai Phong (3 facilities)
Ho Chi Minh City (2 facilities)
Thai Binh (4 facilities)
Ha Long City (1 facility)
Thu Dau Mot City (1 facility)
Again, this isn't meant to be an extensive list, but it gives you an idea of where Under Armour gets its products from in Vietnam. Most of the locations that they work with are third-party factories.
Where Else Does Under Armour Manufacture Its Products?
The lion's share of Under Armour's manufacturing comes from China and Vietnam. Over 40 percent of their manufacturing comes from those two countries, but they have an impressive and diversified list of manufacturers in other countries. Those countries include:
Argentina (1 facility)
Bangladesh (3 facilities)
Cambodia (9 facilities)
Colombia (2 facilities)
Dominican Republic (1 facility)
Egypt (1 facility)
El Salvador (6 facilities)
Georgia (1 facility)
Haiti (1 facility)
Honduras (2 facilities)
Indonesia (14 facilities)
Jordan (15 facilities)
Madagascar (1 facility)
Malaysia (6 facilities)
Mexico (5 facilities)
Nicaragua (3 facilities)
Pakistan (2 facilities)
Philippines (3 facilities)
Taiwan (1 facility)
Turkey (2 facilities)
Ukraine (1 facility)
United States (11 facilities)
This shows you the assembly locations for Under Armour's suppliers, but we don't know exactly how much of it comes from those locations. They show us third-party factories that they can choose to work with based on convenience.
An example of this is that most people can't think of too many products that Under Armour makes in the United States, and we can only think of three, despite them saying that they have around 11 facilities there. We could be wrong, but we pulled that information directly from their manufacturer's list in 2021.
Is Under Armour Made in the USA?
On the whole, we would say that most of Under Armour's products come from China and Vietnam. Over 40 percent at least, and much of the rest of the manufacturing comes from other countries around the world. We wouldn't consider this a great American-made brand. In fact, we found cases where they may have even been using marketing that some may find in poor taste.
Outside of manufacturing shirts with the American flag on them that were made in China, another example that we found was with their socks. They called it the Unisex UA Americana Crew Socks—what could be the problem with that? On the listing page, it says imported. If someone sees that and pays no closer attention, they could buy a product thinking that they supported America and feel disappointed later.
They offer three products that are made in the United States, but on the whole, they make them elsewhere.
You could buy Under Armour apparel for other reasons besides its origin, but we wouldn't recommend it for products made in the USA. Instead, we have compiled this list of other great American-made sportswear companies that deserve your support.
Popular Related Article: List of American Made Socks
What Are Some American-Made Sportswear Brands?
You have several great American-made sportswear brands that we feel are worth mentioning. Some of the best brands include:
American Fitness Wear
Good hYOUman
Vimmia
Avocado
AeroTech Designs Cyclewear
American Fitness Wear
A veteran-owned company, they manufacture activewear for men and women. They make their products in the USA. We couldn't confirm much about this company outside of that.
Good hYOUman
A brand inspired out of Los Angeles, this company remains committed to staying American-made at all stages of the process. Brett Novek started the company in 2011 with a simple mission of doing what makes himself and the others around him feel good. They sell T-shirts for men, women, and children. The brand has a factory in Los Angeles where they make 100 percent of their products.
Vimmia
Another brand made in sunny Los Angeles, Vimmia makes activewear and yoga clothing. Not only does their quality stand the test of time, but they continue to show fashionable styles for a diverse set of workouts like dance, yoga, fitness, running, and barre. Vimmia has a men's line of clothing as well as women's.
Avocado
The sweatshirts, tops, and activewear leggings were all made in Los Angeles. It opened its first store on December 22, 2015. This company specializes in seamless clothing that offers versatility in how you can wear it.
AeroTech Designs Cyclewear
AeroTech Designs Cyclewear operates its sewing factory in downtown Coraopolis, a suburb of Pittsburgh. All of their jerseys and bike shorts were made in the United States. When they built this brand, they wanted to make cyclewear that felt comfortable on the bike. Many have raved about how their quality is second to none.
Wrap Up
That does it for this article. If you have any further questions about where Under Armour is made, let us know in the comments below. They make many of its products in the United States, but you can still buy from some awesome American-made brands, many of which we feature on our website. This has increased in difficulty over the years because of the cheaper labor in countries like China and Vietnam. Still, you can find some great brands that continue to make sacrifices for our nation and keep manufacturing jobs in America. If you'd like to read about some great American-made dress shirts and polos, we have an article on both of those topics.
Hi, my name is Kevin and I'm from Pittsburgh, Pennsylvania. Choosing products made in America is important to me because it supports local economies, creates jobs, helps the environment, and ensures ethical labor practices. I also find that American made products are usually of higher quality so although they're a little more expensive, you save money in the long run. Before starting this website I was in the USMC infantry and nowadays I work on this website as a hobby.