Converse was founded in 1908 in Malden, Massachusetts. A lot has changed since the founding of the company, with the most notable changes happening after Converse filed for bankruptcy in 2001. Since so much has changed, many consumers wonder how Converse's manufacturing practices have changed over the years.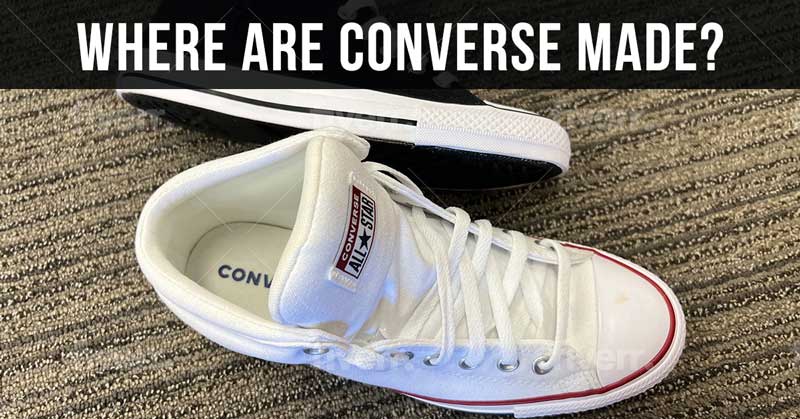 Below, we'll discuss where Converse shoes are currently made and share other important information about the company.
Converse shoes are made in Vietnam, India, Indonesia, and China. They were once made in the USA but haven't been since 2001 when the company filed for bankruptcy.
Can You Still Find Vintage Converse Shoes That Are American-Made?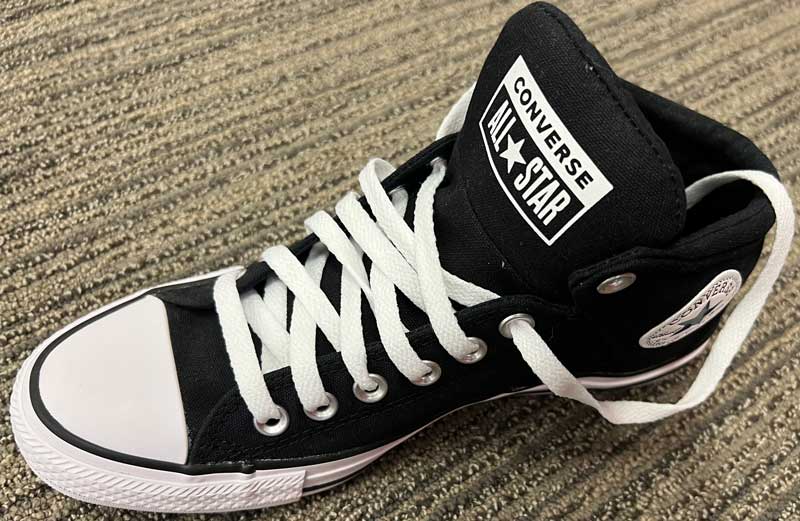 As mentioned, no Converse shoes have been made in the USA since 2001. This should come as no surprise since Nike, Converse's parent company, barely produces anything in the United States. For those interested in the manufacturing imprint, Nike addresses this with its own manufacturing map.
If you want Converse shoes that are made in the USA, you will need to find vintage shoes from before 2001.
Before its bankruptcy in 2001, Converse had a factory in Mission, Texas, and another factory in Lumberton, North Carolina. In Lumberton alone, it had an estimated 3,000 employees at peak operation.
During the mid-1990s, Converse began to outsource its jobs to Reynosa, Mexico. The choice to manufacture in Mexico followed at the heels of the North American Free Trade Agreement. When they shut down the plants in the United States, they closed the plant in Reynosa. Nike bought the company, and Asia became the new home for the Converse label.
It's unfortunate to see a great American-made company like Converse go this route in some ways, but the successful new business relationship with Nike ultimately made it a highly successful brand. For those who want American-made Converse, you might try to buy vintage Converse from before 2001.
How to Buy Vintage Converse:
Vintage clothing websites are your best bet if you're looking for vintage converse. You can even find them on eBay in some cases. You could also look at local vintage flea markets. The downside of vintage shoes is that they tend to cost more than the clothing made today. They are also usually heavily used because they were made long ago. That said, in some cases, you can still find them in like-new condition; just expect to pay a premium for those.
Another reason behind the higher cost in some cases is that vintage is trendy, but the materials from before were made to last forever compared to today. You buy it one time, and it will last compared to modern Converse.
You might check eBay as well for vintage Converse. Unfortunately, it won't support the American economy, but it will send a clear message to Converse that we want our shoes made in the United States rather than China. Many of the Converse shoes made in the USA before 2001 have become coveted collector's items, which will add to the price.
What Does Converse's Manufacturing Footprint Look Like?
Keep in mind that when we cover this information, we look at the four countries where Converse produces its shoes, but we will examine the factories that Nike says it has there to better understand the manufacturing imprint of Converse under its parent company:
| | | |
| --- | --- | --- |
| Country | Number of Workers | Number of Factories |
| China | 123,577 | 102 |
| Vietnam | 476,280 | 107 |
| Indonesia | 274,240 | 38 |
| India | 41,871 | 8 |
Converse Favors Vietnam Shoe Production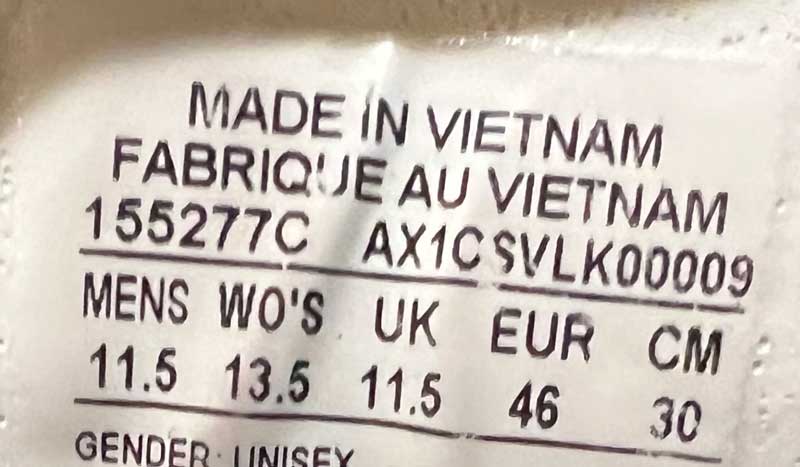 As of right now, Converse appears to favor Vietnam when it comes to its manufacturing since the cost of manufacturing is significantly lower there than in most countries and it doesn't have a bad reputation like China. Many shoe companies, in fact, have switched their production from China over to Vietnam because China has become more expensive to manufacture products in. The US-China trade war has made it less favorable to produce in China.
You still see production in China but not on the same level as before. Most of the production in Vietnam comes from the south of the country. Most Converse shoes that are sold in the United States come from Vietnam, but some also come from China.
I decided to conduct a little experiment and go to some retailers around my house that carry Converse shoes, and to my surprise, every single shoe was made in Vietnam. This is surprising because I checked about six stores and 50 different shoes.
Below, I'll share some pictures I took of the tags so you could see them for yourself.
Here is the first photo I took.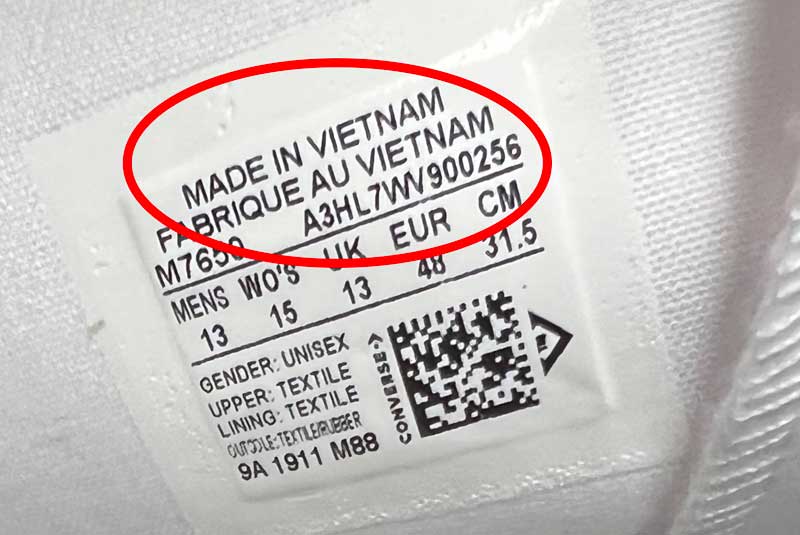 Here is the second photo I took.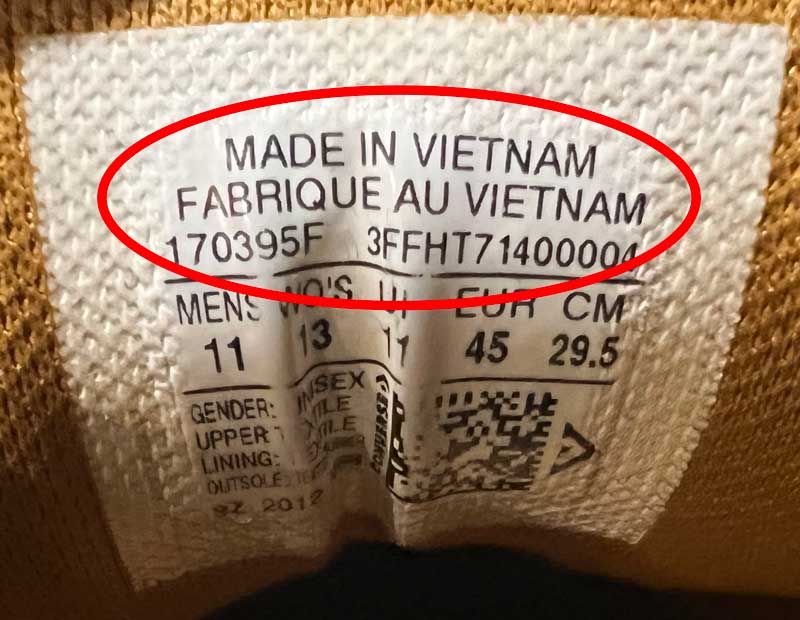 Here is the third photo I took.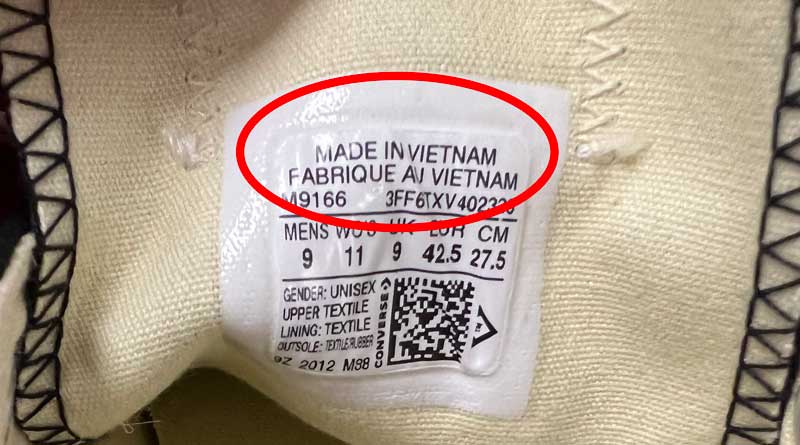 I have about 20 more pictures of tags that show made in Vietnam, but I think you get the idea. The majority of shoes sold to the market in the United States are made in Vietnam.
Vintage USA vs. Asia: What Were Converse Shoes Like Before When Made in the USA?
The vintage USA shoes tend to have a wider design than the Converse shoes that they make in Asia today. Both of them fit about the same. Converse shoes from before had a flatter design, but the shoes today that come from Asia have a greater curve on them. The USA Converse has more of a glossy finish on it.
The stitching on the vintage pair made in the United States is flawless, but the one made in Asia today has looser stitching with frayed points in areas. The USA one feels softer despite its age, and the materials from Asia tend to be stiffer. The quality of those made in the USA also tends to be much higher than that of Asia.
Where are Converse All-Stars Made?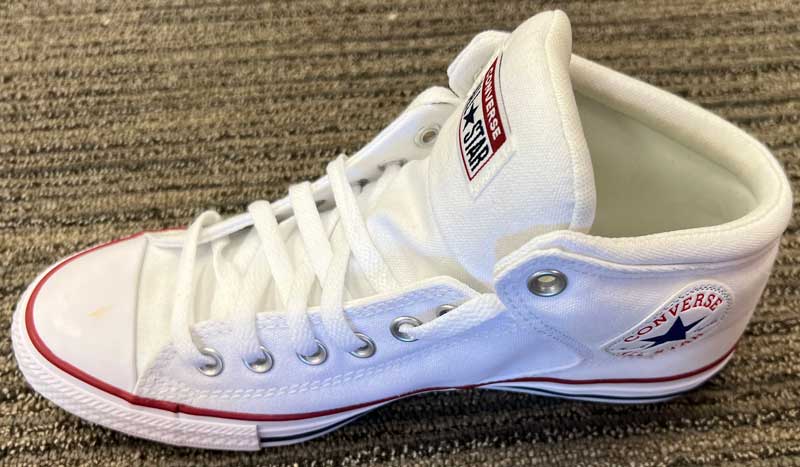 Up until 2001, the Converse Chuck Taylor All-Stars were produced in the USA. Today, they produce all of the Converse All-Stars in either Vietnam or China. Chuck Taylor participated as a semi-professional in basketball, but he became more widely known as the Converse All-Star Basketball shoe salesperson.
They were the first basketball shoes, but even today, they make for good basketball shoes because of the ankle support and non-slippery sole. However, modern basketball shoes perform better than Converse All-Stars, even if they may cost more.
While many of the Converse All-Stars for the Indian market were made in Vietnam, many of the Converse All-Stars made for the US market come from China. You do have some that will come from Vietnam as well, however. You can tell because the China-made All-Stars have a fuzzy felt bottom on them. This shows us a specific example of "tariff engineering."
Because the special felt bottoms from All-Star cover 50 percent of the shoe's sole, it is technically classified as a slipper. This allows them to get a lower import tax despite it being a shoe.
Where Are Authentic Converse Made?
Authentic Converse shoes will come from Vietnam, China, Indonesia, or India. If they come from anywhere else, you should look at them with caution since the Converse of today come from those four countries. They source some of the materials from elsewhere, and Nike has a large manufacturing imprint, but we were told how Converse was mainly made in these four countries.
Where Are Comme des Garcon Converse Made?
You have one exception for Converse shoes and where they make them. Converse teamed up with Comme des Garcon to produce Chuck 70 in a new way. When you check the inside seam, they should say, "Made in Japan." That indicates that you have bought an authentic pair. This is one of the products that they don't make in China, Indonesia, Vietnam, or India due to collaboration.
However, it's still not an American-made pair of shoes, and if you wanted American-made shoes, you will need to look elsewhere since Converse hasn't made shoes in the United States since 2001. We put together this informative list of shoes made in the USA, which will be a much better fit for you in that case.
Who Owns Converse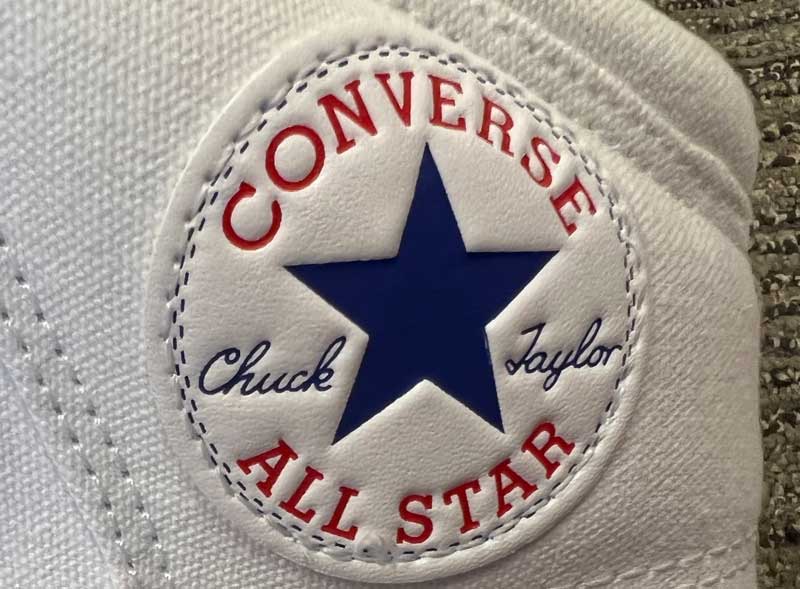 Today, Nike owns the Converse label, which they bought in 2003 for $315 million. Since then, the sales at Converse ballooned to 10 times their previous revenues, bringing in approximately $1.7 billion.
Nike is a multinational American company, but they give us an example of a company that may not have the best track record for producing in the United States. They're an American company that has their shoes made overseas in most cases.
Thomas Clarke, the president of Nike, said that he bought Converse because they wanted Nike to expand its brand portfolio. At the time of the acquisition, Converse had annual sales of $200 million. That purchase price appeared expensive at the time for a company that was going belly up.
Today, it has become one of Nike's greatest success stories, with $1.7 billion in sales annually. Nike has loved the Converse label because it allows them to diversify their portfolio and add a new dimension to the brand.
The revenue from Converse has exceeded that of Adidas. However, it has made fewer sales than Under Armour. Converse operates at an even higher profit margin than its parent company Nike.
Are Converse Ethically Made?
One of the concerns of overseas manufacturing is surrounding ethics. Converse has ambitious goals for sustainable environmental practices. The brand set respectable goals in recent years, and they do use eco-friendly materials in their products, such as recycled cotton and polyester. They have also tried to minimize the parts of the manufacturing process that can be hard on the environment. We do think the brand has a ways to go if it will meet its objectives for the environment, but we do like that they have started to look at ways to act sustainably.
Here is a cool video that shows some Converse being made. The video also shares some cool information about how the company got to where it is today.
How to Spot a Fake Converse
Along with using the manufacturing origin to tell, you have other ways that you can figure out if the Converse you bought was authentic. First, check the serial number. You will see it on the tongue of the shoe. The Converse box should have the same serial number as the shoe. Check the Chuck Taylor patch as well. The real patch will have a navy blue star, whereas the fake Converse will have a different shade of blue.
Unclear emblems give you another sign. If they appear blurry, you may want to look elsewhere. The star itself should have a clean print. Only buy from trusted and authorized Converse vendors to avoid a counterfeit pair of shoes.
Also Read: Where Are Brooks Shoes Made?
Final Thoughts:
Converse began in 1908 in Malden, Massachusetts. Looking at their American history, they originally made shoes designed for basketball players, and they were the first company to do this. Converse has not remained an American-made company, and for this reason, we can't recommend their shoes.
Anyone looking for athletic shoes may want to check out our article on running shoes made in the USA.
That does it for this article. Let us know if you have any questions or comments below. We always greatly appreciate your feedback.
Hi, my name is Kevin and I'm from Pittsburgh, Pennsylvania. Choosing products made in America is important to me because it supports local economies, creates jobs, helps the environment, and ensures ethical labor practices. I also find that American made products are usually of higher quality so although they're a little more expensive, you save money in the long run. Before starting this website I was in the USMC infantry and nowadays I work on this website as a hobby.